A refreshing mango chicken salad with all the tropical fixings is perfect for a quick lunch throughout the week. The tart lime, coconut, yogurt and honey make this a delicious mix of tangy and sweet with a bit of crunch, and the tropical flavors remind me of sitting on the beach in the Caribbean or exploring a food market in Thailand. It's like the ultimate trifecta for food – delicious, nutritious, and globally inspired!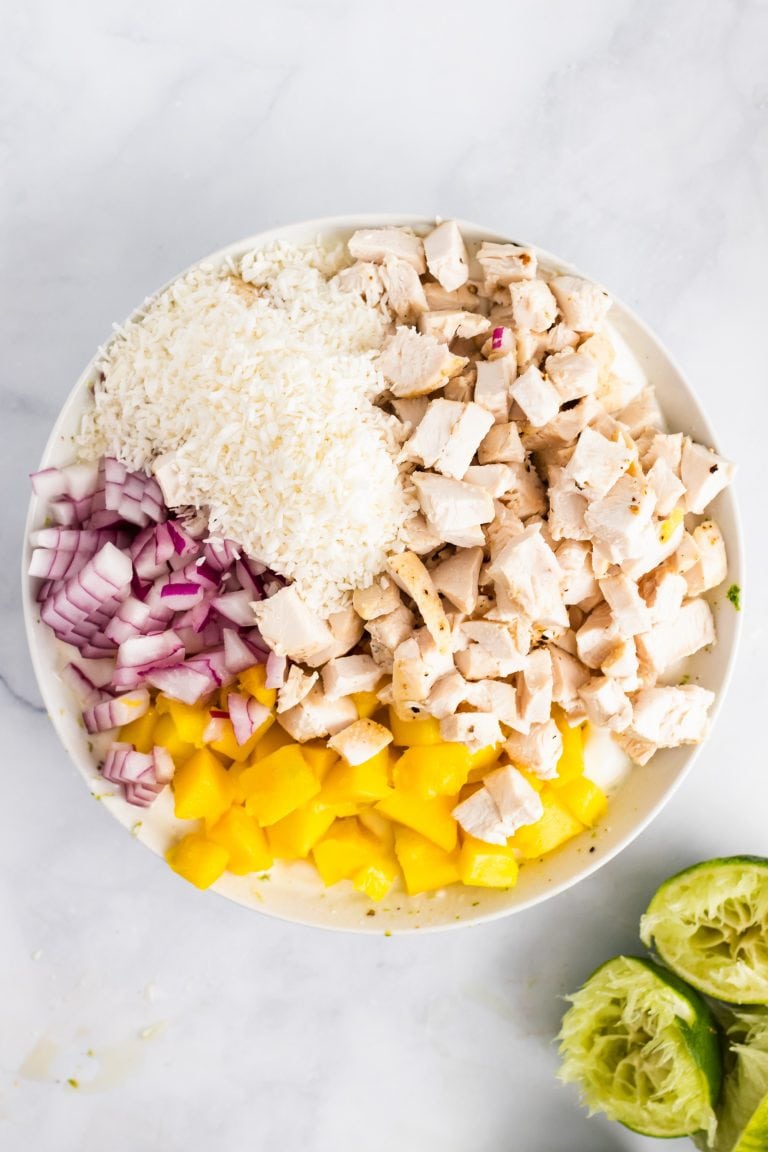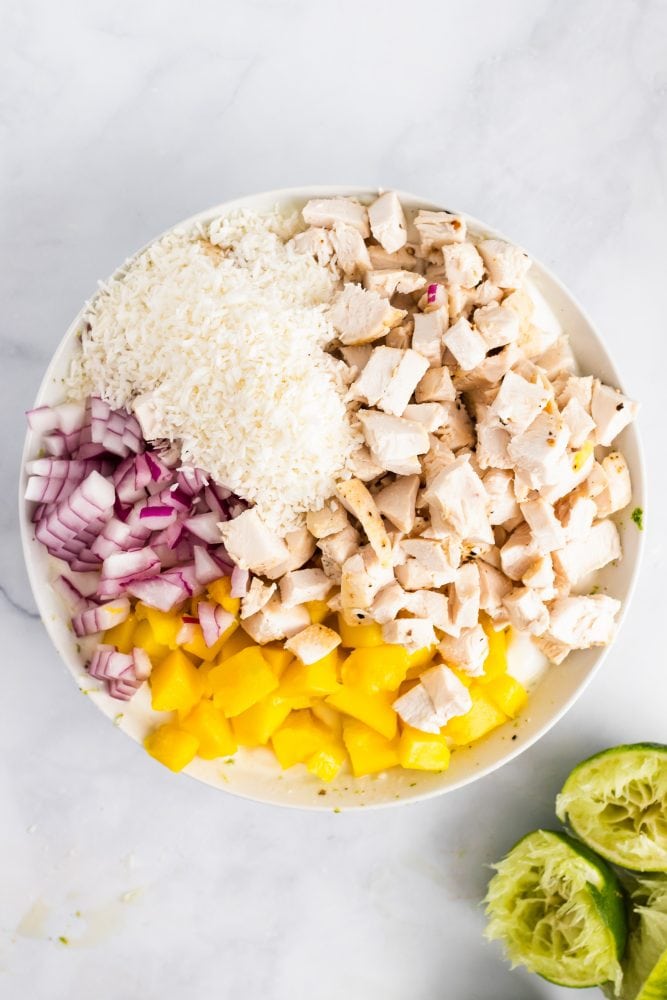 Mango Chicken Salad Lettuce Cups – Ingredients
I make a big batch of this mango chicken salad for lunch at home throughout the week while I'm writing and just want something quick to fix that's also filling. Now, a bit more about what's in it. Of course, diced mango and chicken. And since I'm not a big fan of mayonnaise, I use Greek yogurt, honey, and lime juice to make the dressing. I also add a bit of red onion for flavor and crunch, and some unsweetened shredded coconut to thicken it and give it more of a tropical flavor.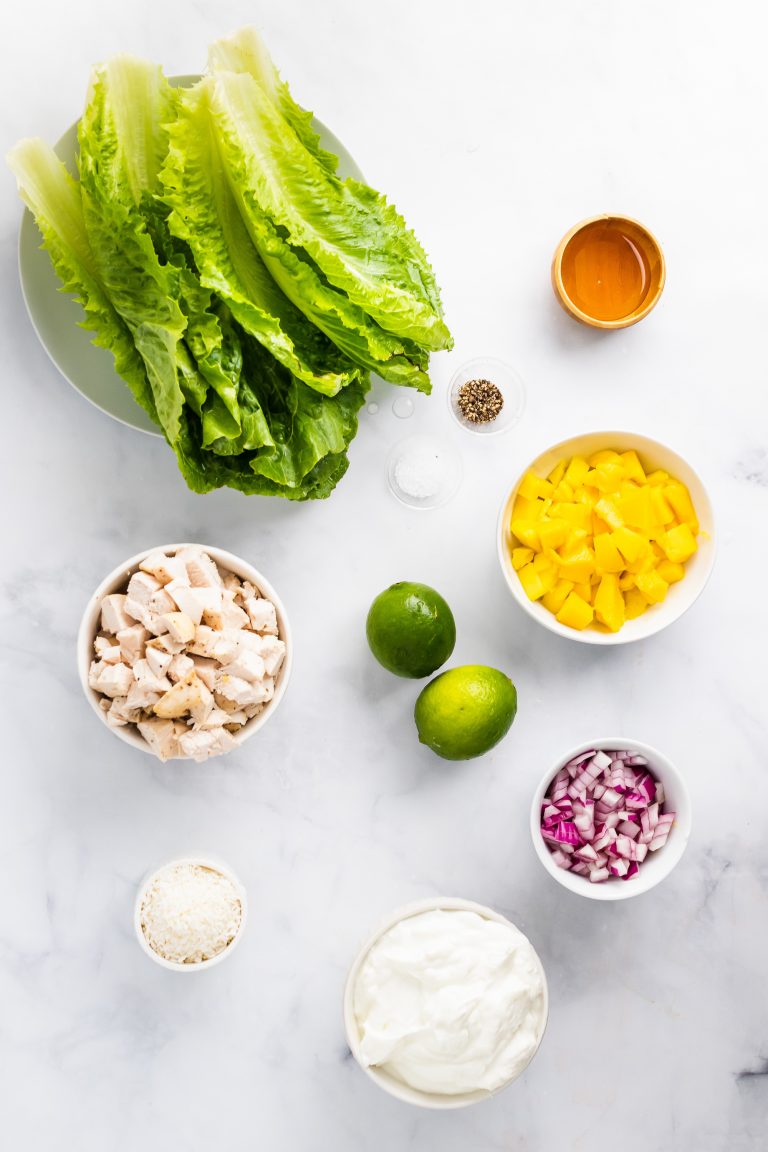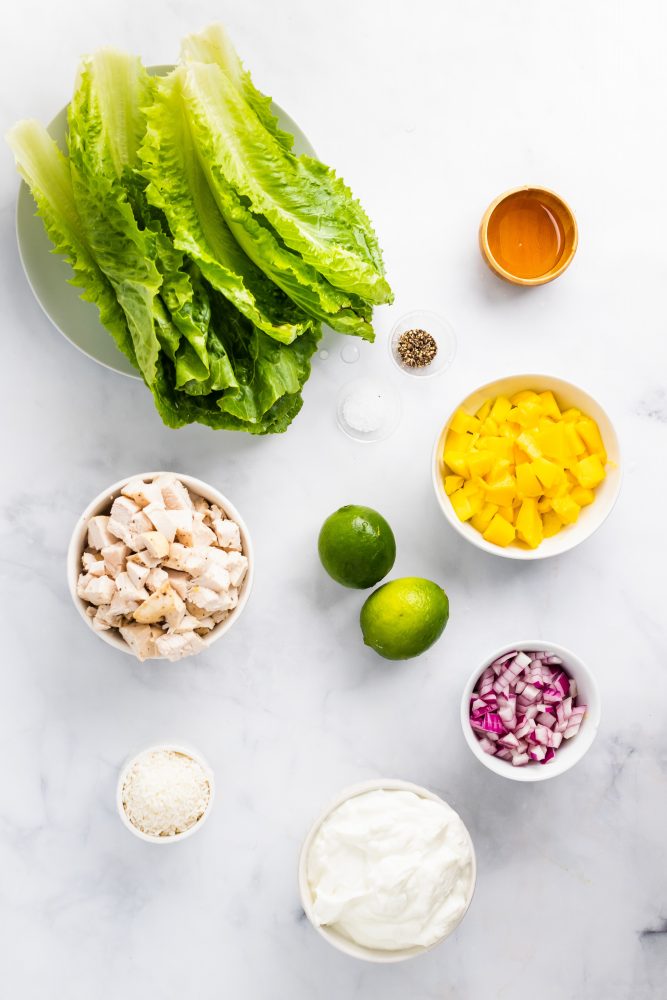 Mango Season!
Summertime is mango season in Florida. And you should be able to find a couple of different varieties of this tropical fruit at your local grocer, from the small and sweet honey mango to the larger palm-sized Tommy Atkins variety. Thankfully, my in-laws grow a ton of them so we always have some in our fruit bowl this time of year.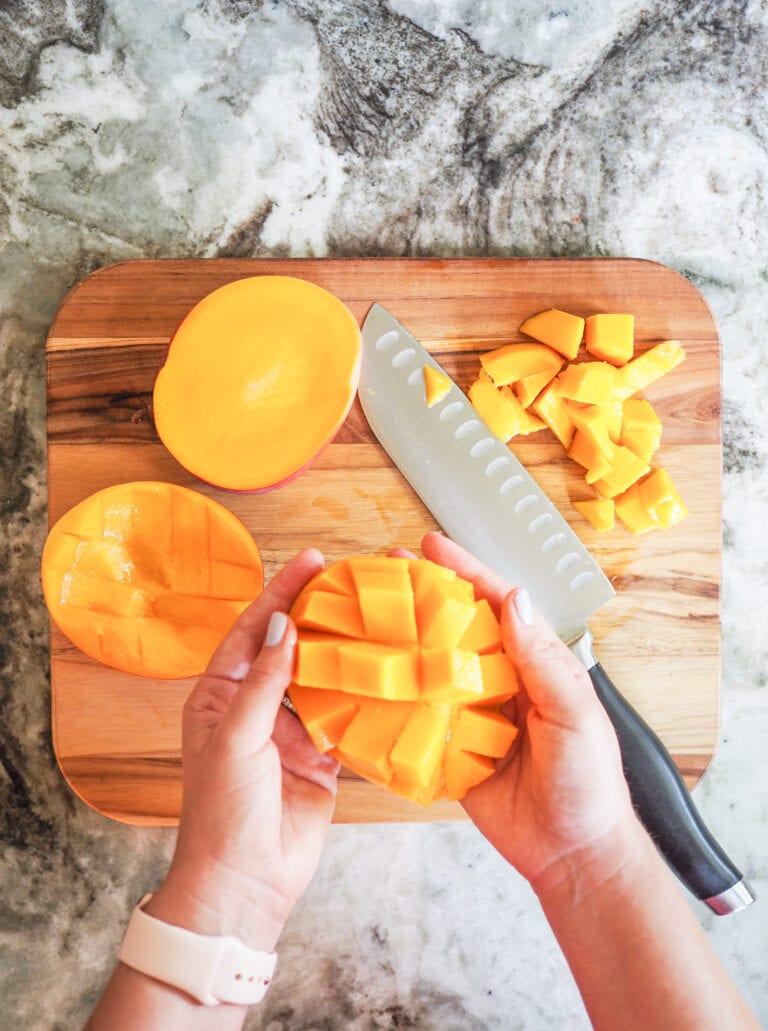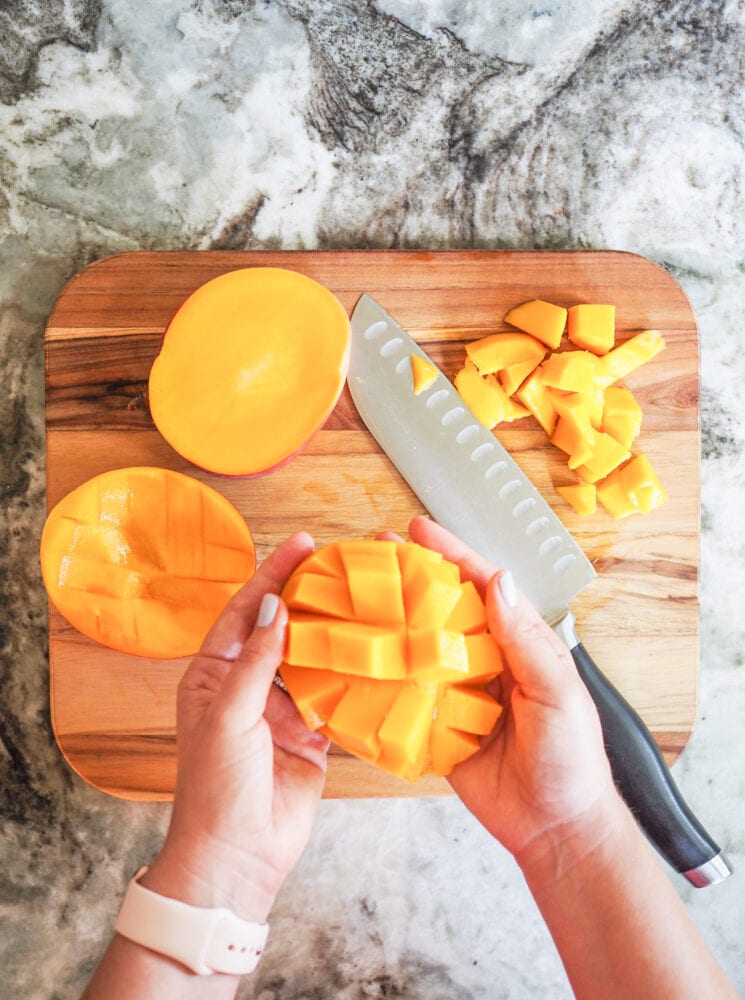 Let's talk about slicing mango. You could go the time-saving route and buy pre-sliced mango at your local grocer. I know we're all always looking for ways to save time, so no judgement here. But the mango sold pre-sliced is usually green mango, so it's not as sweet and will have a bit of a crunch to it. If it's mango season and you want to use fresh mango, check out our post on how to cut a mango.
Mango Chicken Salad – The Dressing
First, start by zesting one of the limes, then cut both limes in half and squeeze juice into a medium sized bowl. Next, add honey and a pinch of salt and pepper to the lime juice and whisk with a fork until well blended.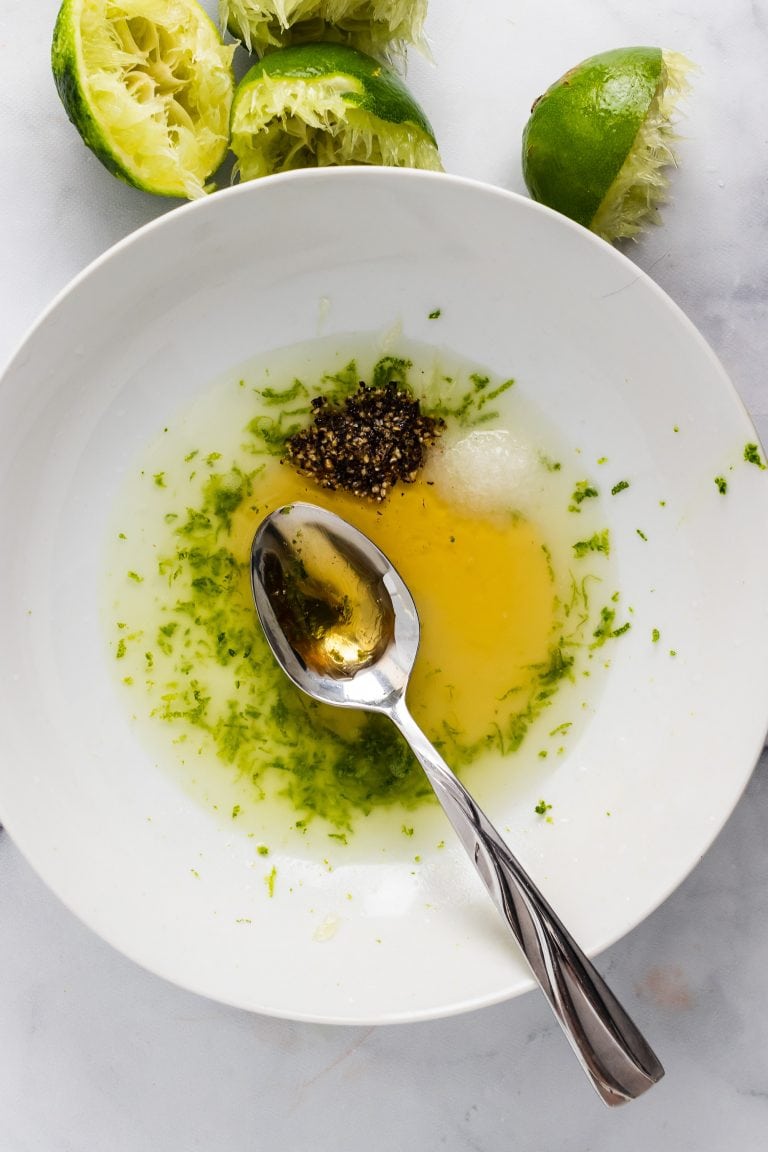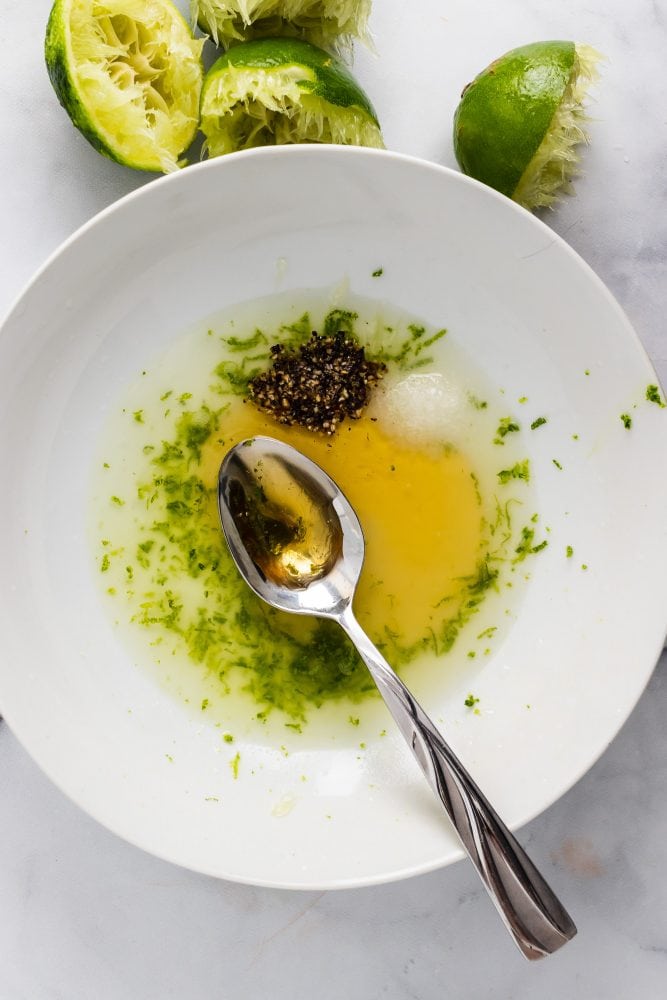 Next, add the yogurt. You could substitute and use mayonnaise. But personally, I like the flavor and the added protein of using Greek style yogurt.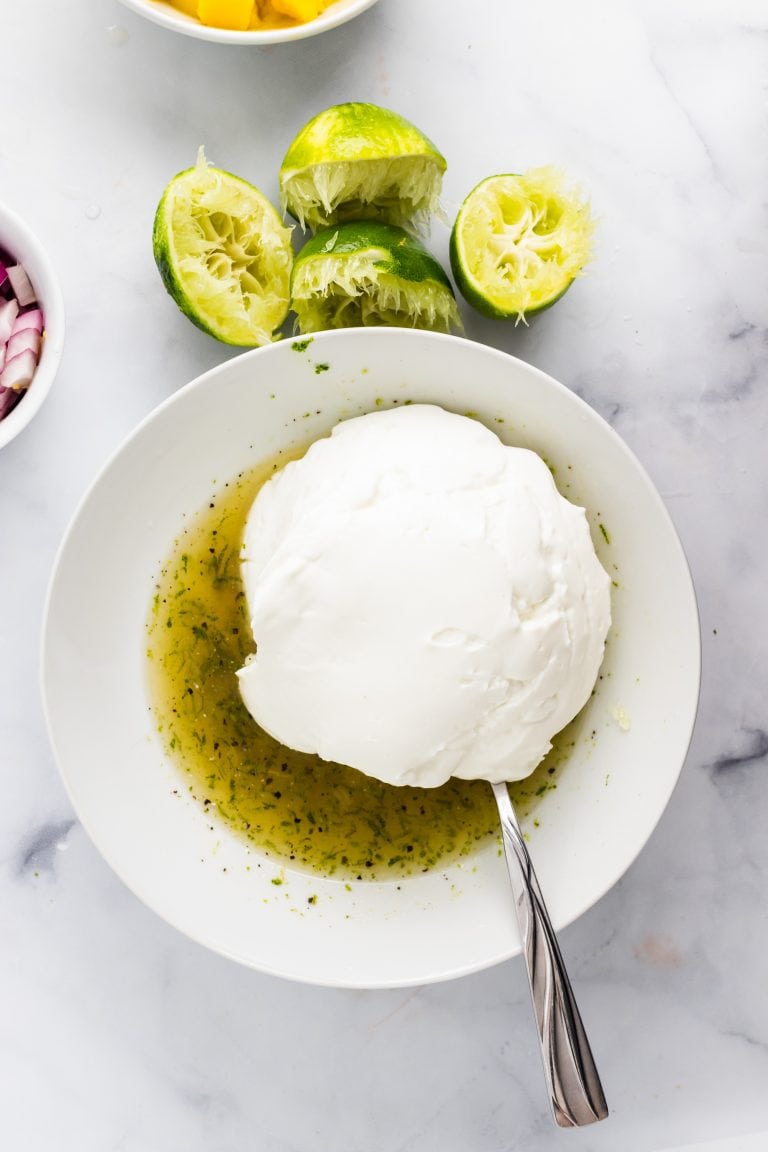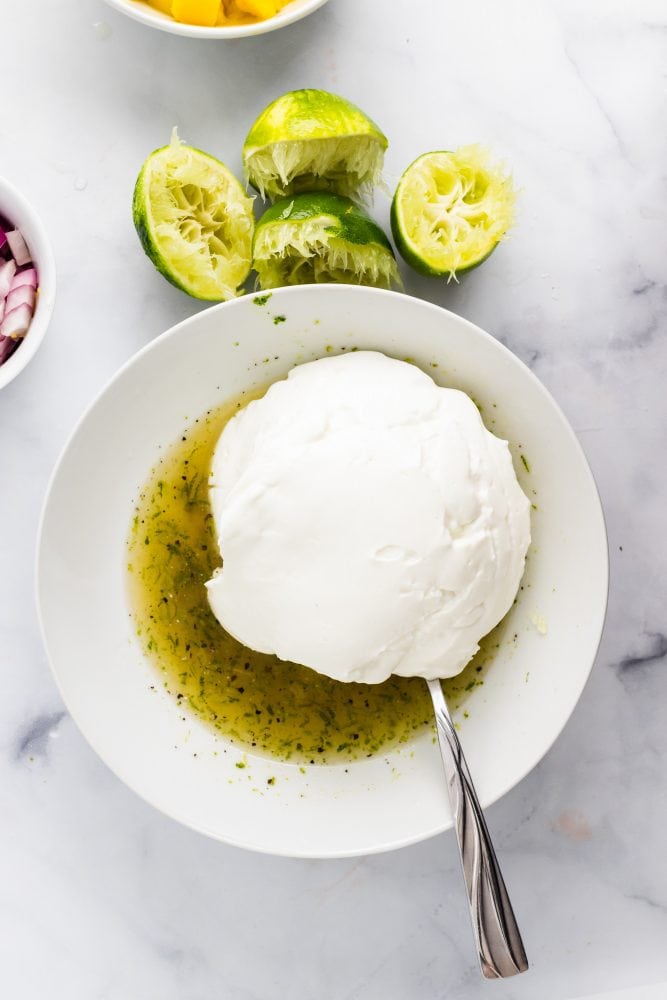 Whisk the dressing together with the yogurt until well blended. The honey and lime juice help make the Greek yogurt smooth and creamy and ready to blend with the other mango chicken salad ingredients.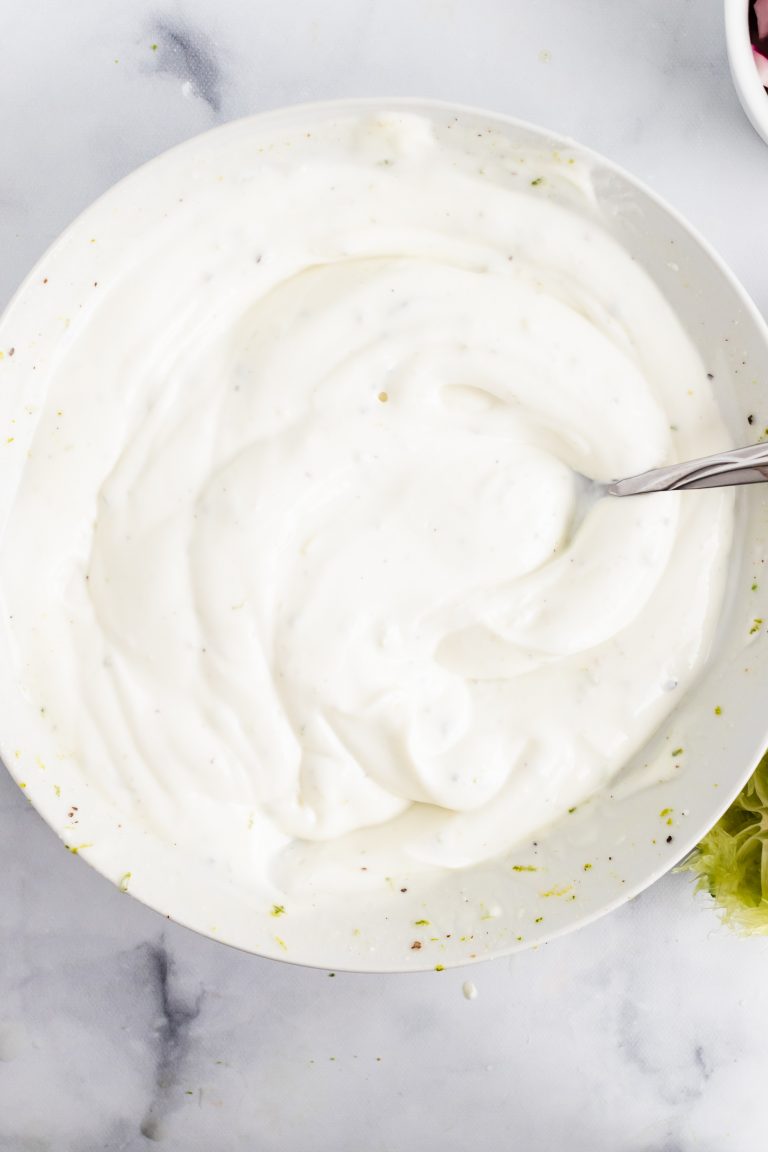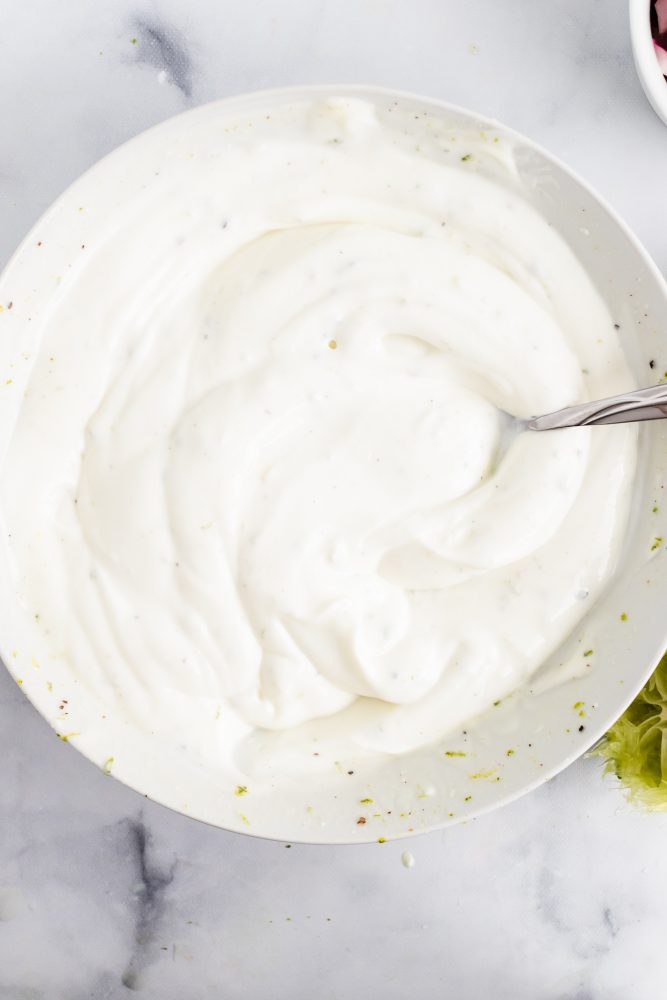 Putting It All Together
Once the dressing is made, gently mix in the diced mango, chicken, diced red onion, and coconut flakes until well blended. Scoop about a half cup serving onto a romaine lettuce leaf and you've got yourself a tasty mango chicken salad lettuce cup!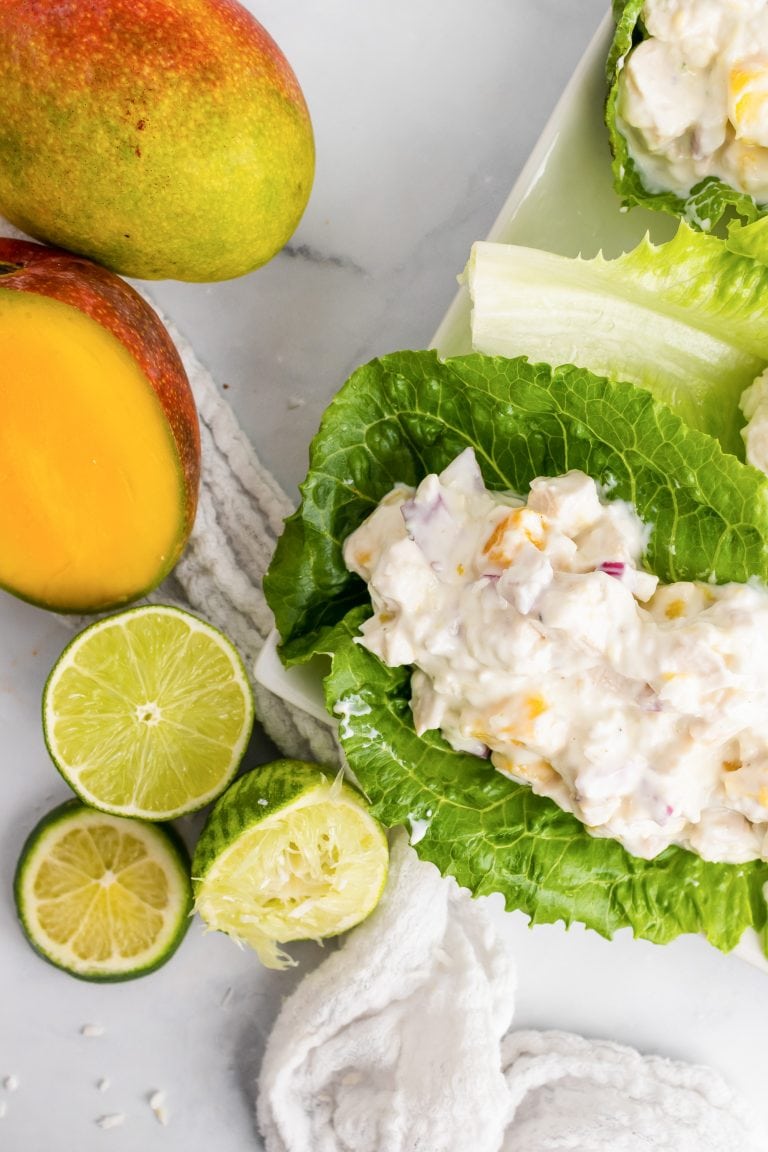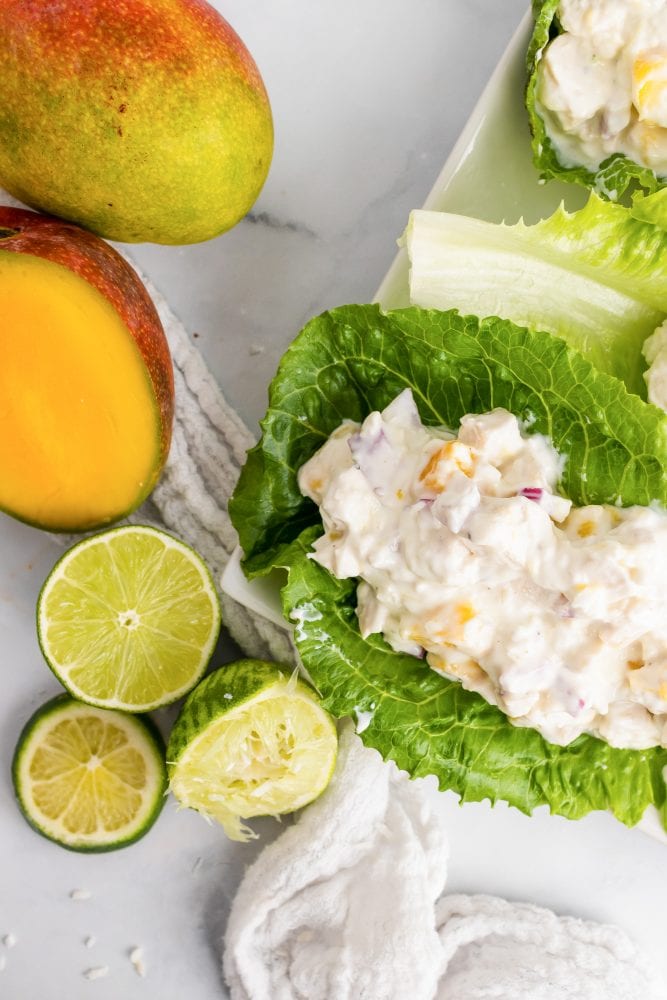 21 Day Fix Friendly!
If you're following 21 Day Fix, this recipe is Fix-friendly! One cup serving is 1 red (protein), 1/2 purple (fruit), 1 orange (dressings/shredded coconut). Serve it over a cup of lettuce instead of wrapping it in romaine and you've got 1 green (vegetable) too! I love getting a 21 Day Fix in between trips!
Mango Chicken Salad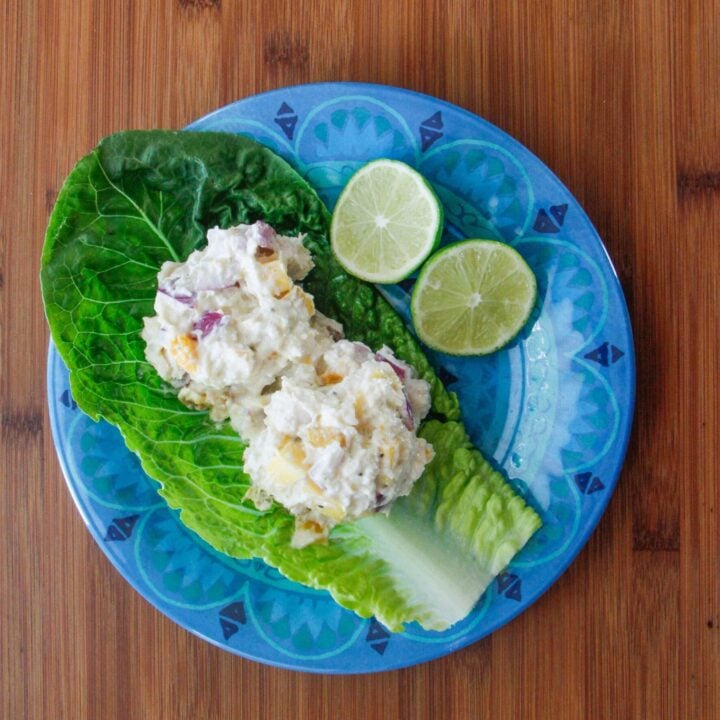 Mango Chicken Salad
Ingredients
2 Chicken Breasts - Diced
1 Cup Mango, Diced
1 1/2 Cup Greek Yogurt
1/2 Cup Shredded Coconut
1/2 Cup Red Onion, Diced
2 Limes
1 Tbsp Honey
6-8 Romain Lettuce Hearts
Salt & Pepper
Instructions
Zest one of the limes, then cut both in half and squeeze juice into a medium sized bowl.
Add honey, and a pinch of salt and pepper to lime juice and whisk with a fork until well blended.
Then add yogurt to honey and lime juice and whisk until blended.
Add the rest of the ingredients and mix well.
Scoop into lettuce, wrap, and serve!
Nutrition Information:
Yield:

4
Serving Size:

1
Amount Per Serving:
Calories:

138
Total Fat:

3g
Saturated Fat:

2g
Trans Fat:

0g
Unsaturated Fat:

1g
Cholesterol:

28mg
Sodium:

94mg
Carbohydrates:

14g
Fiber:

3g
Sugar:

10g
Protein:

15g
Nutrition information provided only an estimate.
Want to see how it's made? Here's a copy of the video I did on Snap Chat for my Saturday Snapisode. The audio downloaded a little out of sync (*sigh* … technology), but it will give you an idea of how quick and easy it is to make this mango chicken salad.
More Recipes You'll Love
Want to save this recipe for later? Pin it! 🙂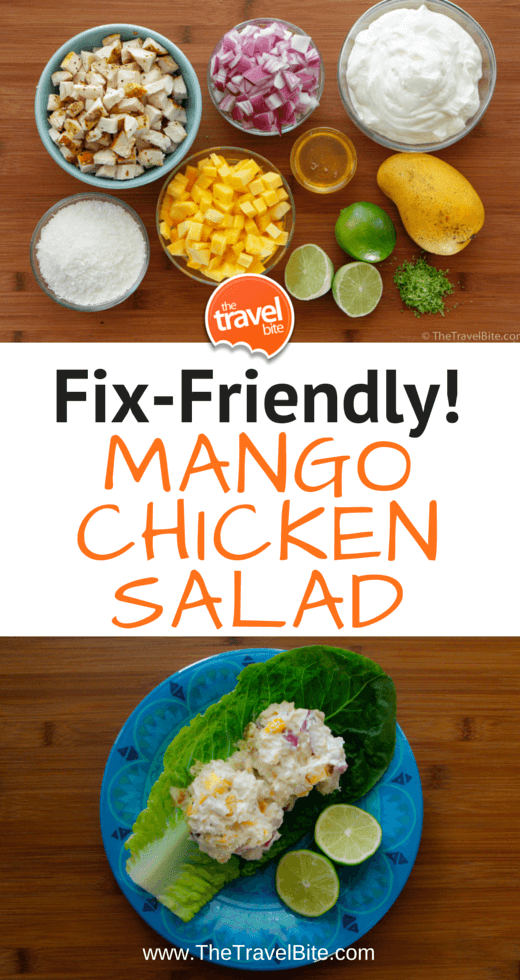 First posted in 2016. Updated 2021.