I once made this pumpkin cheesecake recipe on television in under 4 minutes! But that was TV magic. You'll actually need about 45 minutes to put it all together and another hour to bake it. But, if you've never made cheesecake before, don't be intimidated. This is an easy pumpkin cheesecake recipe is actually quite simple to make!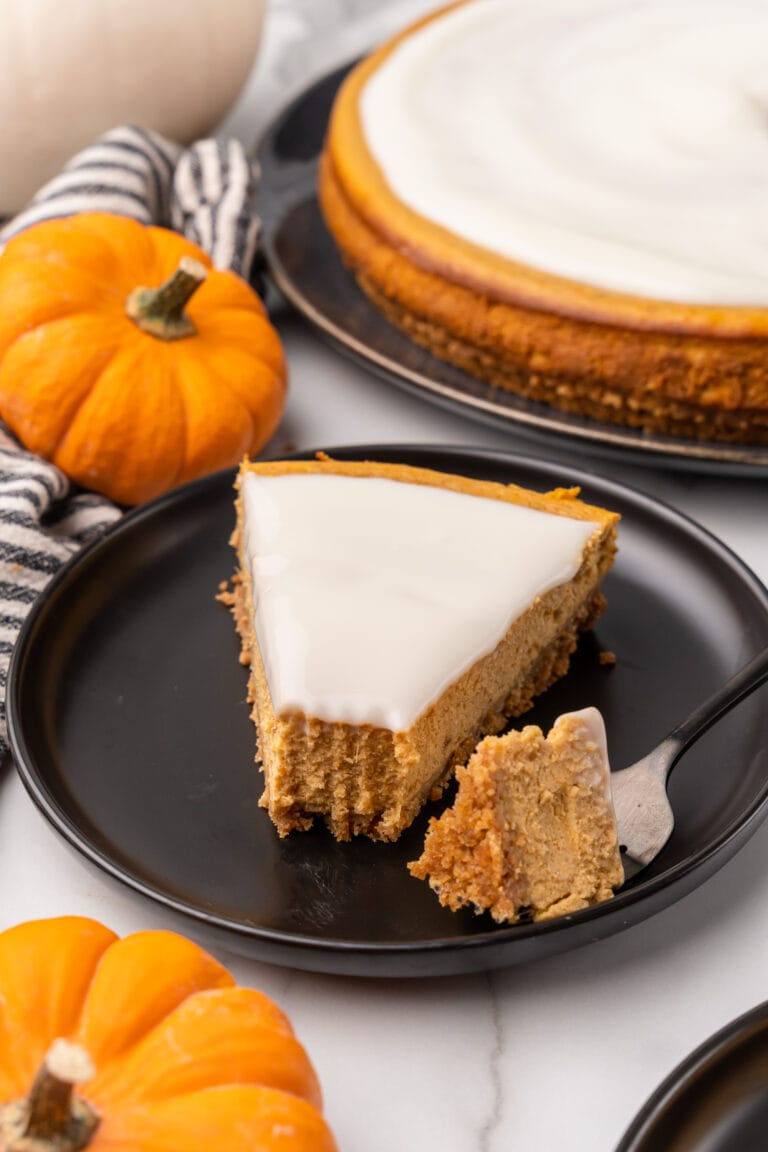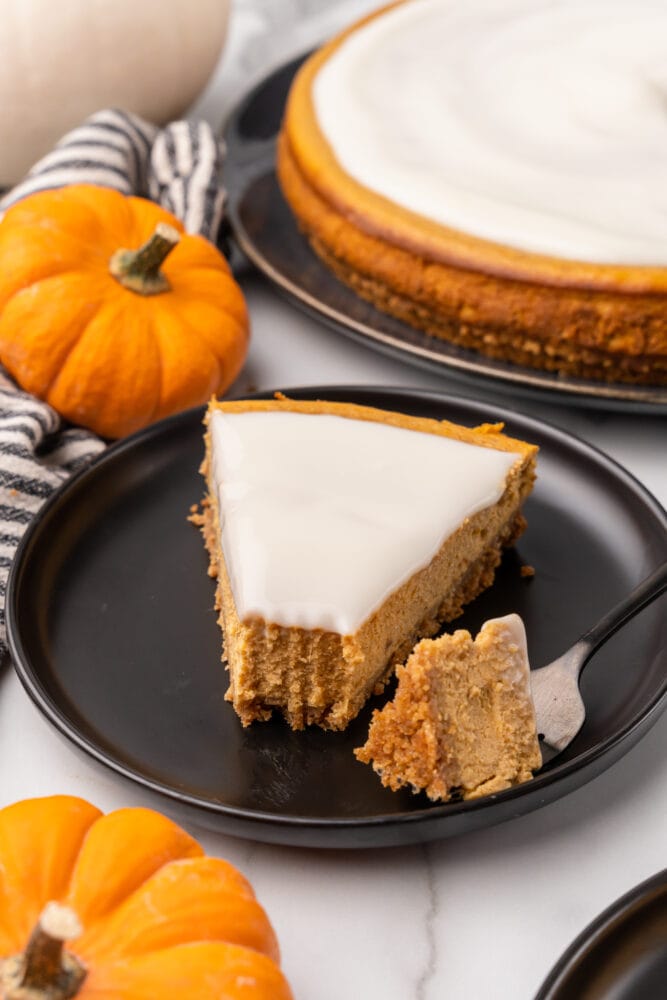 The only difficult part about this pumpkin cheesecake recipe not eating all the creamy pumpkin batter right out of the bowl! It tastes SO good. Scroll through below for some extra tips and tricks, or hit the "jump to recipe" button if you're ready to get started. This easy recipe for pumpkin cheesecake will definitely make you the star of your next fall gathering or Thanksgiving dinner table.
Pumpkin Cheesecake with Bourbon Cream – What You'll Need
As long as you have the right pan, every thing else is a piece of cake. Pun intended. If you've made cheesecake before, skip down a bit. If this is your first time, then let me introduce you to a springform pan.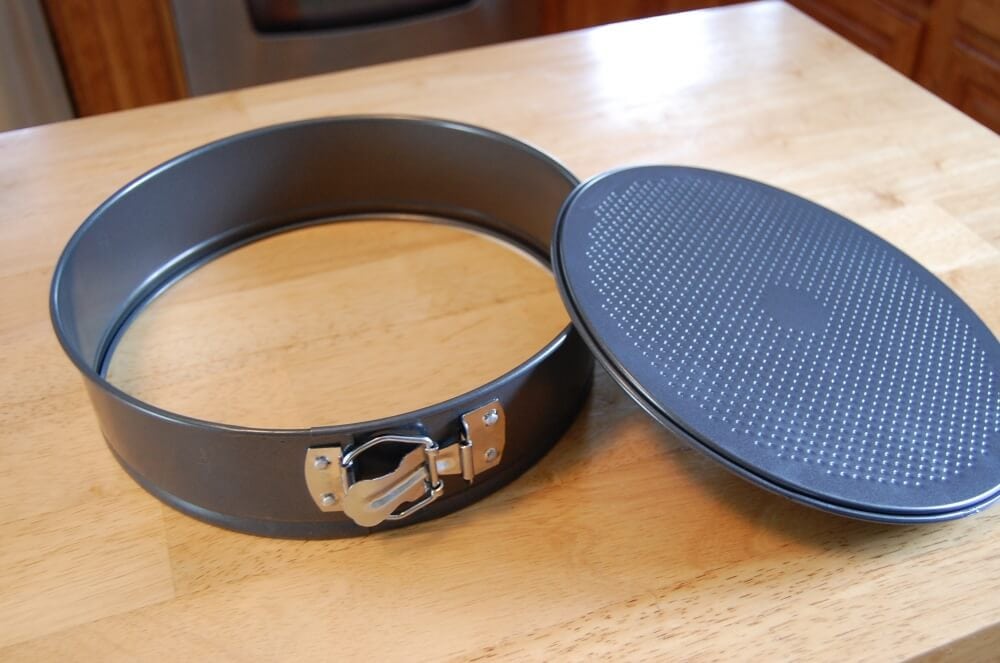 This nifty little inexpensive pan can be found at most large "we-sell-anything-and-everything" superstores. You might also be able to find it at your local grocer or even Amazon. "What exactly does it do?" you ask. Well, it has a nice little hinge on the side that, when opened, releases the sides of the pan allowing you to display your cheesecake as a nice perfect whole cake.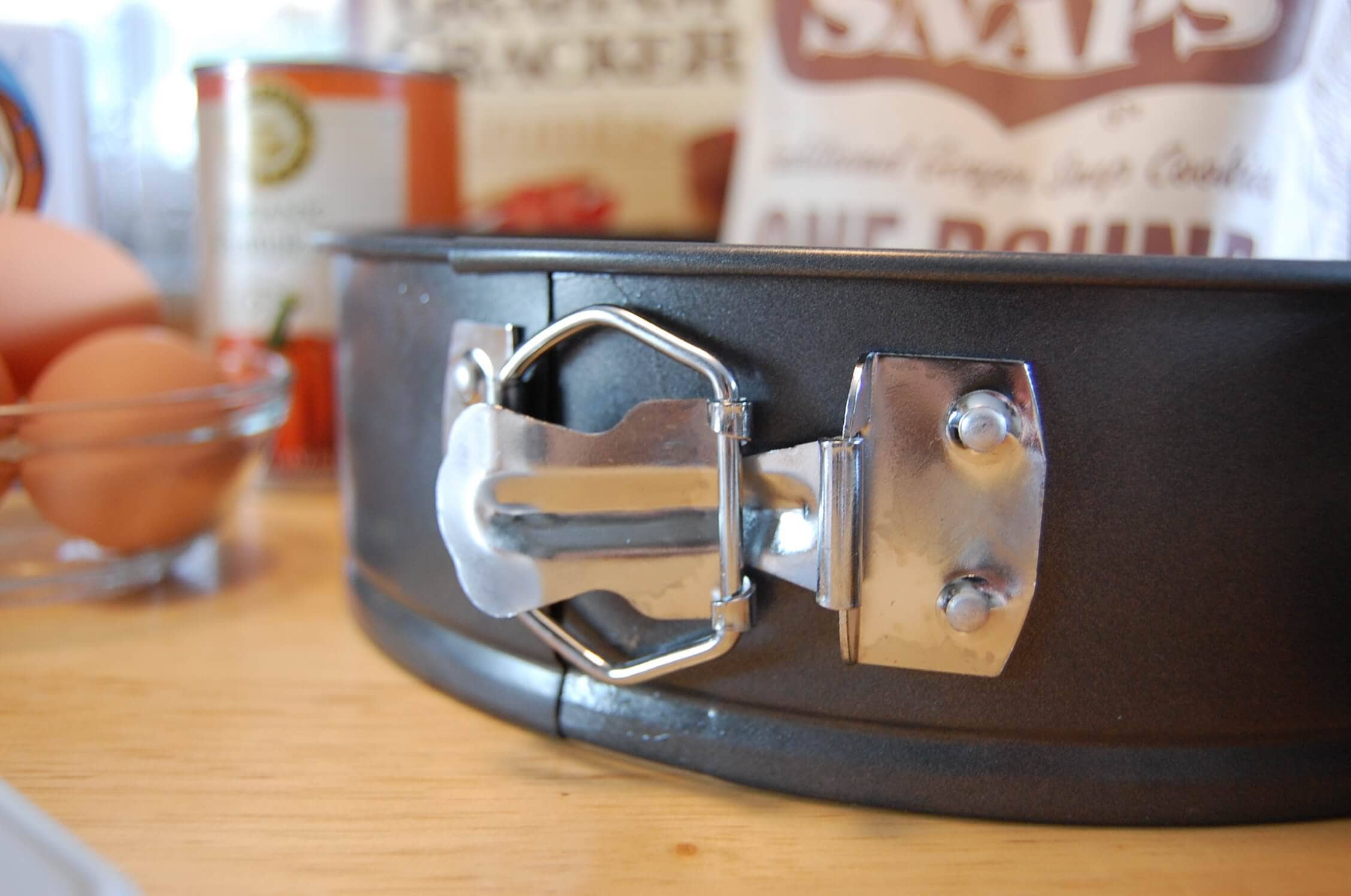 Buying Whiskey Before Noon
Cooking is always fun in my kitchen. And while I may laugh and play with as Southern accent (as if you could hear me?) I do have a confession. I don't typically drink whiskey. I'm a wine girl. So walking out of the liquor store with a brown paper bag wrapped around this teeny bottle had me blushing in the same way I did when I was 13 years old and running to the cash register hoping no one saw me buy my first box of "monthly supplies."
So, yes, I was blushing and looking over my shoulder to see if any of my small town neighbors would catch me buying whiskey before noon and start spreading rumors. But inviting Jack Daniels into my home for some Thanksgiving baking was the BEST decision I've made this week. Just WAIT until you taste the bourbon cream that tops this pumpkin cheesecake.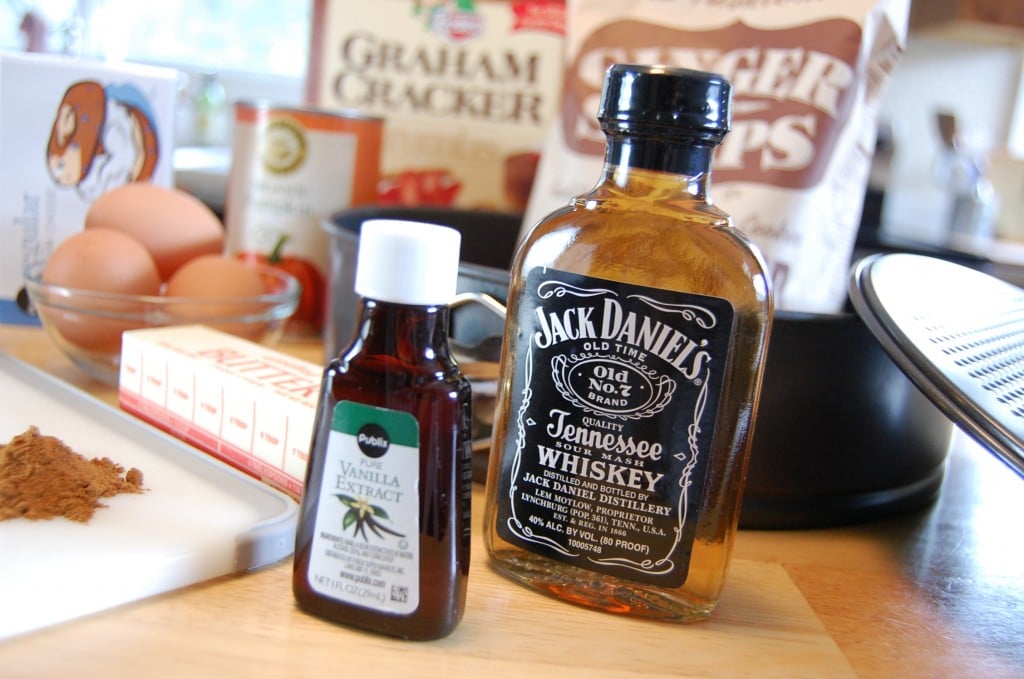 Pumpkin Cheesecake Ingredients
Here are the rest of the ingredients you'll need (full recipe and measurements at the end of the post.) Some cream cheese, softened to room temperature. And I do mean room temperature. If you have a sunny little spot on your counter top, let it sit there awhile and catch some rays while you pull everything else out of your cabinets and refrigerator. It may take a good hour for it to warm up. Why is that important? Well, warmed up room temperature cream cheese = easy + creamy cheesecake. And cold cream cheese = chunky cheesecake + frustrated baker with sticky bits clogging up their mixer. Catchin my math here?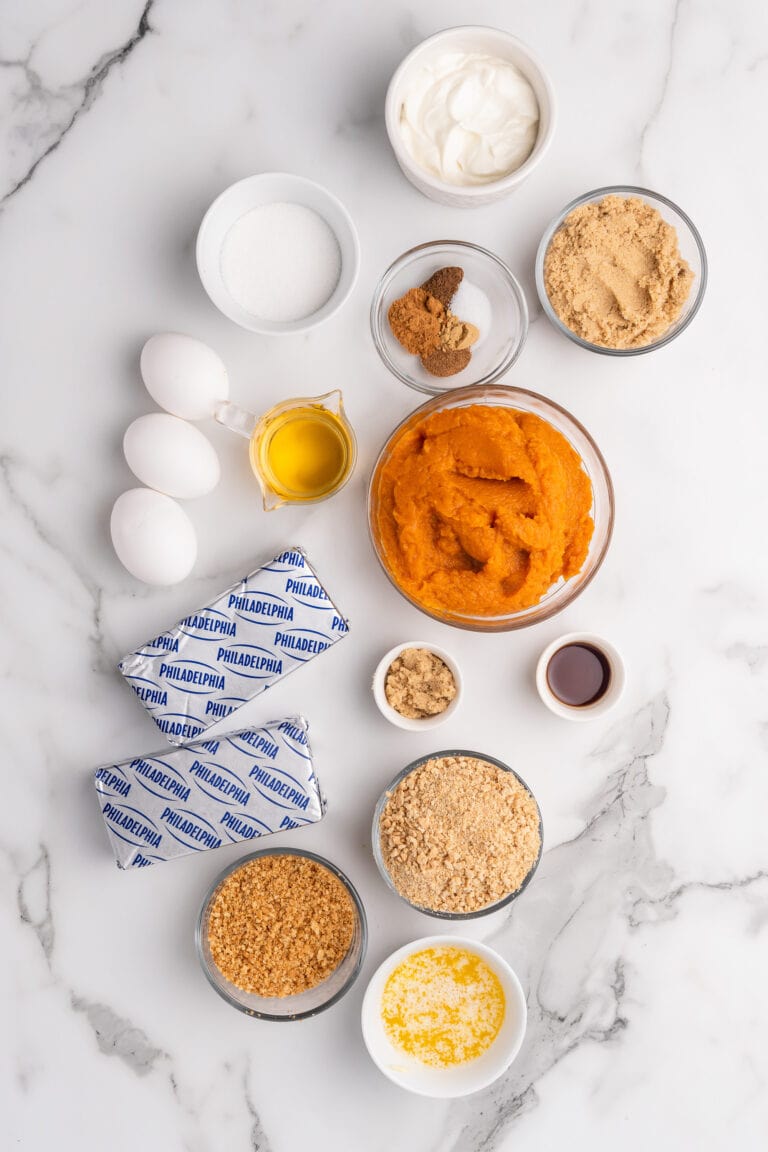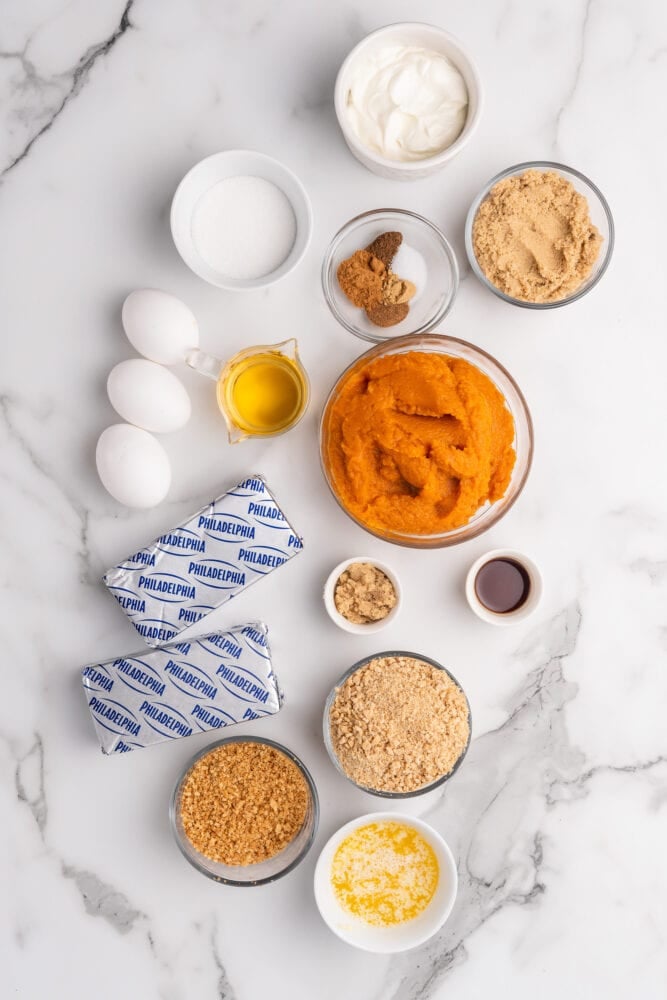 In addition to cream cheese, you'll need graham cracker crumbs, ginger snaps, butter, eggs, pumpkin pie spices, brown sugar, sour cream, a pinch of salt, and some bourbon for the cream topping (You have to say that last ingredient with your best Southern accent, as if you've taken a swig or two. BOOOOOURBON.)
Putting Together A Tasty Crust (The Secret Is Gingersnaps)
Onto the good stuff! Let's start with the crust, shall we? For cheesecake, it's really easy. A typical pumpkin cheesecak crust is made with just 3 simple ingredients — Graham cracker crumbs, pinch of brown sugar, and some butter. But for some extra flavor, I like to add ginger snaps for a little extra zing. Just crumble up handful of these spicy cookies in your little food processor.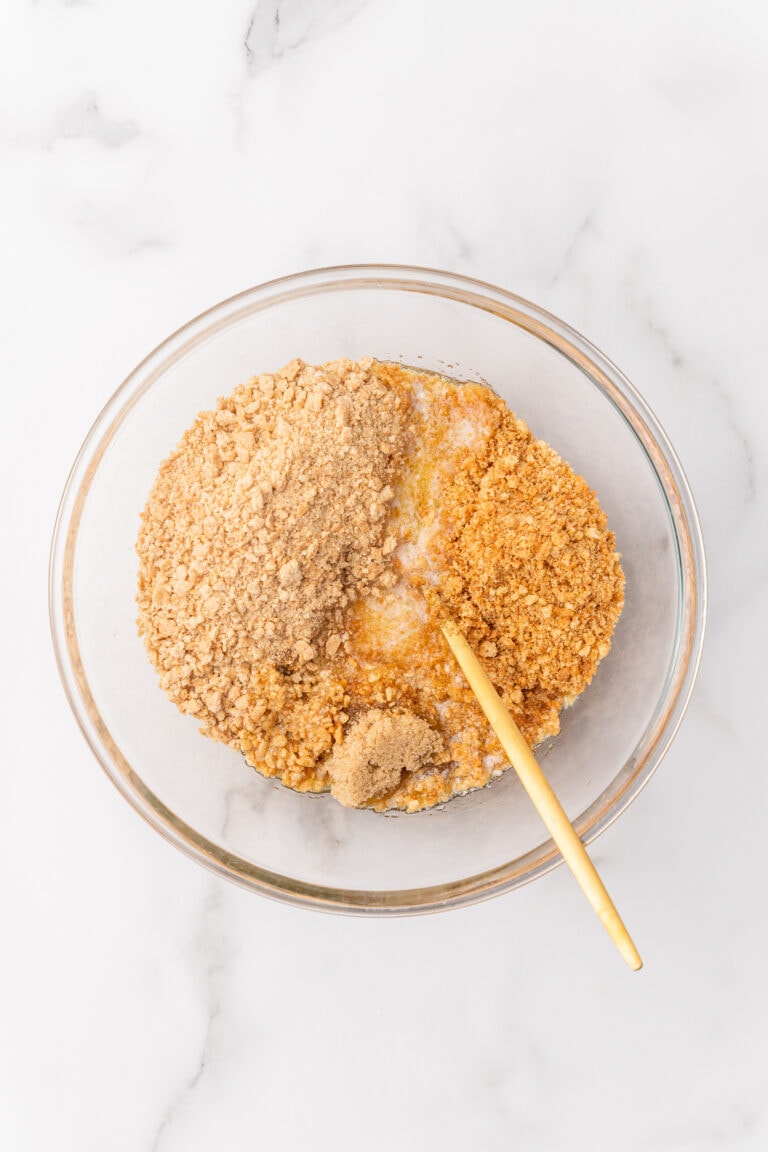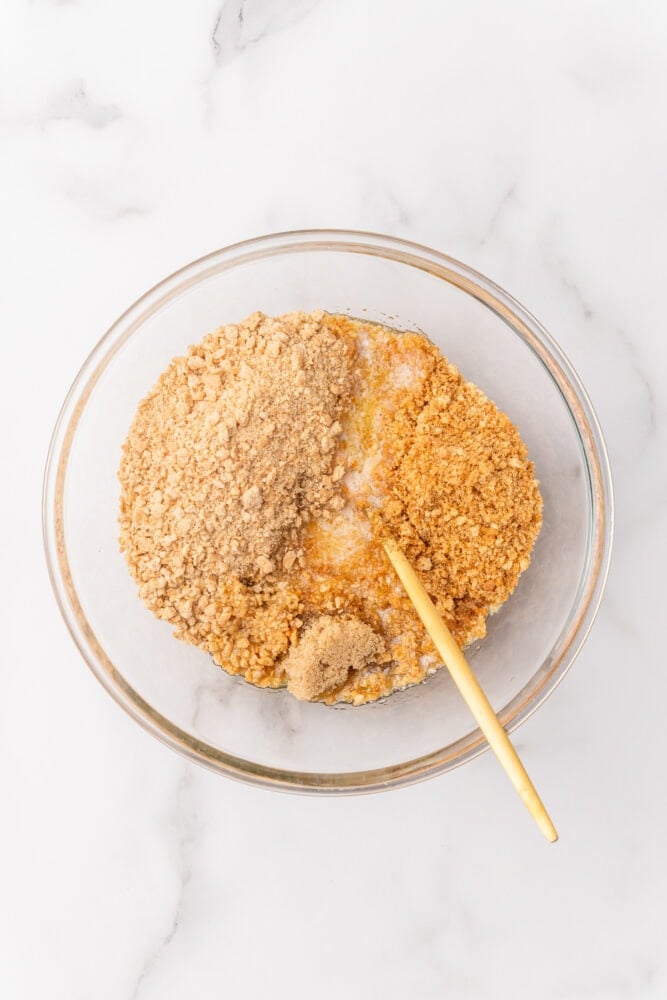 If you don't have a food processor, you can throw 5 or 6 cookies into a large zip lock bag and crush them with a wooden spoon to make some crumbs. Now, I have to warn you, if you decide to go this route I will suggest you put the whiskey away. Unless you want your family to find you in your kitchen with a bottle of bourbon smacking cookies with a spoon. Just sayin. Mix all the ingrededients for the pumpkin cheesecake crust.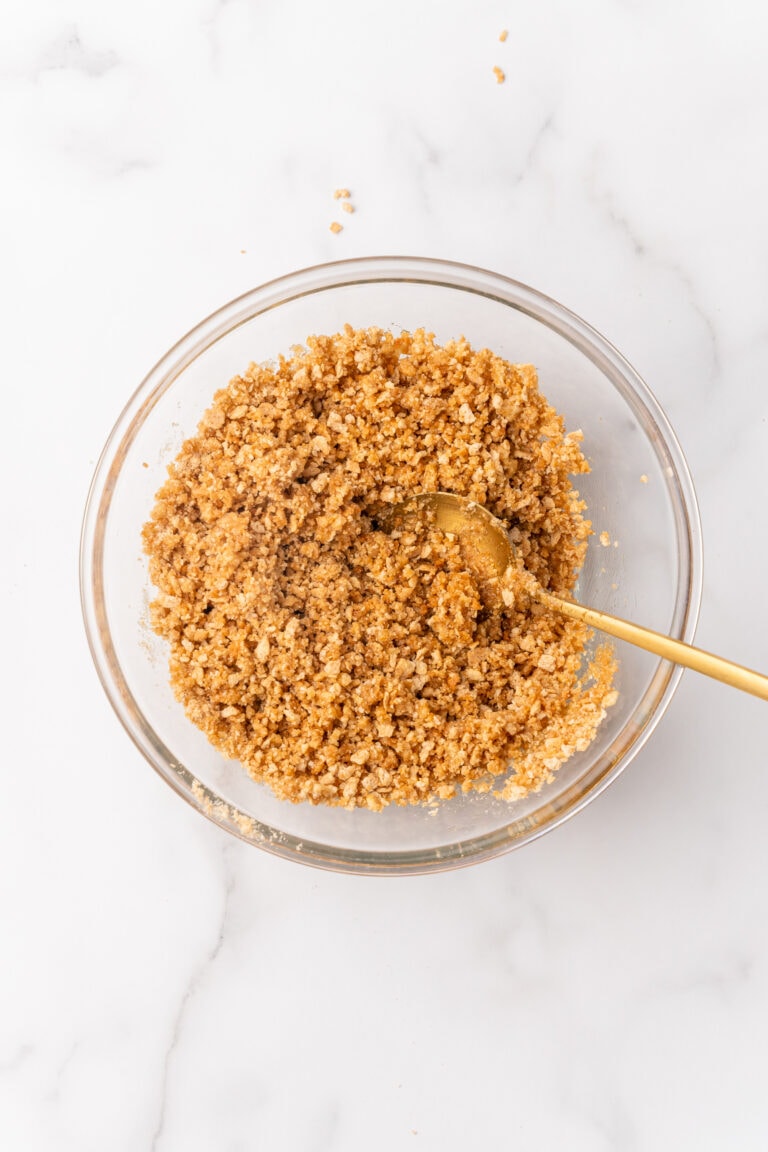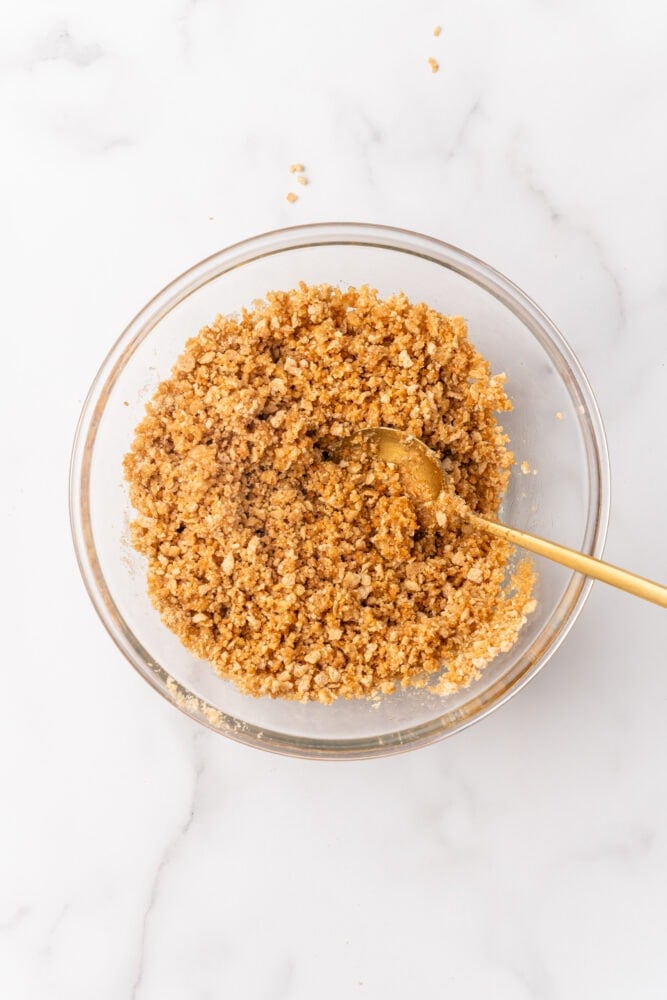 Then press the butter/crumb mixture firmly into the bottom of the springform pan and up to the sides. Pop the crust into the oven at 350 for 10 minutes. And then let it cool on a wire rack while you mix the filling.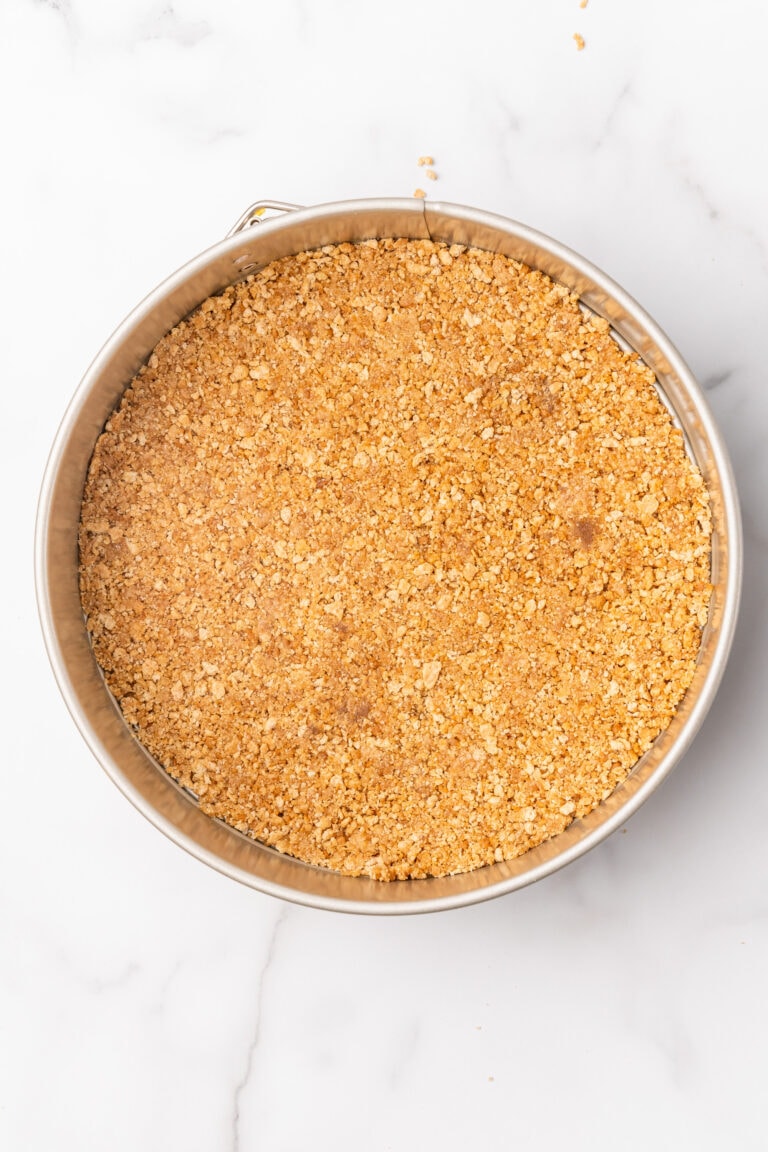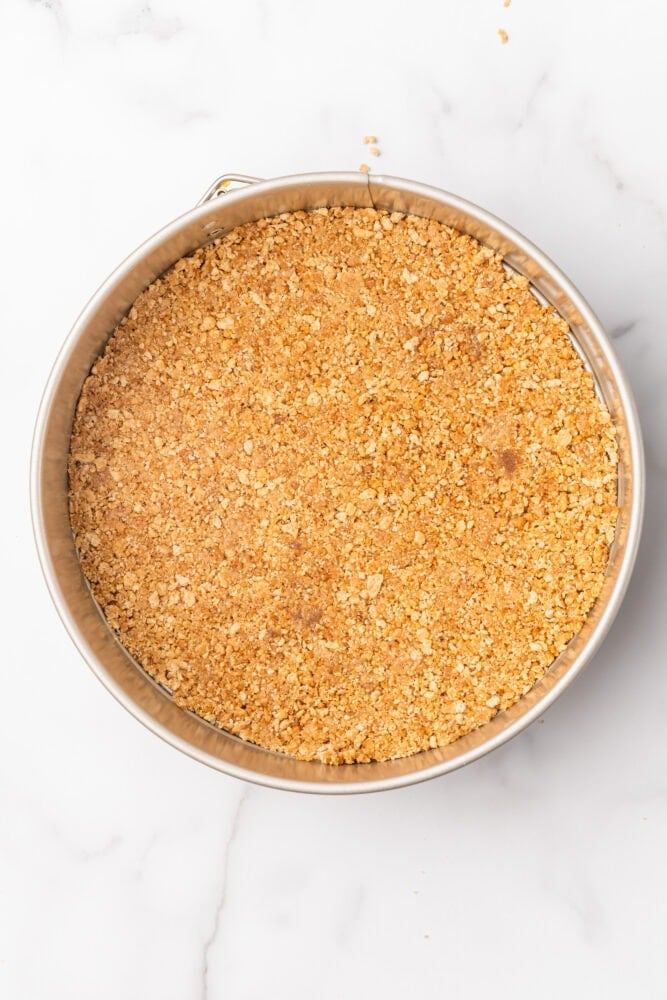 Step one for this easy pumpkin cheesecake recipe is done. See, wasn't that easy? Now on to the fall ingredient that makes this cheesecake extra special — pumpkin.
How To Add Pumpkin To A Cheesecake Recipe
Pumpkin actually holds A LOT of water. So, if you want to keep your cheesecake firm, you'll need to soak up some of that water. Here's a little tip for how to do that, spread out the pumpkin on paper towels. Simple white un-printed plain paper towels. This will help absorb some of the extra water.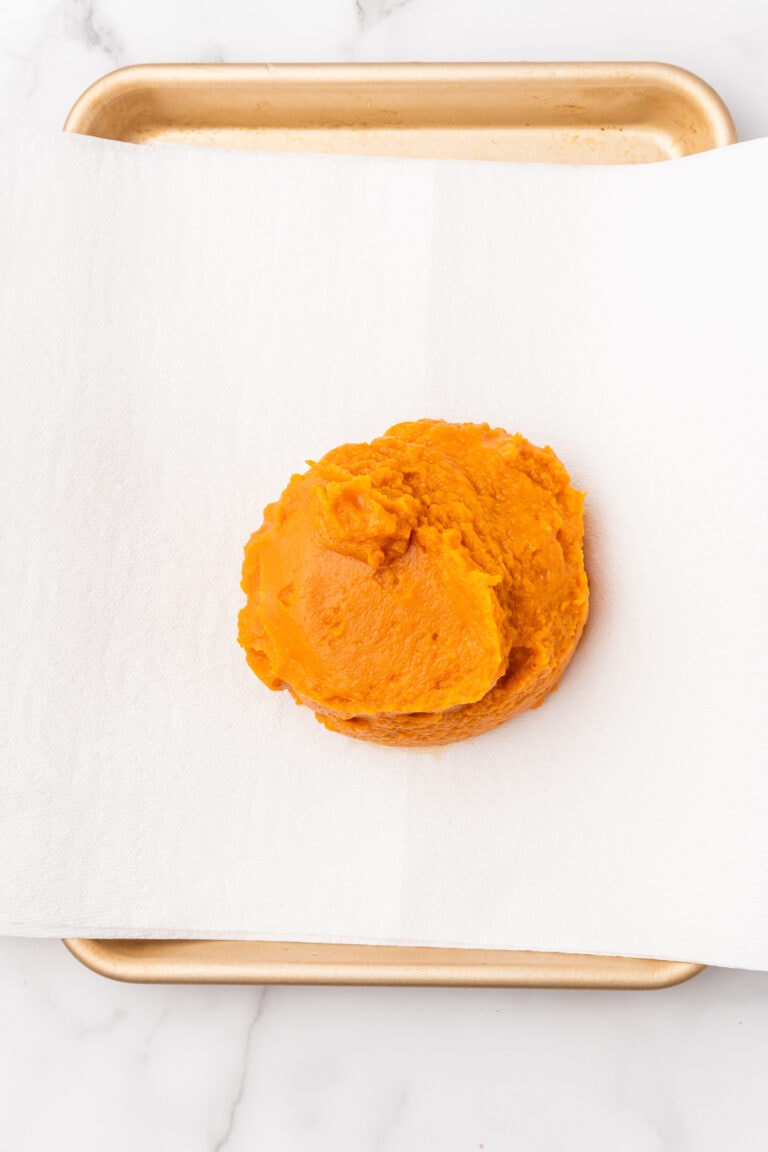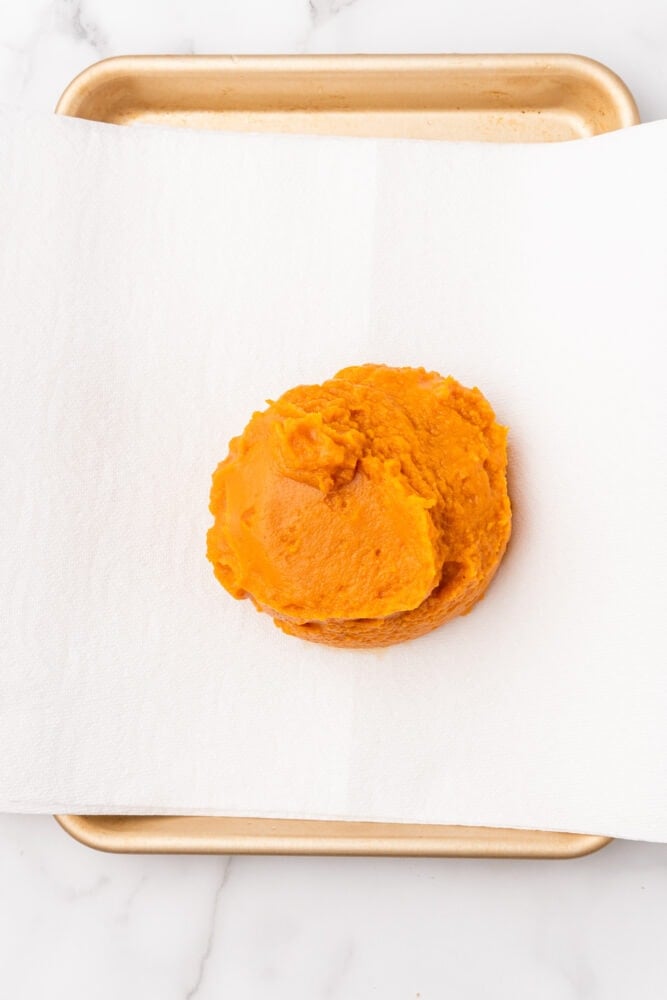 Spread the pumpkin out onto a layer of 6 to 8 paper towels using a spatula. When you've got it spread over the paper towel like icing, add another couple of layers of paper towels on top and press softly to absorb more of the moisture.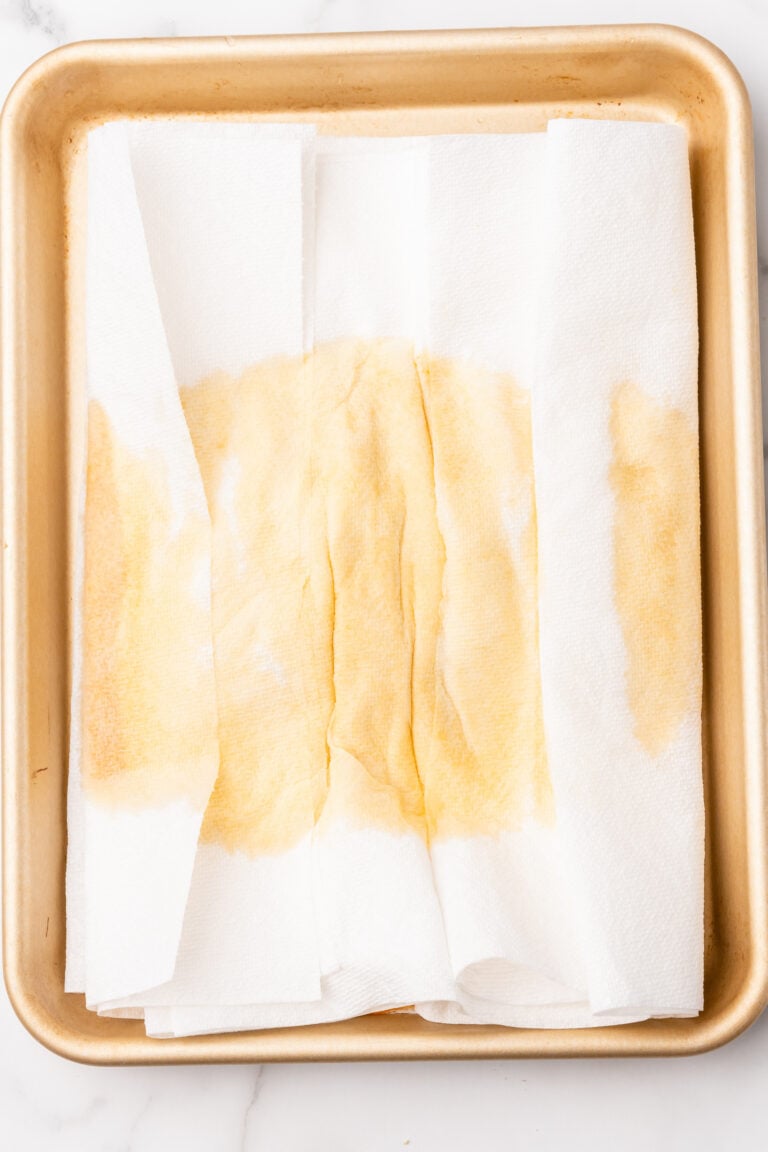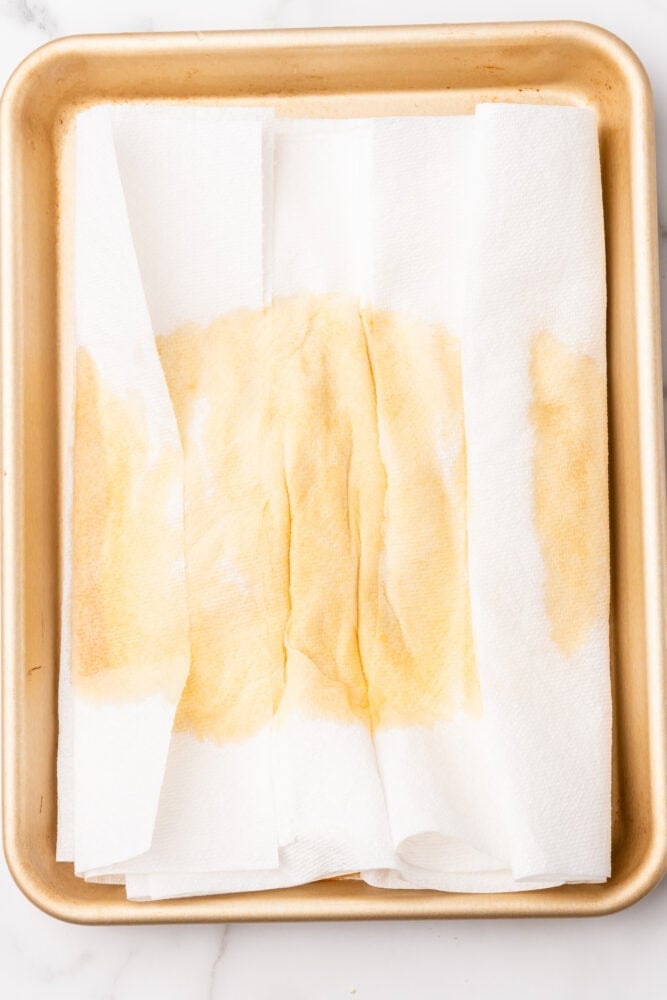 Then, gently peel the pumpkin away from the paper towels using a silicone spatula. It should lift pretty easily since there's so much moisture absorbed in the paper towels.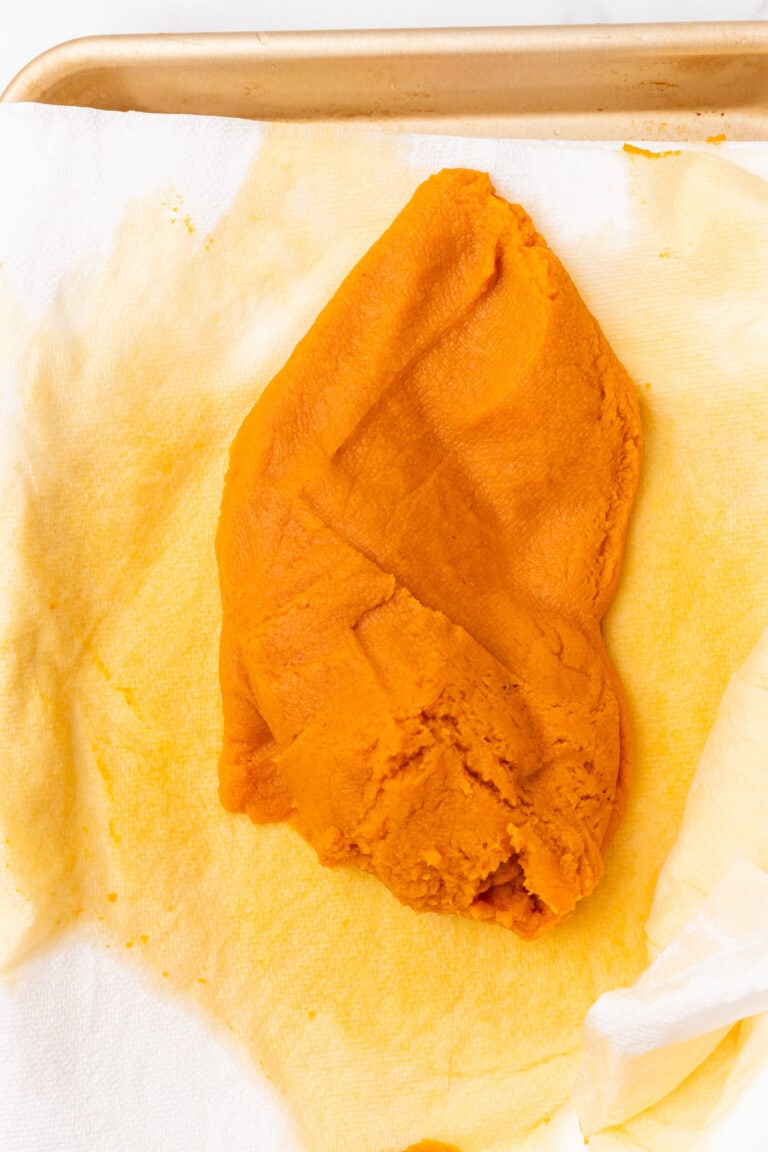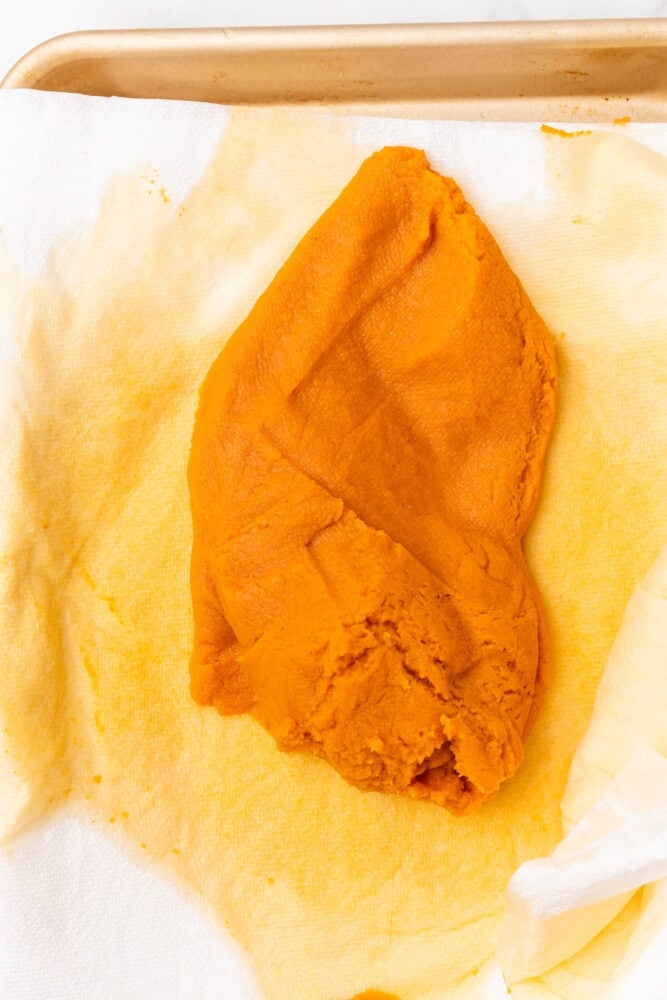 Pumpkin Cheesecake — Putting It All Together
After removing the extra moisture from the canned pumpkin, now it's time to put everything together. Start by mixing the softened cream cheese and brown sugar.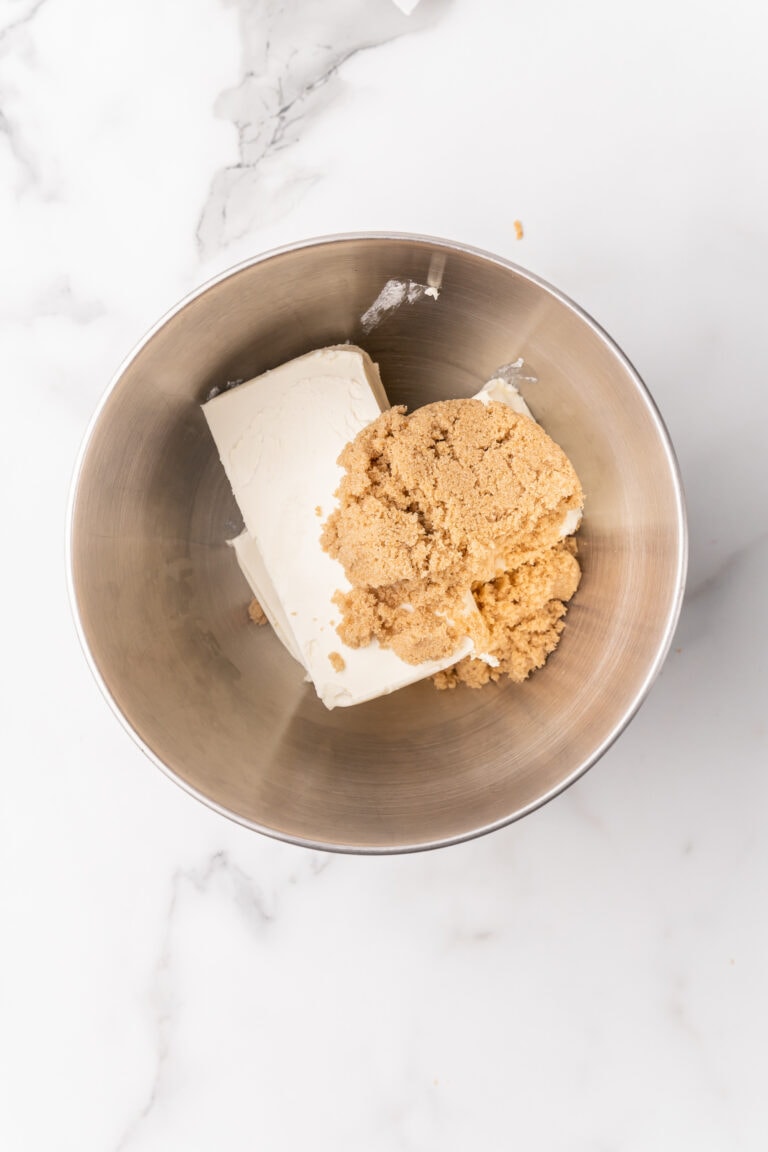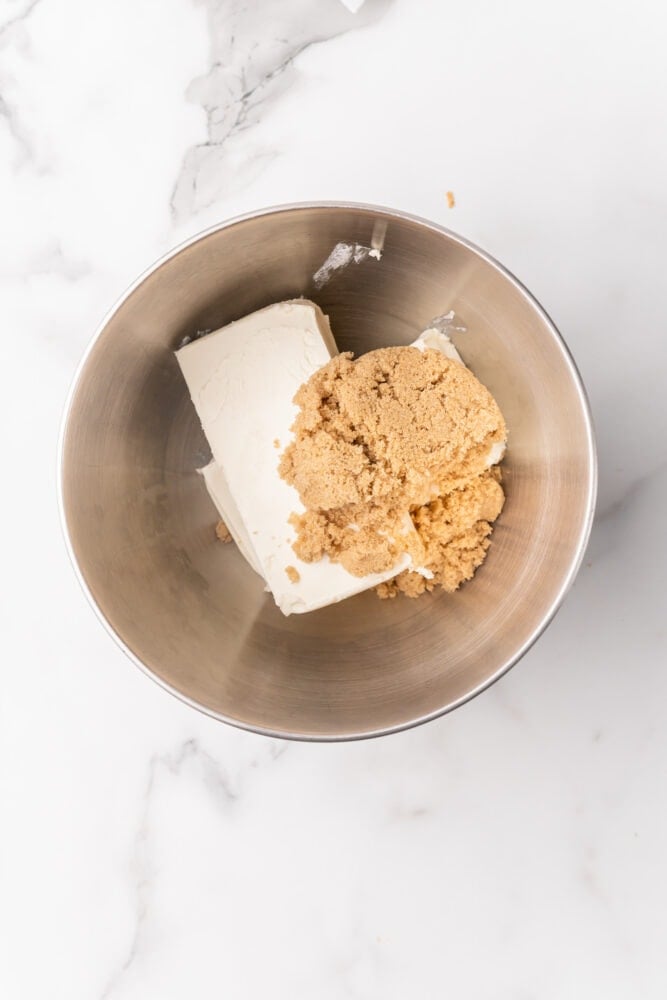 It should look a bit like cake frosting.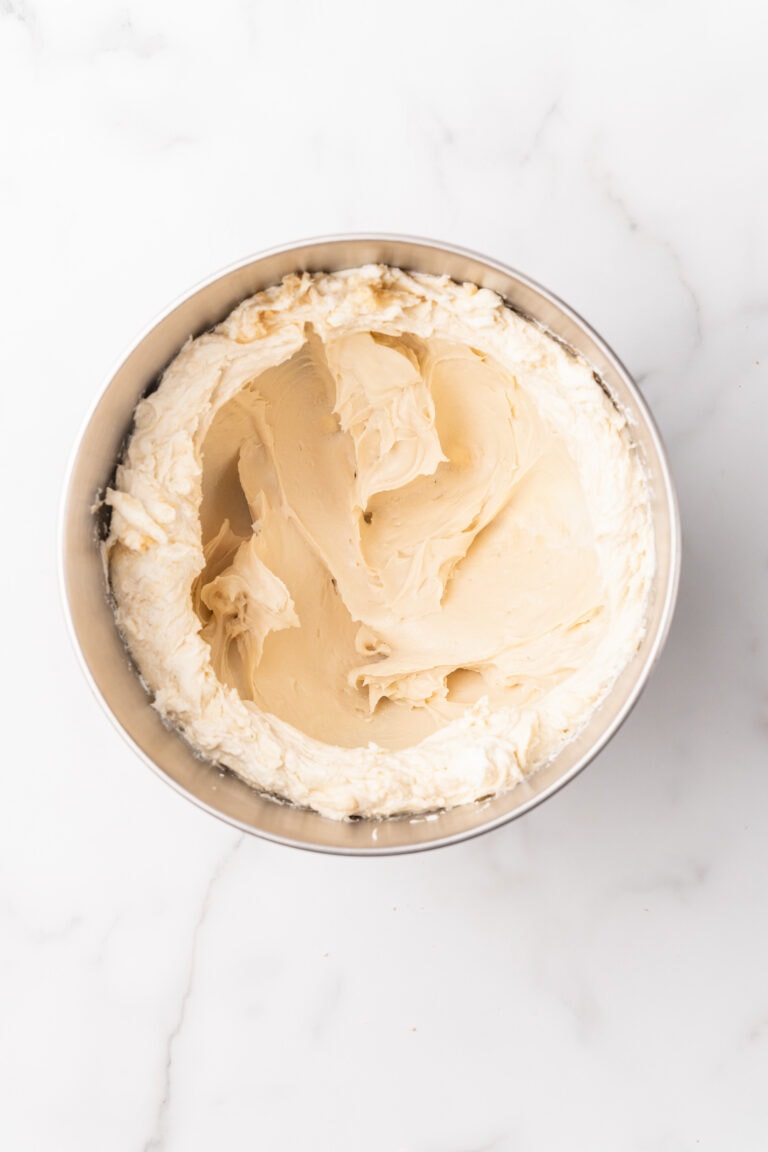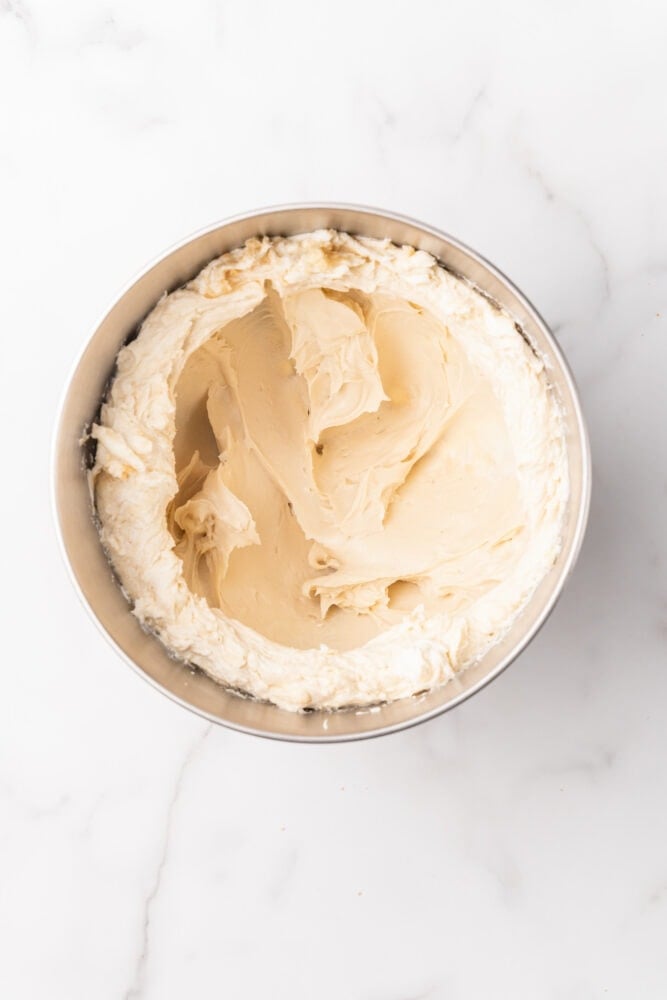 Then add the pumpkin and eggs, and mix some more.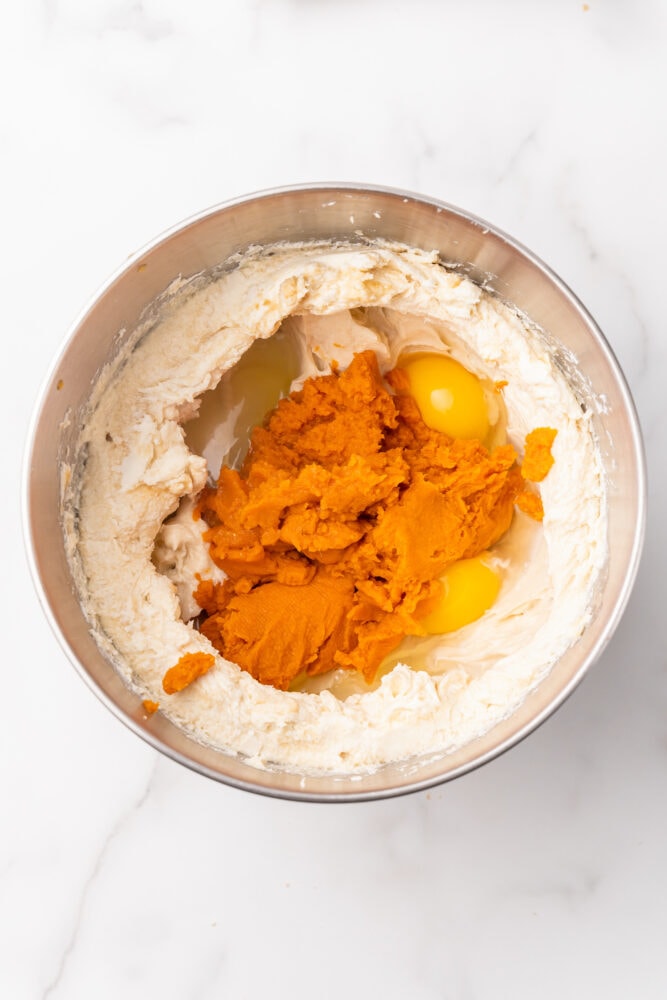 Finally, add the vanilla and spices and give it one last good mix. Then you've got yourself a delicious pumpkin cheesecake filling!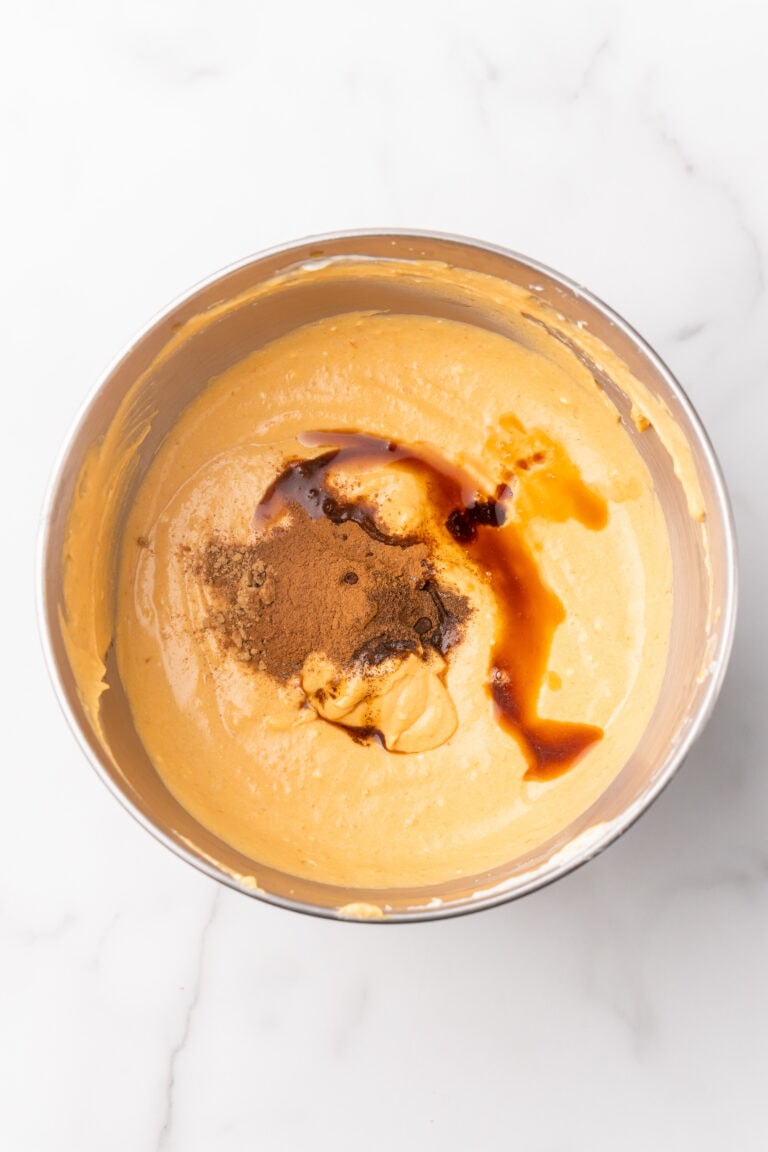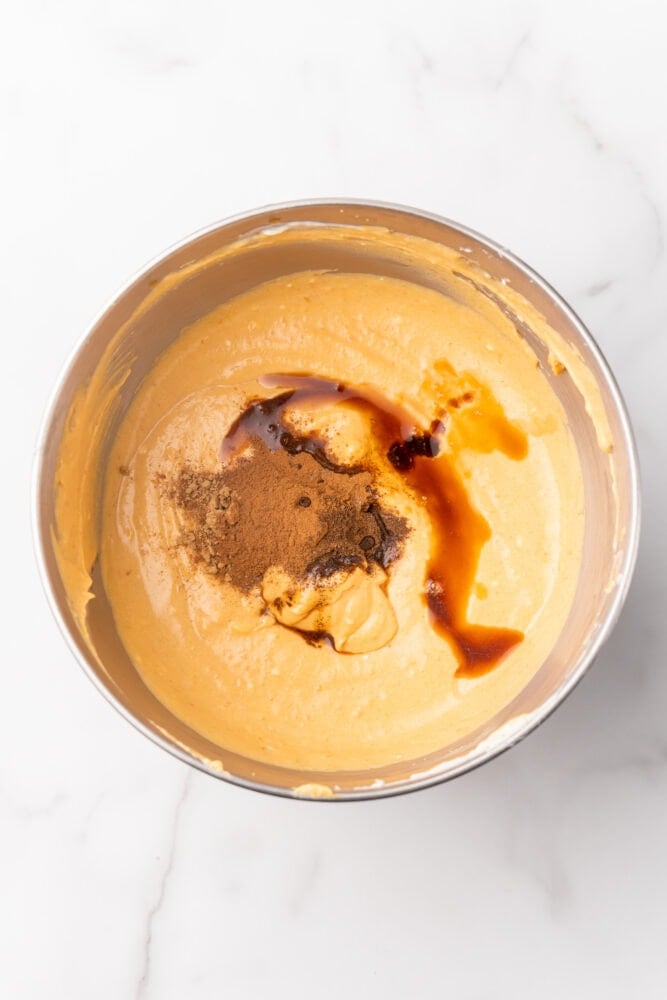 When it's all mixed together, scrape the edge of the bowl with a spatula, then blend some more until it's nice and creamy. This is where it gets really tempting to just eat it right out of the bowl.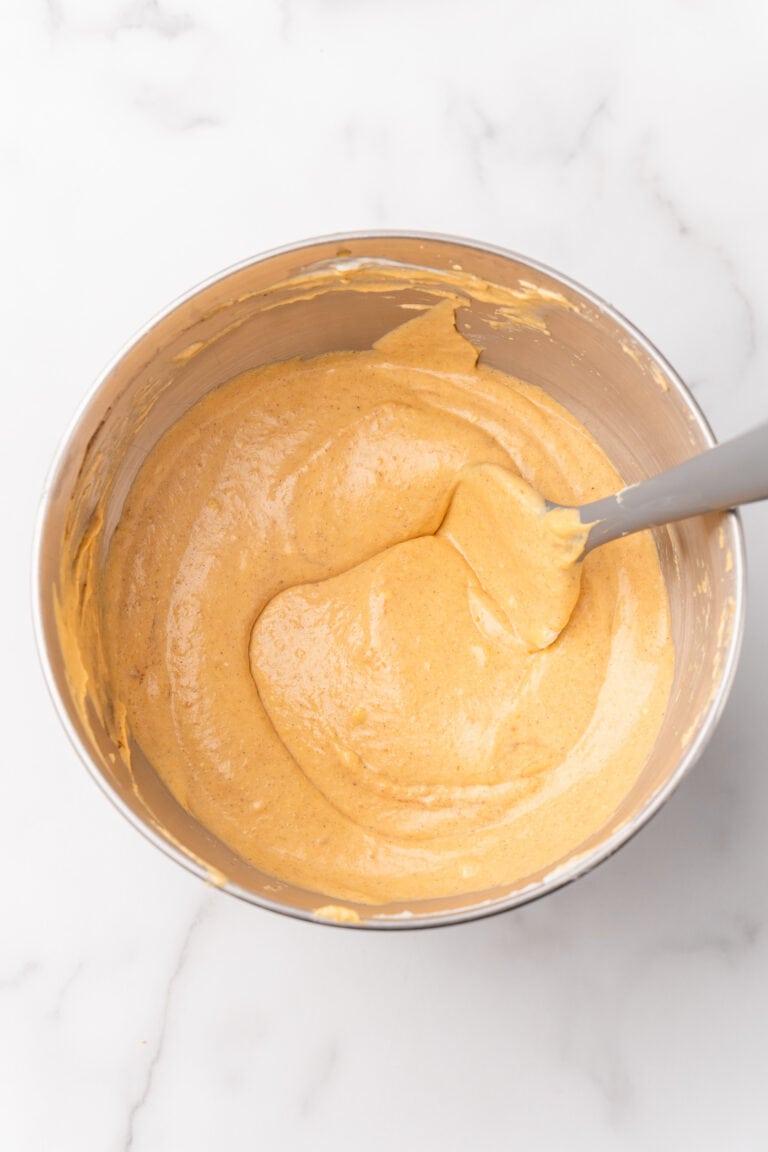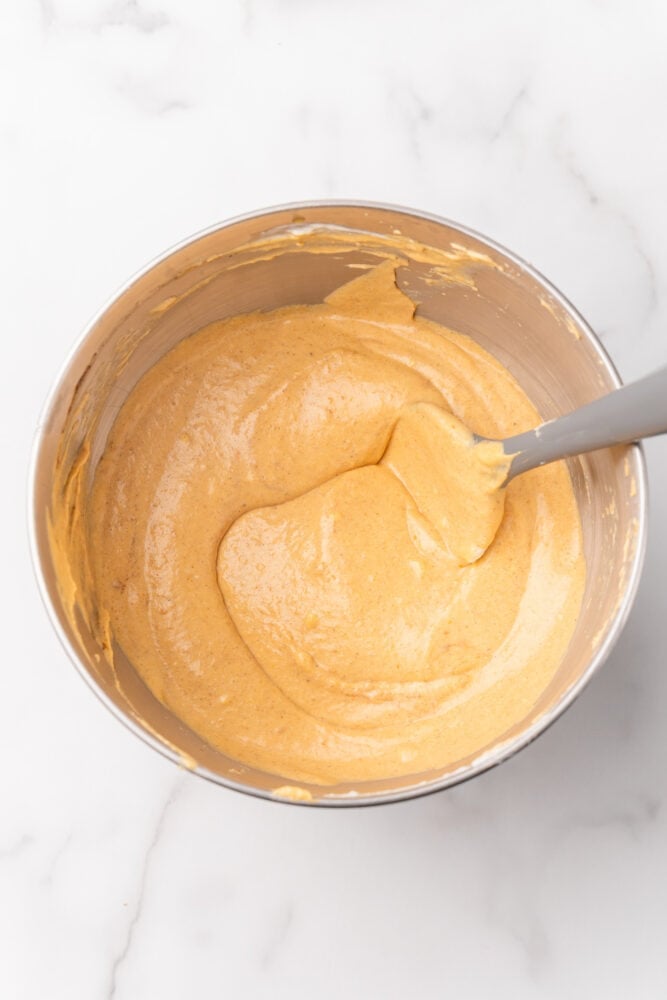 Spread the pumpkin cheesecake mixture out onto the baked graham cracker and ginger snap crust. Bake at 350 degrees for 45 minutes to an hour.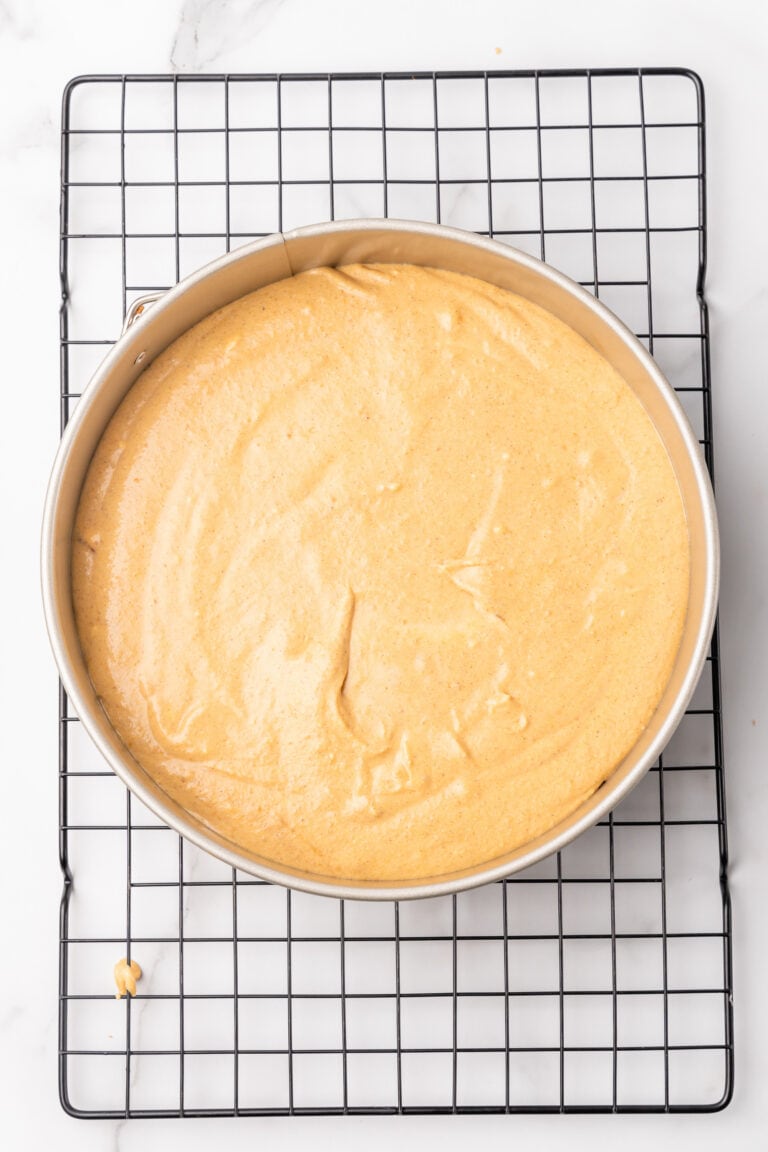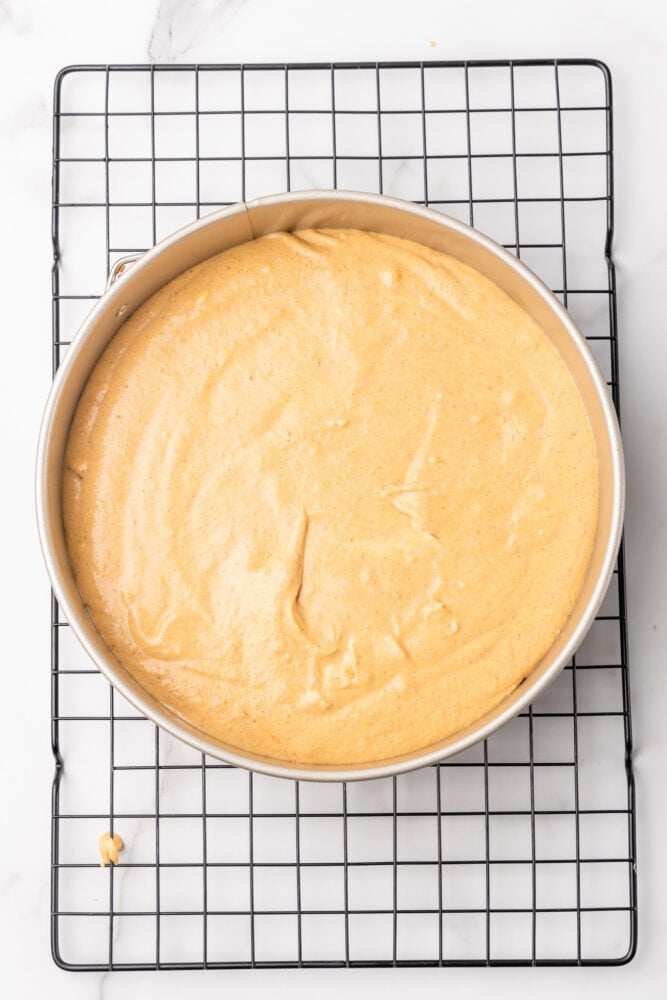 Then, voila! A delicious and easy pumpkin cheesecake! Let it cool to room temperature before covering it with plastic wrap and refrigerating to chill. I like to chill it overnight so it is ready to serve the next day.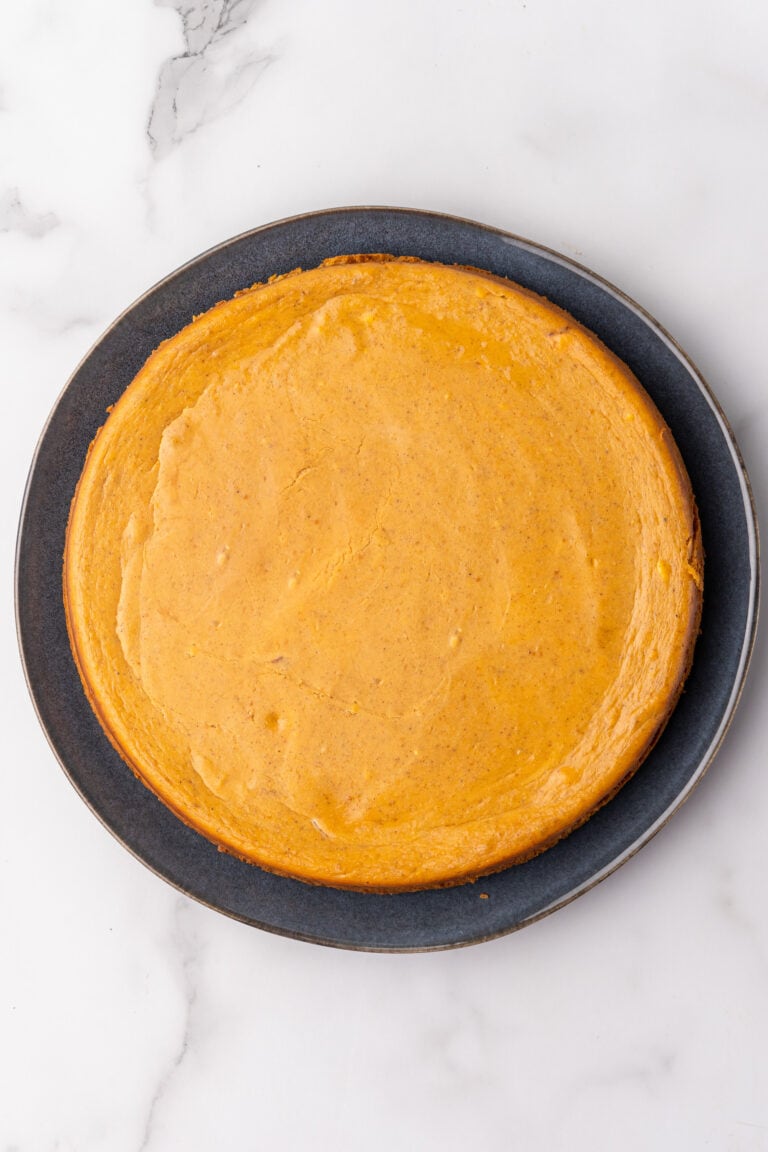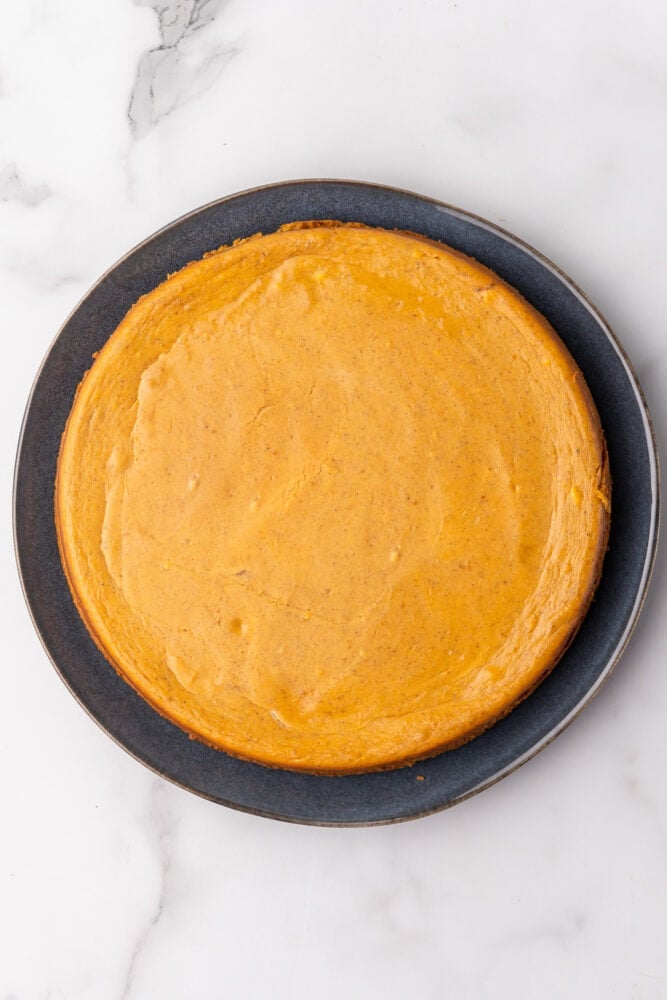 Tips For Baking Your Pumpkin Cheesecake
In other cheesecake recipes I've done (including this one), it usually calls for a "water bath" in which you wrap the bottom of the springform pan with tinfoil and place the cheesecake in a pan half filled with water while baking. The purpose of the water bath is to keep the cheesecake moist and prevent it from getting dried out around the edges.
This is a little precarious or tricky when removing the cheesecake after it is done baking because it can be heavy and the bath is filled with hot water.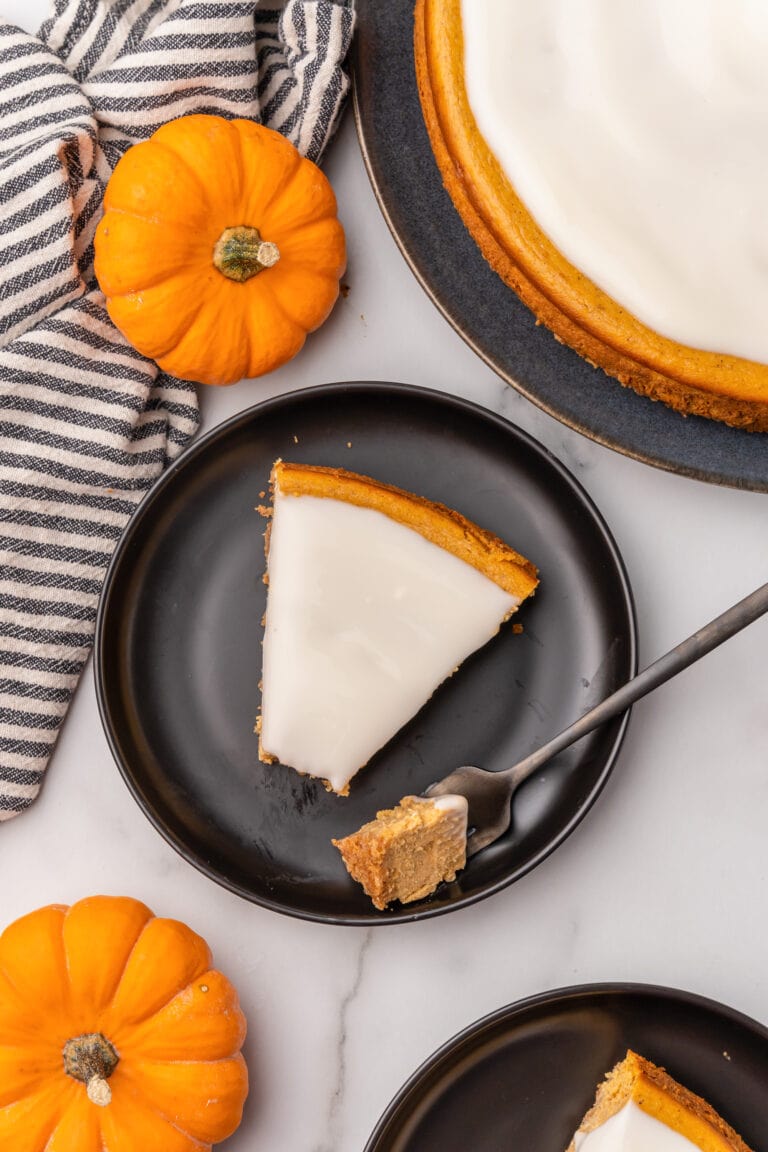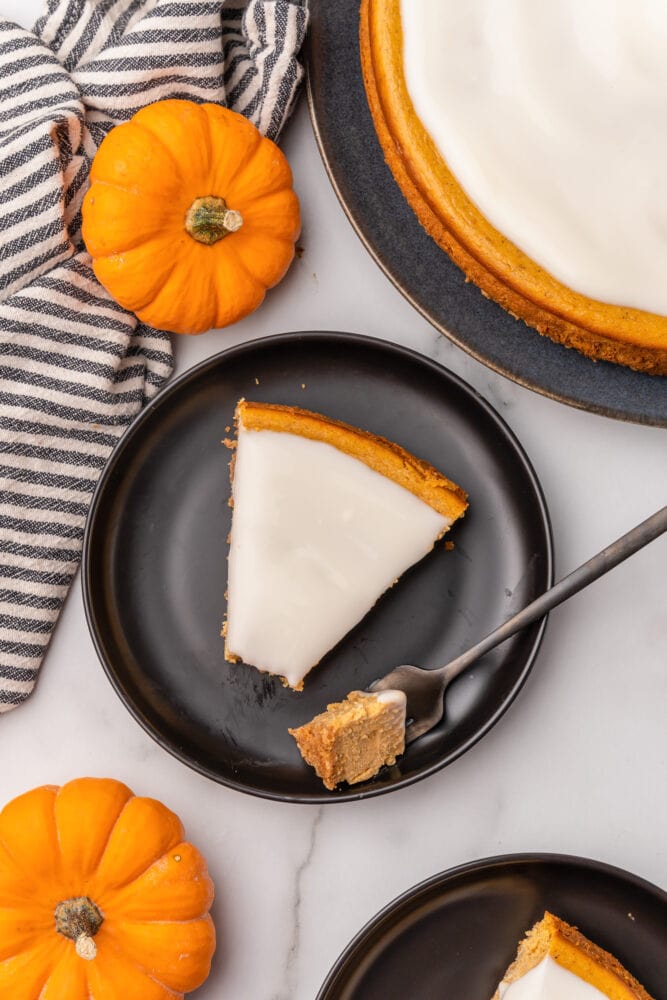 As an alternative, you can also place a pan or oven safe bowl full of water inside your oven separately to create the same effect. I got this tip from my friend, Chef Jim, at the Mount Dora Historic Inn. He does this with his cheesecake as well as his soufflés. Well hallelluah! I (we) don't have to fret over pulling a gigantic heavy hot "water bath" out of the oven. Just let the pan/bowl full of water cool before removing. Brilliant! Wish I would have known this little short cut last time I made cheesecake.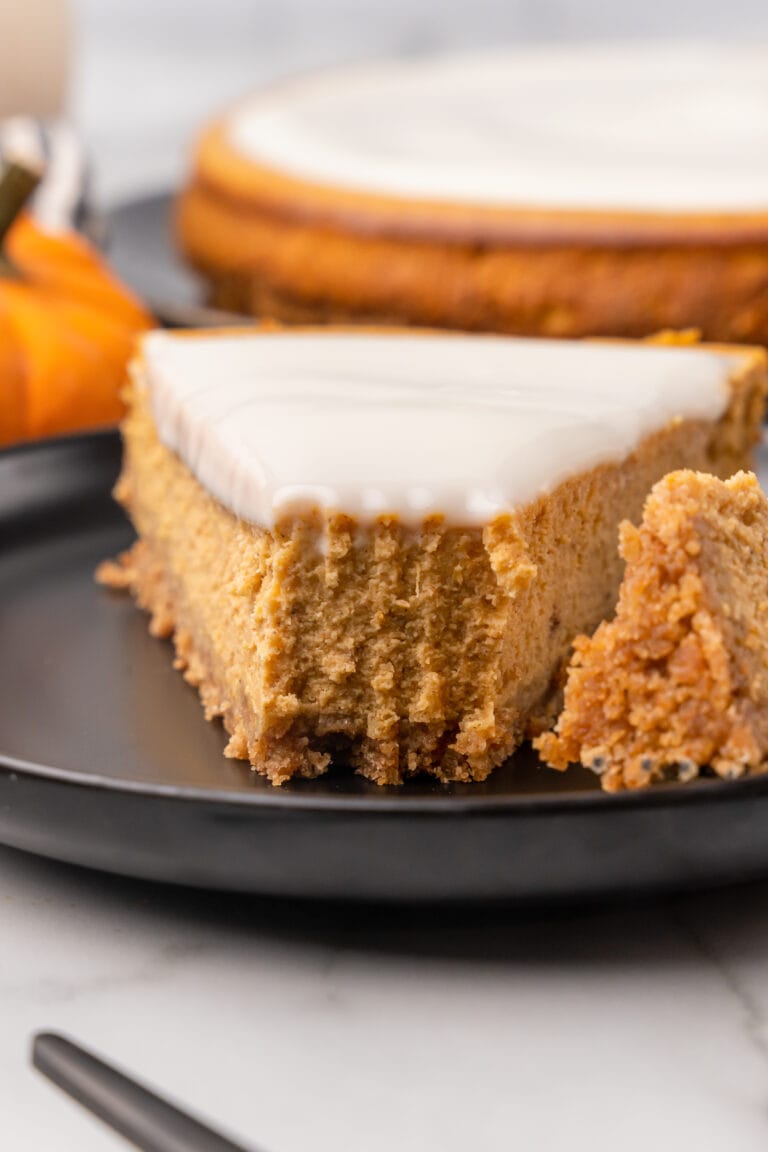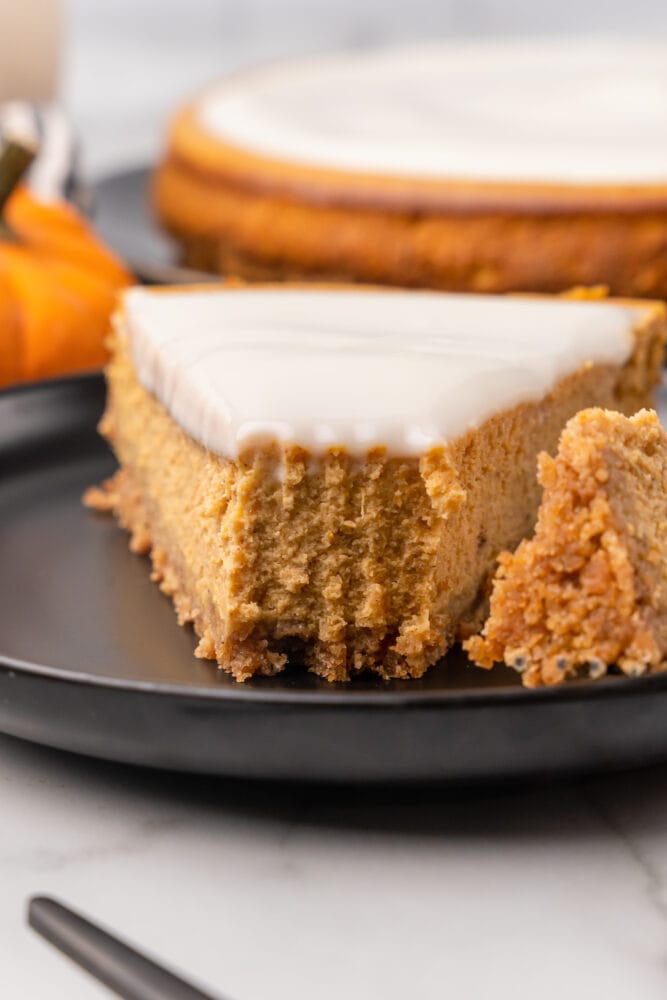 Making The Bourbon Cream Topping
After the cheesecake is done baking, you'll need to let it cool for an hour on the counter. Then cover it with plastic wrap and place it in the refrigerator to chill overnight, or for at least four hours.
These next three ingredients will be your topping — sour cream, sugar, and Bourbon. Blend them all together until smooth.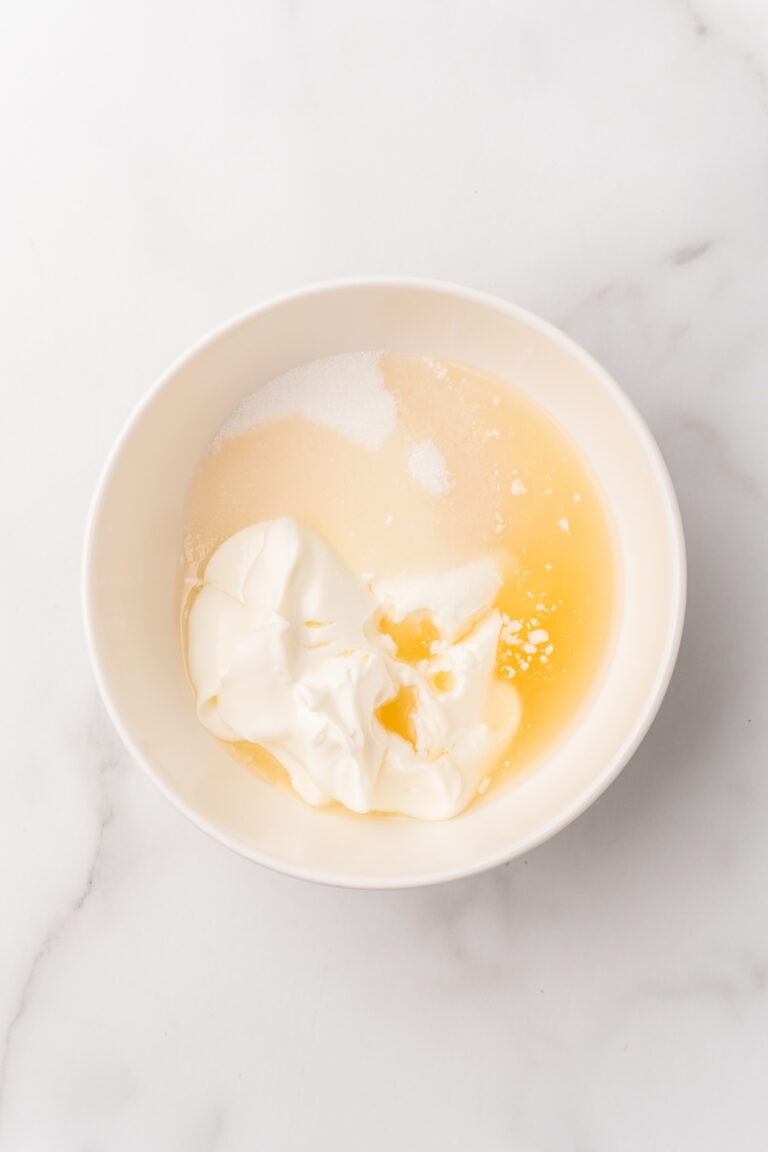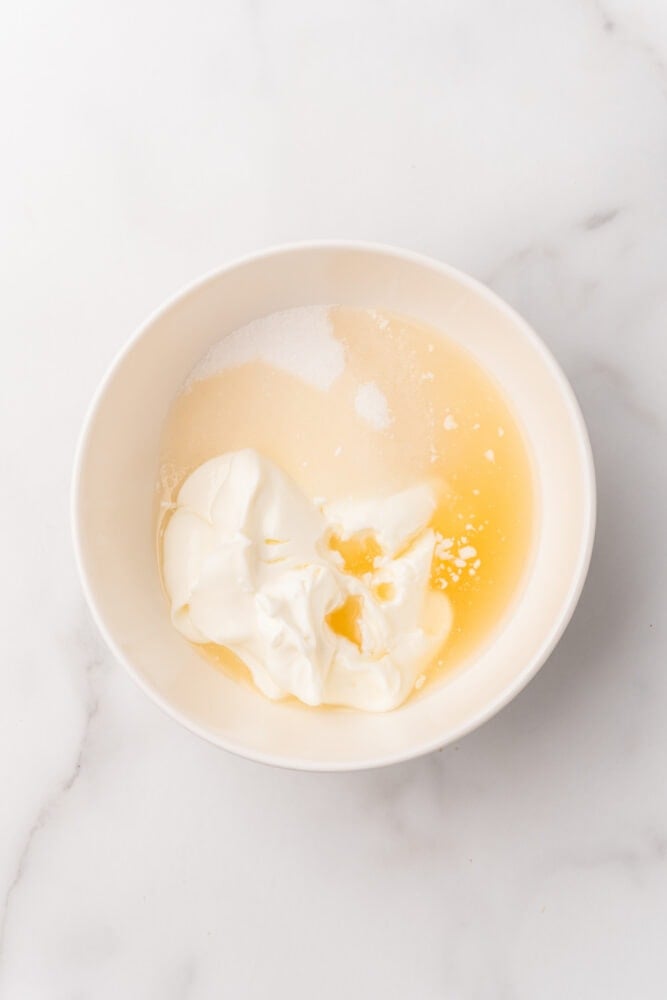 Funny story, I once made this with "lite" sour cream. It turned out fine. But nothing else about his recipe is "lite" and the 20 calories I saved in using this one didn't make a lick of difference I'm sure. Thanksgiving is not for diets, after all. That's what New Years Resolutions are for.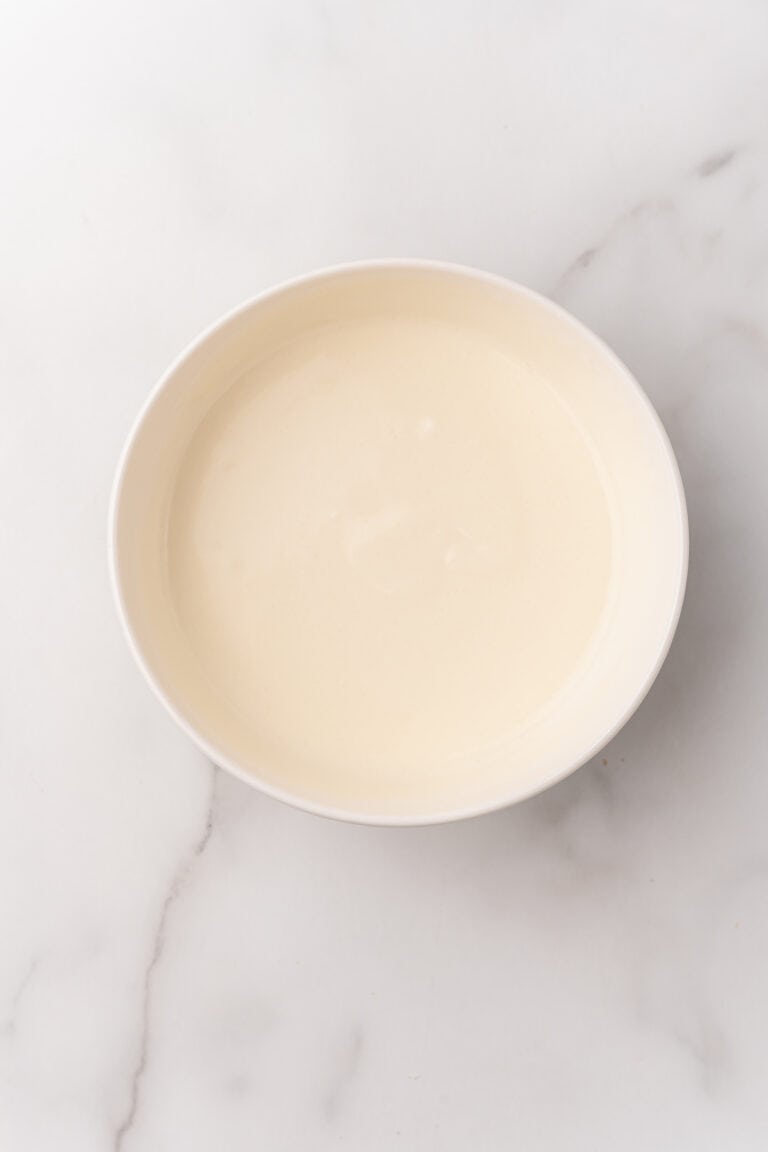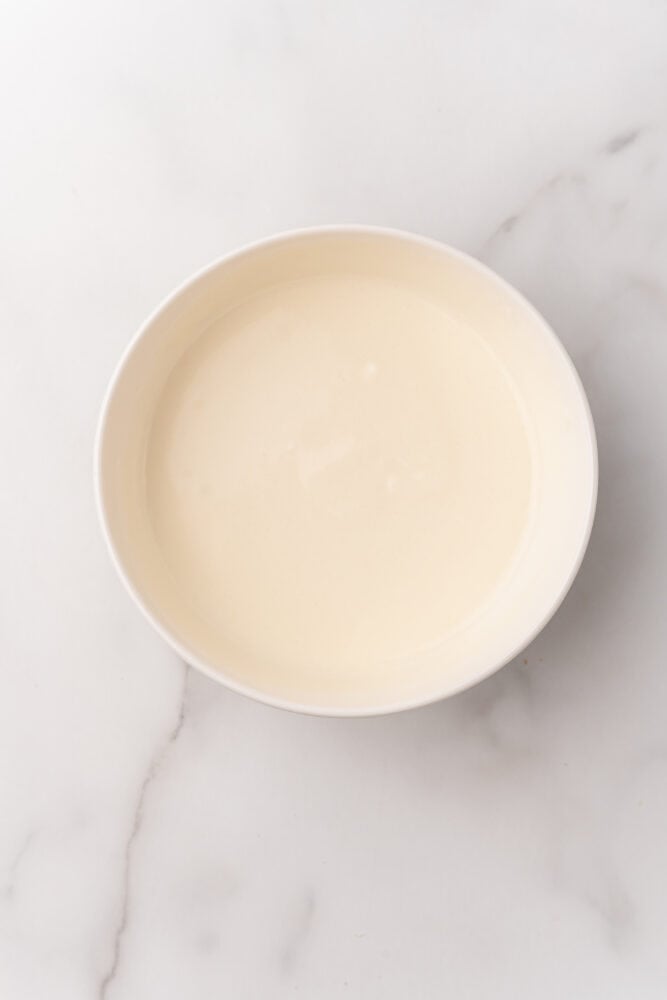 Once well blended, you can either top your whole cheesecake with the bourbon cream, or serve it on the side for your guests to add it on their own. I also like to include a few cranberries for garnish.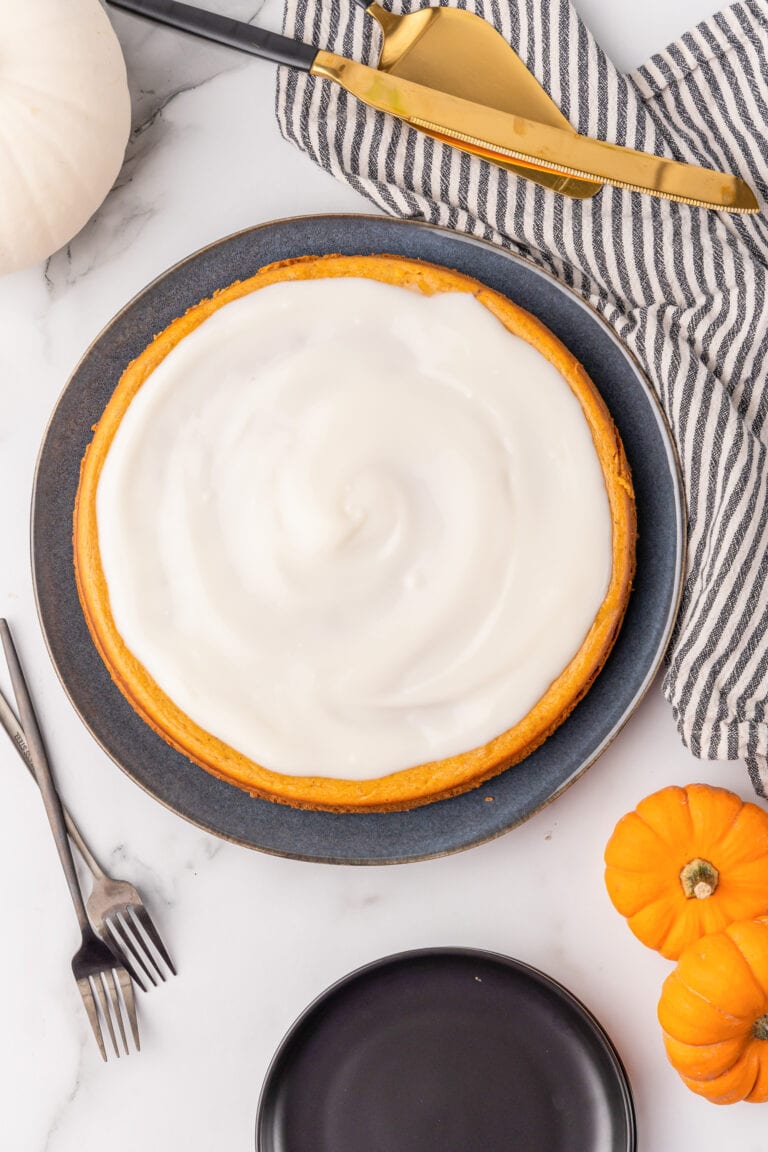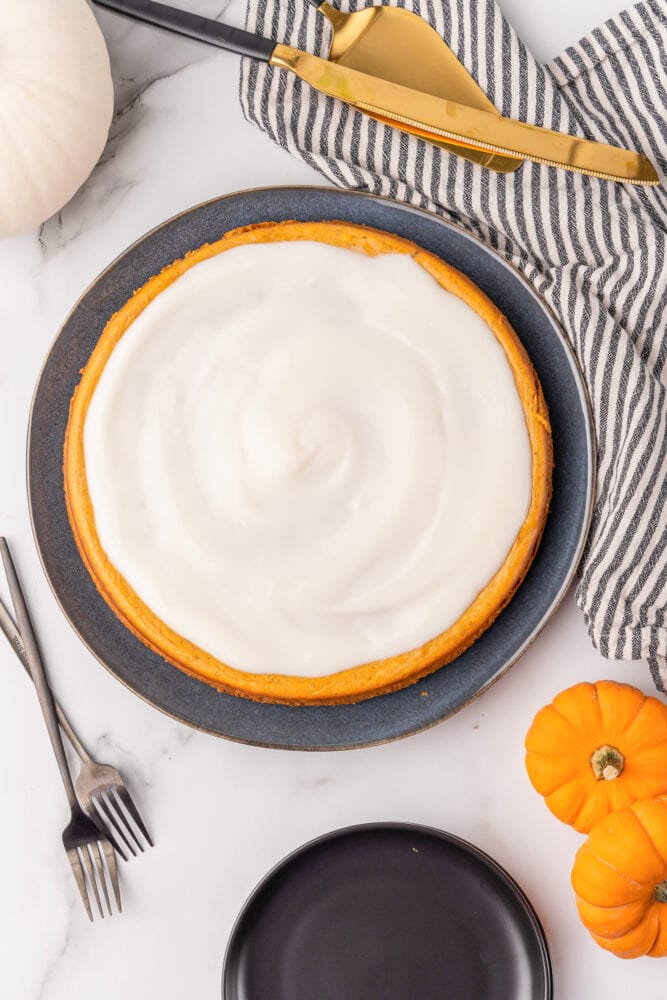 If you love pumpkin recipes, you might also want to try our pumpkin cream cheese muffins or our pumpkin flan!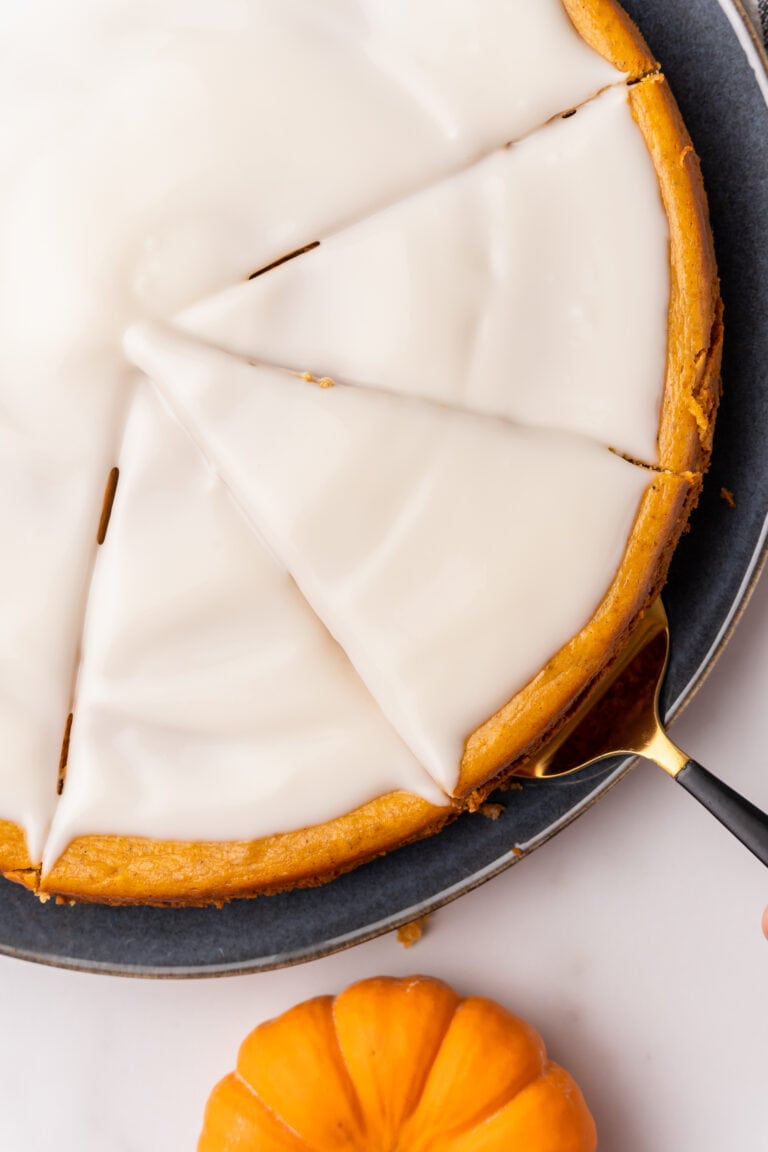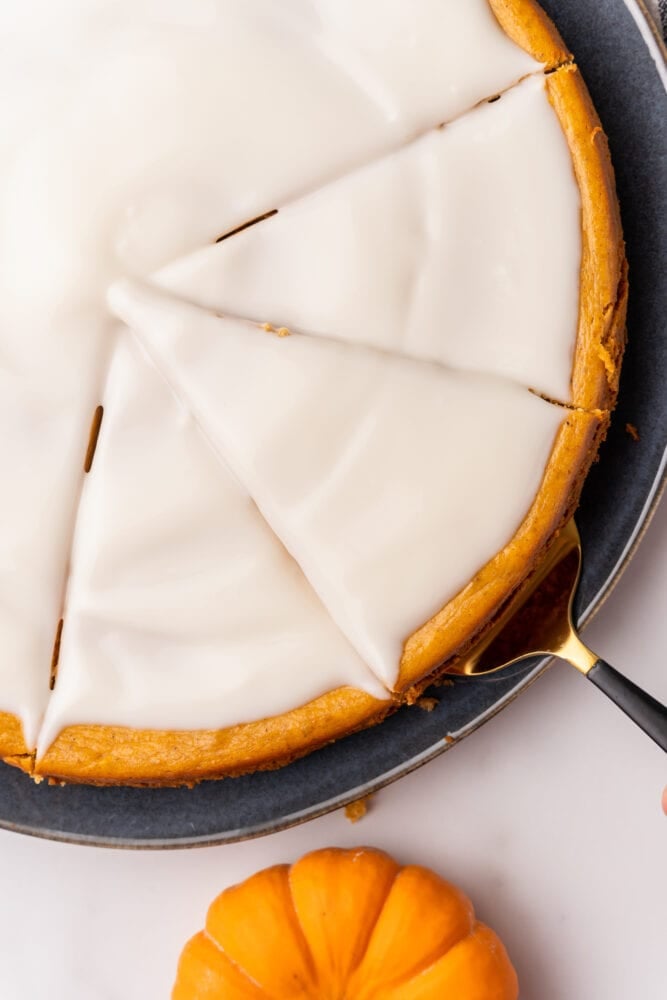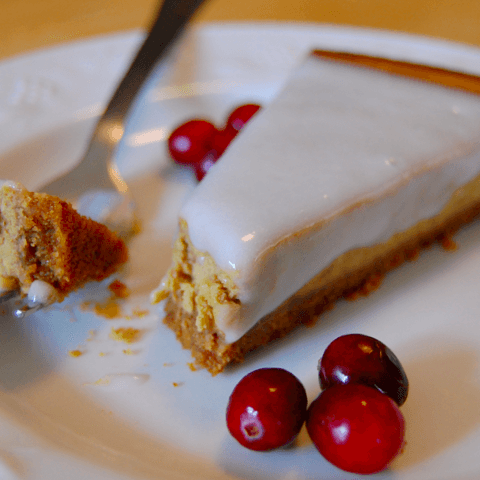 Pumpkin Cheesecake with Bourbon Cream
Total Time:
1 hour
25 minutes
Ingredients
1 cup graham cracker crumbs
1/2 cups finely ground gingersnap cookies
1 tablespoon brown sugar
4 - 5 tablespoons melted unsalted butter
2 8 oz packages of cream cheese, softened and at room temperature
3 large eggs
1 can pumpkin puree
1 teaspoon pure vanilla extract
2/3 cup light brown sugar
1 teaspoon ground cinnamon
1/4 teaspoon ground ginger
1/4 teaspoon ground cloves
1/4 teaspoon ground nutmeg
1/4 teaspoon salt
1/2 cup sour cream
1/4 cup sugar
2-3 Tbsp Bourbon
Instructions
PREHEAT oven to 350°F.
For the crust, mix together the following ingredients: graham cracker crumbs, finely ground ginger snaps, 1 TBSP brown sugar, melted unsalted butter.
Press crumb mixture into the bottom of a 9 inch spring form pan. Bake for 6 to 8 minutes (do not allow to brown). Cool on wire rack for 10 minutes.
Note for Pumpkin: Pumpkin holds a lot of water, so in order to make the cheesecake more firm you need to drain some of that water. One quick and easy way to do this is to layer 6 or 7 plain white paper towels and spread the pumpkin over the paper towels. Next, layer 6 to 7 towels on top of that and press firmly. Once the paper towels are soaked through, remove top layer of towels and scrape pumpkin off the bottom layer with a spatula.
Filling: After draining the pumpkin, beat together cream cheese and 2/3 cup brown sugar in large mixer bowl until fluffy. Beat in eggs and pumpkin then add remaining spices, salt and vanilla.
Pour your filling on top of crust. In order to keep the oven "moist" fill a separate cake pan or bowl half way with water and place on the bottom rack of your oven. BAKE for 55 to 60 minutes or until edge is set. Let cool for 1 hour, then cover and place in the refrigerator overnight.
For the Bourbon Cream topping: whisk together the sour cream, sugar, and Bourbon with a hand mixer. Pour on top of chilled pumpkin cheesecake, or serve on the side.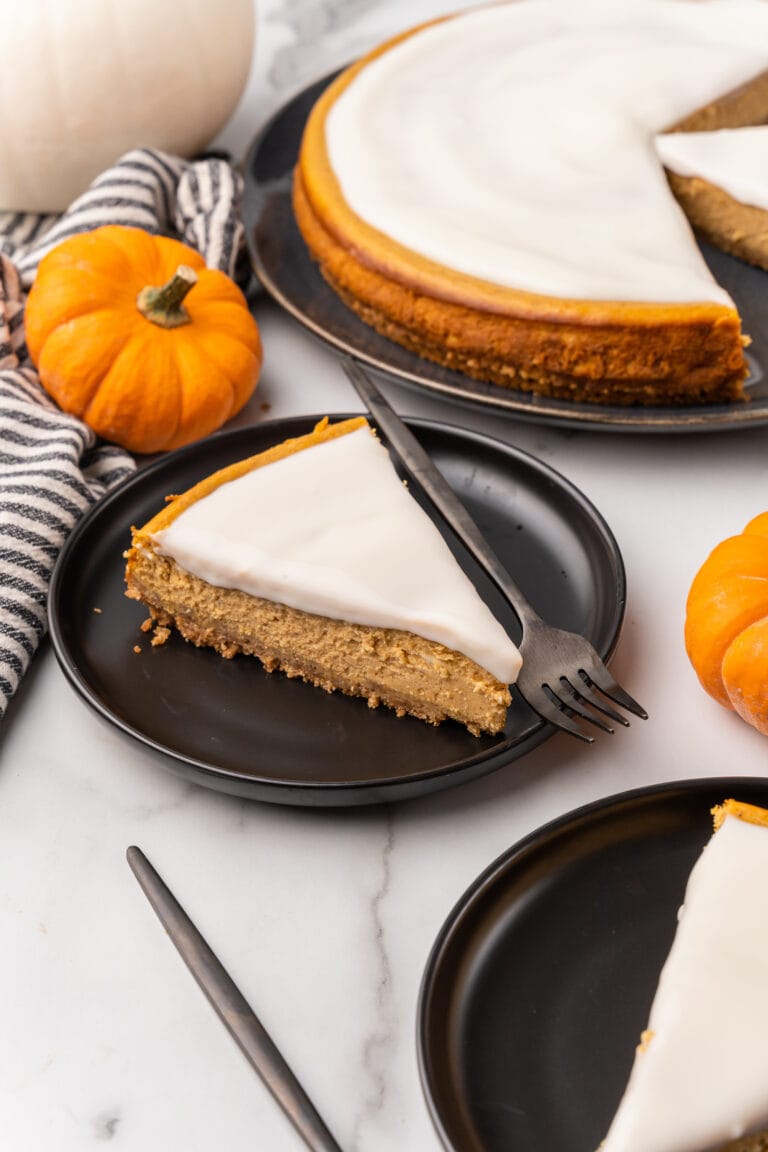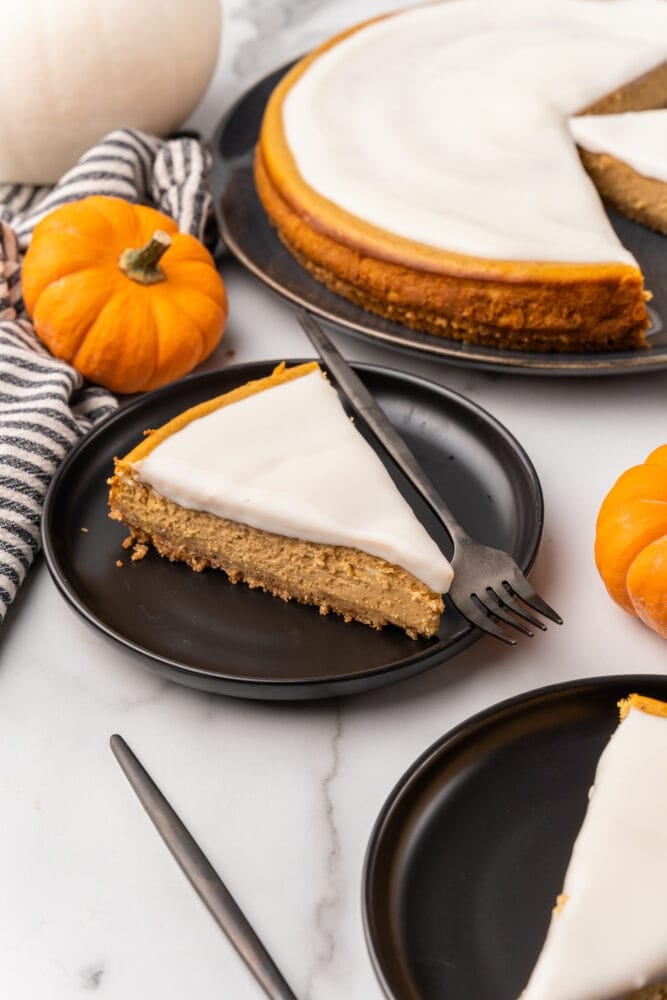 This post was originally created back when I owned an inn in 2009! It's been updated in 2023. Hope you enjoy!