One of the questions we're most often asked via social media and email is for packing tips and carry-on travel essentials. While our advice might change depending on the destination, there are a few items we never leave home without. This packing list includes items we recommend always having in your bag — especially your carry-on if you're flying! (Some of the links below are affiliates)
22 Travel Essentials To Pack In Your Carry-On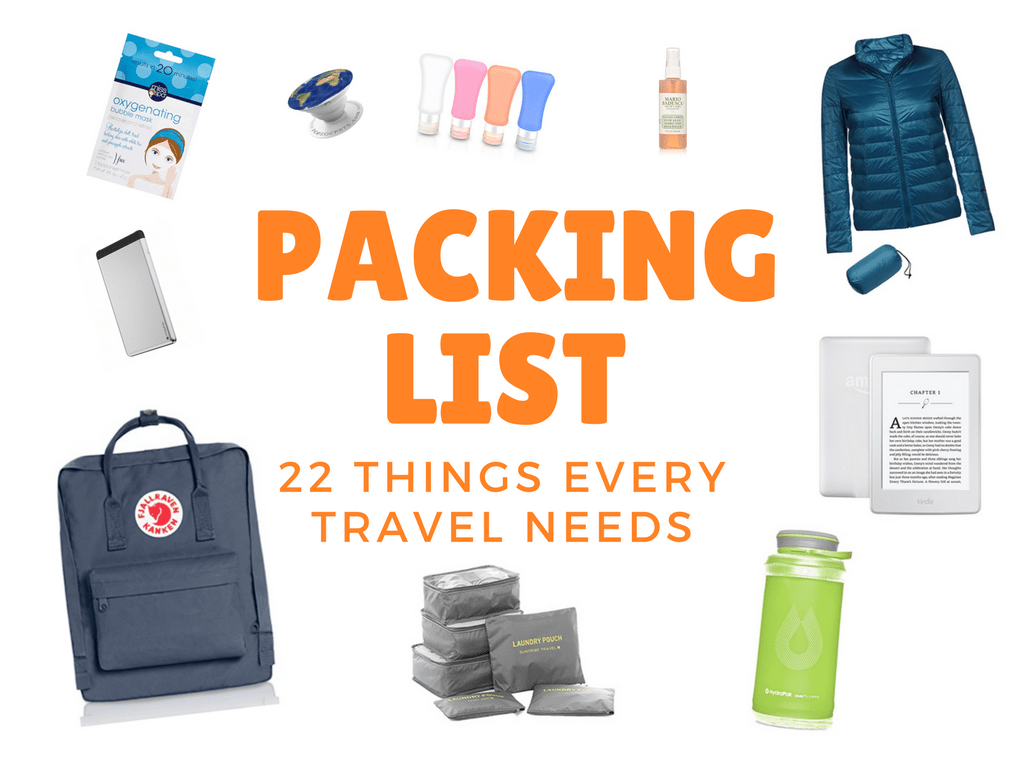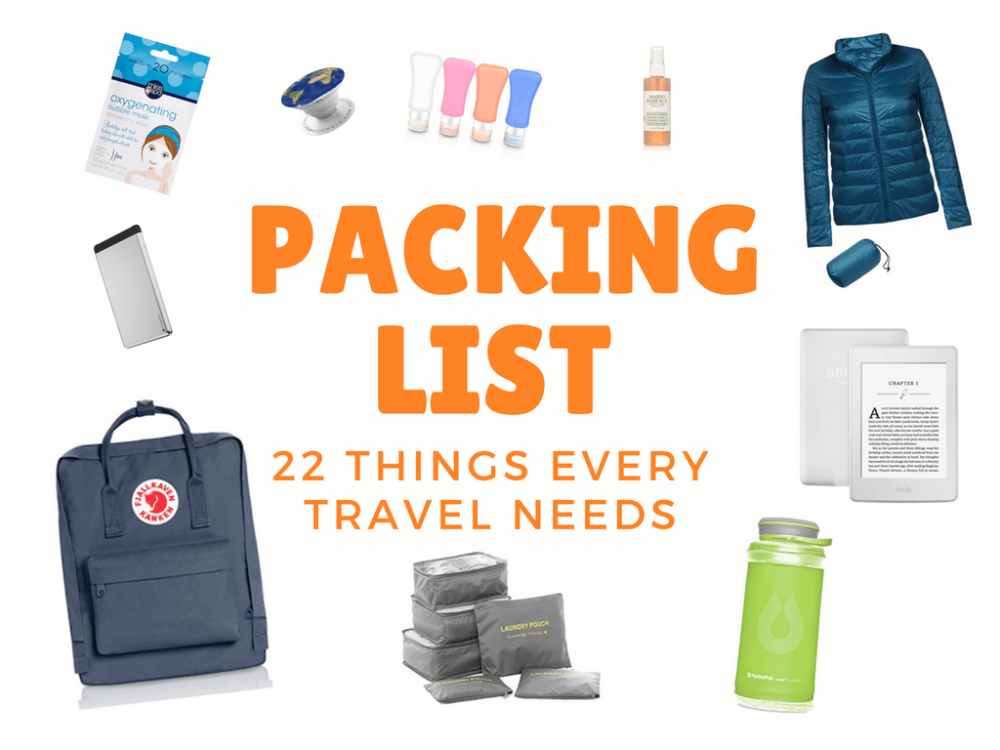 Electronics To Bring On Your Trip
1 – Portable Cell Phone Charger — Taking pictures, getting directions via Maps, translating languages and currency, updating your Facebook page … your smart phone is like the swiss army knife of travel tools! Don't get stuck with a dead battery, pack a portable cell phone charger and extra charging cord to make sure you can always stay connected. Our favorite brand is Mophie as it seems to last the whole day and gives us several extra charges for all our devices. Buy It: Amazon.com
2 – Earbuds — This is one item most travelers forget at home, which is why airlines are now charging for them! But the earbuds given out (or sold) on flights are not high quality. Pack your own so that you can listen to music, your favorite podcast or book, even watch a movie during travel days. Also, I know big headphones are also really popular right now, but they're also really bulky. Save room in your luggage and bring earbuds instead. Buy It: Amazon.com
3 – Cell Phone Handle — I remember when I first saw PopSockets at a blogger retreat a few years ago and I thought they were genius! They collapse flat, but easily pop out so you can have a better grip on your phone when taking pictures. It also makes a handy kick stand for when you want to watch a movie on the plane or tour bus. Plus, I also use the kick stand to see my phone as an alarm clock. Buy It: Amazon.com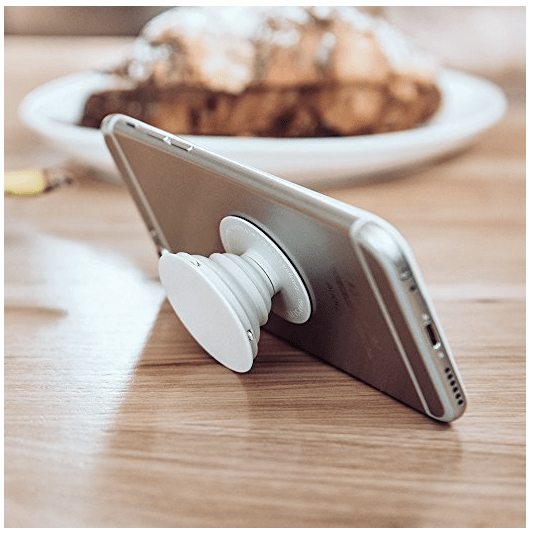 4 – Mirrorless Camera — I've written a whole review about picking the right mirrorless camera, and if you're a photography enthusiast, you'll want to check it out. The quality of mirrorless cameras (and their corresponding selection of lenses) has gotten to a point where you can leave your bulky DSLR at home and still get fantastic photos. Mirrorless cameras are lightweight, compact, and perfect for travel.
Packing Hacks To Help You Bring More In Less Space
5 – Silicone Travel Bottles — Save packing space and be TSA compliment for air travel by using travel sized 3 ounce bottles for your toiletries. Typically for a seven to ten day vacation, 3 ounces is all you need! If you're flying I always prefer flexible silicone bottles as they expand and contract with changing air pressure on planes, thus they're less likely to leak. Pro Tip: Don't fill them to the top. Leave a little extra room for expansion due to air pressure when flying. Buy It: Amazon.com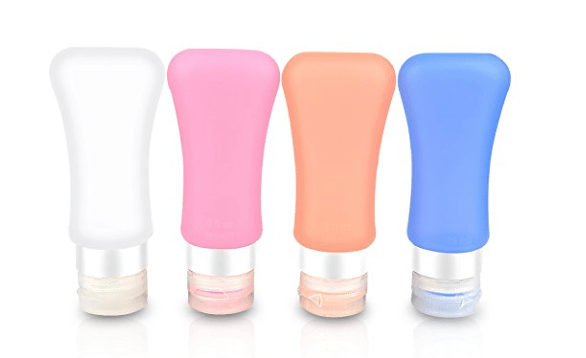 6 – Collapsable Water Bottle — Speaking of bottles, pack your own to stay hydrated and save some money. Most water sold at airports will cost you around $6 a pop. Bring your own and refill whenever you see a water fountain available. For travel, I really like the collapsable bottles by Hydrapack and Nomader, especially since they stand up on their own when full. Swell also makes a great travel water bottle.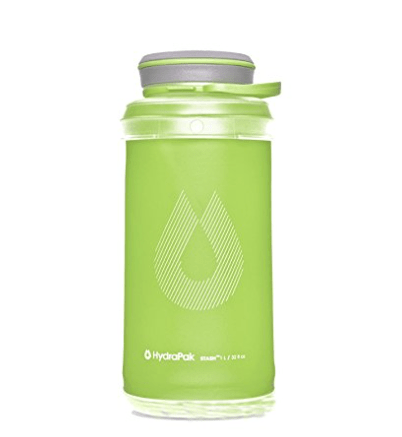 7 – Packable Down Jacket
— Weather is always unpredictable, so I recommend having a water resistant jacket stashed in your luggage. My favorite travel jacket is the packable down that comes with a pouch. It's perfect for cool evenings, and when it's rolled up in the pouch it can double as a travel pillow. Buy It:
Amazon.com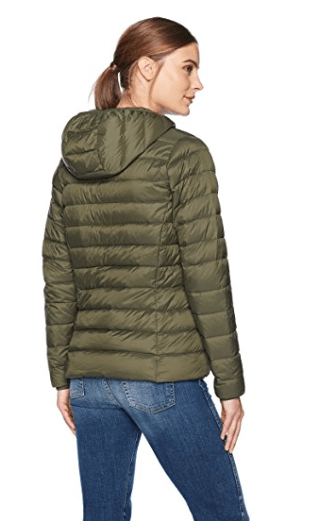 8 – Extra Fold Up Bag
— I always have an extra bag tucked away in my carry-on to fill with souvenirs (or sometimes even dirty laundry) for the flight back home. If I'm bringing home wine or other delicate items from a trip, I'll used my luggage to pack those since it has more structure, and pack the dirty laundry in the soft-sided extra fold-up bag. It's also nice to have an extra tote as a daypack or shopping bag too. Buy It:
Amazon.com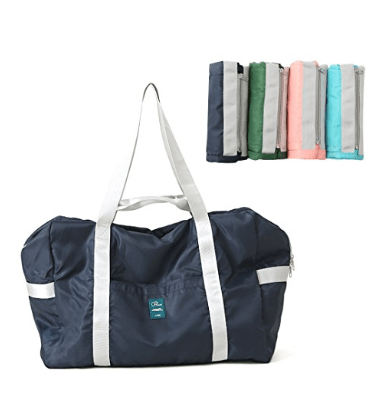 Travel Essentials For Staying Organized
9 – Lavender Sachets For Luggage — With all that luggage goes through, sometimes it can smell a little stale. I have lavender sachets tucked into my luggage to keep my clothes and things smelling fresh.
10 – Packing Cubes — When it comes to packing cubes, I was a late adopter, stuck in my habit of just rolling rolling clothes and using every inch of space. Once you use packing cubes, though, you're hooked. They're great for organizing your suitcase and are especially useful when it comes to re-packing quickly if you're switching hotels and visiting more than one destination throughout your trip.
11 – Extra Zip Lock Bags — In addition to packing cubes, I also recommend stashing away a few extra ziplock bags. I always have a handful of gallon and quart sized plastic bags for extra things that come up during travel, like stashing a wet bathing suit. I've also used large ziplock bags to organize individual outfits and keep them separate from one another while spending a summer traveling through Bordeaux. It made it easy to get ready in the morning and it also kept my dirty laundry separate from my clean clothes.
12 – Day Pack
— In addition to the fold up tote I mentioned above, I also typically bring a day pack to use while we're at our destination. This is a small bag that I use to carry my camera, wallet, and any other travel essentials I need while exploring a new place. I like the cross body style and backpack for extra security from pick pockets. The two brands we like most are the
Timbuk2 Classic Messenger
and
Fjallraven
. Both pack flat in your checked luggage or carry-on. Buy It:
Messenger Bag
Packing Essentials For Personal Comfort
13 – Hand Fan — Seriously one of my must-have travel essentials, especially in summer. This is a tip I picked up from living in Florida, and it is in my bag at all times. A hand fan is the one thing that when I pull it out of my bag everyone thinks it's genius. If you're traveling to a warm climate, or a festival, or a place where you might be standing in a queue, then you'll want to bring a hand fan. Sure, there are all kinds of electronic ones now, but nothing beats the simplicity and portability of a folding fan. They're also a fun item to collect as a souvenir during your travels.
Buy It: Amazon.com
14 – Hat — If there is one thing that souvenir shops make the most money on due to convenience and opportunity, it's a hat. Everyone needs a little shade from the sun. I really love roll-up visors since they're easy to pack, but your favorite baseball cap will also pack easily. A great hat for men that packs flat is the classic newsboy style hat.
15 – Mini Umbrella — This is another convenience purchase that souvenir shops charge too much for. If there is any rain expected during your travels, you'll be glad you stashed a mini umbrella in your luggage. But it's also great for a sun shade too! I carried an umbrella with me all around the walls of Dubrovnik for some respite from the summer sun. Buy It: Amazon.com
16 – Medicine Kit — This is one travel essential recommend creating on your own and customizing it to fit your own needs. If you want a few ideas, I wrote about what I include in my own medicine kit in 6 tips for staying healthy while traveling. Purchase a small cosmetics bag (a quart sized ziplock bag works too) and fill it with things like bandages, ibuprofen, allergy medicine, and Immodium. I also add some vitamin B for some extra pep and energy on jet lag days. Prepping your own travel first aid kit will come in handy whenever you have aches, pains, blisters, headaches, or tummy trouble when away from home.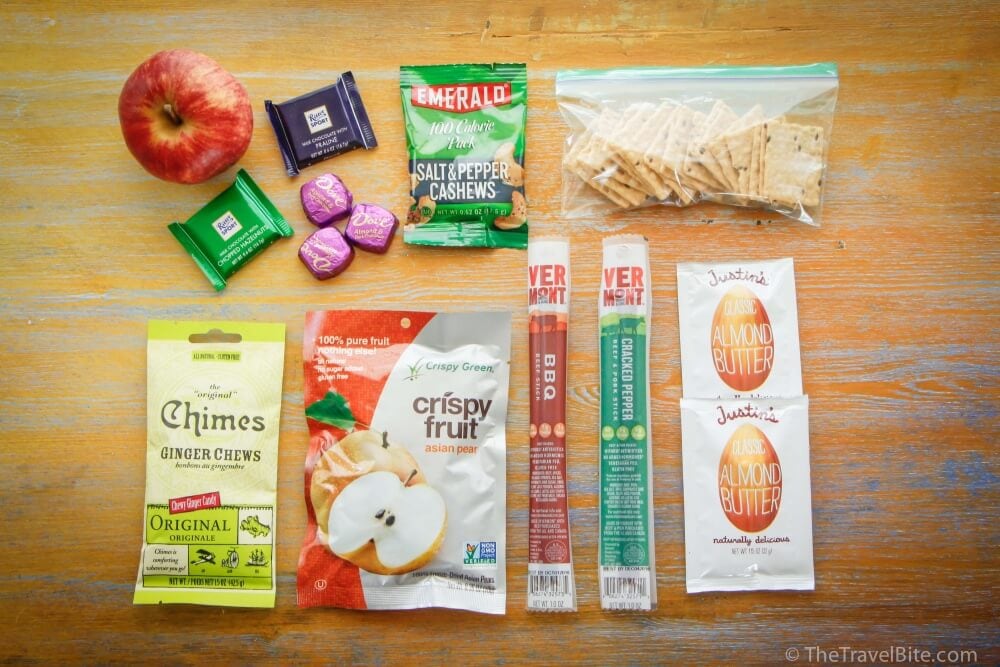 In-Flight Must Haves
17 – Snack Pack — Let's face it, airport food is expensive and in-flight snacks amount to peanuts. We like to make a TSA-friendly snack pack filled with nutritious foods and a few of our favorite indulgences too. Some of our favorite travel snacks include apples, almond butter, rice crackers, and gourmet chocolates. Look for items that are non-perishable, and if it can be consider a liquid or gel (like almond butter), make sure it's under 3 ounces. Create your own based on your favorite snacks, and look for some inspiration in our post: 8 Healthy Snacks You Can Bring On A Plane.
18 – E-Reader — In-flight entertainment has gotten pretty good, but I love to use travel time to catch up on reading too. The type of e-reader I bring depends on my mood. If I'm really into a novel, or plan to do reading outdoors (like on a beach) I'll bring my Kindle Paperwhite. But if I have long layovers or just want a variety of in-flight entertainment, I'll bring my iPad loaded with magazines and the latest Netflix series to binge. We have a whole post about the pros and cons of each in our article Best Tablet Readers For Travel.
19- Wet Ones — From wiping down your plane tray table, to cleaning off your hands on-the-go during a street food tour, having these travel essentials are handy for all types of travel. I know my seatmates on a plane might think I'm a germaphobe, but I fly happier knowing I've used an antibacterial wipe to clean off my plane space. Buy It: Wet Ones Antibacterial Hand Wipes
20 – Water Spray — Living in Florida, I'm used to 100% humidity. So, my sinuses sometimes get irritated when we travel, especially in-flight with the recycled dry cabin air. I always carry a travel-friendly sized water spray. During a long flight, I feel like the little bit of mist is not only refreshing, but it helps me breathe easier too. Sometimes I even like to use a rose water spray for a lovely scent. Buy It: Mineral Water Facial Spray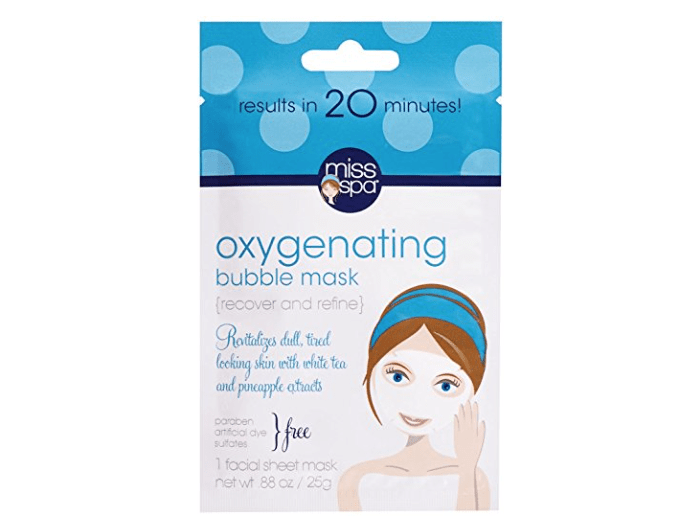 21 – Sheet Mask — If there were ever a way to relax, discourage your seatmates from talking to you, and make sure your skin looks refreshed after a long flight, it is by using a facial sheet mask. Bold move, I know. If you're not ready to dive right in to using a full sheet mask in public, maybe start with just the eye masks. Between the sheet mask, a cup of green tea, some jazz music, the rose water spray I mentioned above, and my kindle — I can make any plane seat feel like a spa day.
22 – Compression Socks — I was introduced to the benefits of compressions socks with my hobby of running half marathons, but they're also perfect for long haul flights. This is definitely one of my must-have travel essentials. If your legs ever feel twitchy from sitting too long, you'll want to stash a pair of these in your bag to slip on during a flight.
Want to save this list of travel essentials? Pin it to your travel board! 🙂