Thanksgiving is here, can you believe it?  It's my favorite time of year for two reasons … food and shopping!  And travel too!  So what do you get that person that has everything?  Or the traveler that just doesn't have any more room in their luggage for another useless gadget?  I've compiled a list of things I use on a regular basis during my frequent travels.  They've been tried and tested on countless trips and are thereby traveler-approved.  Most of these I bought on my own.  A few of these were sent to me to test.  And a couple are even on my own wish list (i.e. I need a new one. Hint hint to my husband, Pete).
Let me start out by saying I don't get one single cent if you order any of these.  They're not affiliate links.  These are things I use all the time, what I stash away in my carry on bag, and items I recommend to my friends who are planning a trip.
1.  iPhone Amplifier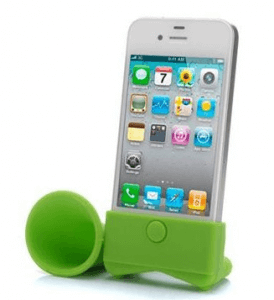 I have to confess.  The first time I saw one of these I had no idea what it was.  I picked it up as a freebie at a convention and brought it home where it sat on the kitchen counter for a couple of days.  Over dinner one night, Pete and I tried to figured it out.  We blew into it like a horn, hoping it would make some noise.  We tried the different holes on the bottom.  We figured it sucked and we almost threw it away.  Then I noticed how the button lined up with Pete's iPhone that was laying on the counter.  I slipped the iPhone inside and … tah-daaaah!  Light bulbs went off above our heads.  Pete confiscated it and used it everywhere … at work, in the garage, even in the bathroom while he was taking a shower.  I picked up a second one at another convention and have had it with me ever since.  I use it next to my computer when I work, keeping Pandora playing good upbeat music all day long while I write.  I've loved having it on-the-go with me to liven up a quiet hotel room.  I even brought it out one morning at breakfast after a long run,  then all my runner friends wanted one too.  It. Is. Genius.  So, I Googled it to see if I could find them online.  You'd be surprised what comes up when you search, "rubber iPhone radio horn thingy."  Alas, I found some on Amazon.  So if you don't have a convention between now and Christmas where you might be able to find these suckers for free, here's the Generic Rubber Holder Amplifier Loudspeaker Thingy on Amazon.  There's also some on Ebay with a much less ridiculous name of iPhone Silicone Speaker.
Why I Love It:  It's lightweight and unbreakable which makes it perfect for travel.  Plus, it's one less cord that needs to get plugged in when you're in a foreign country and only have so many converters.  Instantly amped up music where ever you go!
THE NEXT COUPLE OF GIFTS ARE GIRLIE.  What can I say.  I'm a chick.  And these are the things I use and love.  So, if you're buying for a dude, scroll down to #5.
2.  Allison Craft's Leather & Pearls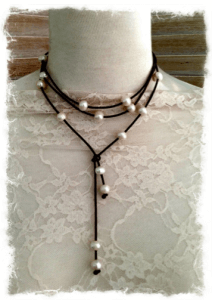 A couple of years ago when I visited South Walton for a Visit Florida story assignment, I met Allison Craft.  She was the recently crowned Artist Of The Year for the area and she introduced me to the most awesome cinnamon rolls I've ever had in my life at the kitschy and rustic Hibiscus Cafe.  Allison crafts jewelry out of leather and pearls, a natural combination.  But that's not what makes it awesome.  I'm a big fan of items that can do more than one thing and this is one of those.  You see, the pearls slide along the leather in such a way that you can create your own look and use it as a bracelet or a necklace.  I've worn my bracelet/necklace combo all over the world for the past three years.  She has a new design out now that can even be used as a belt (subtle hint to husband here).  One item = 3 things = totally awesome.  Here's Allison's website:  AllisonCraftDesigns.com, but I highly recommend following her on Facebook where she posts new designs regularly.
Why I Love It:  Besides the fact that you can do multiple things with it, it's casually elegant.  So you can wear something nice and girlie without drawing the attention that something flashy and blingy would.  Leave the diamonds and gold at home … wear pearls when you travel.
3.  Compression Leggings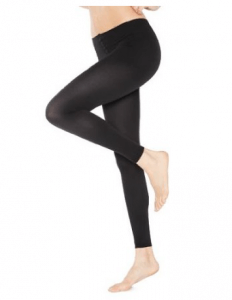 I was sent a pair of these as a sample a couple of years ago, and I admit, I was skeptical.  Then one of my running buddies got a blood clot in her leg (she's okay now), and I became paranoid.  Now they're my travel lucky charm and I wear them when ever I fly.  Thankfully, leggings are sort of in style right now.  But even if/when they go out of style, I'll still be wearing these when I board a plane.  Since they are designed for compression, they do take some work to get on, just like you would hop up and down to fit in to a tight pair of jeans.  But they work.  I feel great when they're on.  They're super flexible.  And after using them on multiple trips for the past year I can honestly say they stand up to wear without the tear.   They're also easy to hand wash in a hotel sink and hang to dry and use again … perfect for travel.  Find them at Rejuvahealth.com
Why I Love It:  Squeeze into these and throw on a cozy baggy shirt and you're ready to fly around the world in comfort.  Besides, they also help "suck it all in" way better than spanx ever could.  And that is a necessity for any food-loving traveler.
4.  Korres Greek Yogurt Lip Gloss, and Bronzer.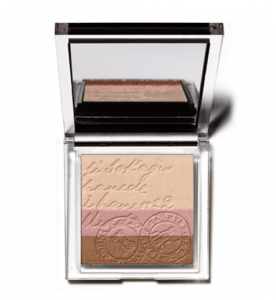 I'm a get-up-and-go kinda girl most days.  Limited make up.  Hair in a pony tail.  Just a bit of lip balm and mascara and I'm ready to go.  My default lip balm is Burt's Bees, but ever since I tried this one I'm hooked.  I've gotta thank my friend Betsey for bringing out my girlie side.   Stores like Sephora and Ulta are her Disney World.  And to be honest, I'm starting to like the girlie stuff too.  As for the bronzer, I'm a sucker for packaging.  And it's got postcard stamps embossed into the powder.  Love it.
Why I Love It:  The gloss … it's got lots of moisture, doesn't feel greasy, and gives just a smidge of color. Plus, when you read the list of ingredients they all sound like yummy good things.  The bronzer … it's hard to mess up.  You can apply too little or too much and either way end up looking a little sun kissed and not like Tammy Faye Bakker.  Plus, didn't I mention the cool traveler-y stamp?  I'm a sucker for fun packaging.  If it looks cool, I pick it up off the shelf.  Sometimes I pick out wines this way too.
5.  Bond
This is an awesome app developed by one of my buds, Andy.  His wife is a globe-trotting world-traveler friend-o-mine.  You may have read her articles as she is Nat Geo's Urban Insider.  This app is perfect for people like us that are on-the-go all the time.  I love handwritten notes and surprise gifts in the mail, but it's sometimes hard for me to squeeze in a trip to the post office while I'm traveling.  This app does that for you.  Seriously, beautifully handwritten notes.  I hate my own handwriting, so I'll probably start using this while I'm home too.
Why I Love It:  Being on the go, this makes sending a handwritten note or cool gift pretty easy.  I counted … it's approximately 4 swipes of your thumb using your smart phone and takes about 20 seconds of time.  That's actually pretty dangerous for shop-o-holics, so be forewarned that it makes spending money easy.  Of course, there's always the notes. And PS … you can try it out and send a note for free using the code FREENOTE.  Check out their website at Bondgifts.com or download from the iTunes Store.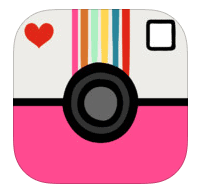 6.  Apps For Your Phone or Tablet
And speaking of apps, I've got a few more to recommend.  My husband, Pete, got the bright idea last year to "fill my Christmas stocking" with apps for my phone.  The trick was, he didn't actually put anything in my Christmas stocking so I gave him sad puppy dog eyes all morning until he told me to check my phone.  I admit, it's a cute idea.  Though, if any of you guys are thinking of this I'd suggest getting creative and writing each app on a handwritten note (perhaps using Bond?) and put the notes in the stocking.  Anyway, here's a link to my fav apps I use when traveling.  Some are free, some are a nominal fee.  All are awesome.
Why I Love It:  It's an inexpensive and fun gift idea.  Just get creative with how you deliver it. 🙂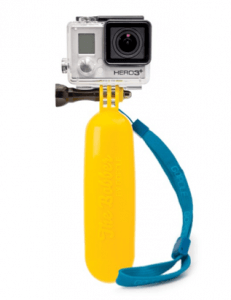 7.  GoPro Bobber
I'm kind of a klutz and tend to drop things.  Which is why when I asked my husband, Pete, if I could borrow his GoPro to get some underwater shots while traveling around the world with the Four Seasons, he said, "yeah, but don't drop it.  It'll sink to the bottom of the ocean."  Panic.  How do I get this thing to float?  I looked at just using the Lifeproof case for my iPhone but it was A) ridiculously priced and B) Didn't promise really good underwater shots. I did some googling and found a pretty good alternative on Amazon.  It's called "The Bobber."  Fitting, eh?   You can find it at GoPole.com, Amazon, and B&H.
Why I Love It:  It floats in case you accidentally drop it AND has a wrist strap that will keep it tethered to you and prevent it from from floating away.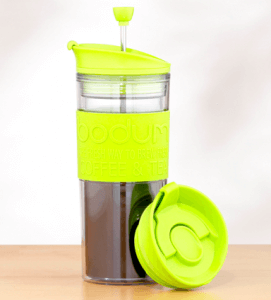 8.  Travel French Press
Coffee.  I can't live without it most mornings, and when you're traveling, the quality of the coffee is hit-or-miss.  Sometimes they'll have a drip coffee maker in the room, but usually lousy no-brand burnt tasting coffee.  Sometimes, hotels will have both a coffee maker AND good coffee in the room (winning!).  But let's face it, that's pretty rate.  Other times, they have good coffee, but you have to order it via room service and it's $20 for a carafe.  Plus, it's kinda awkward to be dressed in a robe, half grumbling something completely inaudible to the room service guy/gal that brings it to you.  The only way to really control the quality of your coffee and the time you drink it is to make it your way.  Get a plastic travel-friendly French press and pack your own coffee or pick up some freshly roasted grounds locally where ever you're traveling too.  I picked up one of these almost 8 years ago now when I went camping with friends.  The thought of waking up in the cold damp woods without coffee was just asinine.  And this thing makes WAY better coffee then the chewy cowboy stuff that comes out of a peculator.
Why I Love It.  It makes great coffee, do you need any further reason?  How about I give you some tips for finding it.  If you search for Travel French Press online, you'll find loads of stores that carry them including Amazon, Macy's, Zappos, REI, and World Market.  Bodum makes the best one as it is insulated and the best deal I found was at World Market ($9), but you have to shop in person as it's not available online.   Extra Tip:  If you find yourself in a hotel room without a coffee maker to heat up the water for your french press, just ask the front desk for an electric tea kettle.  Most hotels have a few on hand.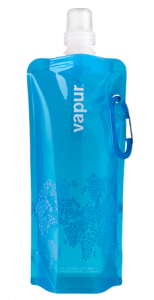 9.  Vapur Collapsible Water Bottles
This is another genius invention.  I first saw them while standing in line at Sports Authority to buy some gew chews for a half marathon I was headed to for a weekend away with my running girls.   Since Pete is an avid cyclist, we have a gazillion water bottles at home.  But this one was different.  It's essentially a water bladder that will stand up right when filled, and packs flat when empty.  You can find it at most sporting goods stores as well as Vapur.us.
Why I Love It:  Aiport water is such a rip off at $5 a bottle.  And if you're traveling frequently it can add up.  I stash this away in my carry on, get through security, and then fill 'er up at a water fountain while I'm waiting at the gait.  Cool thing is, most airports are now installing filtered water dispensers at their water fountains.  Just remember that if you're making a connection where you'll have to go through security again, you'll need to drink up or empty it.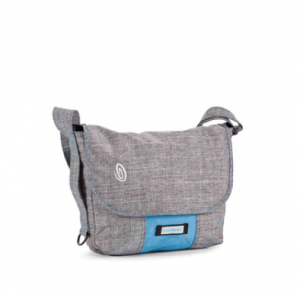 10. Timbuk2 Express Shoulder Bag
Have yet to find a camera bag that I LOVE.  The problem for me is that they're usually made to fit ALL your equipment and when fully loaded, they're a bit too heavy. Plus, when I'm at a destination I like to have a small cross body day pack that I can shove my things in (bottle of water, camera, lip balm, etc) and not have it look like a camera bag.  This one has been the perfect solution.  Not only does it fit my camera and doesn't scream "camera bag,"  but it's also a durable messenger that fits all my other little day trip necessities.
Why I Love It:  It has organizer pockets inside, and one slim pocket discretely located on the back that is perfect for stashing your passport and other travel documents when you dash through the airport.  You can find them on Timbuk2.com and even make one with customized colors and patterns.  But I do recommend shopping around online as last seasons colors are usually on sale and you can save $10-$20.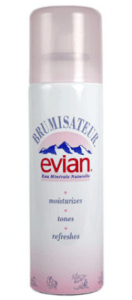 11.  Water Mist
I know this might sound ridiculous, and in all honesty it would make a better stocking stuffer than a gift, but let me explain to you why it's a must-need for travelers.  You see, this is much more about being able to breathe than it is about beauty.  If you've got a long flight, let's say to Europe or South Africa, you're going to be breathing in dry cabin air for 7 or more hours.  It hurts.  Perhaps it's the Florida-girl in me, but I need a little humidity.  This does that four you.  Just spary a little on your face a couple of times during the flight and take a deep breath.  You'll thank me.  The fact that it feels refreshing is just a bonus.
Why I Love It:  It helps me breathe.  Period.  There are several brands that make water facial mists.  The trick is to find them in travel sizes 3 ounces or less.  Check out L'occitane, Clinique, and Evian.  If you're doing this for yourself and not a gift, then getting a travel spray bottle and filling it with distilled water works too.  Bonus if you put a couple of drops of rose water.  And now you know my secret … I actually make my own. 😉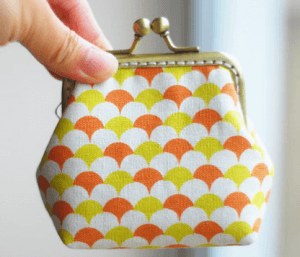 12.  Coin Purse
For anyone going to Europe, this is a must.  You see, the Euro 1 and 2 are not in paper form like the US.  They're coins.  And they add up.  I prefer the kind with the little metal hook at the top for easy opening so you can peer inside and find what you need without digging around.  .For someThis is another great stocking stuffer.
Why I Love It:  They're a little hard to find in stores, so I think that makes them a thoughtful and unique gift.  Especially if you stash some money inside.  The one pictured here to the right is from LazyDoll's shop on Etsy.  Just searching "coin purse" on Etsy is bound to give you a gazillion wonderful handmade choices.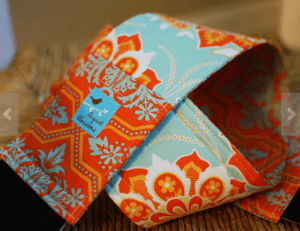 13. Custom Camera Straps
And last, but not least, the perfect gift for someone who seems to have it all and another great Etsy find.  A custom camera strap.  Pete got this one for me last year for Christmas and I love it!  When I'm on a press trip where everyone plops their camera down on the table, I know exactly which one is mine.  Besides being fun and unique, it's actually really comfortable to wear all day and is pretty easy to hand wash.  There are tons of designs and styles on Etsy (even some for guys too!).  The one pictured here is the one Pete got me (some of you had asked on Facebook/Instagram when you saw it in a photo of me at Chichen Itza.
Why I Love It:  The ones made by August Blossoms have a little pocket to stash your lens cap so that it never gets lost or left behind on a table.