There's always a reason to celebrate, especially with food! That's why we've put together our own fun list of APRIL food holidays. In addition to Easter and the start of Spring, there's a lot of fun food holidays in the month of April. We usually take a look at these every month to plan out our editorial calendar (and our home menus!).
So, whether you're just looking for a April holidays to celebrate, teaching tools or homeschool fun, or scheduling out your own social media calendar, here's a list of food holidays to plan for throughout the month of April.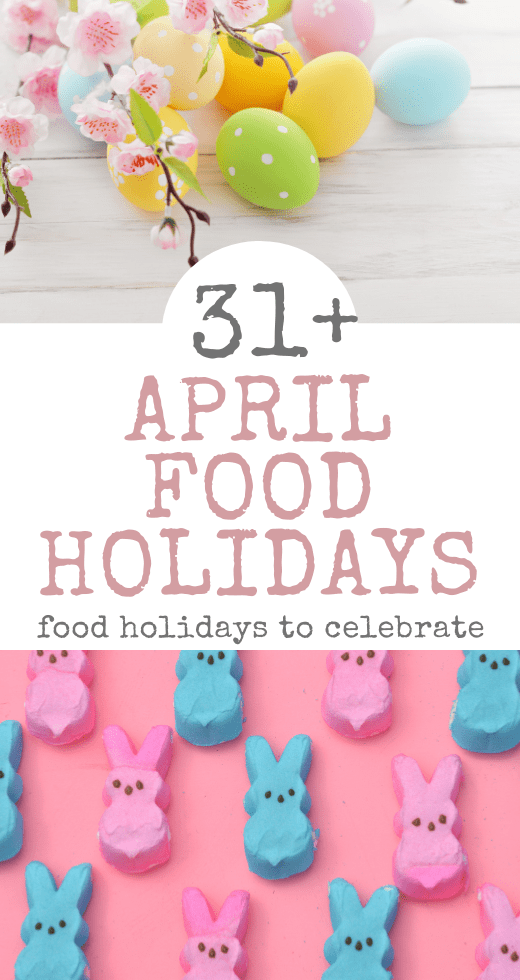 April's Month Long Celebrations
In addition to Easter and Earth Day, there are some April food celebrations last the whole month long, and April has quite a few! Here's a list of holidays that last the whole month long!
National Florida Tomato Month: Fresh tomatoes are harvested from every growing district in Florida this month! It's a great time to make some homemade salsa, tomato tarte tatin, or a BLT!
National BLT Sandwich Month: Toasted white bread with mayo, bacon, lettuce, and tomato is a classic deli sandwich and easy lunch!
National Soft Pretzel Month: Savor a fresh baked, hand-twisted gourmet soft pretzel sprinkled with salt and dipped in mustard!
National Soyfoods Month: April is the perfect month for celebrating foods made with soy! Try making a meal with tofu, edamame, soymilk, or other soyfoods.
National Grilled Cheese Month: There's nothing more simple or more comforting than a grilled cheese sandwich. Try a South African style grilled cheese this month. Or make one in an air fryer for something different.
National Garlic Month: With a whole month to celebrate garlic, scroll through our list of the top pasta recipes by popular food bloggers for ideas on how to deliciously work garlic into dinner.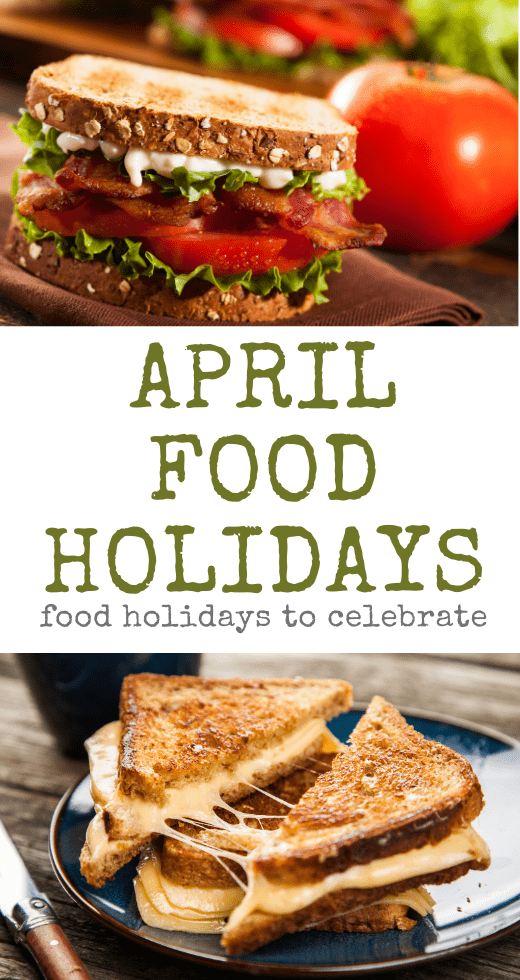 April Food Holidays: Day-By-Day List
Now, if you're looking for your favorite treat, meal, or just planning out what to schedule on social media, here's a list of our favorite April food holidays by date.
April 1: National Burrito Day
April 1: National Sourdough Bread Day
April 2: National Peanut Butter and Jelly Day
April 3: National Chocolate Mousse Day
April 4: National Cordon Bleu Day
April 4: International Carrot Day
April 5: Caramel Day
April 5: National Raisin & Spice Bar Day
April 6: National Caramel Popcorn Day
April 6: International Carbonara Day
April 7: National Coffee Cake Day
April 7: National Beer Day
April 8: National Empanada Day
April 9: National Chinese Almond Cookie Day
April 10: National Cinnamon Crescent Day
April 11: National Cheese Fondue Day
April 12: National Licorice Day
April 12: National Grilled Cheese Sandwich Day
April 13: National Peach Cobbler Day
April 14: National Pecan Day
April 15: National Glazed Ham Day
April 16: National Eggs Benedict Day
April 16: National Baked Ham with Pineapple Day
April 16: Day of the Mushroom
April 17: National Cheeseball Day
April 17: World Malbec Day
April 18: National Animal Crackers Day
April 19: National Rice Ball Day
April 20:National Pineapple Upside-down Cake Day
April 21: National Chocolate-Covered Cashews Day
April 22: National Jelly Bean Day
April 23: National Cherry Cheesecake Day
April 23: National Picnic Day
April 24: National Pigs-in-a-Blanket Day
April 24: National Sauvignon Blanc Day
April 25: National Zucchini Bread Day
April 25: National Crotilla Day
April 26: National Pretzel Day
April 27: National Prime Rib Day
April 28: National Blueberry Pie Day
April 29: National Shrimp Scampi Day
April 30: National Oatmeal Cookie Day
April 30: National Raisin Day