I always say a wine tastes even better when you know its story, so imagine how it feels to wake up where it's produced. Feel the warmth of the same fruit-ripening sun on your face. Breathe in the earthy scent of fresh tilled rows of vines. Sip a perfect pinot noir along the same hillside that it's grown. It's so easy to fall in love with wine country!
Over the last nine years covering stories about food and travel, we've stayed at quite a few wine-themed hotels — from luxury resorts, to bed and breakfasts, and even a massive rental home in the middle of a vineyard. Each one has something unique to offer, but one thing they all have in common is fantastic food and a bit of peaceful tranquility.
So, if you're ready to immerse yourself in vino-culture, I've highlighted all of our tried-and-true favorites below.
Best Hotels For Wine Lovers
PORTUGAL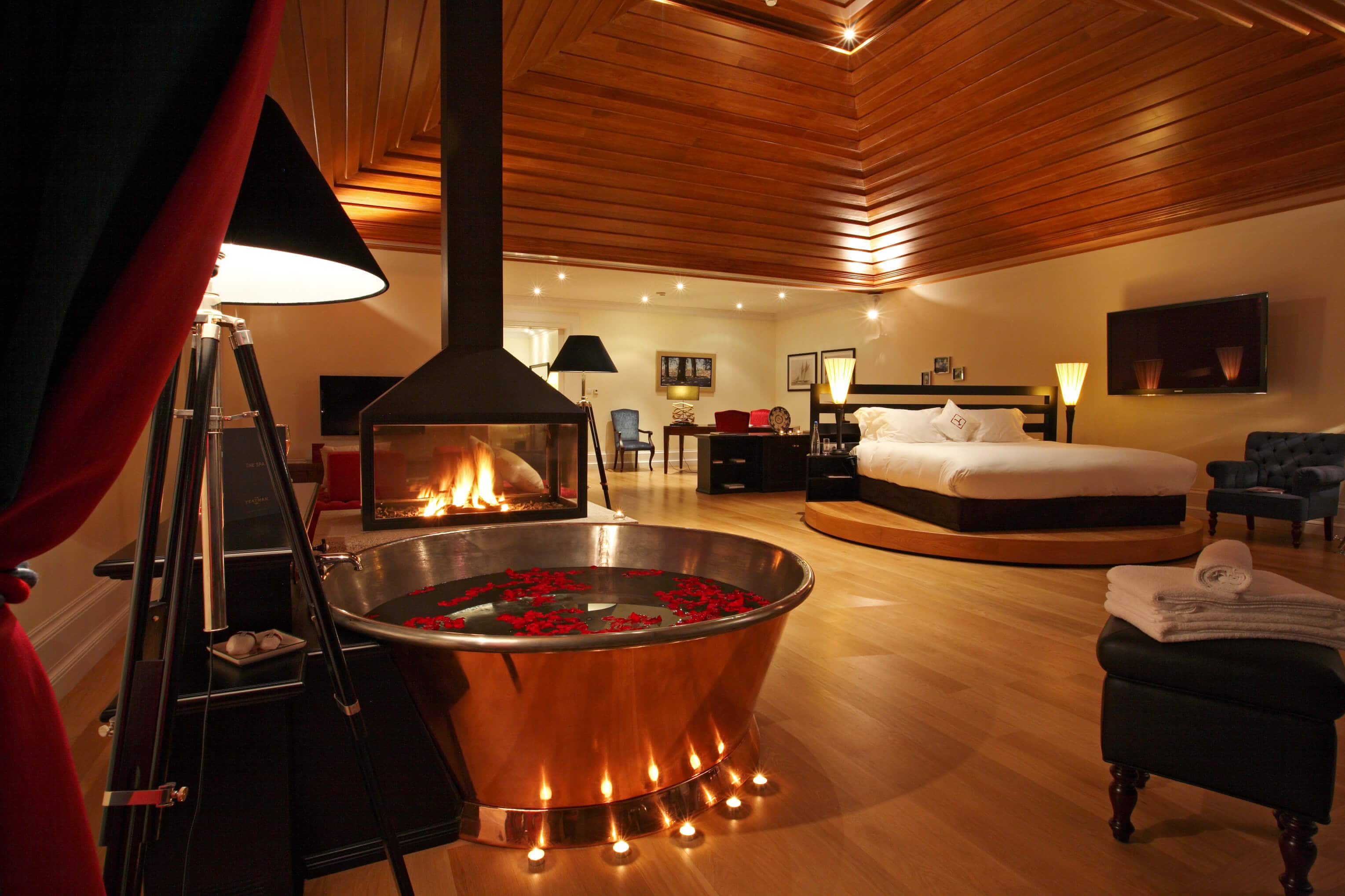 The Yeatman was our first introduction to a wine-themed hotel. Located in Porto on the Douro River and nestled into the hillside among the port cellar caves, everything about The Yeatman is elegantly themed around wine.
From the guest rooms that are each individually designed by a wine maker, to the decanter-shaped infinity pool that overlooks O'porto, to the vino-therapy spa treatments that use key ingredients from grapes and wine to nourish your skin. (Crushed grapes on my back? Yes, please!)
The best rooms at The Yeatman are, without a doubt, the Master Suite with a canopy bed built in a large wine barrel and the Bacchus Suite which includes a fireplace next to a copper tub with a view of the river.
Another bonus is that they have an on-site Michelin star restaurant highlighting the traditional flavors of Portugal with local ingredients. And they're environmentally friendly too, with solar panels, rain harvesting, and use of local products. Can you tell I love this place?
While staying in Porto for a conference, we visited The Yeatman one evening for happy hour, sipping port tonics while watching the sunset over the Douro. This is definitely a wine hotel I want to visit again, and next time stay the night!
SPAIN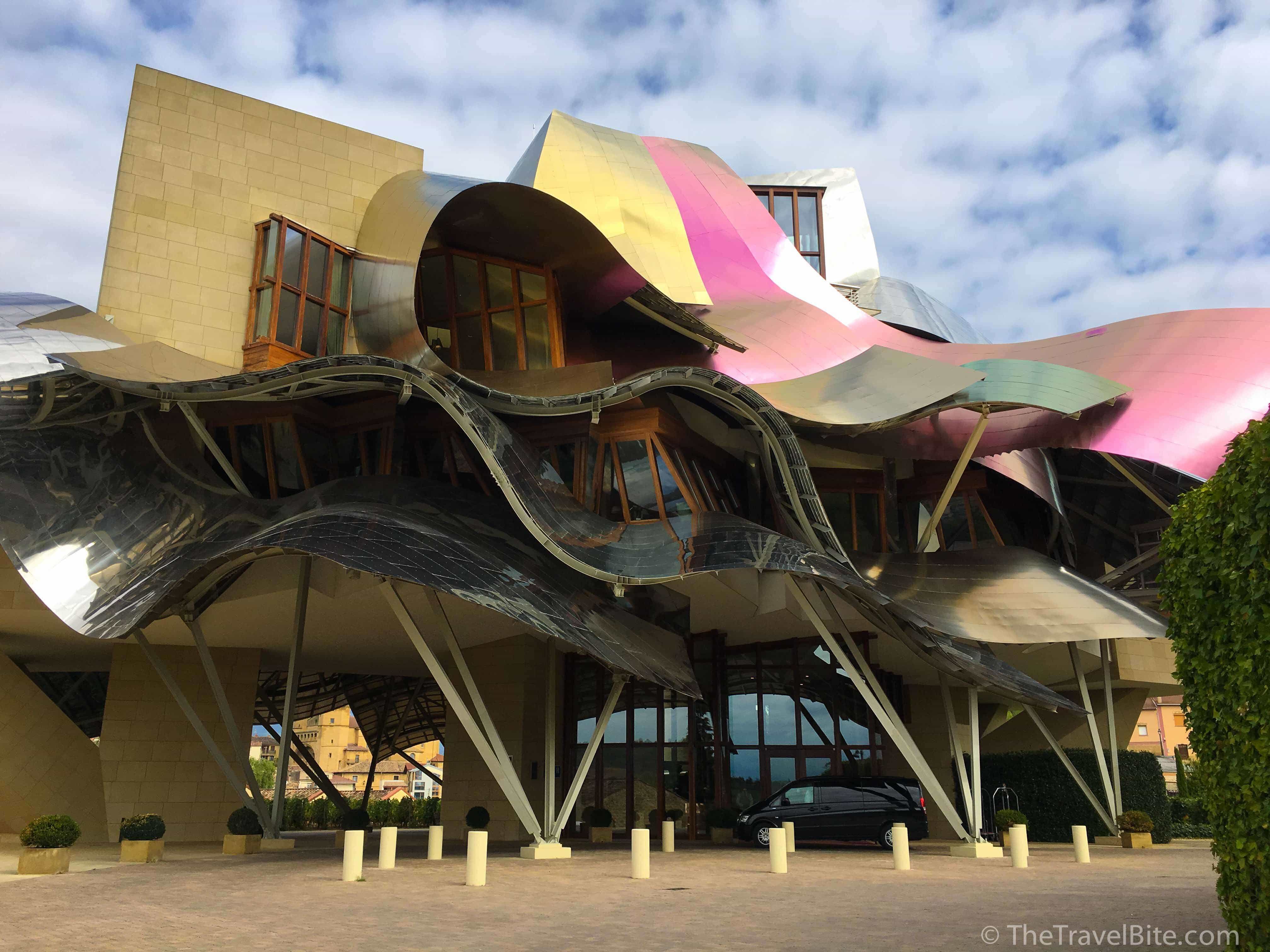 While traveling through the Rioja region of Spain on a food tour, we spent an afternoon visiting Marques de Riscal for a cellar tour and wine tasting.
Marques de Riscal is one of the oldest Rioja wineries, founded in 1858, and it is also home to one of the most modern hotels you'll ever see. The Hotel Marques de Riscal's burgundy and rose-colored curves of the wavy roofline were designed by architect Frank O. Gehry (known for designing the Guggenheim Museum).
The modern architecture stands in contrast to the old stone buildings and green vineyards, yet compliments it perfectly. Like The Yeatman, they also have a wine-themed Caudalie spa.
If you'd like to do a little liquid day-dreaming, you can find riojas from Marque de Riscal here in the U.S. This is another place we just got a taste of, so I want to come back to and stay overnight!
SOUTH AFRICA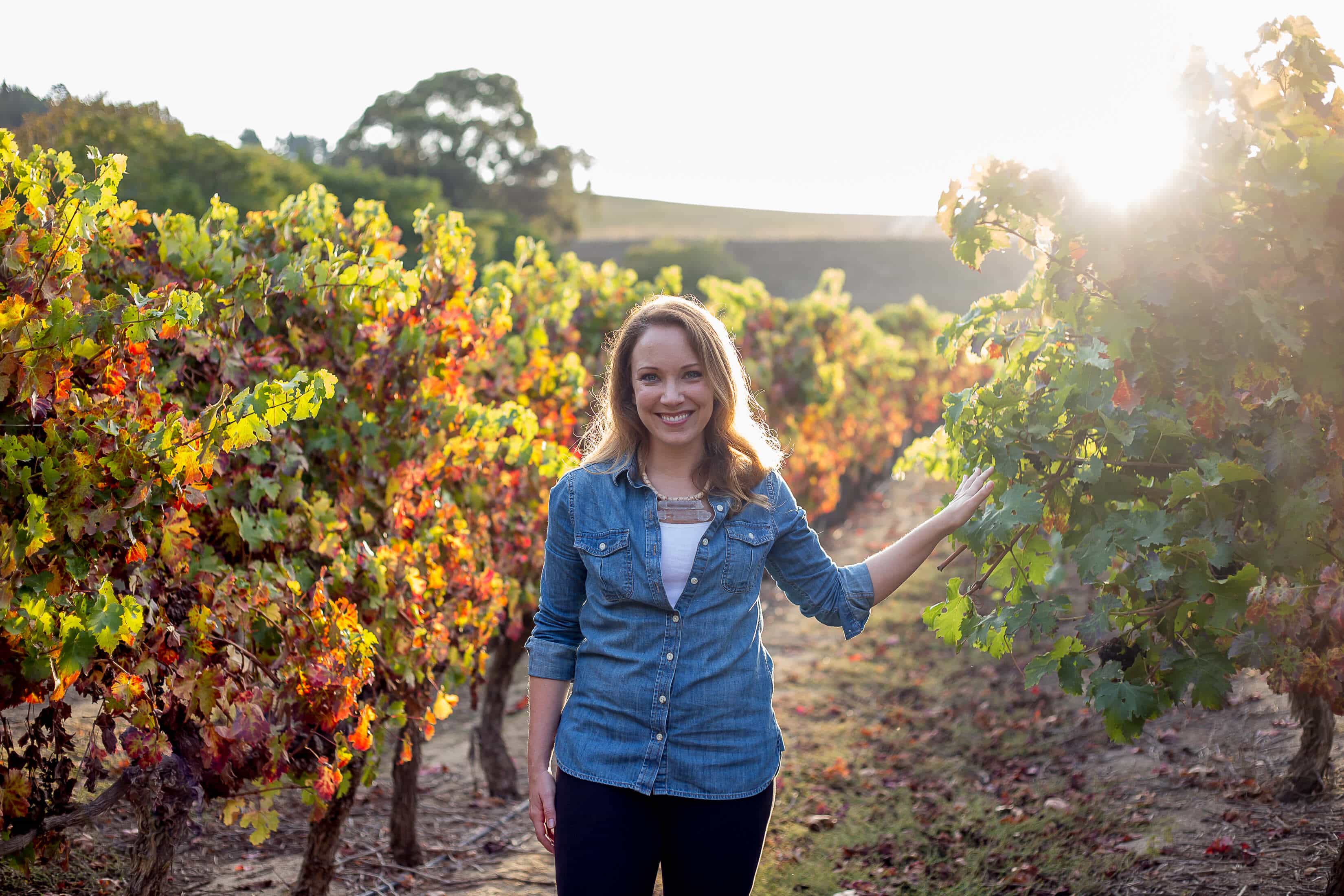 I know I shouldn't be biased, but South Africa is probably my favorite wine country to visit (and the number of amazing wine hotels I have listed below should be an indication of why). I've had the good fortune to travel there on more than one occasion, and each time it has completely taken my breath away. Pinch me! I can't believe I've stayed in all these places!
Located just outside the city of Cape Town is Stellenbosch, a quaint little village full of great shops and restaurants and completely surrounded by mountainous wine lands. During my first visit there, I literally shouted "stop the car" to our driver as I couldn't believe the stunning landscape.
In town, I'd recommend staying at Coopmanhuijs or Oude Werf Hotel, as both boutique hotels will immerse you in a bit of history, dazzle you with their food and wine, and are walking distance to everything in town.
Further out into the wine lands of Stellenbosch are Oldenburg Vineyards where you can rent an entire house in the middle of a vineyard and invite your friends to stay too. It's perfect for waking up to some morning yoga and red cappuccinos (made with rooibos), while spending the afternoon hosting your own braii.
Also in Stellenbosh is Jordan Wines, which offers luxurious modern amenities in the middle of rolling vineyards. We stayed two nights there and it's so beautiful I schedule a Flytography session to capture the moment.
Further along the Cape is the coastal town of Hermanus, better known for whale watching, but they're also right next to Hemel-en-Aarde Valley, which translates to 'heaven and earth,' and it certainly lives up to its name.
In Hermanus, I'd stay at Birkenhead House or The Marine as they're both located on the breathtaking cliffside path. Just make plans to make plans to visit Hamilton Russell Vineyards for some great pinot noir and jaw-dropping views of Hermanus.
And my last recommendation is a sister property to Birkenhead House, La Residence in Franschhoek.
UNITED STATES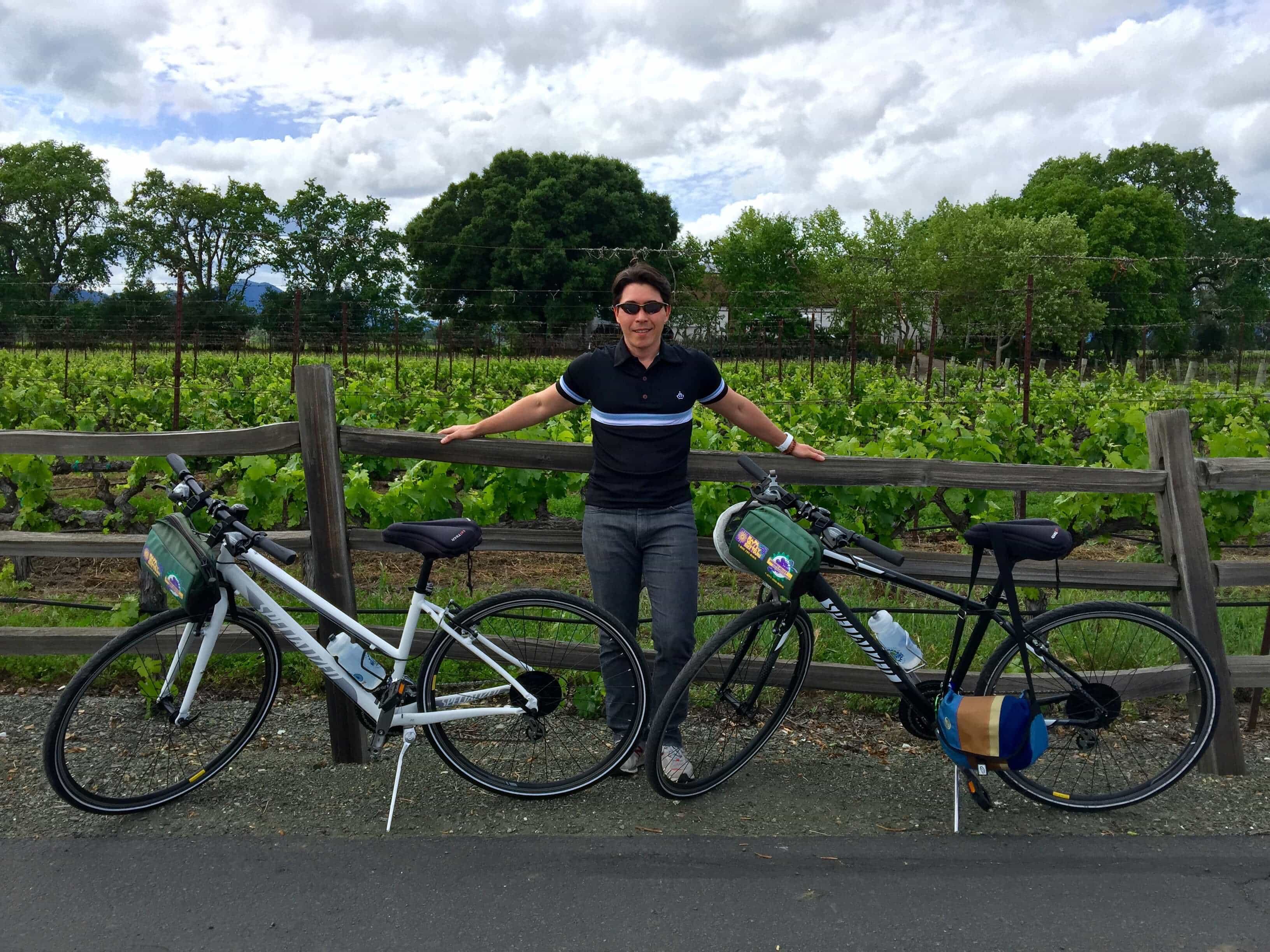 In the United States, our favorite wine destination is Yountville, California, named after George Yount who established the first vineyard in the Napa Valley. It's also home to the acclaimed Thomas Keller restaurant, French Laundry.
It's walkable, bike-friendly, full of gourmet eats, and home to some of our favorite wines like Cliff Lede and Bell Wines Cellars. If we could pick up an move tomorrow, it would be to Yountville. But with two bedroom, one bath, tiny houses starting at $900,000, we'll be content just to visit.
For a weekend away in Yountville, we recommend the Bardessono Hotel, which is luxuriously modern, but still warm and welcoming with its nature-inspired decor and lush gardenscapes. Plus, the farm-to-fork restaurant on property is amazing!
FRANCE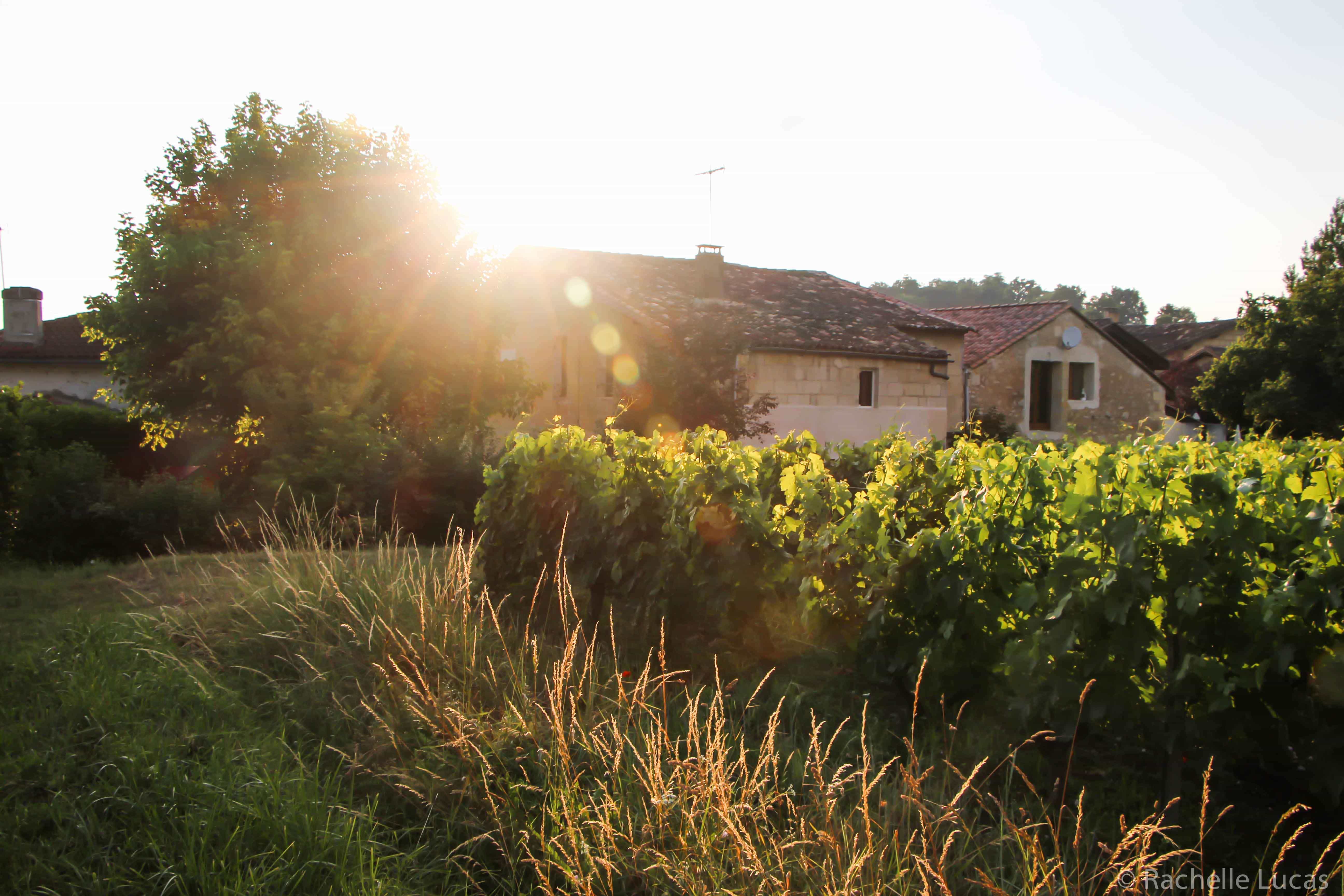 As I mentioned above, The Yeatman and Marque de Riscal both have wine-inspired spas with Caudalie products. (Anytime I'm in Europe, I pick up there skincare line at the local pharmacy. Thankfully, it's now available in the U.S. too!) Anyhow, you can actually stay at a Caudalie Spa in Bordeaux!
I haven't been to this one yet, so it is on my bucket list. But there are several other Bordeaux hotels I've stayed in that I highly recommend. One is a bed and breakfast in St. Emilion, La Petite Madeleine. The other is more apartment-style, located in downtown Bordeaux and perfectly situated for exploring the city's wine bars, L'Hotel Pariculier.
Want to save these ideas for later? Pin it! 🙂