During my last trip to London doing research about British gin, I spent an evening exploring a new-to-me neighborhood on a Soho London Food Tour. Located in the heart of London's West End, the streets here are full of theaters, pubs, and an incredible variety of international foods.
Unlike New York's SoHo, which is named for its location (So)uth of (Ho)uston, London's Soho area is much older and used to be a rabbit hunting ground in the 1600s. At the time, when they'd spot prey, the hunters would shout "Soho!" in the way golfers shout "fore!" Today, London's Soho neighborhood is the perfect hunting ground for delicious food and culture.
The best way to get to know Soho and experience it's great mix of food, history, and entertainment, is by hopping on a tour with Eating London. Not only will you be thoroughly entertained, the guides will make sure you don't miss some of the iconic locations here including where Mozart lived as a child, some of Winston Churchill's old haunts, and where musicians like The Beatles, Elton John, and David Bowie recorded. And then there's the food. Oh my, the food. If you think British food is bland and boring, you just don't know where to eat. Here's the best, most delicious and intriguing reasons I can give you to take this twilight Soho food tour:
Soho London Food Tour
1 – Taste Some Of The Best Tacos Outside Of Mexico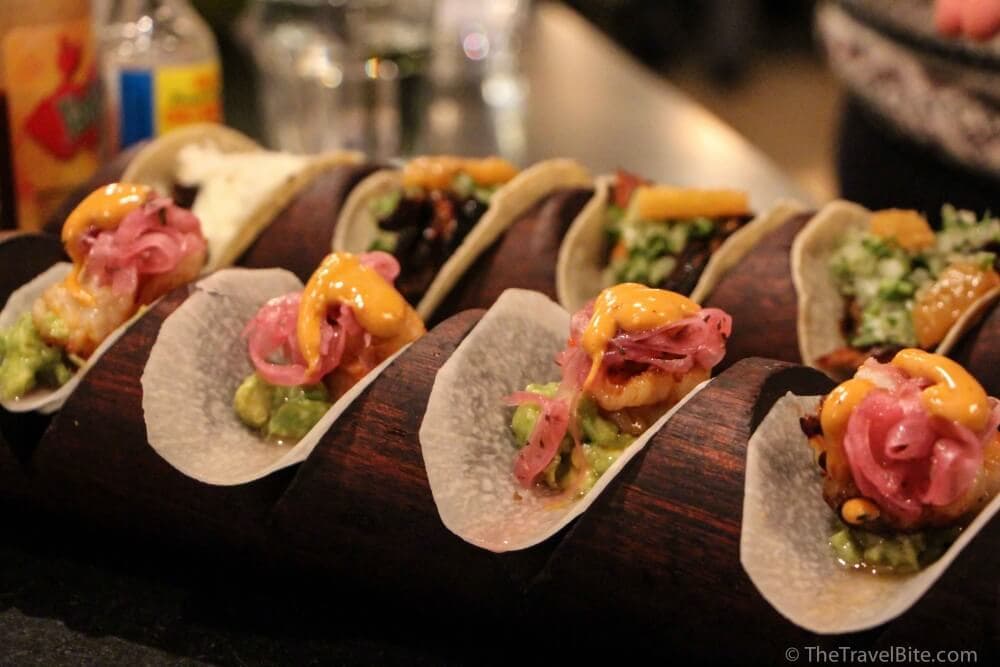 Our first stop was at A Bodega Negra where we tasted two Mexican street style tacos and learned about the history and the notorious past this little taverna sits in.
A BODEGA NEGRA
9 Old Compton St, London W1D 5JE
020 7758 4100
labodeganegra.com
2 – Attend A Spanish Ham Tasting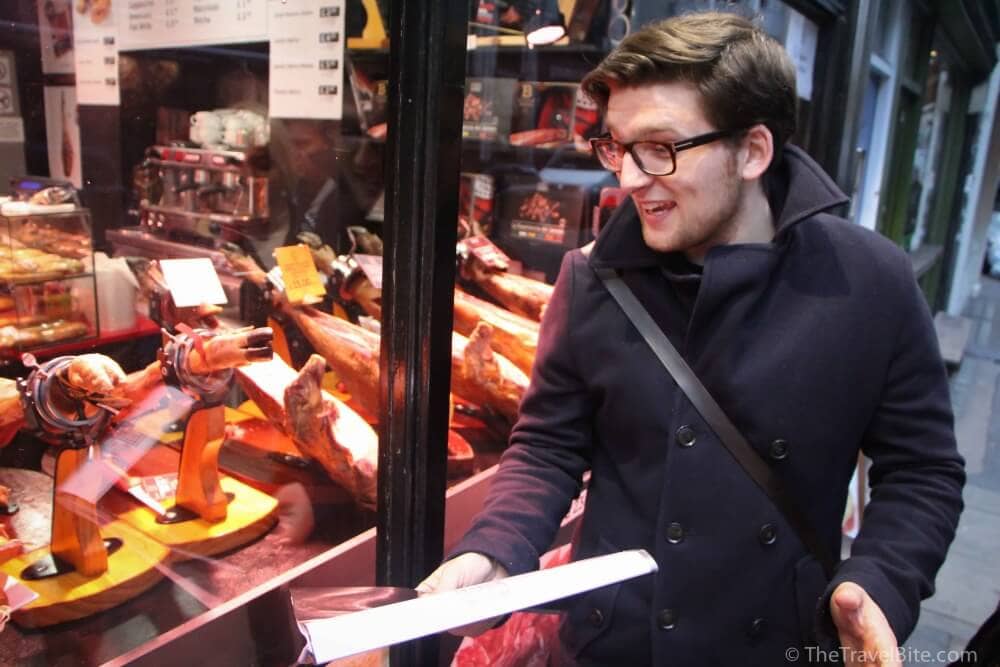 You can't fully appreciate Iberian ham until you experience a ham tasting. We tried four different styles of Iberian ham side-by-side to taste the differences in flavor, curing techniques, and even tasted one of the finest cuts: jamón ibérico de bellota. This ham is from free range pigs that roam the border between Portugal and Spain and feed on acorns.
ENRIQUE TOMAS
132 Wardour Street, Soho. W1F 8ZW
+44 (0)20 72 87 23 03
enriquetomas.com
3 – Sip Gin and Tonics at the London Gin Club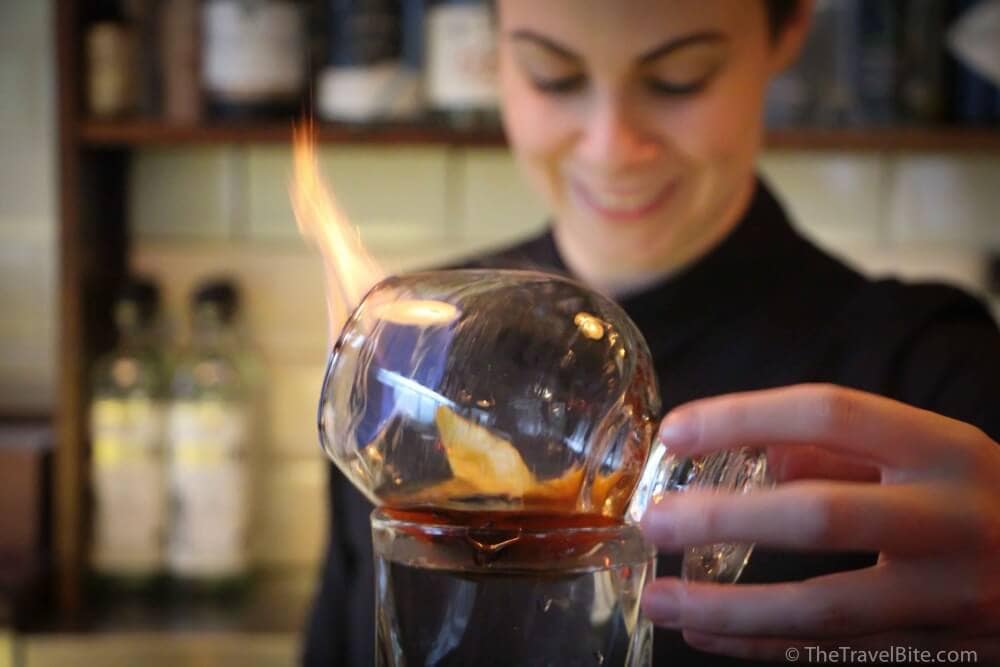 The London Gin Club is dedicated to the enjoyment of gin as well as the enjoyment of delicious house made pies, charcuterie boards, and a chocolate tasting board inspired by gin botanicals. During our stop, we each indulged in a slow braised minced beef pie (a hole pie each!) as well as their signature gin and tonic. We also got to watch their creative cocktail creating first hand as they were experimenting with a few new drinks. This is definitely a restaurant I'll be coming back to.
THE LONDON GIN CLUB
22 GREAT CHAPEL STREET
W1F 8FR
0207 494 2488
thelondonginclub.com
4 – Peer Into Trident Studios, The Epicenter Of Music Culture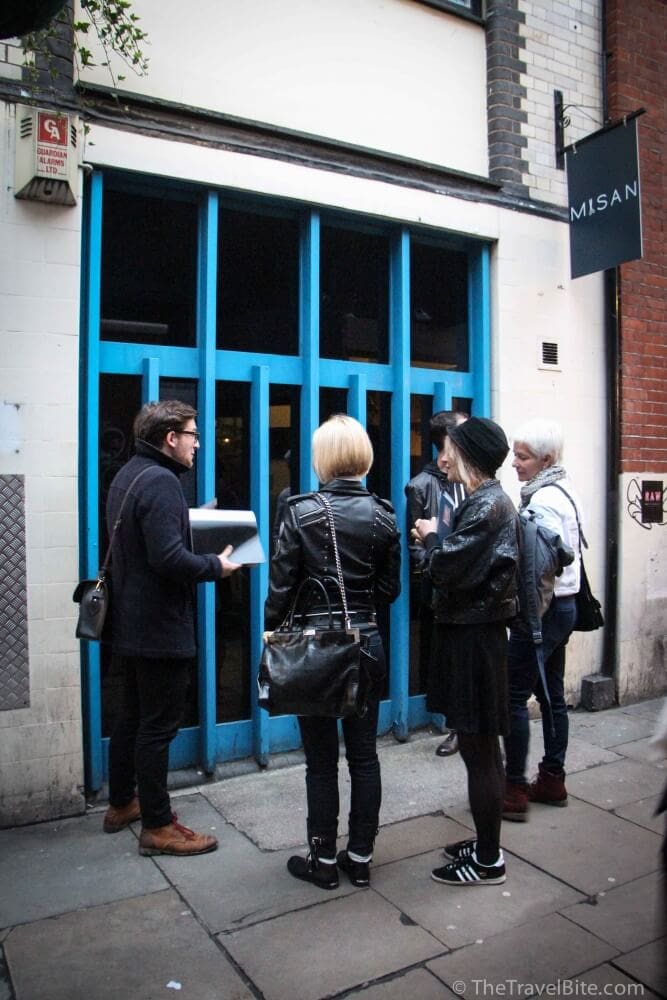 Trident Studios was a music studio where Elton John recorded "Candle in the Wind" and David Bowie sang The Rise and Fall of Ziggy Stardust. Even The Beatles recorded here. There's an office nearby that the guide will point out as Sir Paul McCartney's current office (though we didn't see him). With all the shiny framed records hanging on the wall, I have no doubt someone important sits in that office chair.
5 – Indulge In Spanish Tapas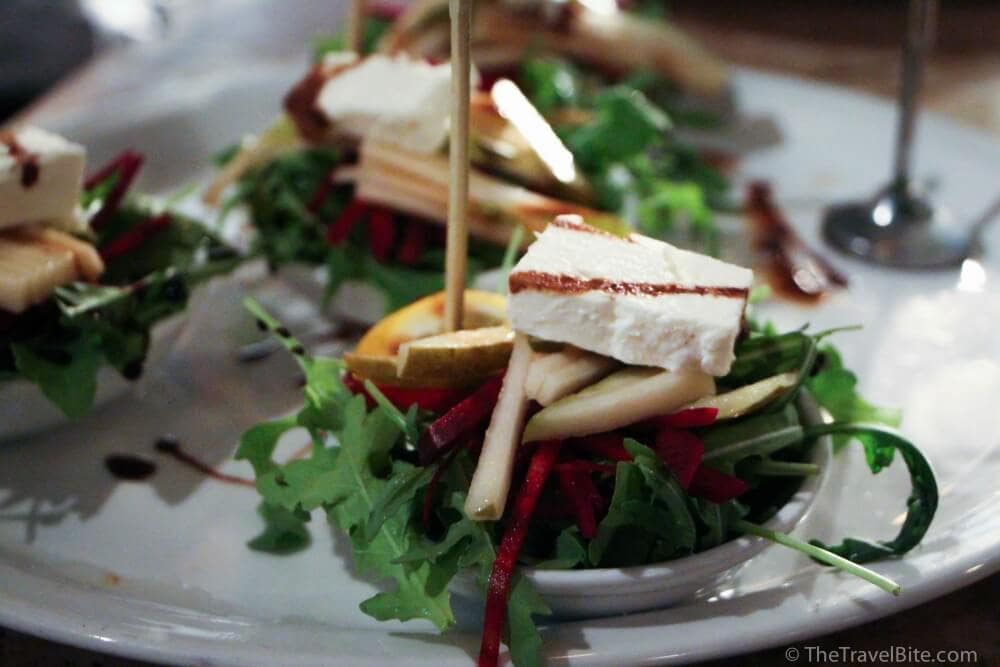 As if the tacos, savory pies, and ham weren't enough, we stopped for tapas (pintxos) and a glass of cava at Pix Bar. (YES! Drinks are included in this tour!) At this point, I was getting pretty full, even with the history and story stops along the way. There is a TON of food on this tour. It doesn't disappoint. Thankfully, with tapas, we were able to select which dishes we wanted to try. I chose a salad and some cheese, which sounds boring, but it was delicious!
PIX BAR
16 Bateman St
London W1D 3AR
020 7437 0377
pix-bar.com
6 – Visit A Secret Parlor In Chinatown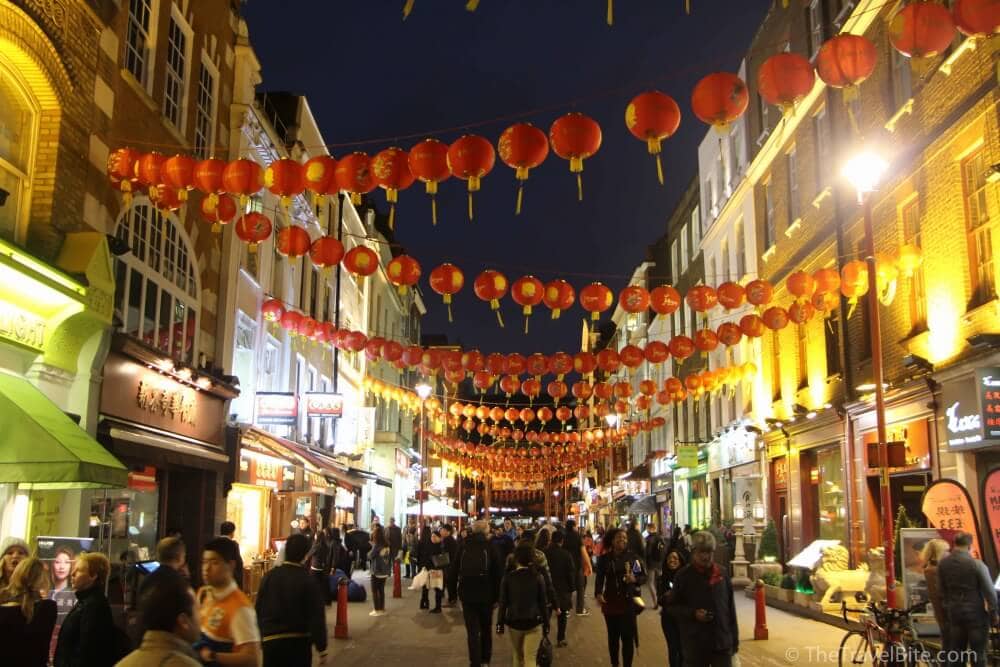 We meandered our way through the streets to London's Chinatown and found ourselves in front of a mysterious green door guarded by a tall man dressed head-to-toe in black. Our guide must have had some secret code, as we were allowed to enter. If there was ever a moment during my travels where I felt a little like Indiana Jones or the CIA rendezvous-ing in some secret sexy location, this is it. Delicious London said, "Each floor reveals more seductive surprises as Opium spirals upwards, evoking feelings of travel and adventure." Indeed, it does. Once we arrived on the top floor, we sipped smokey teas and popped little doughy purses of dim sum between our lips. It was one of my favorite and most surprising stops.
OPIUM
15-16 Gerrard Street
London W1D 6JE
020 7734 7276
opiumchinatown.com
7 – Indulge In Real Sipping Chocolate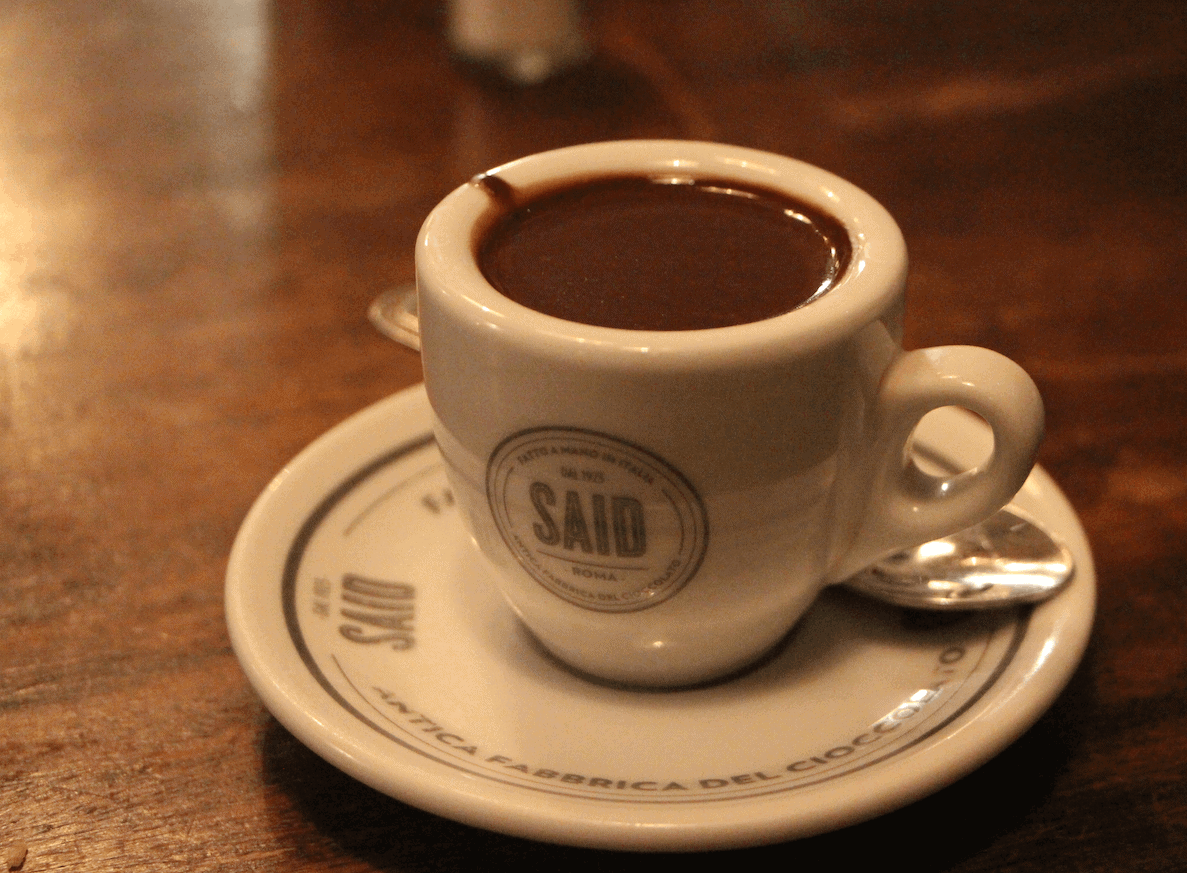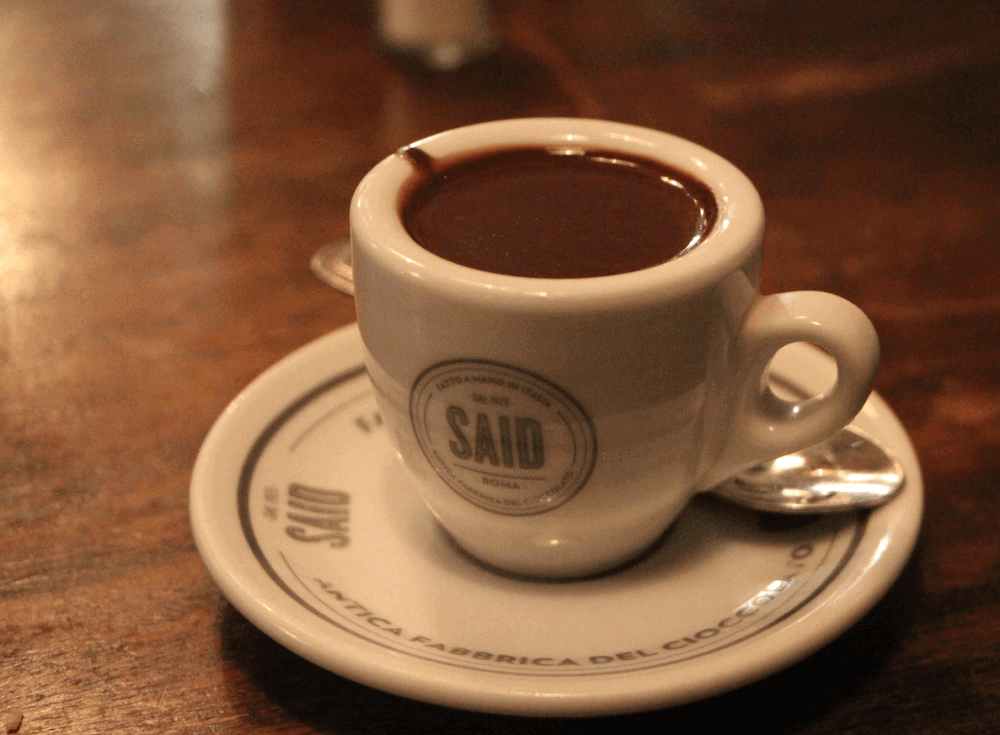 The oldest chocolate factory in Rome has opened up this shop in London's Soho, and it's to die for! If you're a chocoholic, this will be your little slice of heaven. No dine-around would be complete without dessert, and this Soho London food tour ends with a sipping chocolate at Said London. Pure, rich melted chocolate sipped from a mug. You'll never order regular hot chocolate again.
SAID CHOCOLATE
41 Broadwick St
London W1F 9QL
+44 (0)20/74371584
said.it/en/london/
Want to save this tip for trip planning? Pin it! 🙂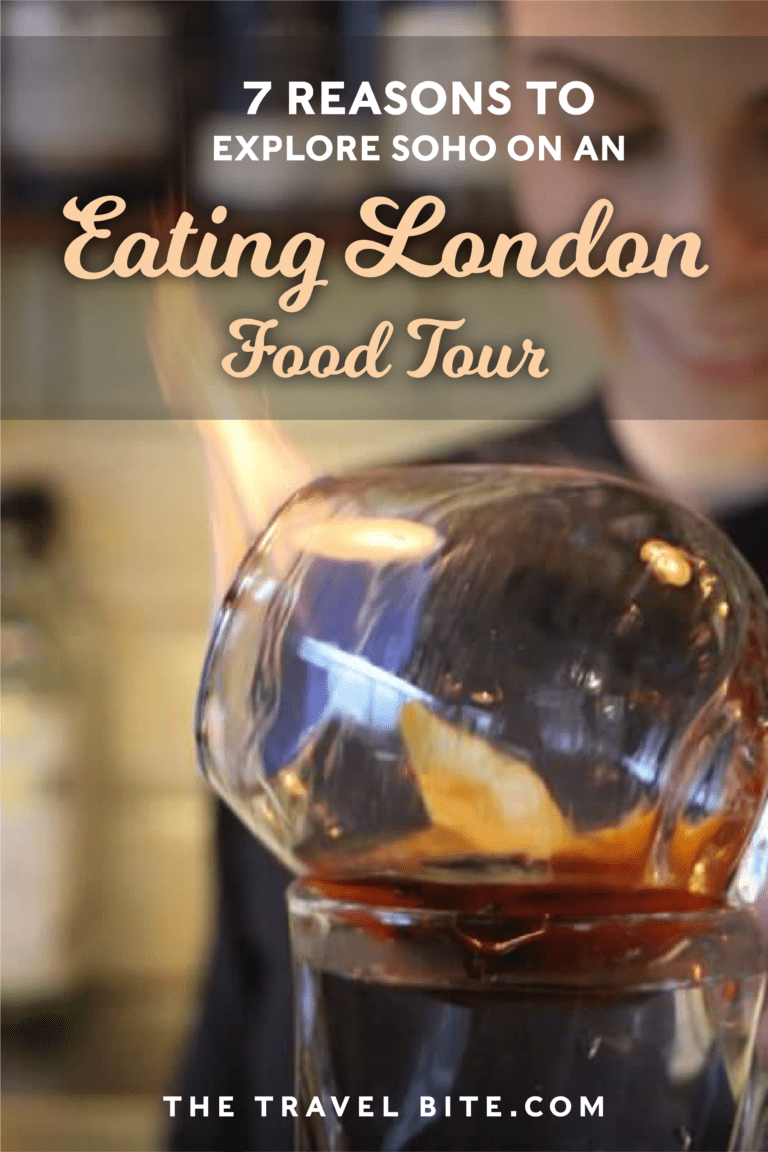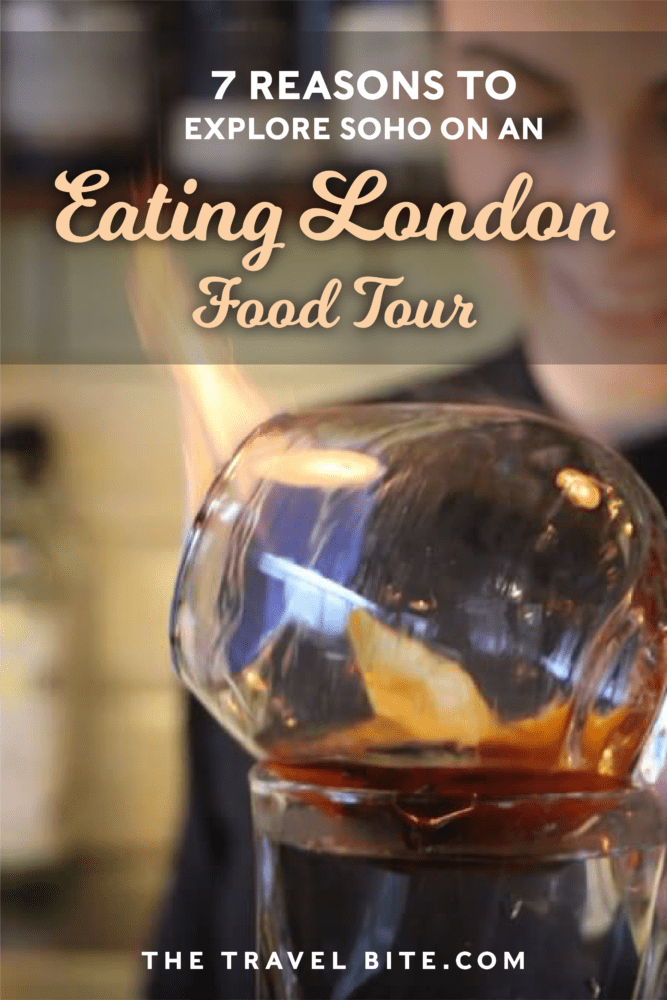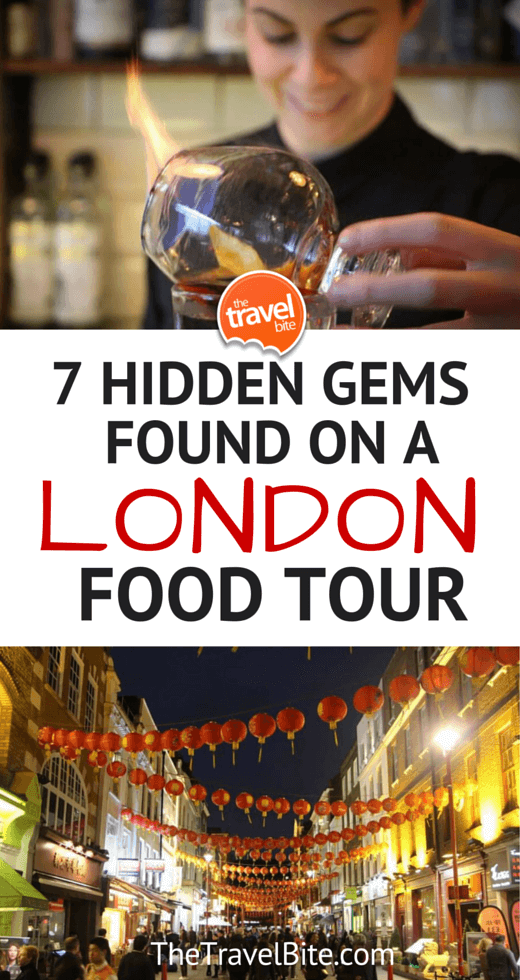 Originally published 2016. Updated 2019.