I think I'm going to have to invest in a set of those cloud-like magical hotel pillows that seem to cocoon me in comfort whenever I'm traveling. Because, now that I am at home, I'm not getting as much sleep as I would like. An endless to-do list and longer daylight hours have had me working more than I should. When summer twilight seems to last for hours, 9pm sure does seem to sneak up on me! So what does all of this sleep talk have to do with tart cherry pecan ice cream? I'll tell you … it's a comfort food thing.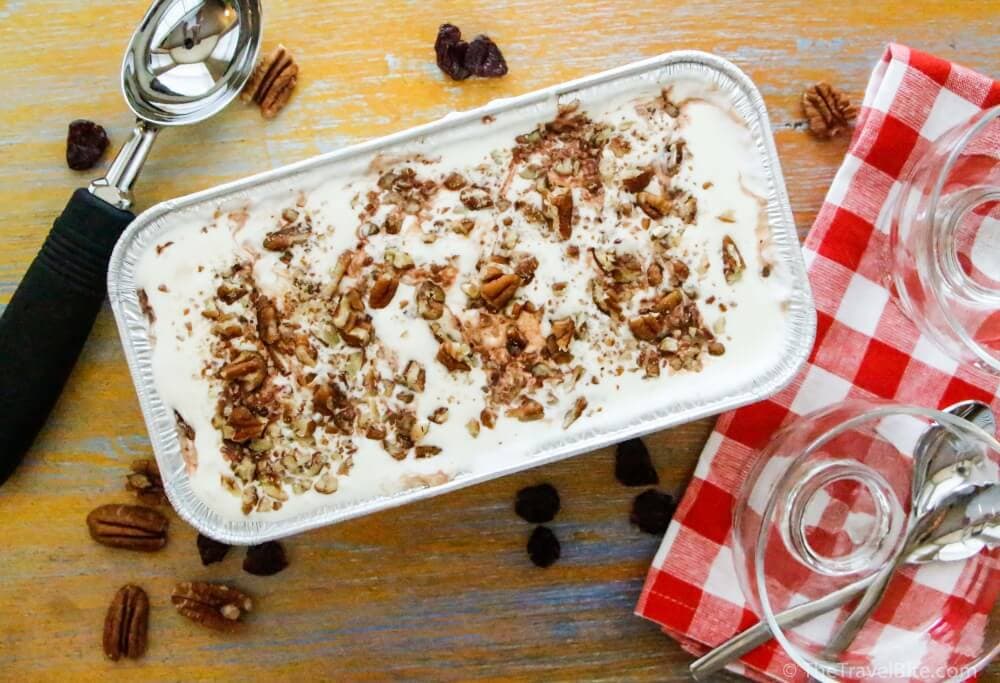 Since May is Better Sleep Month, I'm shaking up my routine again to focus on getting better sleep. They say getting 7-8 hours of sleep helps us focus better during the day and also helps with weight loss (cheers to that!). Frankly, those are two benefits I'm looking for right now after three straight weeks of travel and eating so many rich foods.
So, in addition to getting some inspiration from this 360-Degree Digital Sleep Suite and shopping online for dreamy hotel pillows, I'm also incorporating tart cherry juice back into my routine. I previously told you about the tart cherry lime tonics we make at home and how it helped with daylight saving time.
While I love the tonics, I've been experimenting with a few other creative ways for us to incorporate two cups of tart cherry juice a day into our diet. And one recipe that both Pete and I have been absolutely loving is this Tart Cherry Pecan Ice Cream. I tried at first to make a granita, and it didn't freeze well (Cue delicious smoothies. Maybe I'll post those later). I also tried the recipe below with heavy cream, and that was a bit too rich. The final Tart Cherry Pecan Ice Recipe we have below is the Goldilocks — it's just right! Since it's made with the syrup-like concentrate, a half a cup is all you need since roughly 2 tablespoons is equivalent to a serving. We also tried it with several different kinds of nuts, but the buttery flavor of the pecans seemed to pair perfectly with the tart cherry. I swirl the tart cherry juice concentrate into the ice cream with chopped pecans for a perfectly blended sweet, tart, creamy and crunchy textured dessert.
Enjoy!

Recipe: Tart Cherry Pecan Ice Cream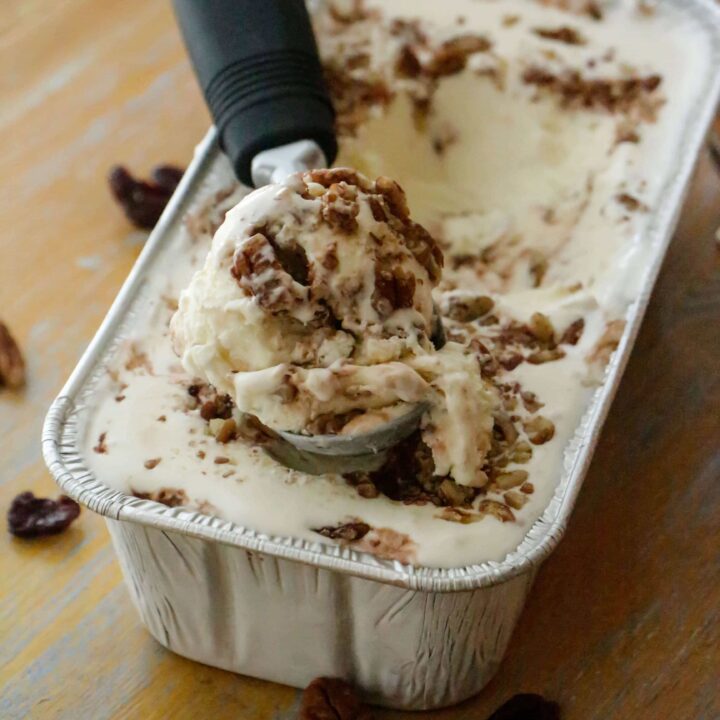 Tart Cherry Pecan Ice Cream
Ingredients
1 14 ounce can Sweetened Condensed Milk
2 Cups Organic Half & Half
1/2 Cup Tart Cherry Concentrate
1/2 Cup Chopped Pecans
Instructions
In a large bowl, whisk together the sweetened condensed milk and half & half until well blended.
Pour cream mixture into ice cream machine and follow manufacturers directions. (I use a frozen Kitchen Aid ice cream bowl attachment and churn the ice cream for about 15 minutes until it's the consistency of a soft serve.)
Add a 1/2 inch layer of ice cream to the bottom of a bread pan. Then drop 3-4 spoonfuls of the Tart Cherry concentrate over the ice cream and sprinkle with chopped pecans. Repeat this process 3 or 4 times until all the ice cream has been transferred from your machine to the bread pan.
Insert a chop stick or butter knife into the layered ice cream and zig zag it across the container to swirl the tart cherry concentrate and pecans in with the ice cream.
Freeze overnight. Enjoy the next day.
Nutrition Information:
Yield:

8
Serving Size:

1
Amount Per Serving:
Calories:

340
Total Fat:

17g
Saturated Fat:

8g
Trans Fat:

0g
Unsaturated Fat:

8g
Cholesterol:

44mg
Sodium:

122mg
Carbohydrates:

41g
Fiber:

1g
Sugar:

40g
Protein:

8g
Nutritional information provided is only an estimate.
Want to save this recipe for later? Pin it!