Bodie Sate Park (also known as Bodie Ghost Town) in California is the site of a former gold rush town that was abandoned in 1926. We've seen Hollywood recreate these types of towns hundreds of times for movies and shows, but to visit a real life authentic wild west gold mining ghost town town … what an experience!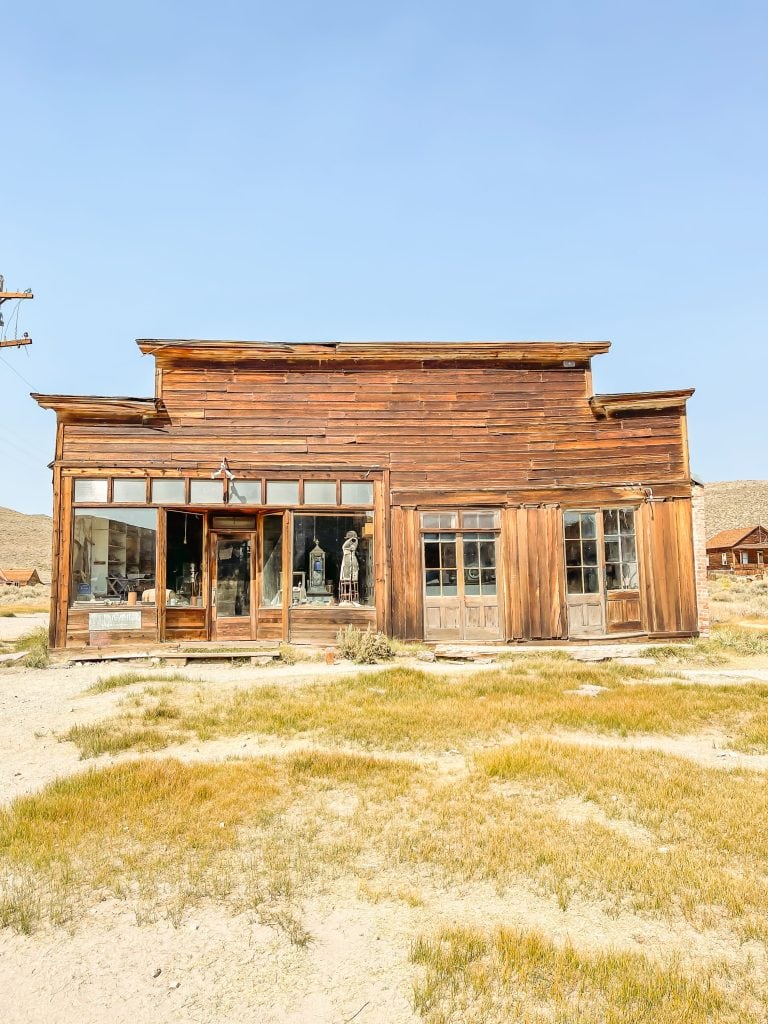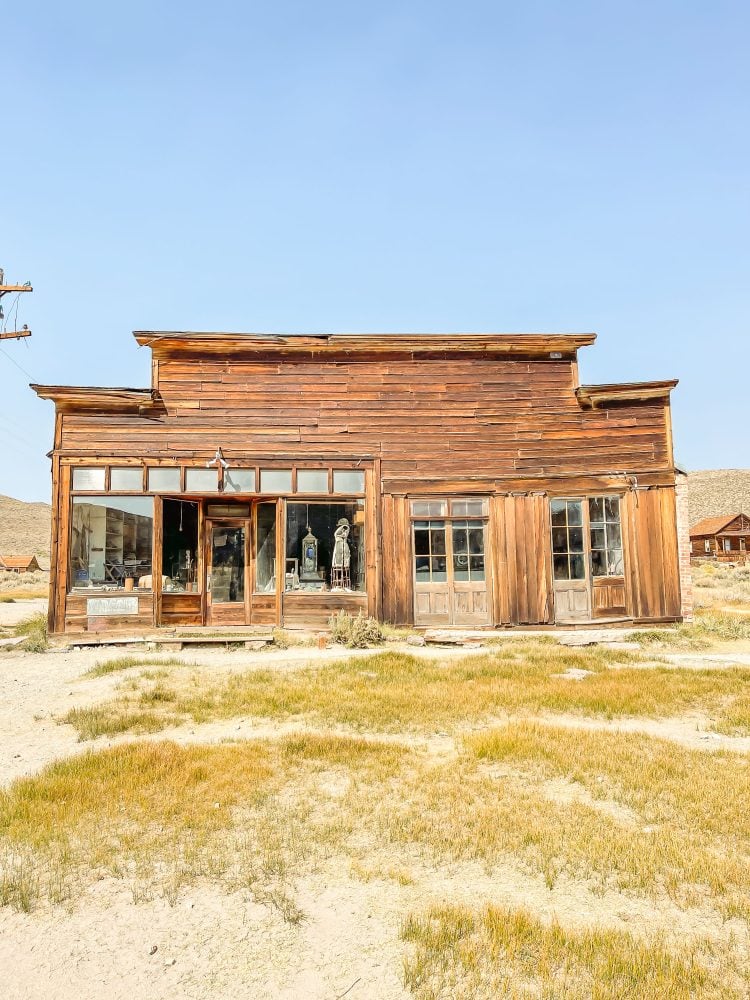 The landscape is beautiful, the town historic, and there's so much to see! Visitors can explore buildings dating back to 1859 or hike trails through the Sierra Nevada mountains. We had a chance to visit while working with Globus to experience their California Dreamin' tour. Here's a recap of our visit along with 7 tips for visiting Bodie State Park so that your experience will be memorable.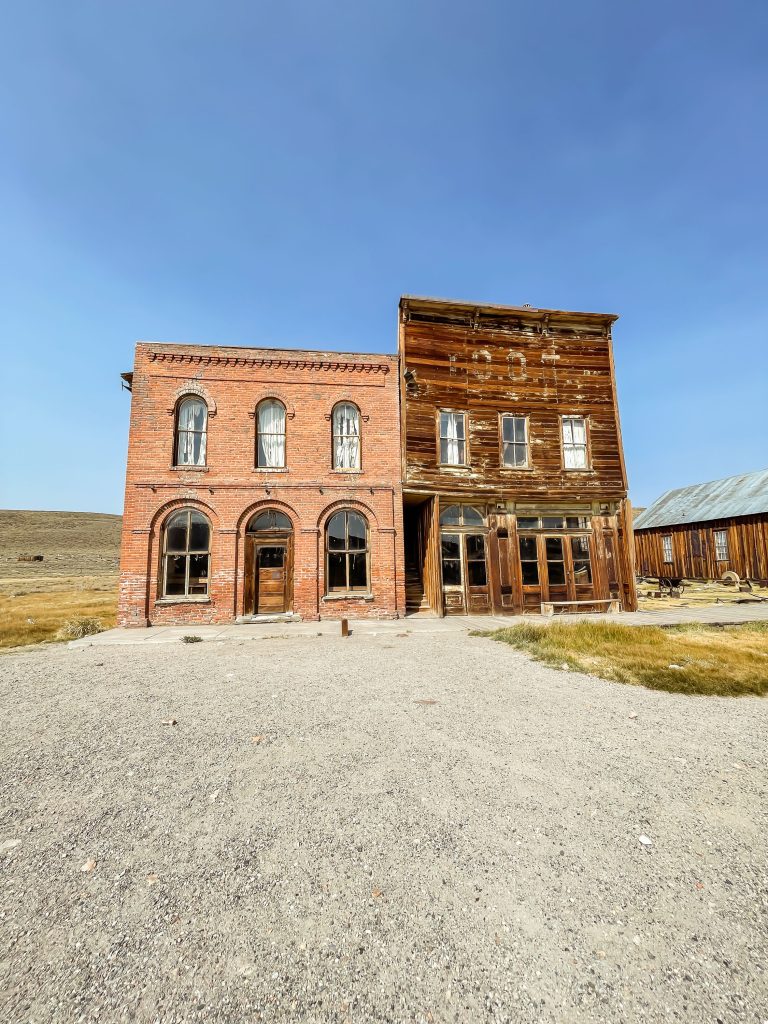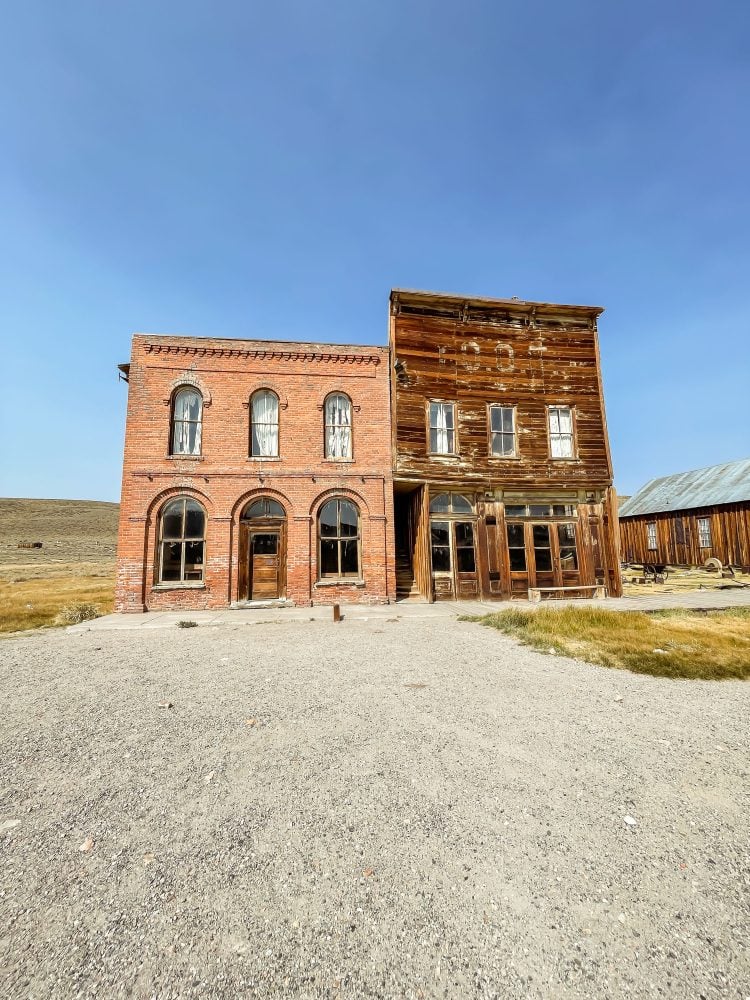 Why Did Bodie Become A Ghost Town?
The discovery of gold in 1859 by W.S. Bodey (for whom the town is named) led to a boom in population. Bodie started out as a mining camp but didn't hit the gold rush boom until almost 20 years later in 1876. The population grew to 10,000 people and at one point was California's third largest city! Participants in the California Gold Rush flocked to Bodie, with mines producing gold valued at more than $100 million.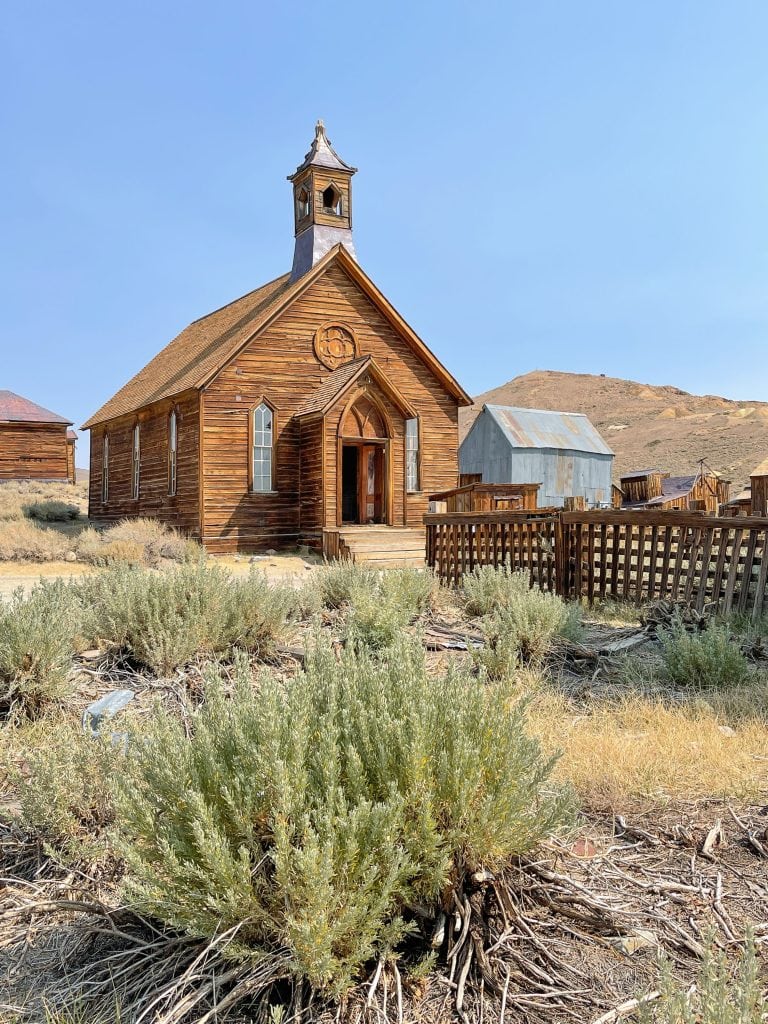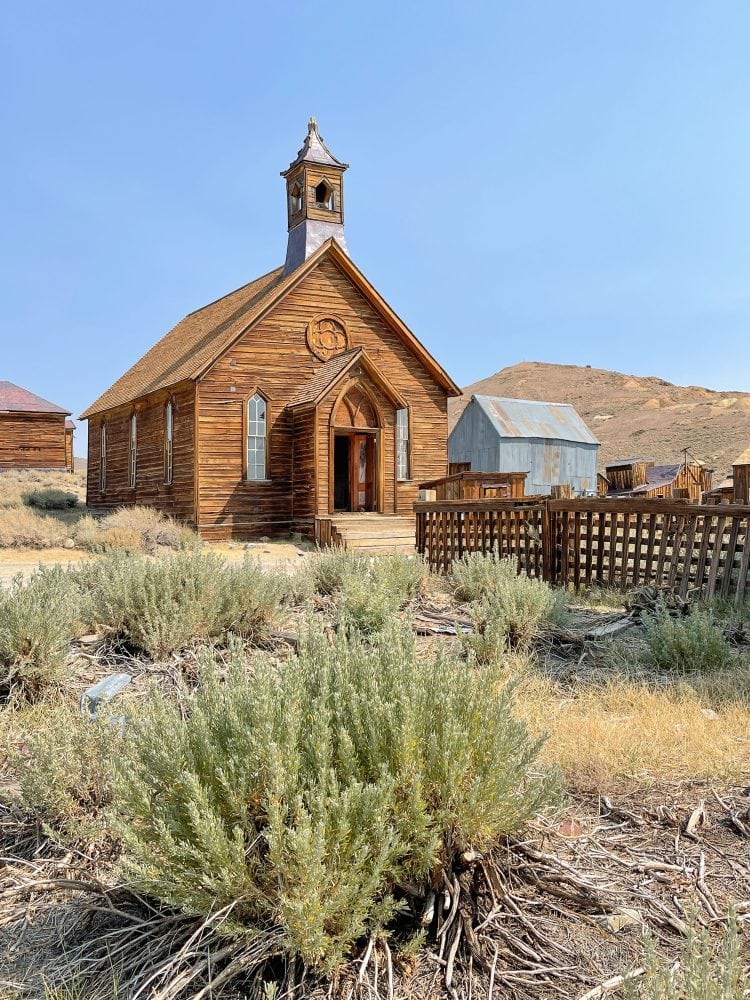 Bodie was a bustling town with a Wells Fargo Bank, school, newspapers, and even 65 saloons. (Guess those miners needed to be entertained!) Every boom has a bust, though, and eventually the town shut down when the mine stopped producing. By the 1900s there were only about 1000 residents left. And as settlers moved on, they left their belongings behind as it was too costly to bring with them. After years of decline following the stock market crash, war, and a shortage of workers, the town was officially abandoned when its post office closed for good in 1942.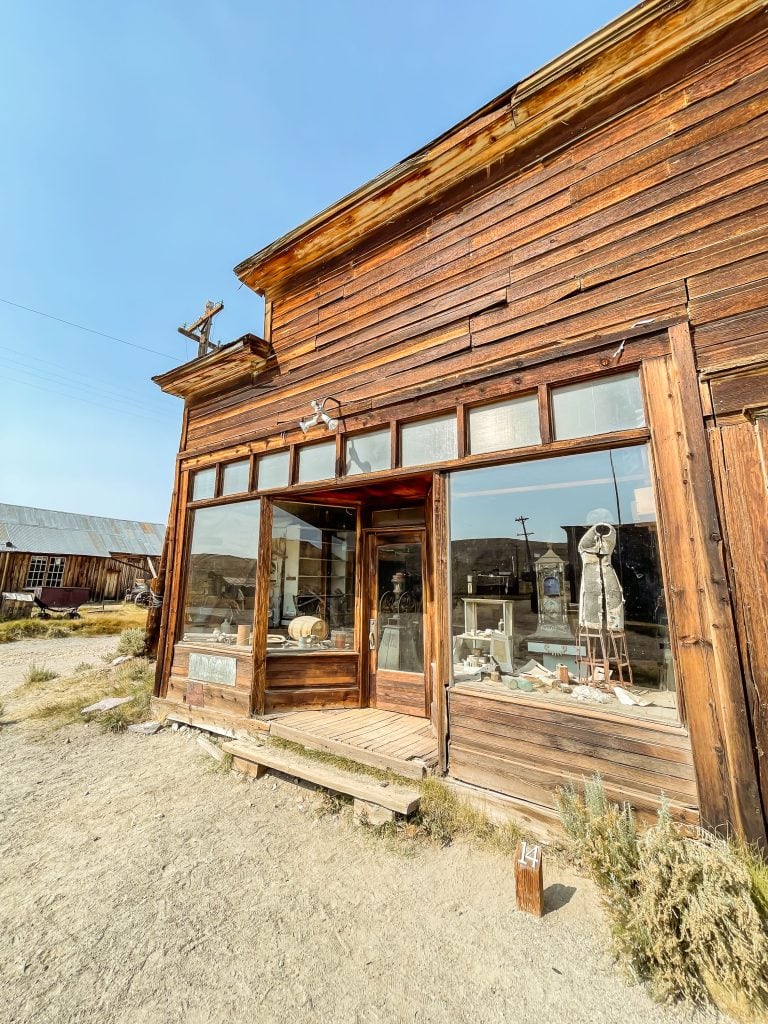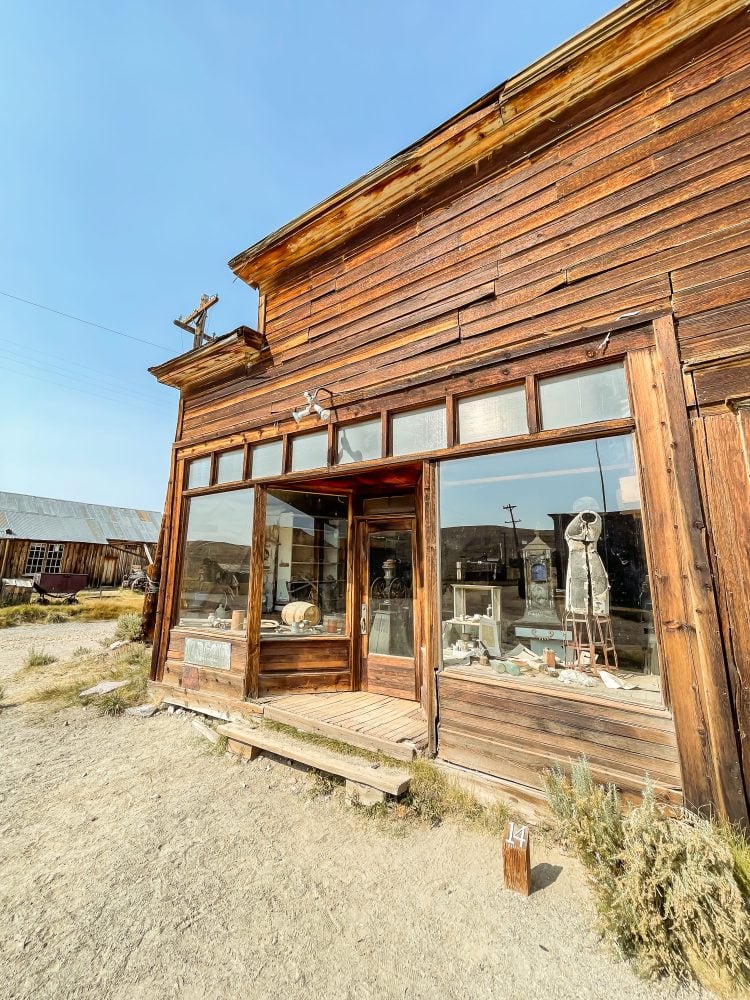 Thankfully, Bodie State Park opened nearly 80 years later to preserve this part of California history. It is now left in a state of "arrested decay" so everything is how it was left, including a stocked general store and schoolhouse with dusty books and lessons on the desk. The historic silent scenes left inside these old buildings is why it's also known as Bodie Ghost Town.
Is Bodie State Park Worth Visiting?
Bodie is definitely worth visiting, especially if you love history and good stories! It's a great place to spend the day or even just an afternoon. Walking through it, you can't help but imagine the dusty duel shootouts and saloon brawls. It looks like a wild west movie set, except, it's authentic and real! There's so many good stories here, so definitely pop into the on-site museum or go on a guided tour.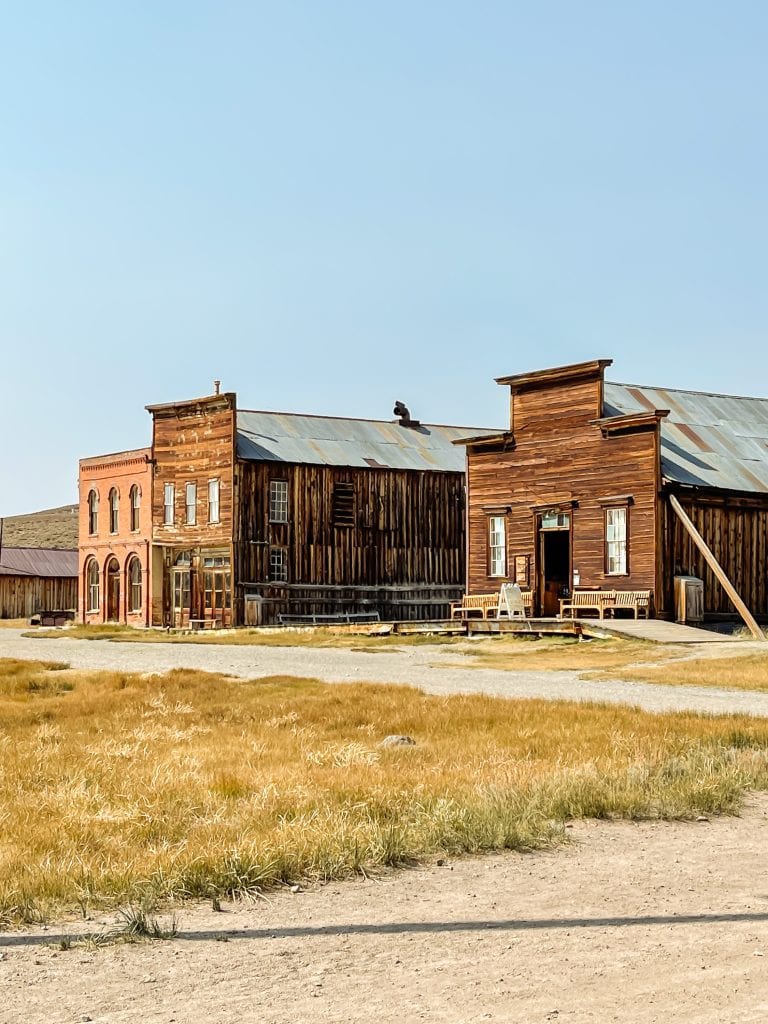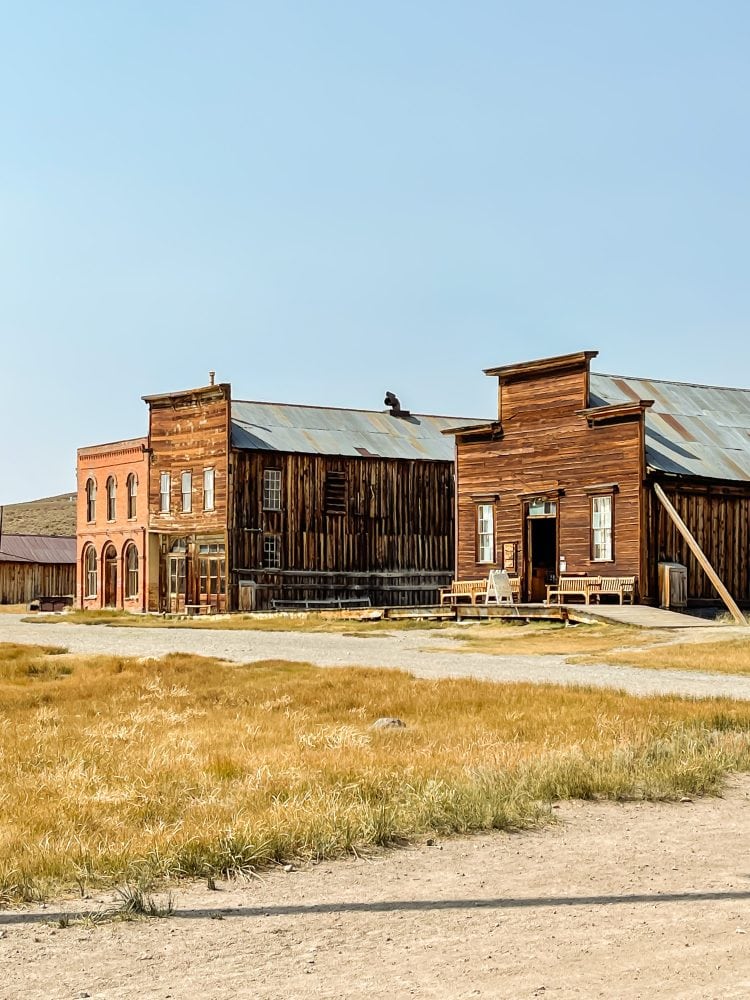 Photos Of Bodie Ghost Town
While the main church is iconic and right near the entrance when you walk in, definitely wander through the rest of the city. Here are a few of our favorite sites and a peek inside some of the buildings.
Schoolhouse: Frozen in time, you'll see some of the student's final lessons on the chalkboard, old maps, dusty books, and an old flag and jack-o-lantern.
An old globe with the map worn away by the sunlight coming through the window …
General Store: Imagine shopping for goods and groceries during the gold rush! It's neat to see what dusty boxes remain on the shelves, including one for Ghirardelli chocolates and vanilla for baking.
A close up look at the canned goods, boxes, and scale inside the general store. Notice the Bay Rum, Ghirardelli's chocolate, and Taylors Vanilla.
A coffee tin, boxes of mustard and sauerkraut, buckets of sweets, and an old cash register …
Miller House: Some residences are closed to visitors due to safety reasons, so you can only peek inside the windows. But the Miller House next to the church is open to walk through. The house centers around an old fireplace and the decorative wallpaper peeling on the walls shows several layers of design styles throughout the years. It was neat to walk inside and imagine what home life was like in the wild west.
The entrance to the Miller House in Bodie State Park with the fireplace and seating area.
Tablecloth on the counter, plates and tins in the pantry, wallpaper and green paint trim, and dishes set on the table. This old house was once a home.
Layers of wallpaper showing an updated change in design at some point …
Morgue and Funeral Home: The morgue isn't open to walk through, but you can peek inside the windows. Seeing the small child-sized coffins was both sad and creepy. This is the kind of scene where ghost stories are born.
Wheaton & Hollis Hotel: As a frequent traveler, I loved seeing the old hotel. In its hayday, Bodie was a wealthy town. So you'll notice some of the first electricity lines on the outside of buildings and operator telephones like the one pictured here.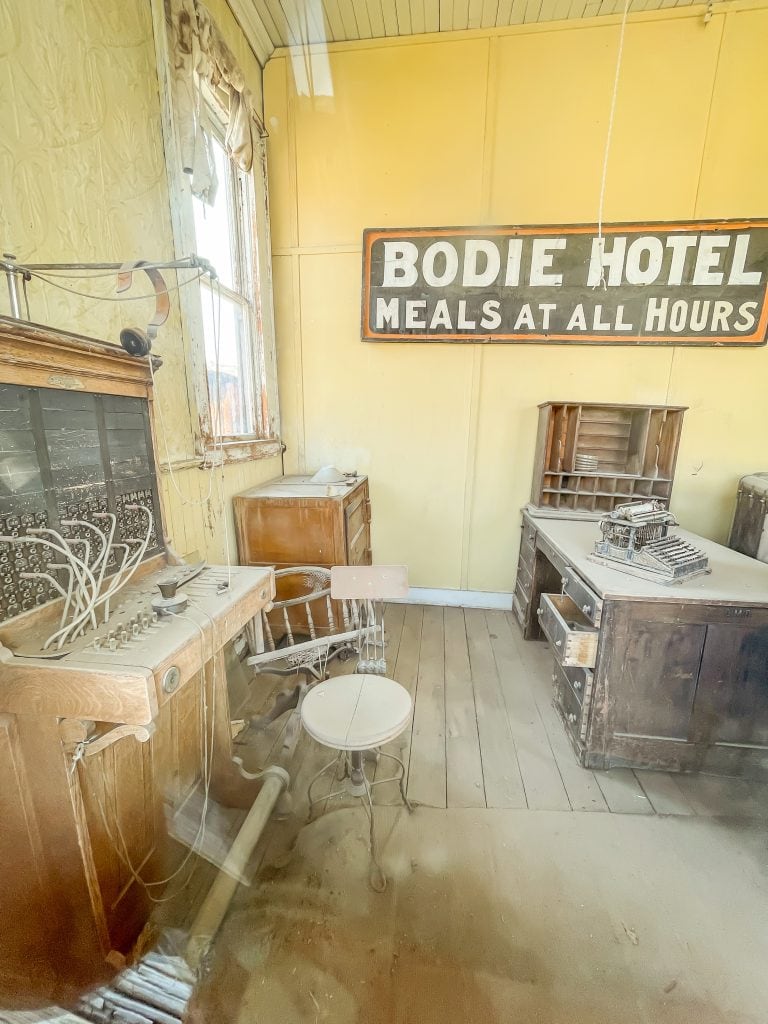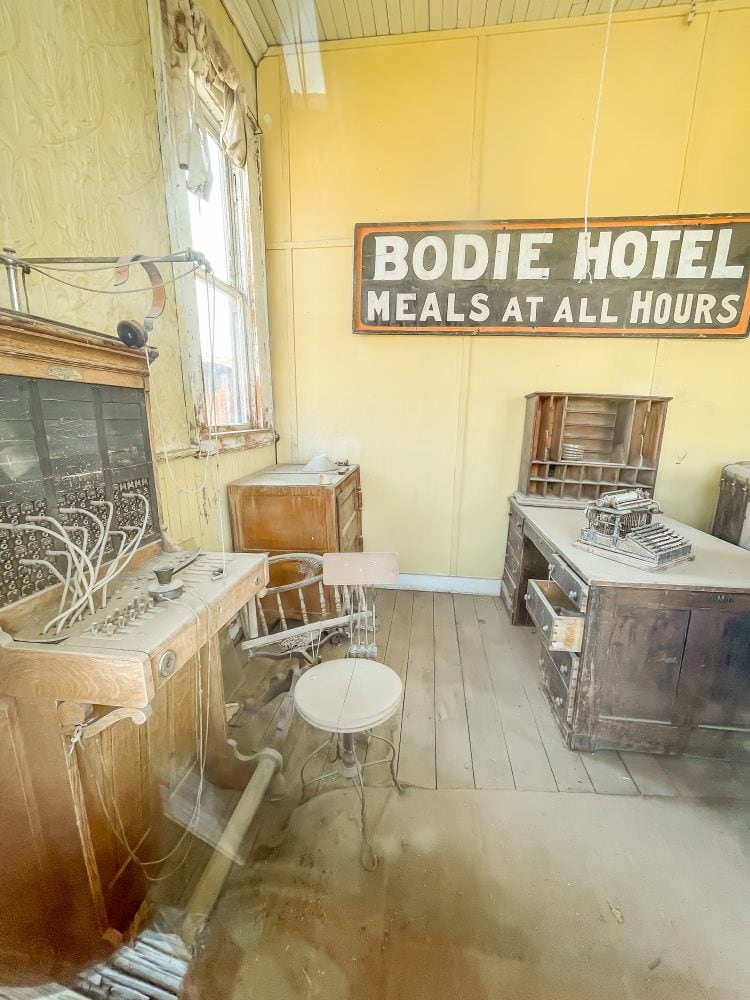 Saloons: There are several saloons still in Bodie. It's fun to look inside and imagine the card games, brawls, and other stories. If only the walls could talk.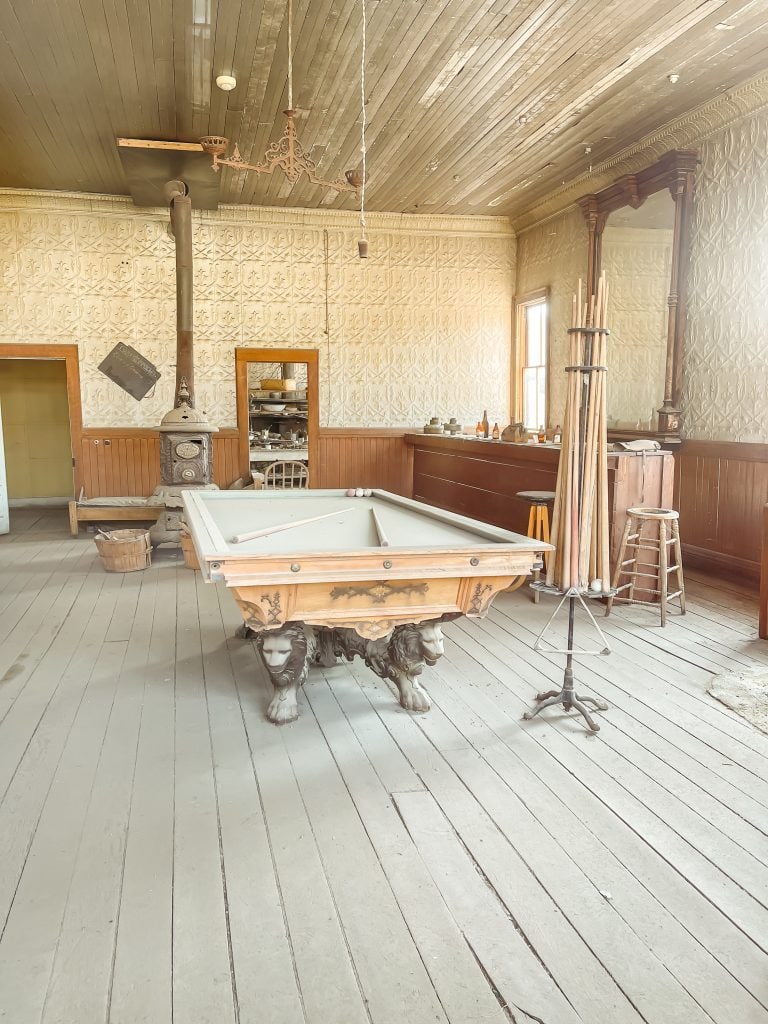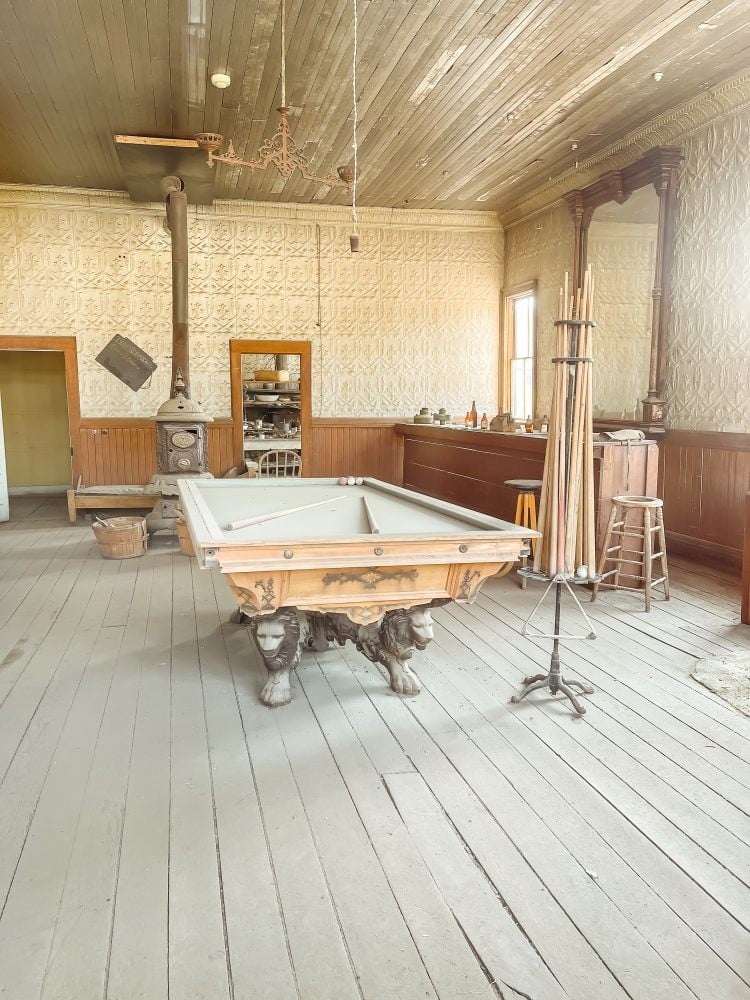 This one looks like it might have had some updates in the early 1900s. Maybe a soda fountain?
Where Is Bodie Located?
Bodie is located in Mono County, California near the Nevada border. It's about a 20 minute drive from Bridgeport and an hour east of Yosemite National Park. It's a prefect addition to any trip to Yosemite.
I don't think Bodie State Park would have been on my radar for visiting if it hadn't been for Globus Travel. Our Northern California tour included Mammoth Lakes, Mono Lake, as well as several days in Yosemite. And a visit to Bodie State Park was such a nice surprise.
Best Time To Visit Bodie
The best time to visit Bodie State Park is during the shoulder seasons, so either springtime or late summer/early fall. The summers can be hot, and the winters brutally cold, so dress appropriately and check the state park website for any new travel updates or restrictions. Or better yet, go on a Choice Touring trip with Globus like we did.
Tips For Visiting Bodie State Park
Wear Hiking Shoes Or Sneakers: There are many trails in Bodie State Park, but it's best to wear comfortable shoes. The terrain is rough and uneven at times so you'll want sturdy footwear for your exploration.
Wear Sunscreen and/or Hat: The California sun can be strong, especially when you're up in the mountains. Make sure to bring sunscreen and maybe a hat too.
Bring Layers: Like any desert, the weather can be unpredictable. It might feel hot in the sun, and cold in the shade. Bring a light jacket or long sleeved shirt.
Pack Water And Snacks: There are no shops or restaurants in Bodie so be sure to bring plenty of water and snacks. The nearest town with stores is Bridgeport, California which is just a few minutes east on Hwy 395 (diner we went to?)
Bring A Camera And Binoculars: There are so many great photo opportunities in Bodie, especially when you consider the history of this old mining town. Be sure to bring your camera for photos and binoculars for birdwatching and peeping into the historic buildings.
Visit The Museum: The museum is located in the visitor center inside one of the historic buildings. It has a lot of great information about Bodie. You'll learn all kinds of interesting facts like how much gold was mined from the area, who lived here over time, what life was like for residents of this town during its boom years etc.
Give Yourself Plenty Of Time: At first glance, it might seem like a quick tour around a ghost town. But there's a lot of little details to see in each building. Peeking into windows you'll notice pieces of lives left behind. And some of the sites, such as the mine and the cemetery, are a bit of a walk. So budget plenty of time for your visit.
What Is Unique About Visiting Bodie Historic State Park?
The history of Bodie is what makes this place so special. There's no other town quite like it. It was founded nearly 150 years ago and abandoned only 90 years later, giving visitors a rare glimpse into the past!
You Might Also Like
This post is part of a paid campaign in collaboration with iambassador and Globus. However, all views and opinions are my own.