Calgary is known for its wide open spaces, wild west attitude, rolling prairies, and of course, their famous Stampede. It's also the gateway into outdoor play in Banff and corporate headquarters for some pretty big companies. But after my quick visit there, I'd venture to say that Calgary is also a culinary mecca.
This big city's proximity to local farms, ranches, and the great outdoors enables it to have a bounty of fresh foods available, and I'm not just talkin' meat and potatoes. The local chefs here are rising stars in their own right and certainly put on a tasty show. Here in Calgary, the terms "local," "sustainable," and "farm-to-table fresh" are not just trendy marketing terms; it's a way of life. Here are three kitchen mavericks that wowed us during our visit.
Cowboys In The Kitchen: The Maverick Chefs Of Calgary
MARKET Calgary

Meet Chef Dave Bohait of MARKET Calgary. He leads a great team that have made this new restaurant 'the' place to be on 17th street. It's ruggedly modern, decorated in classic black and white with crafty farmhouse accents. It reminds me a little like going to a family farm for a comforting meal, only the family is a little edgy and cool.
Nearly everything here is crafted in-house. Just as pioneering settlers did when Calgary was founded, the kitchen team here bakes their own breads, does their own butchering, cures their own meats, and makes their own cheeses. They even grow their own greens and herbs in an Urban Cultivator that can be seen in their open theater-style kitchen. Additionally, they offer house-made brews including sodas such as root beer and ginger ale and they source their ingredients from 21 local ranchers and farmers. It's a 100% made-in-Calgary authentic dining experience.
The menu changes regularly, so I don't know that I can recommend any single thing that will be there when you arrive. Definitely talk to their manager, Yvan Toulouse, and ask for his recommendations. He'll tickle your palate with his detailed descriptions of food while offering some great suggestions for cocktails or wine pairings, taking out the guesswork so you can sit back, relax, and enjoy.
If it's available, definitely order their bison carpaccio to get a little taste of the wild west. I think you'll find it doesn't taste so 'wild' after all. It's probably one of the leanest, most flavorful meats you'll ever sink your teeth into.
The night Pete and I were there, they also did a whole fried chicken served with pancakes and maple syrup; MARKET's version of chicken and waffles, served up Canadian-style. If you're lucky, Chef Dave will add his fabulous foie gras to the menu, served with house pickled cherries, crushed pistachios, goat cheese, mini French-toasts, and maple syrup. It's lusciously decadent with a capital D.
MARKET Calgary
Address: 718 17th Avenue SW Calgary, AB T2S 0B7

Website: Marketcalgary.ca
Facebook: /MARKETcalgary
Twitter: @MARKET_Calgary
Brasserie
Meet Chef/Owner Cam Dobranski of Brasserie Kensington. He's definitely the rebel maverick-chef type, riding in on his motorcycle wearing worn jeans and a t-shirt sporting a meat cleaver from a food-inspired clothing line he runs on the side. His philosophy is to take French food and make it fun and approachable. He's also obsessed with duck. If you find that everything here tastes awesome, with a hint of rich earthiness, it's because it's all fried in duck fat. There's the Brasserie Poutine with pomme frites fried in duck fat, drizzled in cheese curds and duck gravy. There's also the Elise Foie Gras Parfait with red wine jelly and a baguette and the simple, yet delicious, duck fat fried potato chips. Yeah, it's to-die-for.
Another thing that really wowed me was his "waste not" attitude on food. Nearly every part of the animal is used, right down to using the skulls of boars as bar decorations. Some of the bar snacks include bits like salted chicken skin and crispy pig ears. Couple that with a pint of one of their small batch craft beers and you'll have yourself a little slice of comfort food heaven.
In case you're not into fried foods (who doesn't love fried food?), you'll be pleased to know that Brasserie has a wide variety of choices not fried in duck fat. The steak tenderloin tartar marinated in a zesty house-made whole grain mustard is insanely delicious. But I couldn't resist the house-made potato chips.
Brasserie Kensington
Address: 1131 Kensington RD NW, Calgary, Alberta T2N 3P4
Website: BrasserieKensington.com
Twitter: @the_brasskens
Choklat
Meet Brad Churchill, bad-boy of the chocolate industry. The rebel with a cause even publicly confesses to flipping off the competition. You gotta respect that kind of confidence. I both love him and hate him. Hate him … because I'm forever spoiled after tasting his chocolate and now no chocolate bar besides his will ever be good enough. My favorite chocolate in the world is 3000 miles away from home in Calgary. Sigh.
So, how does one earn the title of "best chocolate in the world" in my book? Well, this former software engineer wasn't satisfied with the choices he had for chocolate and was disappointed that so many chocolatiers didn't actually "make" their own chocolate. They simply melted it down, added flavors and shaped them in molds. For Brad, it's all about the purity of flavor. Brad took a scientific approach to chocolate, putting in countless hours of research and testing to create a chocolate that's creamy and smooth with no acidic aftertaste. He doesn't melt someone else's chocolate, he actually makes chocolate. Brad orders the finest cocoa beans from around the world and roasts them himself, creating exactly the type of rich flavor he was looking for. Tasting his chocolate is like enjoying a fine wine, there are multiple flavor notes and a nice finish.
All the extras used to make more personalized flavors (hazelnuts, berries, etc.) are sourced locally. Brad even grows his own mint. When you visit Choklat, you can choose one of his pure chocolate candy bars or custom order your own truffles by choosing your favorite filling (from creme caramel to peanut butter ganache), and what you'd like to have it dipped and rolled in (from toasted nuts, aromatic spices, or something fun like hot pink sprinkles). There are at least 1000 combinations that can be handmade to-order.
As sensuous as the truffles are, it's the hot chocolate that will really blow your mind. Choklat has been voted to have the "Best Hot Chocolate In Calgary," but having traveled most of the world, I can honestly tell you without exaggeration that it's probably the best hot chocolate on earth. It's true drinking chocolate, not a powdered mix. I sipped their Hazelnut Heaven, which is their OMG hot drinking chocolate steam infused with hazelnut butter, then topped with fresh made vanilla whipped cream tinted in their fun signature blue with a sprinkle of freshly toasted hazelnuts, sprinkles, and edible glitter. Yeah, I got giddy over the glitter. It's good to know that as serious Brad is about chocolate, you can tell he still likes to have fun with the toppings.
Choklat
Address: 1327 9 Ave SE, Calgary, AB T2G 0T2, Canada
Website: Sochoklat.com
Facebook: Facebook.com/SoChoklat
Pete and I were introduced to these awesome eats by Karen Anderson with Calgary Food Tours. If you want to have a great guide to give you the full scope of Calgary's culinary landscape, she's your gal. From dining outdoors under the stars at CRM Ranch, to a walk and dine tour of Inglewood, she will charm you with stories and historic lore while your taste buds are indulged with all the local flavors of Calgary.
Disclosure: This trip was sponsored by Travel Alberta. As always, thoughts, opinions, and love for food and travel are all our own.
You Might Also Like: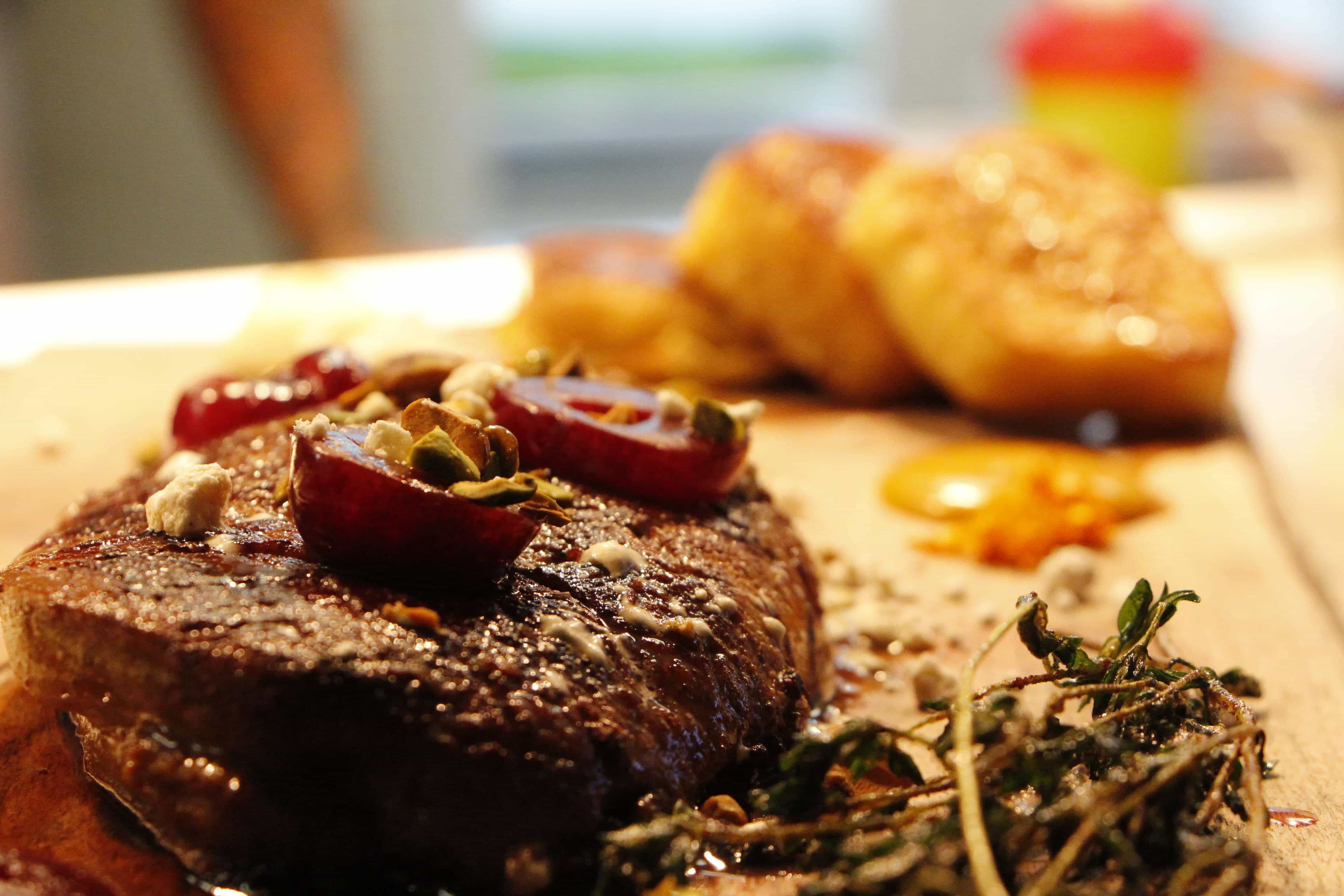 This Little Piggy Went To Market
Notes from the table … It's lively, bustling atmosphere brings outdoor vibrancy indoors from the patio seating out front to the kitchen in the back with tables spanning the gap and a bar running the length of one side. With a singular focus on providing the highest quality meals using only the freshest ingredients, MARKET has taken the farm-to-table ethos to heart in growing, producing, harvesting, and curating their own greens, meats, and drinks. Bottom line: The food is honest and authentic. (Read more …)
You know I can't resist a good "must-taste" list for any place I visit and I was quite impressed to have a few surprises in Alberta, Canada. From a prairie berry that's fun to pronounce and a creamy drinking chocolate that is probably the best I've ever tasted, there's much more to Canada than just maple syrup. Here are the 5 must-try foods I recommend in Alberta. (Read more …)