A simmer pot is a wonderful, natural way, to make your kitchen smell fresh. If you've not made one before, a simmer pot is essentially stovetop potpourri that's a naturally aromatic way to make your whole house smell amazing. Basically, it's a large pot of water set to a low simmer with fresh ingredients like sliced citrus fruits, berries, herbs and whole spices. While most people often think of a simmer pot for fall or during the holidays, there's truly a simmer pot for every season! And it's a great way to get rid of "kitchen smells" if you've been cooking something with a lingering fragrance like salmon or brussels sprouts. Scroll through some different simmer pot recipes and ideas below, or simply hit the "jump to recipe" button to print them. Enjoy!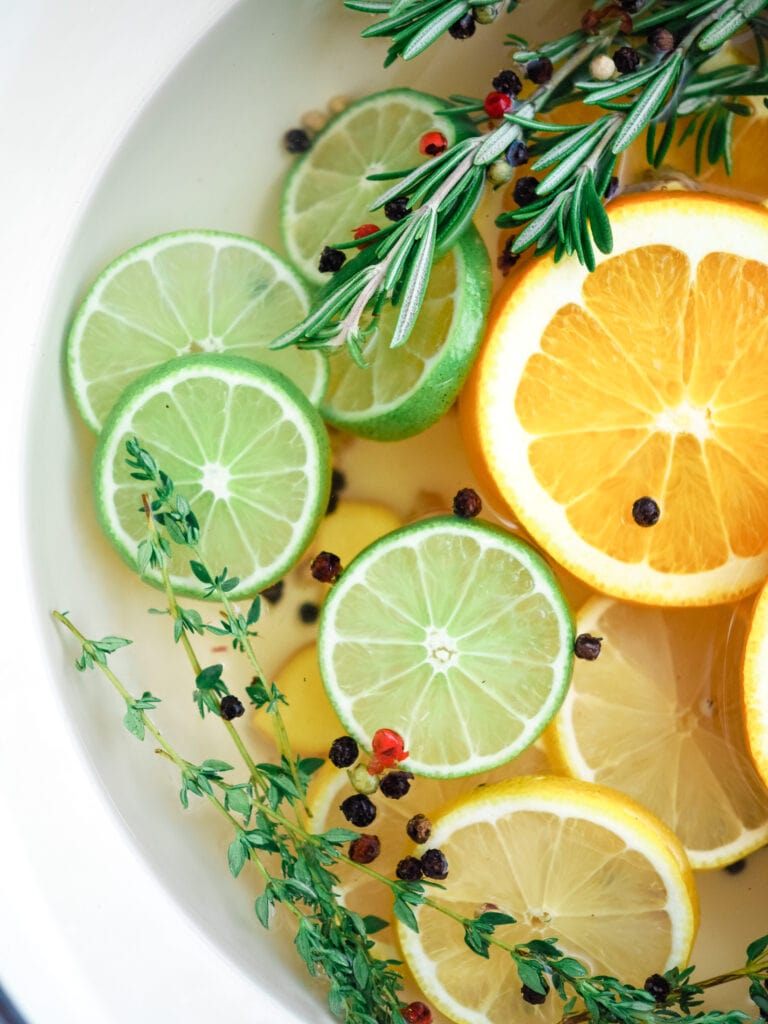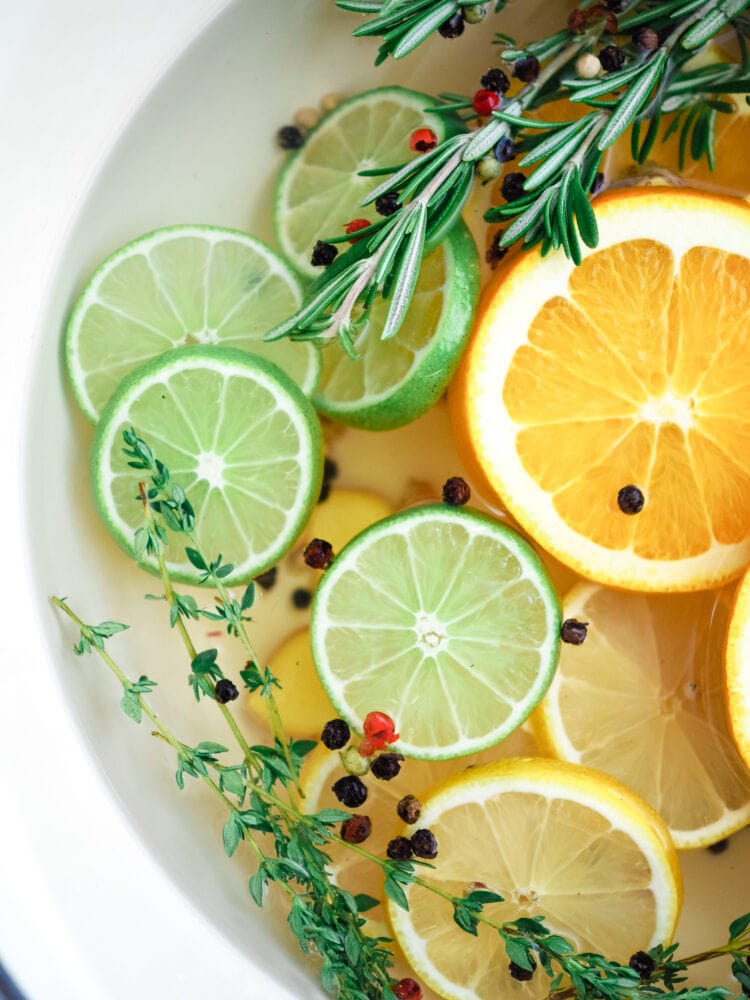 What Can I Put In My Simmer Pot?
A good smelling simmer pot has at least three ingredients, but you can add as many things as you like! Think of it a bit like cooking when it comes to pairing complimentary scents. For instance, lemon and rosemary, or vanilla and lavender. You can have quite a bit of fun creating your own simmer pot blends. Typically, I like to choose at least one ingredient from each of the following categories: fruit, fresh herbs, whole spices, and baking extracts. Here is a list of ingredient ideas to get you started and feel free to use whatever you already have in your kitchen! We also have some recipes for you below.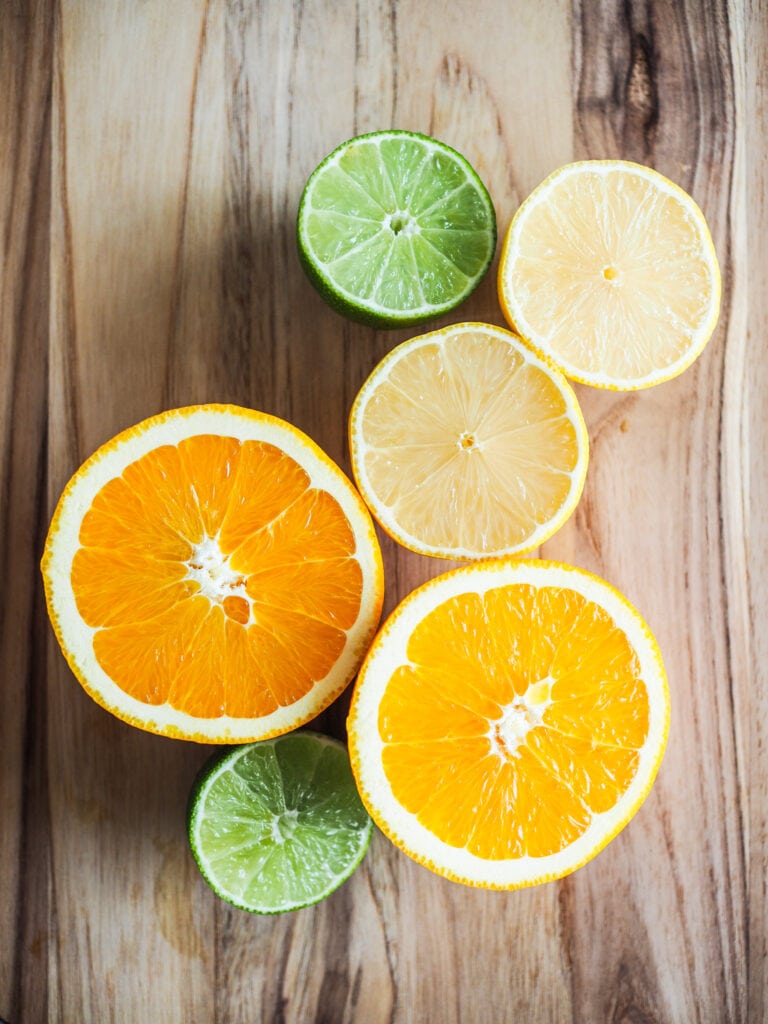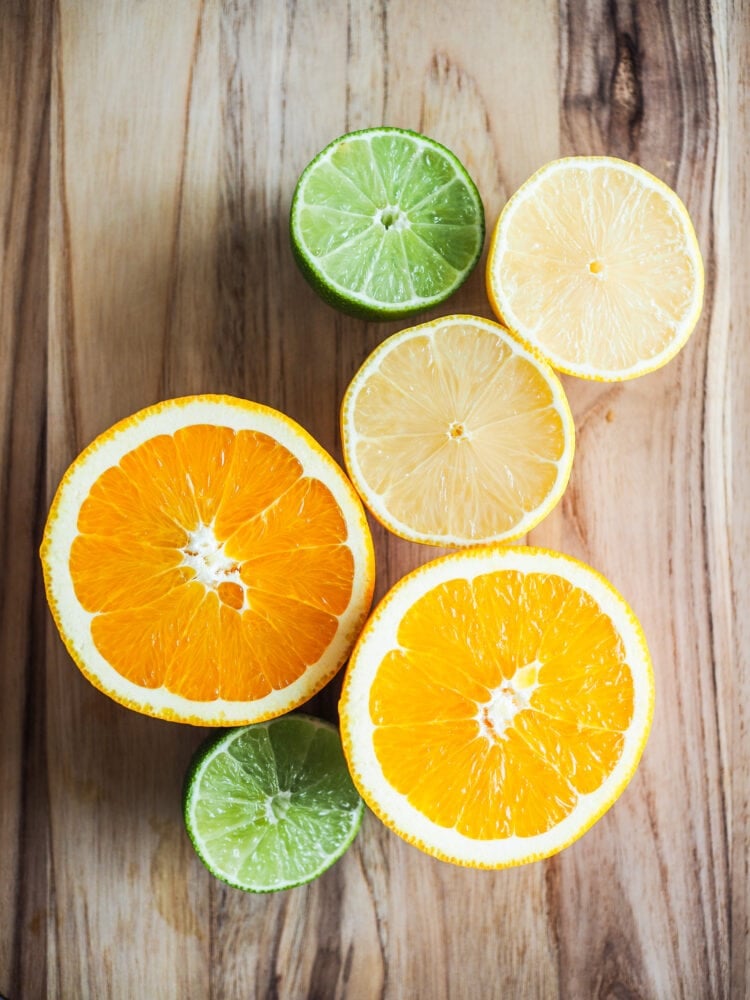 FRUIT
When it comes to fruit, stick with what is in season and pick a complimentary spice to go along with it. Citrus is great for a clean scent, while apples and cranberries can convey a coziness. As for the amount of fruit to use, I recommend using one whole fruit, cut in slices. Such as one sliced apple, or one sliced orange. For lemon and lime, you could add two or three of these sliced citrus fruits to your simmer pot. And in the case of berries, I recommend a half cup.
oranges
limes
grapefruit
lemons
apples
cranberries
blackberries
strawberries
blueberries
fresh or dried coconut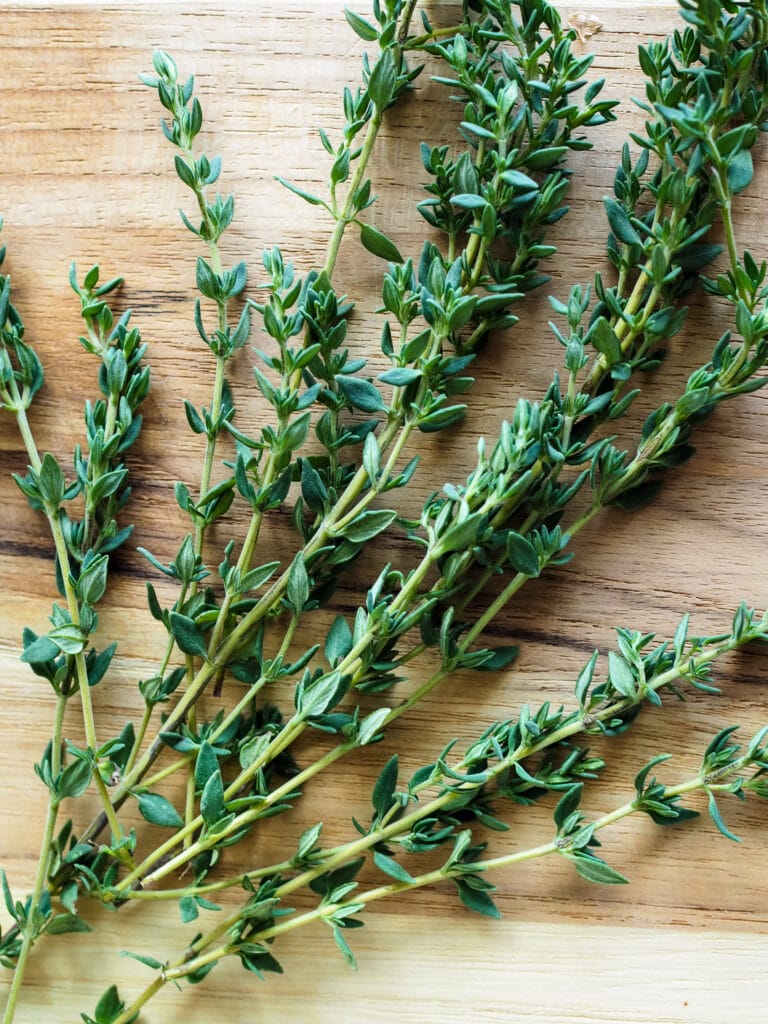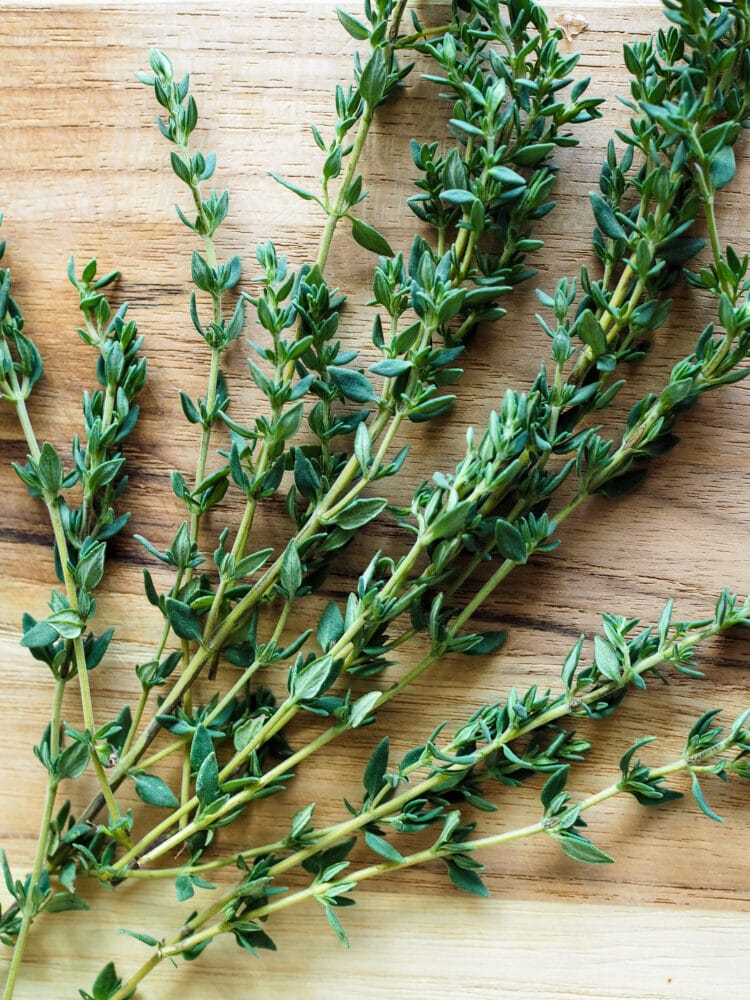 FRESH HERBS
Using fresh herbs in your seasonal simmer pot will leave a wonderfully aromatic scent in your home. Woodsy herbs, such as rosemary and oregano, hold up well to simmering. You can also use softer herbs like mint or parsley, but they wont last as long while simmering. I like to pick fresh rosemary or oregano from our yard, but in a pinch you can use dried herbs too. When deciding the amount, for fresh herbs I recommend 2-3 sprigs. And for dried herbs use a tablespoon.
Rosemary
Thyme
Oregano
Lavender
Sage
Mint
Parsley
Lemongrass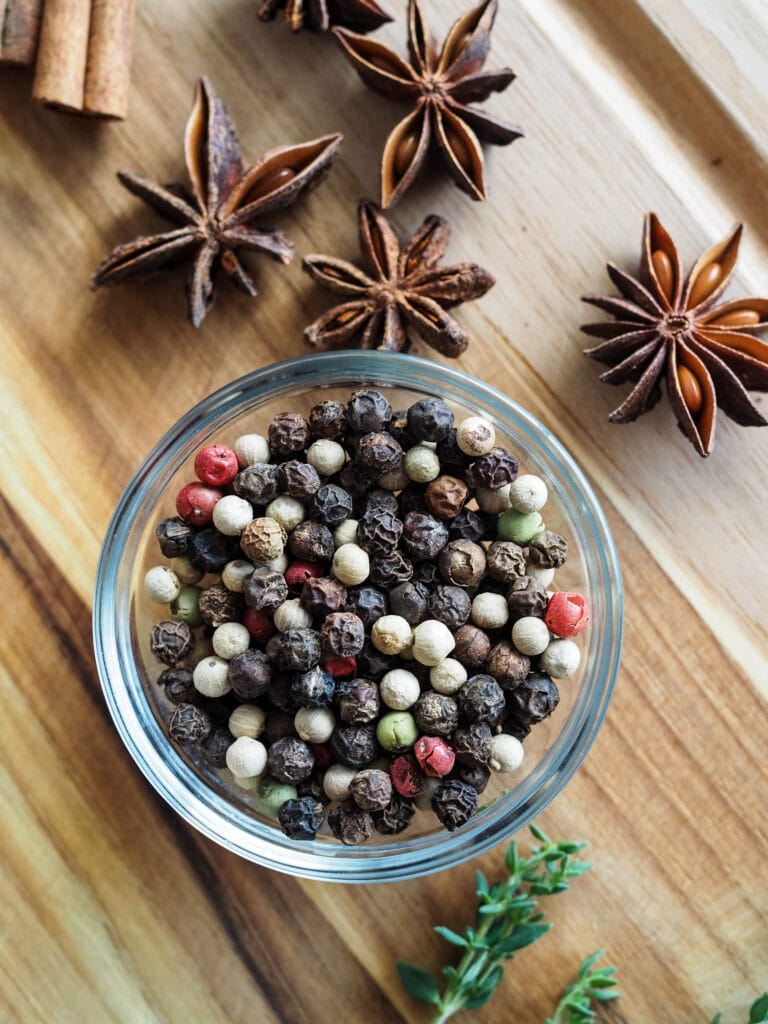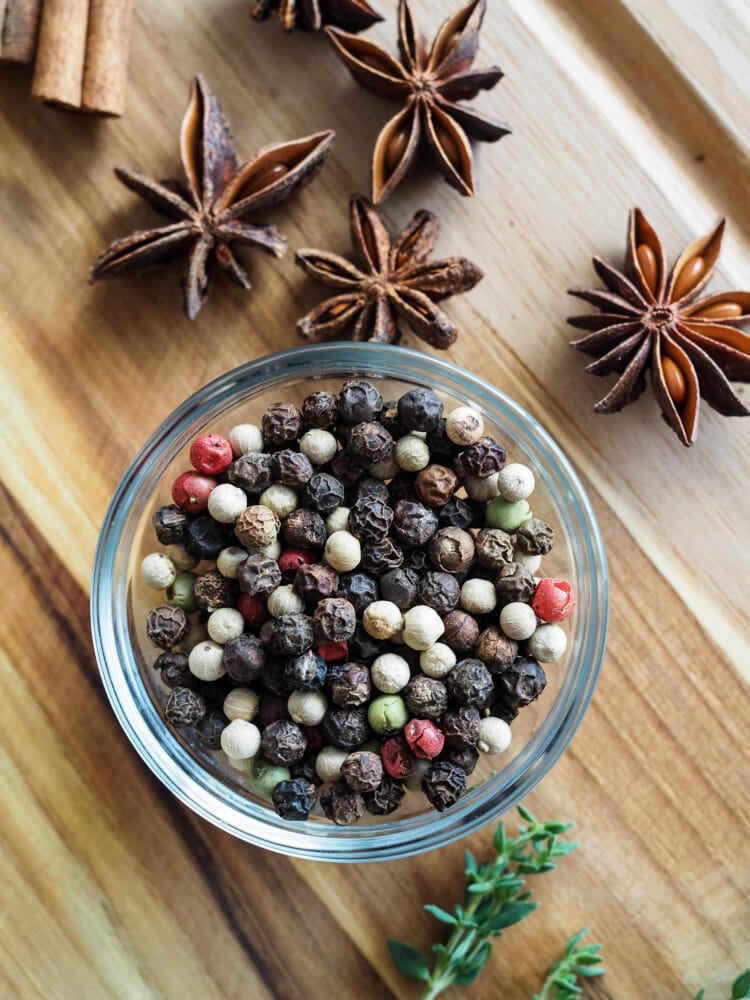 SPICES
Whole spices are best for a simmer pot as they hold up well to boiling. Pick a spice to compliment your fruit choice, or simply one you enjoy the scent of. Cinnamon is warm and cozy, ginger smells clean, and anise and clove give off a subtle licorice scent.
Whole Peppercorns
Cinnamon Sticks
Whole Cloves
Star Anise
Cardamom
Bay Leaves
Celery Seed
Juniper Berries
Ginger
Dried Roses (available as a tea)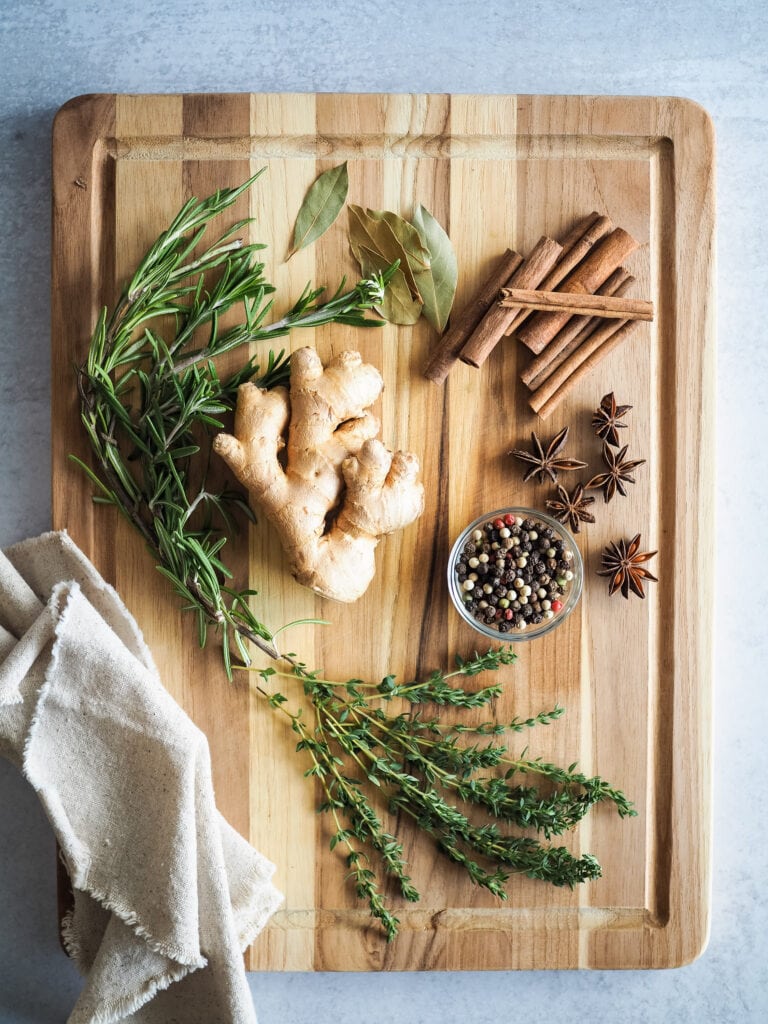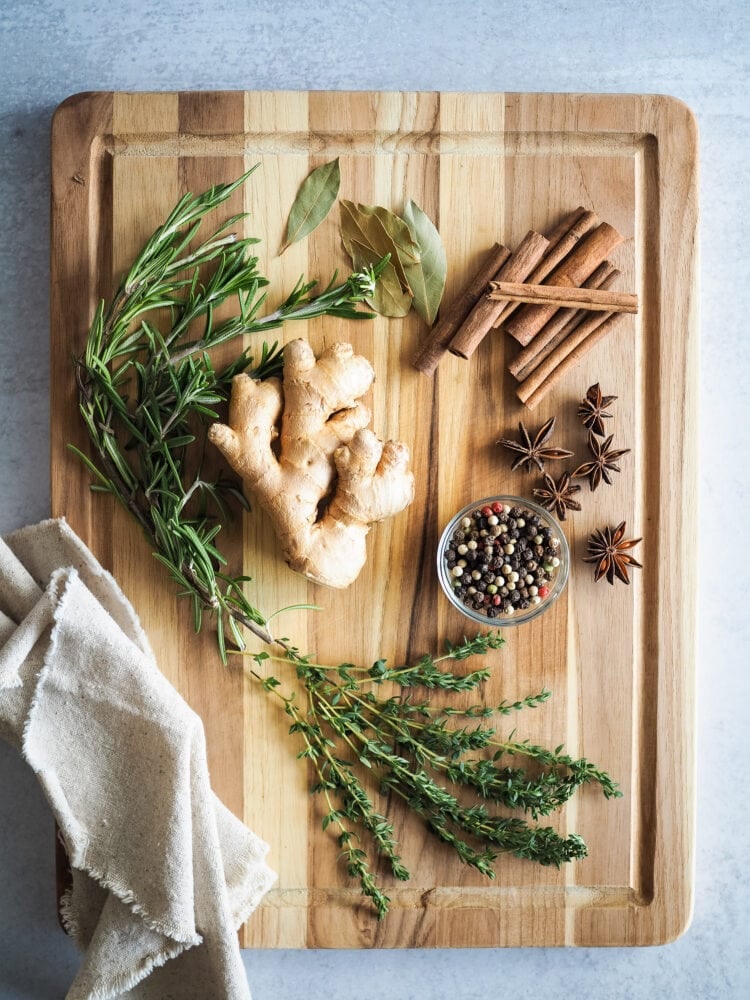 EXTRACTS + OILS
When it comes to adding extracts or essential oils, if it is edible, you can add it to your simmer pot. You can use baking extracts or food safe essential oils. Start by adding one tablespoon of your choice of extact to your simmer pot. After it simmers for a little while, add and additional teaspoon if you'd like for the scent to be stronger.
vanilla extract
almond extract
hazelnut extract
peppermint extract
maple extract
lavender oil
eucalyptus oil
lemon extract or oil
rosewater or rose extract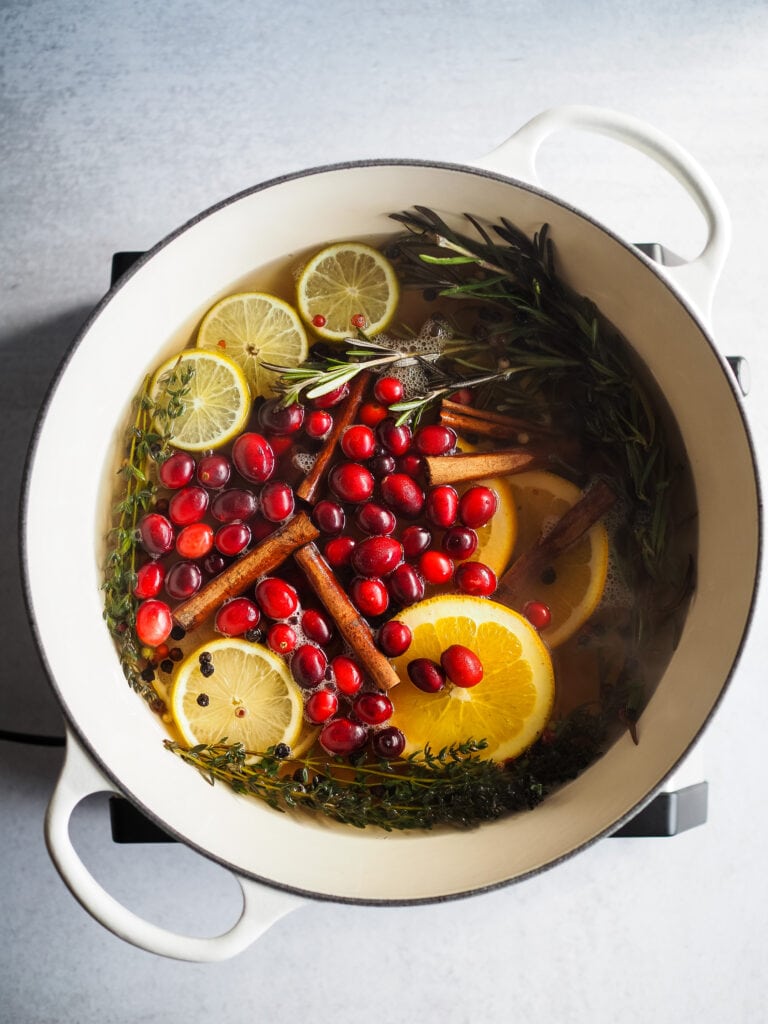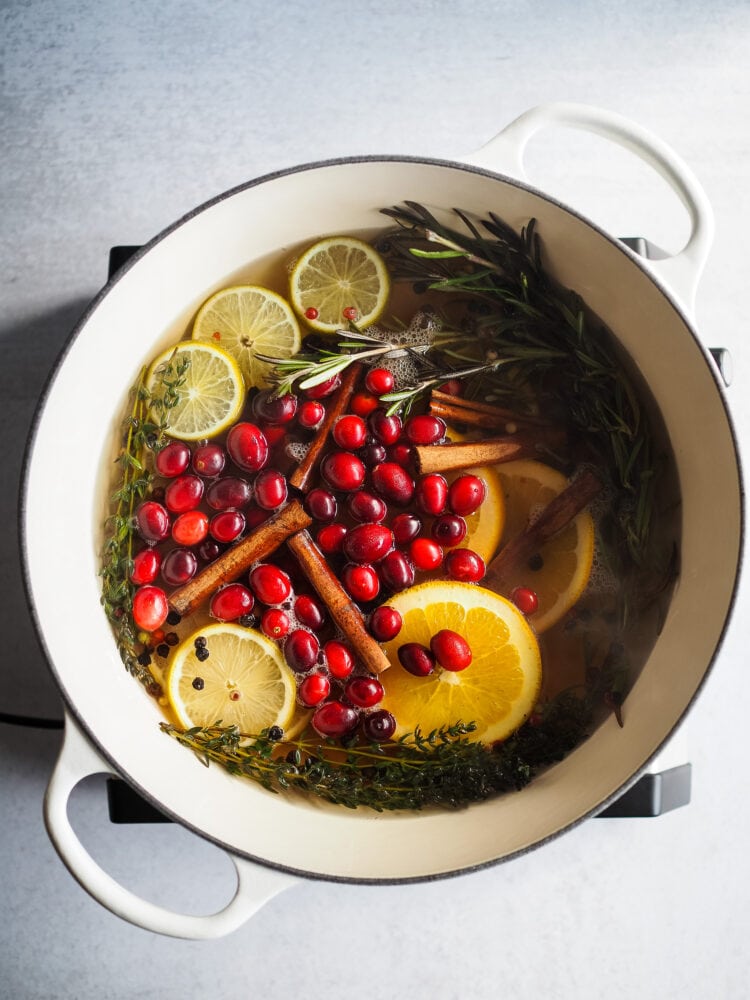 How To Make A Simmer Pot
STOVETOP
Add the fruit, herbs, and spices to a large heave pot (I like to use my Le Creuset dutch oven or soup pot) that is at least four quarts in size. Next, pour water into the pot and cover the ingredients with enough water that they float. Turn the stovetop heat to low and simmer for two hours. You can simmer for longer too, just check on the water and add more water each hour.
CROCKPOT or SLOW COOKER
In addition to the stovetop, you can also use a crockpot or slow cooker as a simmer pot. Add the ingredients you wish to use to the slow cooker, then fill with enough water so that the ingredients are floating. Set the slow cooker to high. Once the water starts to simmer, turn the heat to low or keep warm and simmer for up to two hours. If you wish to simmer longer, simply check on the water and add more each hour.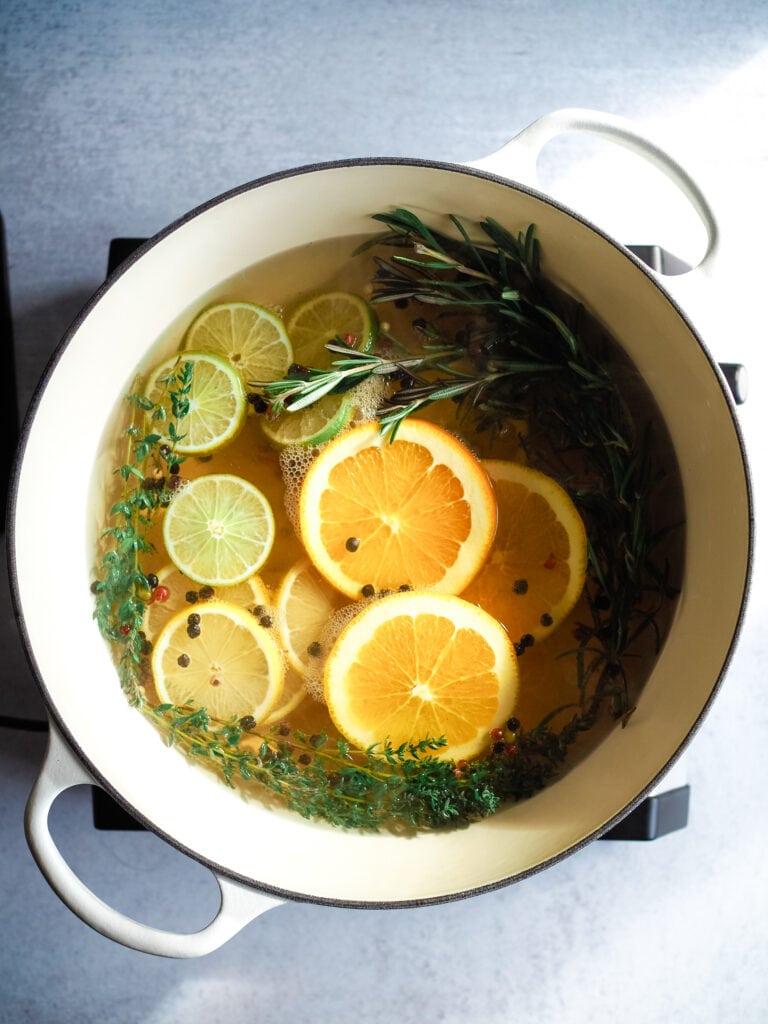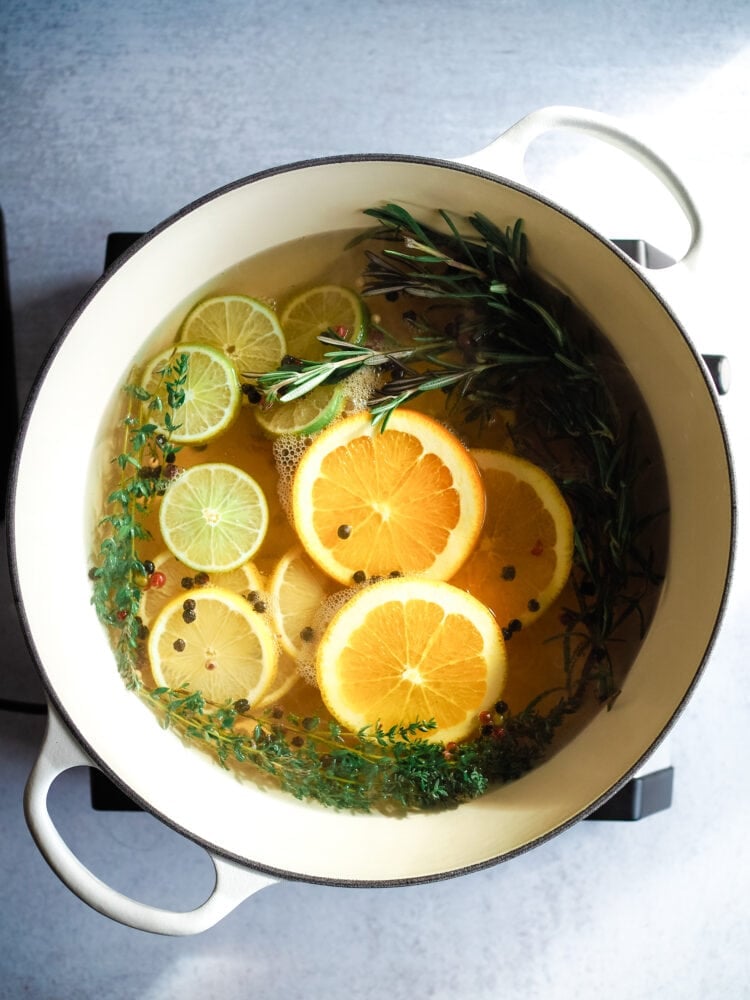 Can You Drink What Is In The Simmer Pot?
Can you drink the liquid left over in a simmer pot? Technically, yes since you're essentially make a tea or broth by simmering the ingredients. Though, you want to make sure to use ingredients with flavors that you enjoy. If you intend to drink what's in the pot, I recommend using apple juice instead of water. Or, with the Autumn Harvest and Christmas Simmer Pot below, you can use a red wine and it will taste similar to a mulled wine.
Simmer Pot Recipes
Fresh Kitchen Simmer Pot
1 lemon
1 lime
1 orange
1 sprig of rosemary
2-3 sprigs thyme
Tablespoon of peppercorns
Springtime Simmer Pot
1 Tablespoon vanilla extract
2 Tablespoons dried lavender or rose petals
2-3 sprigs thyme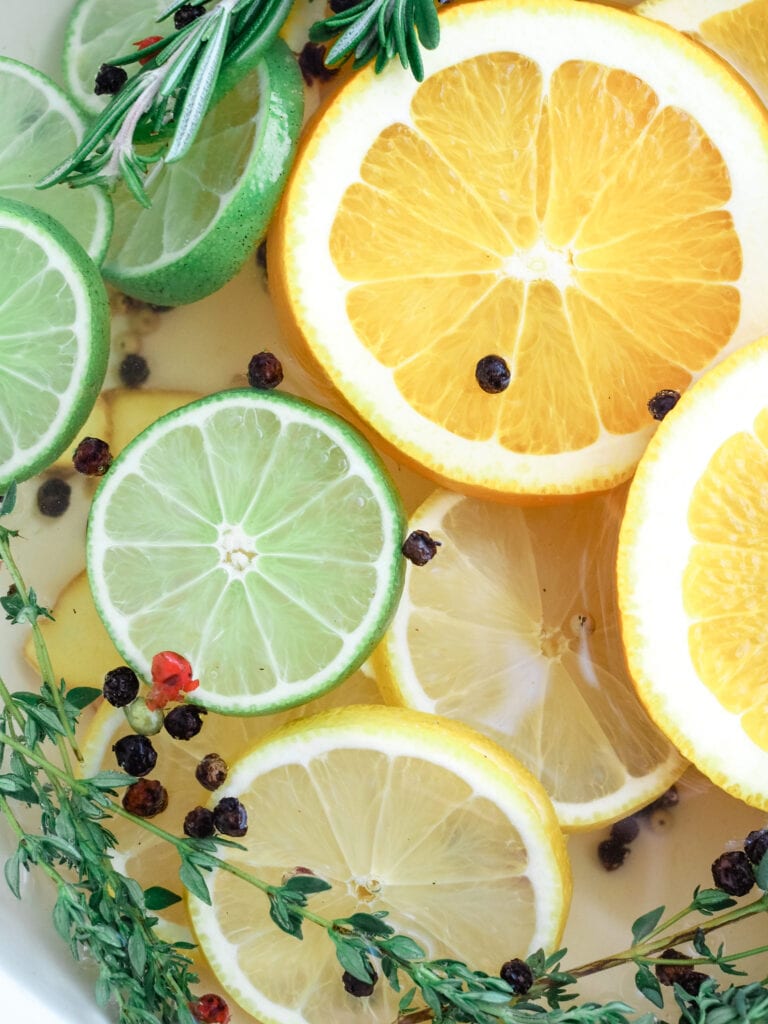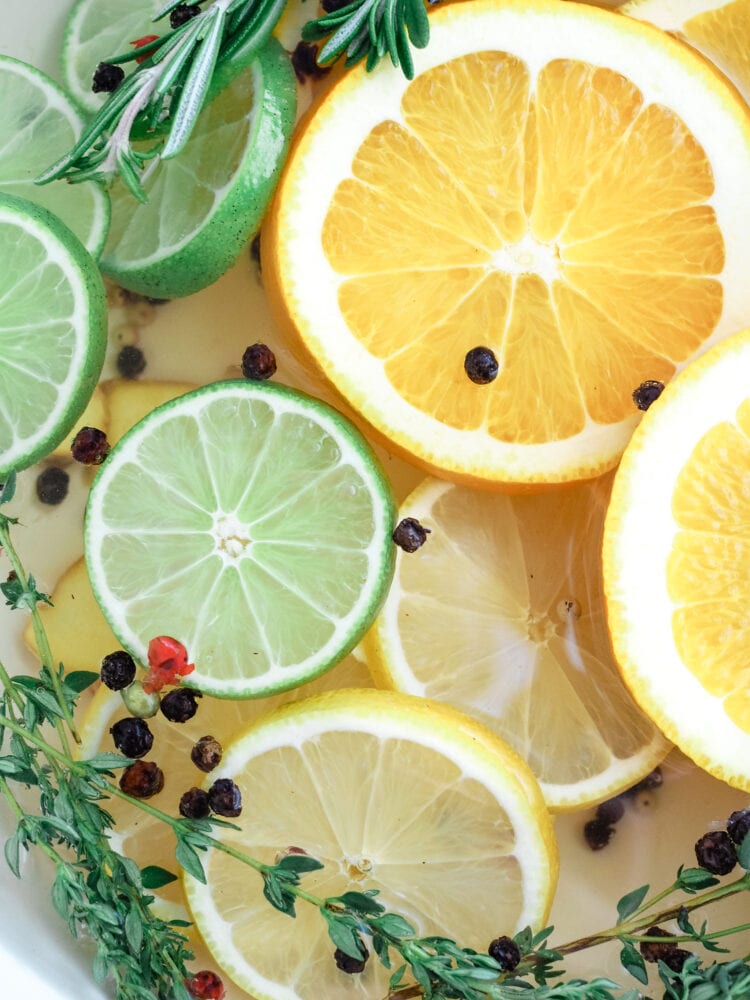 Summer Simmer Pot
1 Tablespoon almond extract
1/2 cup strawberries, cut in half
1/2 cup whole blueberries
1/4 cup dried coconut
Autumn Harvest Simmer Pot
1 apples, sliced in 1/4″ rounds through the core
5-7 cinnamon sticks
Tablespoon whole cloves
1 Tablespoon vanilla extract
**Make this with apple juice or cider instead of water, and it is a delightful drink!
Christmas Simmer Pot
1/2 cup whole cranberries
1 orange, sliced
1 spring of rosemary
5-7 cinnamon stickes
1 Tablespoon cloves
New Year Simmer Pot
Citrus symbolizes wealth and abundance. You'll see this often in Asian cultures, especially around lunar new year. Citrus also used to be rare, so to have a bowl of citrus meant you were wealthy.
Rosemary for remembrance and friendship.
Thyme for courage to go after new goals (from the Greek word thymos, meaning spiritedness)
Peppercorns and ginger for cleansing.
Cinnamon for warmth.
Even if you don't believe in the symbolism, it's still a naturally aromatic way to make your whole house smell wonderful.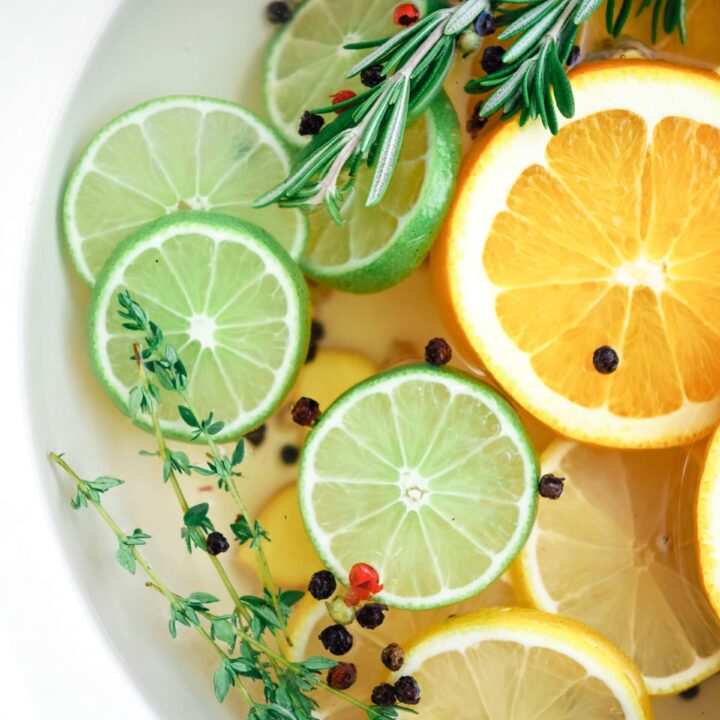 How To Make A Simmer Pot
Give your house a delicious cozy scent, or get rid of lingering cooking smells, here's a simmer pot recipe for every occasion!
Ingredients
1 orange, sliced
1 lime, sliced
1 lemon, sliced
1 sprig fresh rosemary
1-2 sprigs fresh thyme
1 Tablespoon peppercorns
Instructions
Add ingredients to a large pot (at least 4 quarts). Cover with 4-6 cups of water until the ingredients float.
Turn heat to low/medium and simmer for up to two hours.
If you'd like to have the simmer pot for longer, simply check on it each hour and add more water as needed.
Notes
Want to try a different simmer pot scent for different seasons? here are a list of ingredient ideas to get you started. Sample seasonal simmer pot recipes are listed above in the blog post.
Fruit: oranges, limes, grapefruit, lemons, apples, cranberries, blackberries, strawberries, blueberries, fresh or dried coconut.
Fresh Herbs: Rosemary, Thyme, Oregano, Lavender, Sage, Mint, Parsley, Lemongrass
Spices: Whole Peppercorns, Cinnamon Sticks, Whole Cloves, Star Anise, Cardamom, Bay Leaves, Celery Seed, Juniper Berries, Ginger
Extracts/Oils: vanilla extract, almond extract, hazelnut extract, peppermint extract, maple extract, lavender oil, eucalyptus oil, lemon, extract or oil, rosewater or rose extract
You Might Also Be Interested In