We are hooked on Game of Thrones, and last year I had the opportunity to visit several of the Game of Thrones filming locations in Northern Ireland. I wrote about the whole Northern Ireland GoT Tour as soon as I got back, but here's a condensed list of our favorite locations.
Game Of Thrones: 7 Must See Filming Locations
First thing you need to do, download the special Game of Thrones Filming Locations App made by the Northern Ireland Screen Commission. It is map-based and you can choose to explore filming locations via the landscapes of Northern Ireland or maps of Westeros and Essos. It's a fun way to get oriented with the world of Game of Thrones, especially since the map at the beginning credits moves along so fast. The app is also a great way to find these locations below.
If you're planning your trip, a good starting point is to fly in to the city of Belfast, then rent a car and drive around the coast. Out of all the locations we visited, here are our favorites.
Read This: Game Of Thrones Tour Northern Ireland
1 – Murlough Bay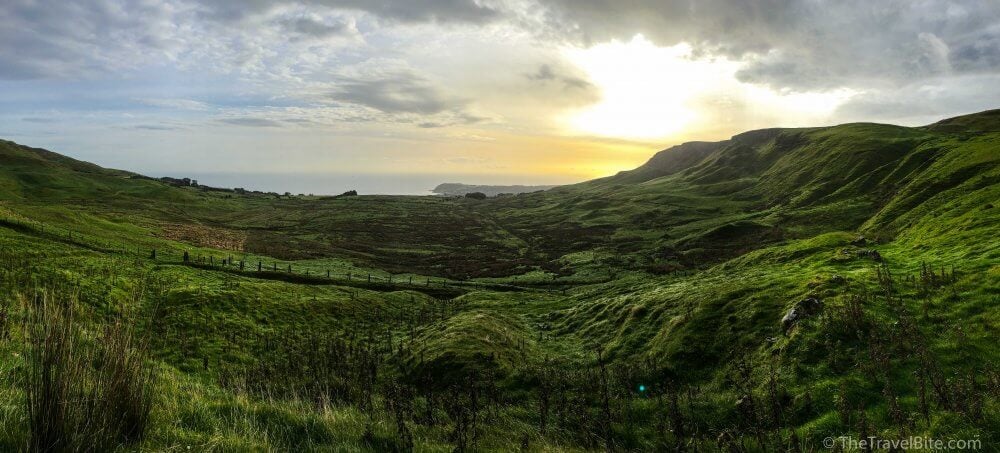 The windswept grasslands overlooking Murlough Bay are breathtaking on their own. You might remember them from Season 2 when Stanis travels with Melisandre to meet Renly and his army. If you bring your hiking boots, this area is a lovely place to go for a hike along the glen. Also, nearby you'll find Ballygally Castle, a bed and breakfast that hosts Game of Thrones tours as well as themed meals in case you ever wanted to taste one of Sansa's favorite lemon cakes.
2 – The Dark Hedges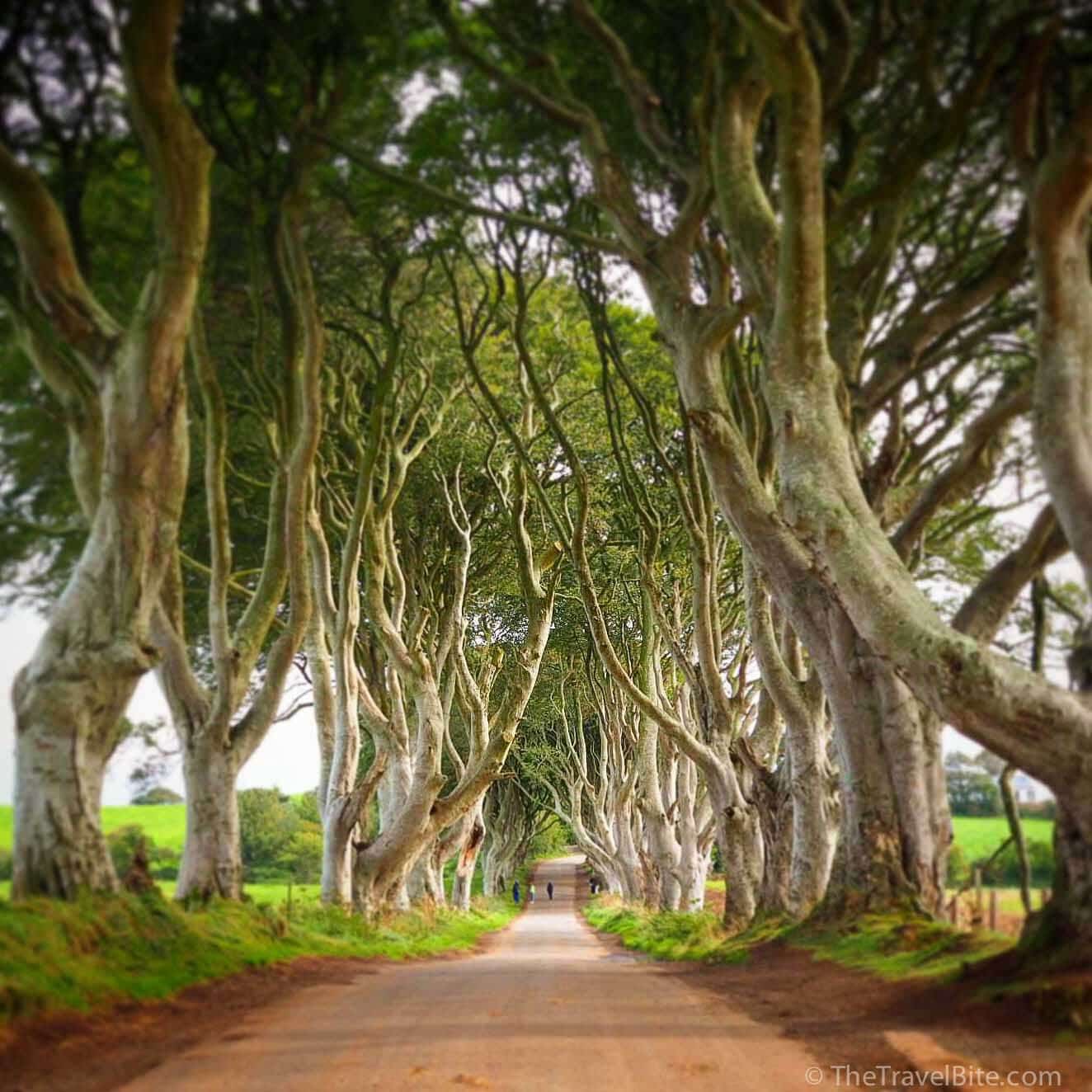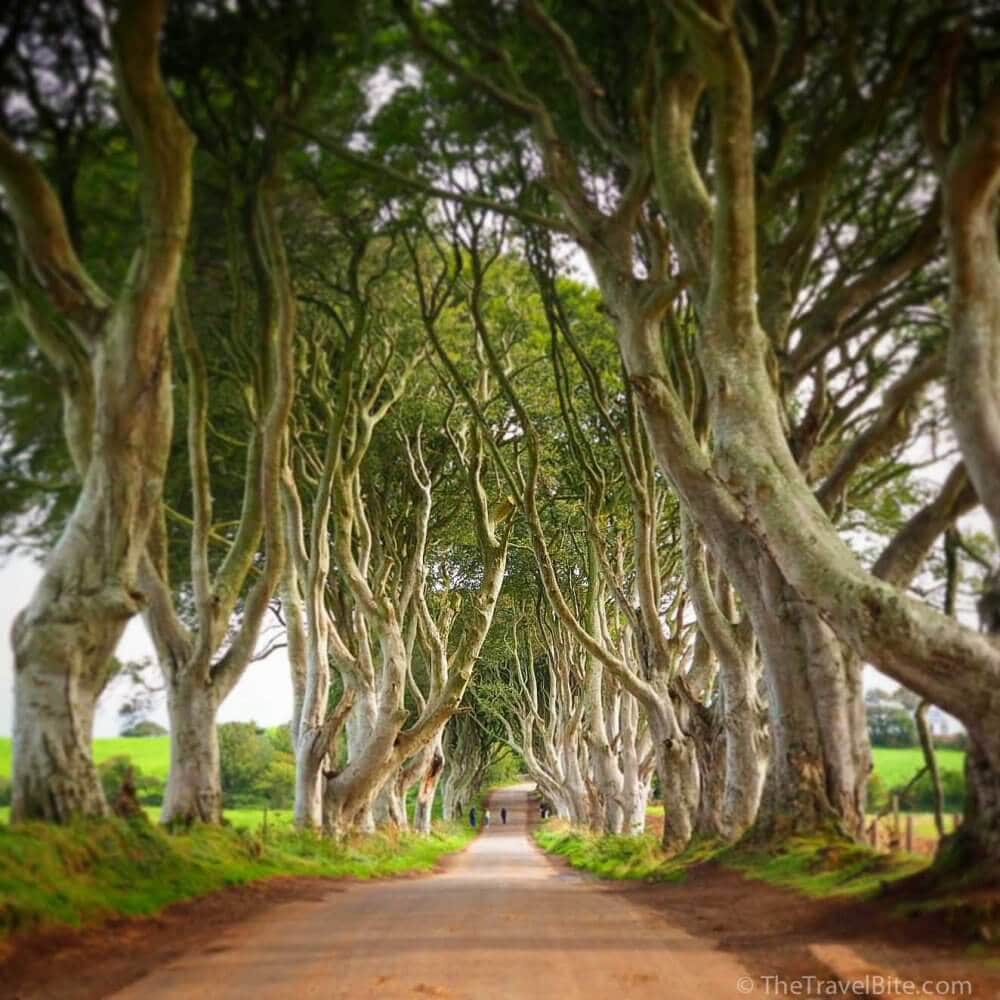 The Dark Hedges are located just outside of Belfast and are usually one of the first stops on any Game of Thrones tour. Since this is such a popular spot for photography (and Irish roads are narrow), proper road etiquette here is to park at Gracehill House, the golf club on the end of Bregagh Road facing the hedge. No one wants to see a modern car in their photos, plus it's fun to walk under the hedges just as Arya had. Gracehill House has a restaurant inside that's perfect for grabbing a pint or cup of tea while looking over your photos and you'll also spot one of the GoT wood doors inside (but more about that below).
3 – Tollymore Forest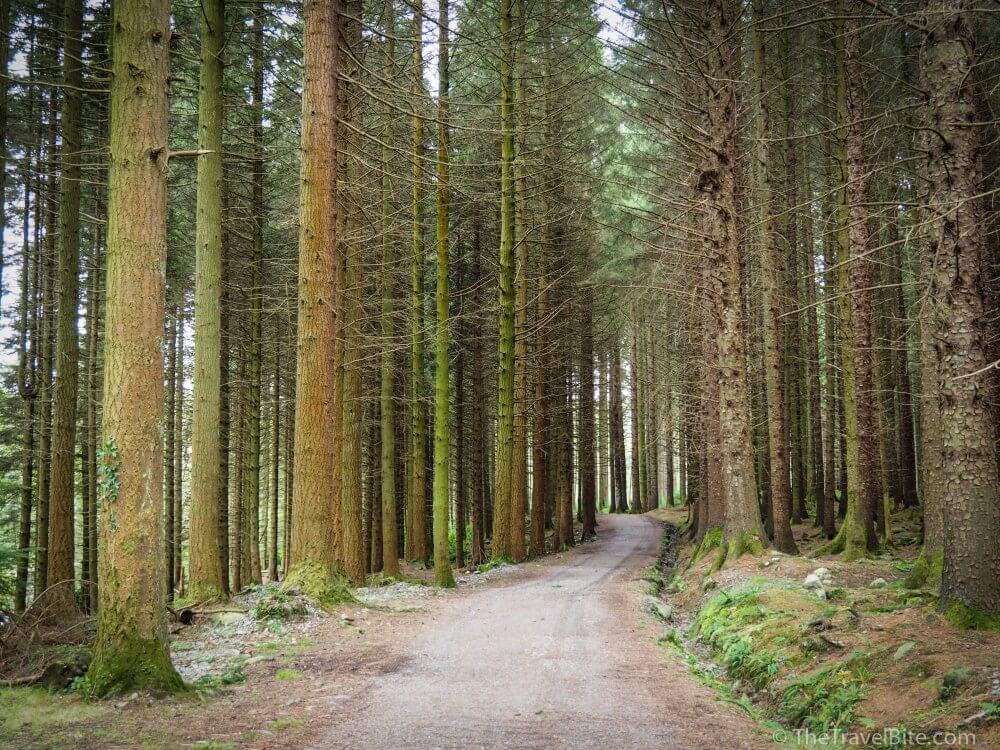 Winter is coming! And Tollymore Forest is beyond the wall where the white walkers are. There are few locations in Tallymore Forest including the creek from Season 1 where Ned found the dire wolf pups, and quite a few white walker scenes too. Going with a guide such as Winterfell Tours is great way to see all the locations within the forest as they'll have an iPad loaded with scene clips so you can watch them while standing in the very location it was filmed.
4 – The Causeway Coast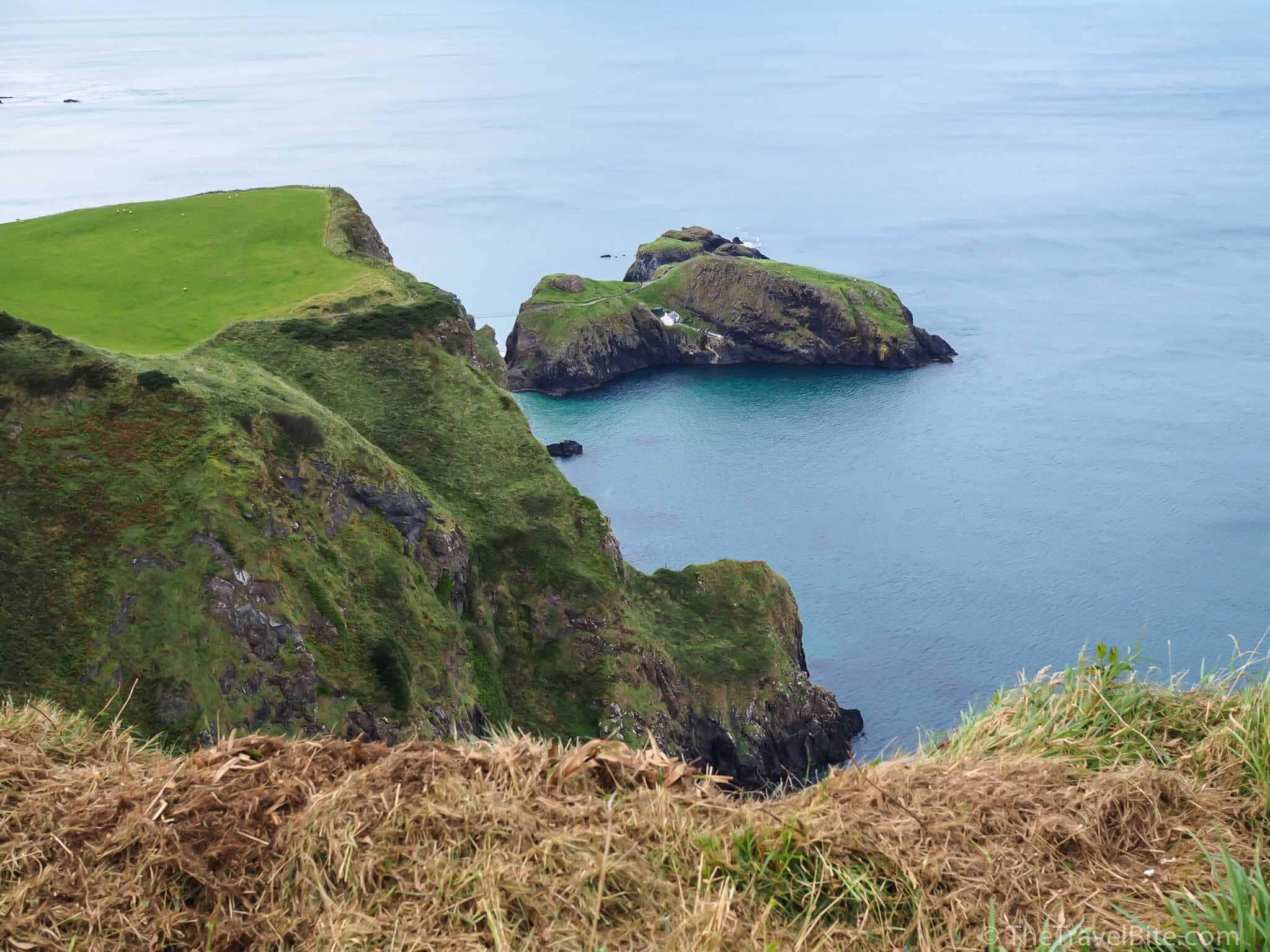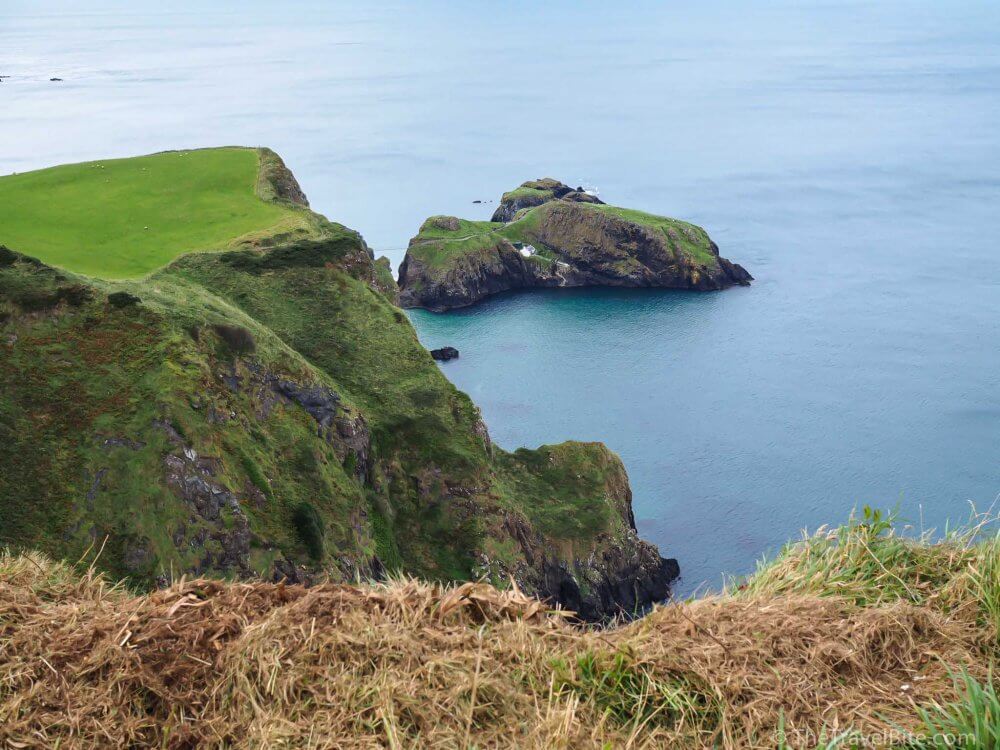 Causeway Coast in Northern Ireland is one of the most scenic road trips in the world. You'll pass through quaint villages and coastlines so epic you'll want to stop for a photo at every turn. As far as must-see sites, there's Giant's Causeway (one of the natural wonders of the world), Carrick-a-Rede rope bridge, and Bushmills whiskey distillery. And there are more Game of Thrones filming locations along this route than any other place in the world. Start at Downhill Beach and work your way east along the coast to visit Portstewart Strand, Ballintoy, Larybane, Murlough Bay, Cushendun Caves, Carnlough Harbour, and Ballygally Castle.
Read This: A Walk Around Giant's Causeway
5 – Doors from the Dark Hedges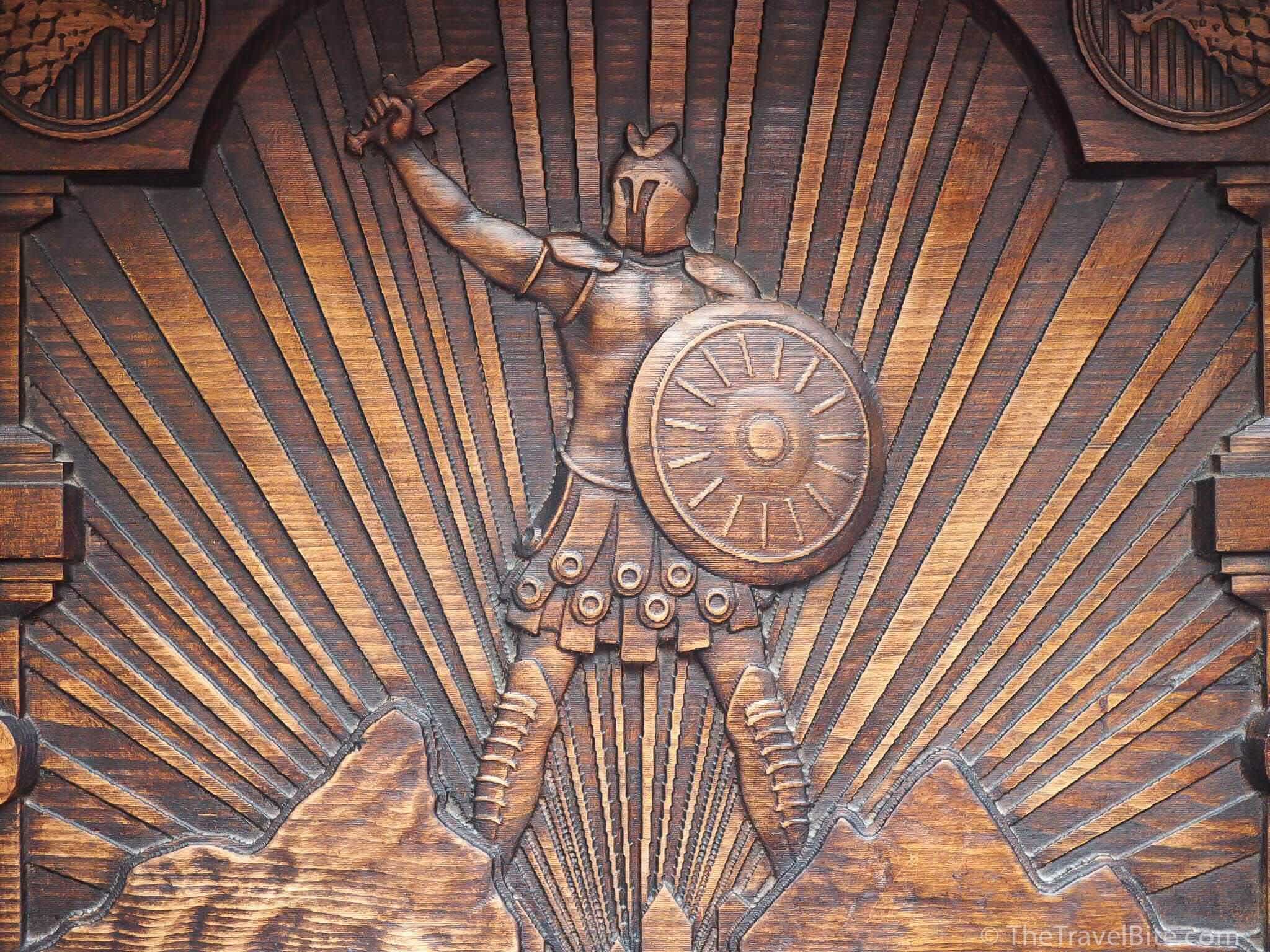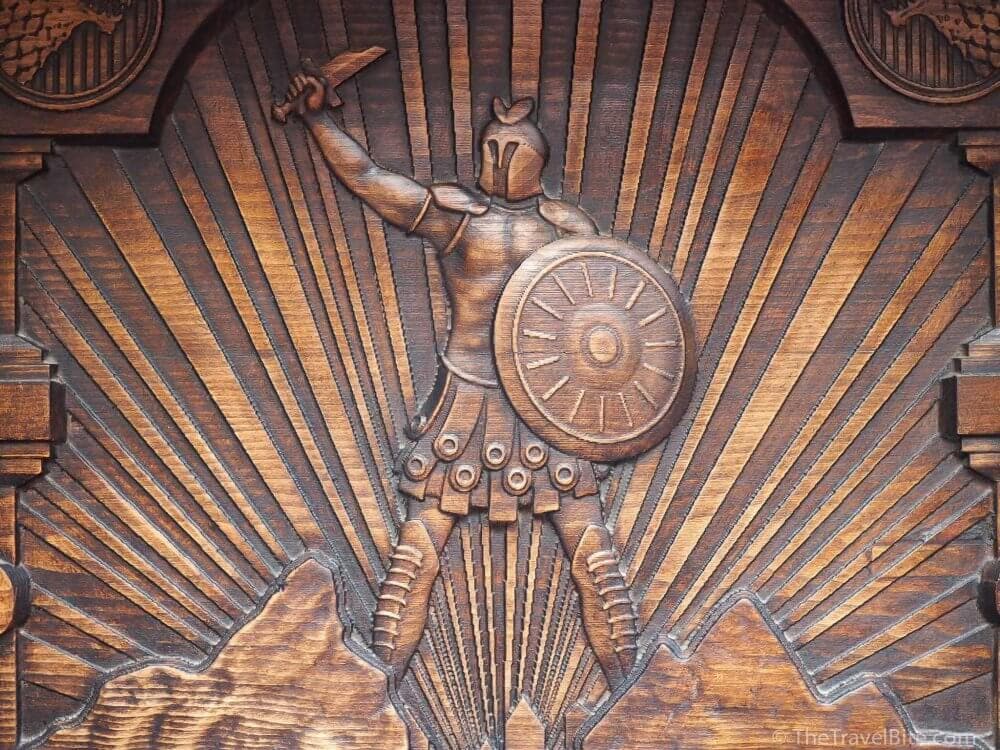 Several trees from The Dark Hedges mentioned above were blown down during Storm Gertrude. The natural disaster was turned into art, with the trees intricately carved into "Game of Thrones Doors" depicting each of the ten episodes of Season 6. But the real fun is that the doors were placed in 10 pubs and restaurants around Northern Ireland making one epic pub crawl. While touring Northern Ireland, be sure to add the pubs to your itinerary.
6 – Inch Abbey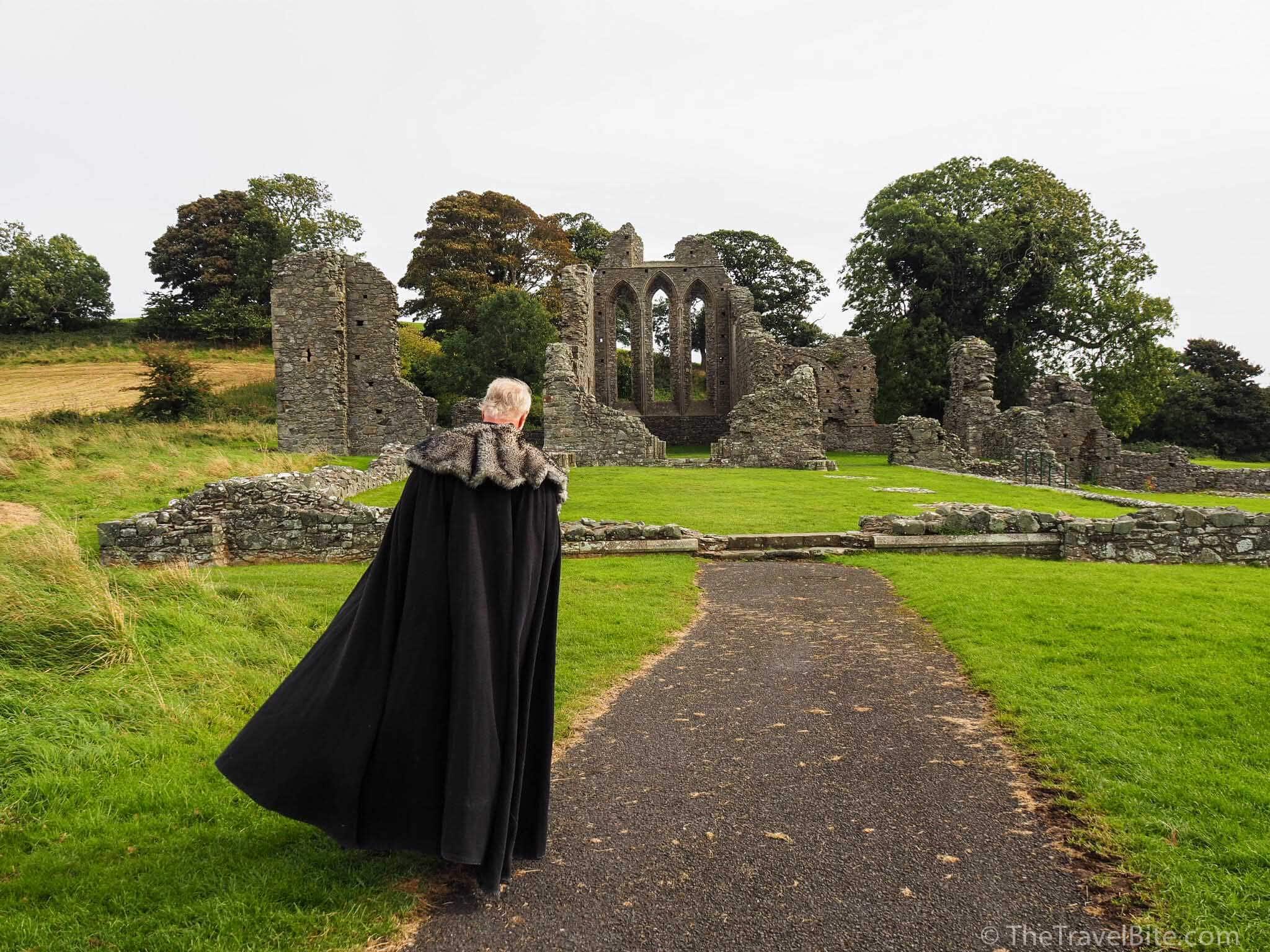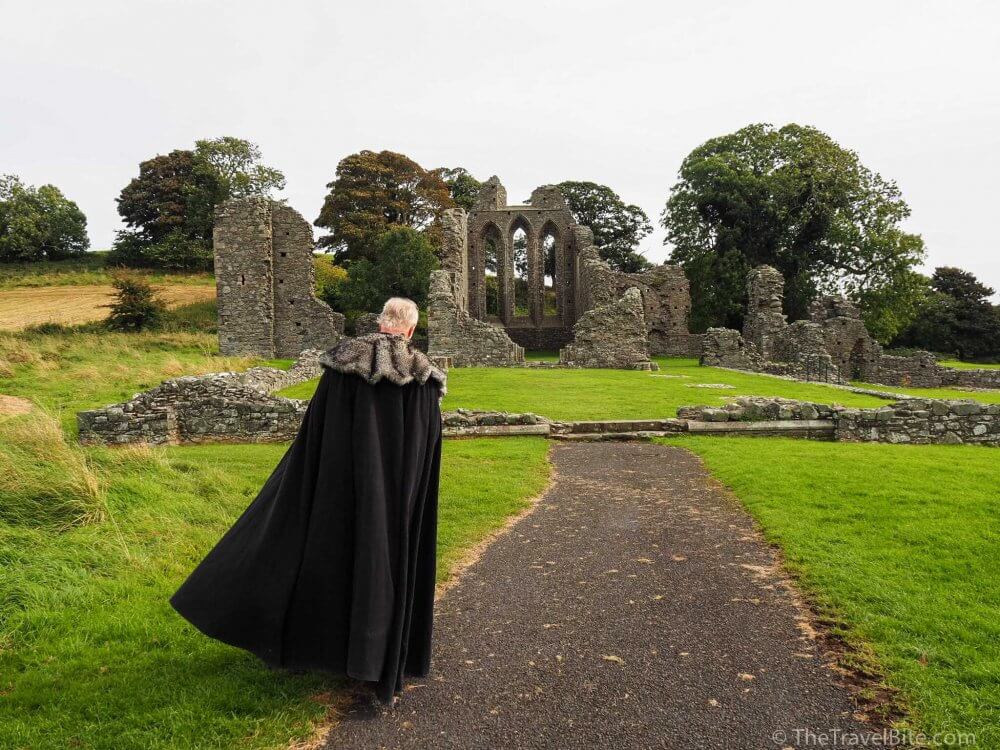 In Game of Thrones, Inch Abbey was used as the location for Rob Stark's camp in the Riverlands where he was crowned King of The North and his army waited at the Trident to cross. But even on it's own outside of the context of the show, Inch Abbey is a gorgeous historic site to explore.
7 – Castle Ward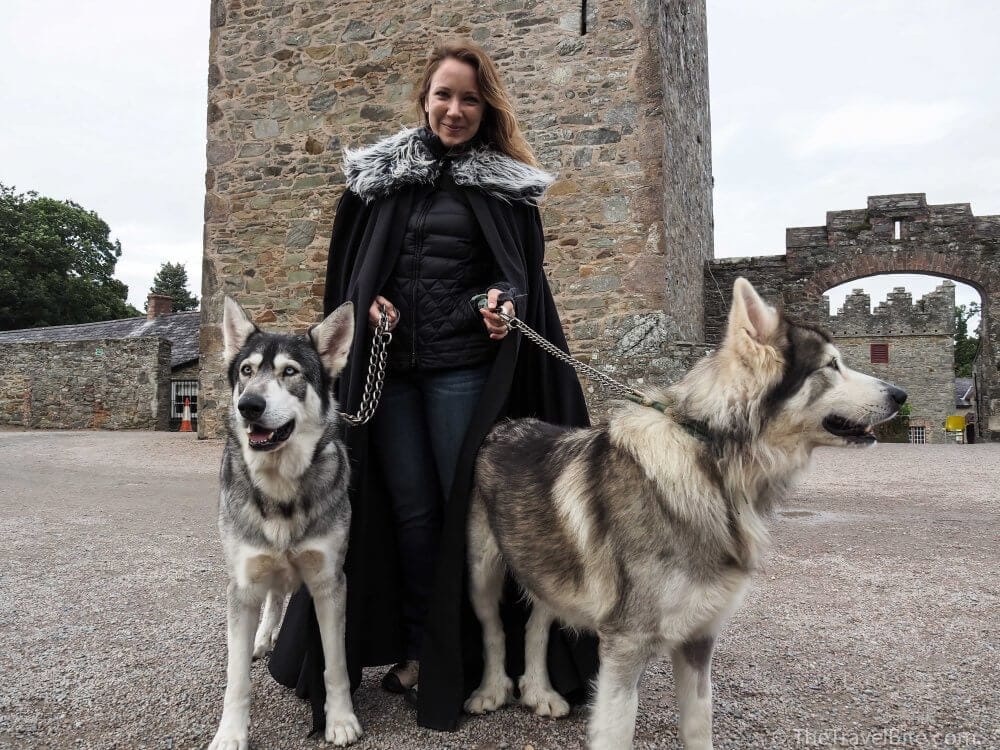 At Castle Ward, you'll feel like you've stepped into Winterfell and The North. There is so much to see, from Audley's Field where Robb Stark meets Talisa, to Winterfell where you can learn archery like Bran Stark. There's even a Winterfell Tour where you can meet the Direwolves or feast on a medieval banquet under a camp tent.
Game Of Thrones EXTRAS
Planning a trip to Northern Ireland? Or just a GoT themed party at home? Here are a few extras I recommend.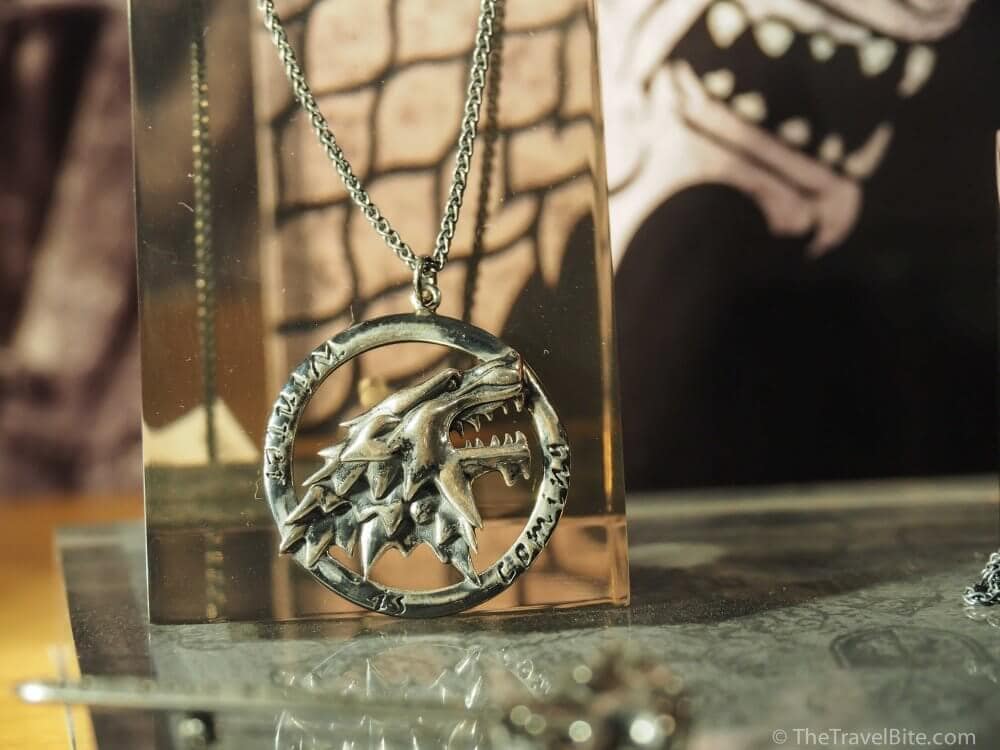 John Snow's Cape – Like that cape I'm wearing above in the pic with the Direwolves? Having GoT style cape was so fun for taking pictures in Northern Ireland. You can order one and pack it, if you do a tour with Winterfell Tours, they'll provide one for you to borrow.
Jewelry – Local jeweler, Steensons, is responsible for making all the the gorgeous crowns and jewelry seen in the show. I do hope one day that those pieces are in a museum to be seen, but in the meantime, they have a collection of authorized Game Of Thrones pieces you can actually purchase in their Belfast store.
Cookbook – I mentioned above that Ballygally Castle hosts themed dinners and afternoon teas based on foods mentioned in the show, but you can also purchase the official Game of Thrones cookbook and make a feast at home too. You know how much I love exploring culture through food, well this cookbook is a great way to dive into the world of Game of Thrones with all your senses. Recipes are divided up by region and there's even a guide to entertaining in each of the seven kingdoms.