Think you know South African cuisine?  Are you curious about what South African cuisine includes?  I gotta tell ya, if you're planning a trip to the Cape, you're in for a real treat.  The food in South Africa is a mix of savory game meats, Malay-influenced curries and sweets, aromatic wines, and ridiculously good barbecue.
They're also on the cutting edge of modern culinary experiences and small-batch roasted coffee drinks.  In Cape Town, I once met up with a small group for a mystery supper club that included an 8 course dinner entirely made of ice cream.  Recently I enjoyed an artistically beautiful meal with a view at Waterkloof Wines.  South Africa does farm-to-table and fine dining really well.  But fancy foods aside, here are some basic terms to know.
Braai – A braai is a South African barbecue.  It can be used as a noun or a verb and is basically any type of grilled meat or celebration with friends where grilled meat is served.  You can go to a braai, and you can make braai.  Pictured below, a braai at Hartenberg Wine Estate.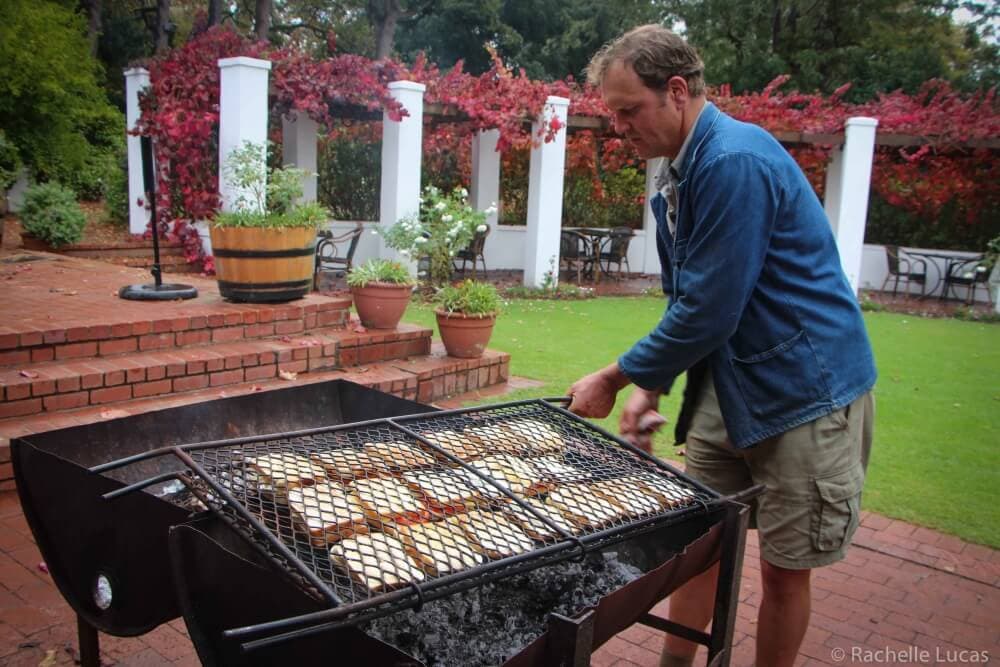 Braaibroodje – This is South Africa's version of a grilled cheese sandwich.  And it's a fun word to say.  There are many variations, from gourmet to simple, but traditionally it's a sharp cheese with onions, tomatoes, and a bit of fruit chutney and butter.  What really gives it an amazing flavorful twist is the smokiness it gets from being toasted over coals or an open flame at the end of a braai.  With the sweet, savory, buttery, tangy, smokeyness, it really hits every single taste bud and it's no wonder every South African you talk to does a sort of eye-roll into la la land drooling with memories of their favorite braaibroodje.
If you want to hear how to say it correctly, (or get a good giggle out of me butchering all these terms) download and listen to my South African Barbecue podcast. Pictured below, a traditional braaibroodje.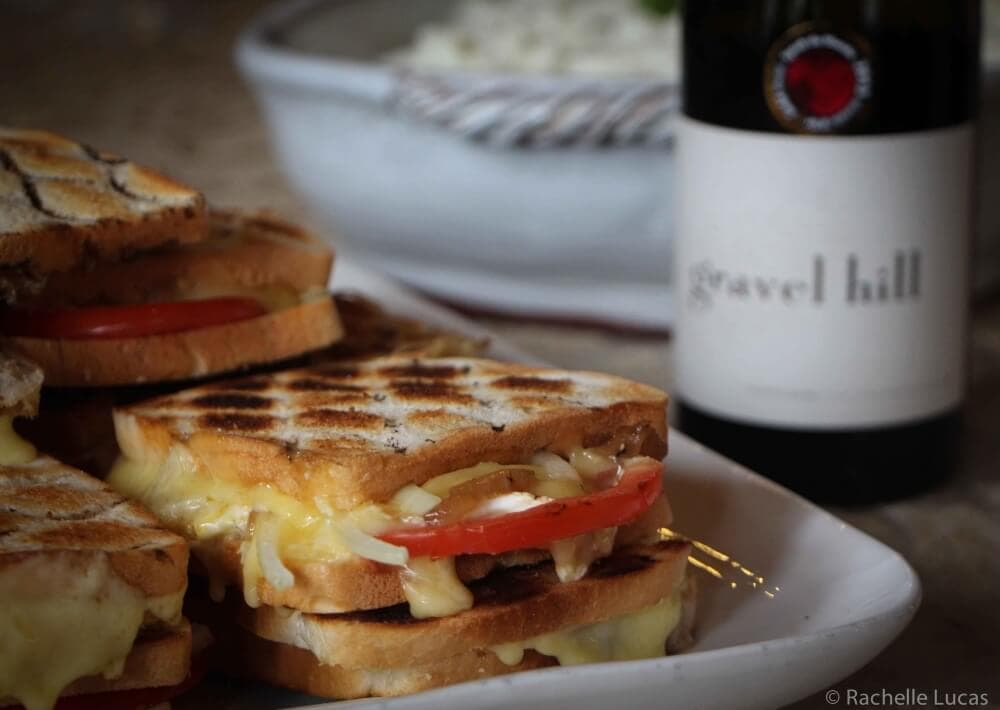 Pap – This is a thick porridge made of finely ground corn and is similar to polenta or hearty grits.  It's traditionally so thick that it can be eaten with your hands and it's typically served with a savory sauce, like chakalaka (described below).  It's a staple side dish during any braai.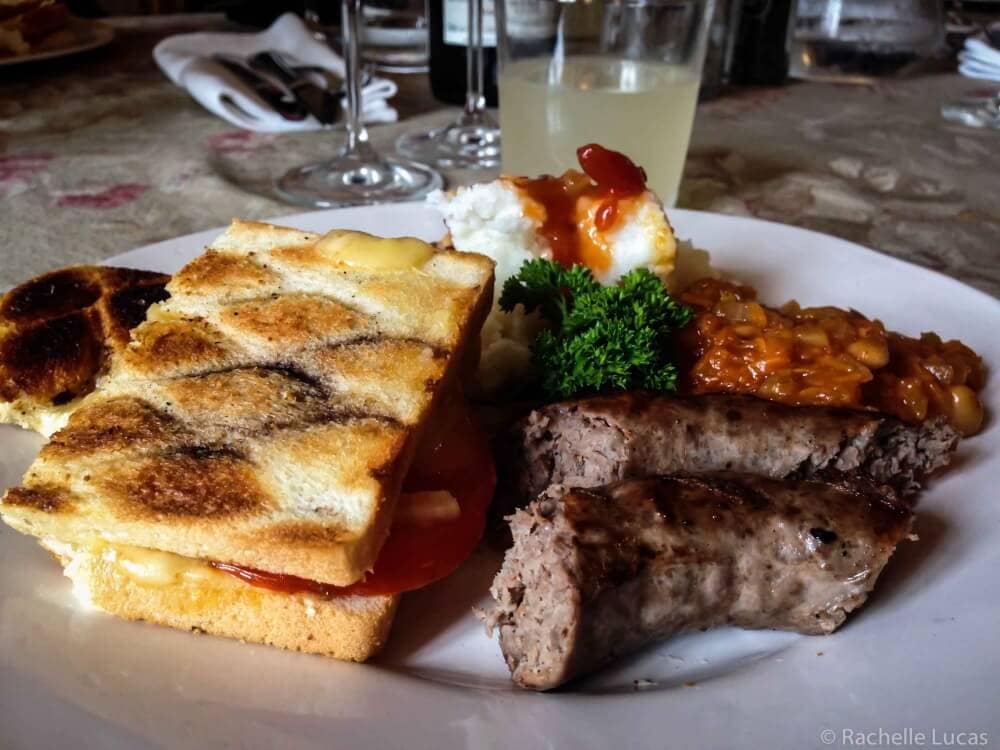 Chakalaka – So, this one is fun to say.  Remember, "boom chakalaka?"  Yup. That's how it's pronounced.  It's a red tomato-based vegetable relish or stew that's served as a condiment along side braai and pap.  If braai, pap, and chakalaka are starting to sound a bit confusing, think "meat, potatoes, and gravy."  (Pictured below you'll see a braaibroodje, pap with chakalaka, and boerewors.)
Boerewors – The translation of this from Afrikaans to English is "farmer's sausage" and it is a fresh, locally made sausage spiced with coriander, nutmeg, and allspice among others.  It seems every butcher has their own secret blend.  As far as the type of meat, it can be beef, pork, lamb, or a combination.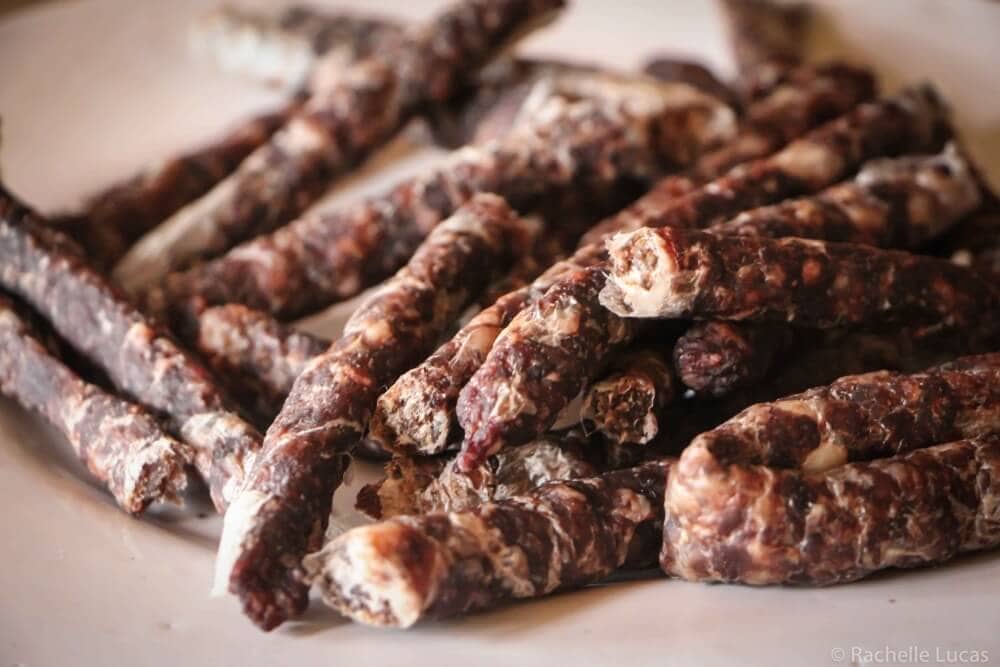 Droëwors – Pictured above are these delicious savory snacks. Droëwors are a coriander spiced dried sausage that's a popular snack food or padkos (see explanation for padkos below).
Biltong – Oh, beautiful biltong. This is one of my favorite South African treats.  It's a dried and cured filet of meat that's sliced thin and tastes like a savory steak.  Except, this is steak that you can pack with you and bring anywhere, such as on a road trip or out on safari.  It's softer and more tender than American beef jerky. Most commonly made from beef, it may also be game meats like springbok or ostrich.  And while it's spiced, it really carries a lot more buttery umami flavor than heat. Take a look below. Doesn't it look like a mini-steak?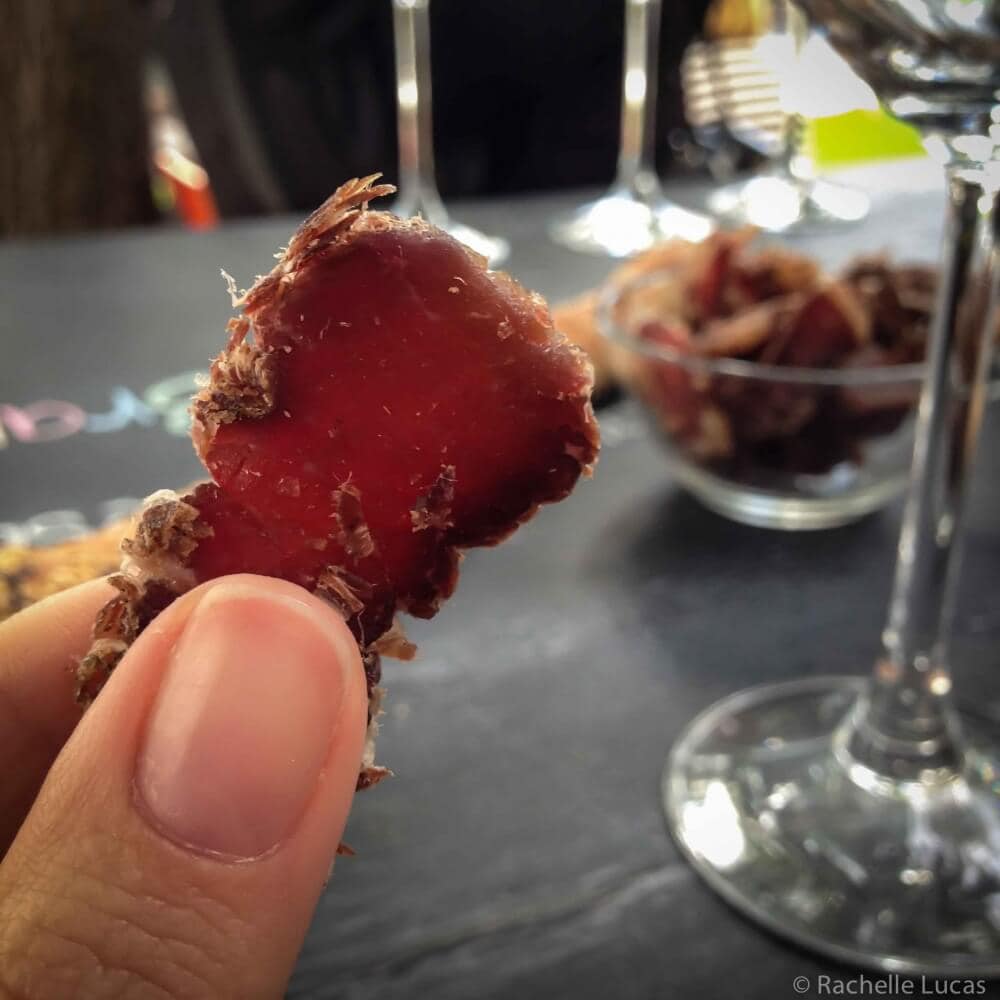 Padkos – This is "road trip food" and can include any kind of snacky thing you'd bring with you on a road trip.  They tend to be on the more healthy side, like dried fruits and meats like apricots, biltong, and droëwors. But I've also seen a few that were sugar bombs like Jelly Tots or Koeksisters. Pictured below is a bag a biltong, perfect for a road trip.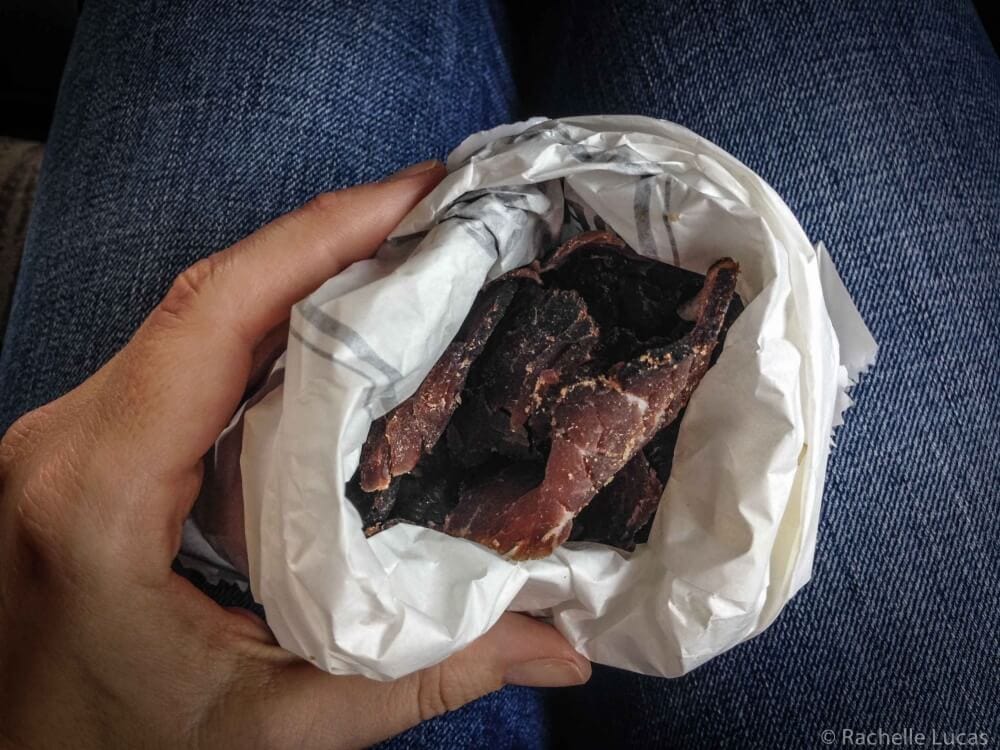 Barakat – This is a take-away, or as we call it in America, a doggie bag.  There is a Malay tradition of spreading blessings by cooking way more than enough food for a group or family gathering so that there is some left over for everyone to take away.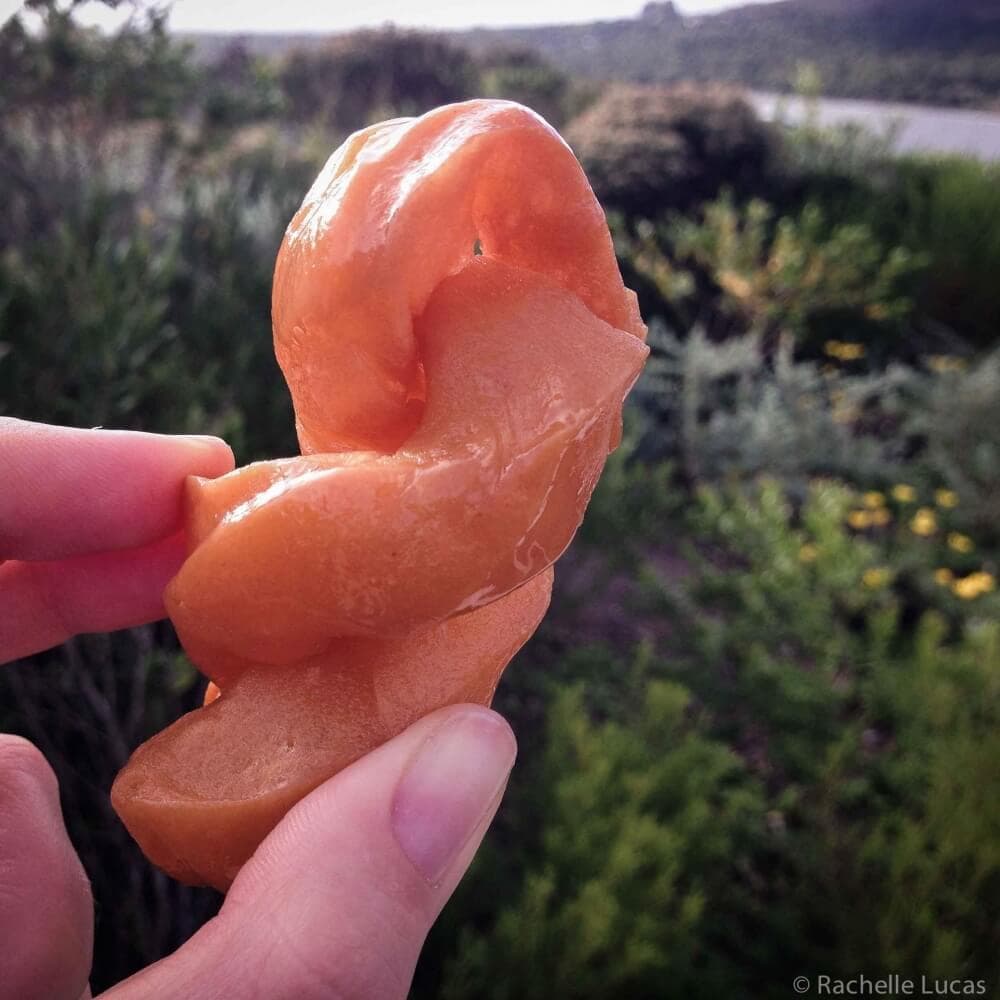 Koeksisters – This is pronounced like "cook sisters" and is a syrupy, almost candy-like fried doughnut that's typically twisted into the shape of a knot or spiraled twist.  It's texture is usually hard and the flavor is really sweet and sugary.  Sometimes, they might be slightly flavored with a bit of vanilla or orange rind.  The name actually derives from the Dutch word for cookie, and is a popular Afrikaans treat.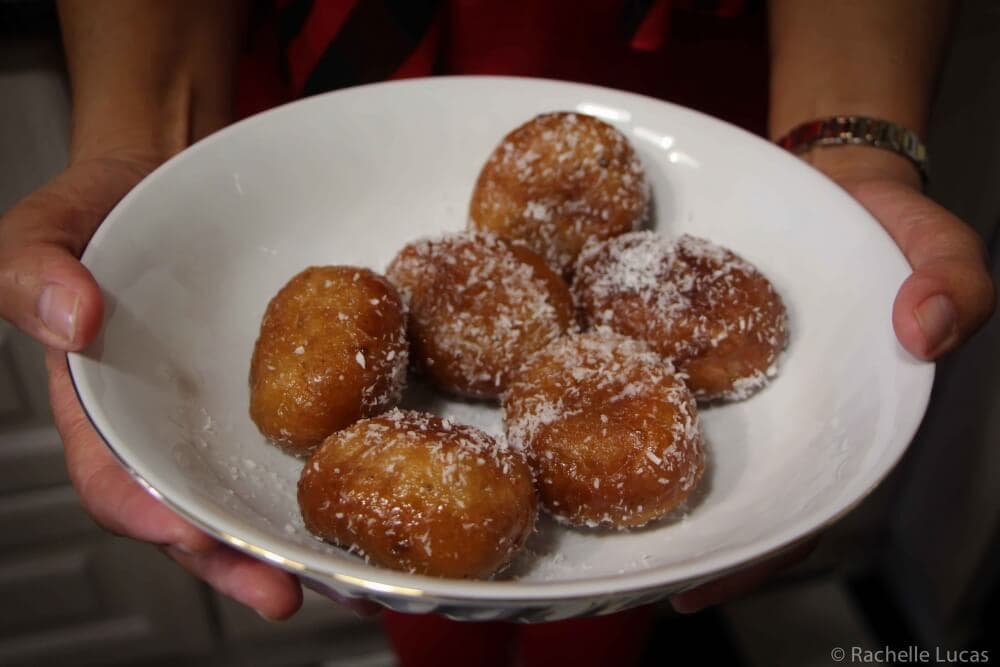 Koesisters – Not to be confused with koeksisters above, this one is the Cape Malay version and the name is awfully close in pronunciation.  This one is also a fried doughnut, but is more cake-like, is slightly less sweet, and is coated in shredded coconut.  It's dipped in syrup too, but the syrup tends to coat it rather than soaking through the dough, avoiding that hard candy-like texture of koeksisters.  This Malay version is baked with spices like cinnamon and cardamom and is the perfect fall treat with a cup of rooibos tea.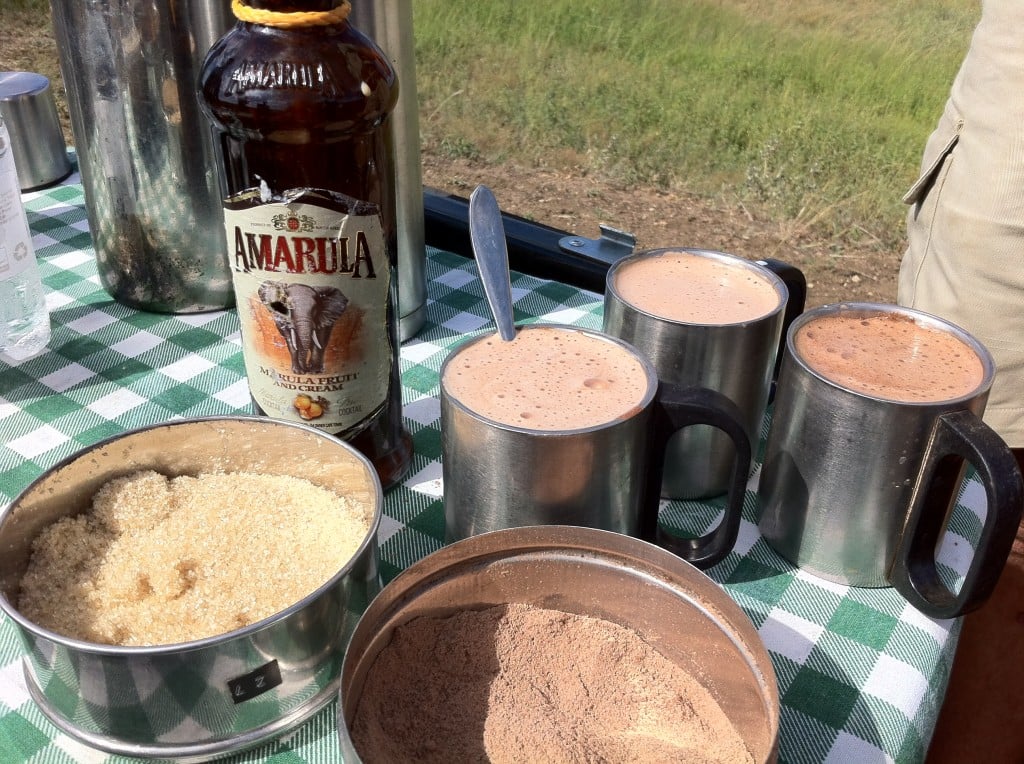 Sundowners – Sundowers are basically a South African happy hour.  When the sun goes down, they celebrate with a glass of wine, gin & tonic, or Amarula on the rocks.  I love this tradition of celebrating the sunset and the end of each day with a cocktail.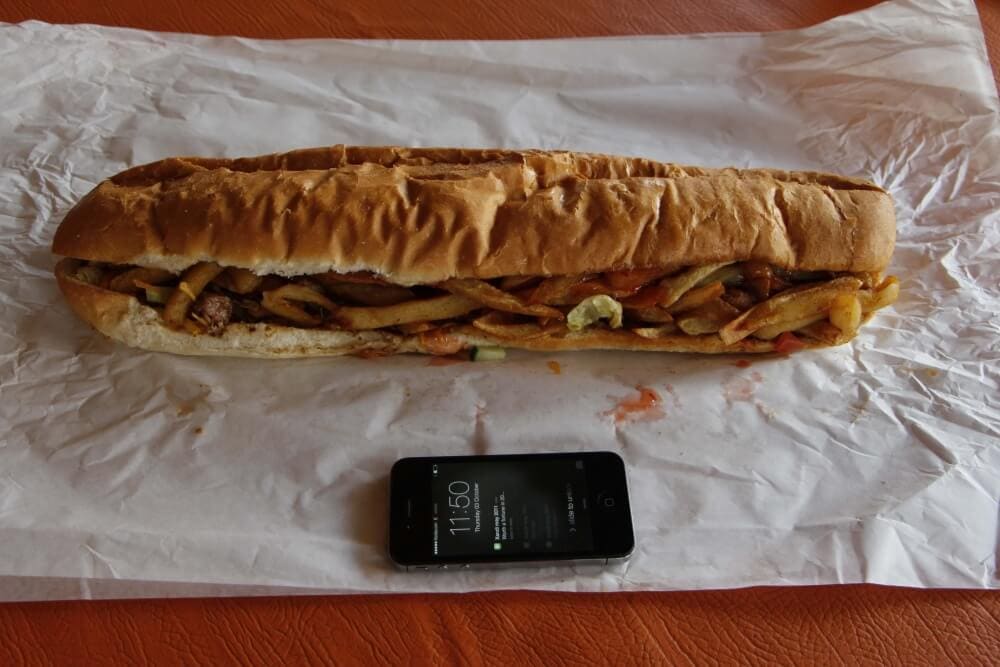 Gatsby – This is the most ridiculously sized sandwich you'll ever see.  Think of it as warm sub or hoagie that's best for curing a hangover.  Because of it's size, it's typically shared among friends.  And while there are different variations of ingredients, they're almost always topped with French fries.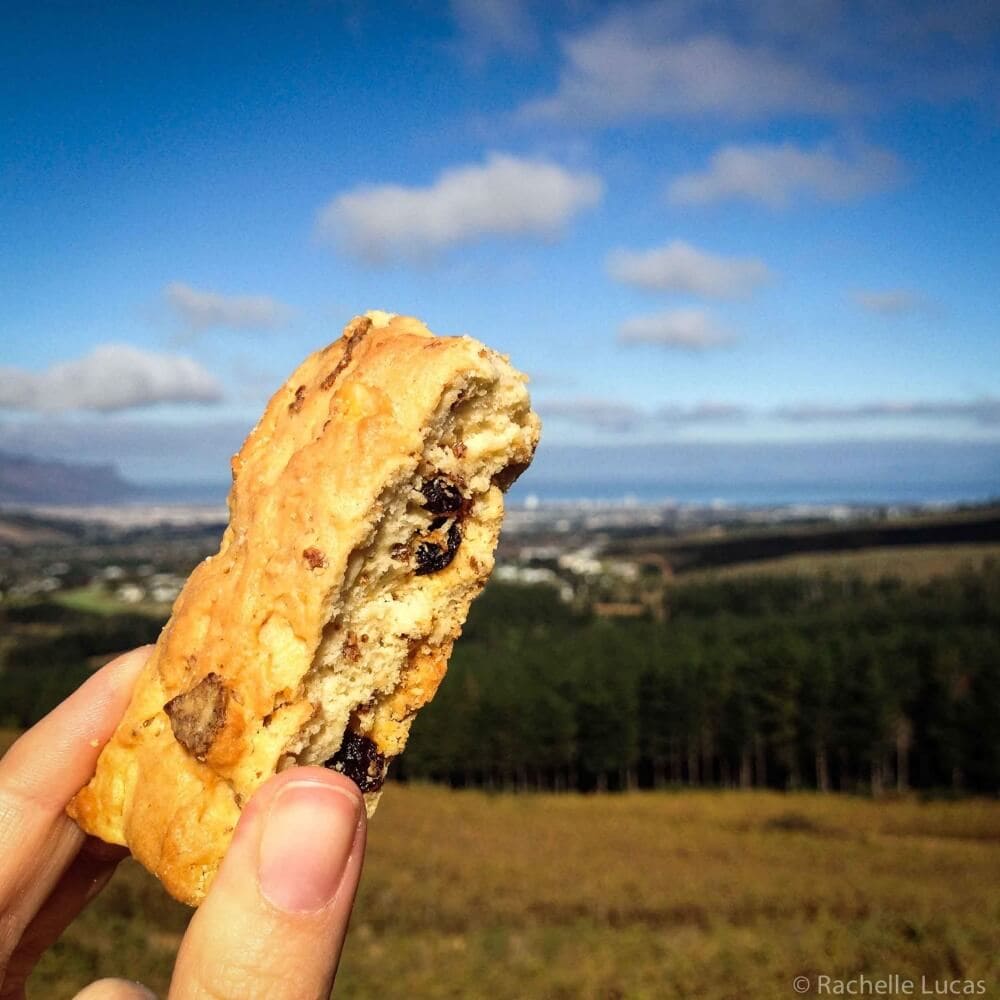 Rusks – Rusks are like biscotti, but better.  They're a twice baked cookie that has a bit more buttery flavor and they're so hard and crisp that it's best to eat them after dunking it in a cup of coffee or rooibos tea.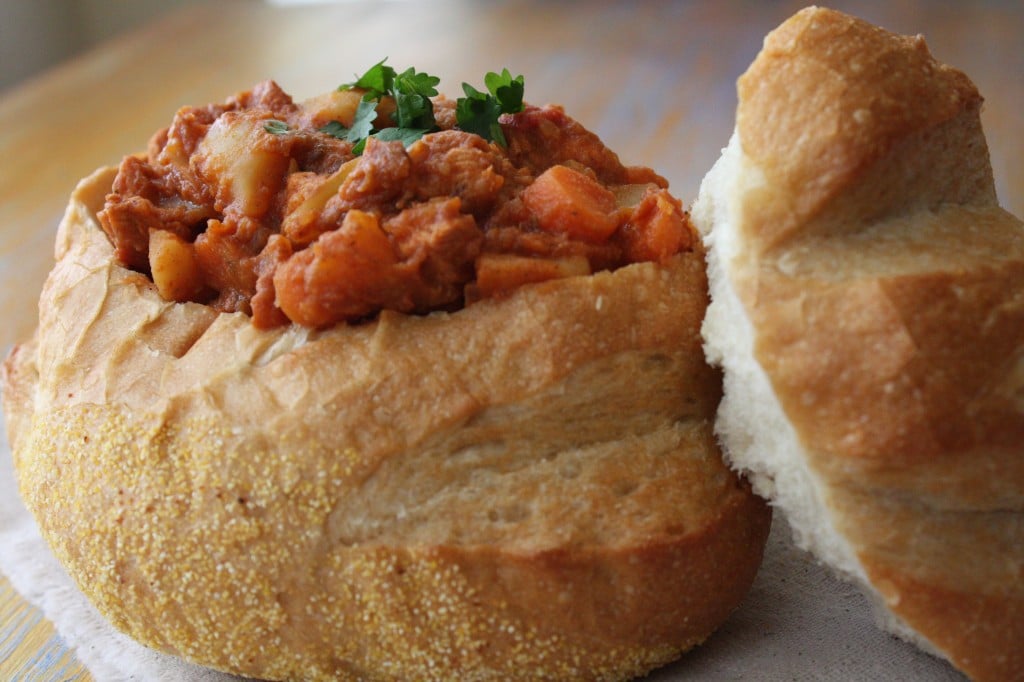 Bunny Chow – This isn't food for farm animals, nor is it made from bunnies.  Bunny chow is a curry served in a hallowed out bread bowl.  It's a popular quick meal or lunch in South Africa, especially Durban where it originates from.  Want to give it a try? I have a recipe for it here:  Bunny Chow Recipe.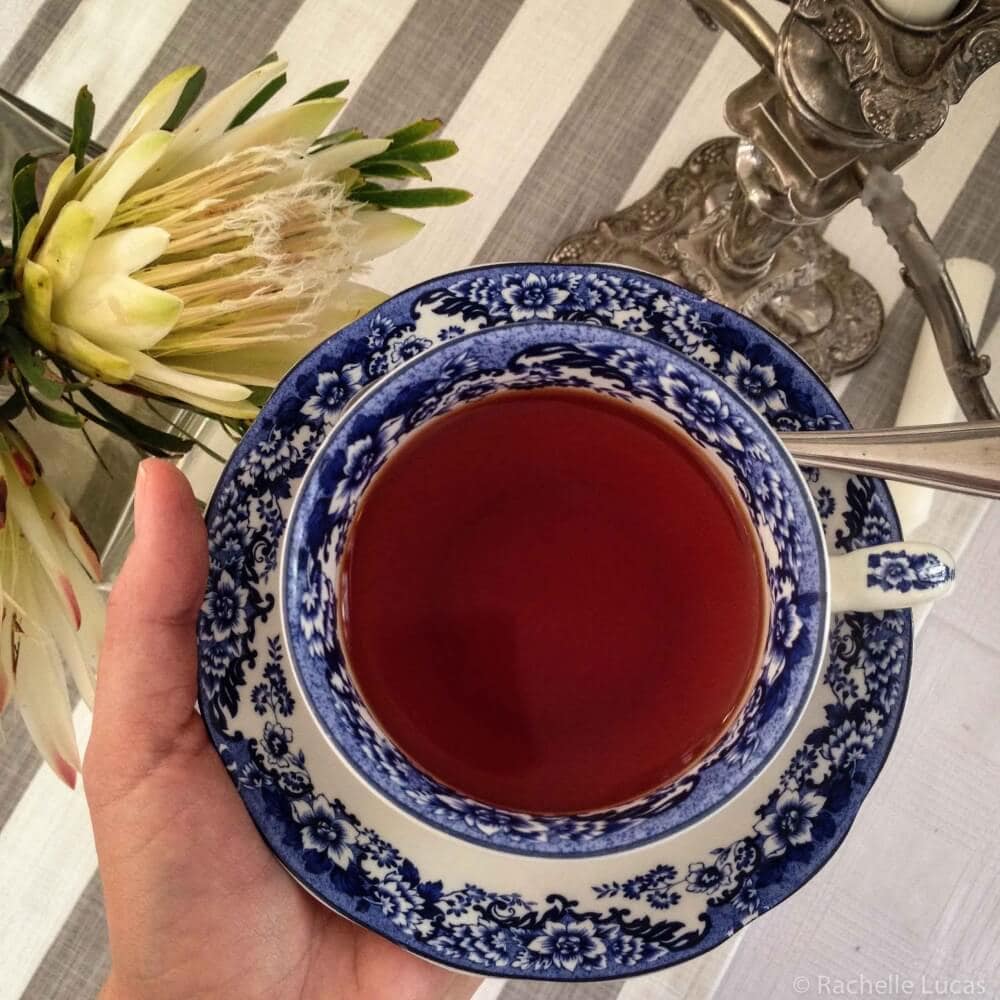 If you're interested in learning more about South African cuisine, you might was to plan a Cooking Safari in Cape Town, or check out my podcast episode about South African Barbecue where you'll hear the pronunciation of all these fun food terms.
My trip to South Africa was supported by Stellenbosch Wine Routes in conjunction with iAmbassador. As always, all thoughts, opinions, and enthusiasm for travel and food are entirely my own.