When learning a new language, why is it that we always seem to look up the curse words first? I typically start with helpful phrases such as asking where the bathroom is located, ordering a glass of wine, and basic counting from 1 to 10. After that, I tend to want to know the "dirty words." (Don't we all?) Which is why I was so happy to find a little book filled with creative Italian curse words and funny phrases, Wicked Italian For The Traveler.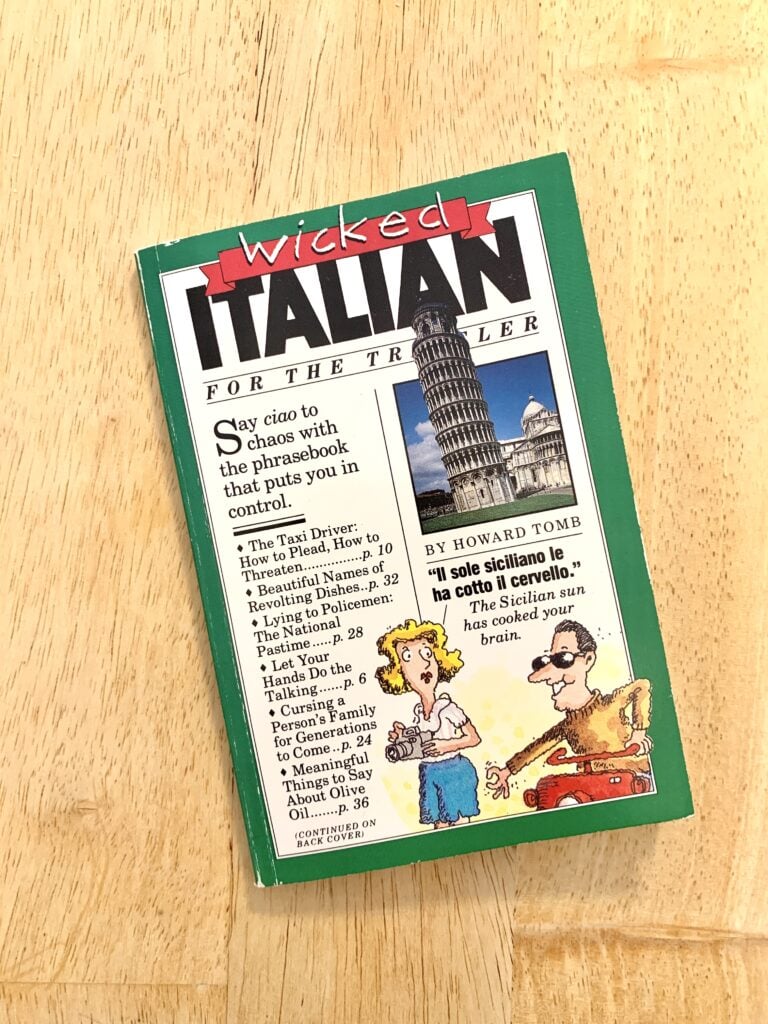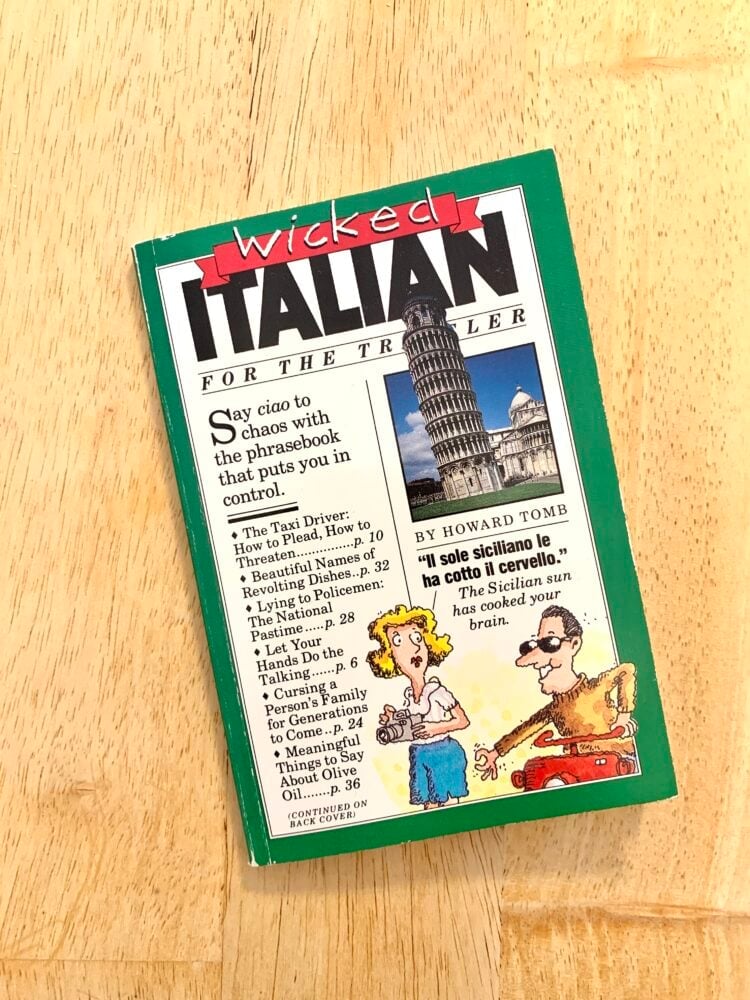 Let me back up a bit. This all started with a gift from a friend. A little book titled, "Wicked French for the Traveler." This passport-sized reference book is a great distraction for me when I have writer's block or when plain curiosity has me looking up chapters like, "Organs You May Wish To Avoid," or "How To Condescend Like A Native."
Imagine my delight when I found more of these in a local wine shop (of all places?). I picked up one for Spanish and one for Italian, both of which include all the most language basics one might need. But more importantly, they also have fun phrases and gentle curse words that are just simply entertaining.
Meaningful Things To Say About Olive Oil
For example, in Wicked Italian For Travelers, there's a whole section on olive oil that is just hilarious. Of course this caught my eye as a foodie. And you know Italians take olive oil seriously. Here are just a few examples:
One taste tells you the olives grew in full view of the cathedral
Un assaggio ti dice che le olive sono maturate di fronte ad una cattedrale.
Just wait until you taste the extra virgin!
Ma aspetta di assaggiare quello extra vergine!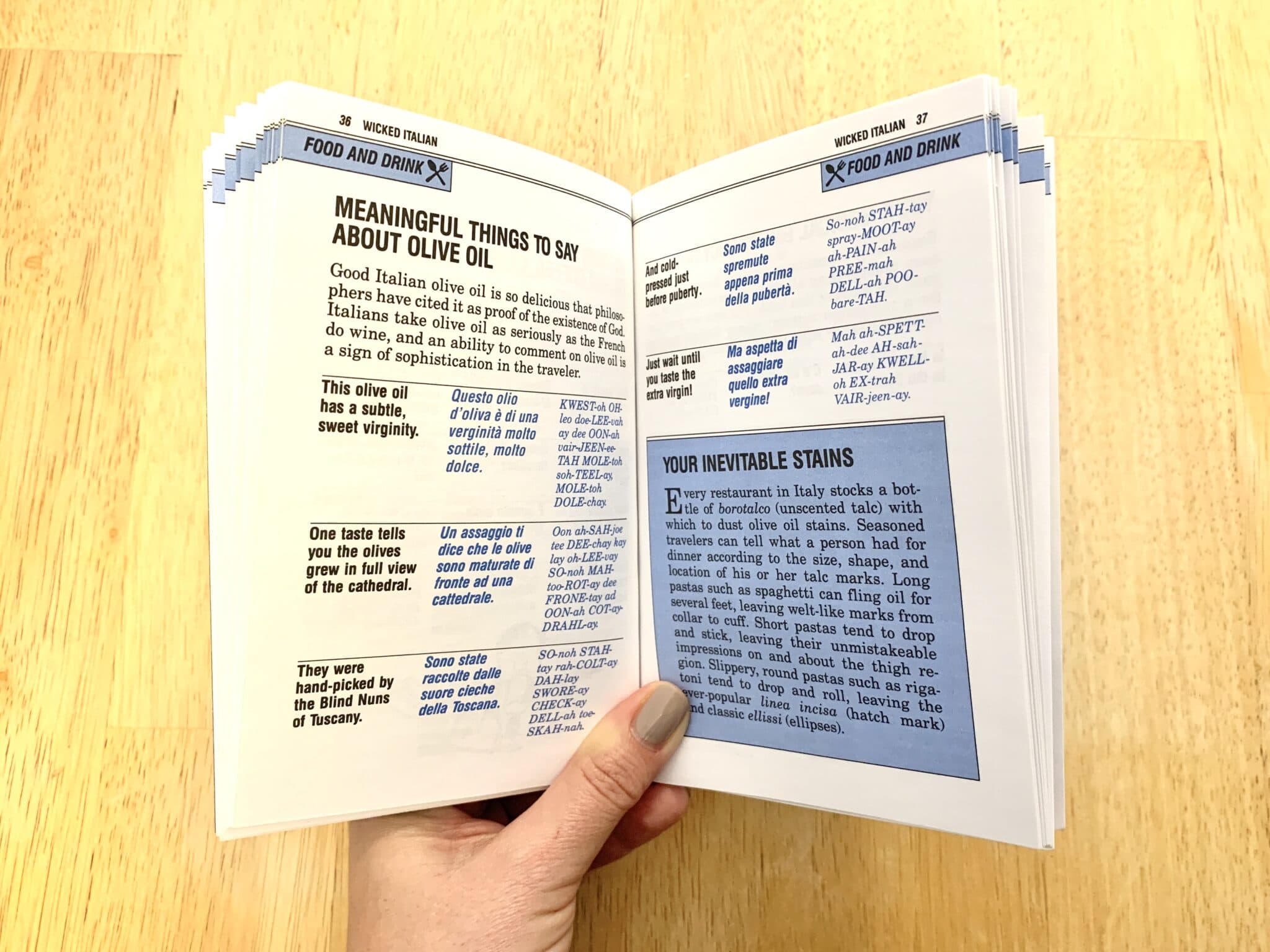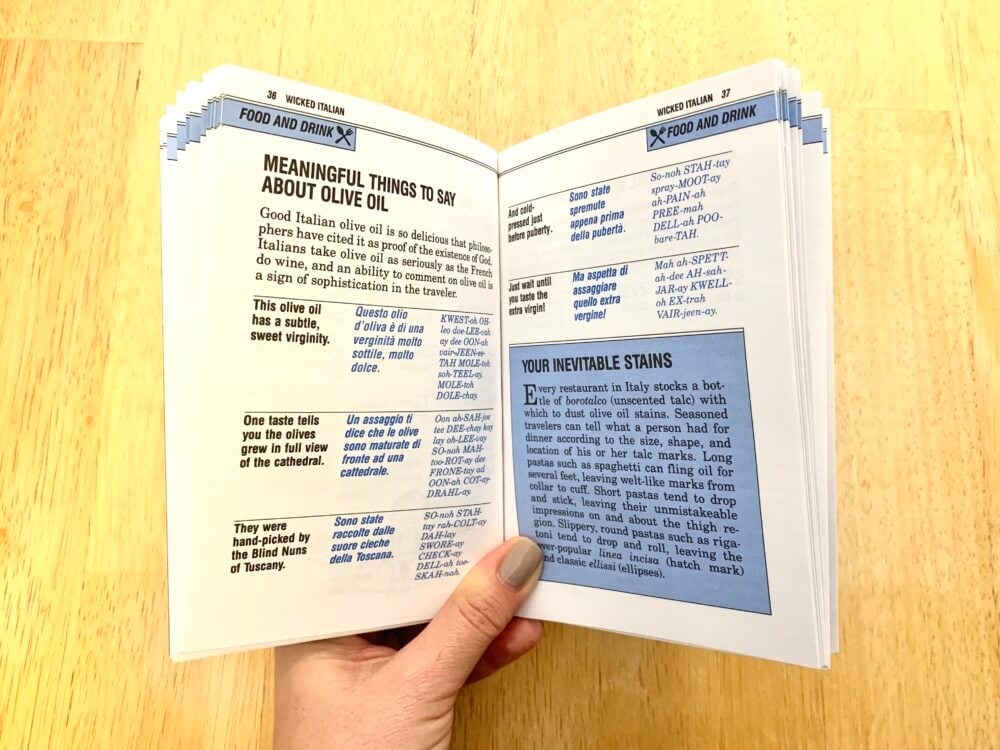 Entertaining Flirty Phrases
Of course, since its Italian, there's also a whole section for flirty phrases. Or come-backs to deflate unwanted attention. For instance:
What is your name, my celestial fruit basket?
Come ti chiami, mio cestino di frutta celestiale?
Not if you were the last man on earth.
Neanche se lei fosse l'unico uomo sulla terra.
Italian Curse Words To Know
And finally, a few of those zingers you've been waiting for. Italian curse words to jot down, from tame to dirty. I have to say, these are especially useful when driving in Italy.
Your father is as smart as a chicken.
Tuo padre e un pollo.
Screw yourself
Vaffanculo
Complete Asshole!
Proprio uno stronzo.
Putting It All Together
Out of the three "wicked" books I mentions, Italian has become my favorite because of the section on effective letter-writing. It lets you put whole entertaining scenarios together. Let me give you an example: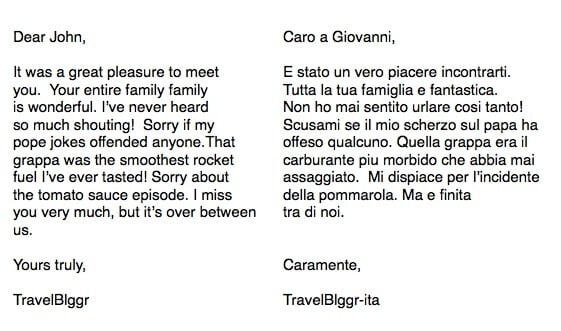 I often get asked, "what do you recommend as a good gift for a traveler?" Definitely these! Even if they're fluent in the language, I think most people will appreciate the entertainment
The books are Wicked Italian For The Traveler, Wicked French, and Wicked Spanish For The Traveler by Howard Tomb. Ciao and enjoy!
YOU MIGHT ALSO LIKE
Originally posted 2011. Updated in 2020.