A guest post by Kym Hawkins
Sunday Funday is a tour designed to show both tourists and natives what's going on in The Hipster Capital of the World, Williamsburg. AKA "Billysburg."
When you live in a city as big as New York, it's not hard to feel like a tourist even when you're from the next 'hood over – who has time to see them all? This was a great way to spend a beautiful Sunday morning, and as a former Williamsburg resident, I have to agree – the itinerary was pretty on par with local activity. Five stars for that.
First we stopped by this mural of Warhol and Basquiat as boxers. One has to wonder, what were they defending?
The first destination: Brooklyn Brewery. We wanted to get the most bang for our token (tokens are their currency) so of course we got the Sorachi Ace, recommended by our knowledgeable tour guide. It was crisp and fragrant.
Then we went to Mabel's. As soon as you walk through the door, a heavy smell of old wood and freshly smoked pork hits your nostrils. It smells like the South. Delicious.
Also, Mable's has a BBQ sauce made with jalapeno-infused vinegar.
Family-style tables and a cozy little bar. The exposed steel beams and secondhand furniture boast a classic Williamsburg/Brooklyn aesthetic: Just another repurposed establishment with nothing to hide.
A little behind-the-glass action of the kitchen. Ahem. Did I mention, this place has JALAPEÑO INFUSED VINEGAR in their BBQ sauce? Obviously had to get a picture of the Wizards behind that one.
And –The BBQ pulled pork sandwich! Great job, Mabel. I approve. They even had a vegetarian option. A vegetarian in the group held it up and announced that a mistake had been made, but they assured her that despite the way it looked, her sandwich had *no* meat in it. Her skepticism turned into a happy face after the first bite.
On the way to the next stop we swung by Wythe Hotel, which has one of the best views of Manhattan, by the way. Our tour guide highly recommended their rooftop bar "The Ides." I was at the bar opening, actually, and let me tell you – nothing like a free open bar and high elevation to get your spirits up.
Across the way we saw an advertisement for Black Jesus, hand-painted, our guide pointed out.
Next up was Williamsburg's local artisan bazaar, Artists & Fleas – speaking of fleas…
A few favorite booths were Lovewild Design, Shipped to Sea, and Omanour4Leather.
Loved this map up front. It seems the majority of visitors were from Europe and Japan.
Up next: The waterfront! With a great view of the Brooklyn ferry nearby.
It was so refreshing to see the East River! You can really forget that you're on an island sometimes, no thanks to all of these waterside high-rises. That view is real estate, baby!
As we walked away from the waterfront, our guide pointed to a large empty lot with plans to build in the next few years. "It all changes so fast around here. It's a different place than it was a decade ago. There's no telling what it will look like in the next one," she said, with what I thought was a hint of sadness.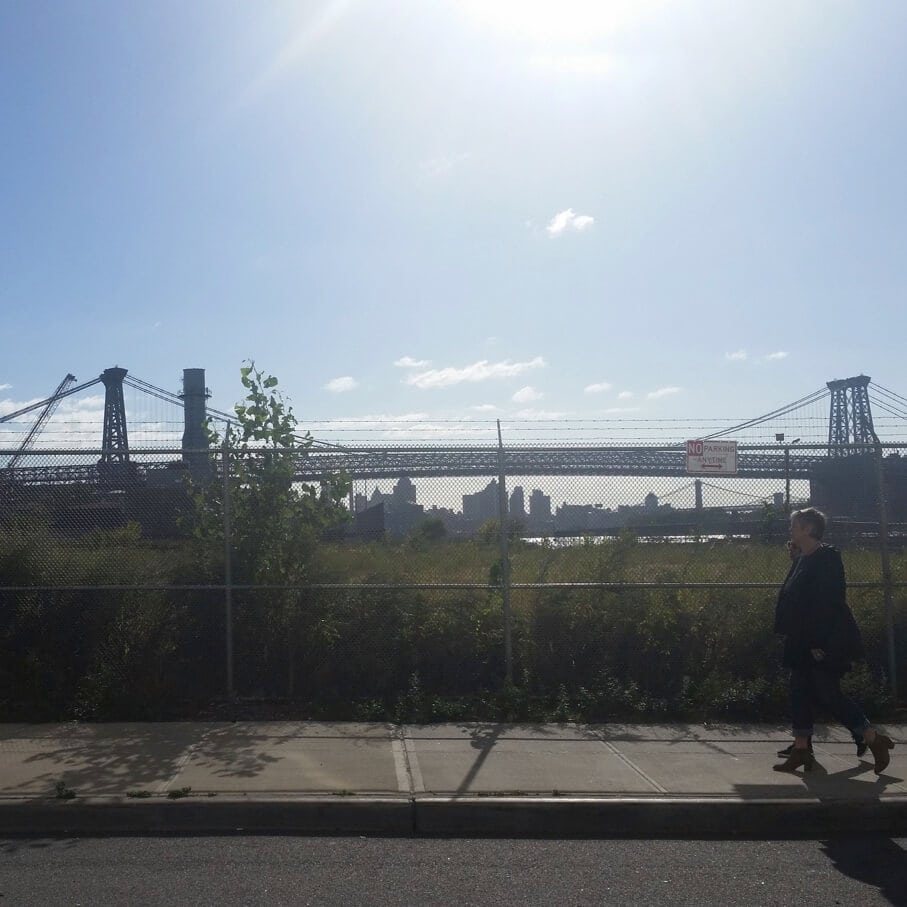 After some odd flavors of ice cream from Oddfellows, such as "burnt honey rosemary" and "red cedar vanilla" — DELICIOUS — (sorry, no pics, too many tastes) we arrived at our penultimate stop: Brooklyn Oenology. An all-local winemaker, bar and tasting room. All local vines, local ingredients, and every label made by local artists.
This particular artist did a really incredible floral installment, painting on both sides of a pane of glass-for depth. Did you know that early cartoons were made in much the same way?! I knew it was a good idea to bring my boyfriend along. He's a smart one.
What a cozy little oenology bar! I had never heard of this place before the tour and felt very reaffirmed in the notion that tours are great for locals, too.
Also: more of that aforementioned raw-beam aesthetic in the ceilings. It's EVERYWHERE in these parts.
The white blend tasted very much of Pinot Gris. It went fast.
The final stop was Mast Brothers. Two brothers with a passion, and easily the most sterile chocolate factory you've ever been in. So clean, I would have eaten our dark chocolate samples off the floor, even if they weren't chocolate. The verdict: pristine, complex and bittersweet. A pleasant day-cap to a crisp morning in Billysburg.
If you'd like a similar experience, head on over to the Like A Local Tour next time you're visiting this side of the Apple. But be sure to take a camera/clear your phone, because you're bound to see some interesting renovations in repurposed spaces. Beyond the view, the vibe (albeit rustic) is incredibly refreshing; the perfect combination of charm and mortar. And hey — a cleverer collection of storefront signs? Fuhgeddaboutit.