Looking for a special gift for your favorite frequent flier? Here's a list of 25 great travel gifts for women! They're personally all of my favorite things that make traveling more comfortable, cozy, and fun. And the best part, most of these are available on Amazon Prime if you've been waiting until the last minute to shop for that perfect gift.
These are all traveler-tested and traveler-approved and are things we actually use. From what to wear, to packing essentials, and even a few luxury items I consider a must-have for a comfortable flight. Happy shopping!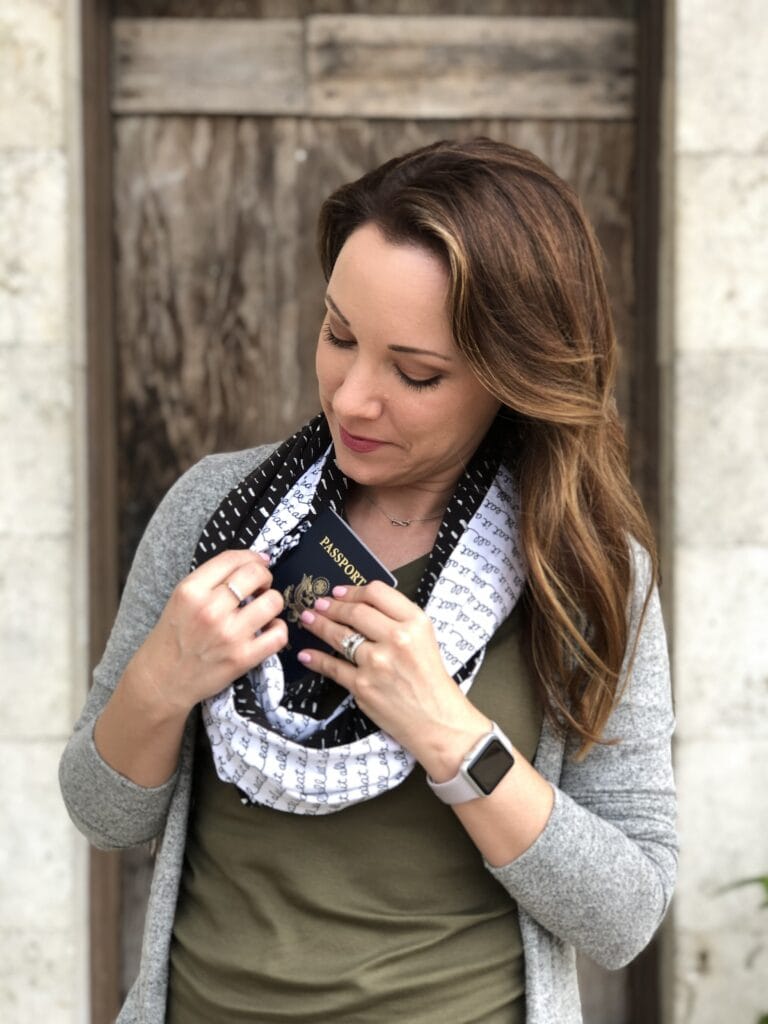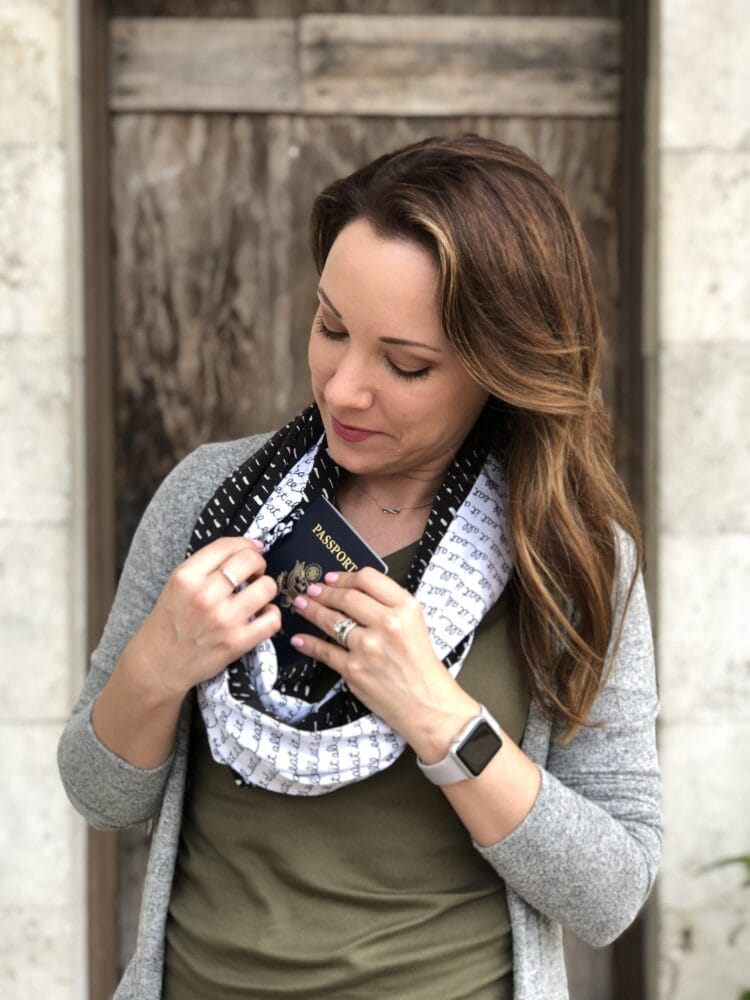 Unwrapping Wanderlust: The Ultimate 25 Travel Gifts for Women
Traveling is not just a journey; it's a lifestyle. And what better way to celebrate the adventurous women in your life than with thoughtful and practical travel gifts? From innovative gadgets to stylish accessories, here's a curated list that will make any wanderer's heart skip a beat.
Some of the links included below are affiliates, which means if you buy it, The Travel Bite gets a small commision at no cost to you. Thank you for supporting our site!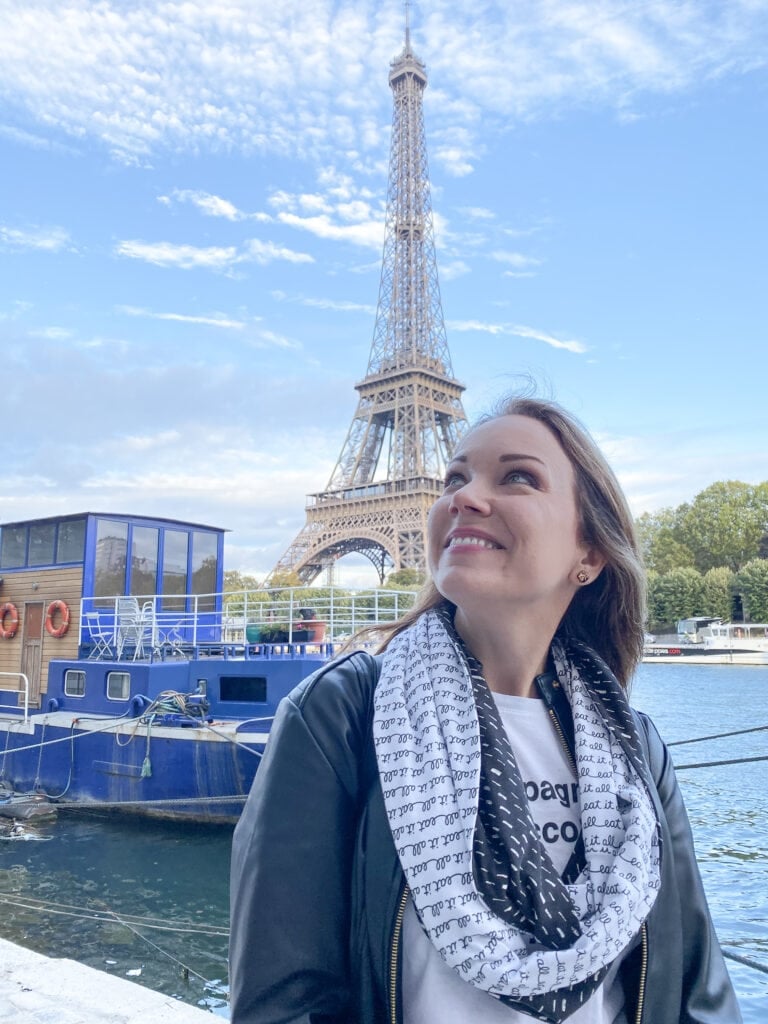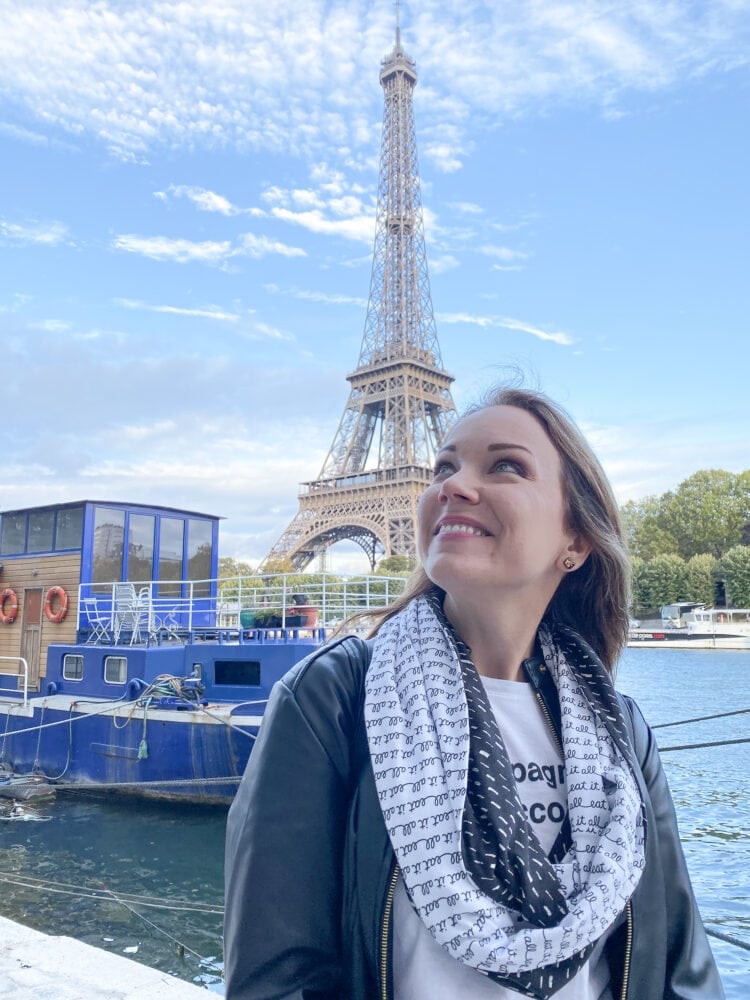 Keep things both cozy and secure with a travel scarf that has a hidden pocket! We worked on a collaboration with Speakeasy Travel Supply to create a "foodie" themed travel scarf, but they have tons of fun designs all hand-crafted with beautiful fabrics if you're looking for a specific color or style. It's the perfect travel gift for women because the scarves have a hidden pocket inside that easily fits your ID, credit card, and lipstick. That way all your important things are kept safe while traveling! You can fall asleep on a plane or train with your valuables hidden safely around your neck and close to your heart. They're handmade by my friend Bethany and she collects fun fabrics from around the world, so they're definitely travel-inspired.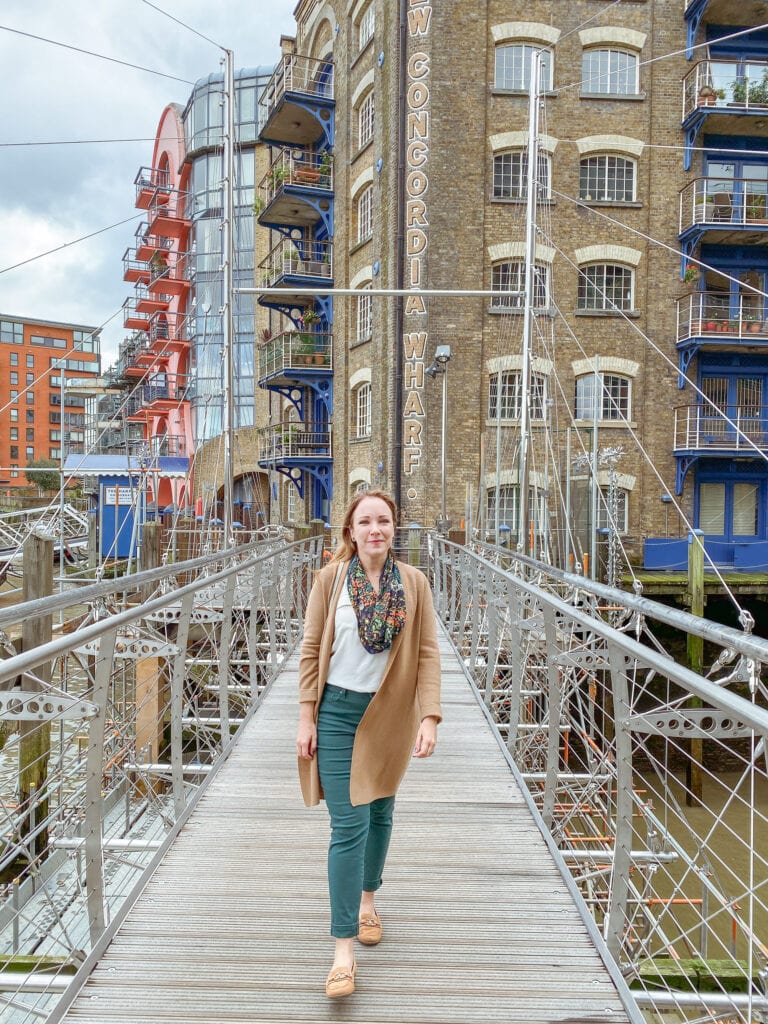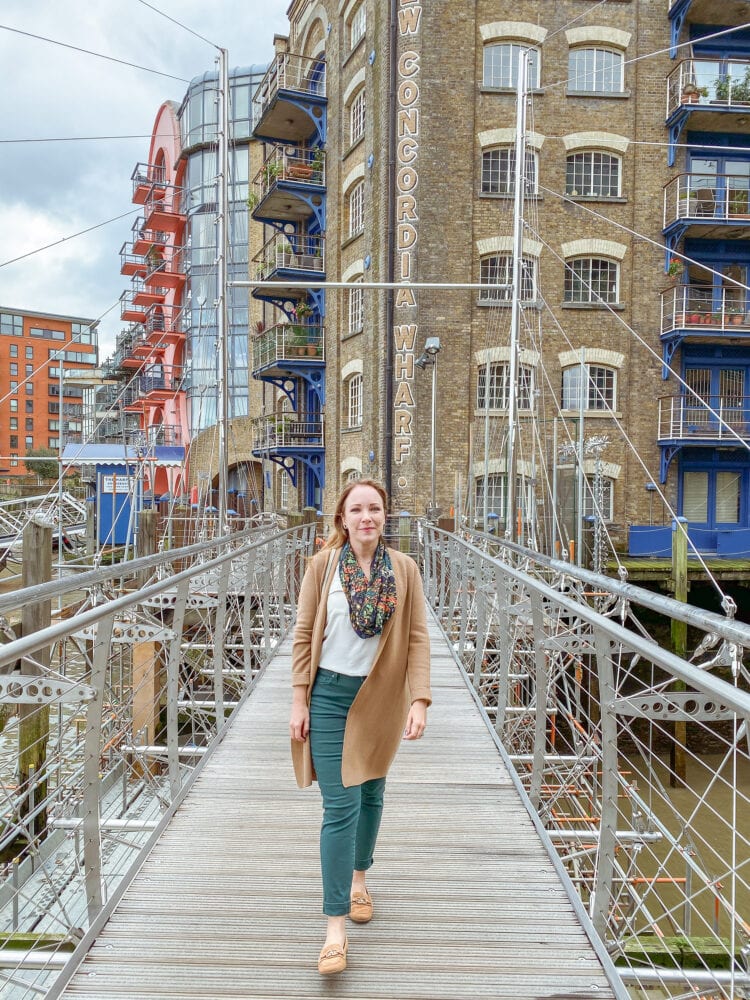 I used mine as a "purse" when going out and spent a whole day in London wearing my scarf and not feeling like I had to worry about carrying bag. These scarves are also handmade in the USA, machine washable, and super soft. And, yes, this one says "eat it all" in black and white script. There are other designs available too.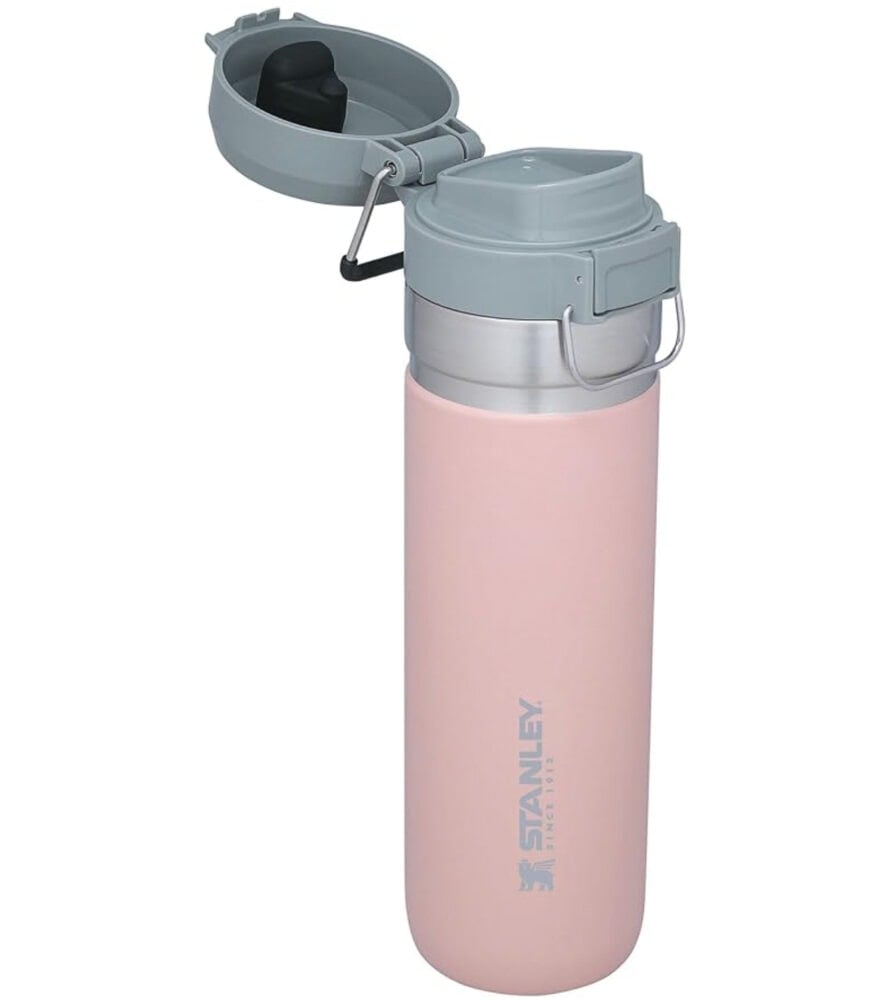 Hydration when traveling (especially flying!) is key, and the Stanley Flip Go Bottle ensures she stays refreshed on the go. Stanely cups have been trending this year, but this one is travel-friendly! Its compact design and leak-proof lid make it an ideal companion for any adventure, whether it's getting through the airport to your gate on time or hiking in the mountains. They keep hot beverages hot, cold beverages cold, and since they're stainless steel they hold up really well for travel. Plus, since it is double insulated, it doesn't "sweat" on the outside when you fill it with cold water. Major bonus, because there's nothing worse than getting everything in your bag wet due to condensation.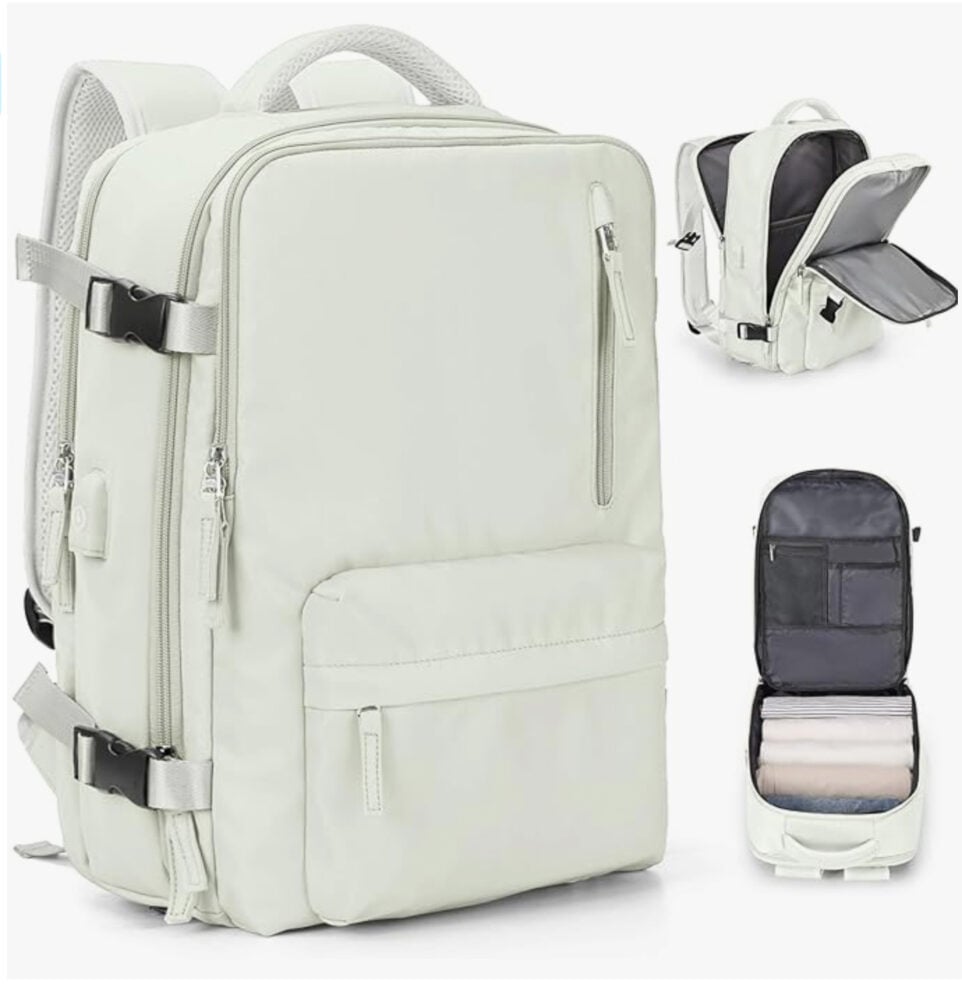 A good travel backpack is a game-changer. And this is the perfect carry-on backpack as it has multiple compartments, a laptop sleeve, and durable material that looks cute too! It is spacious enough to carry essentials yet compact enough to slide under the seat in front you on a plane. I used this backpack as a carry-bag for multple trips this year and was never asked to check luggage at the gate. It's pefect for train travel too since it is light weight and easy to carry.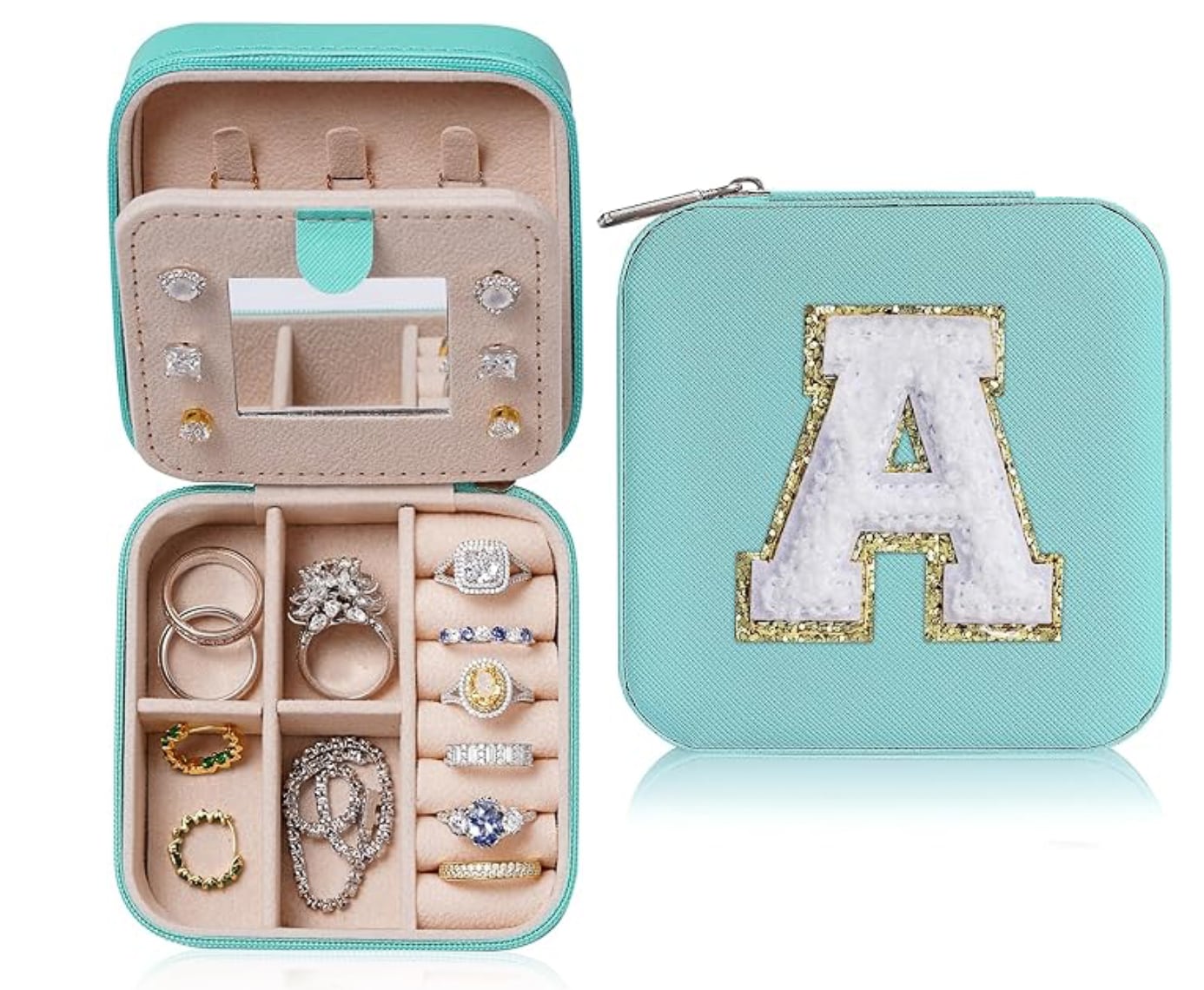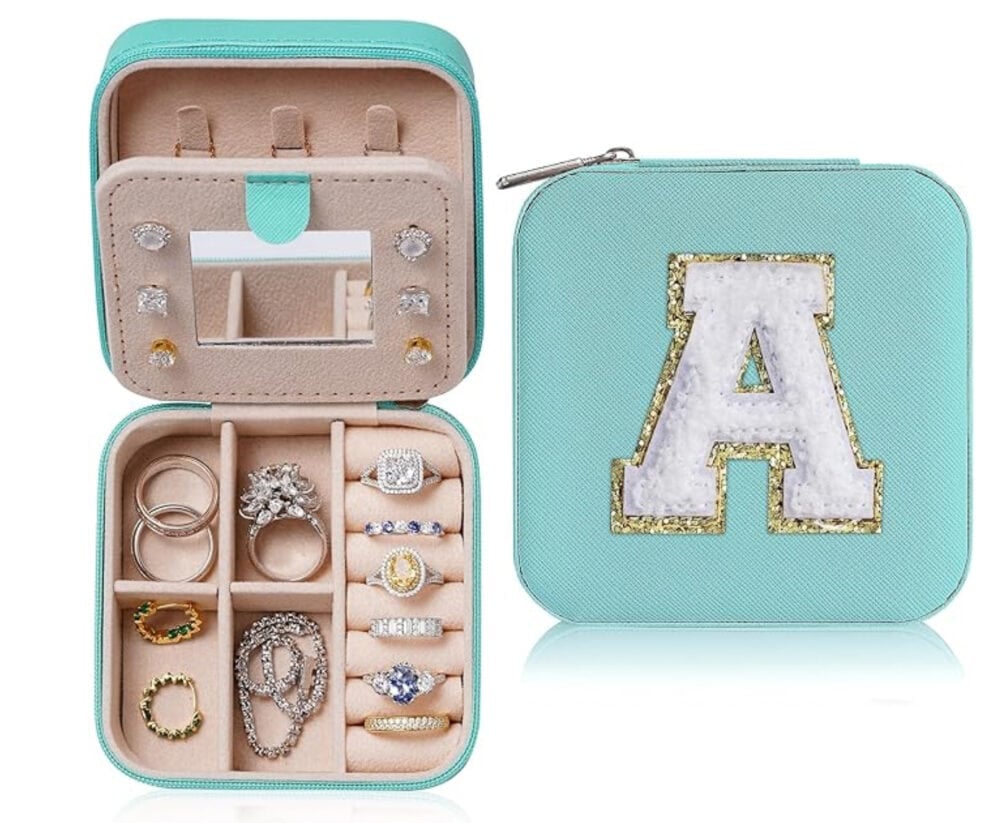 For the fashion-forward traveler, a compact jewelry organizer is a must. Say goodbye to tangled necklaces and missing earrings. I have tried multiple styles of jewelry organizers over the years, from the soft roll up kind to the hard case ones, and the hard case jewelry organizers are the best for making sure your cute earrings don't accidentally get crushed. Plus, having separate compartments keep everything in its place. (Bonus Tip! Get a cute piece of lace for storing stud earrings and keeping them from getting lost with the rest of your jewelry).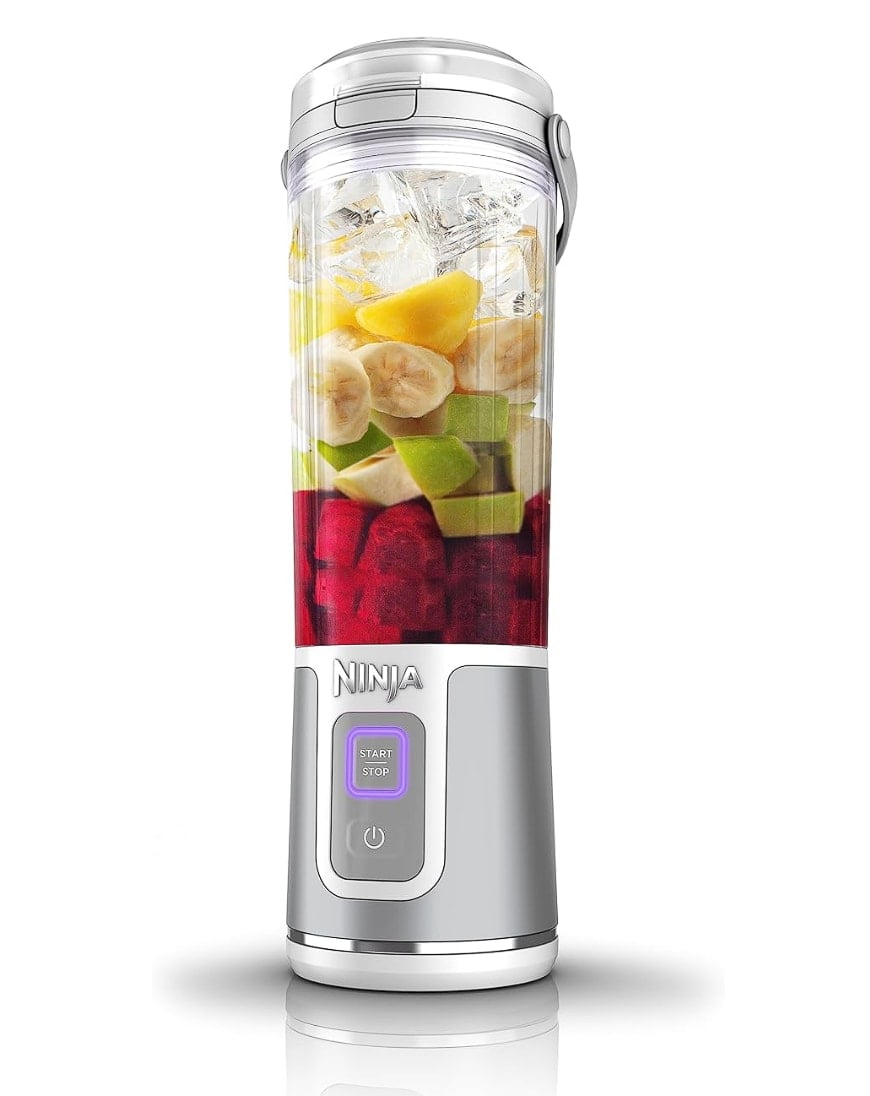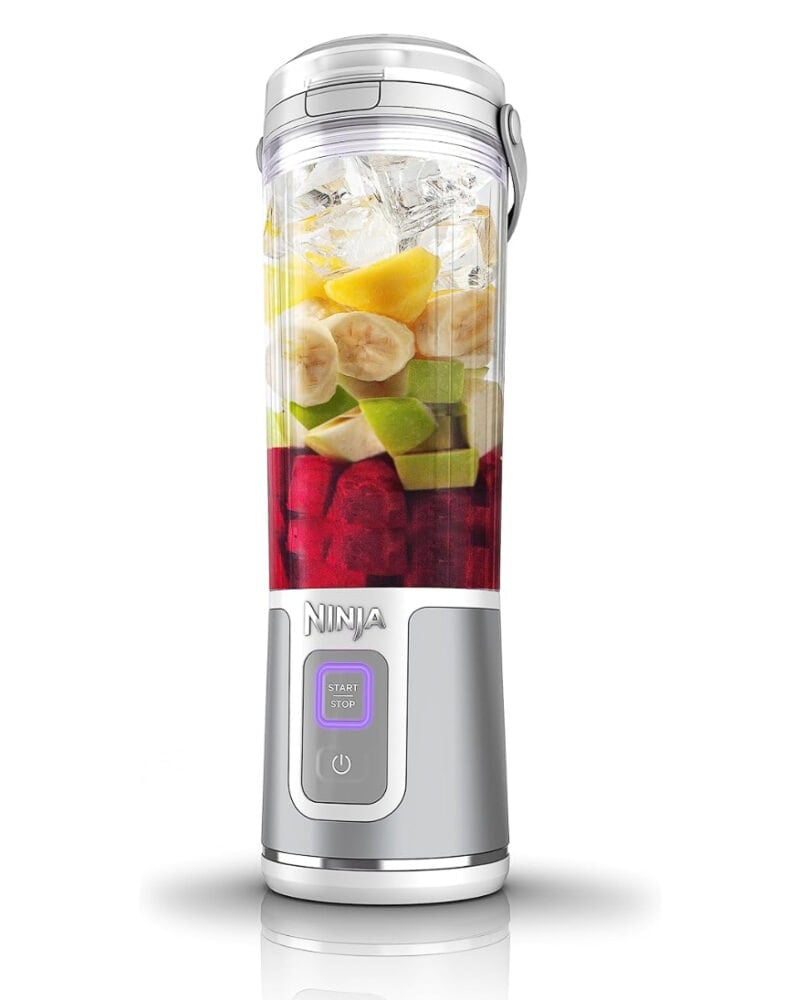 This one is new! I just got one this year to test out as the brand ambassador for Ninja on HSN. And I'm so excited to have a powerful travel blender that I can make my protein smoothies with on the go. For the health-conscious traveler who loves her smoothies, a portable blender is a fantastic gift. The Ninja Portable Blender allows her to whip up her favorite drinks wherever she is, whether it's a tropical beach or a business trip.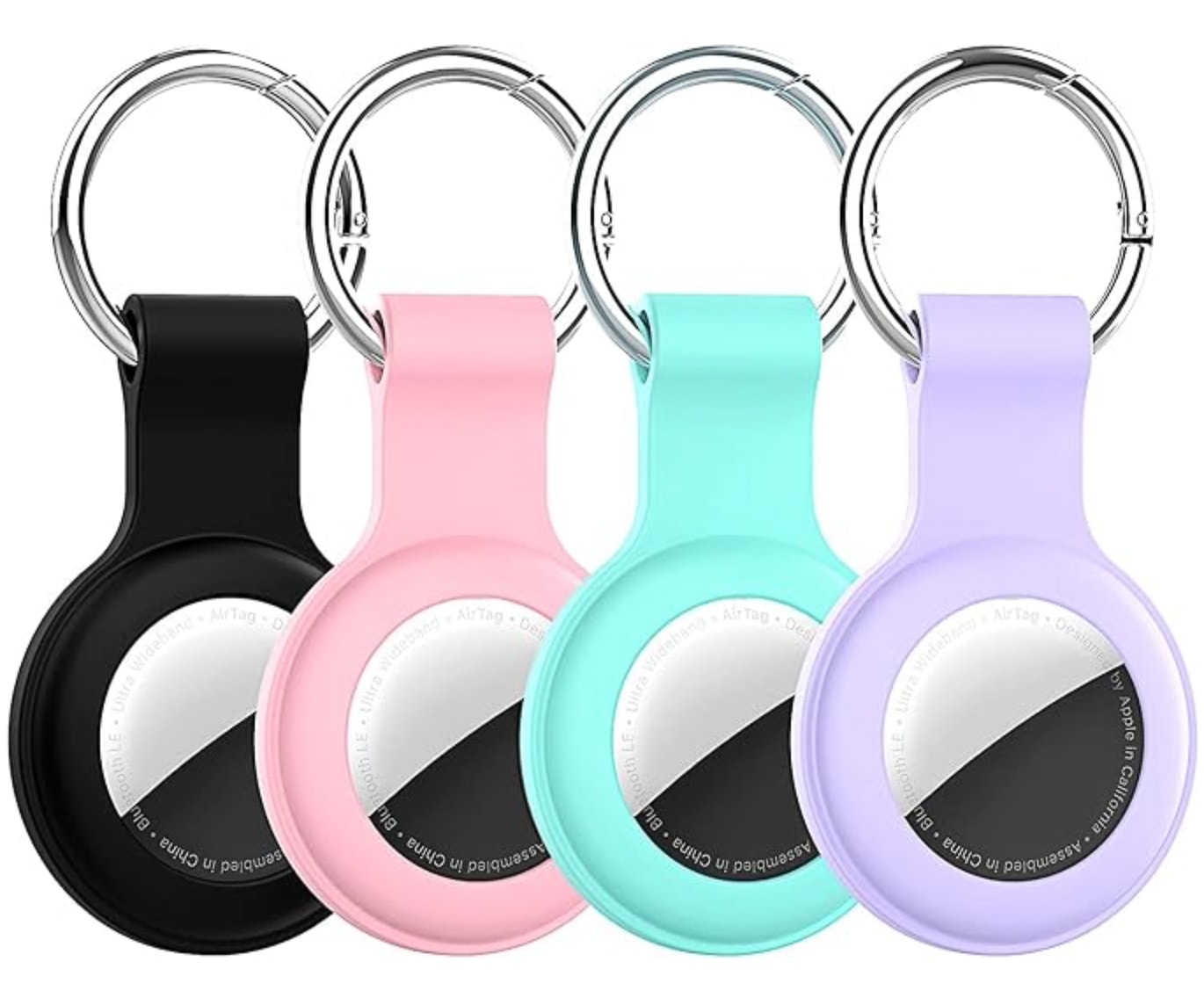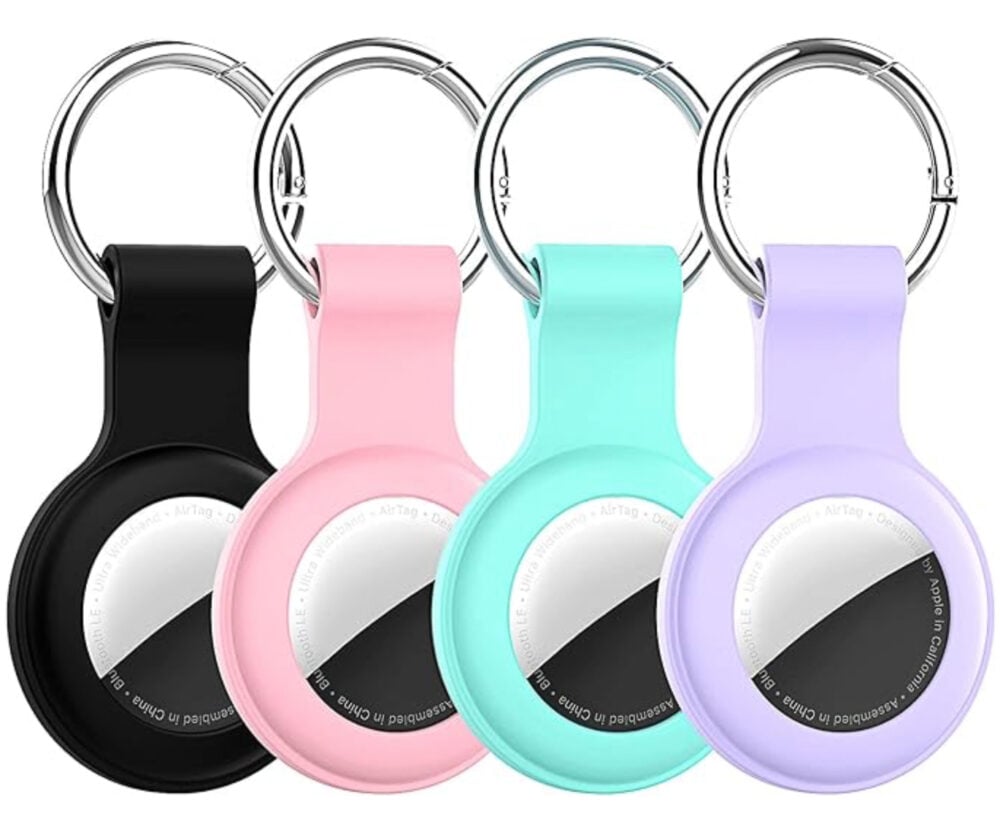 Never worry about lost luggage again with Apple AirTags. These nifty little devices can be added to the inside pocket of a suitcase, backpack, or any other travel gear. Paired with the Find My app, you can easily locate your belongings, bringing peace of mind to any journey. I've been grabbing my airtag off my keychain and throwing it in my luggage for trips. The funny thing is, I have it labeled "she shed" for my office, so it always looks like my office is following me along on the journey too. In addition to the airtag, make sure to grab a protective case for it too.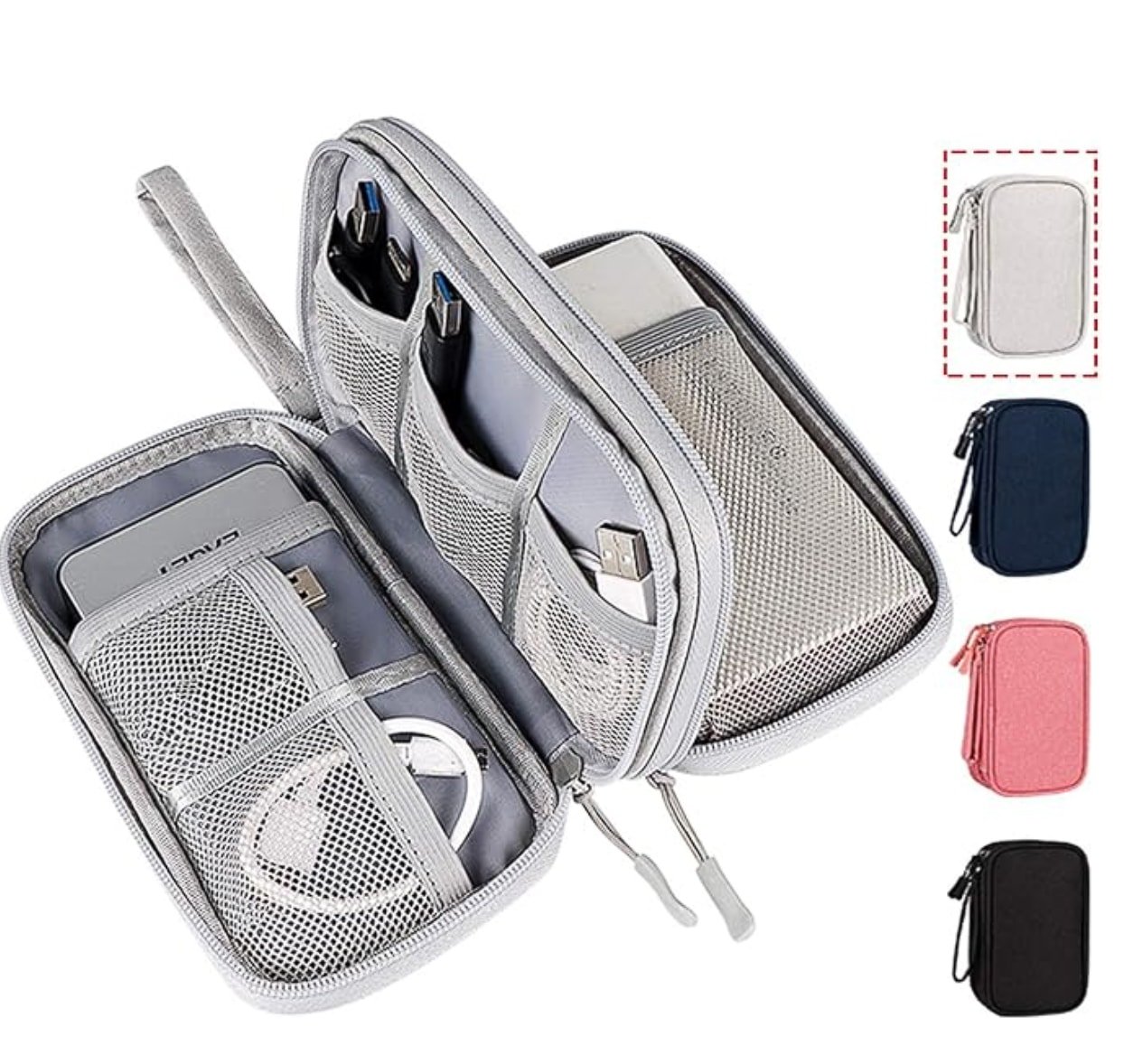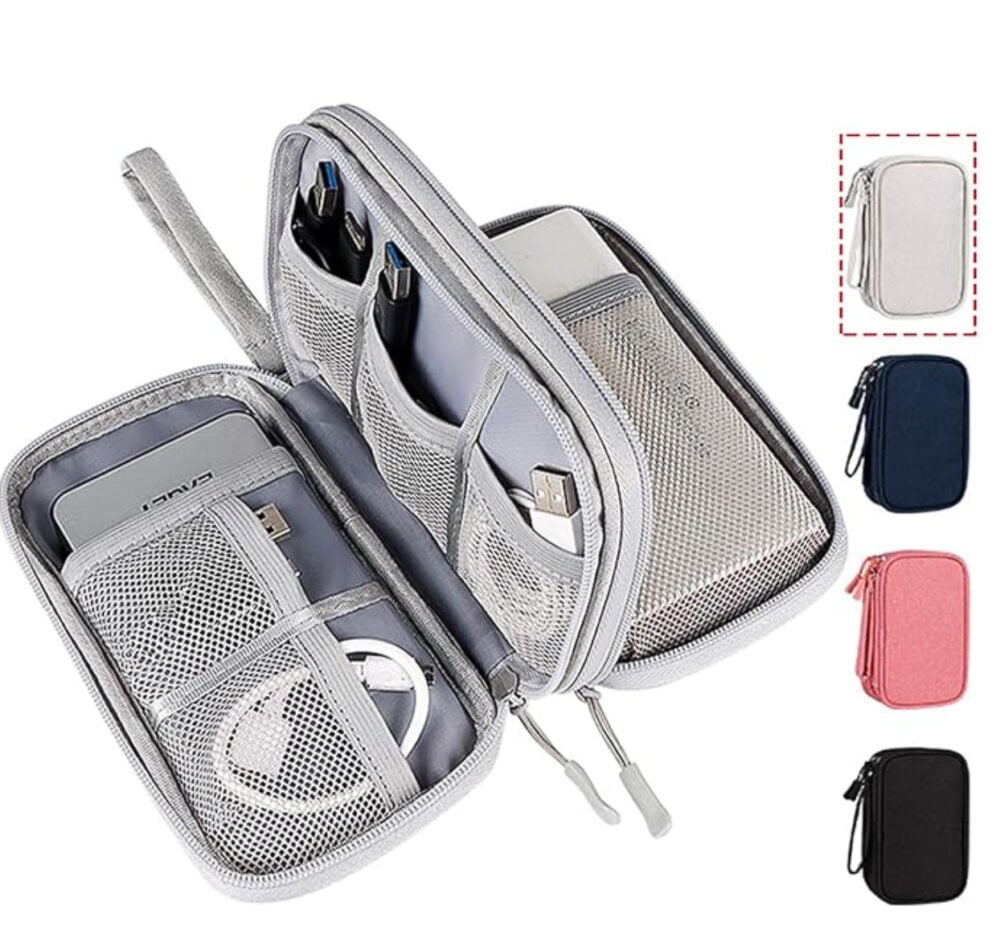 Keep chargers, cables, and gadgets in order with a tech organizer. Choose one with elastic loops and multiple pockets to accommodate everything from headphones to power banks. This not only keeps her gear untangled but also makes airport security a breeze.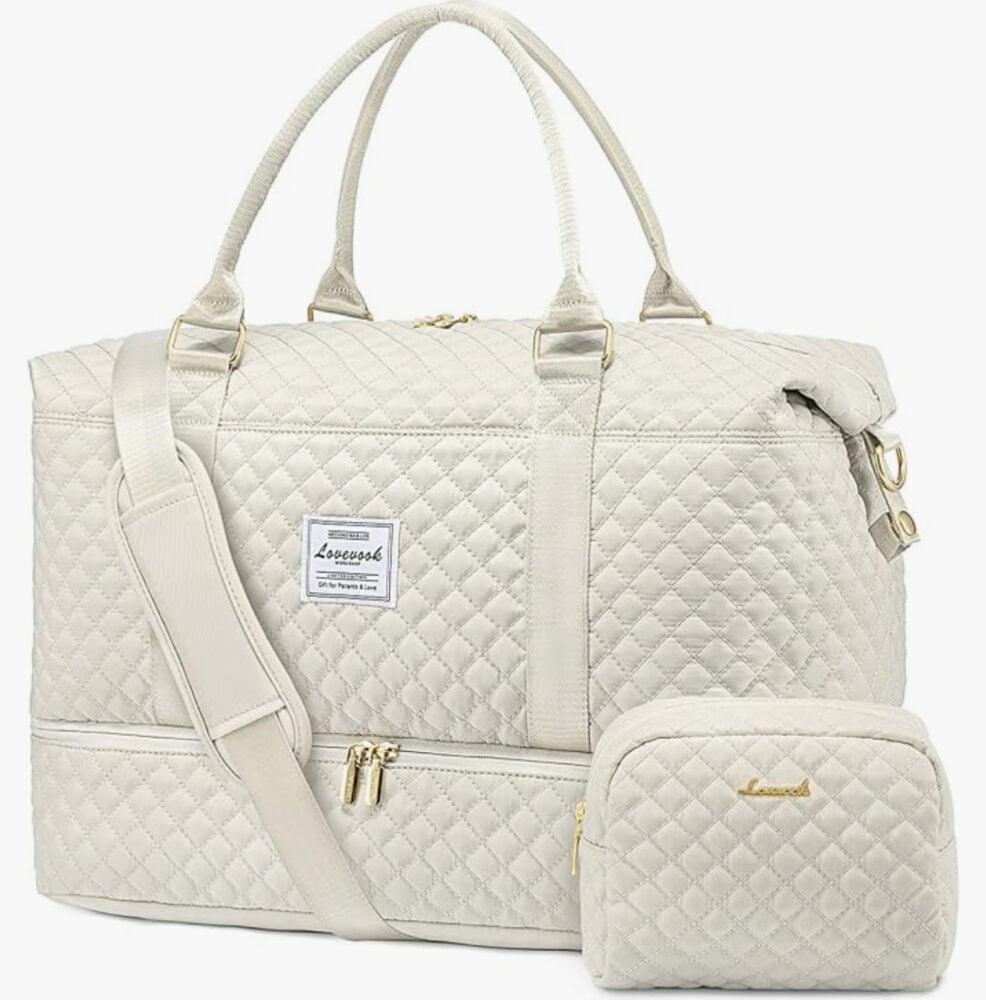 A weekender duffel bag is a versatile and stylish travel companion designed for short trips, weekend getaways, or overnight stays. I've used it in combination with the travel backpack listed above to fly with two small bags as my carry-on. Weekenders are typically compact and designed to hold just enough for a short trip, but spacious enough to accommodate clothing, toiletries, and other essentials for a weekend away. I love this one because the organizing pockets make it easy to pack and find things when I need them! You could also splurge on a Vera Bradley weekender duffel.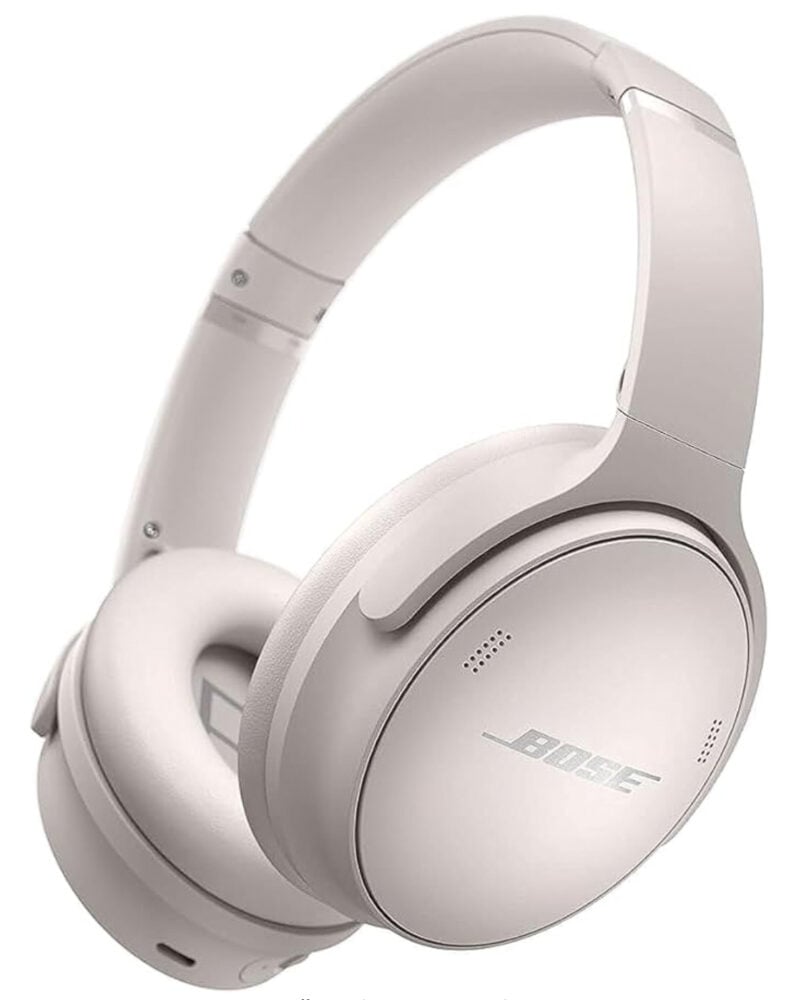 Turn any journey into a personal haven with noise-canceling headphones. Whether she's on a noisy plane or relaxing by the pool, these headphones create a bubble of tranquility, allowing her to enjoy her favorite tunes or podcasts without interruption. There are two styles of noise-canceling headphones available depending on her preference. The in-ear design of Apple AirPods Pro or Bose, and the over-ear design of classic Bose. Both work amazingly well, it just depends on your comfort and preference. Personally, I like the more compact airpods as they take up less space in my carry-on bag.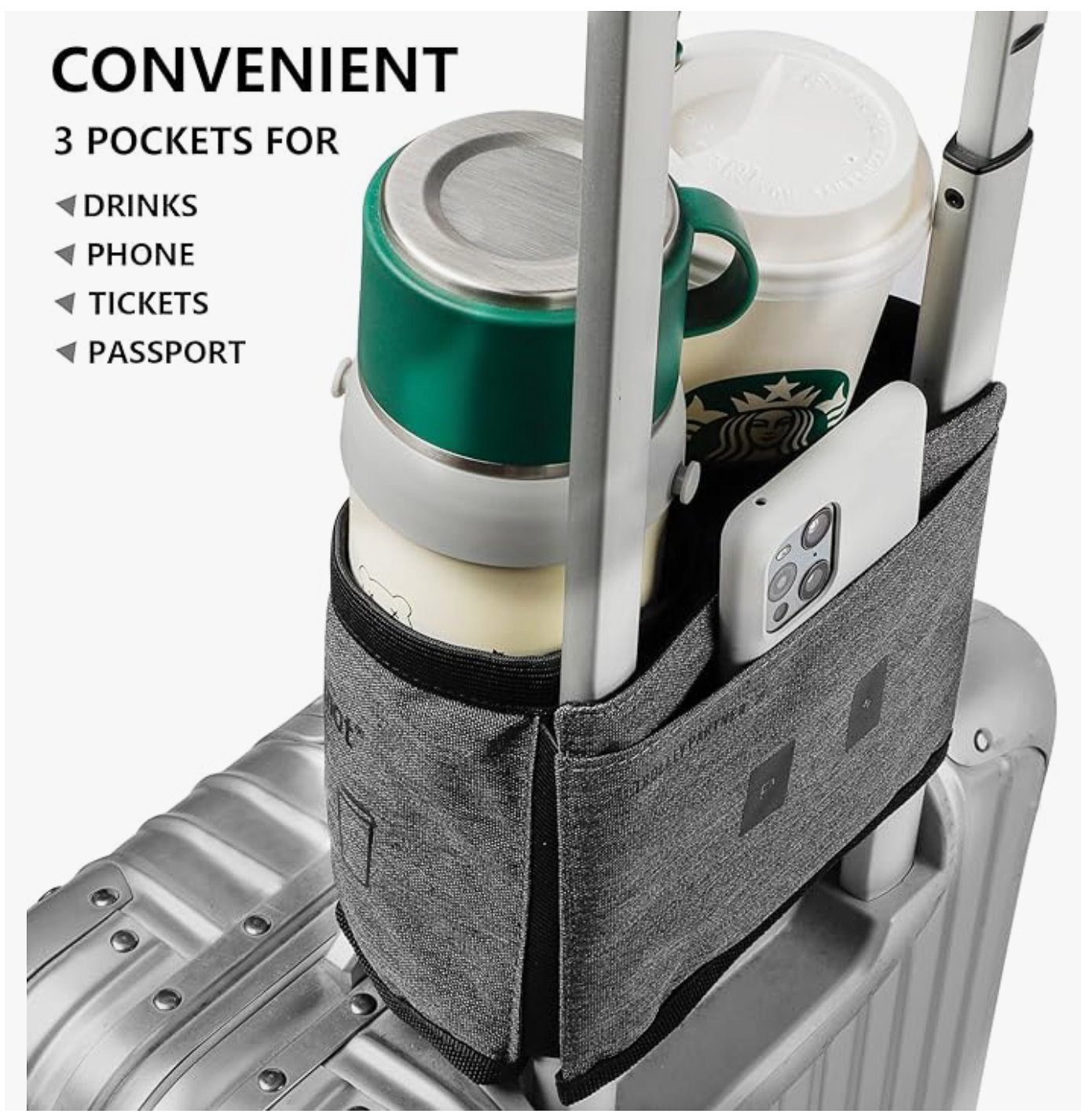 For the coffee lover on the go, or anyone that needs an extra set of hands running through the airport, a luggage cup holder is a game-changer. It attaches easily to the handle of her suitcase, allowing her to stroll through airports or city streets with her favorite brew in hand. Practical and stylish – the best combo!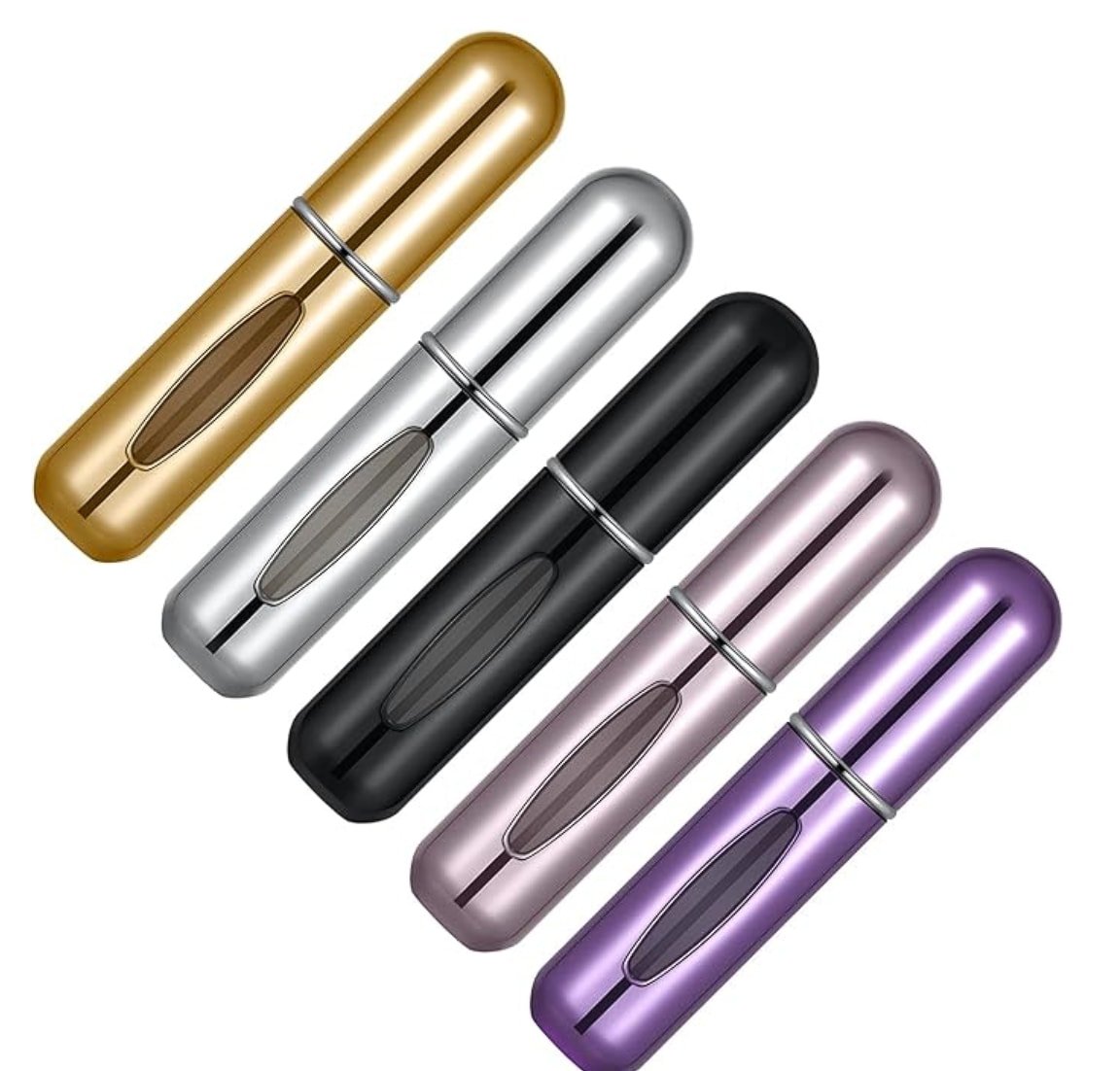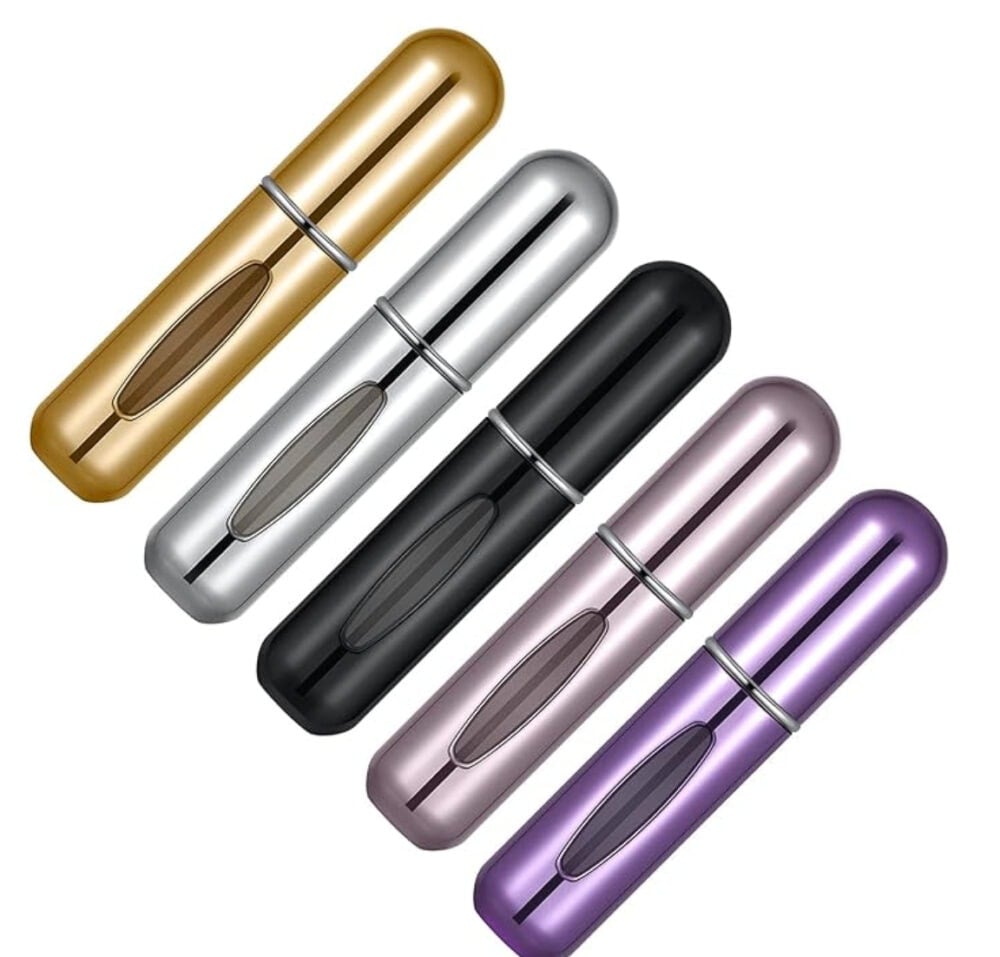 Why carry a whole bottle of perfume when you can bring a compact and refillable atomizer? This is the perfect travel gift for women as she can bring her signature scent in a small enough container that it will get through airport security just fine. Even when I'm not traveling I love having my perfume atomizer stashed in my purse to use as a mid-day refresher before going out to dinner.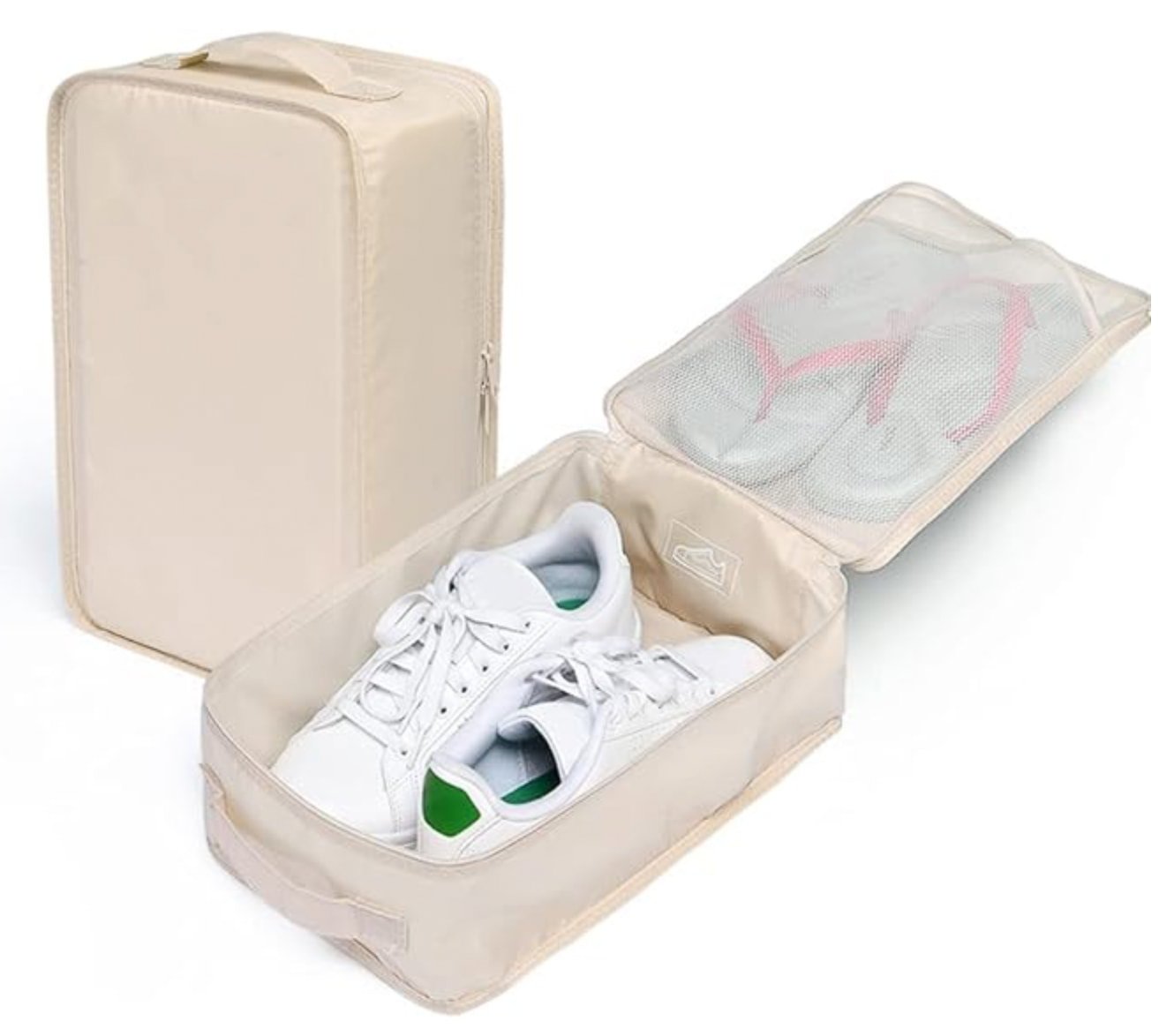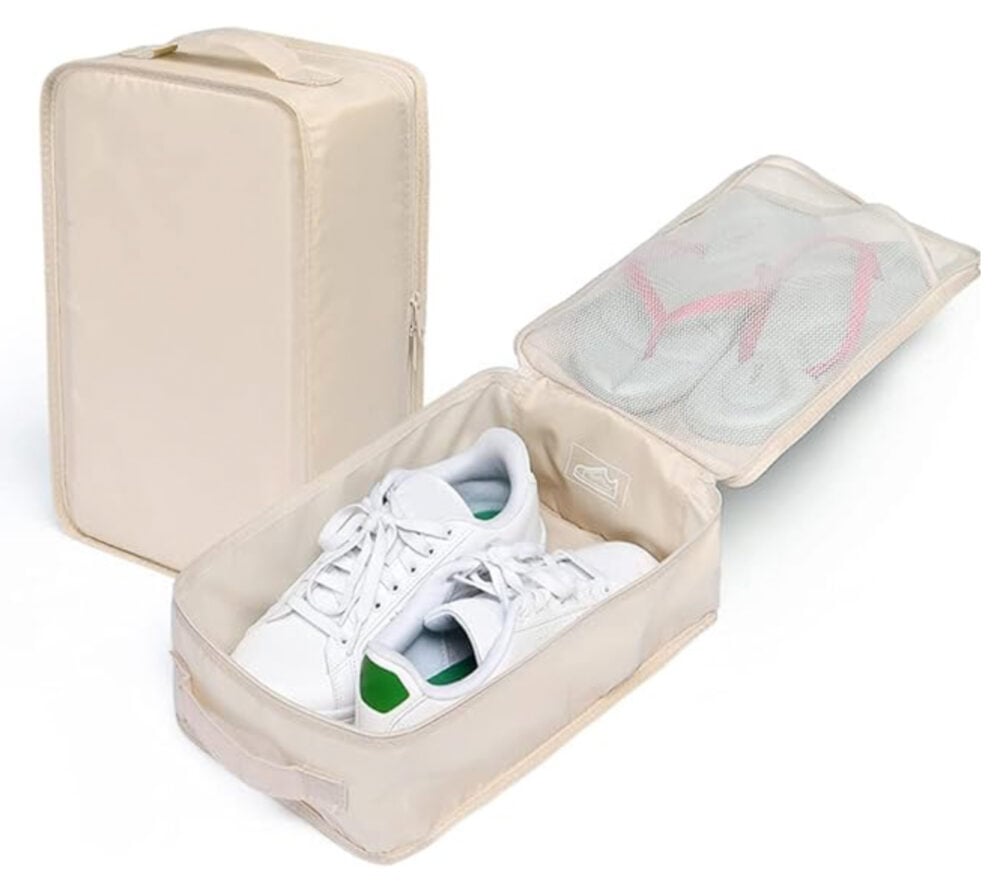 This is one of those underrated travel items, that, as a frequent traveler, I can tell you I use over and over again. Keep those fabulous shoes in pristine condition (and your clothes away from dirty soles) with dedicated shoe bags. No more worrying about dirty soles or scuffed heels – these bags provide a stylish and protective solution. Plus, they keep the rest of your belongings clean and organized. I specifically like these with a handle because it is easy to pick them up and toss them into the back of your car or a gym bag when you're using them at home too.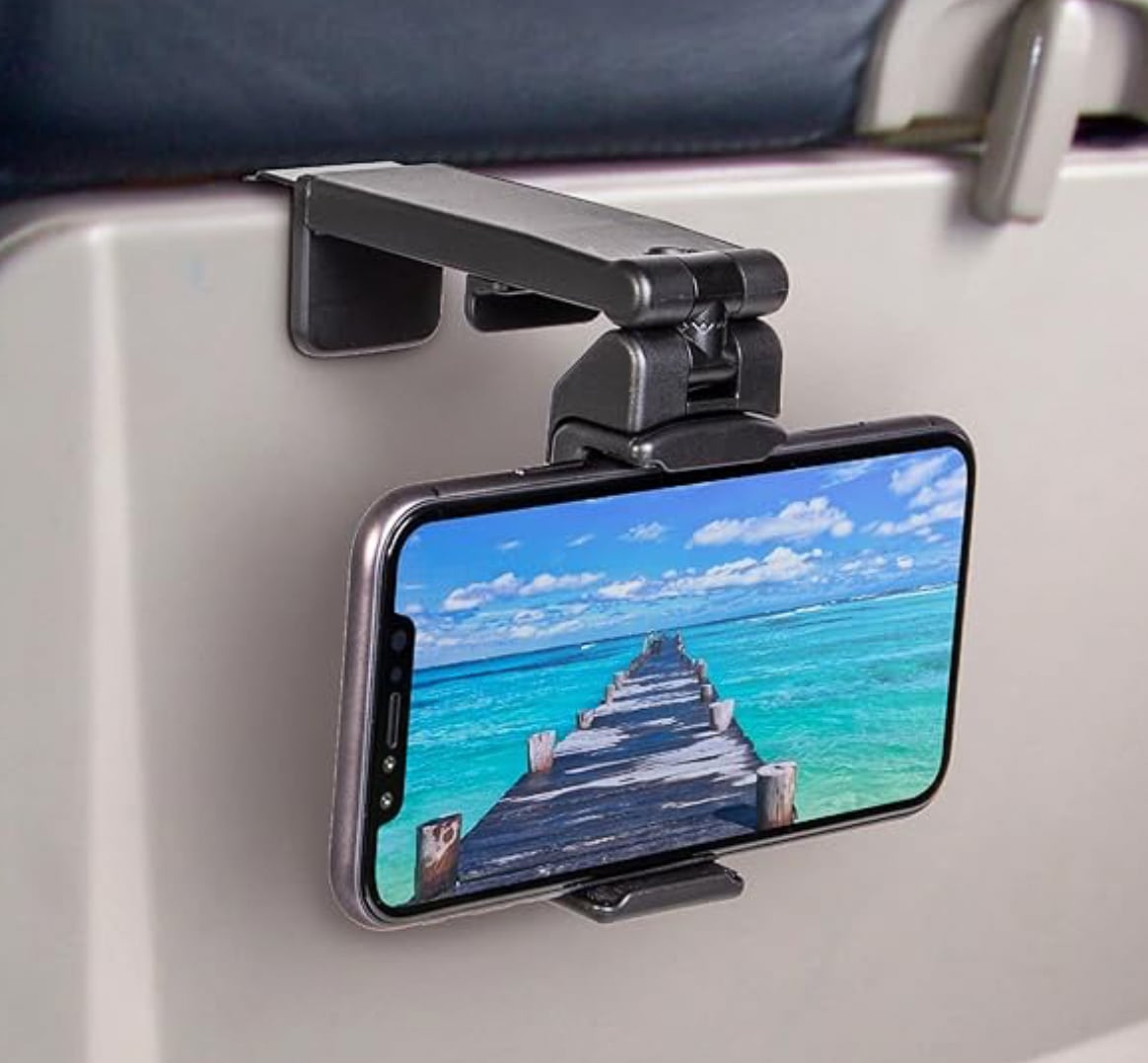 Can you beleive not all airlines have screens built into the seats? It makes flights seem extra uncomfortable when there's no in-flight entertainment. But now those long flights just got a little better with an in-flight phone holder. Attach it to the seat in front and enjoy hands-free entertainment throughout the journey. Perfect for binge-watching TV shows or movies. Just remember to download what you want to watch when you're connected to wifi!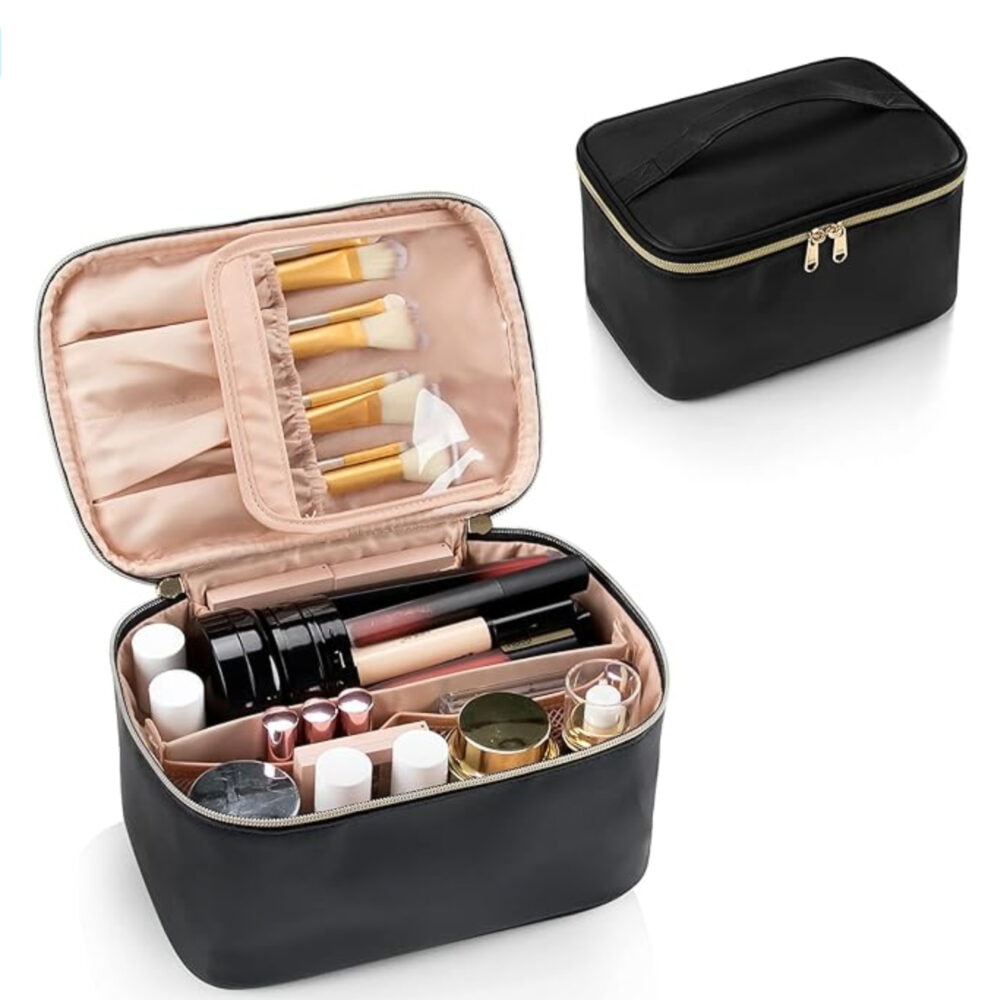 Every makeup enthusiast needs a travel-friendly organizer. Look for one with adjustable compartments to accommodate various products, brushes, and accessories. A compact design ensures she can bring her beauty essentials wherever she roams, whether it's a quick weekend getaway or an extended vacation.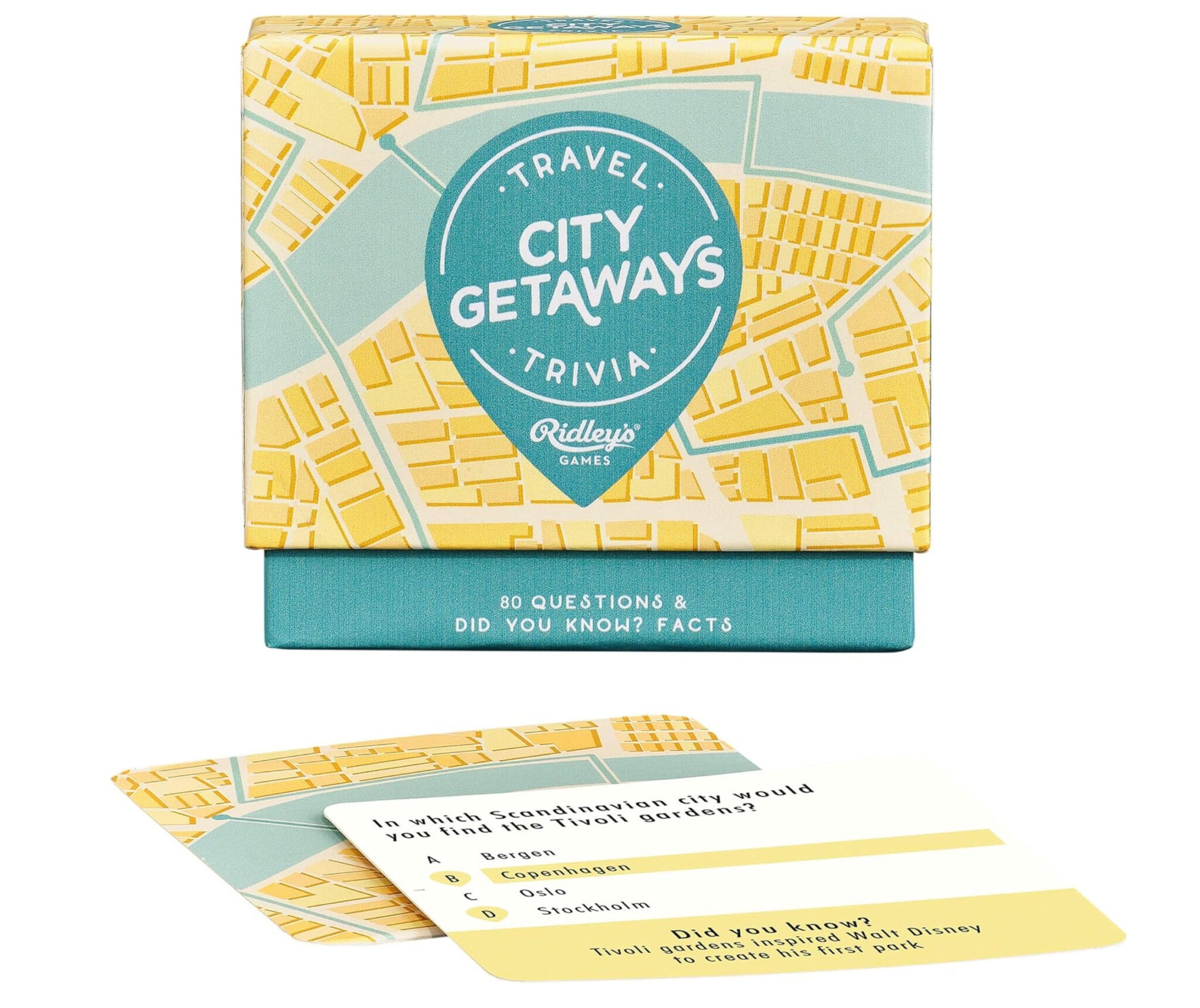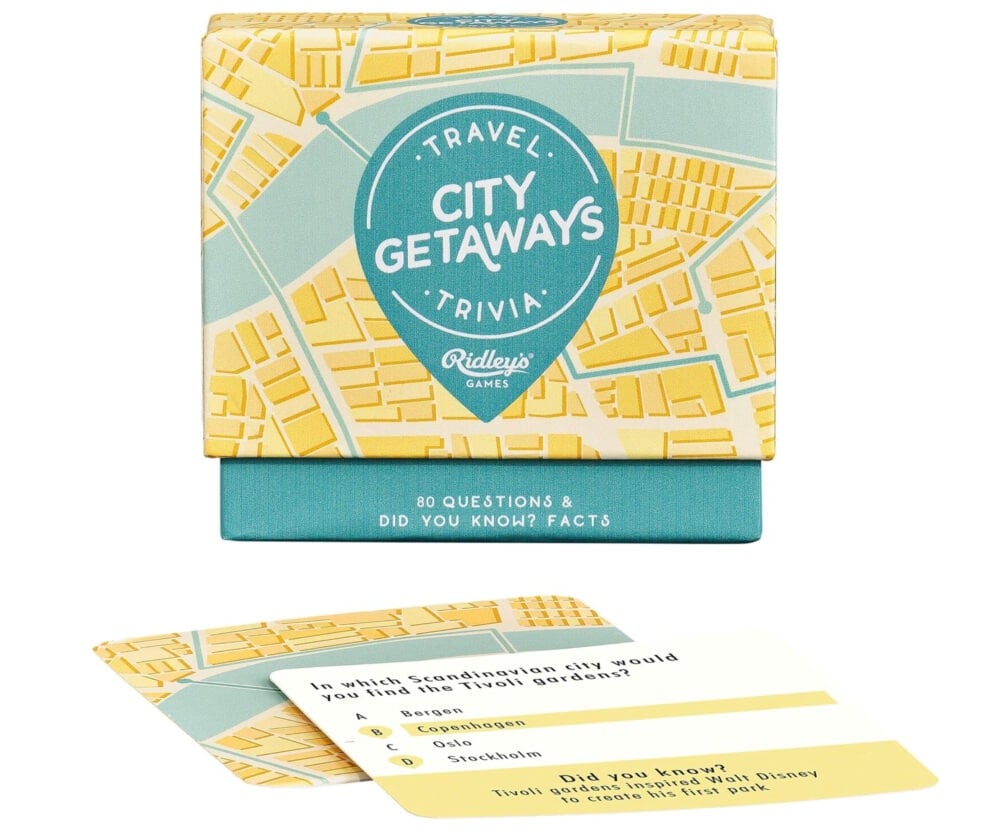 Make those long flights or road trips more entertaining with a travel trivia card game. The City Getaways edition adds a fun twist, testing her knowledge of different destinations. It's a great way to learn new facts and maybe even plan the next adventure based on the game!
Upgrade her travel style with a new suitcase. Known for durability and chic design, both Delsey Luggage and TravelPro luggage pieces are the two I recommend the most with friends and readers ask me about investing in new luggae. Choose a size that suits her travel needs, whether it's a compact carry-on, spacious checked bag, or a whole set!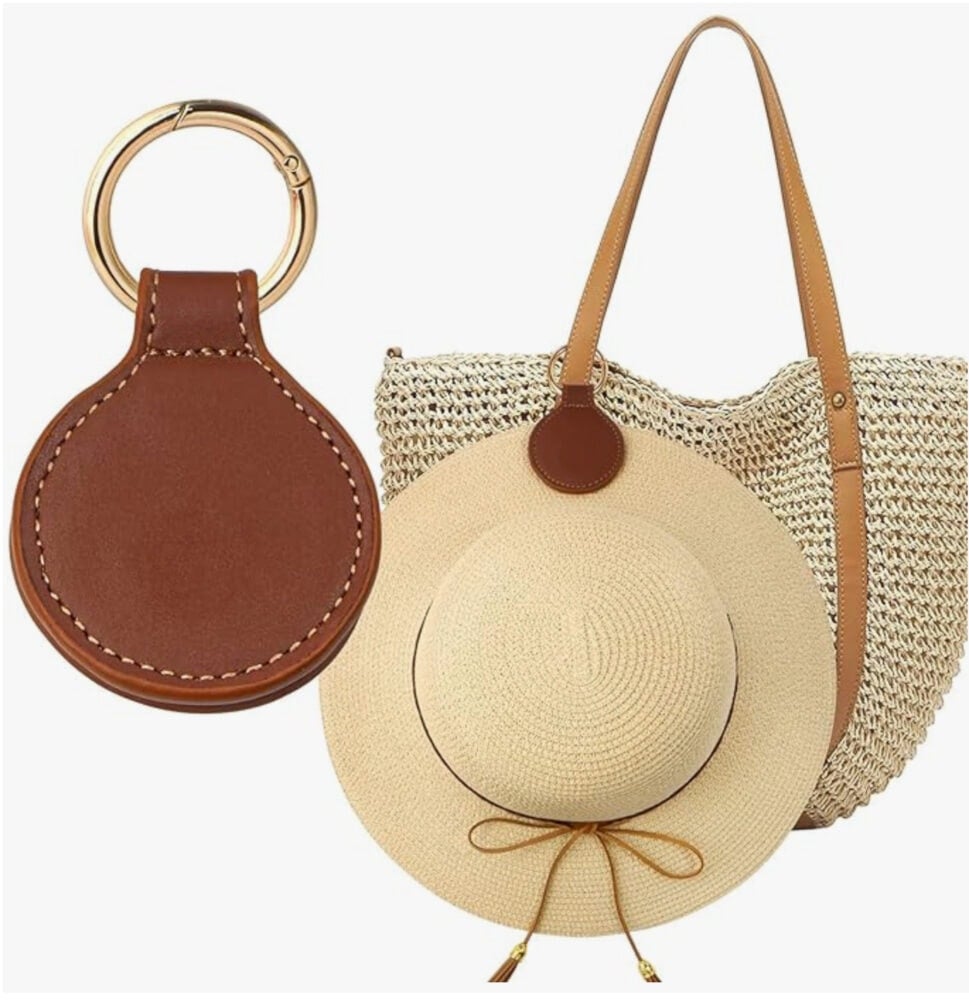 For the sun-conscious traveler, a hat clip is a handy accessory. It keeps her hat secure when not in use, preventing it from getting crushed in her bag. Whether she's exploring a vibrant city or relaxing on a beach, this clip ensures her hat is always ready for action.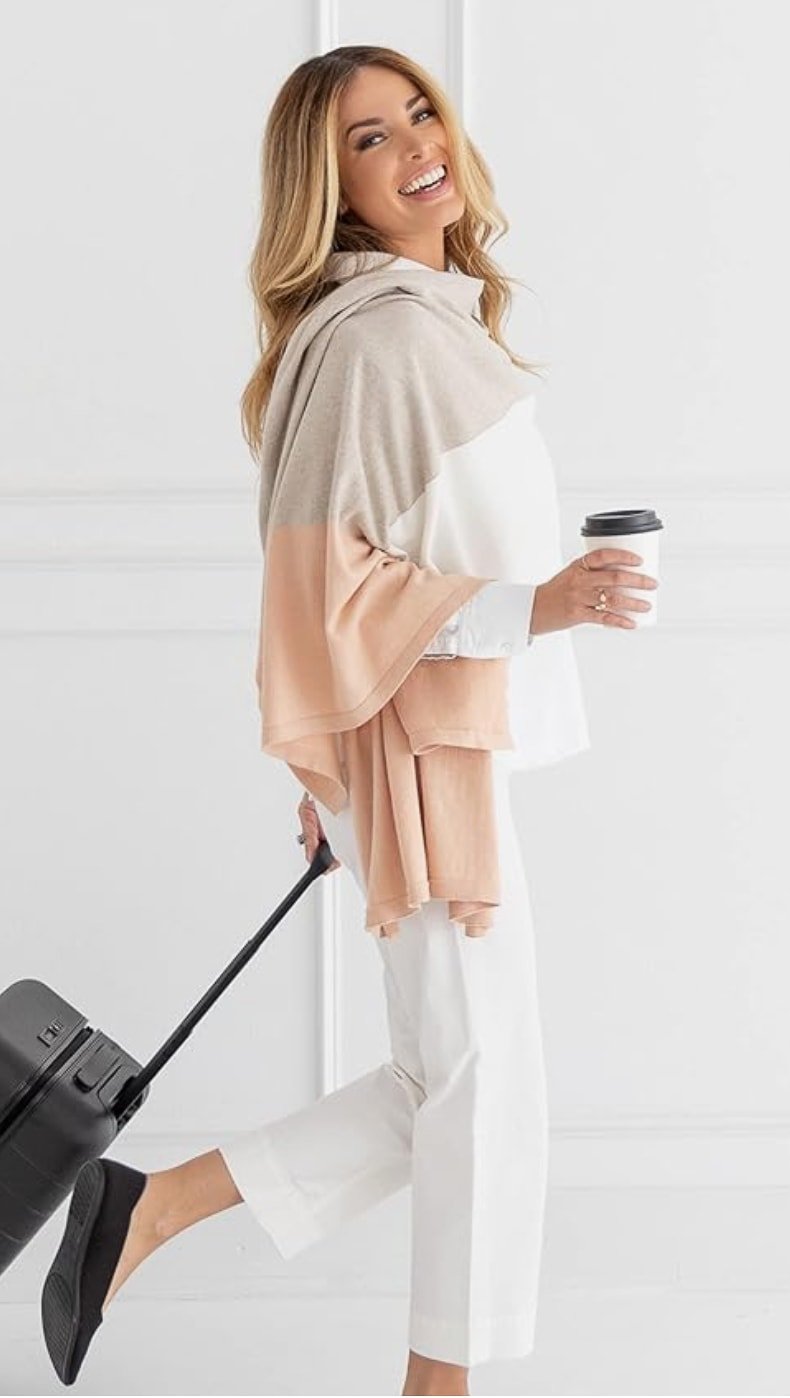 A travel wrap is the perfect versatile accessory. It can be a scarf, shawl, or blanket, adding both style and comfort to her journeys. Look for one made from cozy, lightweight fabric – perfect for staying warm on chilly flights or dressing up an outfit for a night out.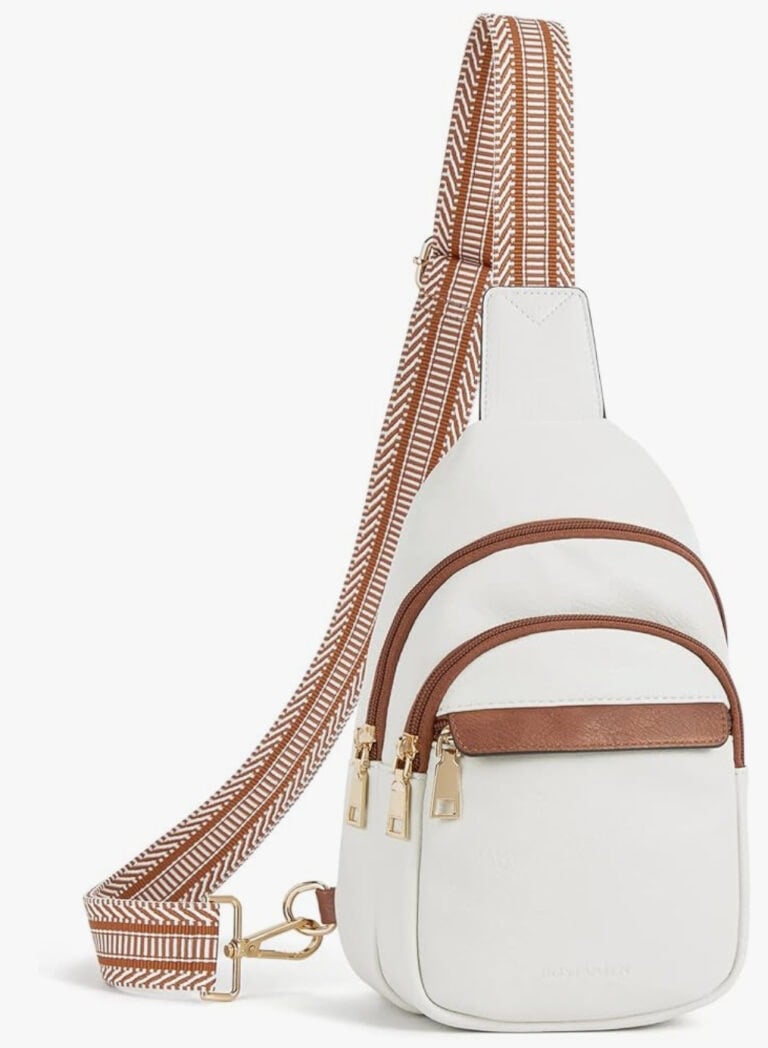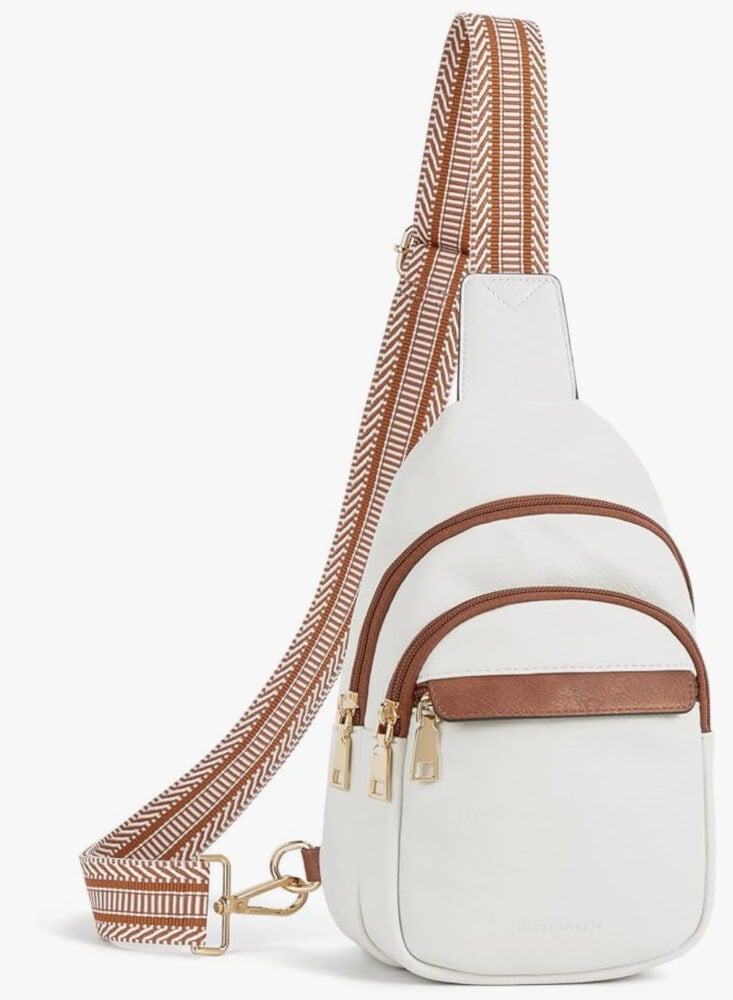 Athletic sling bags have been trendy this year. But they have stylish sling bags too that are great for city travel. It's compact enough to carry the essentials, like a camera, wallet, and sunglasses, while keeping her hands free to capture those picture-perfect moments. Opt for one with anti-theft features for added peace of mind.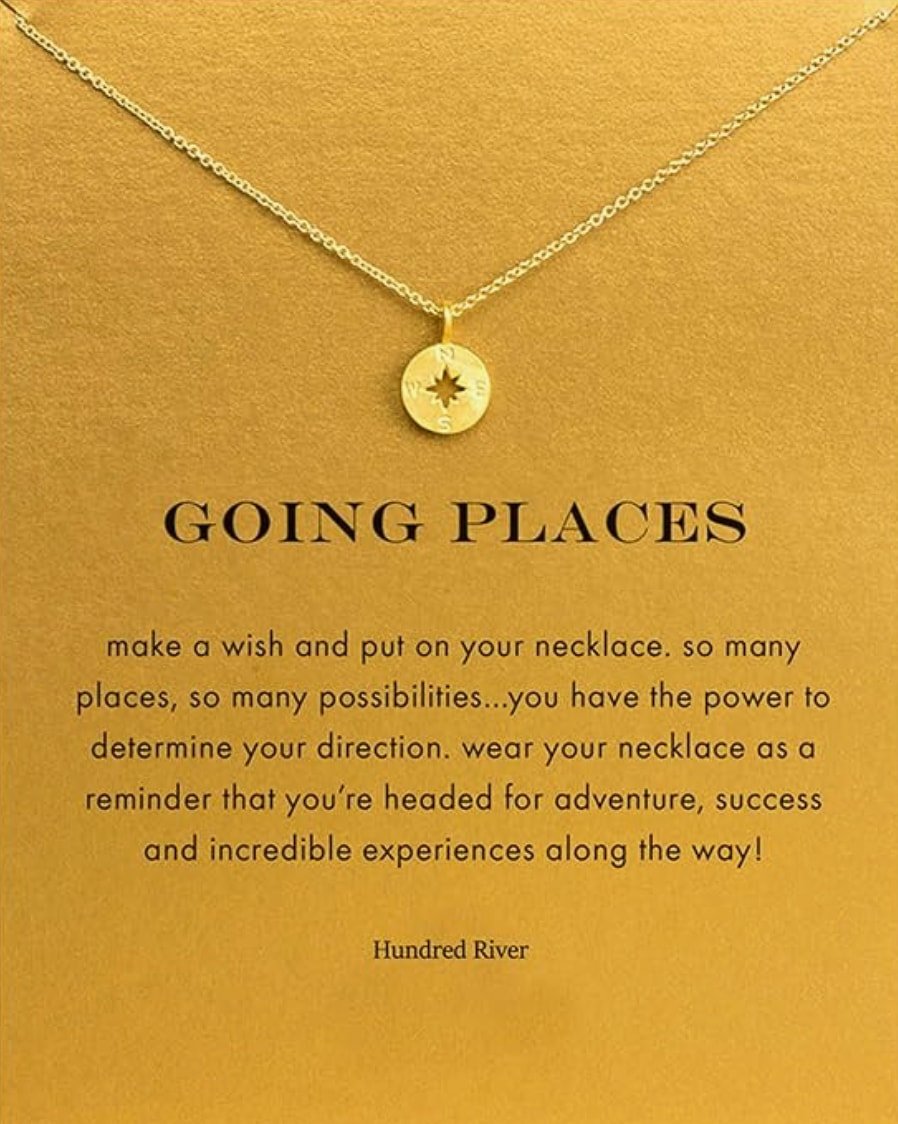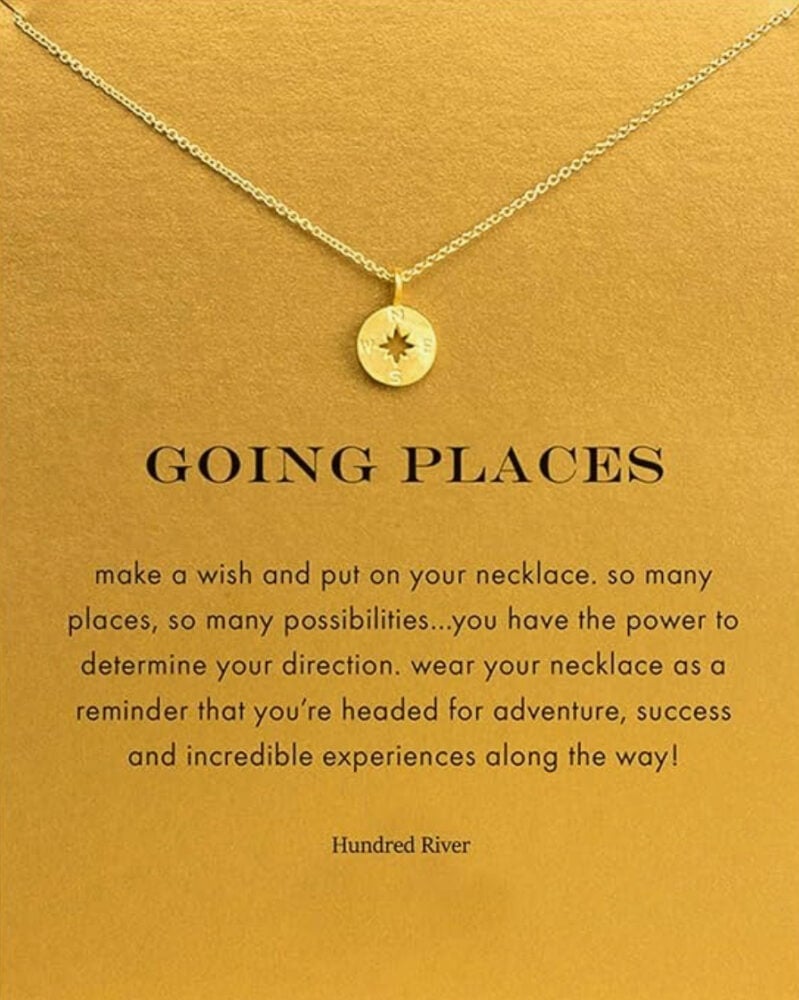 Add a touch of wanderlust with a stylish compass necklace. Not only is it a chic accessory, but it also symbolizes the spirit of exploration and adventure. It's a meaningful piece she can wear on her journeys, reminding her to follow her own path wherever it leads.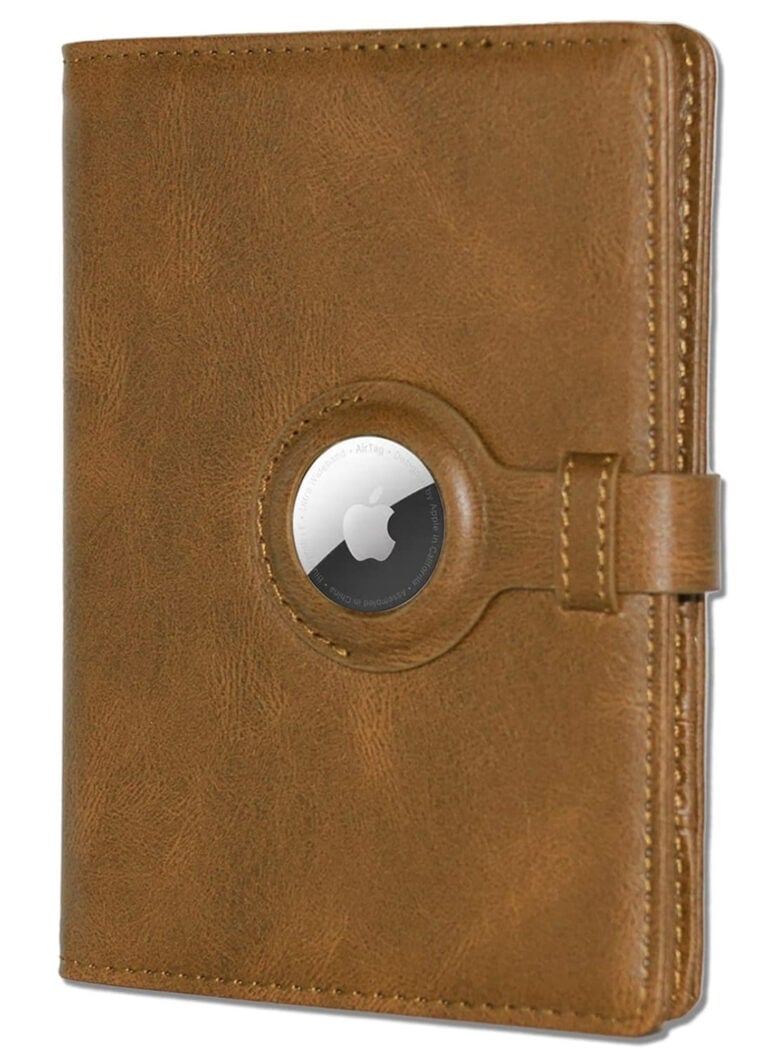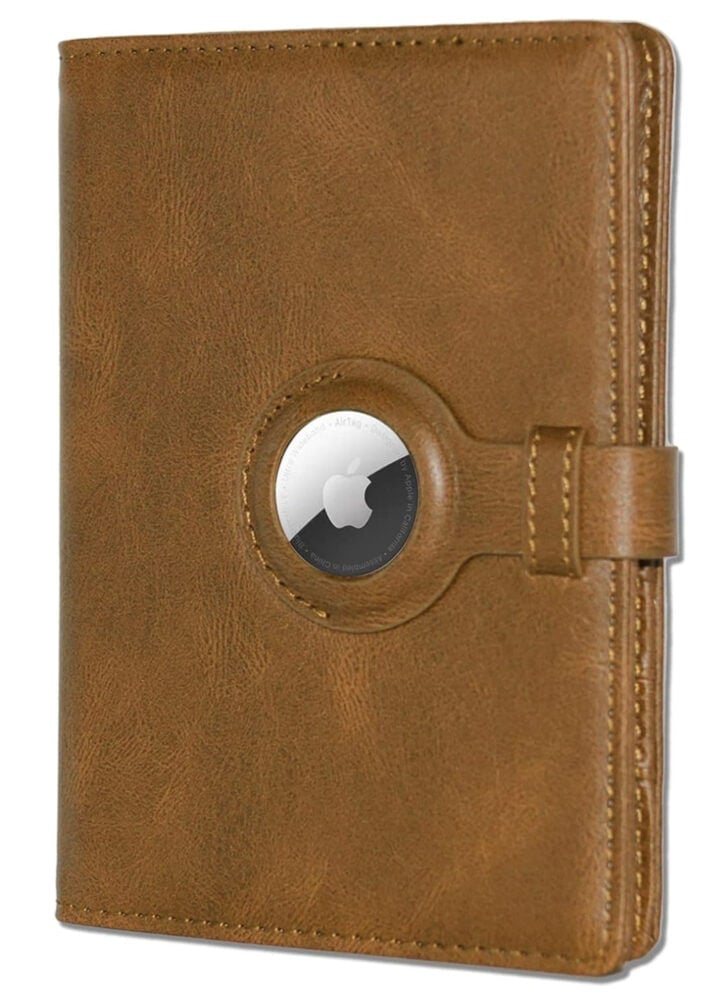 Upgrade the classic passport holder by adding a compartment for an AirTag. This not only protects her passport but also provides an extra layer of security. With the combination of style and technology, she can travel with peace of mind knowing her essentials are safe and sound.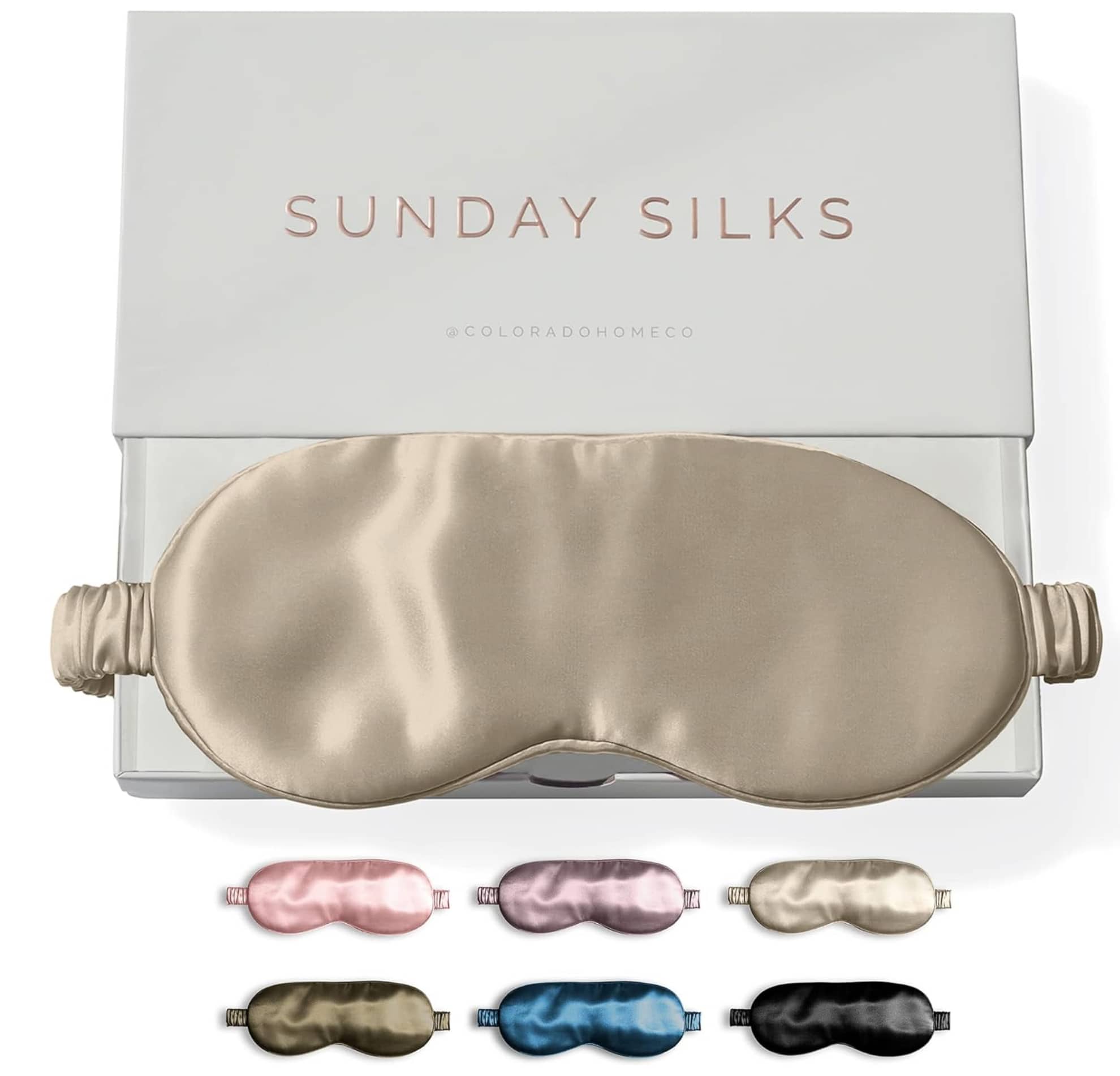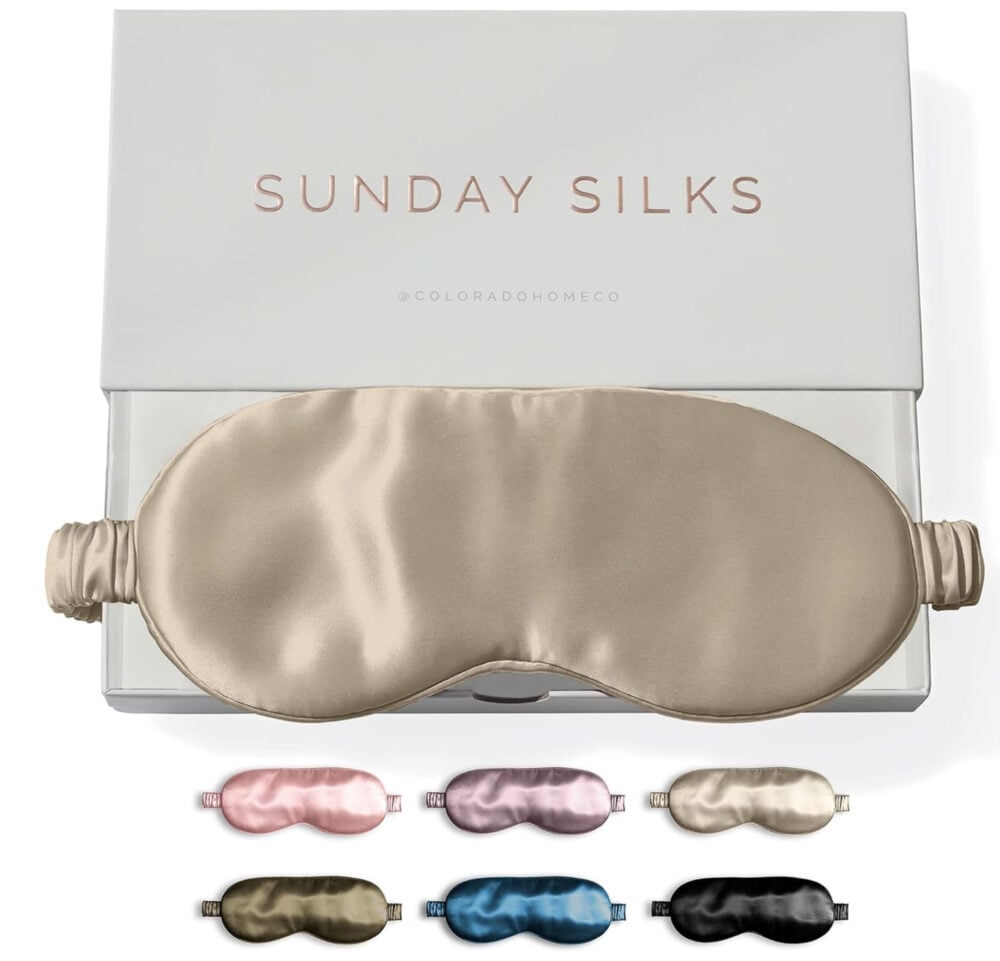 For the jet-setter who values rest and relaxation, a silk eye mask is a must-have. Whether on a long-haul flight or catching some Z's in a new time zone, the luxurious feel of silk adds comfort, and the mask helps create a peaceful, dark environment for quality sleep. Plus, silk eyemasks are considered the best for sleep comfort as the smooth and hypoallergenic fabric not only blocks out light effectively but also helps reduce friction on the delicate skin around the eyes, promoting a luxurious and gentle sleep experience. I bought one at an airport once during a long layover (and probably over-paid for it) and it has been my favorite eye mask ever since.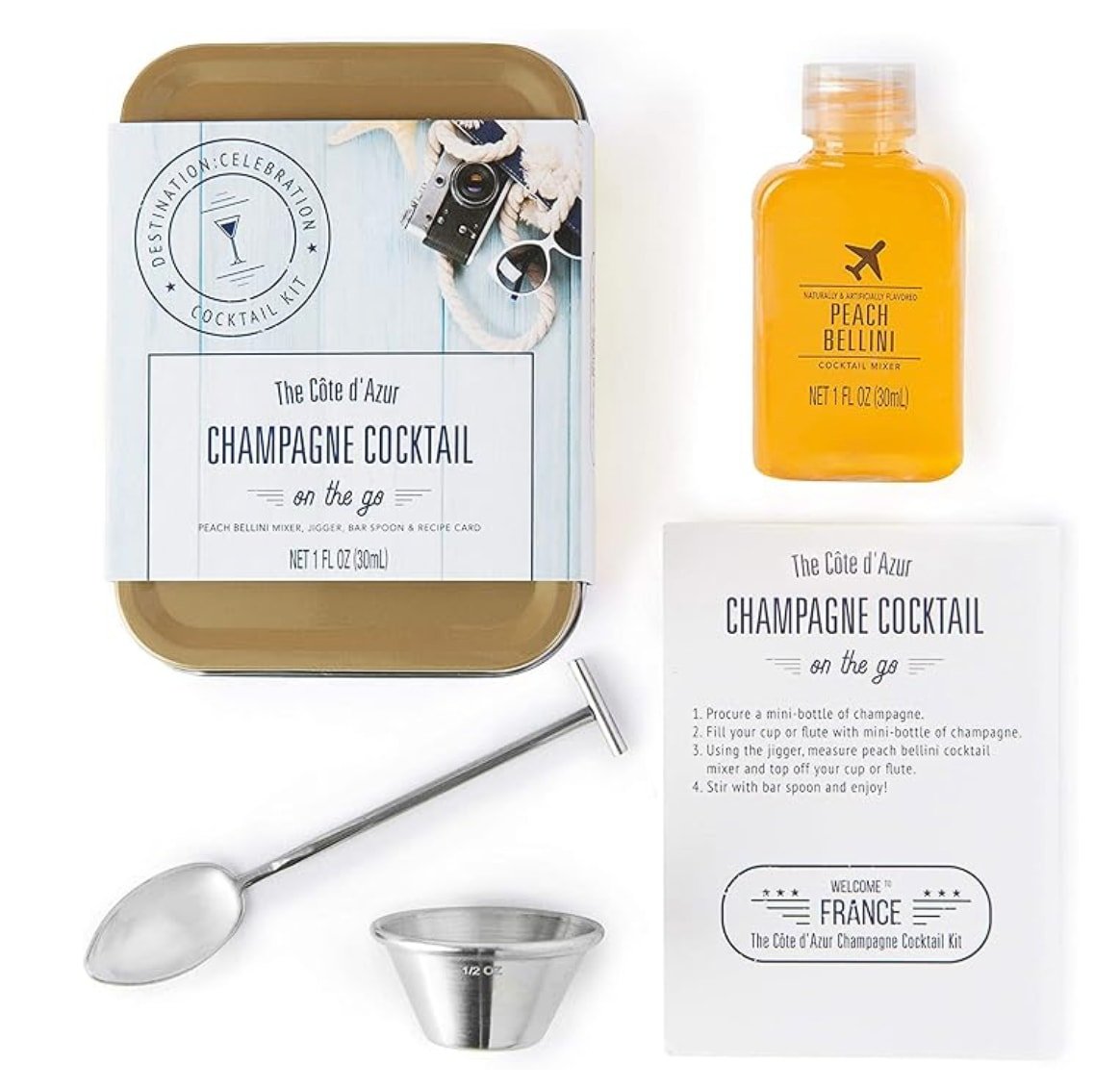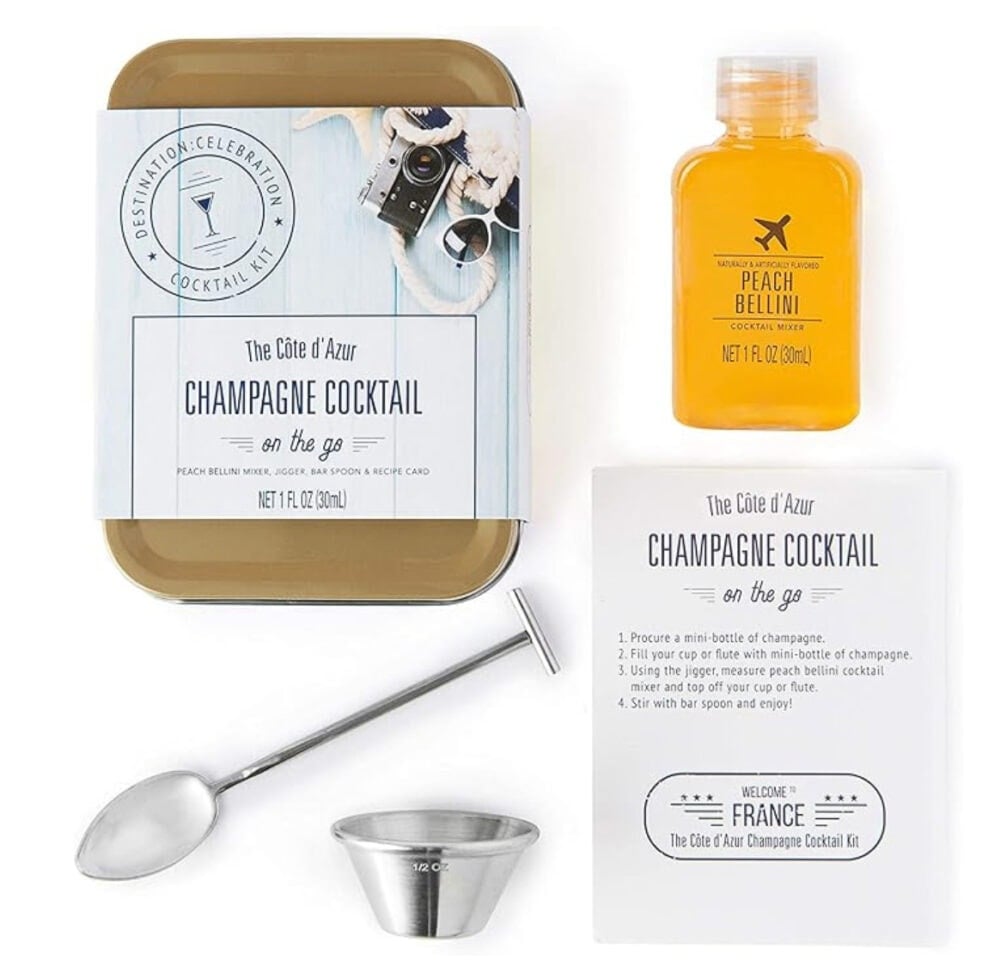 Elevate her in-flight or hotel experience with a mini travel craft cocktail kit. Whether it's a classic Old Fashioned or a trendy Moscow Mule, these compact kits come with all the essentials to mix up a delightful cocktail on the go. Cheers to turning any journey into a happy hour! Everything you need to make the perfect gin & tonic, all that's missing is the gin! I received one of these during my gin tour of London and it was perfect to try out on the flight home with one of the smaller mini-bar sized bottles of gin I took home. It's the perfect fun little travel gift for women.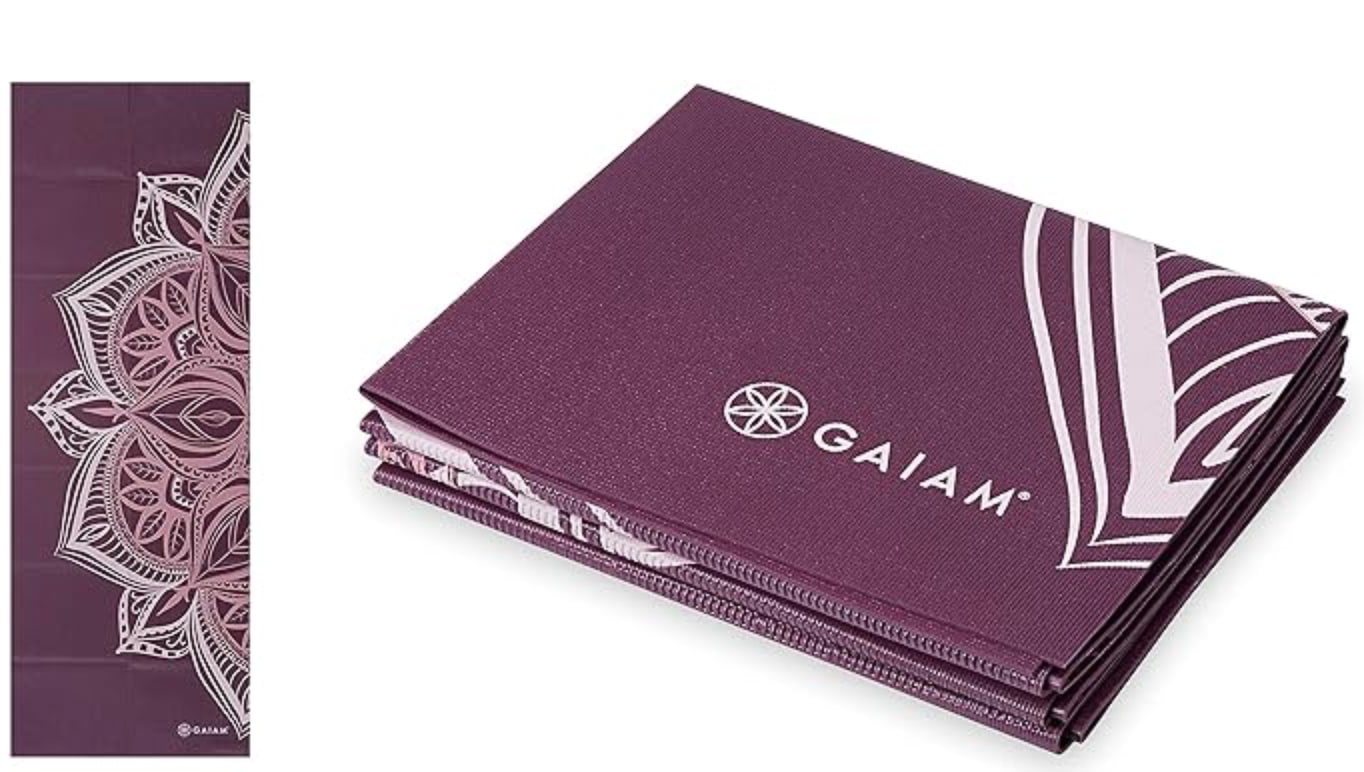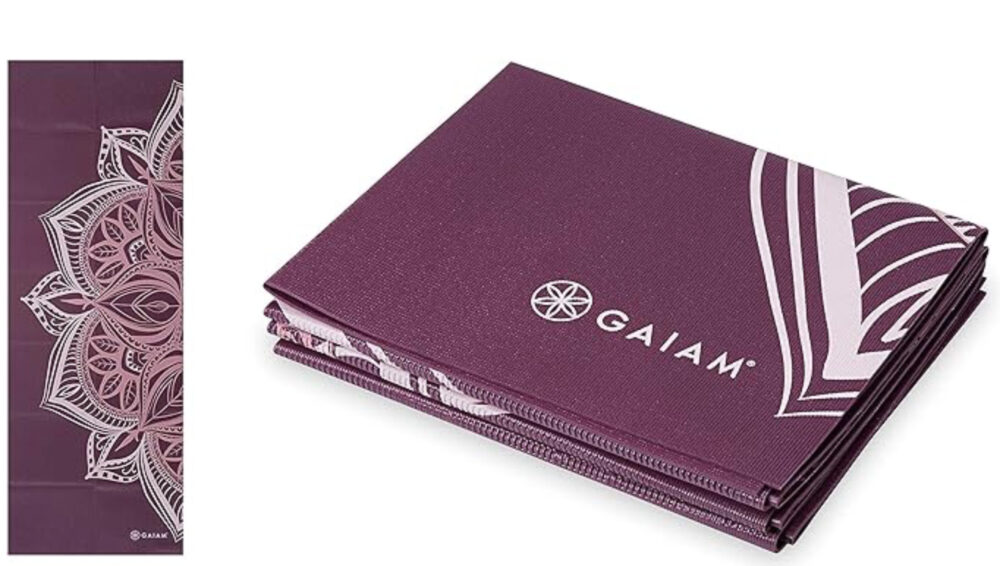 For a yogi, or someone even just starting their yoga practice, it just got a whole lot easier to take your mat with you when traveling. This travel yoga mat folds up and easily fits in your carry-on. So now you can do yoga in your hotel room, or any gorgeous landscape you come upon during your travels. Having a travel yoga mat has been a game changer for me whenever I have long drives for business trips. It feels so good to get a nice stretch at the end of the day and having a travel yoga mat is much more appealing than a hotelroom floor.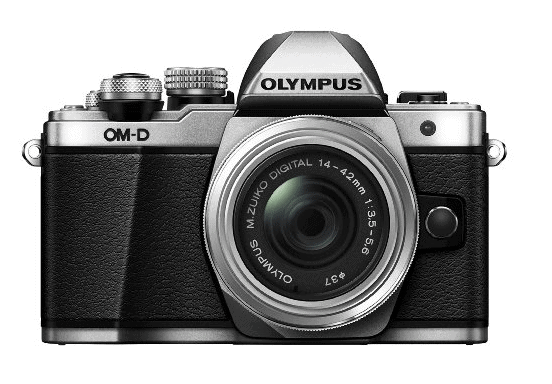 Olympus mirrorless cameras have been my favorite camera to travel with for quite some time. They're compact, take amazing quality photos, and have plenty of lenses to choose from and upgrade. They have all the functionality of a DSLR with half the weight, and great selection of lenses too. My personal favorite is the Olympus OM-D Series, but I have a complete review of all the best mirrorless cameras for travel.
PS: Some of the links included above are affiliates, which means if you buy it, The Travel Bite gets a small commision at no cost to you. Thank you for supporting our site!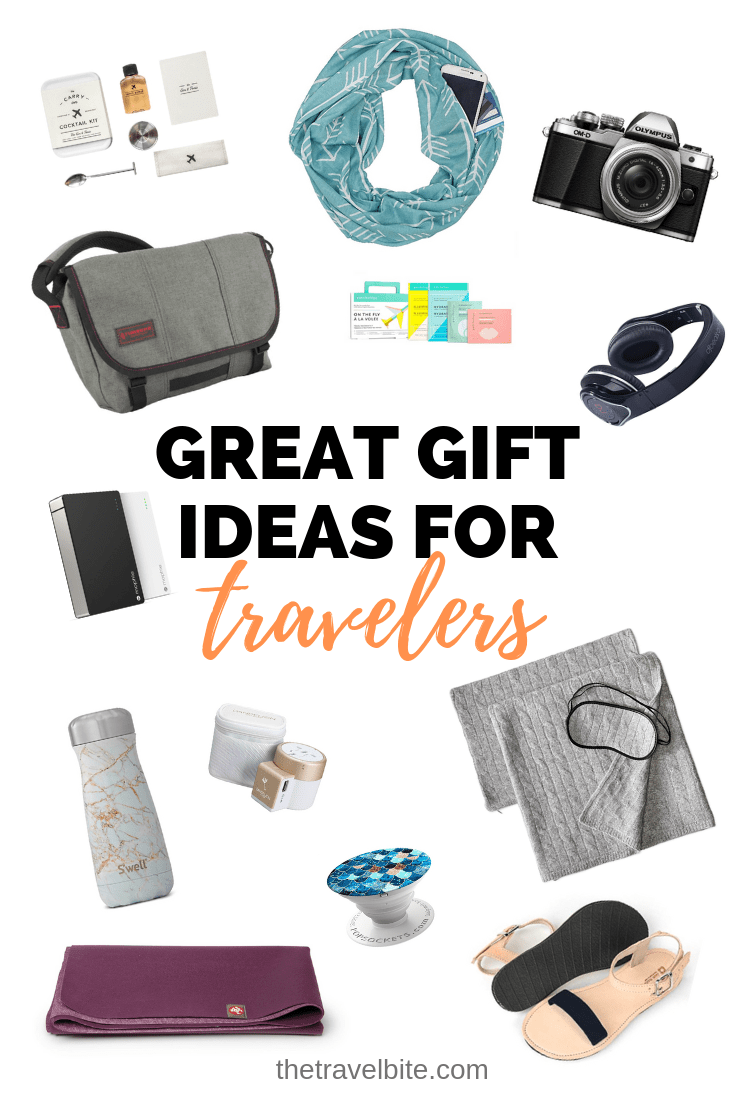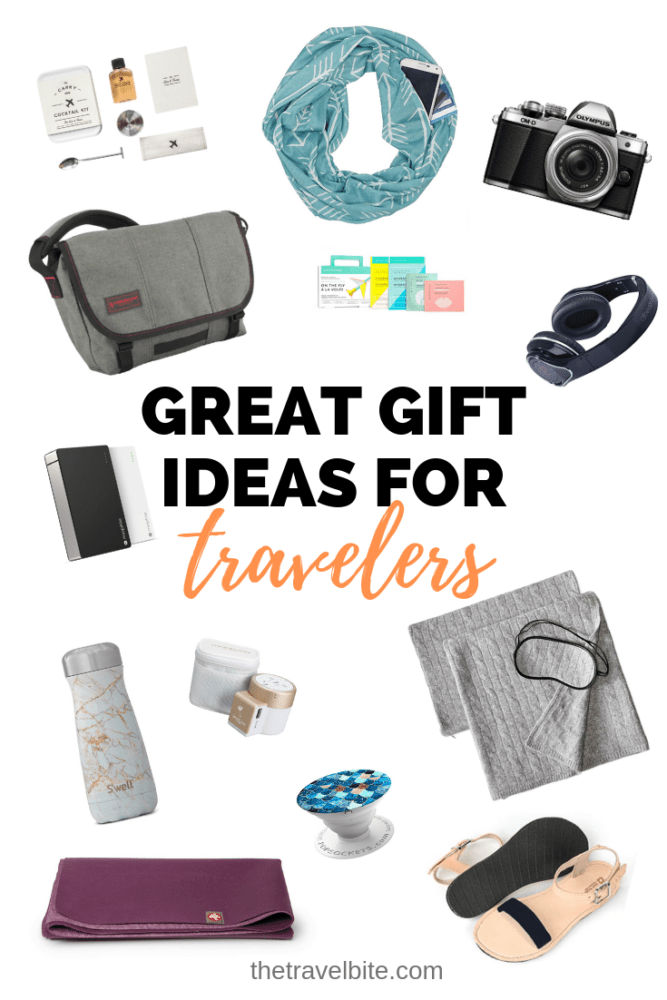 You Might Also Like