Got some extra bananas browning on your countertop? If you're wondering what to do with those old bananas, then you're going to love this quick and easy banana nut muffin recipe! Sure, you could make banana bread, but what I love about these banana nut muffins is that they're great for breakfast to-go on busy mornings. Or as an afternoon snack. Scroll through below to see step-by-step photos of the recipe, or hit the "jump to" recipe button if you're ready to get started.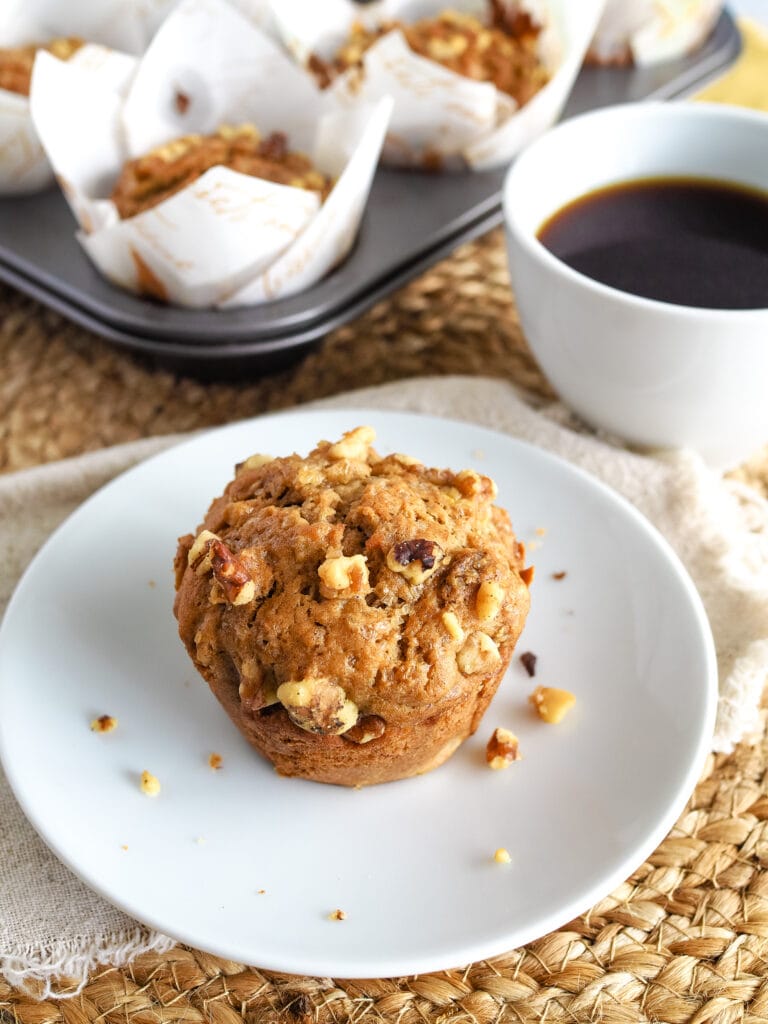 Ingredients For Banana Nut Muffins
Here's a list of what you'll need to gather from your kitchen or pick up at your local grocery store:
bananas – These banana nut muffins are loaded with flavor! You'll need 3-4 ripe bananas and the more spotted the better! You want the bananas to be soft and ripe to make it easy for them to blend and also to give these muffins a bright banana flavr..
butter – You can use either salted or unsalted butter. Personally, I like to use salted as it enhances the flavor of the banana nut muffins. But was it important is that it is SOFTENED butter. I like to leave the butter out on the countertop for 30 minutes before I start baking.
light brown sugar – Light brown sugar blended with butter and bananas are such a delicious combination. The light brown sugar has a more mild, caramel like flavor than dark brown sugar and adds a wonderful sweetness to the muffin.
eggs – Let the eggs sit on your counter for 15 to 20 mintues to come to room temperature before mixing them in. This will help them blend with the other ingredients a bit easier.
vanilla – You can omit the vanilla if you don't have it, but I love the hint of vanilla flavor it adds to the banana nut muffins.
cinnamon – Cinnamon will add both flavor and a bit of color to the muffins.
all purpose flour – All purpose flour is versatile and perfect for baking muffins for breakast.
baking soda – Make sure the baking soda you use is fresh.
salt – If you use salted butter, you can omit this. Otherwise a pinch will do.
walnuts – The combination of bananas and walnuts imparts such a good flavor! If you need a substitue, I'd recommend pecans instead.
turbinado sugar – Turbinado sugar is typically a larger grain than white sugar and has a little molasses left from the refining process that gives it a caramel color. It's perfect for creating a crunchy topping for muffins.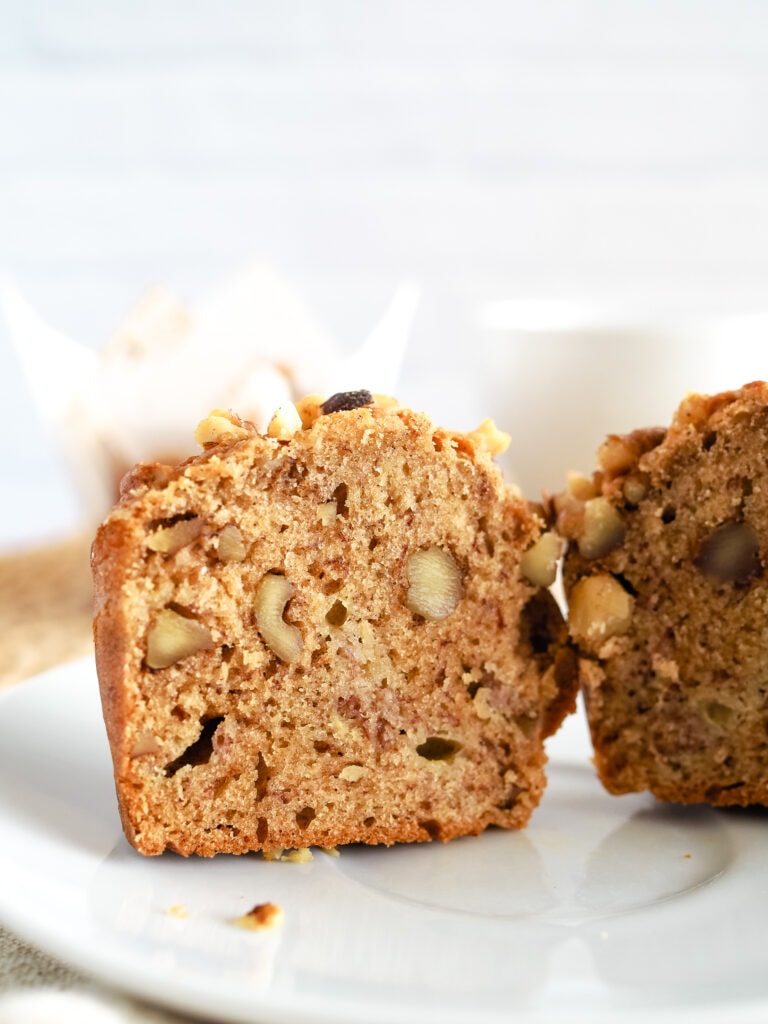 Why use ripe bananas for muffins?
Ripe bananas are softer and sweeter than green or unripe bananas. Most of the starch in them has turned to sugar and there is more "banana" flavor. If you use unripe banans, the recipe will still work out. It will just not be as sweet and the banana flavor will be light. There's a couple of methods online about how to ripen bananas quickly either by microwaving or baking them, but I haven't tried this. Usually I have a few forgoten bananas in our fruit bowl that are perfectly freckled and ready for use in baking banana nut muffins.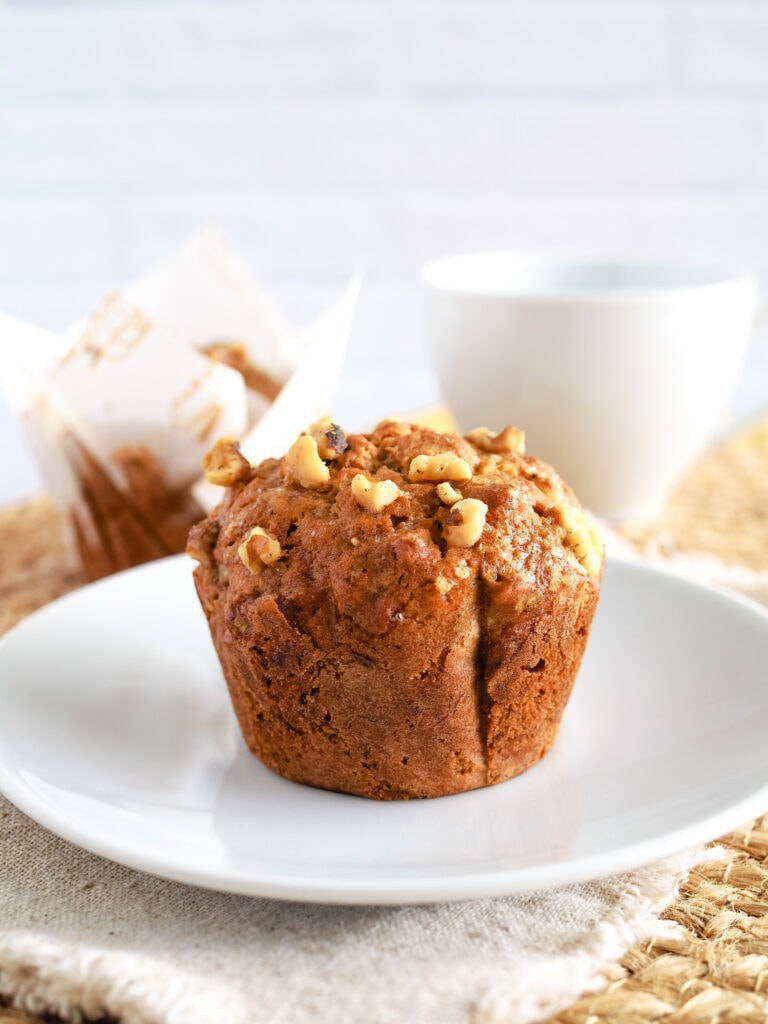 Is a banana nut muffin good for you?
Banana Nut Muffin Recipe – Step-By-Step
Start by measuring out your ingredients, making time to let the butter soften to room temperature. I usually take the eggs and butter out when I'm making my coffee and getting ready in the morning.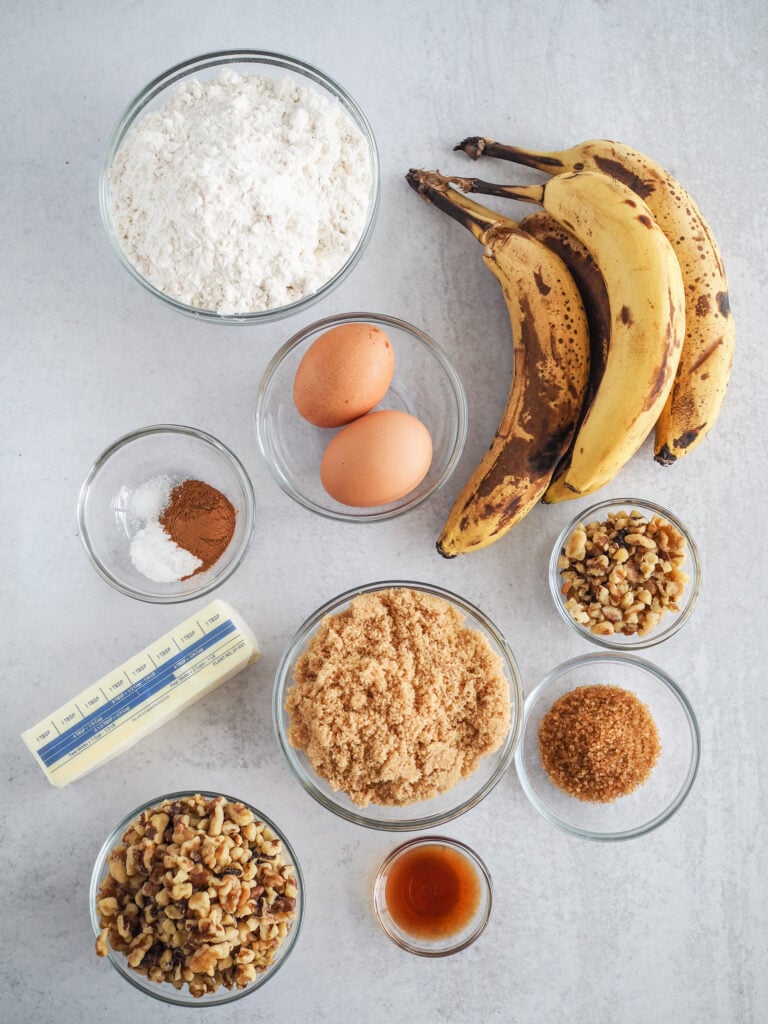 Once you're ready to get started, pre-heat your oven to 350*F. Peel and mash the bananas on a large plate and set them aside.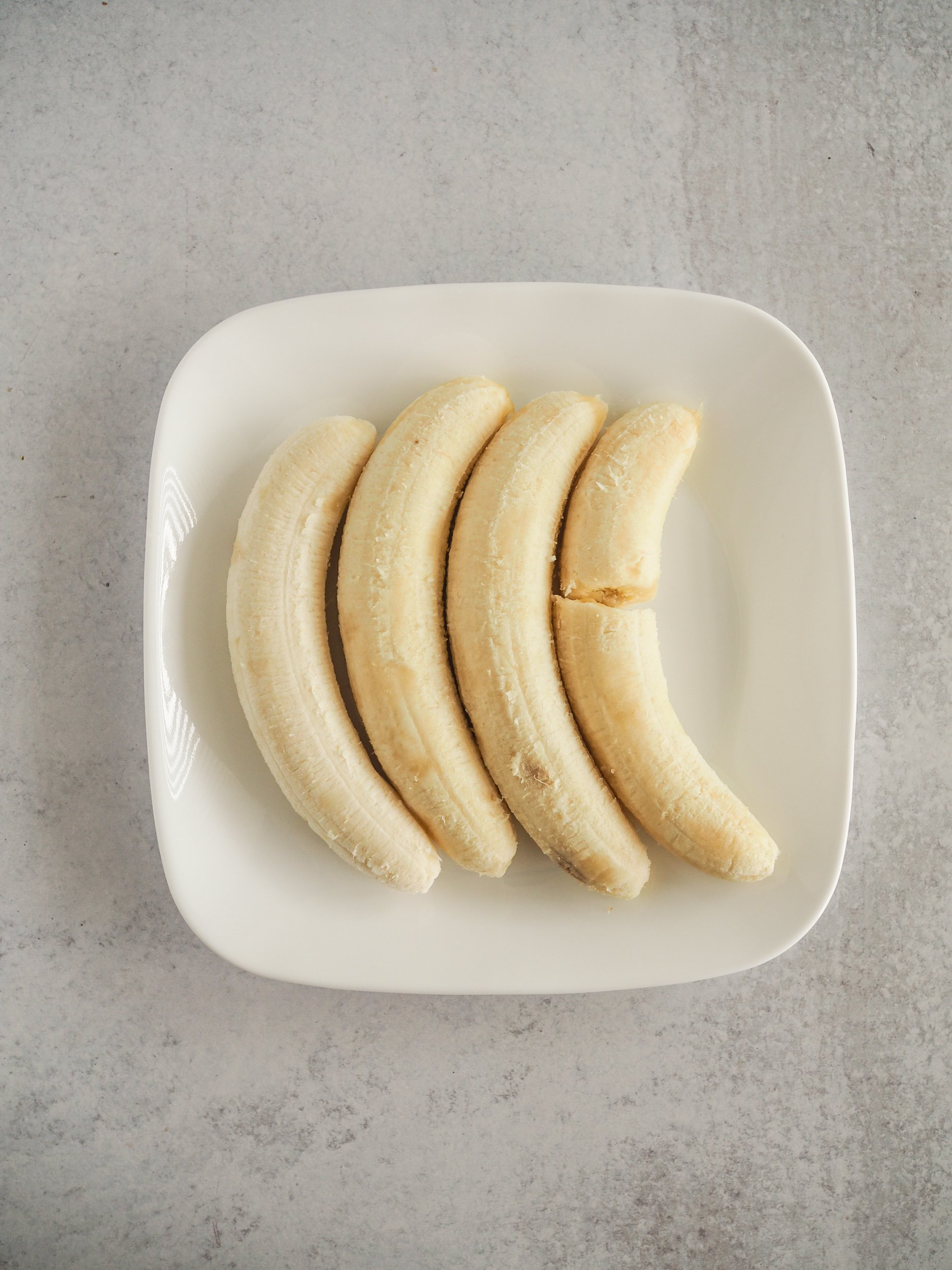 In a stand mixer, or large bowl with a hand mixer, whisk together the softened butter and brown sugar until well blened.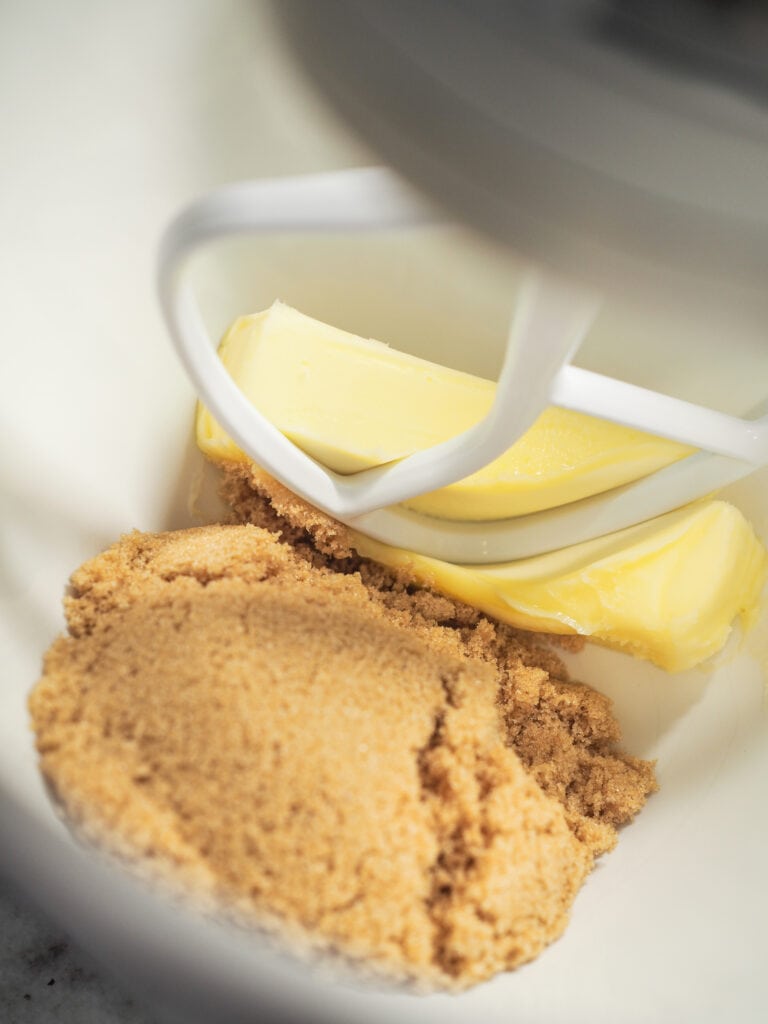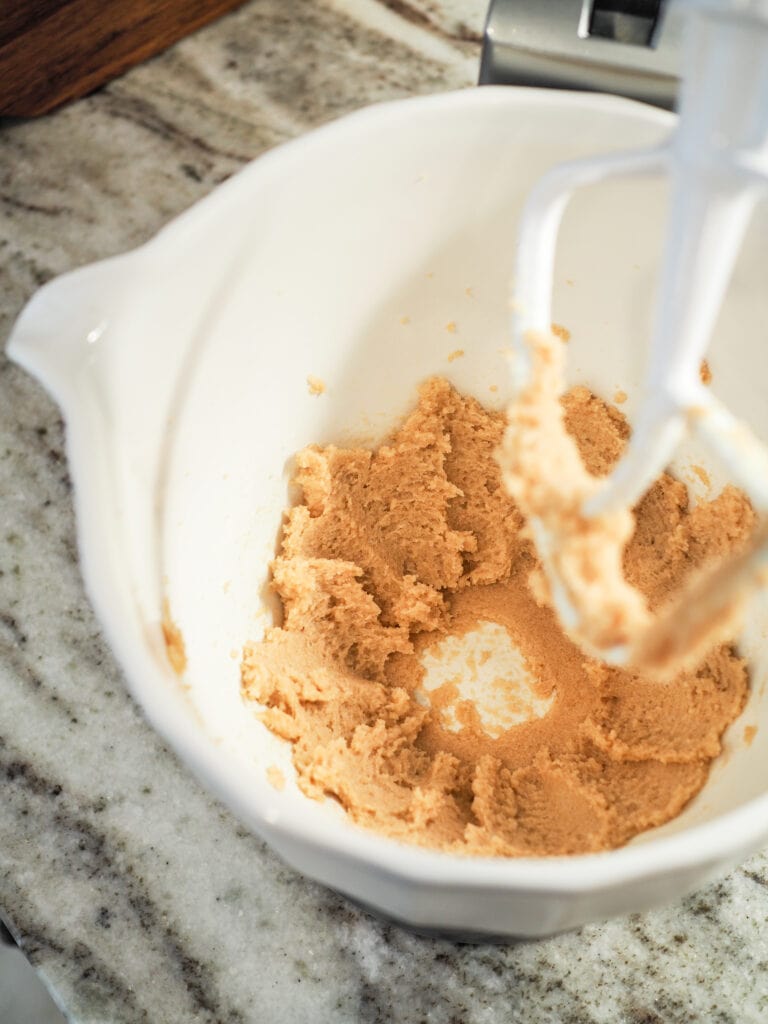 Next, add the rest of your wet ingredients including the mashed bananas, vanilla, and eggs.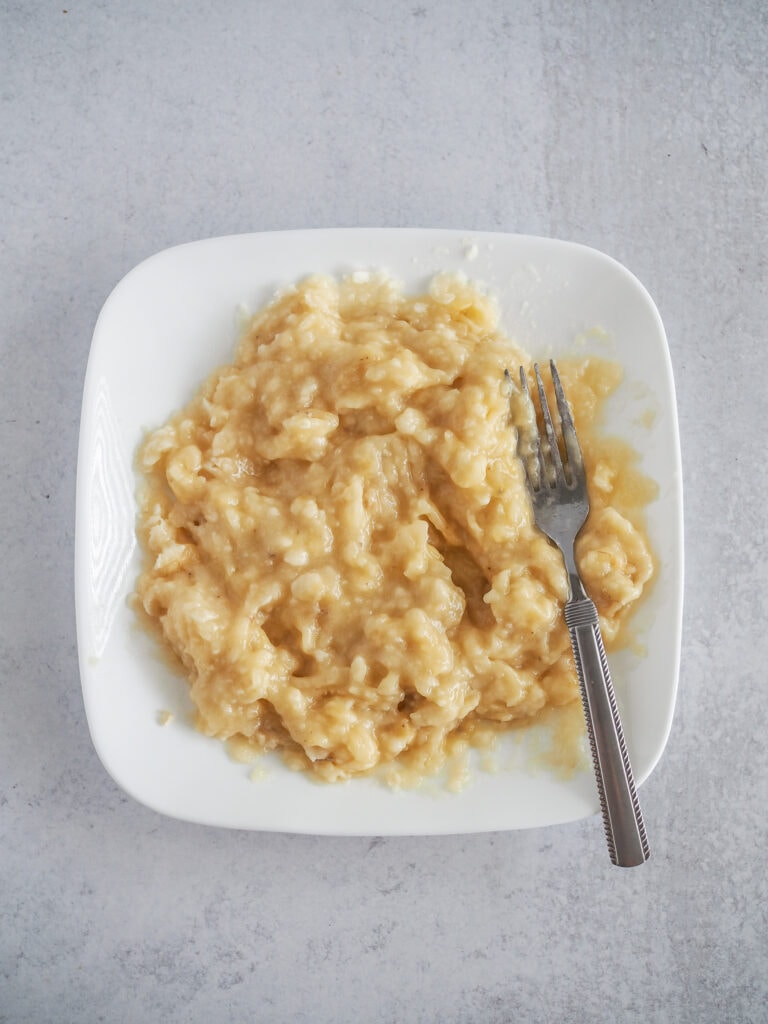 TIP: Crack open the eggs over a small bowl, then pour them from that bowl in with your mixed ingredients. That way if there are any shell fragments you'll be able to easily see them and fish them out.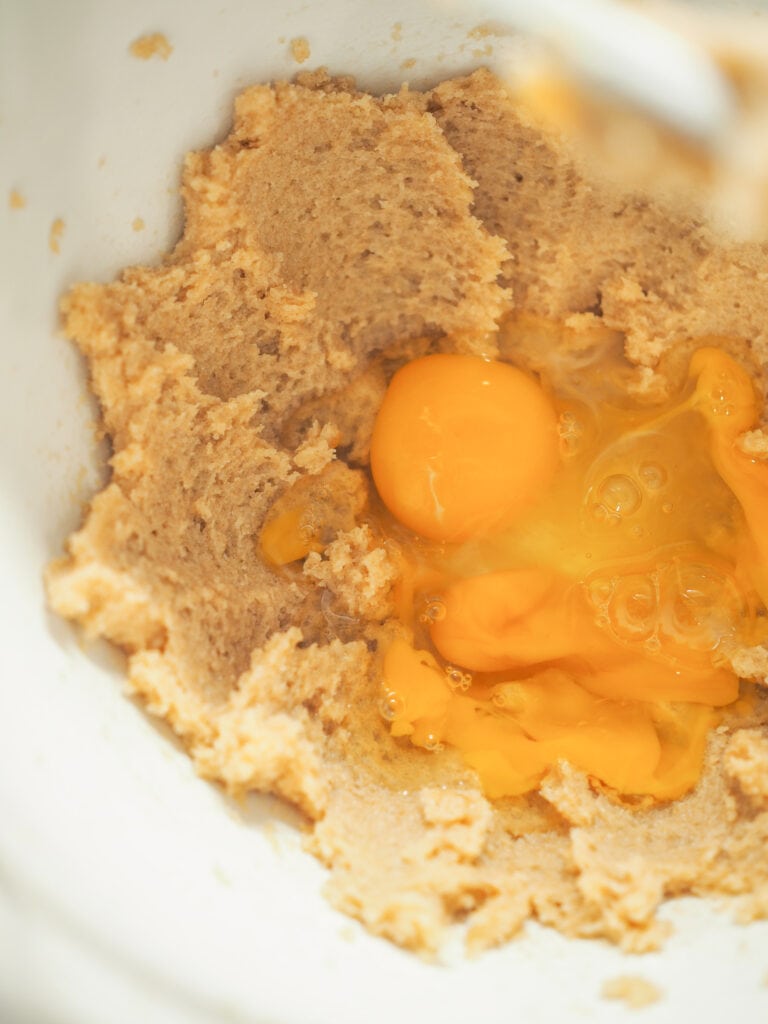 Take out a seperate bowl and whisk together the dry ingredients including the flour, cinnamin, baking soda, and salt.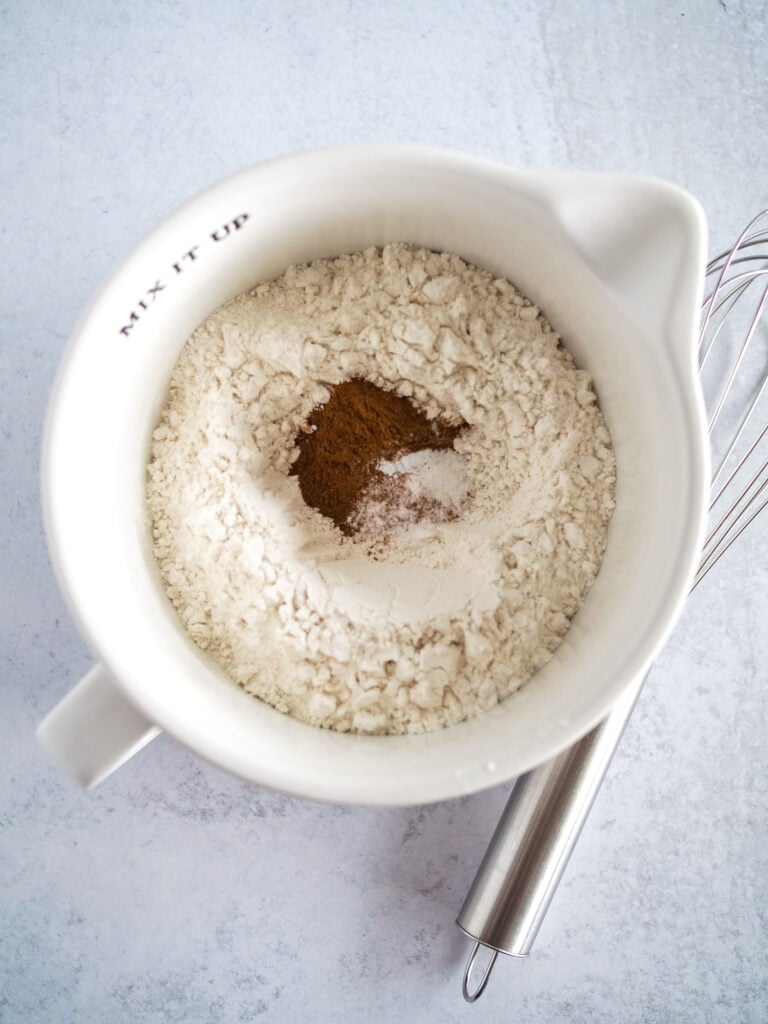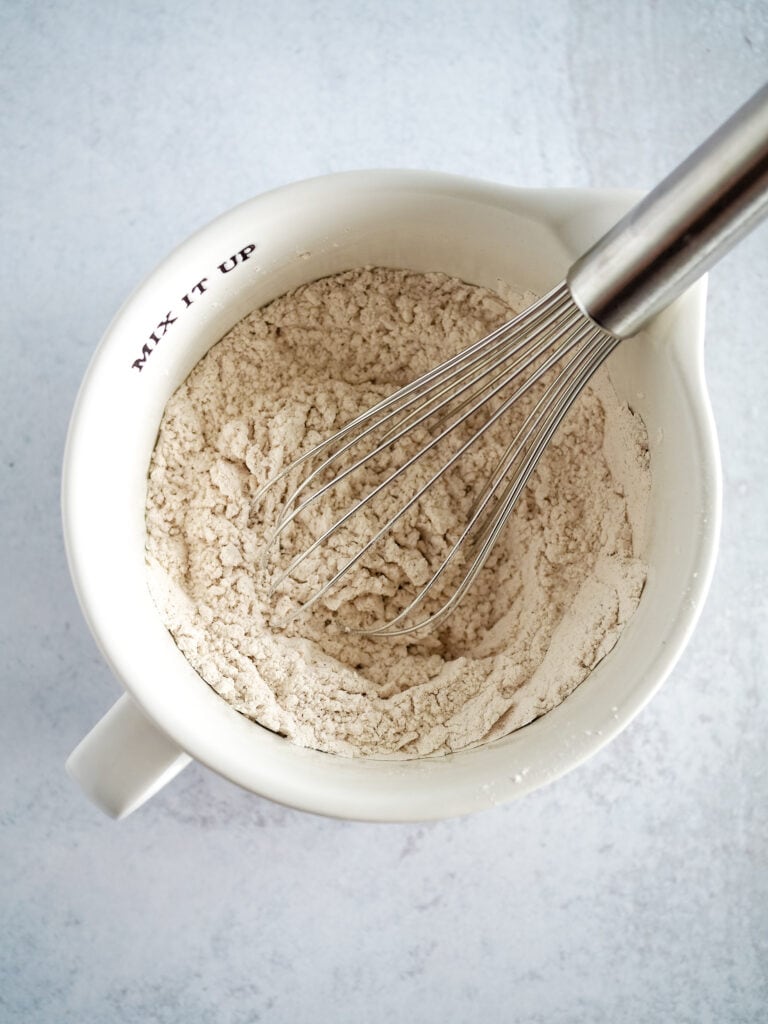 Once they're combined, add them to the bowl with the wet ingredients and stir them together by hand using a silicone spatula.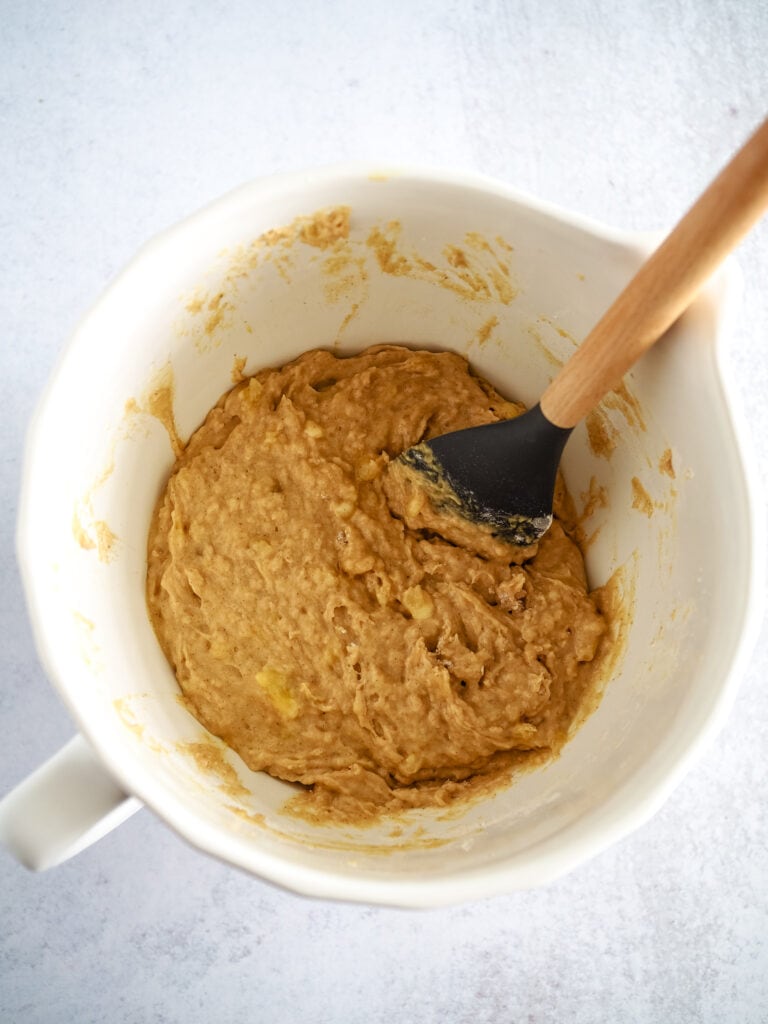 Fold in the chopped walnuts, and then spoon into muffin cups.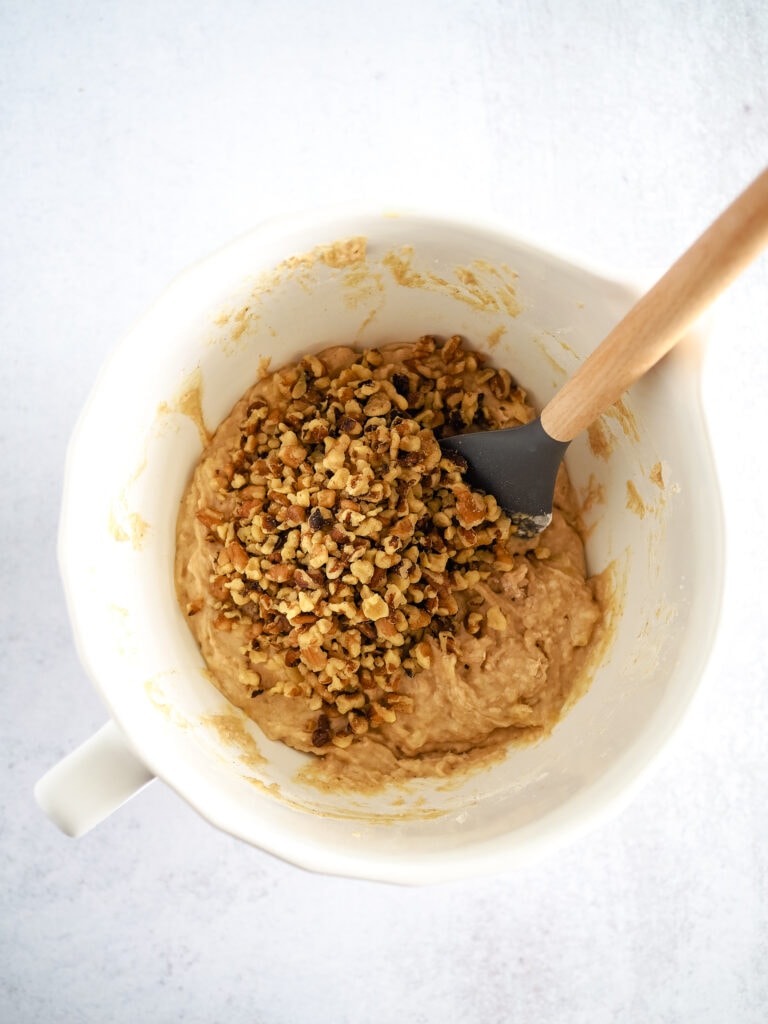 Top each muffin with about a half teaspoon of crushed walnuts and sprinkle with turbinado sugar.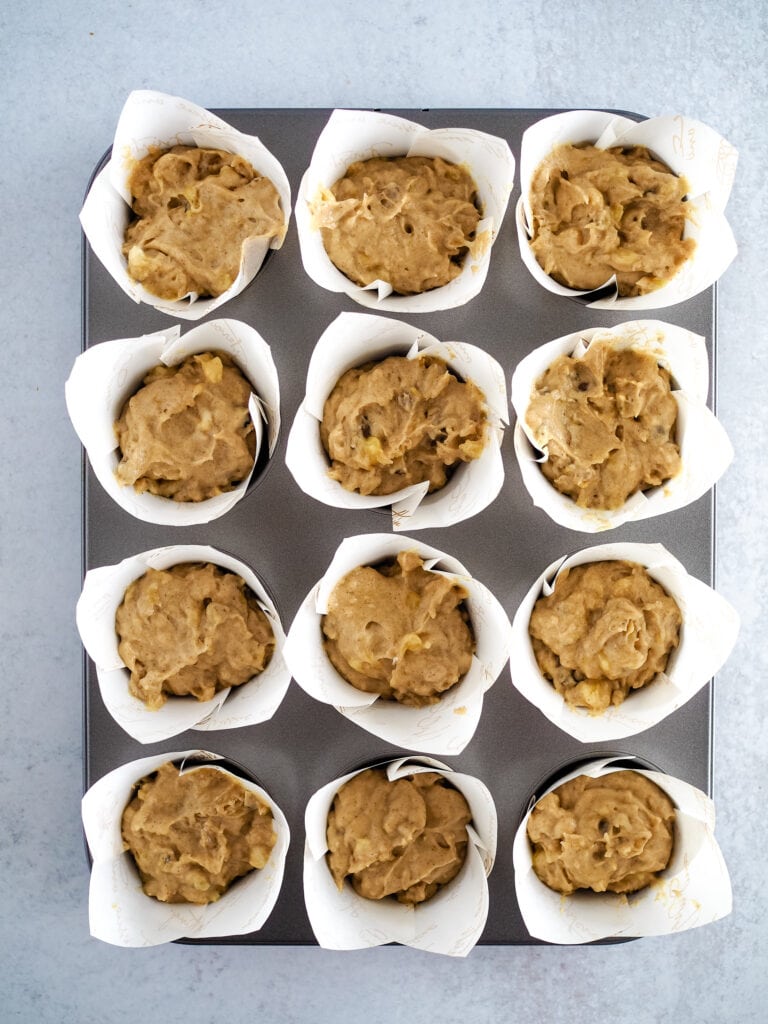 Bake for 30 minutes at 350, or until a toothpick inserted in the center comes out clean.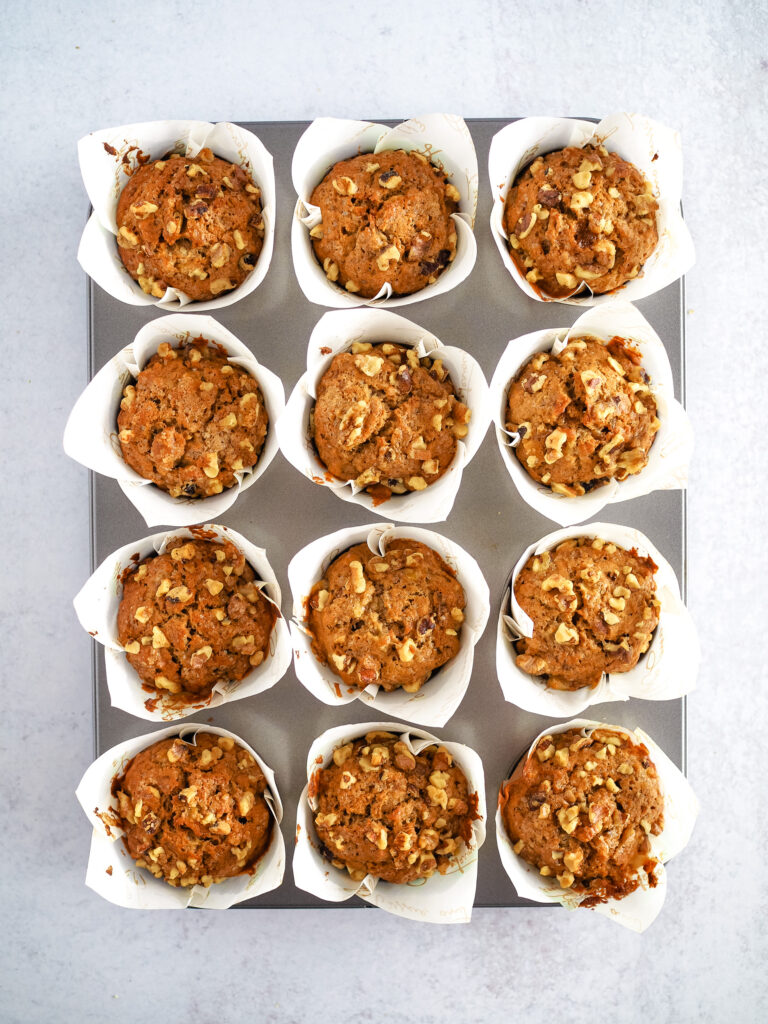 Allow the muffins to cool before enjoying. This recipe makes 12 muffins and they are best served warm right out of the oven!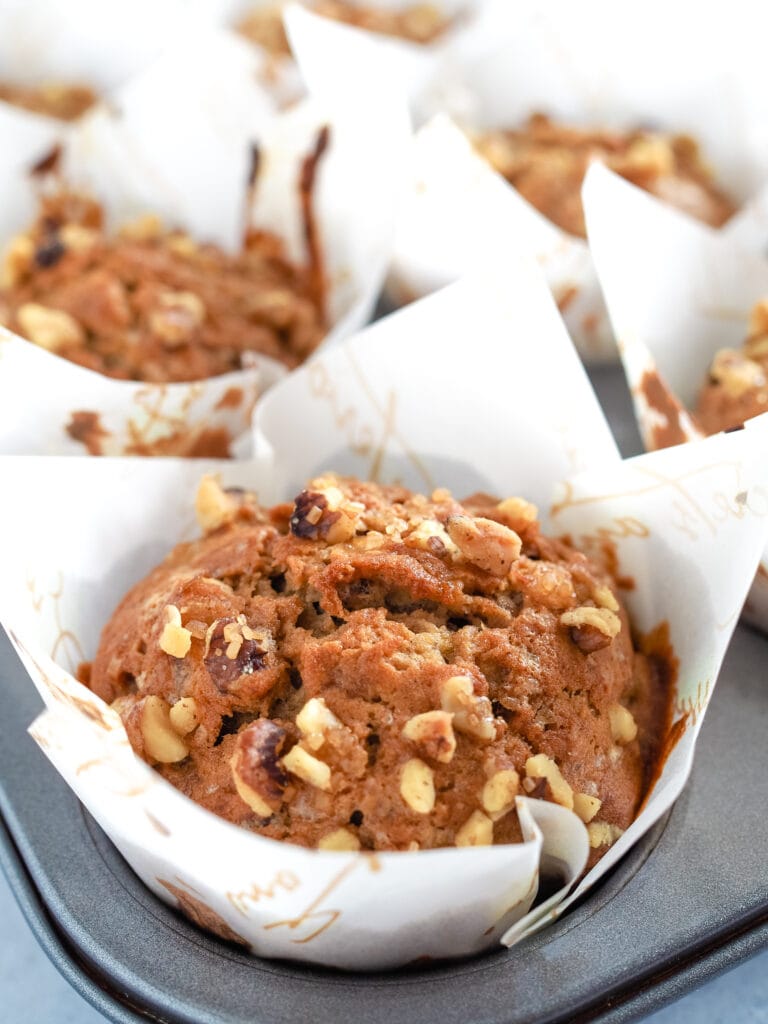 If you have some left over to store for breakfast or treats throughout the week, they will keep for up to 5 days in an air tight plastic bag or container. Just keep in mind that they are moist, so some of the decorative crunchy turbinado sugar might get absorbed into the muffin.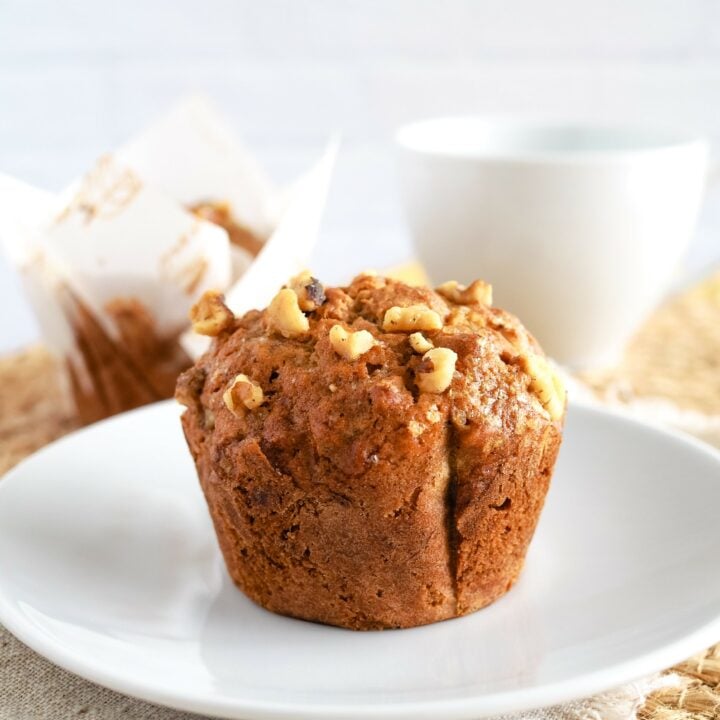 Banana Nut Muffins
Additional Time:
30 minutes
Total Time:
1 hour
10 minutes
These banana nut muffins are easy to bake and perfect for breakfast on-the-go!
Ingredients
4 ripe bananas (approx 1 1/2 cups mashed)
1/2 cup butter, softened to room temperature
2/3 cup light brown sugar
2 eggs
1 Tbsp vanilla
1 tsp cinnamon
1 1/2 cups all purpose flour
1 tsp baking soda
1/4 tsp salt
1 cup walnuts, chopped (for muffins)
1/4 cup walnuts, chopped (for topping)
3 tsp turbinado sugar (for topping)
Instructions
Set out the eggs and butter for 30 minutes so they can come to room temperature.
While the butter is coming to room temperature, preheat oven to 350°F, mash the bananas, and measure out the other ingredients.
Add butter and brown sugar to stand mixer and mix on medium speed until well blended.
Next, add the rest of the wet ingredients including the bananas, eggs, and vanilla. Mix on medium speed until well blended.
In a seperate bowl, whisk together the dry ingredients including flour, cinnamon, baking soda, and salt.
Add the dry ingredients to the bowl of with wet ingredients and stir them together by hand using a silicone spatula.
Fold in the cup of chopped walnuts.
Spoon banana nut muffin batter into 12 muffin cups. Top each with remaining walnuts and sprinkle with turbinado sugar.
Bake for 30 minutes or until a toothpick inserted in the center comes out clean.
Let muffins cool for 5-10 minutes after baking, then enjoy!
Notes
Want to reduce the calories? You can cut the amount of nuts used in half, and omit the toppings. That will reduce the calories per muffin to approximately 282 calories, 37 carbs, 18 grams of sugar, and 4 grams of protein. (Nutrition information provided is only an estimate.)
More Breakfast Muffin Recipes!