When you think of theme parks, the kind of dining that usually comes to mind includes giant turkey legs, popcorn, and churros. And while I love me some churros, you know I'm always on the hunt for the uninque and delicious. As I've been on the Blog Squad for Universal Orlando Resort, I've discovered that while they have a fair share of theme park foods, they've also done a great job of bringing some authentic global flavors to the table too. From immersing yourself in the British-inspired flavors of the Wizarding World of Harry Potter, to Cuban pastelitos and Jamaican jerk chicken with yucca fries, there's no way you'll go hungry. So if you're ready to go on a taste adventure during your vacation, here are some of my favorite global cuisines at Universal Orlando Resort.
Universal Orlando Dining – Around The World In 8 Dishes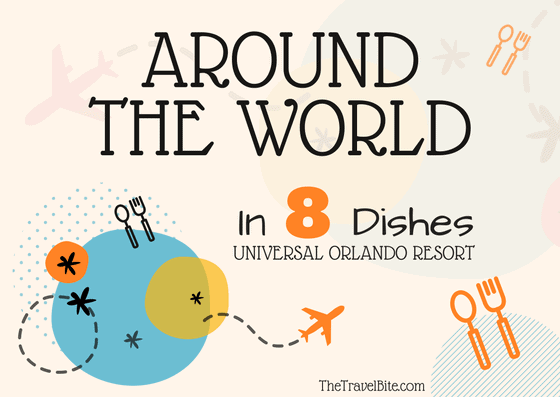 CUBAN: Guava and Cheese Pastelitos
Dish: Guava and Cheese Pastelitos
Origin Story: Pastelitos are a small sweet pastry, similar to a turnover, and go great with a Cuban coffee. They can be stuffed with a variety of different things, but guava and cheese pastelitos are the most common and are an essential part Cuban food culture. If you're not familiar with guava, it's a small green tropical fruit about the size of a lime, is typically pink or white inside, and has a texture similar to an apple. Guava has its own unique flavor that some have described as a mix of pineapple and strawberry, and because it is high in pectin, it gels easily and is great for jams and perfect for filling pastries like pastelitos.
Restaurant: Amatista Cookhouse
Location: Sapphire Falls Resort
Foodie Notes: I kind of just dove right in with recommending dessert here, but Amatista Cookhouse also has a fantastic Caribbean-inspired menu with conch chowder (a Key West favorite), Caribbean snapper (to die for!), and rum cake too. Funny, personal side note here: You know that Genesis/Phil Collins song, "Tonight, Tonight, Tonight?" There's a line where he sings, "I'm coming down, coming down like a monkey, but it's alright." Yeah, so as a kid I used to sing that as, "It's going down going down like a rum cake, oooooh and it's alright." Ha! Guess I was always a foodie. I think of that song now every time I have rum cake.
CANADIAN: Poutine
Dish: Poutine
Origin Story: The name Poutine might sound a little funny to non-French speakers, but it is the epitome of Canadian comfort food. It's a Quebecois dish that's popular all over Canada and essentially consists of French fries, gravy, and cheese curds (though there are many other variations). This one at NBC Sports Grill & Brew comes with slow-cooked melt-in-your-mouth brisket and is topped with gravy and Wisconsin cheese curds. And as for the name, there seems to be quite a few origin stories, but the most common one I found is that it derived from Quebecois slang for "mess."
Restaurant: NBC Sports Grill & Brew
Location: Universal CityWalk
Foodie Notes: NBC Sports Grill & Brew has a little bit of everything, from Mid-West to Asian. What really impressed me is that they do this wide variety of dishes extraordinarily well. My second recommendation here would be the Bang Bang Chicken, a comforting Thai coconut curry dish with authentic flavors.
Read This: 7 Time Saving Reasons To Stay On Site At Universal Orlando
JAMAICAN: Ackee and Saltfish
Dish: Ackee and Saltfish
Origin Story: Ackee and saltfish is Jamaica's national dish! Ackee is a type of fruit originally from West Africa and named after the Akan people of Ghana. The way ackee is cooked and prepared to go with the saltfish, the flavor can be described similar to spiced potato and onions. It's very hearty and flavorful and goes great with a Jamaican Red Stripe beer.
Restaurant: Bob Marley-A Tribute to Freedom
Location: Universal CityWalk
Foodie Notes: If you're feeling adventurous, this Jamaican restaurant also serves oxtail stew, jerk chicken, yucca fries.
MEXICAN: Budin
Dish: Budin
Origin Story: Budin Azteca is a sort of Mexican lasagna, with corn tortillas layered with peppers, cheese, and meat in a casserole style dish. This one at Antojitos is prepared individually and artfully layered with braised pork, menonita cheese, house made mole blanco, black beans, roasted corn, chiles poblanos, and wild mushrooms. The mole sauce is to-die-for! Ask for some extra tortillas on the side to soak it all up.
Restaurant: Antojitos Authentic Mexican Food
Location: Universal City Walk
Foodie Notes: Antojitos is a fun place to go for dinner, with a live Mariachi band playing every hour, giant made-from-scratch margaritas, and fresh guacamole made table-side. In addition to the Budin, you really have to order a margarita and guac too.
BRITISH: Scotch Eggs
Dish: Scotch Eggs
Origin Story: Scotch eggs are actually not Scottish, but English, as they were invented by a lunch counter in a London department store and first appeared in an English cookbook called the New System of Domestic Cookery. They're popular pub and picnic food in England and I've found them in several food markets while visiting London. A Scotch egg is a hard or medium boiled egg, covered in sausage and deep fried. Essentially, hearty breakfast food, but it's typically eaten for lunch or as a snack.
Restaurant: Finnegan's Bar & Grill
Location: Universal Studios
Foodie Notes: Finnegan's offers all the traditional Irish pub fare you can imagine, including Guinness stew, bangers and Mmash, fish and chips, and of course, Guinness by the pint. But Scotch eggs are typically harder to find here in the United States, so I'd recommend giving them a try. In case you miss Finnegans, you'll also find Scotch eggs on the menu at the Leaky Cauldron in Daigon Alley at the Wizarding World of Harry Potter.
ITALIAN: Homemade Gnocchi
Dish: Gnocchi
Origin Story: A quintessential Italian dish of Roman origin, there are two variations of how gnocchi got it's name: nocchio (a knot in wood), or from nocca (knuckle). In any case, gnocchi tastes best when it's made fresh, and at Mama Della's you can taste Chef Leo's Homemade Parsley Gnocchi with tomato and basil.
Restaurant: Mama Della's Ristorante
Location: Portofino Bay Resort
Foodie Notes: You'll really feel like you've escaped to Italy when visiting Portofino Bay resort as it is modeled after the real life Mediterranean fishing village of Portofino, Italy! Also, little known fact … this idea to model the hotel after an Italian village came from consulting with Steven Spielberg (Yes, THAT Spielberg ) after he'd worked with Universal on several films, including E.T. For other eats, I also recommend the Antipasto della Mama full of Italian treats like marinated olives, roasted red peppers, sliced Capocollo, Prosciutto, salami, and Pecorino cheese.
Read This: Volcano Bay – Tips For Planning Your Visit
GREEK: Mezze Platter
Dish: Mezze Platter
Origin Story: All the countries along the eastern Mediterranean traditionally serve a mezze platter before dinner, an array of small dishes and appetizers meant for sharing. The word Mezze (or Meze) is Persian in origin and means a "taste" or "snack." Mythos' mezze platter tastes fresh and cool after a hot day at the park, with nibbles like housemade hummus and pita, babaganoush, marinated fennel, and Kalamata olives.
Restaurant: Mythos Restaurant
Location: Universal Islands of Adventure
Foodie Notes: While the menu has a mix of Mediterranean, American, and Asian, I'd go for the Greek for authenticity! The spanakopita dip is also pretty amazing, a sort of spinach and feta dip seasoned with za'atar spice, with fresh cucuber, tomato and olives. A tasting of housemade hummus, babaganoush, marinated fennel, Kalamata olives served with charred pita (meaning of mezze)
ASIAN: Steam Pork Bun
Dish: Steam Pork Buns
Origin Story: The original steam pork bun, cha siu bao, is a steamed soft dough bun filled with Cantonese style barbeque pork and is typically served as dim sum, a type of Chinese sharable appetizer served in small bamboo steamers. Gua bao is a Taiwanese steamed bao bun that is typically folded in a similar shape of a taco, and stuffed with meat. And some steamed bao are made more like a bun and stacked with meat like sandwich. Either way, it's a delicious Chinese version of barbecue.
Restaurant: Islands Dining Room
Location: Loews Royal Pacific
Foodie Notes: Steam Pork Buns, Ramen, and bulgogi beef is pretty tasty too.
More Stories You'll Love