Wondering what to wear in Jordan? I did too as it was my first time traveling to the Middle East and I felt a little intimidated about what to wear. I had all kinds of questions: "Should I cover up? If so, how much? Can I wear jeans or leggings? Are short sleeves okay? What should I pack?"
As it turns out, I had nothing to really worry about and was over thinking it. What Jordanian women wear is pretty diverse and stylish. There were a few things to take into consideration, though.
Based on what I packed, what I left at home, and what I wish I had brought with me, here are some packing tips to help you plan what to wear in Jordan. I also included lots of candid pics to give you an example of what I wore during my trip there.
What To Wear In Jordan – 7 Packing Tips For Women
1 – Modest Clothes Are More For Hiding Skin Than Shape
I had originally packed some leggings to wear with long shirts, but then unpacked them at the last minute and ended up regretting it later. I saw lots of women wearing leggings, from plain black to leopard print. Jordanian women are pretty fashionable and wear just about everything we do with one exception, they're more modest and conservative. So when it comes to packing for Jordan, Leggings are a YES! But short shorts or low cut tops, not so much.
Read This: Ultimate Packing Guide
2 – Err On The Side Of Dressing Conservatively
While Jordanians respect our culture and choice of what to wear, but as a traveler please have respect for their culture too. You won't get into trouble for wearing a tank top and short shorts, but you'd definitely get noticed.
As a frequent traveler, I think it's better to blend in then to stand out like a tourist. You won't get judgmental looks as much as glares of curiosity and surprise. Skin is just not shown as much in Jordan's media, advertising, and television like it is the United States. To be honest, it was kind of refreshing.
Read This: Best Travel Make-up To Pack
3 – Pants, Capri's, and Long Skirts
When you're packing, think of what you'd wear in the fall or spring time. Long pants, capri's, and long skirts are great. Layer them with three quarter length sleeved tops and t-shirts. Even conservative shorts are okay in hot places in the desert like Petra.
4 – Pack Clothes To Layer
I had the benefit of traveling to Jordan in the fall when it's a bit cool, especially in cities like Amman. So, I had no problem layering up since it was chilly. However, it does get pretty hot in the dessert. But keep this in mind, while it's blazing warm in the sun, it's also chilly in the shade.
Linen shirts work great since they protect you from the sun but are also breathable. While in Petra, I found people pretty much wore what they wanted, from tank tops to shorts. The desert is also a lot like the beach, just without water. So, don't forget your hat, sunglasses, sunscreen, and even a fan.
5 – Coverup Cleavage
When I read about this, I thought I had to practically wear turtle necks up to my chin to not offend anyone. Turns out, your neck and décolletage are quite alright with seeing a little air. Scoop neck or boat neck shirts? No problem. It's just the cleavage you gotta cover.
6 – The Big Question – Can Women Wear shorts?
The answer is, yes. But only in resort or tourist areas. I wore a bathing suit and shorts to go snorkeling in Aqaba and I also wore shorts and bathing suit while at the Dead Sea. It's completely appropriate and accepted. Just have some resort wear to cover up as it's not cool to walk through the lobby of a hotel wearing just your bathing suit and flip flops. But honestly, that's not really classy to do in the United States either.
7 – Let's Talk Shoes
You'll want to pack some stylish sandals for warm days, hiking boots or shoes for adventurous days in the dessert, and a dressy pair of shoes for the city. If you have those three, you'll be set to go. Maybe throw in a pair of flip flops too if you're visiting the coast or the Dead Sea.
More Articles For Planning Travel To Jordan
And here are more candid pics to give you more ideas about what to wear in Jordan: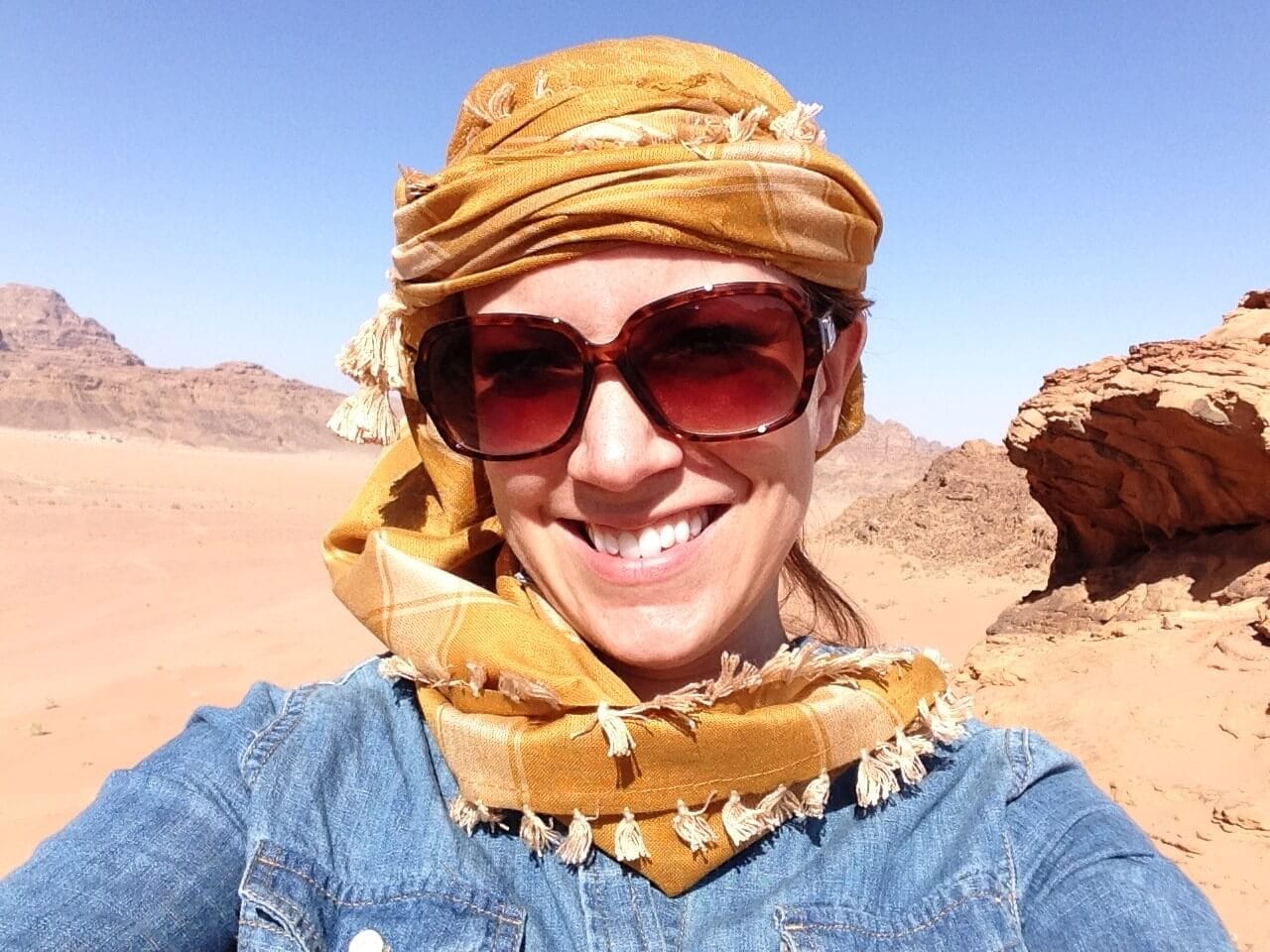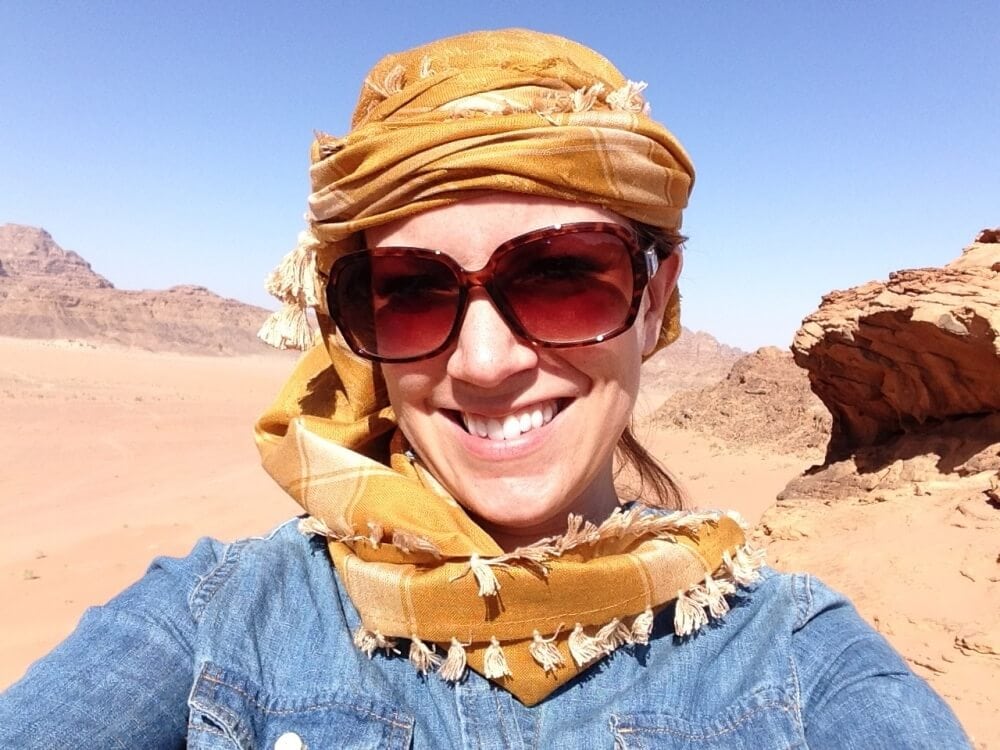 This post was brought to you as a result of the #GoJordan blog trip, created and managed by iAmbassador in partnership with Visit Jordan. The Travel Bite maintains full editorial control of the content published on this site.
Originally published in 2014. Updated in 2020.