Does the fear of being on a long flight hold you back from booking the trip of your dreams?  They shouldn't.  I actually prefer longer flights to cross-country since you actually have time to rest and reset your internal clock to a new time zone.  But if you're not traveling first class, there are still a few discomforts to work around. Here are my tips for enjoying a long flight.
3 Simple Tips For A Long Flight
1 – Pack An "Essential Comforts" kit.
I have a kit that I bring with me everywhere I go, whether it's flying to a new destination or just in my purse for everyday needs.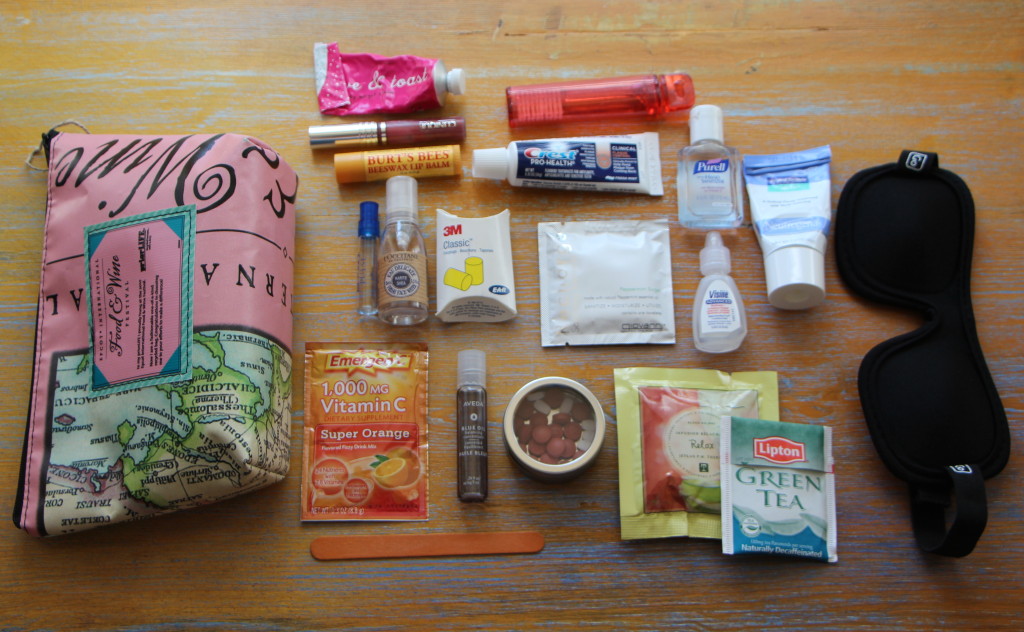 Pictured above is my actual plane kit with essentials I take with me everywhere.  They include:  A vinyl easy-to-wipe-clean toiletries bag.   Fill it up with hand lotion, lip gloss, lip balm, a mini perfume sample, hydration spray (this feels awesome in a dry air cabin), ear plugs, Emergen-C, Aveda Blue Oil Roll-on (Good for headaches. You can also just bring peppermint oil), a nail file, tooth brush and tooth paste, hand sanitizer, Giovanni cleansing wipes (I pick these up at Whole Foods), eye drops, face moisturizer, green tea, ibuprofen and allergy meds (if you travel internationally, pack these in their original labeled container), and an eye mask.  
It's everything I need to sleep, stay healthy, and get refreshed upon arrival at my new destination.  If it's a really long flight, I will sometimes throw in a few make-up items too such as mascara and face powder (I have a small homemade travel make-up kit too). I also throw in my earbuds into this pack for watching movies or listening to music.
TIP:  Next time you shop at a department store, don't ask if they have any "travel sized" items available (because they'll sell them to  you).  Instead, just ask for a few free samples of your favorite perfume, cologne, lotion, or face creams.  These little things are perfect for travel and will make you feel pampered, even in tight spaces such as planes.
Read This: 8 Healthy Snacks You Can Bring On A Plane
2 – Wear the right clothes and bring a pillow.
In addition to the eye mask and earplugs above, bringing along a pillow and warm fuzzy socks will get you into your comfort zone for snoozing.  I know, neck pillows seem like a bulky extra to pack along.  But being well rested when you arrive makes it worth the hassle.  Plus, they're making them smarter now.  The newest versions are made of a squishy memory foam so that you can conveniently stuff  it into a small travel bag that will make it more compact and keep it clean.  I picked one up at the airport on my way to Hong Kong, but you can probably find them cheaper online if you search ahead of time.
TIP:  The cozy socks  keep your feet warm when the cabin gets chilly.  But please, put on shoes to go to the loo.  Wet bathroom floors and bare socks = gross.
In addition to fuzzy socks, I've also gotten into the habit of wearing compression socks or tights for long flights.  As a runner, I've got several pairs of compression socks in fun colors as well as a variety of compression leggings.  Since leggings are "in" right now, it's easy to pair these up with a loose fitting shirt or sweater.  You'll feel like you're going to yoga, have the stretchy comfort of being able to cross your legs in your seat, and look fashionable to boot.
RejuvaHealth sent me a pair of their compression leggings to test out and compare to traditional leggings.   I've worn them on several flights now and I have to say … I'm hooked!  You know that achy feeling you get when you've been standing on your feet all day?  Yeah, that doesn't happen with these.  They are a little tough to get on (it requires a bit of jumping up and down) as they're much tighter then pantyhose or cotton leggings. But you get the hang of it after awhile.  And they're tough enough that you won't snag them with a fingernail or punch a hole in them, so they last.  Wash them in your hotel room sink, hang to dry, and they're ready to wear again for your flight home.
Read This: TSA Friendly Travel Make-up
3- Pick an aisle seat or emergency row for more wiggle room.
My first really long flight was 16 hours from New York to South Africa (JFK-JNB-CPT), and I learned some valuable tips from David with the Visit South Africa tourism board.  Since he flies this route frequently, his first tip was to stay awake as long as you can, then sleep the last 6 to 7 hours of the flight.   That way you arrive rested and with your internal clock set on local time.  Plus, staying awake until the wee hours of the morning leaves you tired enough to fall into a deep sleep on a plane.
My second big tip from David was about choosing seats.  I had noticed that all the journalists on the trip were in an aisle seat in the middle of the plane.  Thankfully, no one booked the center seats (who would?) so we all had some extra room to spread out and get comfy.  It also helps to be able to get up to stretch or walk without having to squeeze your way over the lap of another sleeping passenger.  And if you follow my final extra tip, you'll be getting up a lot.
TIP:  Drink more water than you think your bladder can handle.  Keeping yourself well hydrated will help with the dryness of recycled cabin air as well as combat jet lag and fatigue.
Read This: Ultimate Packing Guide & Tips
What are your key essentials to make a long flight more comfortable?  I look forward to hearing your tips too!
-Rachelle
Disclosure:  RejuvaHealth sent me a free pair of compression tights.  However, thoughts and opinions about them are my own … and I really do love them and wear them every time I fly!  See my FTC disclosure.  It's actually a funny read.
(Below Giveaway Has Ended On 3/29/13)
Hemarie, you were chosen via Random.org for the pair of compression leggings!  Please send your mailing address and size to TheTravelBite (at) gmail.com.