There's nothing I love more than entertaining friends and family at home so they can taste some of the delicious souvenirs I've brought back with me during my travels — especially when it involves cocktails or wine.  Thankfully, most of what I've found abroad can also be replenished at our local wine and spirits store or easily purchased online shipped to my front door.
One of my friends once hosted a party that I'll never forget, a cocktails and desserts pairing party.  She had quite a variety of flavor pairings, from luxurious chocolates and rare liquors, to moonshine and combos.  It was just as fun as it was fascinating!
This post is inspired by that party, and hopefully it encourages you to host a travel-themed cocktail party of your own.  I've included eight different cocktail recipes encompassing spices, flavors, and spirits from around the world.  You can find most of these spirits online or at your local grocer, and I've included links to each recipe as well as an ingredients list to help you stock your bar.  There's also a few downloadable cards that you can print to make it even more interactive and fun so your friends can check off cocktails they've tasted on a postcard.
From hot to cold, sweet to spicy, and a few that have some exotic fruits, there's something everyone can enjoy on this list.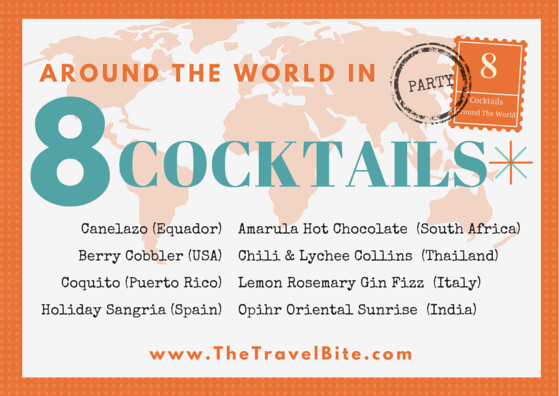 Download:  Cocktails Around The World Postcard Printable
Around The World In 8 Cocktails
Gin Berry Cobbler (United States)
This is perhaps one of my favorite gin cocktails. It's like dessert in a jar.  Inspired by one of the strawberry cocktails I tried in Belfast while visiting Ireland, I tried making something similar at home and added blueberries, blackberries, and a big old mason jar to give it an American twist. Since it looks like popular American desserts-in-a-jar, I call it a Gin Berry Cobbler.
Coquito (Puerto Rico)
This traditional holiday drink is similar to eggnog and consists of Puerto Rican rum mixed with coconut milk and and flavored with holiday spices like cinnamon, nutmeg, and clove. It's kind of like coconut eggnog, but better.
Canelazo (Equador)
Made with cinnamon, sugar, and a splash of citrus, this hot spiced cinnamon rum cocktail will quickly replace your favorite fireside hot toddy.  If there were ever a cocktail perfect for a winter warm up, it would be the hot spiced cinnamon rum drink known in Ecuador and Columbia as the Canelazo.
Holiday Sangria (Spain)
Traditional sangria, known for it's sweet refreshing flavor and chopped fruit, is originally from Spain.  This one has a bit of a holiday twist to it and it's one of my most popular cocktail recipes.  It's made with red wine, holiday spices, and a splash of ginger ale.  You could choose an inexpensive merlot or shiraz from Australia as the red wine base for this cocktail and really cover all your continents during this party!
Lemon Rosemary Gin Fizz  (Italy)
Along the Amalfi coast, lemoncello, rosemary grows in abundance.  Pete and I had a cocktail similar to this served at our wedding.  Light and refreshing.
Amarula Hot Chocolate  (South Africa)
Amarula is a South African liquor made from the marula; a small, sweet, yellow citrus-y tasting fruit with seed like a rock.  It's creamy like Bailey's, but a little lighter and with a slight citrus flavor. If you're hosting a party during the warmer months, you could aways make this chilled, like a grown up chocolate milk.  Or check out this recipe for African Iced Coffee.
Opihr Oriental Sunrise  (India)
This cocktail is made with a spiced gin that's inspired by the spice route, fragrant and cardamom forward.  It's a scent and flavor that instantly reminds me of Jordan and India.
Chili & Lychee Collins  (Thailand)
Inspired by our trip to Thailand, this cocktail is a mix of the kind of sweet and spicy that Southeast Asia is known for.  The chili rim gives is a kick that's calmed by the exotic and sweet lychee fruit.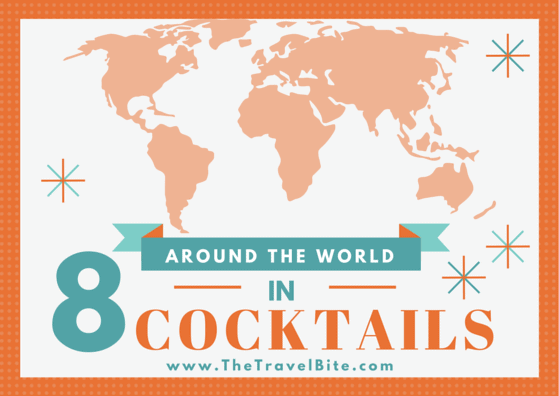 Download:  Around The World In 8 Cocktails Postcard 2
Stock Your Bar
1 bottle of gin
1 bottle of spiced rum
1 bottle of Amarula
2 bottles of red wine
1 bottle of club soda
2 4-packs Fever Tree Ginger Beer
can coconut milk
can of evaporated milk
can of
hot chocolate mix
bottle of mango juice
Prep Your Garnish
4-6 springs of rosemary
4-6 springs of mint
2 lemons, sliced thin
4-6 oranges, sliced thin
4-6 lemongrass stalks
6-8 cinnamon sticks
chili powder
ground cinnamon
ground nutmeg
ground cloves
Want to save this idea for later?  Pin it!  Want this graphic for your party? Download it:  8 Cocktails Pin 🙂