Gin and tonics are my favorite cocktail. The aromatic botanicals awaken the senses and are so refreshing over ice. And while gin and tonics are more popular throughout the summer, they truly can be enjoyed year round. Some gin brands even lend themselves to more autumnal flavors too!
While a gin and tonic might be a simple drink to mix up with only two ingredients, there are a lot of variations depending on the type of gin, the quality of the tonic, and a variety of aromatic garnishes.
We'll explore all of these different choices and more below! If you've come here just for a quick reference on how much tonic and gin and to pour into your glass, it's simply a 1:3 ratio (one part gin to three parts tonic). But if you'd like to sip an exceptional glass of gin and tonic, read more of our tips below.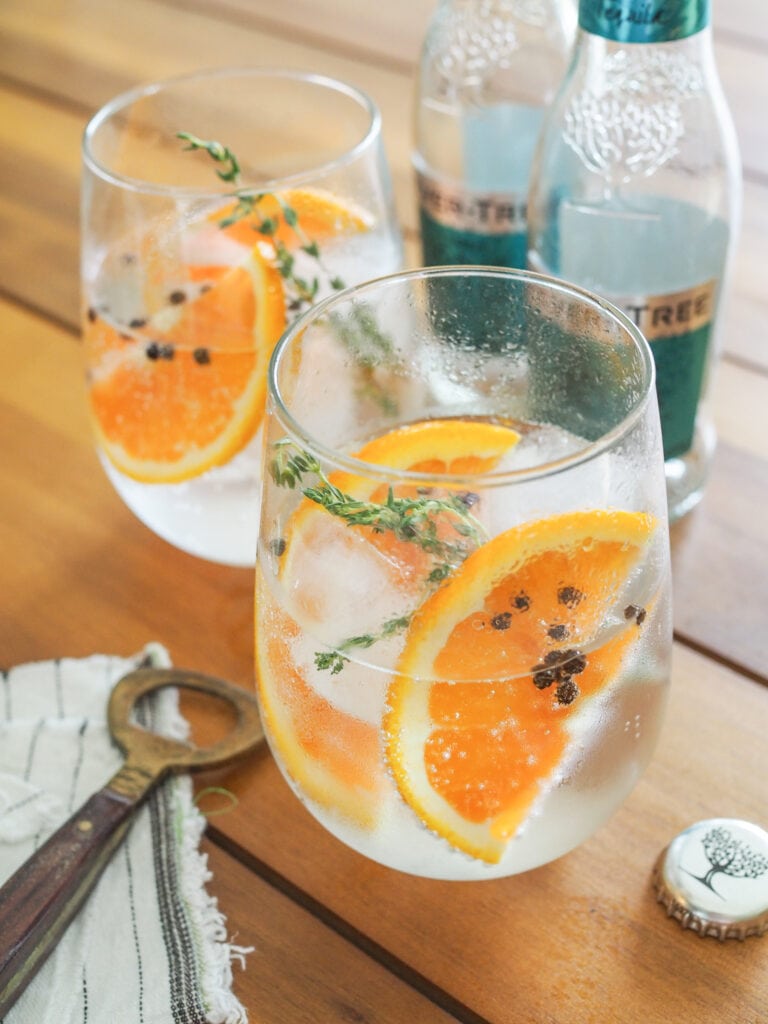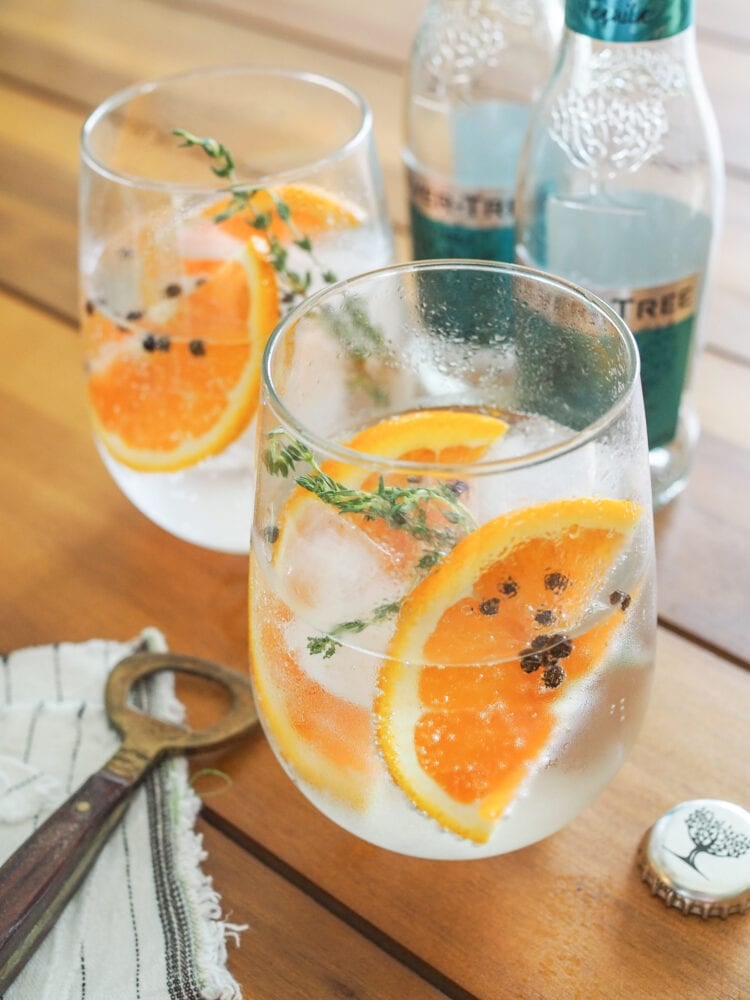 What Does A Gin & Tonic Taste Like?
If you're new to gin and tonics, you're in for a treat. This classic cocktail is also known as a G&T, and in some parts of the world it's simply known as a gin tonic. Gin is known for its botanicals, and we list all of the potential aromatics below. But a classic gin and tonic cocktail should be bright and refreshing. The piney fragrance of juniper paired with the zesty aromatics of citrus fill the glass and awaken your senses. These traditional gin aromas are balanced out perfectly by the bittersweet flavor of tonic chilled with ice.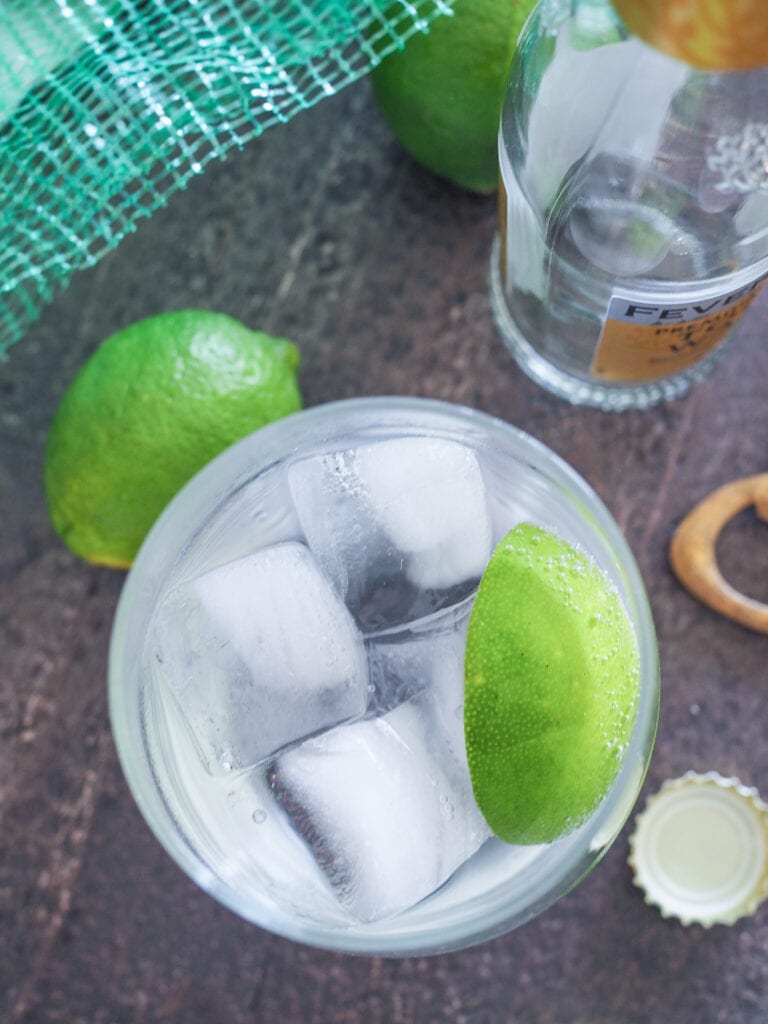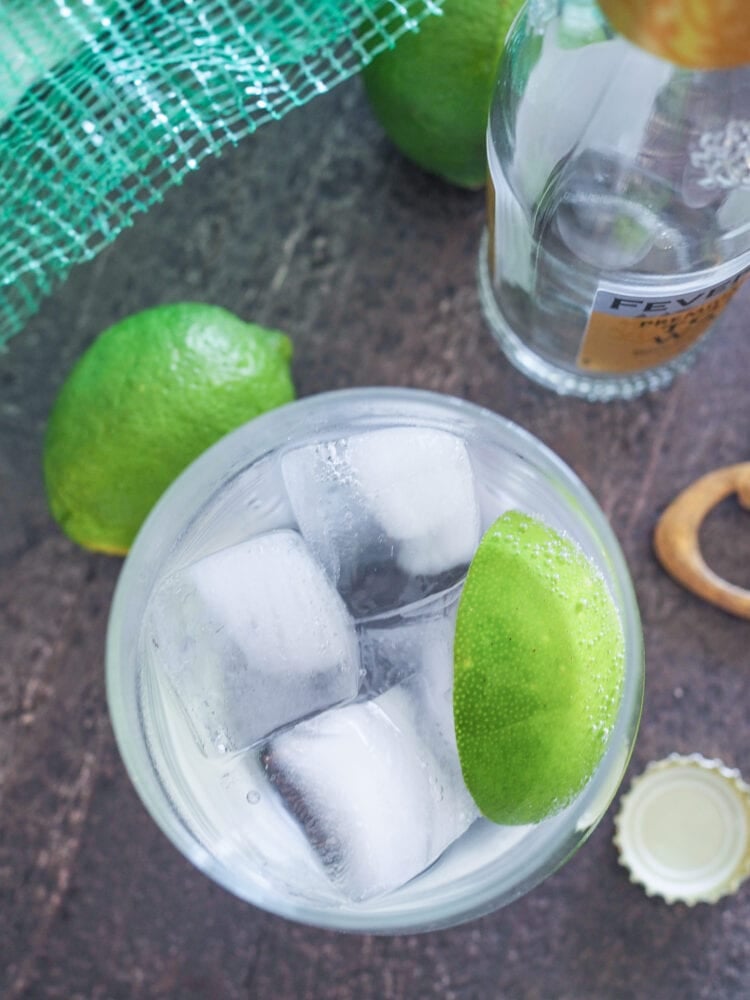 Why Does Gin Go Well With Tonic?
Gin and tonic water actually pair well together and taste better mixed than they do individually. The ice in a G&T adds a clean cool crispness to the gin's botanicals, and the bubbly tonic enhances the flavor by bringing out all the aromatics for both a lovely scent and taste. There's actually proven science behind why gin and tonic tastes so good together!
The History Of Gin & Tonics
The main ingredient in tonic, quinine, was a traditional cure for malaria at the end of the nineteenth century. It was commonly used by the British East India Company and was also used to treat workers that dredged the Panama Canal. But quinine tasted bitter, so it was mixed with soda water and sugar to make it more palatable. It is said that British officers then added their ration of gin and lime to the tonic water, and thus the gin and tonic was born. Since quinine is no longer used as an antimalarial, tonic water made today contains much less quinine than it did historically.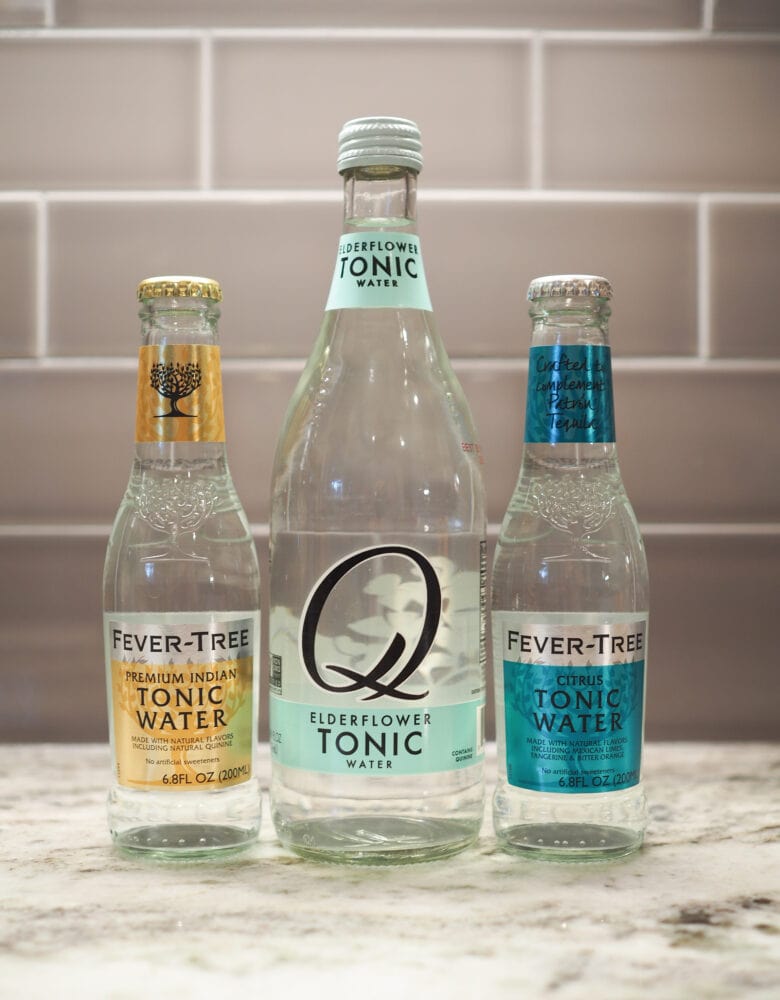 Types Of Tonic
In its most basic form, tonic water is simply a carbonated water with quinine, and sometimes a bit of sugar. Higher quality tonics will use natural botanicals to flavor their tonic mixers, such as bitter orange oil, ginger, cassia, and elderflower. And some cheaper brands simply use artificial flavoring.
One unique thing about tonic water, however, if you want to truly test to see if it includes quinine (or just impress your friends), hold it under ultraviolet light as quinine fluoresces.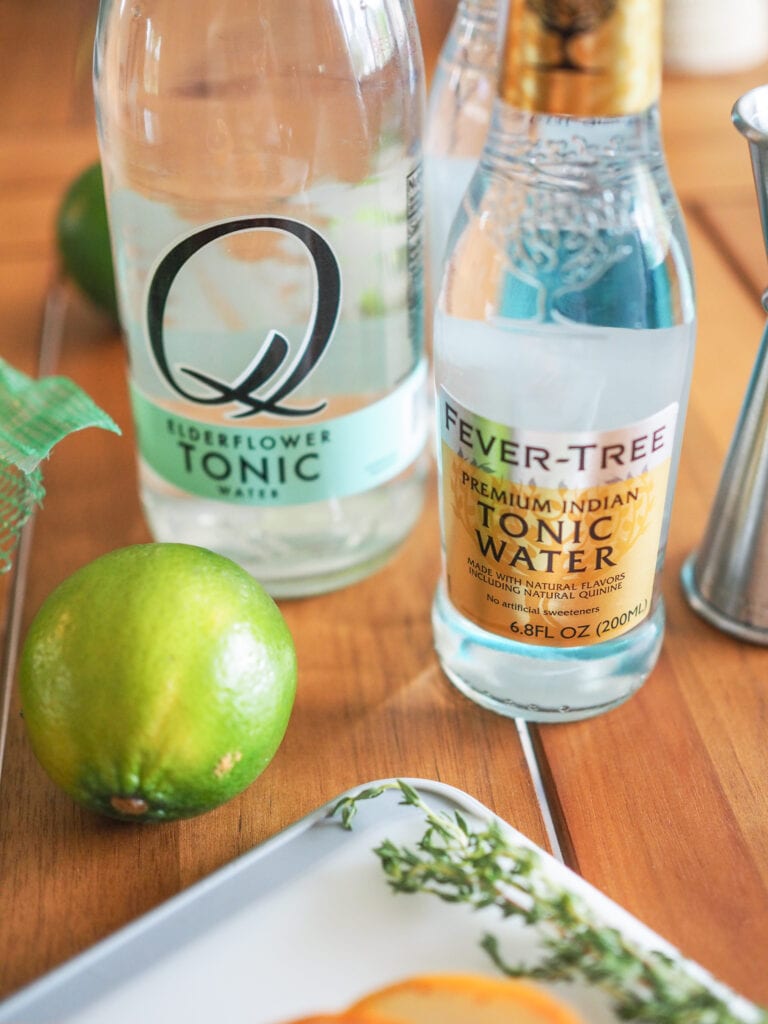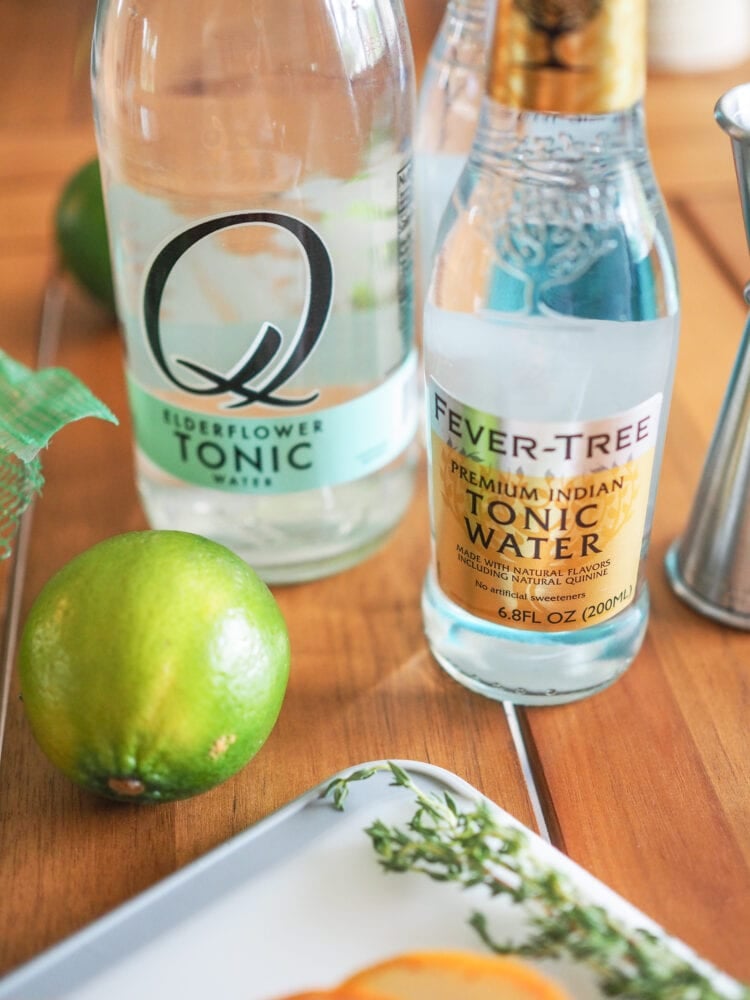 If all you have on hand is a generic tonic from your local grocery store, you can still make a pretty tasty gin and tonic by including some of the garnishes we have listed below. But if you want to elevate your cocktail a bit and enhance the flavor, try a flavored tonic from quality brands such as Fever Tree or Q.
Fun Fact: The tonic brand Fever Tree is named after the nickname for Cinchona trees in South Africa, "fever trees." Quinine, the main ingredient in tonic water, is extracted from the bark of cinchona trees.
Here is a sample of the different types of tonic water available:
Traditional Indian Tonic
Cucumber Tonic
Citrus Tonic
Lime Tonic
Mediterranean Tonic
Elderflower Tonic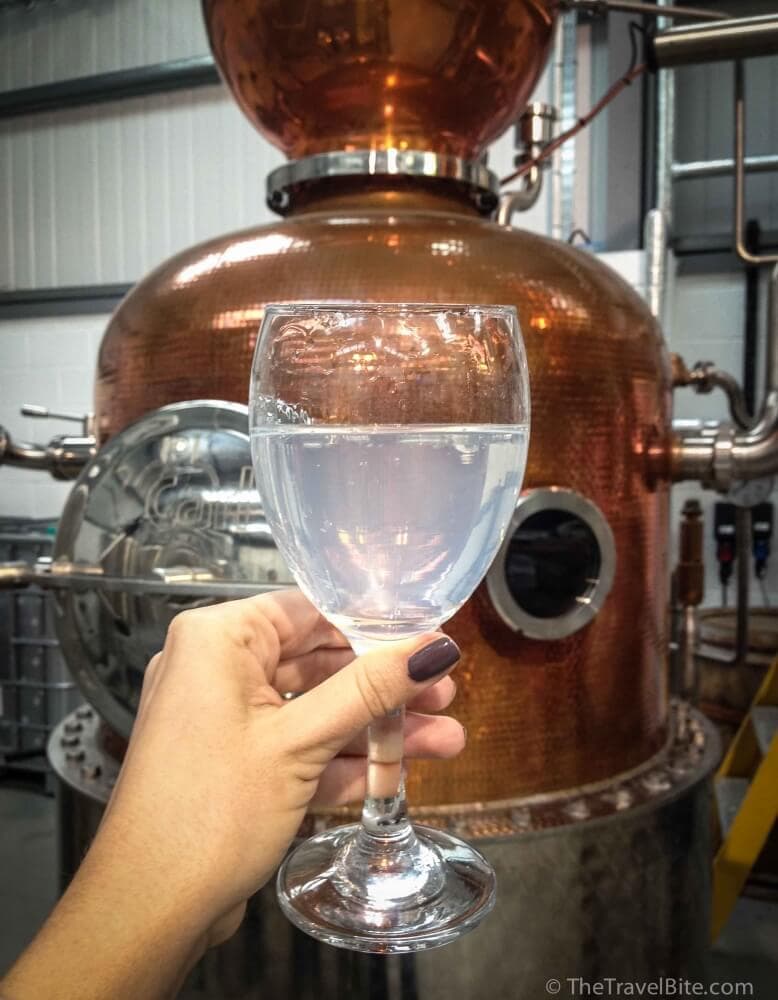 Juniper Berries And Gin
What makes a gin a "gin" is juniper berry. The aroma and taste of juniper is the signature note in every gin. Even the name "gin" is derived from either the French genièvre or the Dutch jenever, which both mean juniper. But the other botanicals used in gin are all up to the distiller.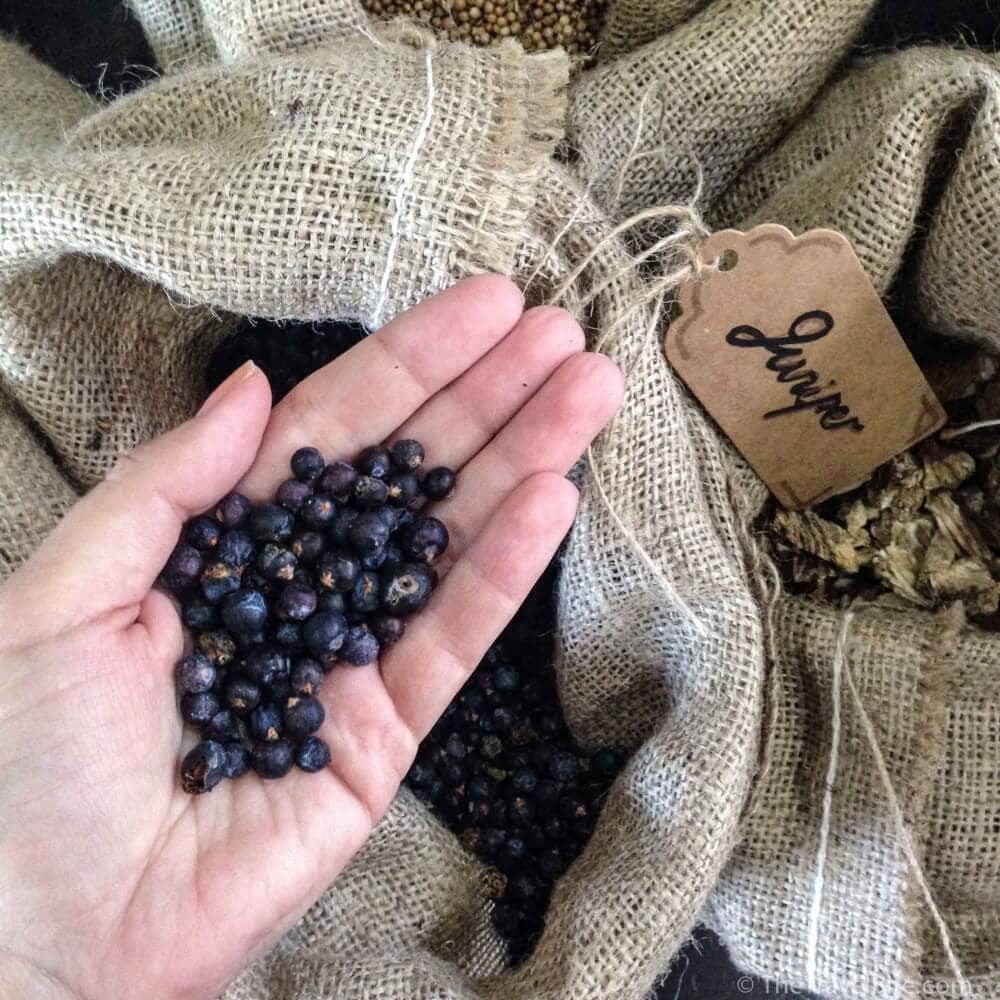 Botanicals In Gin
You'll often hear of other "botanicals" used in gin. The best way to understand this is to think of gin like you would a blend of tea. Gin is flavored by redistilling a neutral spirit with herbs, fruits, and spices to extract the aromatic compounds in them. After juniper, many distillers use a combination of bitter orange peel, angelica root, coriander, anise, cardamom, cassia bark, and even rose and lavender. I once met a master distiller who said making gin is a lot like operating a perfumery.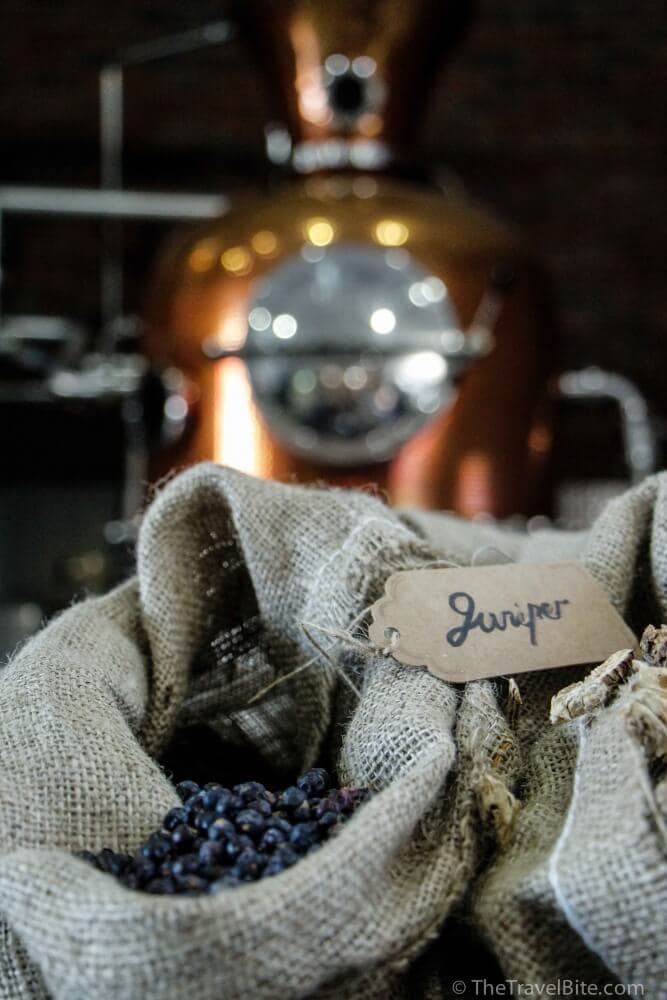 There is a lot of nuance to aromas and flavor in each brand of gin. And the best way to make a gin and tonic you love is to find a gin that highlights your favorite botanicals. Some brands, like Hendricks, are more cucumber forward. And some, like Ophir, are more cardamom forward. Read through the tasting notes provided by each brand or distiller to find one that you love.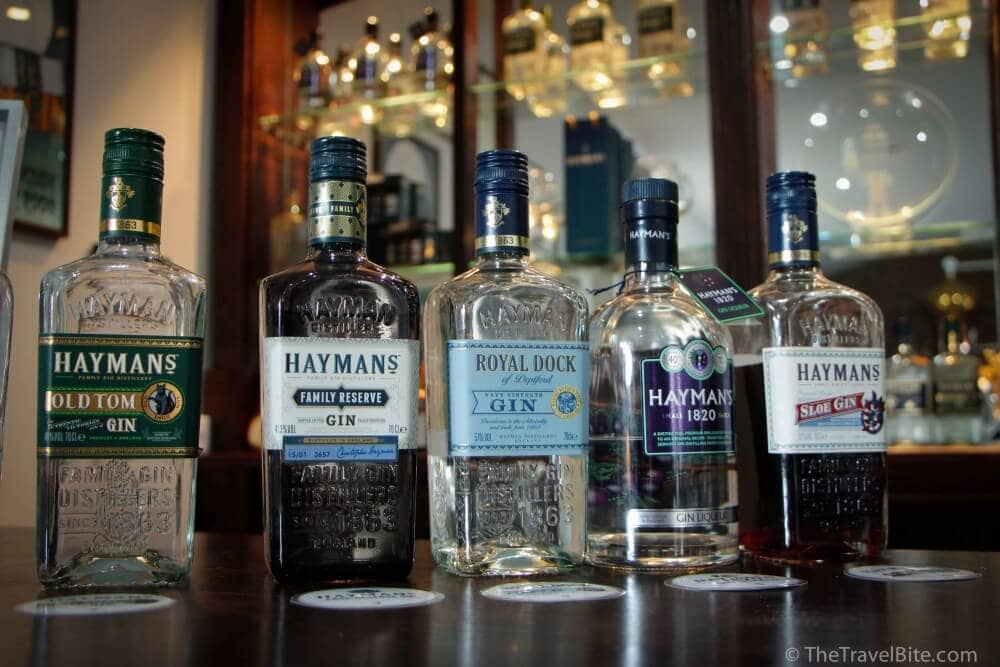 Types Of Gin
Besides all of the botanicals used in gin, there's also a difference in how they're made distilled and their level of alcohol content. Most gin brands you find on the shelf at your local liquor store will be a London Dry gin. But craft gins are becoming ever more popular. And sloe gin is a wonderful addition to your home bar during the fall and winter months. Read through the descriptions below to learn about the different types of gin.
London Dry: This gin is very juniper forward with hints of citrus and is more dry.
Old Tom: This gin is in-between a London Dry and Genever. Legend has it that the Old Tom name came from a 19th century British bar that secretly dispensed its gin.
Plymouth Gin: This gin must be produced in Plymouth, England. It's botanicals are more earthy flavored.
Genever: This is the OG Gin and how gin got its name. It's more malty than other gins and has a flavor closer to whisky.
Navy Strength: This gin lis like a London Dry, but with 57 percent alcohol. It's the kind of gin that would put hair on your chest, but it does well in some cocktails. I wouldn't recommend it for a gin and tonic, though.
Sloe Gin: The main ingredient of sloe gin is the sloe berry. This gin is a rich red color, and has a sweeter taste than other gins. It's more popular to drink in the fall and winter months. A Sloe gin and tonic is a great "transition to fall" cocktail.
Craft Gin: These gins are typically distilled in small batches and experiment with putting more emphasis on other botanicals and aromatics like cardamom, rose, or anise.
Personally, my favorite brands of gin include Hendricks, Sipsmith, Shortcross, St. Augustine New World Gin, Opihr Gin, and No. 3 London Dry.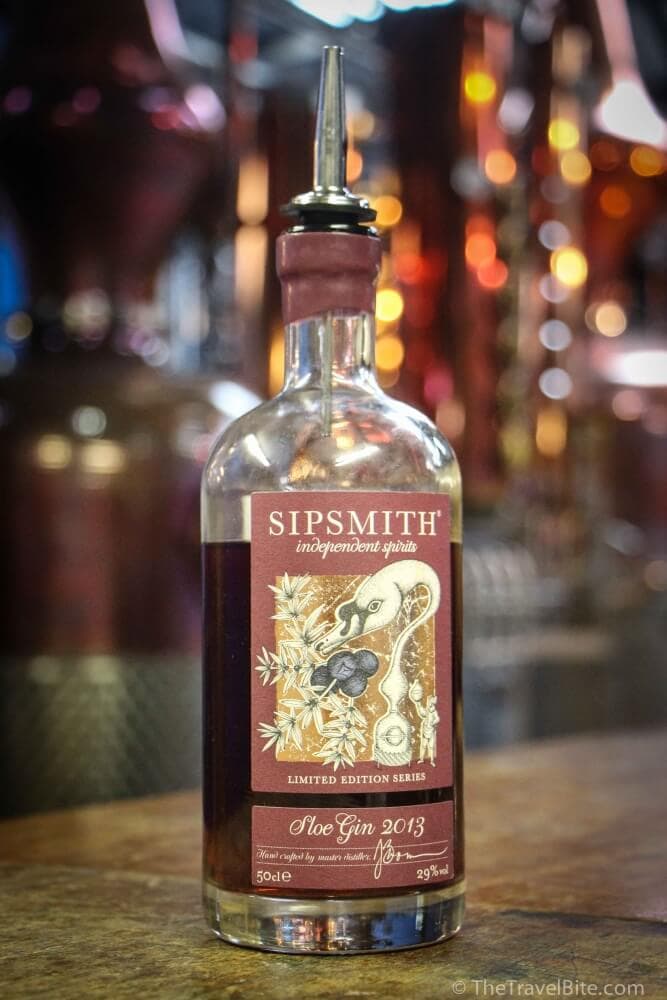 How Do You Make A Gin and Tonic Better? With Garnish!
In order to enhance the flavor and aromatics of the botanicals used during the distilling process for gin, get creative with your gin and tonic garnish. Most gin brands will list on the bottle what garnishes pair will with their botanicals.
Traditionally, in most parts of the world, a slice or wedge of lime is all the garnish you need. Sometimes lemon is also used. Fun fact: In the U.K., the use of both lemon and lime together is known as an Evans.
Personally, I like to match the garnish with the botanicals in the gin, so I'll usually add a fruit as well as an herb. For example, orange and thyme, or grapefruit and rosemary. Here's a list of garnishes that go well with a gin and tonic, as well as some creative combinations too.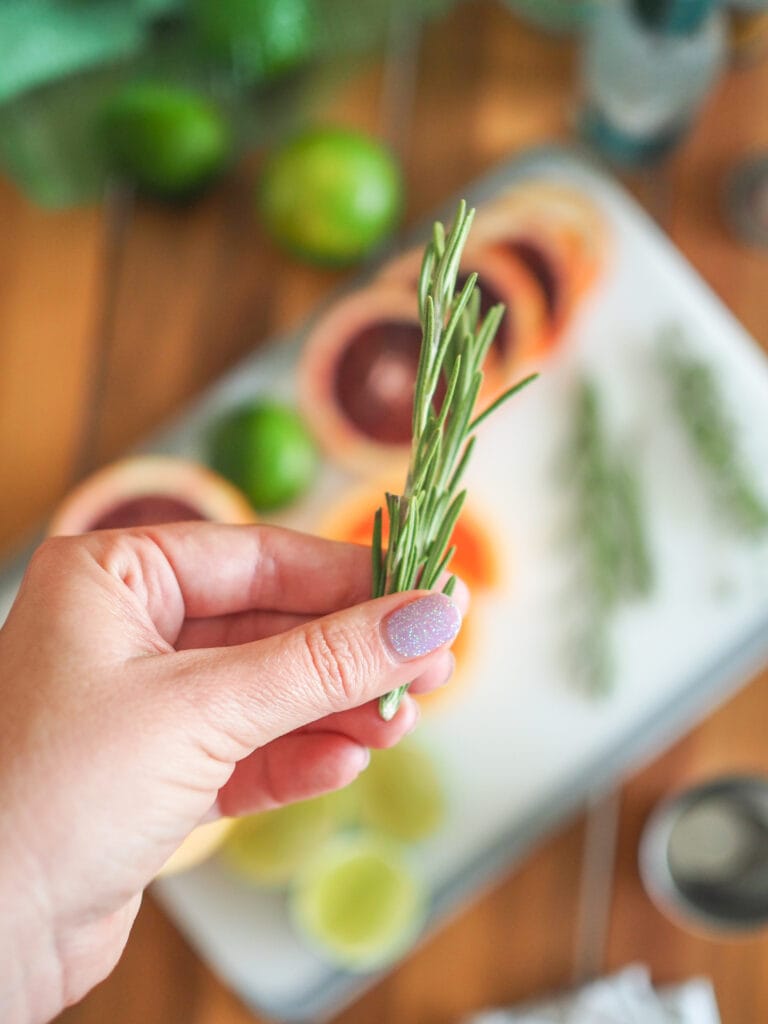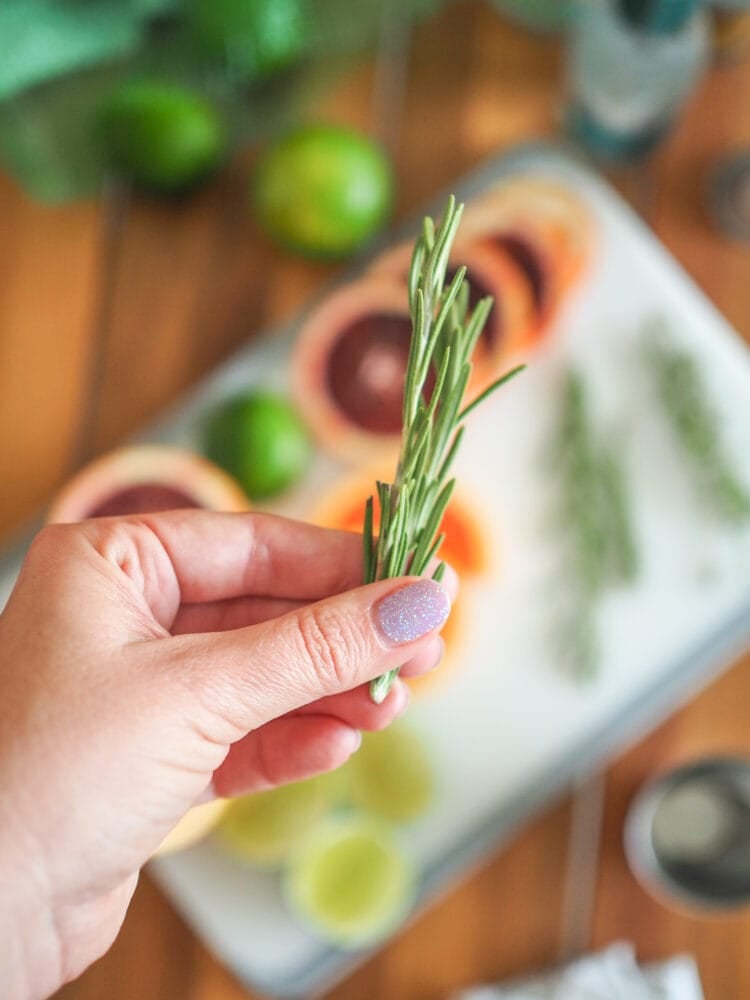 Fruit Garnishes For Gin and Tonic
Lime
Orange Slice
Orange Peel
Pink Grapefruit Slice
Pink Grapefruit Peel
Strawberries
Kumquats
Cucumber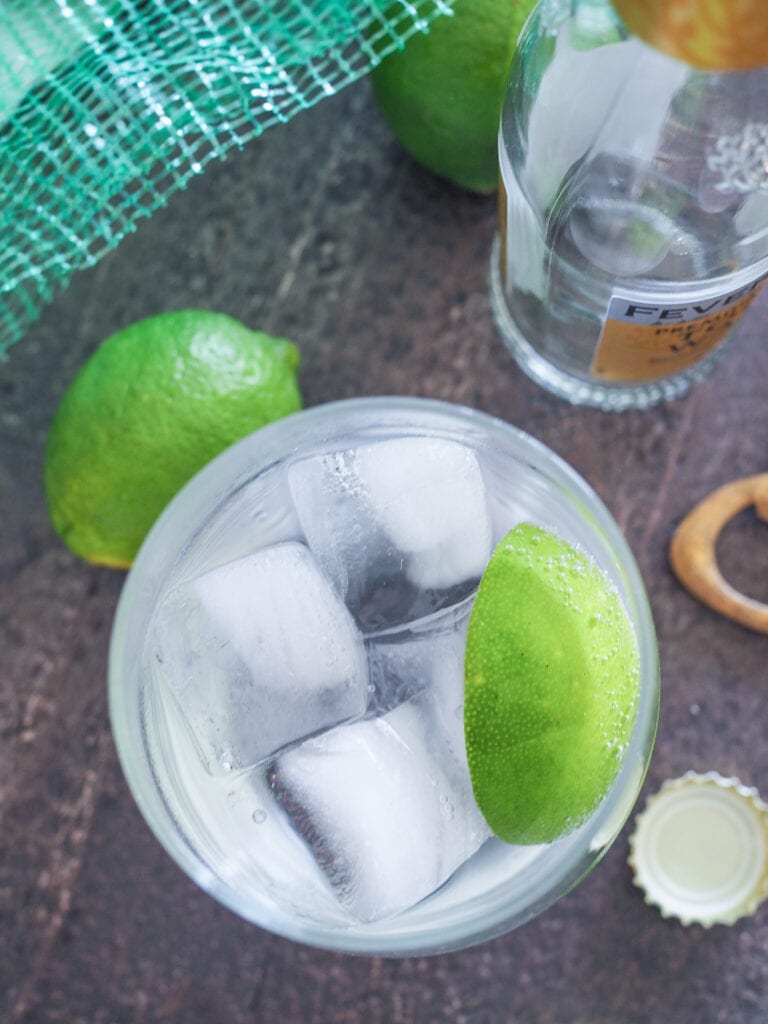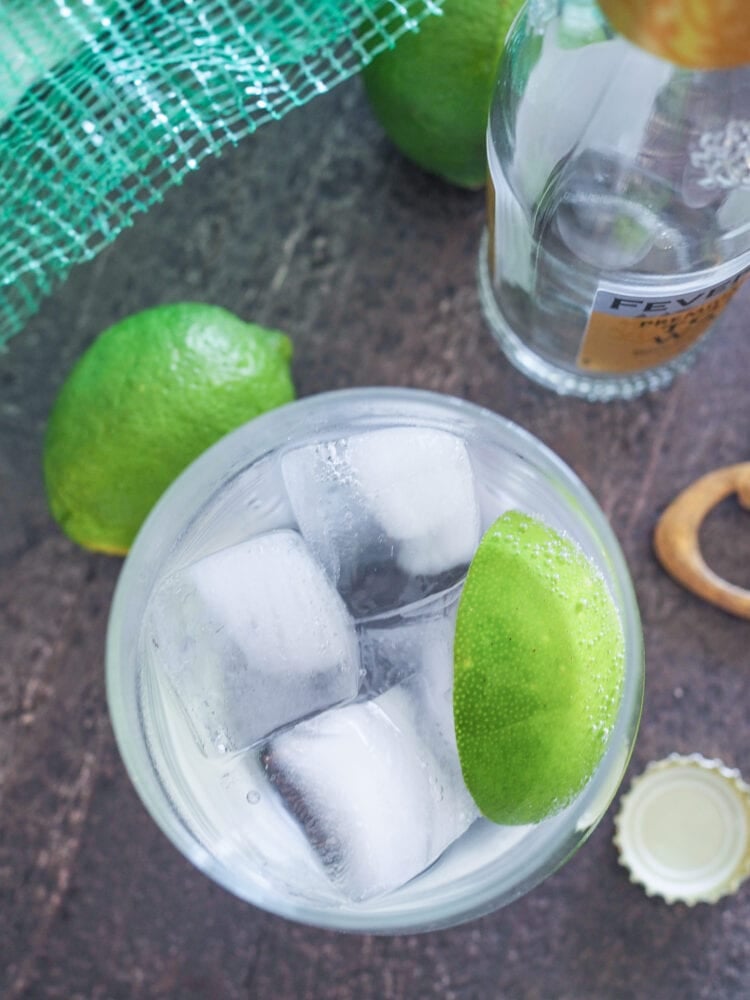 Herbal Garnishes For Gin and Tonics
Peppercorns
Star Anise
Thyme
Rosemary
Mint
Basil
Sliced Ginger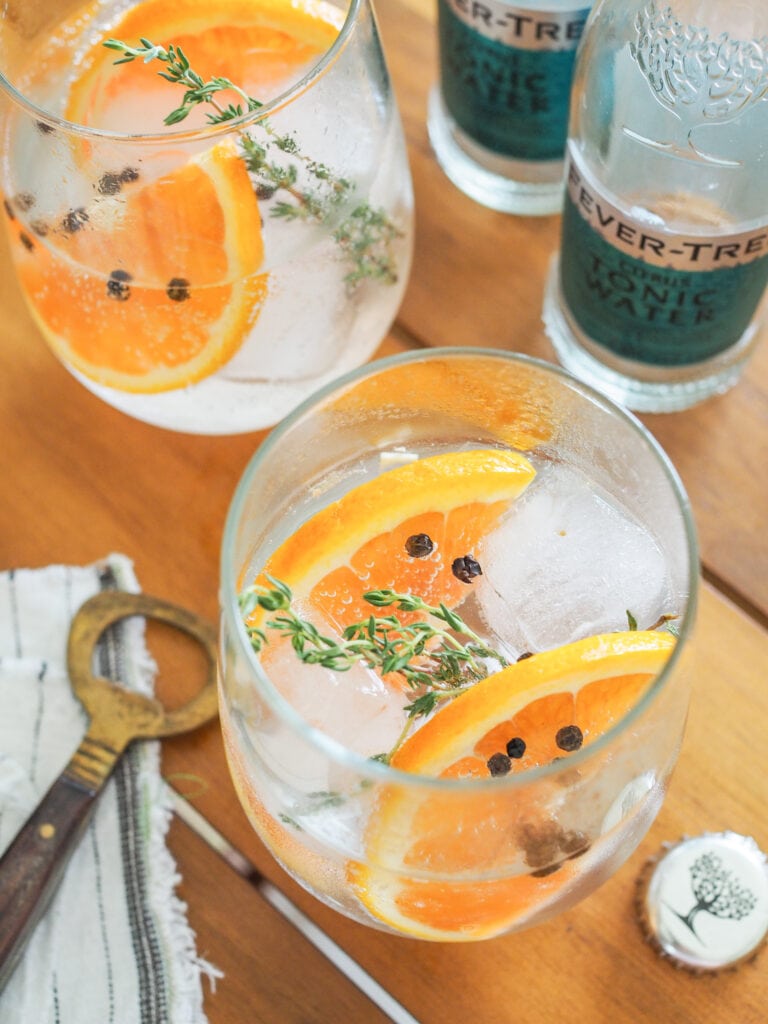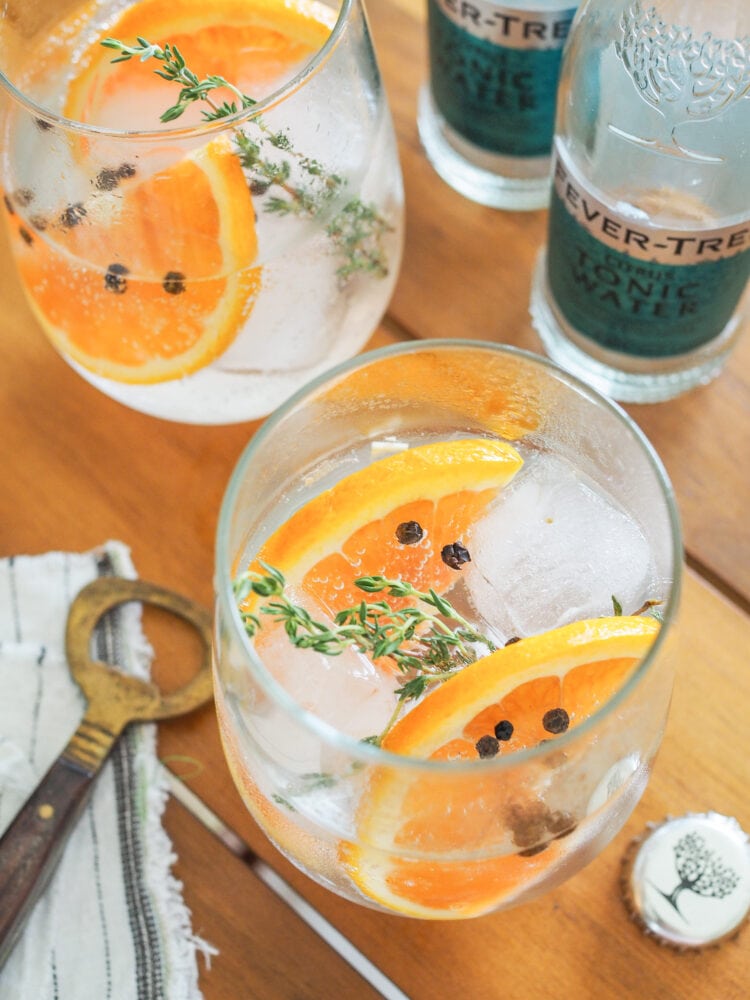 Floral Garnishes (Edible Flowers)
Small Dried Rosebuds (such a loose rosebud tea)
Pansies
Lavender Buds
Chive Blossoms
Dandelion
Chamomile
Example Gin & Tonic Garnish Combinations
Pink Grapefruit and Rosemary
Orange Slices, Thyme, and Black Peppercorns
Cucumber and Mint Leaves
Strawberry and Basil
Orange Peel, Ginger Slice, and Star Anise

What Type Of Glass Is Best For G&Ts?
It's important to use the right glass when making a G&T. Contrary to some trends to use a traditional highball glass, the best glass to use for a gin and tonic is one with a wide opening to really enhance the fragrance of the botanicals. A red wine glass works great, as well as a beer goblet, or traditional Spanish "Copa de Balon" glass. This type of glass truly enhances the scent of the gin botanicals and garnish as you drink it.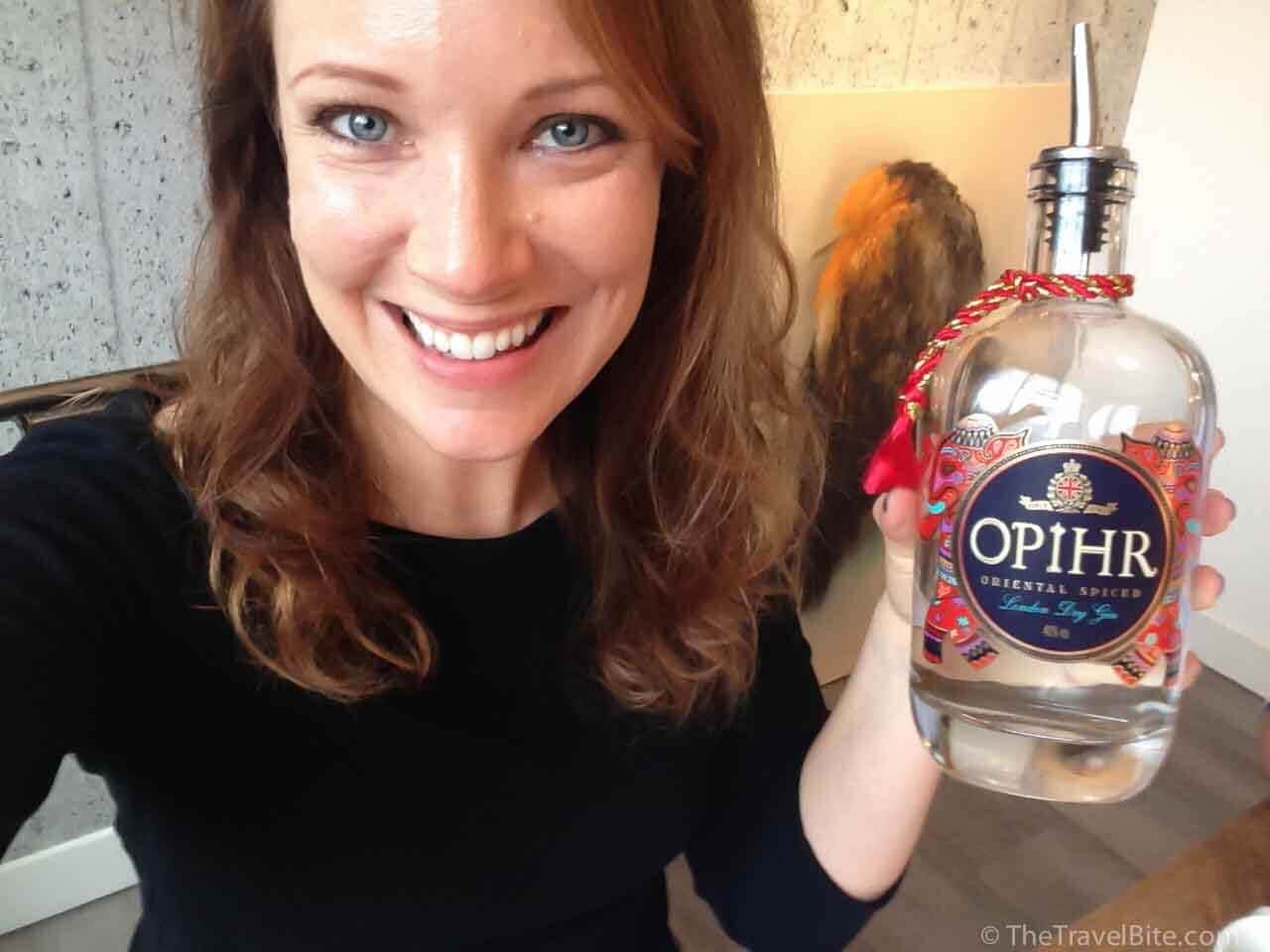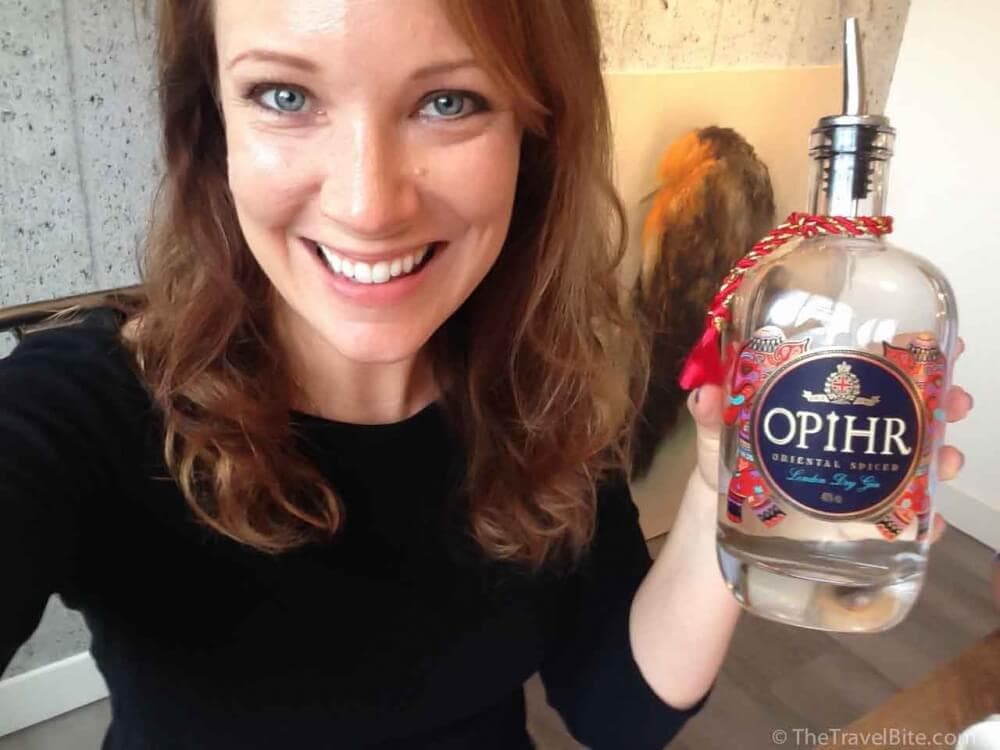 How To Make The Best Gin and Tonic
To make the best gin and tonic, pick a gin with botanicals that you enjoy, pair it with a quality tonic, and garnish with more than just a lime. The ratio of gin to tonic varies according to your own taste (you can make it strong or light), but typically you'll want to use a ratio of 1:3. So, one ounce of gin, and three ounces of tonic.
Fill your glass with ice, pour in the gin first, then the tonic. Give it a quick stir. Add your garnish, giving any fruits or herbs a quick squeeze in your hands before adding them to the glass to release their natural oils, and enjoy!
If you're hosting a cocktail party at home, create a "gin and tonic bar" with a variety of gin, tonic water, and garnishes for your guests to create their own combination.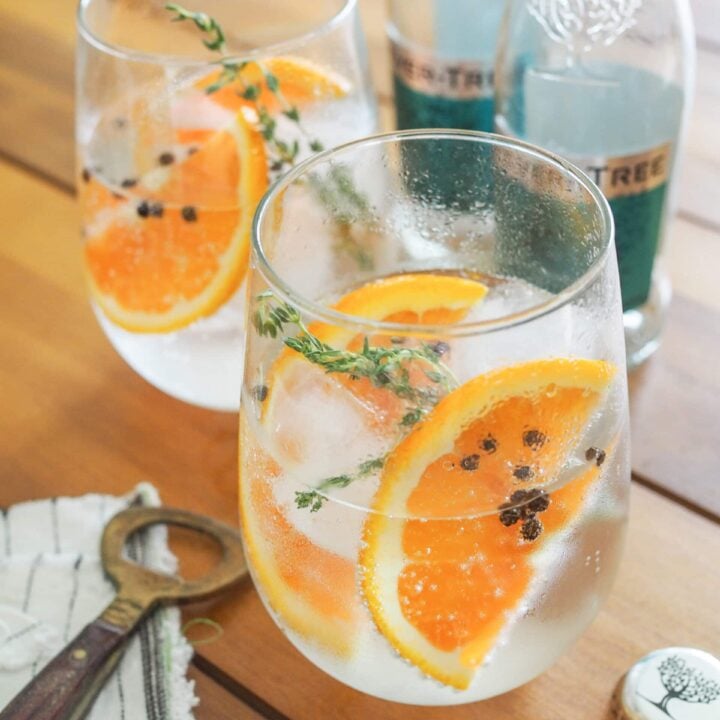 The BEST Gin and Tonic Recipe
Ingredients
1 ounce gin
3 ounces tonic water
garnish (see list below)
Instructions
Fill ballon shaped glass with ice.
Pour gin over ice, then top with tonic water and gently stir.
Squeeze garnish with hands to release natural oils, then add to glass. Enjoy!
MORE GIN RECIPES AND STORIES FOR YOU TO ENJOY