This easy white bean soup is one of my favorite weeknight meals to make when I'm craving something comforting, yet light and healthy. It's a quick and easy soup and takes about 30 minutes to make from scratch. So there's no need to plan ahead or pull out your slow cooker.
We have cooking tips for you below as well as a list of ingredients so you can get your shopping done quick. There's also a jump-to-recipe button if you're ready to get started!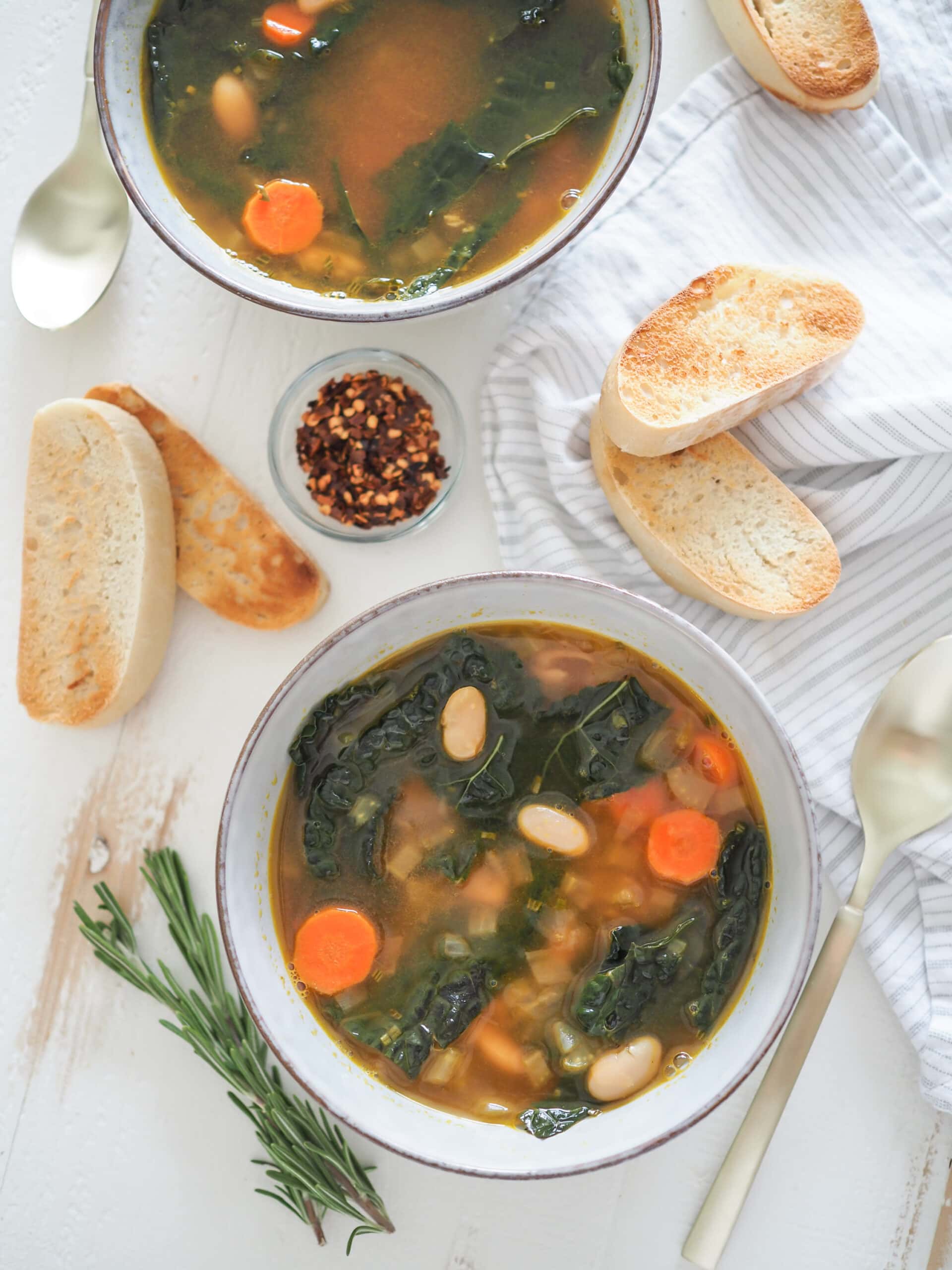 Ingredients You'll Need For White Bean Soup
If you're doing a quick scroll to see what ingredients you'll need, here's a list for you as well as some alternatives in case you need to swap anything. What I love about this simple white bean soup is that it is truly a pantry meal you make with ingredients you probably already have on hand.
Also, I made it vegetarian to have at least one hearty hot meal during the week to balance out some of the hearty beef stews and chilis we make during winter. You can also easily adapt it for diets like Whole 30 too by replacing the wine with more broth.
Cannellini Beans: Cannellini Beans are a white kidney bean that is traditionally used in Italian cuisine. I like them because they're the largest of the white bean and pretty hearty. But we've outlined some other white bean options for you below too.
Shallots: I prefer to use shallots in my white bean soup because they're a little less pungent than a white onion. Plus they have a slight garlic flavor to them. But you could also use a yellow onion or white onion. You'll need one cup diced.
Carrots: Carrots add a bit of sweetness, color, and texture to the soup. Dice them up about the same size as the shallot and celery to ensure even cooking.
Celery: Celery adds a savory salty flavor as well as texture. Plus, the trio of shallots, carrots, and celery is great flavor base for soups and stews.
White Wine: Italy is known for wines, not just drinking, but cooking with it too! Adding white wine to the white bean soup broth intensifies and enhances the overall flavor and aroma of the soup.
Vegetable Stock: Since I made this soup vegetarian-friendly, I prefer to use a vegetable stock as the base for the broth. But you could swap this for a chicken broth or chicken stock as well. The stock is going to have a thicker consistency and more mouth feel, while broths tend to be lighter but more flavorful.
Rosemary: This fragrant evergreen herb is quintessentially Italian and adds a wonderful pop of flavor to this white bean soup.
Lacinato Kale: This type of kale has a long tradition in Italian cuisine, especially Tuscany. It's great for soups because it is more tender and cooks more quickly than curly kale. You might also find it called cavolo nero, dinosaur kale, or Tuscan kale. Now, if you don't have kale or can't find it in your local supermarket, I'd recommend swapping it out with baby spinach.
Red Pepper Flakes: Red pepper flakes add just a touch of flavor and heat to the soup. I use only a pinch, but you could add more if you like.
Garlic: Garlic also adds a bit of heat and flavor to the recipe. Plus, the combo of garlic, rosemary, and wine make this white bean soup so delicious.
Olive Oil: You'll need just a dash of olive oil for sautéing the vegetables. It also adds a subtle earthy flavor to the soup.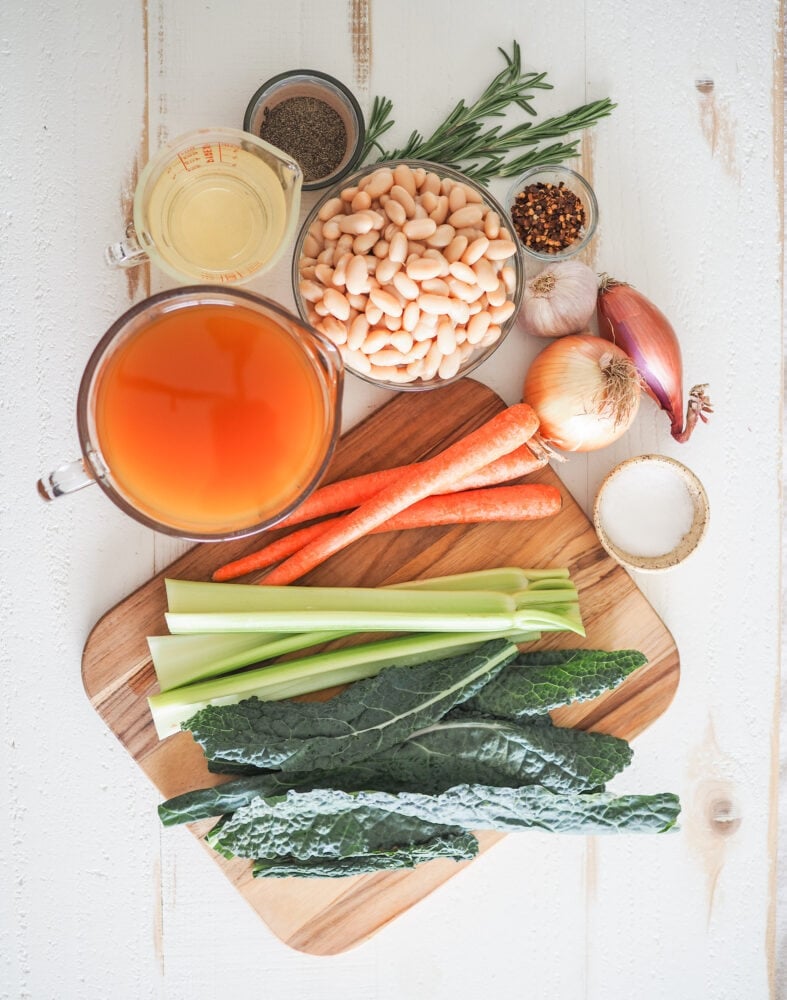 A Tuscan Tradition: Ribollita
You might see Tuscan White Bean Soup on restaurant menus (and now you can make it from home!), but do you know its history? It is inspired by Ribollita, a famous hearty bread soup made with cannellini beans, lacinato kale, leftover bread, and inexpensive garden vegetables like carrot, celery, and onion. means Ribollita essentially means"reboiled" in Italian. And it was so named because it was a hearty soup that used a lot of left over ingredients.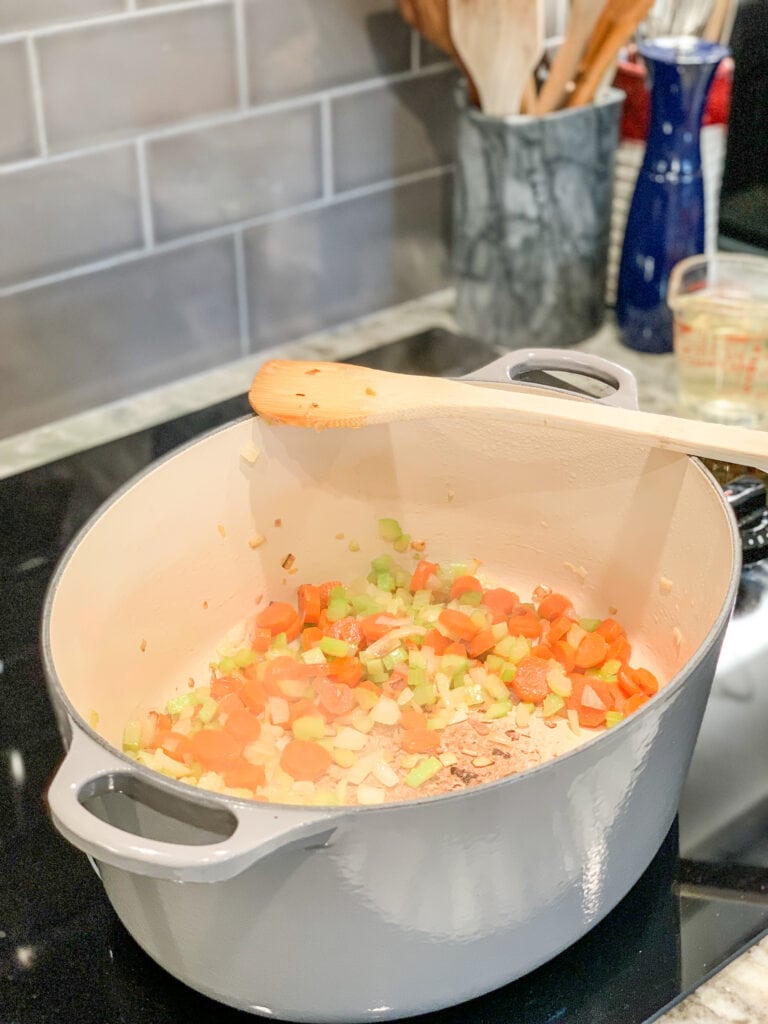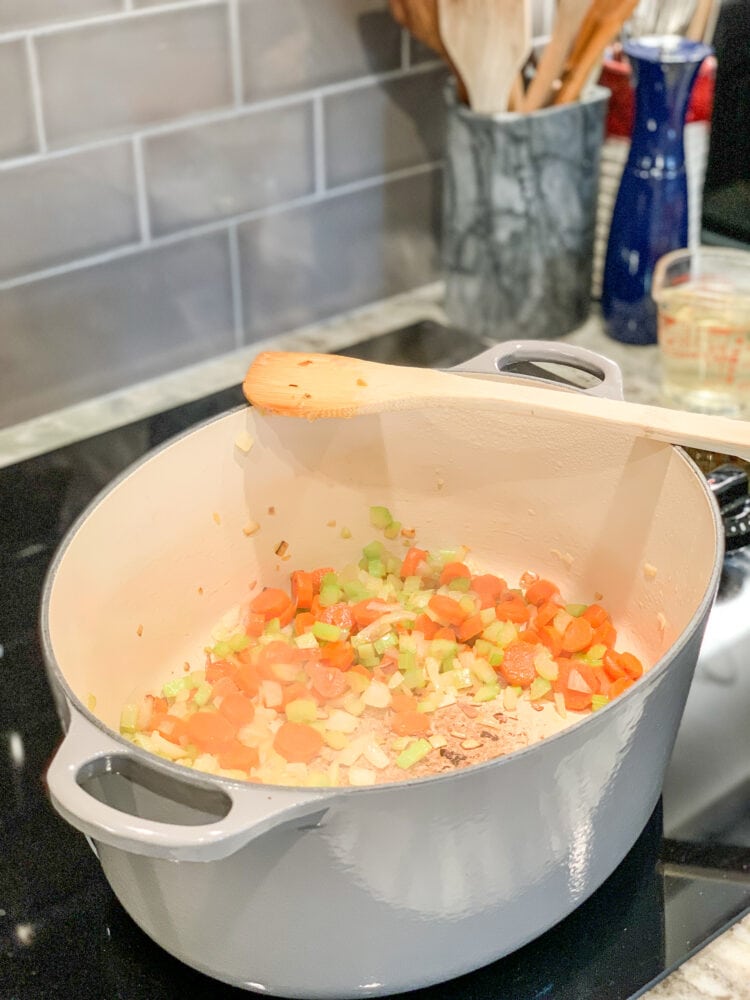 How Do You Make White Bean Soup From Scratch?
This white bean soup is pretty easy to make from scratch. And using canned beans and broth from your pantry will save you some time.
Start by cooking the carrots, celery, and onion in a little oil on medium heat. Once the vegetables have become softened and translucent, add the broth, wine, and spices and let it simmer to further soften the carrots and layer all those flavors together.
After simmering for about 20 minutes, add the white beans and kale to let them cook for the final 5 minutes. This will give you softened, but bright green kale. And the beans will take on the flavor of the broth and heat up without being overcooked.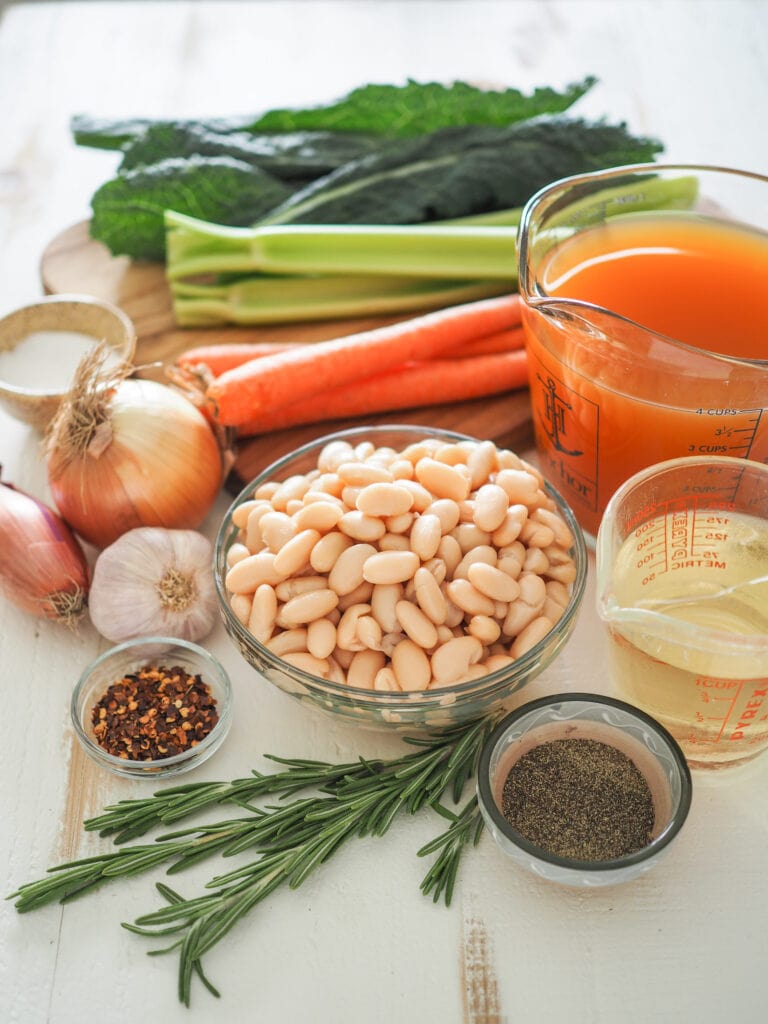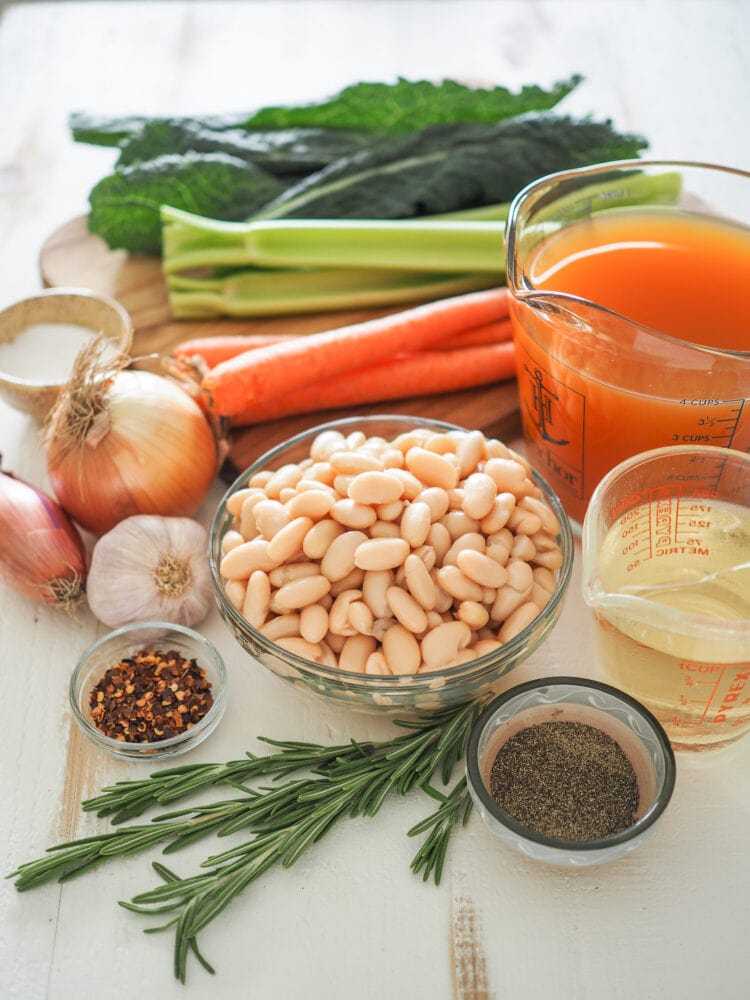 Are White Beans And Navy Beans The Same?
Not all white beans are the same, but truly you could use any canned white bean you have in your pantry for this white bean soup recipe. But I'll explain the differences between white beans below. There are three types of popular white beans: Navy, Great Northern Beans, and Cannellini Beans.
Navy Beans are small, oval-shaped beans that are sometimes also called pea beans. They have a nutty flavor and a soft texture which makes them great for pureeing in dips or thickening stews. They're most commonly found used in Boston Baked Beans.
Great Northern Beans are slightly larger than Navy Beans. They typically take on the flavor of the foods they're cooked with. You could use Navy Beans for Tuscan White Bean Soup, but they're more commonly used in French cassoulets.
Cannellini Beans are the largest of the white beans.They're also sometimes called white kidney beans because of their shape. Cannellini Beans are popular in central and southern Italy, though they were originally developed in Argentina. They are meatier and more hearty than Navy Beans or Great Northern Beans, which helps them hold up better in recipes. You'll find cannellini beans in a variety of Italian dishes such as minestrone, or this Tuscan white bean soup recipe below.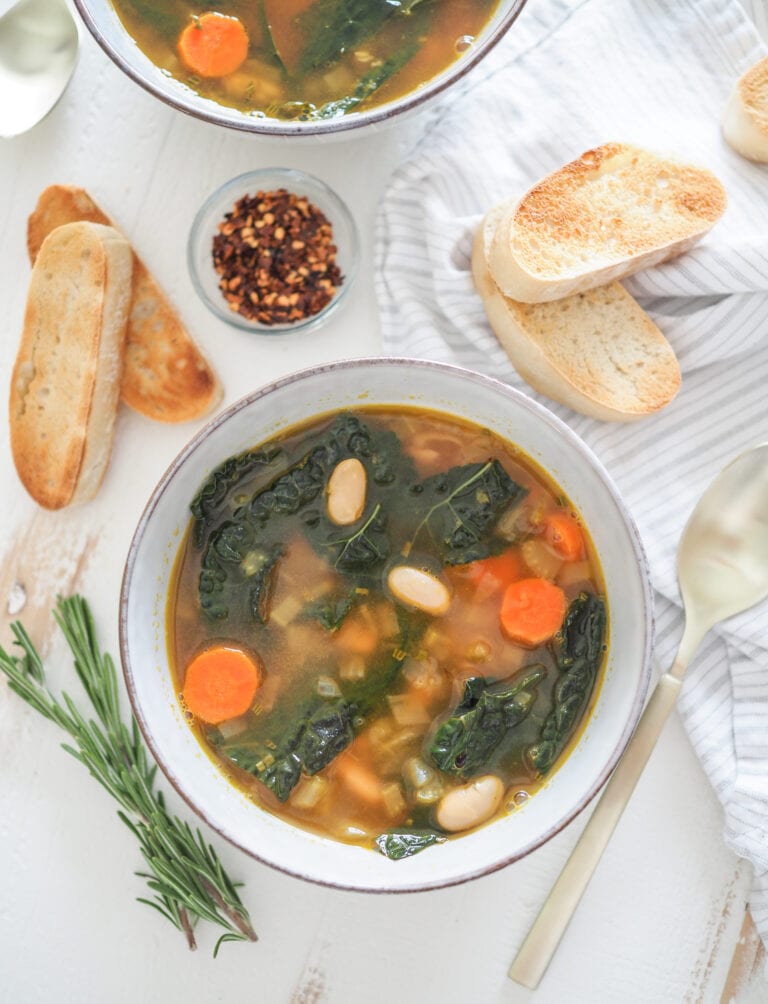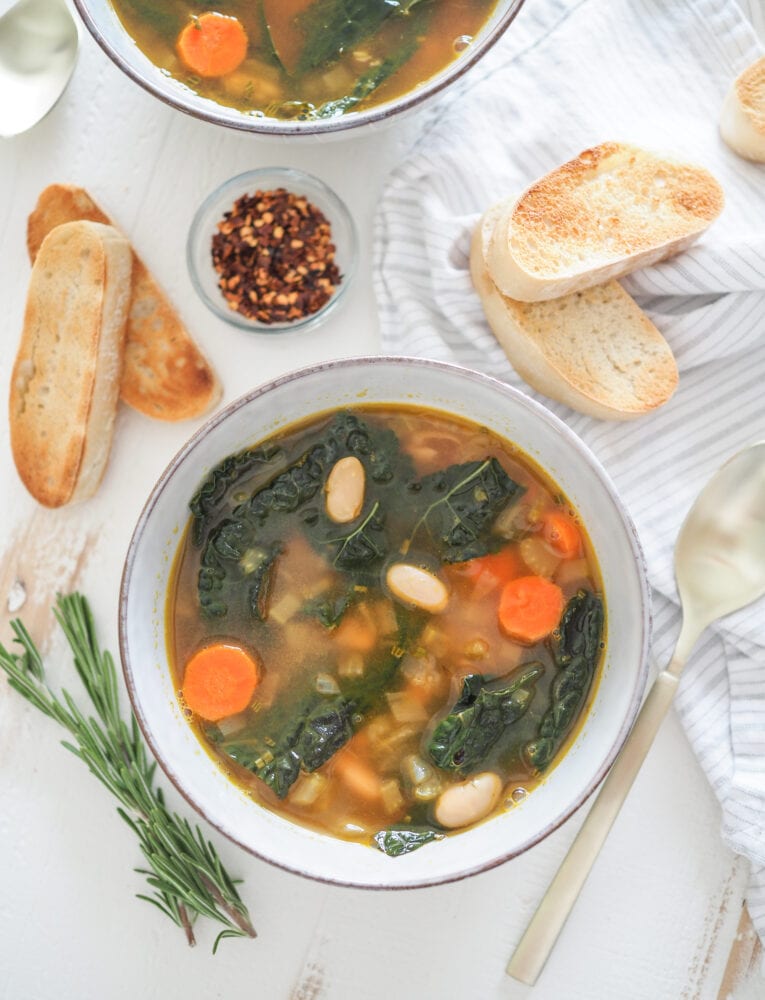 How Do You Thicken White Bean soup?
This soup recipe below is more broth-like in texture. But if you wanted to thicken it up, or make it more creamy, it is easy to do without adding milk or corn starch. Simply reserve a cup of white beans and a half cup of vegetable stock on the side. Then, add the cup of beans and half cup of broth to a food processor and pulse until you have a puree. Then, stir the white bean puree into the soup as it is simmering.
Is White Bean Soup Good For You?
When we get into the middle of comfort food season during the fall and winter, white bean soup is definitely one of my favorite meals when I want something a little more light and healthy-feeling. White beans are high in fiber and protein, making them pretty filling!
And because we're typically eating a lot of hearty beef stews or chilis, it is nice to have a dairy-free vegetarian soup option during the week that is easy to make.
Cooking Tips
Other Greens: I like to use lacinato kale in my white bean soup since it is traditionally used in Italian cuisine. But if you can't find it at your local supermarket, you can easily swap the kale for other leafy greens such as spinach, collard greens, or chard.
Other Beans: If you don't have cannellini beans on hand, Navy Beans or Great Northern Beans will work too!
How To Thicken Soup: If you'd like a thicker, creamier white bean soup, add the 1 cup of beans and a half cup of broth to a food processor and pulse until you have a puree. Then, stir the white bean puree into the soup as it is simmering.
What To Serve With White Bean Soup
Wondering what to serve with your hearty Tuscan White Bean Soup? Since it is inspired by the Italian Ribollita as mentioned above, a thick crusty bread to dip in the broth would be perfect. I also recommend topping it with a pinch of shaved Parmesan and serving with roasted red pepper flakes on the side in case your family wants to add a bit more heat.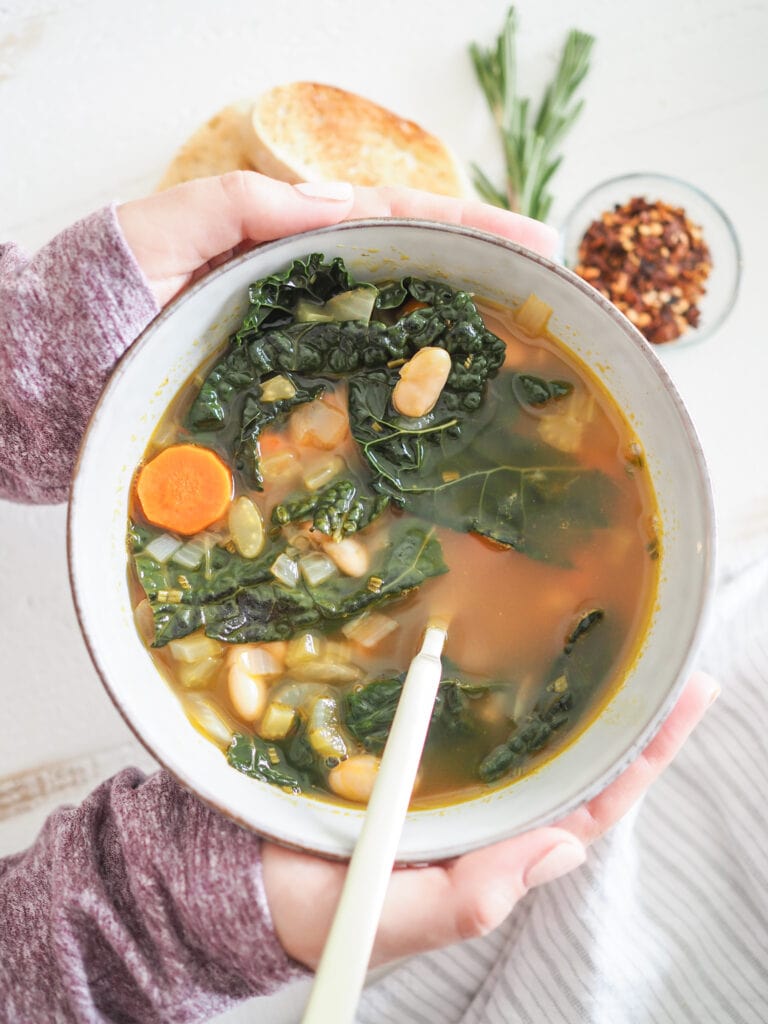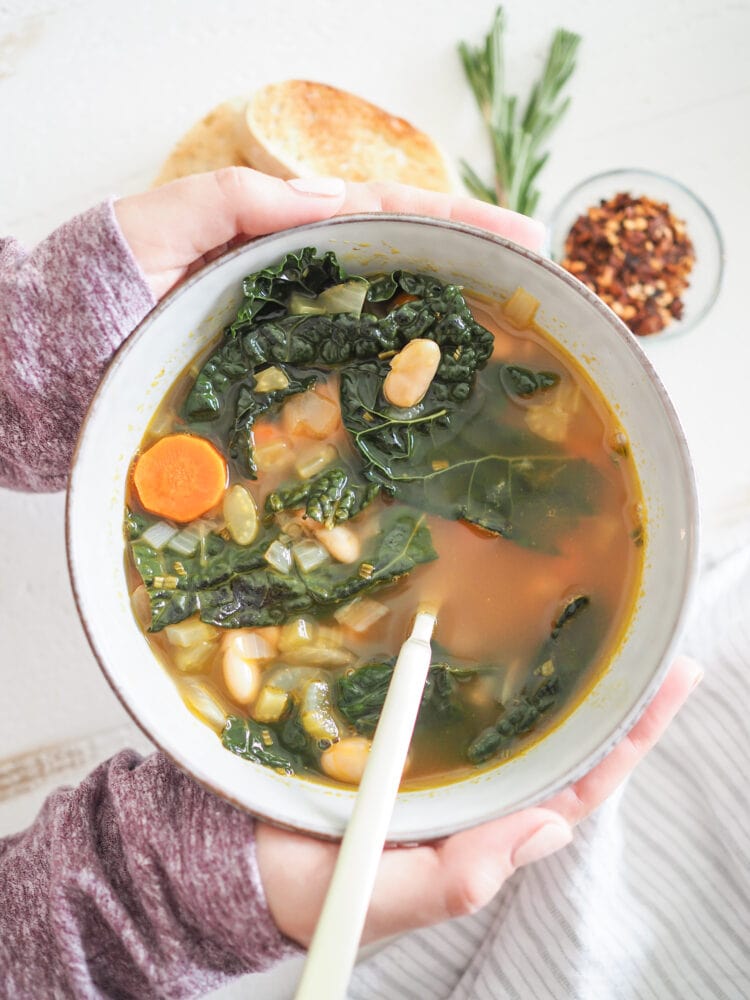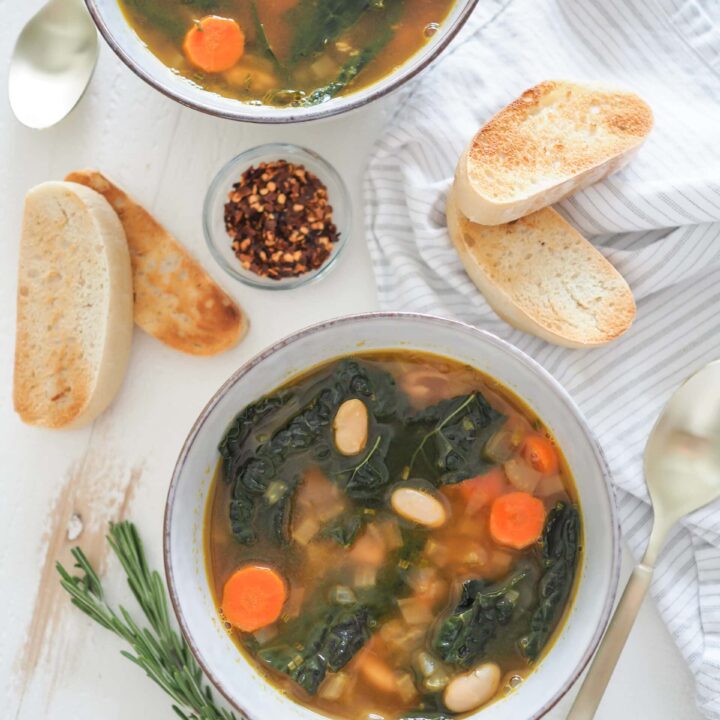 Tuscan White Bean Soup
Ingredients
2-3 Large Shallots (1 Cup Chopped)
2-3 Large Carrots (1 Cup Chopped)
2-3 Celery Stalks (1 Cup Chopped)
2 Garlic Cloves, Minced
1 Cup White Wine
6 Cups Vegetable Stock
2 Cans Cannellini Beans, drained and rinsed
1-2 Springs Fresh Rosemary, finely chopped
1 bunch Lacinato Kale
2 Tbsp Olive Oil
1 tsp salt
1/2 tsp Red Pepper Flakes
Instructions
Start by washing and prepping the vegetables. Peel and chop the carrots into 1/4" slices. If using extra large carrots, cut the coin-shaped slices in half. Then clean and dice the shallots and celery too. Measure out 1 cup of each.
Heat a large sauce pan on medium heat. Add the olive oil and carrots and cook for 2-3 minutes.
Next add the shallots and celery and cook for an additional 5 minutes, continuously stirring until all the vegetables have started to soften and brown. Once it has started to brown, add the minced garlic and cook for an additional minute.
Pour in the wine to deglaze the bottom of the pan, then add the broth and teaspoon of salt. Bring to a low simmer and allow to cook for 15-20 minutes.
While the broth for the white bean soup is simmering, prepare the kale by washing and drying the leaves. Fold the long kale leaf in half, and using a sharp knife, cut away the stem. Then chop the leafy greens into 1" pieces.
Prep the rosemary by removing the needles from the stem and chopping them very fine.
Add the rosemary, kale, pinch of red pepper flakes, and rinced beans to the simmering broth and cook for 5 mintues until the kale leaves are tender.
Ladle, serve, and enjoy your homemade Tuscan White Bean Soup!
Nutrition Information:
Yield:

8
Serving Size:

1
Amount Per Serving:
Calories:

178
Total Fat:

4g
Saturated Fat:

1g
Trans Fat:

0g
Unsaturated Fat:

3g
Cholesterol:

0mg
Sodium:

739mg
Carbohydrates:

26g
Fiber:

6g
Sugar:

4g
Protein:

8g
Nutrition information provided is only an estimate.
MORE SOUP RECIPES YOU'LL ENJOY
Updated 2021