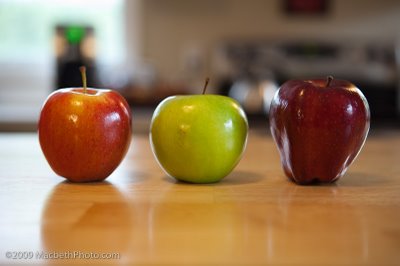 An apple a day keeps the doctor away. Or so they  say.
But this recipe isn't one of those. Loaded with "buttah" and "sugah" it is definitely not doctor's orders.
The scents and spices in this one remind me a lot of Fall. It's a recipe from The Captain's Inn that is a favorite of mine.
I want to try it again with peaches or blueberries to give it a summer spin.
In the meantime … here's an Apple Puffed Pancake. I have the full recipe at the end of the post.
The deliciousness in their original, individual form …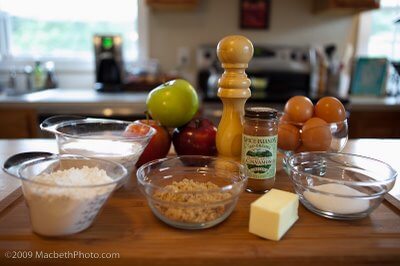 Start by slicing up some apples…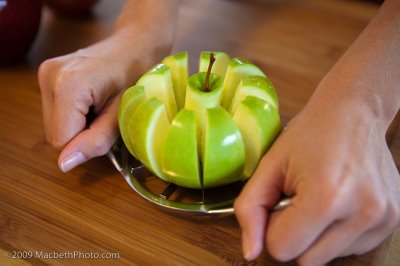 I have a handy dandy apple slicer that makes coring apples easy.
Is that cheating?
Is it still really home-baked goodness when a few corners are easily cut?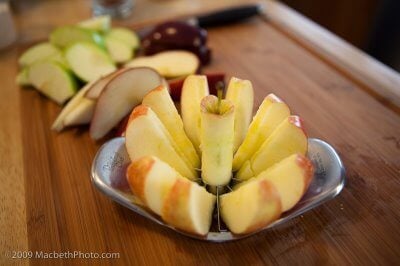 Of course, it doesn't do ALL the work.  Just a little short cut.  Cause they still need to be thinly sliced.
I chose 3 different varieties of apples … not so much for flavor, but for color.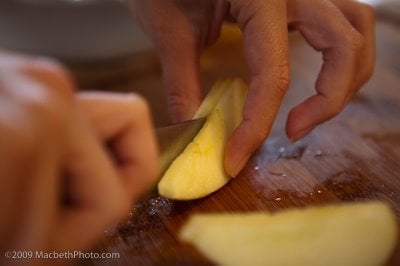 While your prepping apples … add a dab of butter into a glass baking dish. I used two ceramic pie pans.
The recipe is actually very FAST and EASY. So you'll be ready by the time the butter is melted.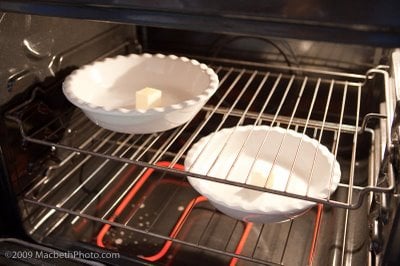 Next is the easy part. Making a pancake smoothie.
Basically … add all of your ingredients to a blender.
Starting with … The eggs.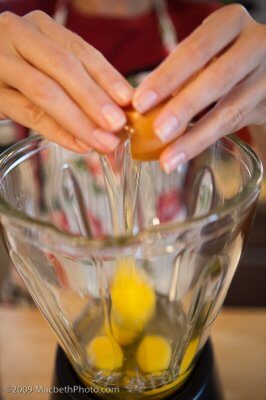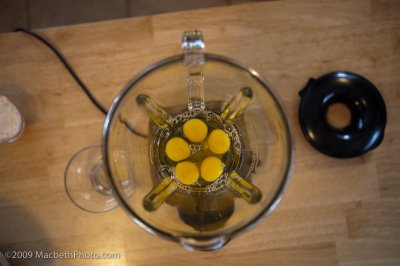 The Milk.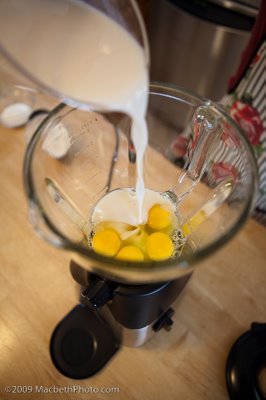 The Flour.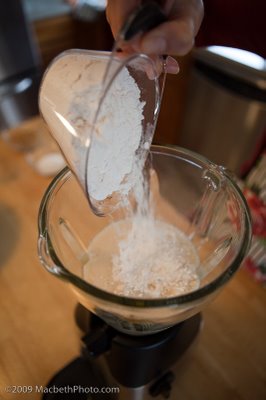 The Sugar.  Eh em.  Sugaah.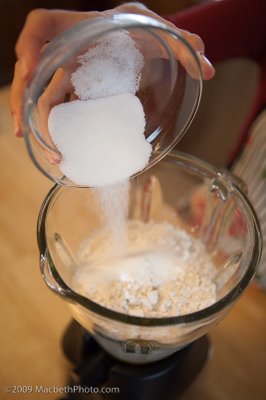 A dash of vanilla.
Like my high-tech measuring spoon?
It's built into the cap.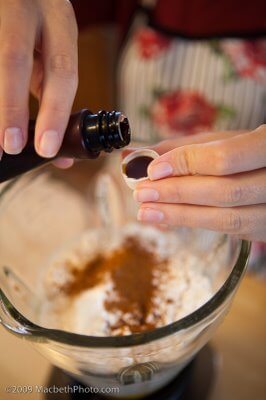 Blend.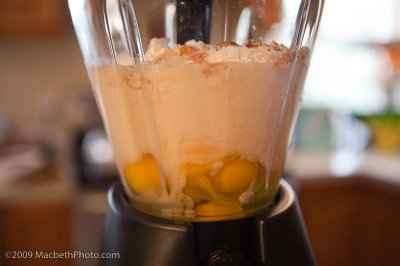 Get your dish with "buttah"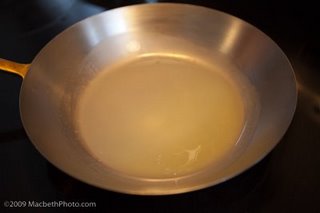 Place your apples in the "buttah" …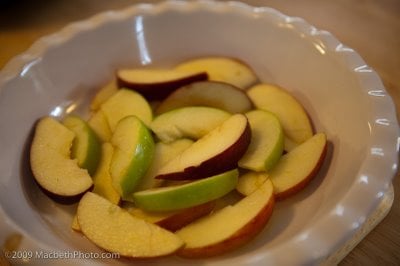 Then pour your batter over the fruit.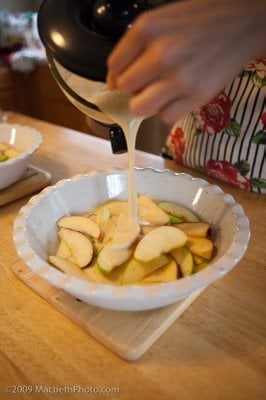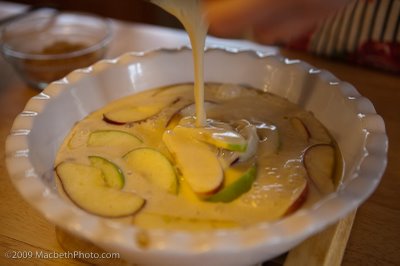 Sprinkle on some brown sugah.
Have I developed a southern accent in this post?  Is that possible?
This is going to melt down and create a nice sweet syrup.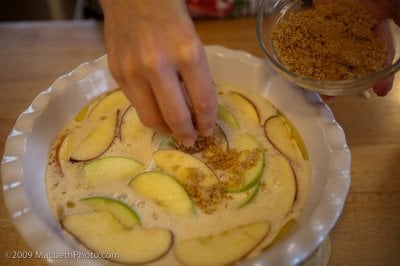 Time to add all this sweet goodness to the oven.  Don't forget your oven mitts!
The dish may still be hot from melting the butter.  Oh, excuse me, the buttah.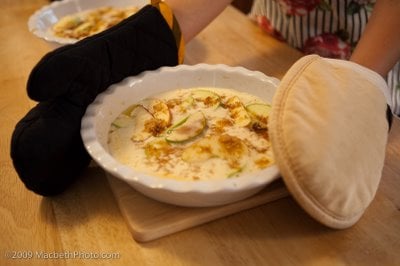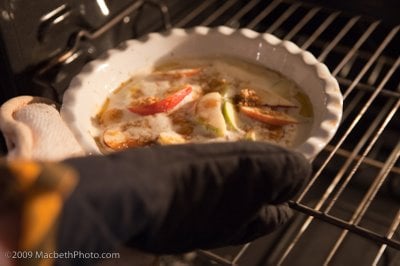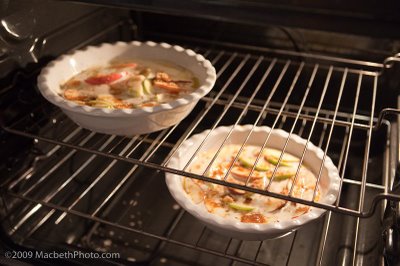 When it's done, it's delish. Every bit as sweet as it looks and sounds.
Besides breakfast, I would also put this down in my list of desserts.
The consistency is a little like bread pudding.
Slice up and serve like a pie. Enjoy!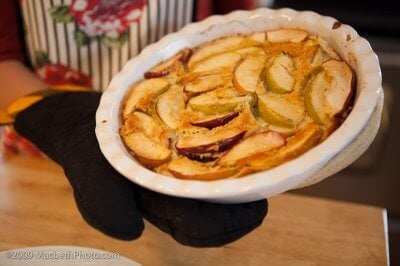 –Rachelle
Apple Puffed Pancake Recipe
Ingredients
6 eggs
1 1/2 Cups milk
1 cup flour
3 tablespoons sugar
1 teaspoon salt
1/4 teaspoon vanilla
1/4 teaspoon cinnamon
1/4 butter
3 apples, peeled, thinly sliced
3 tablespoons light brown sugar
Preheat oven to 375 degrees. In a blender mix eggs, milk, flour, sugar vanilla salt and cinnamon, until well blended.
In a 12-inch fluted glass dish, add butter and place in oven until melted.
Remove from oven; add in single layer apple slices; then pour batter over apples, sprinkle top with brown sugar.
Bake for 45 minutes to 1 hour. Serve immediately with warm maple syrup. Serves 6
I like to accompany this with a slice of grilled ham steak and fresh fruit.
"My sister-in-law Marsha gave me this recipe, and every time I serve it the comment is, 'wonderful!'" — Tamara at the Captain's Inn.
###