These air fryer donuts dipped in apple cider syrup and cinnamon sugar is one of my favorite sweet treats for fall. Personally, I like this air fryer donut recipe better than the apple cider donuts we taste at local food trucks and autumn harvest events. These air fried donuts truly taste like apple cider! And since these are air fried donuts, they hold on to flavor without the greasy aftertaste of regular donuts. We hope you love them as much as we do! Scroll through for some tips and tricks, or hit the "jump to recipe" button to get started.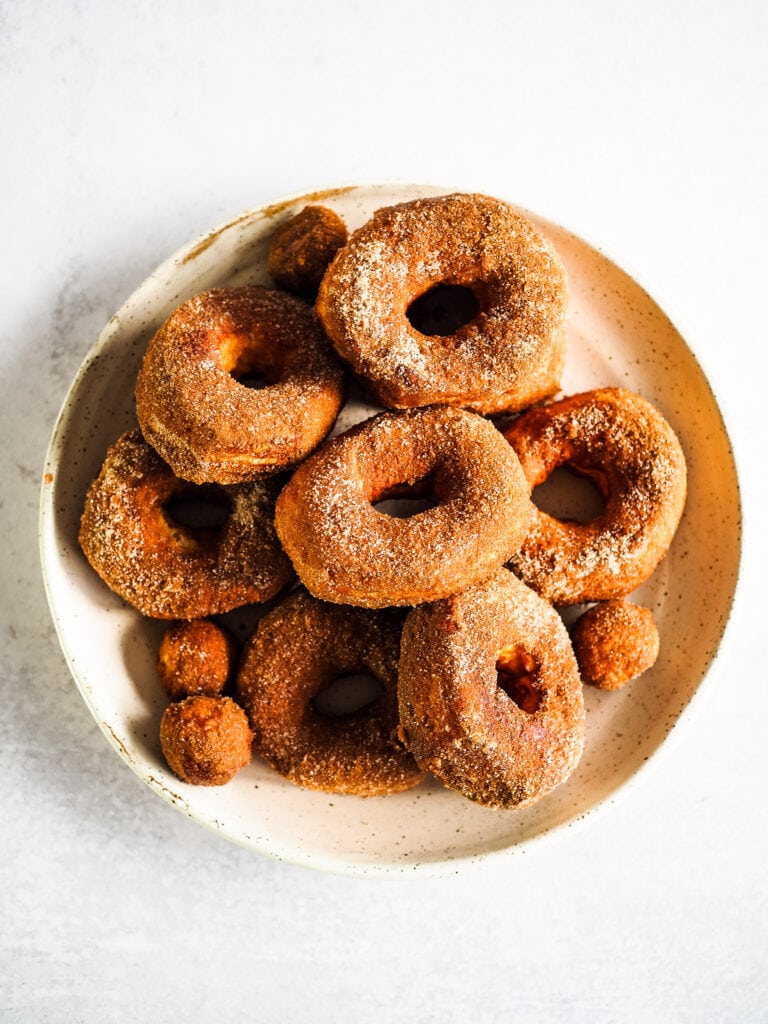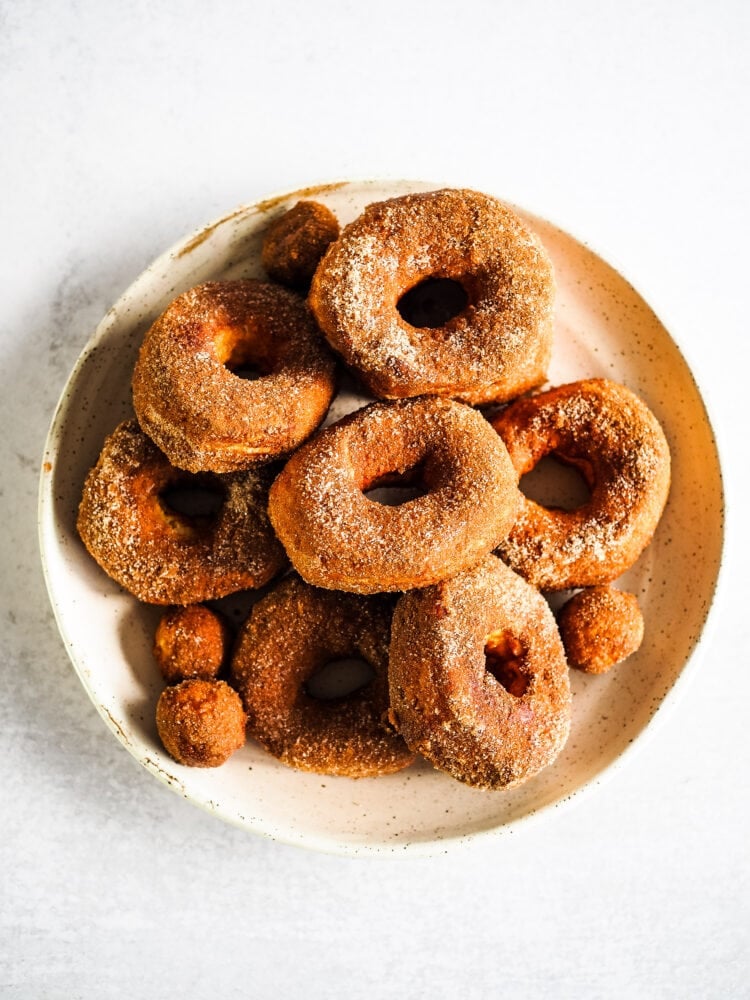 Ingredients For Air Fryer Donuts
What I love about this air fryer donut recipe is that it is SO easy! Truly, you can make these with just three ingredients. But since it is the autumn season, we spiced them up a bit with an apple cider syrup that tastes like the epitome of fall. Now, could you make these with a biscuit dough from scratch? Sure. But I like to have a few recipes where I can cut corners and save some time, so that is why we like to use store-bought biscuit dough. Our favorite is the buttermilk biscuit dough. And the flaky pull-apart doughs are also great for making it more like a cronut (croissant donut).
Can of Buttermilk Biscuit Dough
Granulated Sugar
Cinnamon (You could also use Pumpkin Pie Spice or Apple Pie Spice)
Mulling Spice Syrup (You can typically find this at your local liquor store or gourmet grocer where they have a fall or cocktail display)
If you can't find the mulling spice syrup, look for spiced apple cider concentrate in your grocers juice section. Or, dip the donuts in a melted butter, and then use apple pie spice. But to truly get that rich apple cider flavor, I definitely recommend the mulling spice syrup.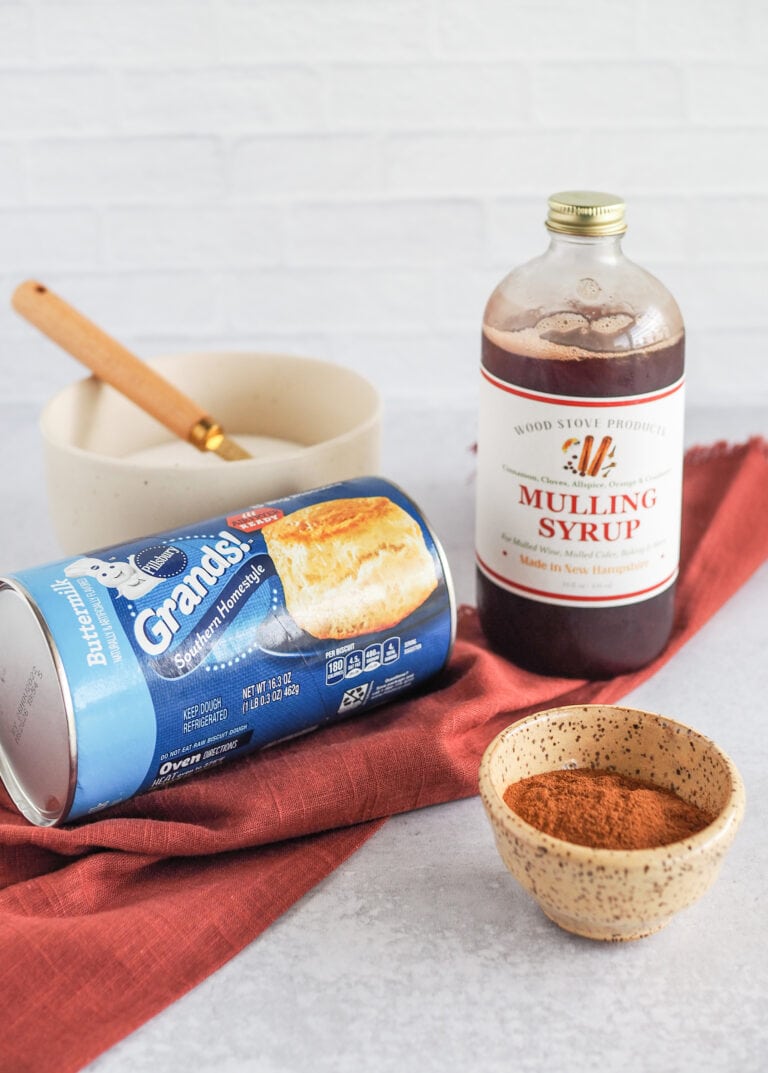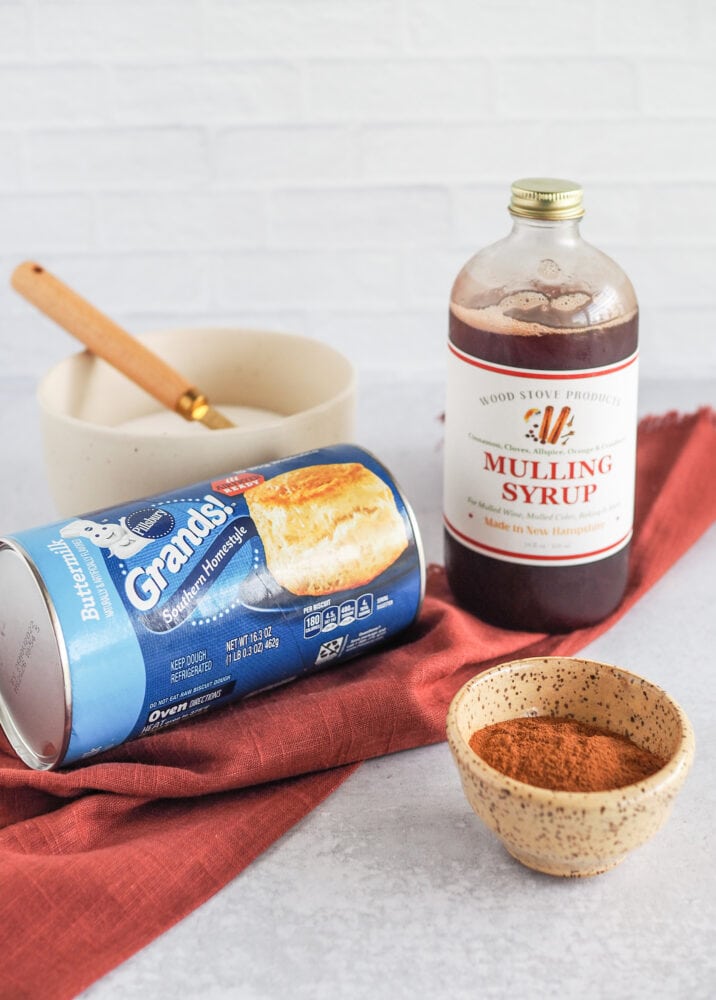 Air Fryer Donut Recipe: Step-By-Step
This is a recipe we've done on-air for Ninja on HSN (the air fryer donut recipe is included with most Ninja air fryers). I have a slightly different method that I like to use to get more golden brown air fried donuts. I like to coat the donuts in cinnamon sugar twice! Once before air frying, and once after air frying. Read on below to see how to make air fried donuts with step-by-step photos.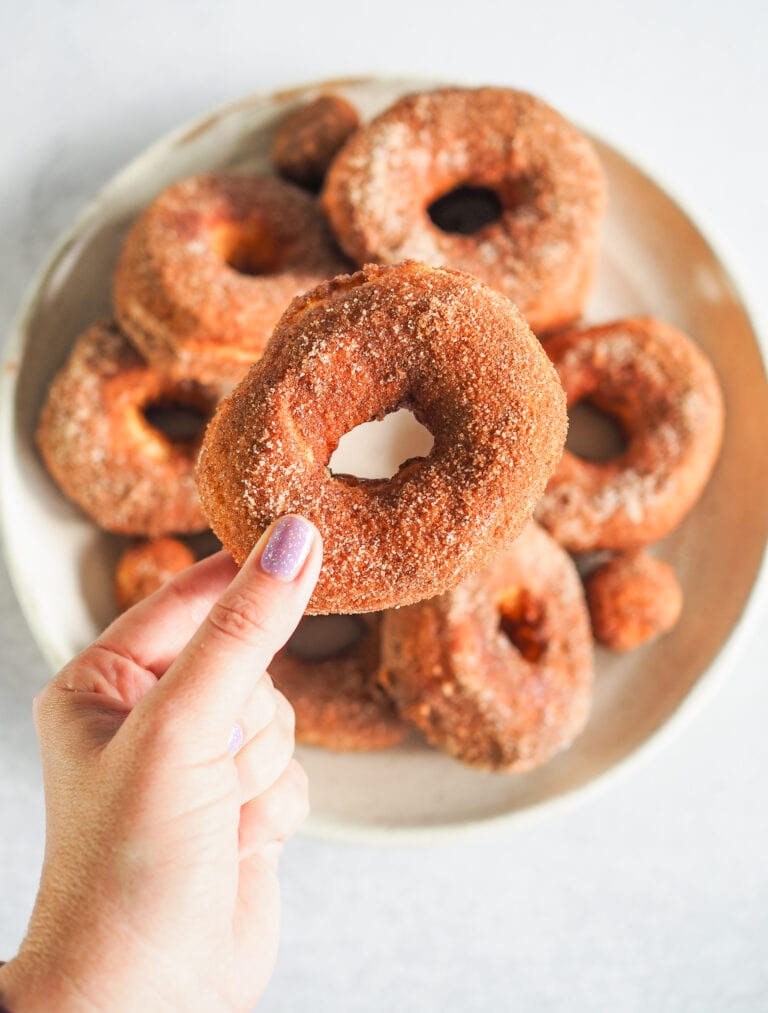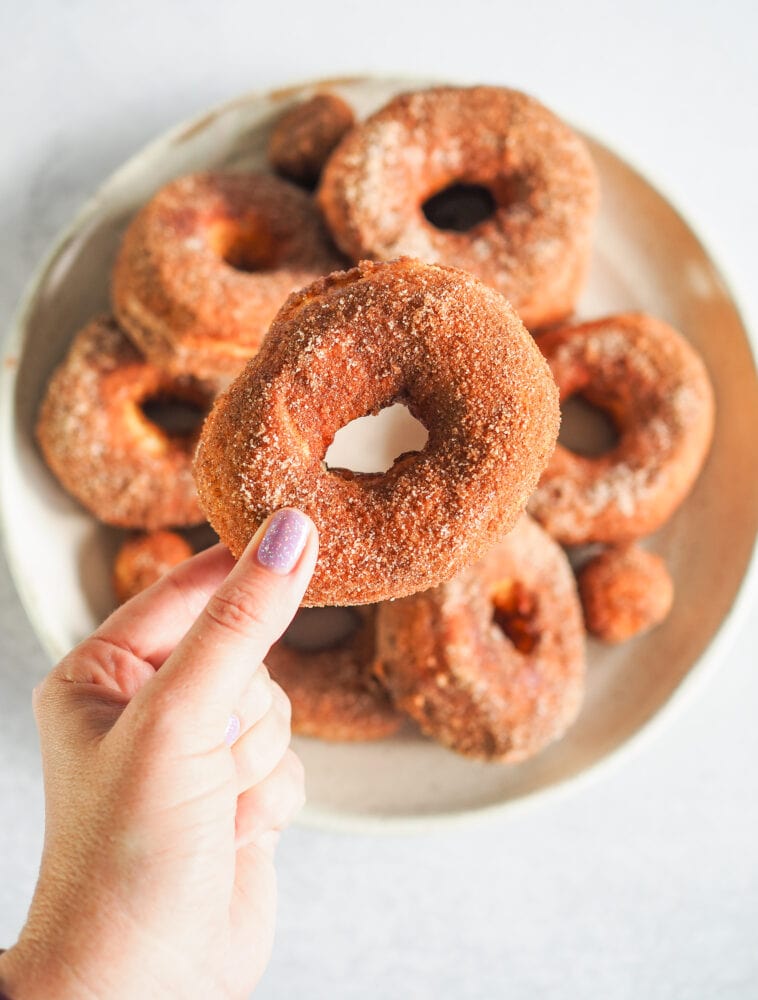 Shape Biscuit Dough Into Donuts
Shape donuts using a small biscuit cutter or bottle. I've tried just poking a whole in the center and shaping them with my hands, but the biscuit dough sticks together again when it rises in the air fryer. As for cutting the holes, I use a small bottle to get the perfect size. Roll the smaller dough pieces, the donut holes, in the palms of your hand to shape them.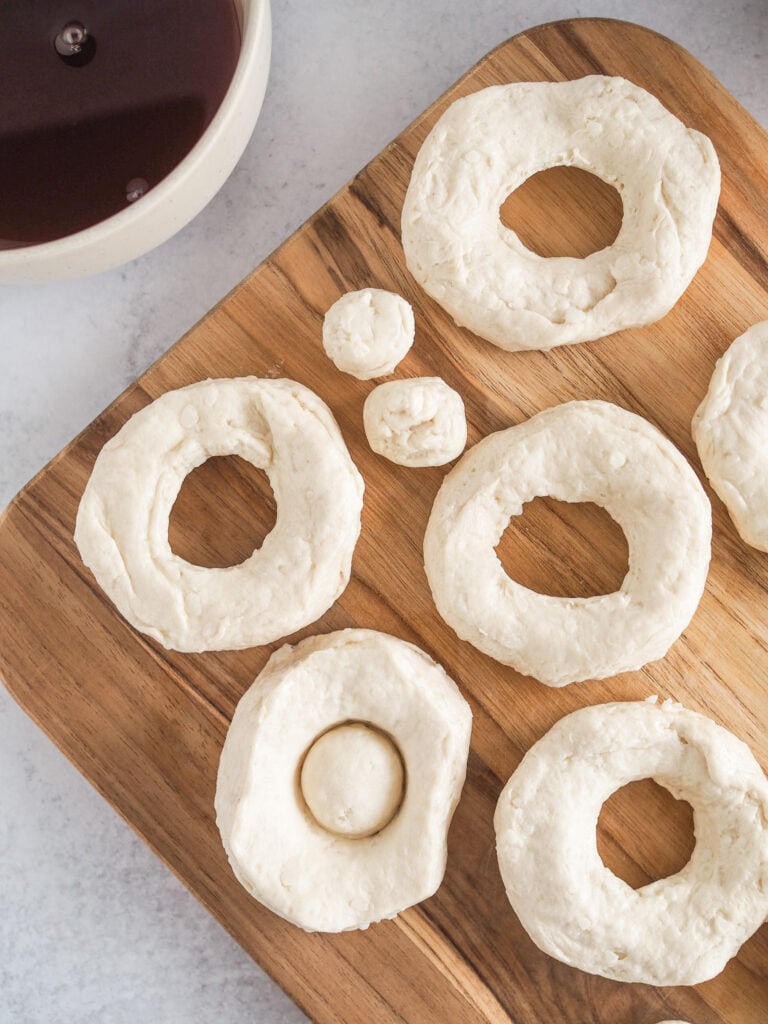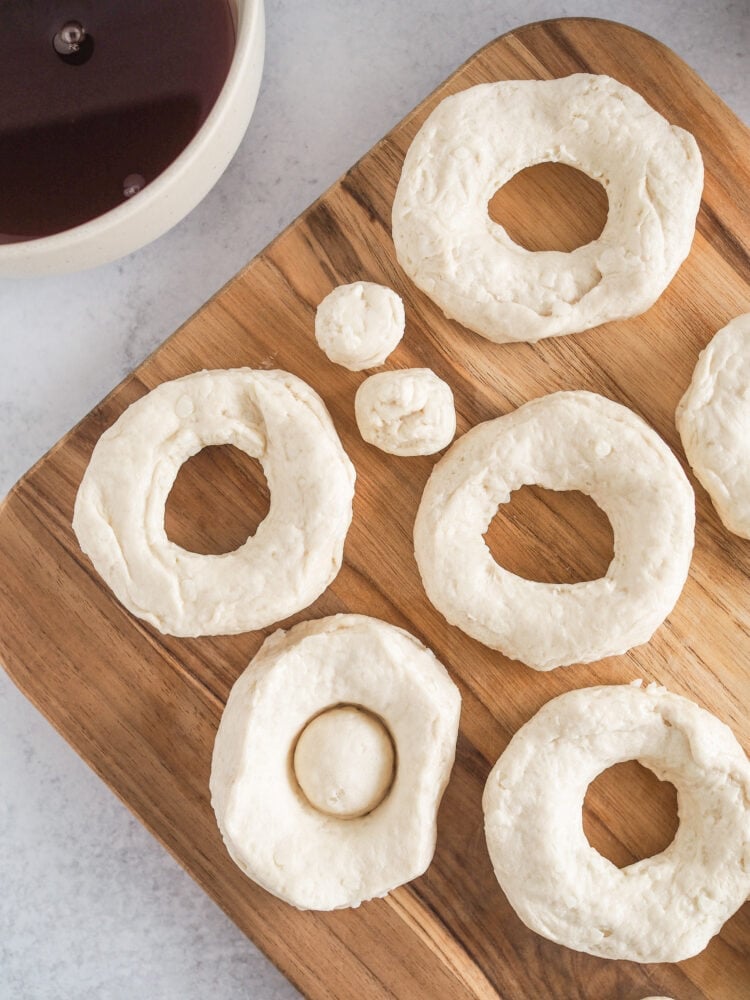 In a small bowl, mix two tablespoons of cinnamon with one cup of sugar. Here is where you can experiment and also try Pumpkin Pie Spice or Apple Pie Spice. Turn your air fryer on and pre-heat at 390 degrees Fahrenheit for five minutes.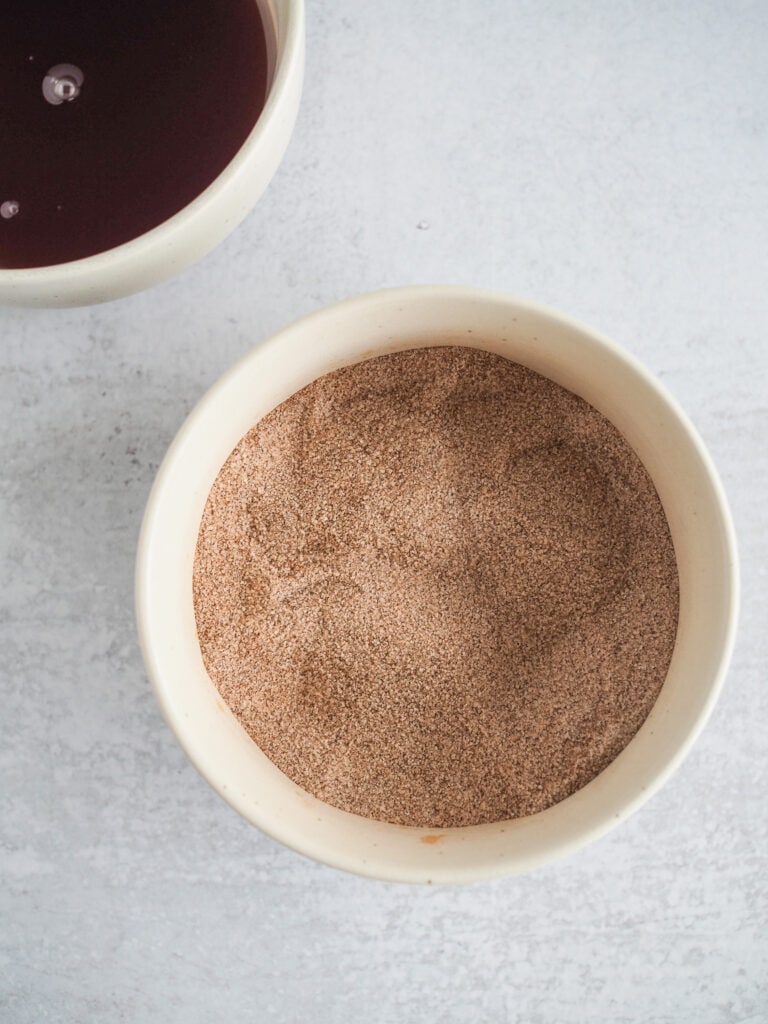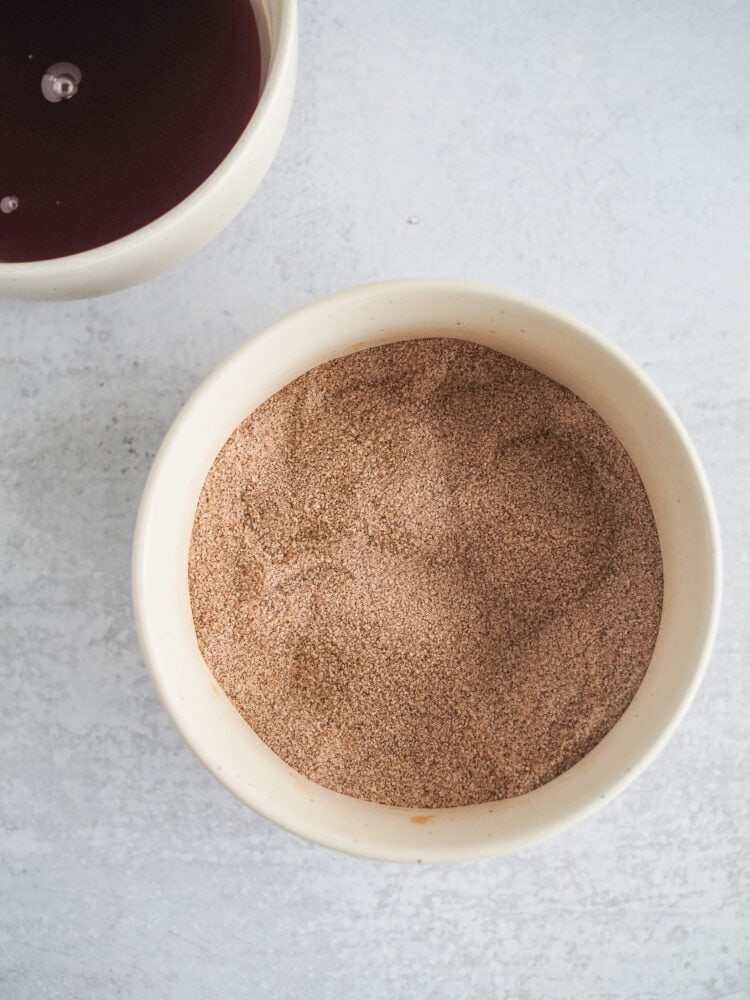 Coat Donuts In Cinnamon Sugar
Once the cinnamon and sugar are mixed, hold a raw biscuit dough donut over the bowl and spoon the cinnamon sugar mixture over the dough. Do not dip the raw donuts in the cinnamon sugar. By spooning the mixture over the raw donuts, the cinnamon coats the dough more evenly for better flavor and color.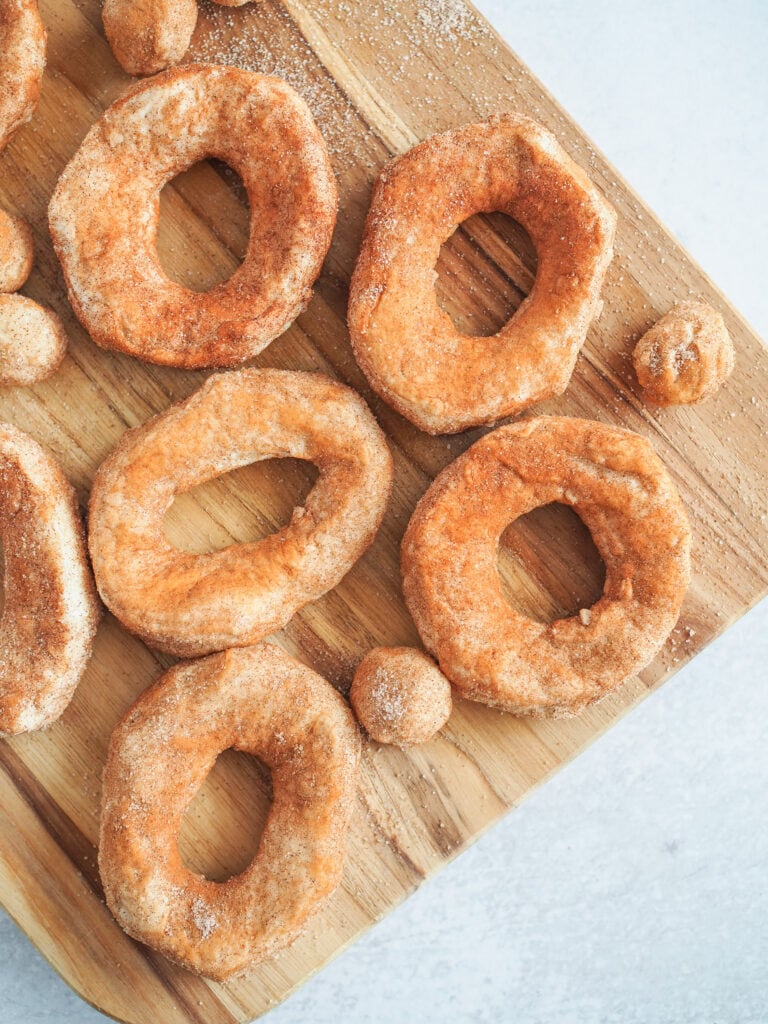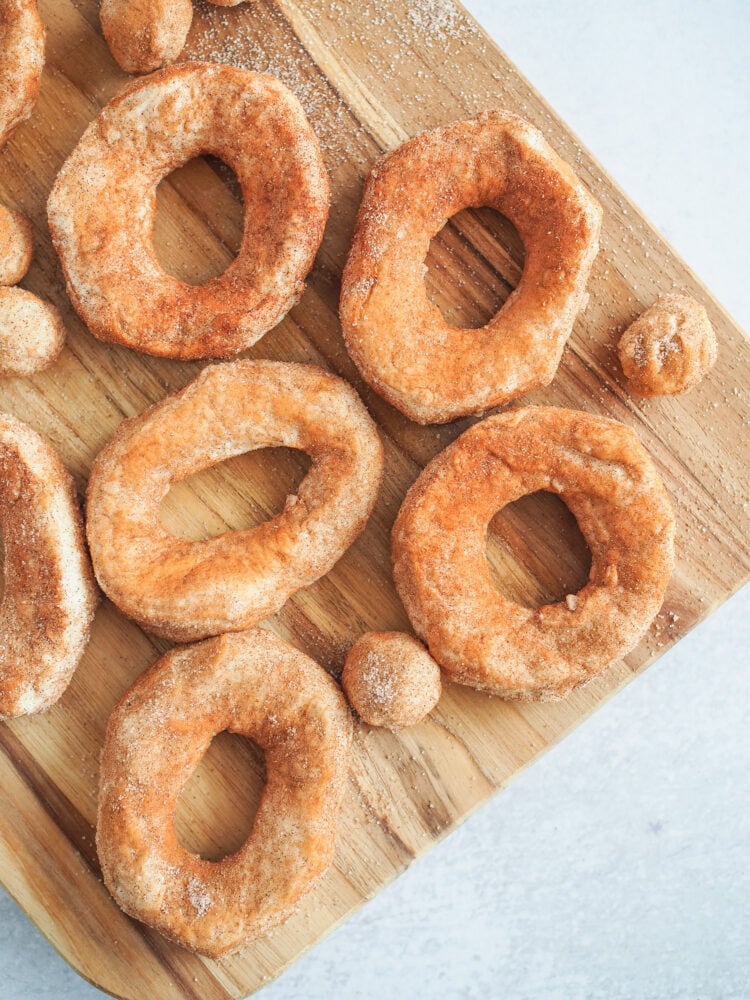 Air Fry Donuts
After you've coated the donuts in cinnamon sugar, carefully place each donut into your air fryer basket. Leave some room between the donuts to allow the hot air to move freely and to give the donuts room to rise. You may have to air fry these in batches.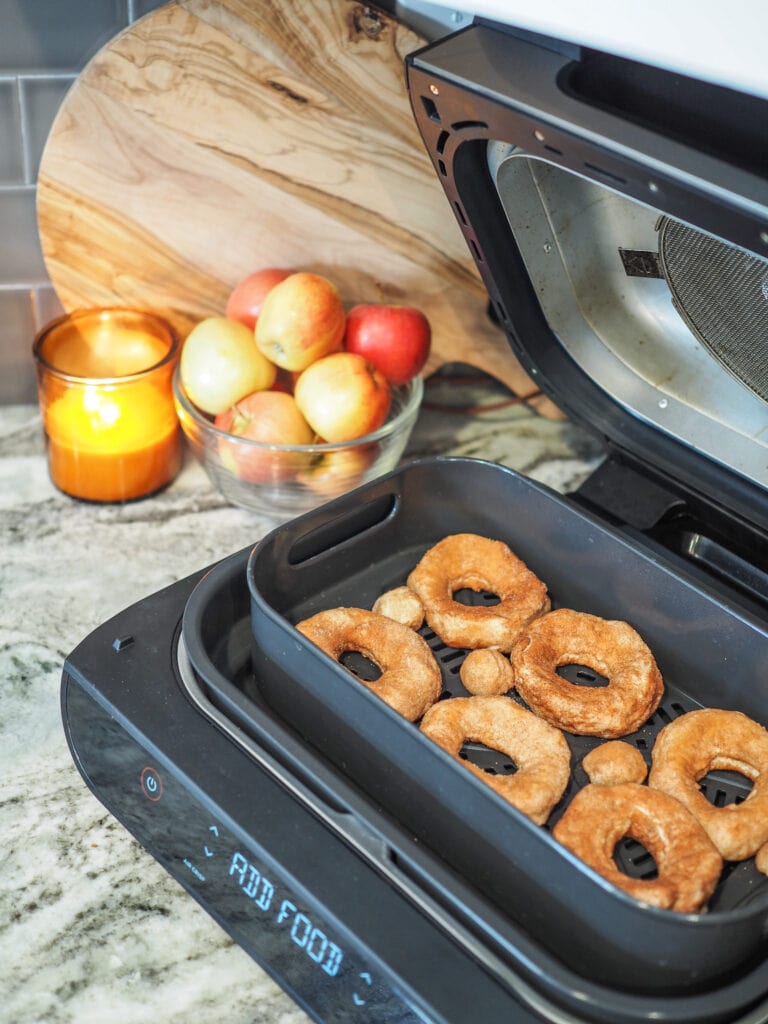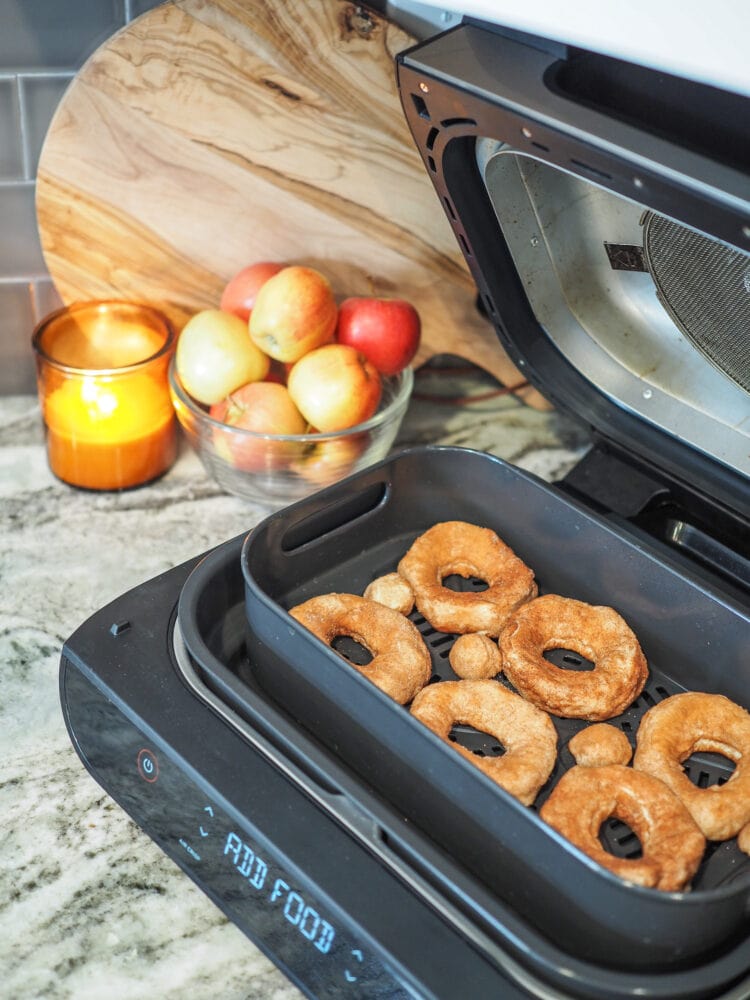 Lower the temperature of the air fryer to 350 degrees and air fry the donuts for 10-12 minutes. For deeper air fryer baskets, such as the ones in XL air fryers, you may need to add a little more time. Check them after 10 minutes and add a minute at a time until done.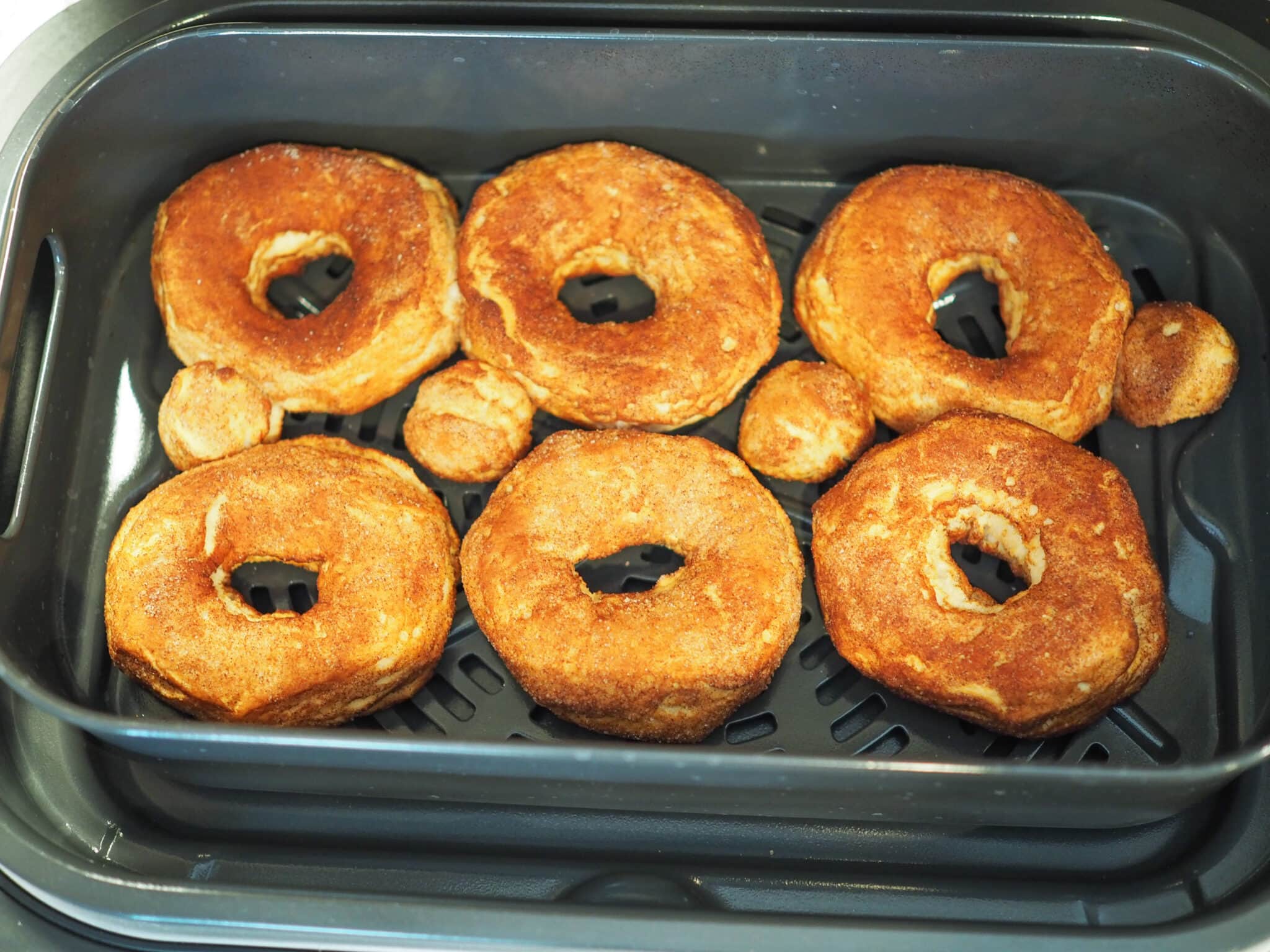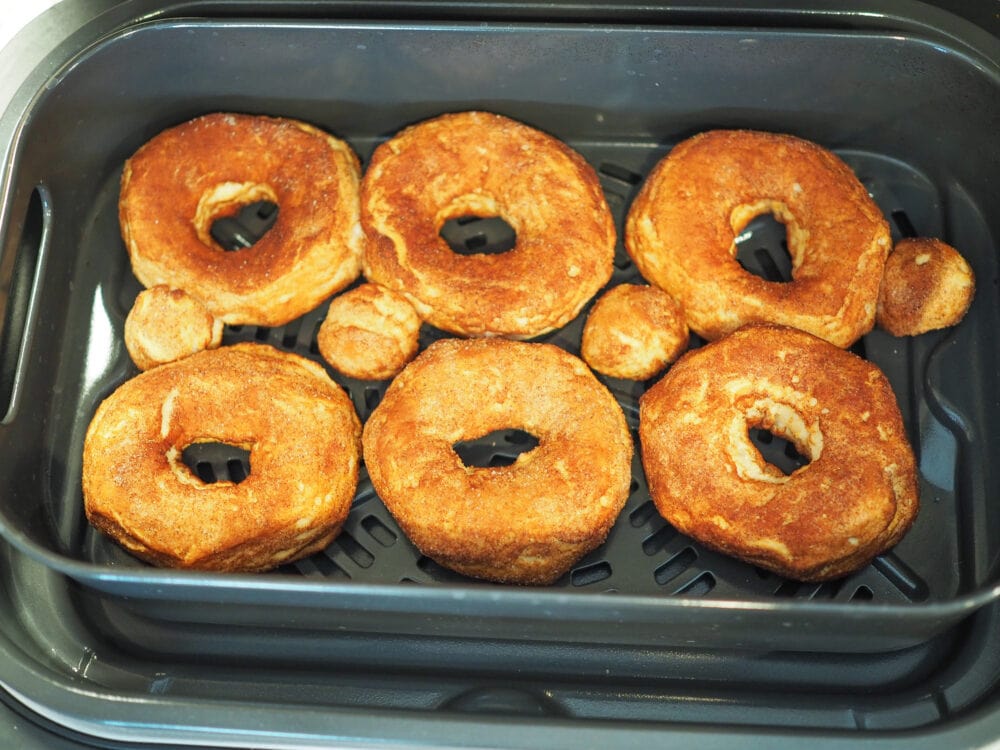 Flavor Donuts With Apple Cider Syrup
While the donuts are air frying, set up a little assembly line of about a half cup of apple cider syrup in a small bowl, a small bowl of cinnamon sugar, and a plate for serving.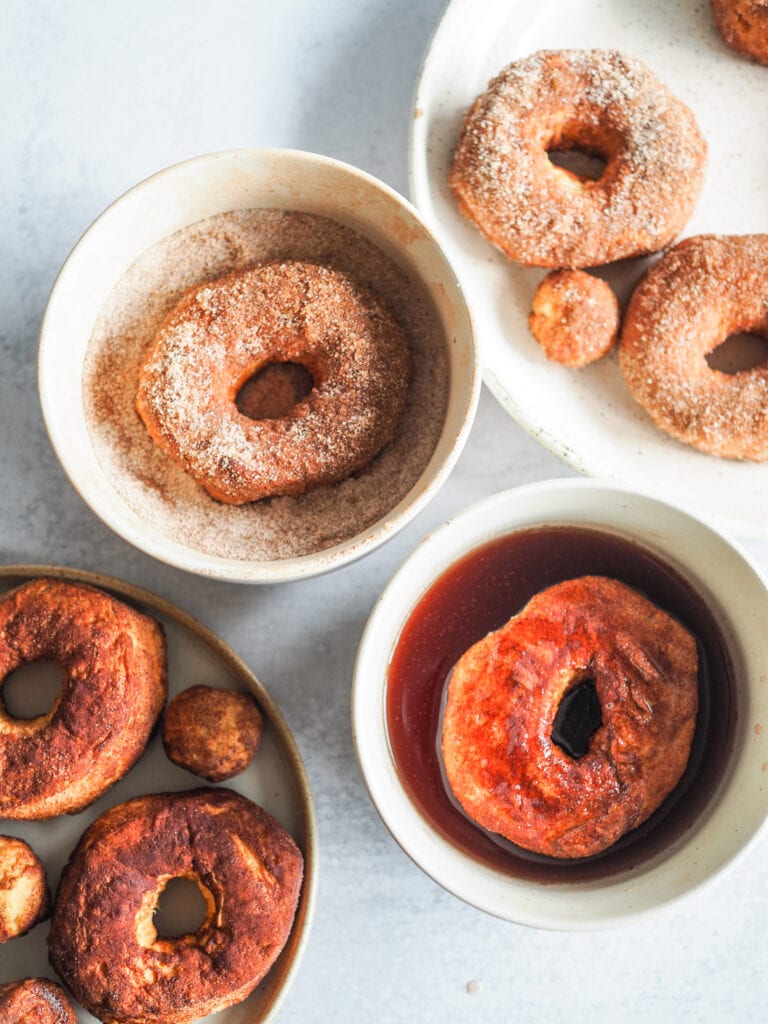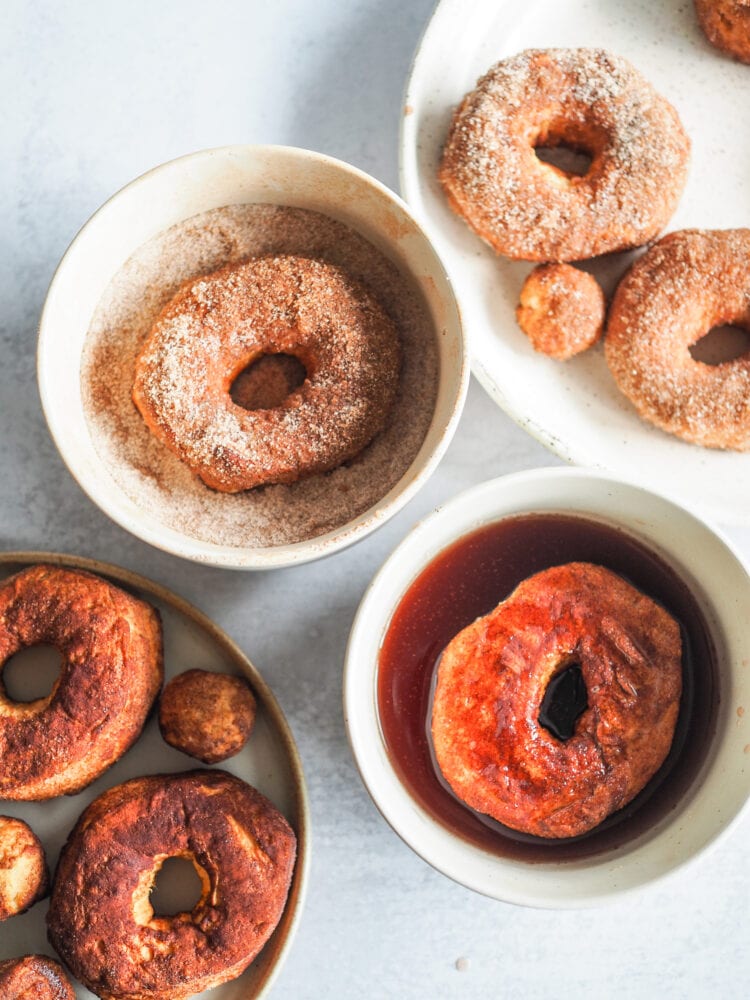 Once the air fryer donuts are done, carefully dip each one in the apple cider syrup. Flip the donut in the syrup and be sure to coat boat sides.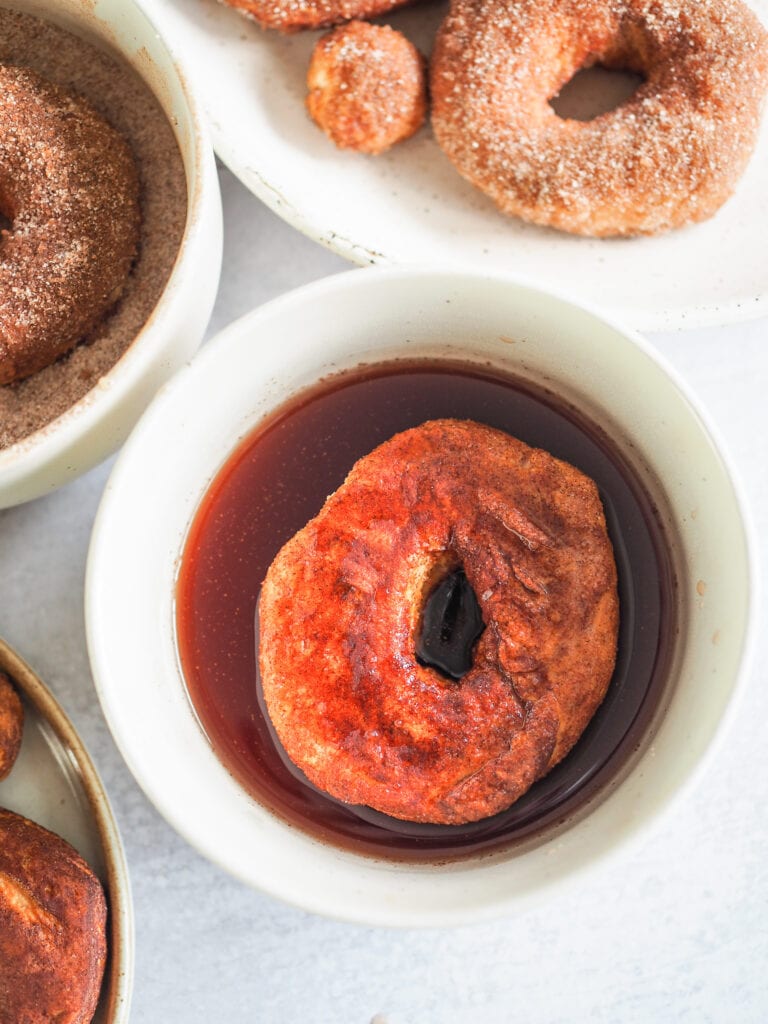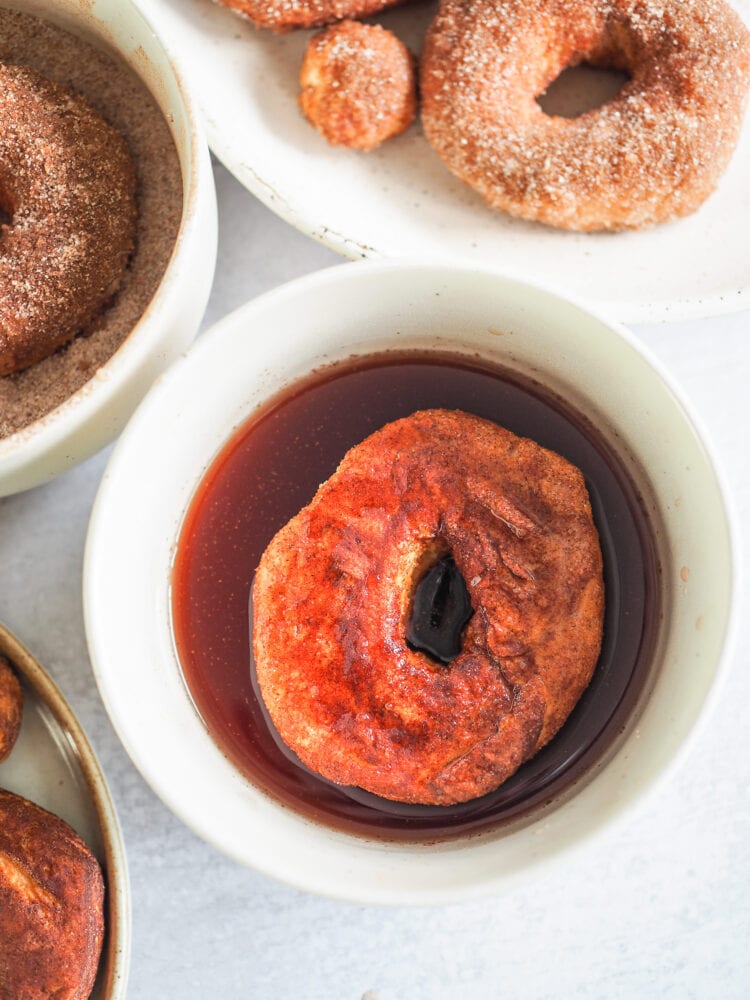 Then dip the donut in the cinnamon sugar mixture, flipping again to coat both sides. Repeat this process until all the air fried donuts are coated in apple cider syrup and cinnamon sugar.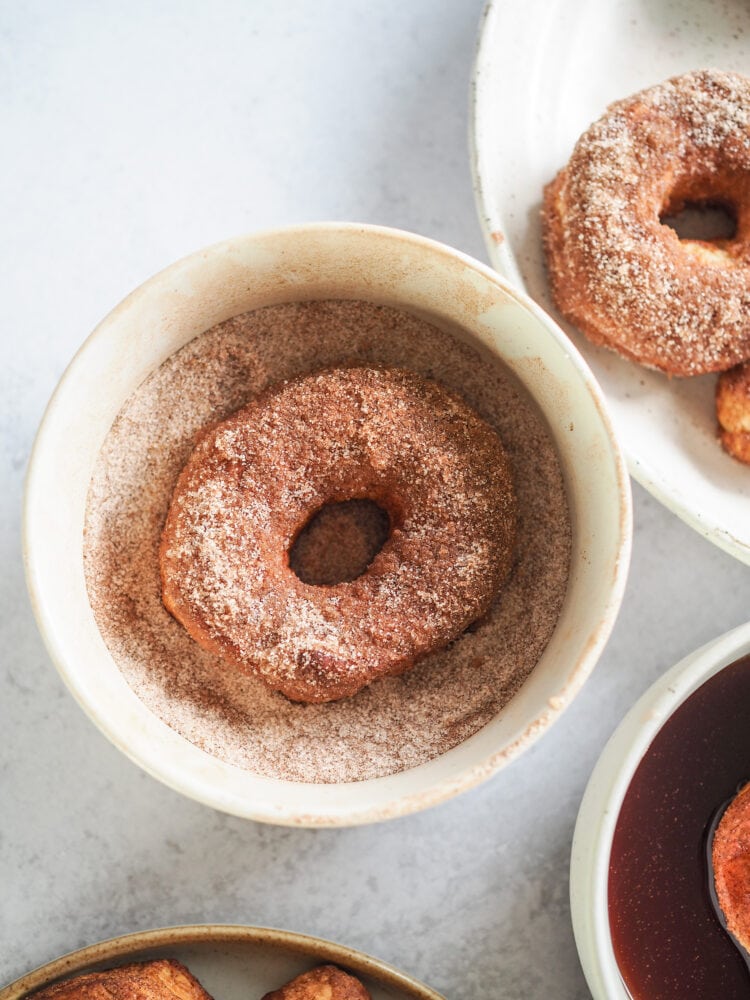 Serve warm with a cup of tea or coffee and enjoy!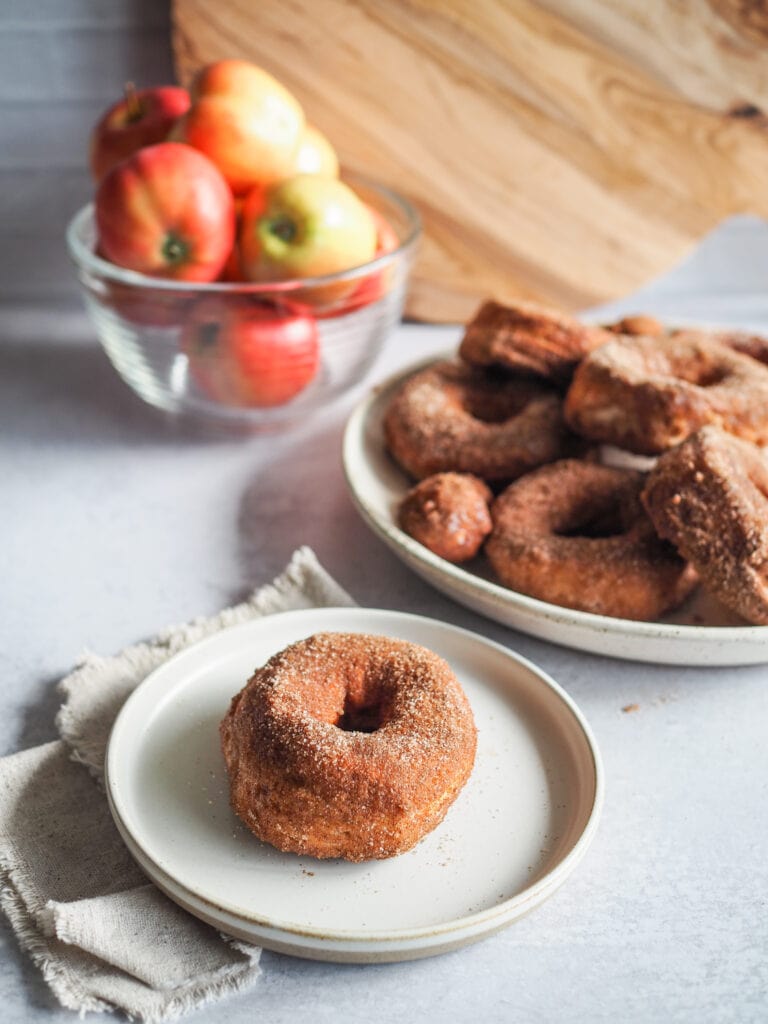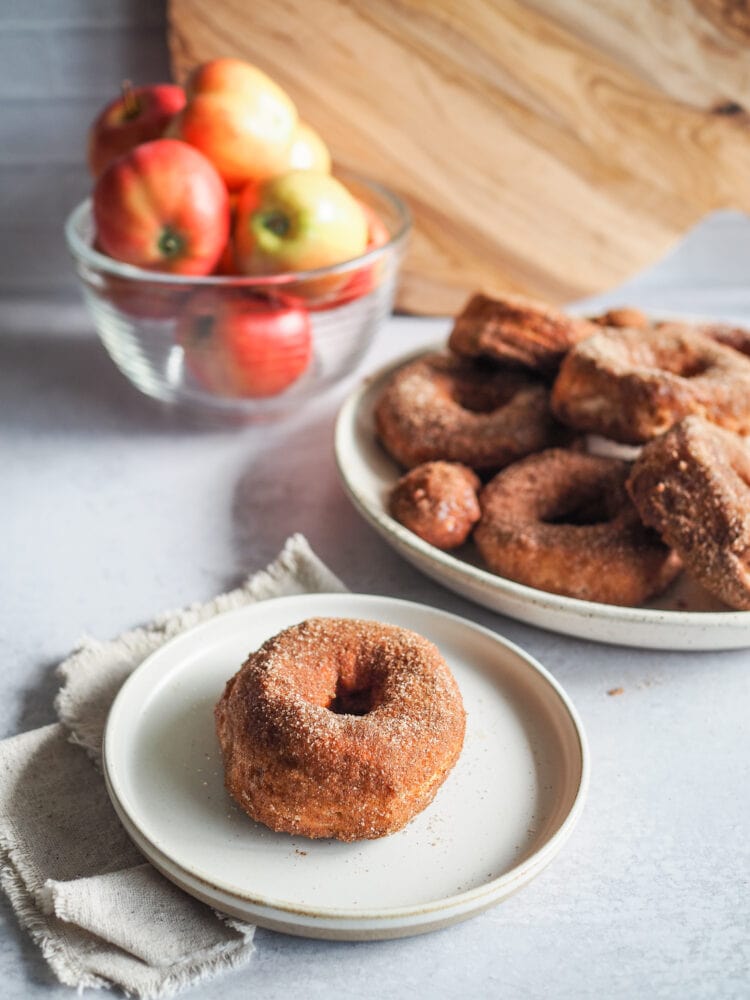 Storing and Keeping Apple Cider Air Fried Donuts
If the air fried donuts aren't gobbled up by your friends, family, and neighbors in one sitting, they can keep for 3-4 days in a sealed container or storage bag. The air fried donuts are best served warm, though, so re-heat them before enjoying any left overs.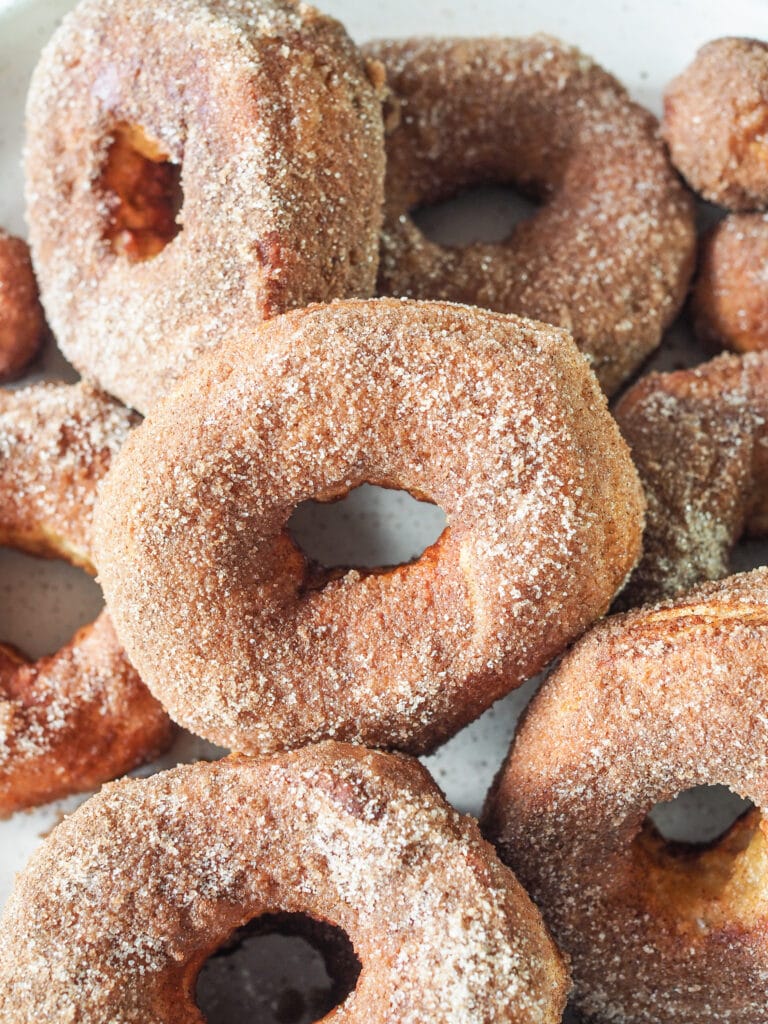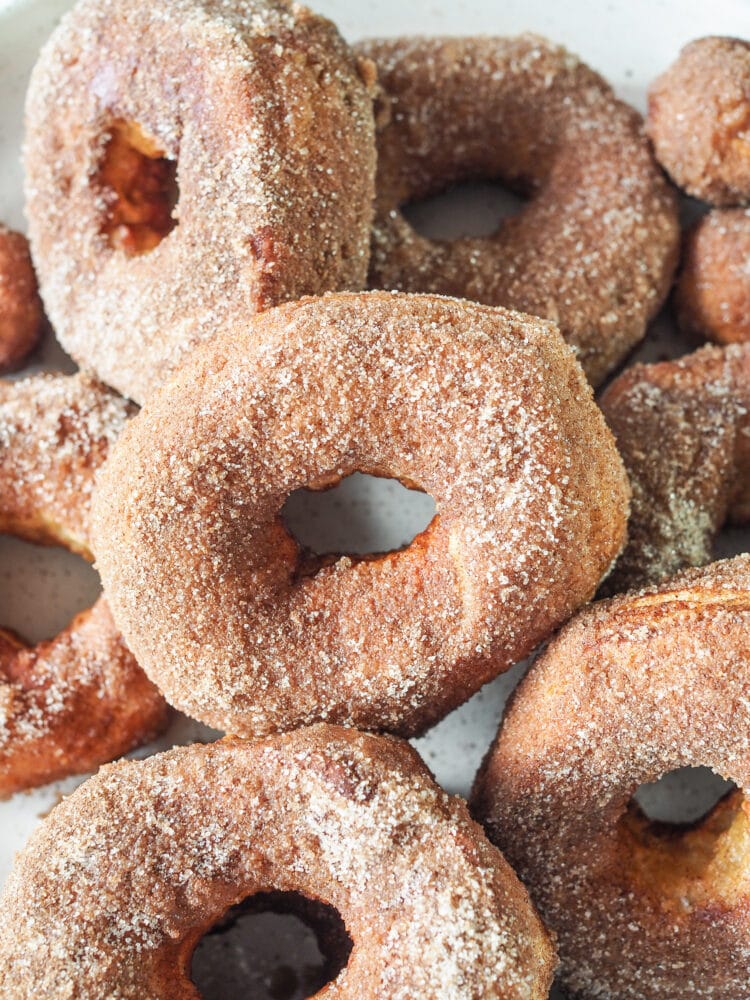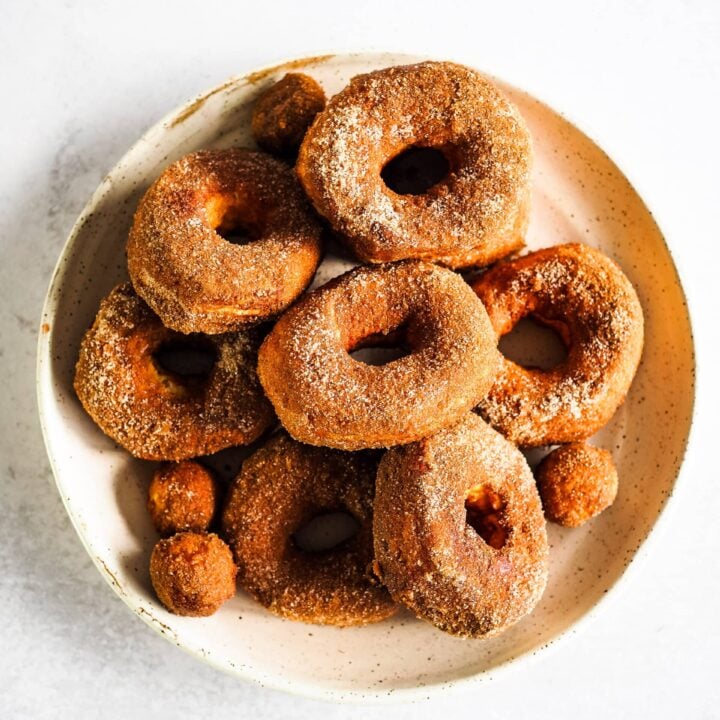 Apple Cider Air Fryer Donuts
These apple cider air fryer donuts are EASY to make! And such a great fall treat.
Ingredients
1 Can Buttermilk Biscuit Dough (8 count)
1 Cup Granulated Sugar
1/2 Cup Mulling Spices Syrup
2 Tbsp Cinnamon
Instructions
Preheat air fryer to 390 Farenheit for five minutes. In a small bowl, mix the cinnamon with the sugar using a spoon or fork. Pour the mulling spices syrup (or apple cider concentrate) into a separate small bowl.
Remove biscuit dough from can and press donut holes in center with a biscuit cutter or bottle. Roll donut holes in hands to create a ball. Carefully shape donuts after hole is cut in center.
Hold raw donut over sugar bowl and pour cinnamon sugar over the donut using a spoon. Coat the entire donut and set aside for air frying. Repeat this step with all the donuts and donut holes.
Lower temperature on air fryer to 350 and air fry the donuts for 10 minutes. You may need to air fry the donuts in batches so they have space between each for the dough to rise and hot air to move around the donut.
After air frying the donuts, dip them into the mulling spices syrup, coating all sides. Then dip them into the bowl of cinnamon sugar, coating all sides of the donut.
Serve warm and enjoy!
Notes
You can also swap the mulling spices syrup for apple cider concentrate.
You also may swap the cinnamon for pumpkin pie spice or apple pie spice.
If you have an extra large air fryer with a deep basket, you may need to add 2-3 minutes more to the cooking time.
These will keep for 3-4 days. But the air fried donuts are best enjoyed warm, so reheat them if necessary.
MORE RECIPES YOU'LL LOVE!