Inspired by a visit from Brooklyn Brewery founders Tom and Gayle at the Adora Inn, and in an effort to entice my photographer friend Jim to pop over for some breakfast — I paired breakfast with beer.
It was a late breakfast. I promise. After noon, I swear. More of a brunch, really.
This was a little outside of my box as it was not an "inn" that gave me the recipe. I found the recipe on Tom's website, BrooklynBrewery.com . Having beer with breakfast intrigued me. While I have to confess that I'm not normally a beer drinker, this was an AMAZING flavor pairing. Follow along our fun day of drinking beer and kitchen debauchery. I have the recipe in it's entirety at the end of the post.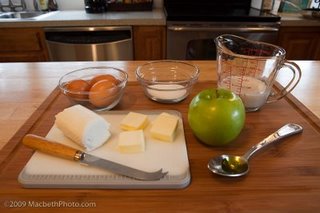 The Players … 2 to 3 eggs, a log of goat cheese, granny smith apple, a dab of butter, a splash of milk, a wee bit of vegetable oil, and a pinch of sugar. Okay. Maybe a little more than a pinch.
You're going to need two (2) pans … one for the apples and one for the omelet. Add a dab of oil and butter to the pan you're going to use to make the omelet.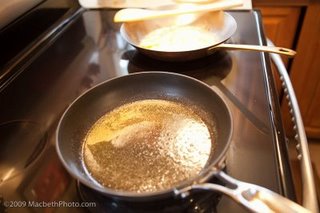 While you're waiting for your butter to melt, you can start on the following.
Such as chopping your apples. I use this nifty tool. Is that cheating?  I think I've had this cutting-corners guilt trip before.  Anyway … take a swig of beer to ready your pallet.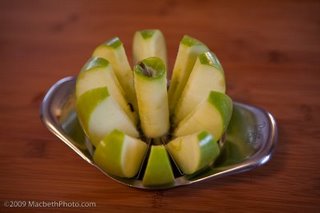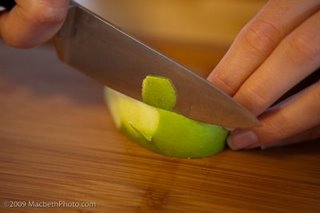 Remove the skins from the apples and make the slices about 1/8 inch thick …
or should I say thin?
If you've got a beer open at this point … careful with the knife.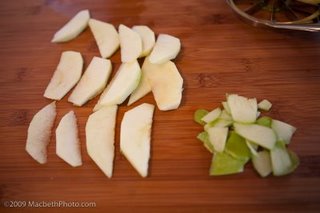 Arrange your apple slices in the hot melted butter.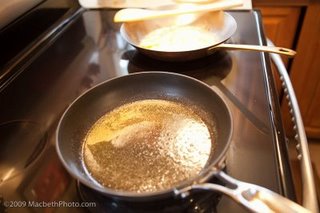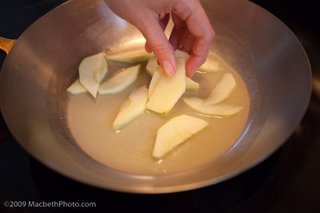 Sprinkle on the … ah em … pinch of sugar. I think I used an 1/8 of a cup.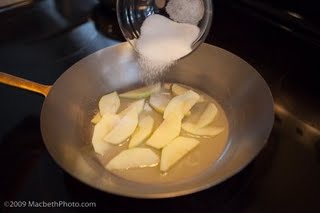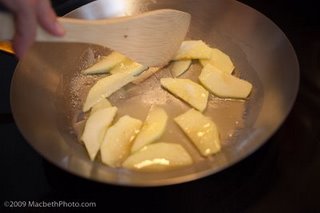 While your apples are browning (stir them occasionally)
slice up your goat cheese and break into crumbles.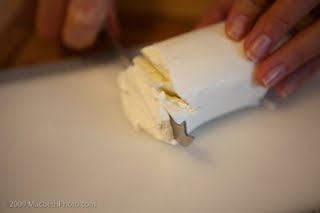 Goat cheese is my favorite … but it's a sticky sucker!  I got it all over my hands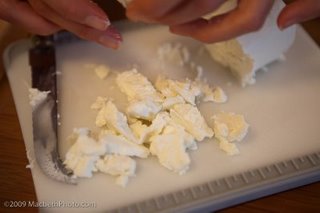 If you're making an omelet for one … as in … just for yourself …
now is an appropriate time to lick your fingers.
Who want's to waste delicious goat cheese?
If you're making an omelet for yourself AND others …
then now is a good time to go wash your hands
while the photographer snaps a shot of the lonely goat cheese.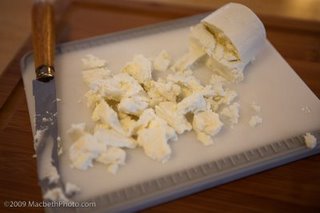 Next, prepare your eggs as you would to make an omelet.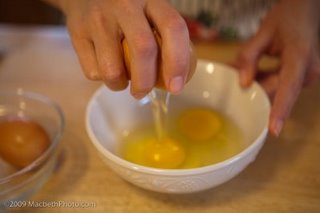 What on EARTH was I thinking using this tiny bowl. I'll tell you what I was thinking … I've got two other great bowls to use … but they're both in the dishwasher. Darn! Sip some beer.
So, now how am I going to whisk these babies?  Can't exactly tip the bowl.  The beer is getting my creative side going.  Or … maybe it's just making me forgetful?  Here was my great solution …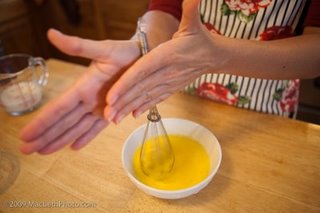 Not exactly a "Top Chef" method for whisking eggs.  But it was fun.  And I laughed.  A lot.  (Take another swig … it is after noon, after all!) Oh yeah. I forgot. I needed to add a splash of milk. Now I'm not laughing. Sobered up real quick. I've run out of room in my tiny bowl.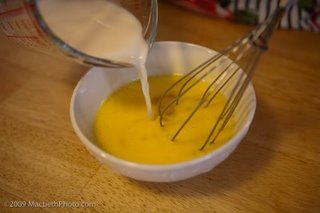 Pour your eggs into the pan when the butter/oil is hot enough to sizzle … but not so hot that it will burn.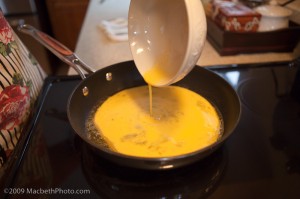 After the egg has coagulated (can you believe I'm using such big words with a beer in hand?), run a spatula around the edges of your omelet to unstick it from the pan.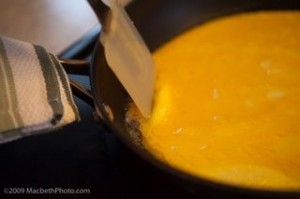 Then you're going to lift it up by the edge and tilt the pan so that the liquid egg runs into the empty space you've created … thus cooking more evenly.
How am I able to do this so gingerly after starting in on the beer?
Nearly spilling eggs on my floor sobered me up.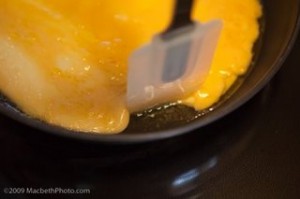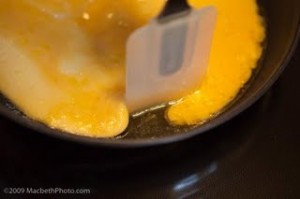 Ah, there we go. A nearly perfect omelet ready to flip.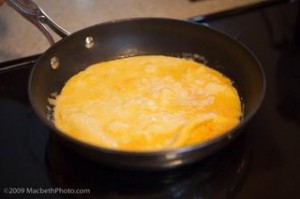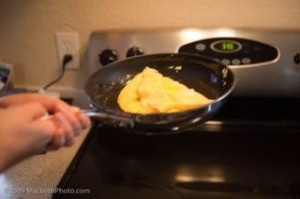 Obviously I hadn't sobered up enough! Or, as Julia Child would say, I must not have had "the courage of my conviction."  Ah well.  I didn't add it back to the pan.  I've got plenty of eggs.  We'll just make some more.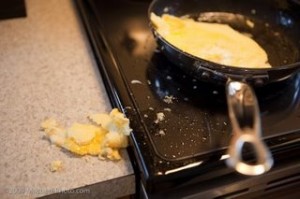 After you get your omelet flipped … and back in the pan … it's time to put it all together.
Apples look good, sweet and slightly caramelized.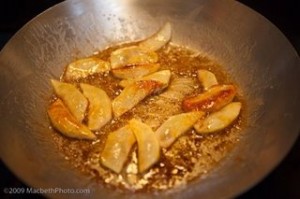 Add your apples and cheese.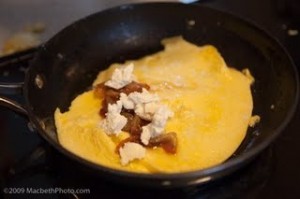 Pour your brew.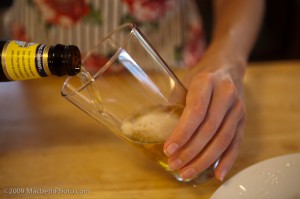 Voila. Beer … with breakfast!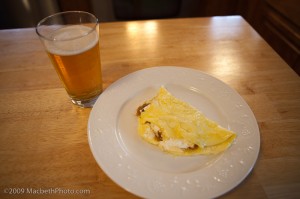 The sweetness of the apples with the creaminess of the goat cheese wrapped in fluffy egg is divine. Now. After taking a bite. Take a sip … WOW that's good!
–Rachelle
Goat Cheese & Apple Omelet
from the Brooklyn Brewery
Serve with Brooklyner Weisse
Ingredients
3 Tablespoons Butter
1/2 Granny Smith Apple, peeled and sliced thin
Pinch of Sugar
1 Small Log of Goat Cheese (approx. 4 ounces)
2 Extra-Large Eggs
1 Tablespoon Milk
Black Pepper to Taste
Directions
1) Melt half the butter in a small nonstick saucepan or wok over medium heat. Add apple and cook until slices start to brown, then add sugar. Stir slices until nicely browned, about 5 minutes. Remove from heat and set aside. Cut slices of goat cheese, 1/2 inch thick.
2) Beat eggs and milk together, just until uniform. Heat remaining butter in an omelet pan or small nonstick pan over high heat. When butter foams, add eggs and reduce heat to medium-low. When omelet is about half firm, carefully turn over.
3) Arrange goat cheese on one half of omelet; cover cheese with apple slices. Fold omelet in half, turn off heat and leave for one minute. Place omelet on a warm plate, and sprinkle with black pepper to taste. Serve with Brooklyner Weisse.
###