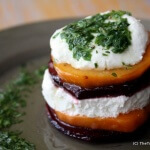 I love when I get new recipes from Chef's around the country. Whether it's one of my "recipe souvenirs" or just something seasonal such as this great fall salad recipe. This one comes from Travaasa in Austin, Texas, where they really infuse local culture in their resort activities by offering harmonica serenading lessons, Texas two-step dancing classes and a mechanical bull riding fitness class. Yes, I said mechanical bull riding fitness classes (I need to check those out!). Sounds a little like the movie City Slickers, eh?
Now, Texans are known for doing everything BIG. So it comes as no surprise that this seemingly simple recipe was a little more to tackle then I planned. Let me just say that I now fully understand the reason beet juice is used for food coloring. After prepping these beets I had hot pink fingers for a day. Learn from my mistake … use a towel or gloves when you're slicing them. While the ingredients are delicious and simple, the prep work does take some time. But this autumn inspired root vegetable salad is so worth it!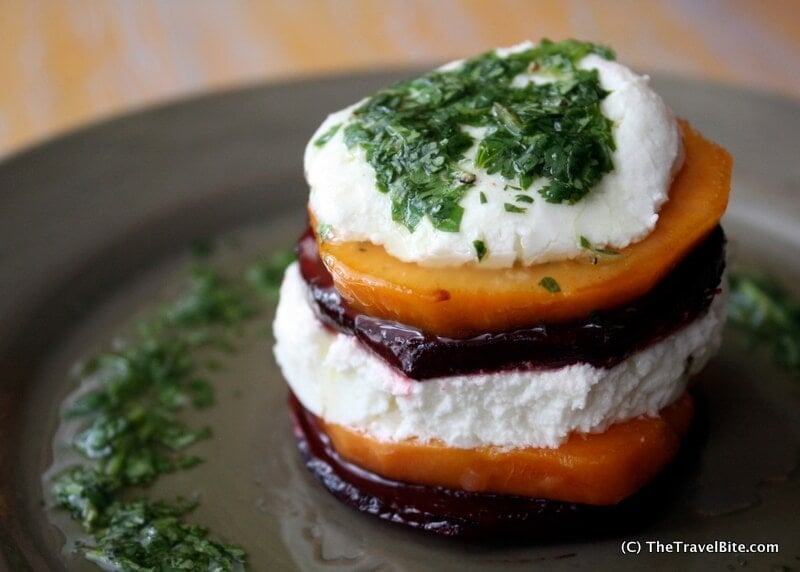 Carmelized Sweet Potato and Goat Cheese Salad
2 large sweet potatoes
3 large beets
1 bunch cilantro
½ cup sunflower seeds
1 lemon (for juice and zest)
1 cup oil (a blend of canola and olive is ideal)
5 oz goat cheese
Bake sweet potatoes and beets until just tender. Remove skin and slice into disks.
Slice a 5 oz log of goat cheese into eight pieces.
Blend 1 bunch of cilantro, ½ cup of sunflower seeds, oil and the juice plus zest of one lemon to make cilantro oil. Caramelize the sweet potato disks and season with salt and pepper.
Place one slice of sweet potato, one slice of beet root, and one slice of goat cheese shingled out onto a salad plate. Repeat once more. Garnish with lemon zest, and serve with cilantro oil.