This recipe is from Chef Alys at the La Veta Inn in Southwest Colorado. It's quite decadent and reminds me of a gourmet version of a chocolate lava cake. Served hot with the flavor of pure rich chocolate and the heat of the whiskey will make this a great dessert to enjoy in the Fall. I can imagine sitting fireside with a cup of coffee and a bowl of Alys' Chocolate Whiskey Pudding.
Ending A Long Day With Chocolate Whiskey Pudding
What does every traveler hope to find at the end of a long trip?  A comfortable bed and a great meal. That's exactly what awaited us in the quaint town of La Veta, Colorado.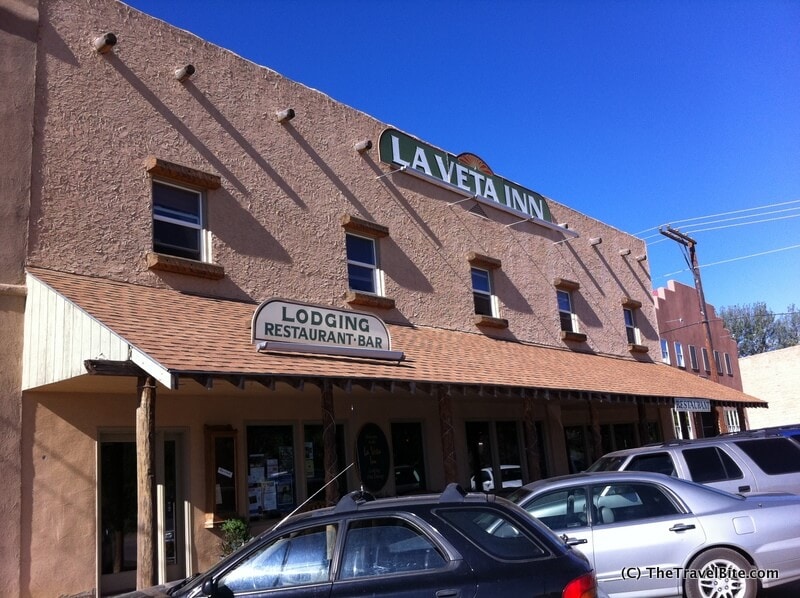 After driving the scenic roads through Wolf Creek Pass, we ended up in a long stretch of flat farmland and agricultural areas with not much to offer as far as hotels and food were concerned. The internet connection on our phones wasn't reliable and we wondered if we'd have another night of impromptu camping during our drive across the United States.
We crossed the Rio Grande, which ironically, is not that big.  But at that moment we gained an internet connection just long enough to search the next town for lodging and discovered the La Veta Inn.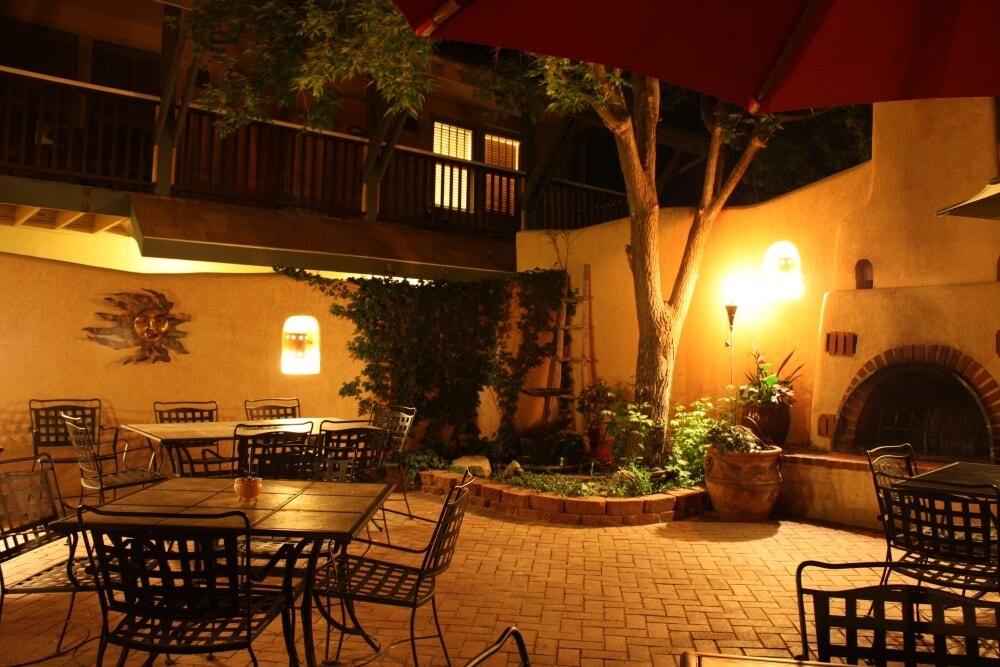 La Veta = Life
La Veta is a name that reminds me of the Spanish word, vida, meaning "life."  While the town of La Veta may be spelled slightly different, experiencing the hospitality and delicious food at La Veta Inn certainly had me believing Veta definitely had the same meaning as vida.
The newly renovated historic inn has a Southwest flair with an artistic twist. The buildings envelop a serene courtyard illuminated at night by a fireplace and candlelight.  Gurgling fountains along the landscaped patio area add even more relaxing elements of nature.  The star gazing is spectacular, as there is not much surrounding La Veta to wash out the twinkling lights in the night sky.
After checking in, we settled down at a table in this tranquil courtyard for a bite to eat. We had arrived late in the evening and   the kitchen was just closing, but that didn't deter Chef Alys (pronounced like Alice). She came outside to greet us in her spunky purple chef's coat and to make sure we knew she wasn't going to let us go to bed hungry, then prepared a delicious chicken cacciatore and followed it with her famous Chocolate Whiskey Pudding.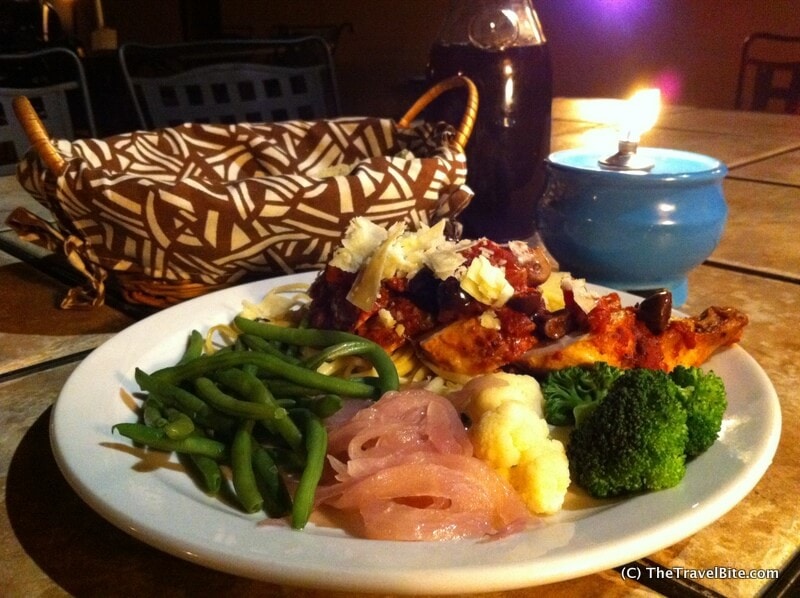 There are signs all over town and the hotel that proclaim "Alys is back!" We asked about these little signs wondering where she had been and learned that Alys had recently returned from residing in NYC. Alys has a long history with La Veta and is certainly interwoven in the fabric of this community. After tasting one of her unforgettable meals, I can relate with the local's excitement.
We retired to our rooms for the best night sleep I experienced on the entire trip.  Soft white down comforters, Israeli cotton sheets and featherbed mattresses made it extremely difficult to get up in the morning.  It was like sleeping on a cloud.  In addition, our suite had a kitchenette, which had me thinking this would be the perfect place to come back to for a longer escape.
After a hearty breakfast, we hit the road again on the Highway of Legends to Trinidad, Colorado.  I'll share the route and the last of my Southwestern Summer Road Trips.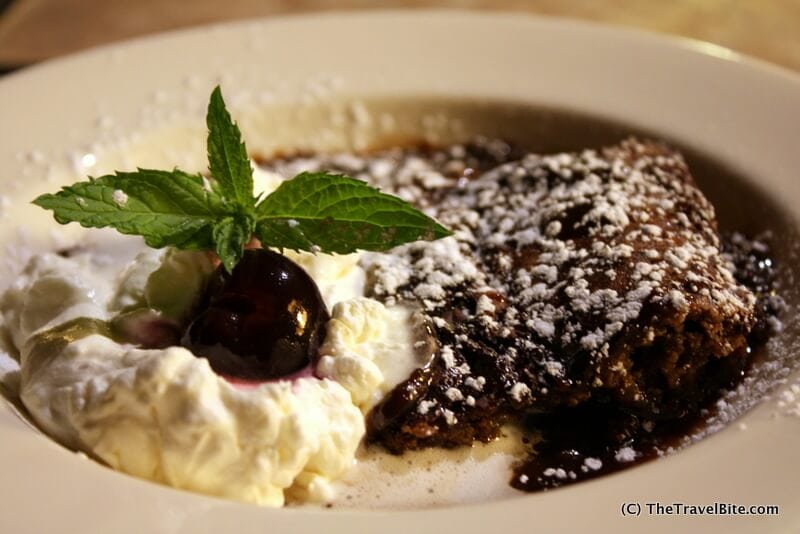 Chocolate Whiskey Pudding
from Chef Alys at La Veta Inn
(a 3 part recipe)
ONE
2 cups flour
1 1/4 cup sugar
1/3 cup
4 tsp baking powder
1 cup milk
1/4 cup butter (4 tabs), melted
2 tsp vanilla
Mix melted butter in milk, add vanilla and mix into dry ingredients. Spray 9 x 13 baking pan with non-stick cooking oil spray and spread mixture in pan. Batter should be thick.

TWO
1 1/4 cup sugar
1 cu packed brown sugar
1/2 cup cocoa powder
Mix together and sprinkle on top of batter.
THREE
1/2 cup Jack Daniels
1 1/2 cup water
Mix together and pour over top of entire concoction. Bake at 350 degrees for 30-45 minutes depending on altitude. This is a rich brownie type of desert that makes its own sauce. It will be slightly liquid, but not soupy. Must be served warm, preferable topped with whipped cream or ice cream. Makes about 12 servings.