If you ever wanted to make the world's largest egg sandwich … then this puffed pastry egg bake would be the recipe.
The Story Behind The Recipe
Awhile back, I wrote about my artist friend, Teresa, who came to stay with us during our Annual Art Festival and then again at our Craft Festival to showcase her awesome handmade leather journals. I still have mine sitting on the shelf … empty … because my handwriting is atrocious and I've been procrastinating until I take an art class to learn to draw and make something worthy her her craftsmanship.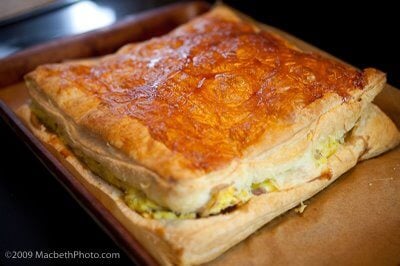 Anyhow, Teresa's husband whipped up this recipe while they were Inn-sitting in Montana and just called it the Silver Forest Inn Special. It has eggs, cheese and puffed pastry … which in my book … makes it divine. I've included step-by-step photos with the printable recipe at the bottom of the post.
Puffed Pastry Egg Bake
This recipe for a puffed pastry egg bake is perfect when you want a hearty egg-dish to feed a crowd for breakfast. The ingredients: 2 pastry sheets, an onion, butter, cheese, about a dozen eggs, and the secret ingredient … Dijon mustard.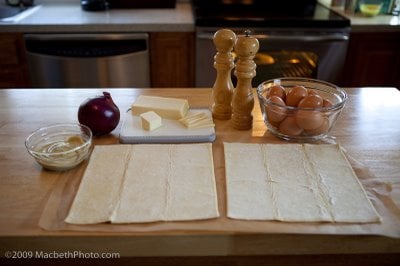 Drop a dab of butter in a frying pan on medium heat and let it melt down and sizzle.Next, chop up your onion. I like purple onions for their slightly sweet flavor and for the color. If you decide to cook with oil instead of butter, you might want to go for a yellow or white onion as the oil reacts to the acid in the onion and turns bluish green. Same great flavor, still edible … but strange color.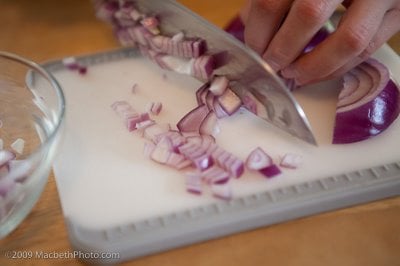 At this point, my kitchen already smells delicious but my eyes are tearing up like I just watched a Hallmark commercial. I've tried every trick in the book to not cry while chopping onions. If you've got one that works … please share!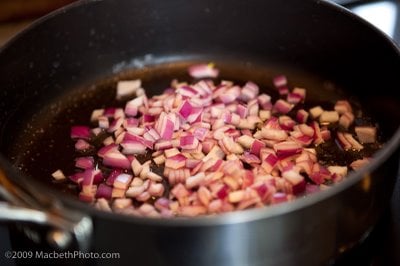 While your onions are sizzling, prepare your puffed pastry on a cookie sheet. I have a baking stone, so I used some parchment paper to make it easy to remove after baking.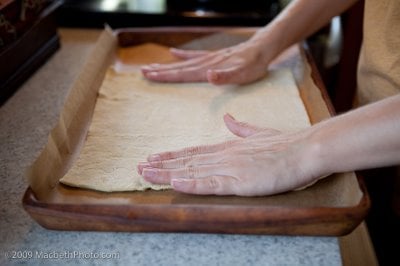 Next, spread the dijon mustard evenly over the pastry. At this point, I had discovered that I through out my pastry brushes last time I used them. A result of waiting way to long to do the dishes and having them harden like a bristled cleaning brush. So, I improvised with a spoon. Pastry brushes added to my shopping list.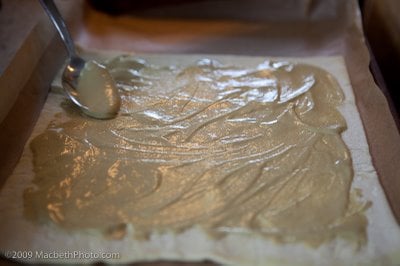 I like freshly shredded cheese for a more sharp flavor. My friend Jim, the photographer, was afraid I was going to add some knuckle to this sandwich and couldn't watch. Ever see a photographer try and take a picture without looking? It's quite funny. No knuckles were added.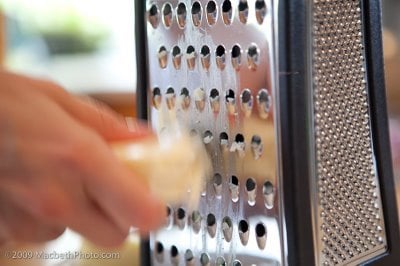 Now that you've got your pastry ready and your onions cooking, time to whip up some eggs. Do this just as you would if you were making scrambled eggs or an omelet. I used about a dozen eggs here. Don't forget your egg shell trash bowl for easy clean up!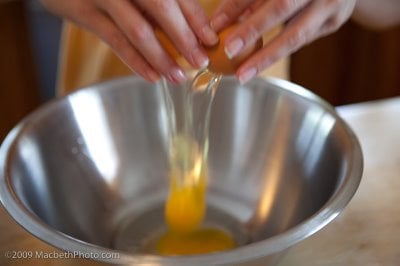 I get a big kick out of these "egg snot" pics.  Must be my inner kid surfacing. When your onions are just starting to brown, but not fully cooked, add your eggs and scramble them.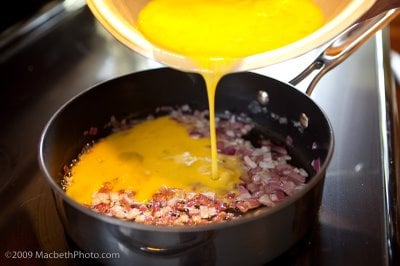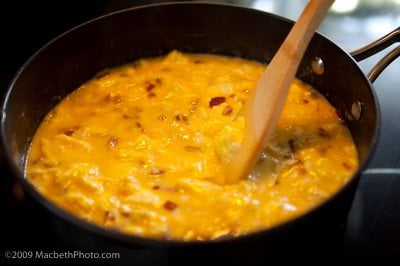 When the eggs have started to clump together, but are still a little wet, it's time to spread them over your pastry. Since you'll be baking them, you don't want them to cook all the way otherwise it will be a little too dry.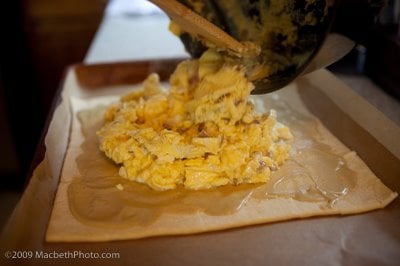 Sprinkle on your cheese, salt and pepper to taste …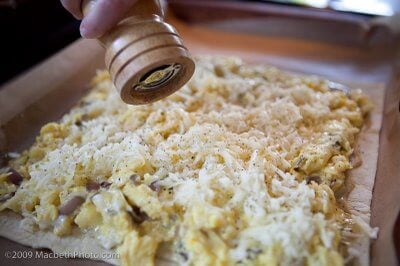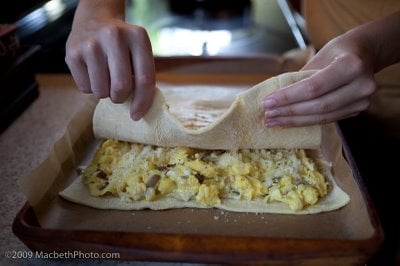 Whip up about 3 egg whites to dust on top of your pastry to make it golden brown and crispy. Again, I'm using my hands since I threw out my pastry brushes last time I used them.  This feels gross.  Not liking the egg snot very much now!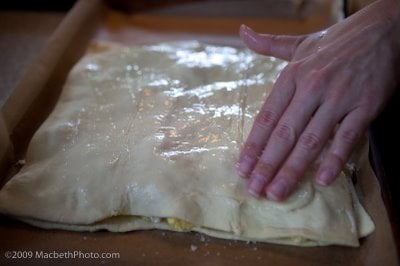 Pop your pastry in the oven at 400 degrees for about 35 minutes.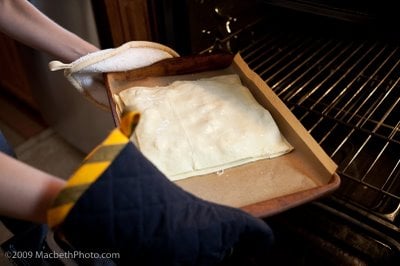 The pastry will rise and puff up. Mmm.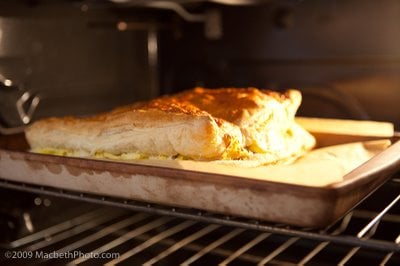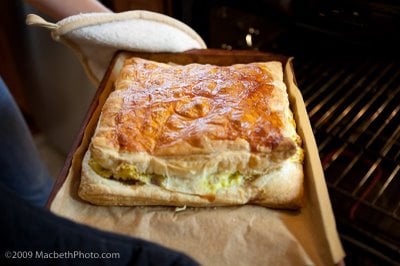 Doesn't it look like a giant egg sandwich? I was tempted to try and pick it up with two hands and fake like I was going to bite into it like a sandwich … but … I didn't want to chance it me dropping it on the floor without ever having a chance to taste it!
This puffed pastry egg bake serves well as a casserole and can be cut into squares to serve nine.
Print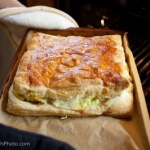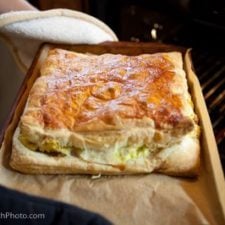 Puffed Pastry Egg Bake
---
Author:

Prep Time:

15 min

Cook Time:

30 min

Total Time:

45 minutes

Yield:

6

-

9

1

x
Scale
Ingredients
1

pkg Pepperidge Farm puff pastry sheets

1

dz eggs

1

lb of jack cheese

1

onion, diced
dijon mustard
salt
grated cracked pepper
---
Instructions
Thaw puff pastry to room temperature. Lightly butter a cookie sheet or prep with parchment paper.
Brown onion in butter; add whipped eggs and scramble over medium heat until nearly cooked (still glossy). Add salt to taste.
Place one sheet of pastry on cookie sheet and brush with thin coating of mustard.
Spread the eggs over the pastry sheet and sprinkle with cheese. Top with cracked pepper. Place other pastry sheet on top; do not crimp sides.
Bake at 400 for 20-30 minutes until puffed and golden brown. Cool 5 minutes and cut into squares.
Serve with salsa, chicken apple sausage and fresh fruit.
Category:

Breakfast

Method:

Baking

Cuisine:

American