Breakfast is my favorite meal of the day and I'm always fascinated to see what morning provisions are present in other countries. For me, there's a sense of comfort provided by a leisurely meal (and gobs of coffee) to transition into the day.
While visiting Bali last year for my FSJet trip assignment, I met up with my new friend, Tivi, for breakfast at the Four Seasons Resort Jimbaran Bay.  The sun was already well above the horizon by the time I walked down to meet her and, admittedly, I had already eaten my fill of fresh mangosteen in my room.  I couldn't imagine eating one more bite, so I had decided that if a traditional "American" style breakfast was offered that I'd politely pass and just sip an iced coffee.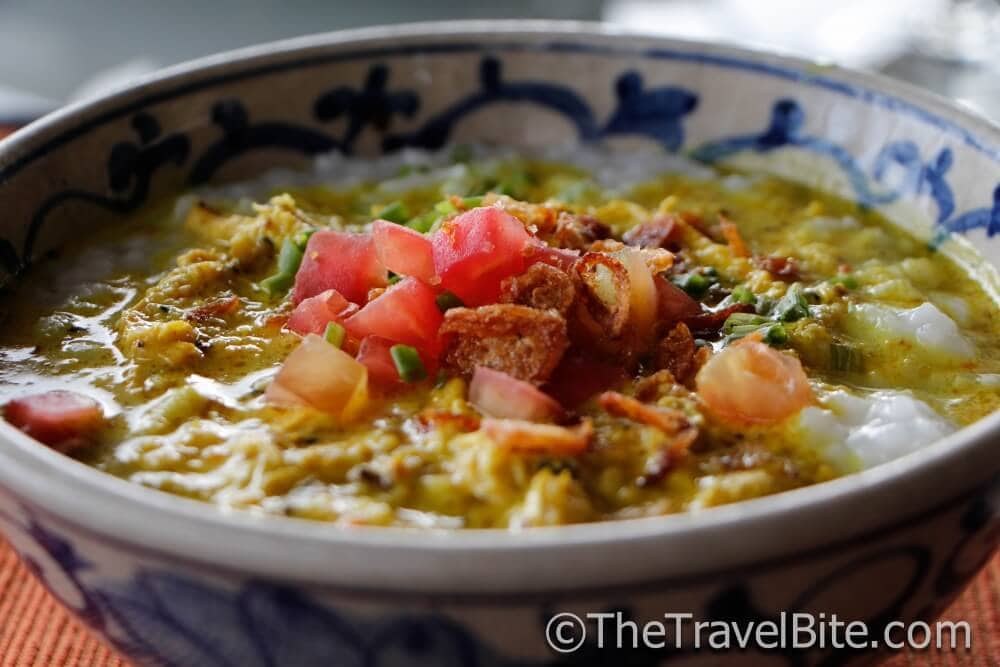 When I sat down and took a look at the menu, nothing looked familiar.   My curiosity got the best of me and I thought, "second breakfast is okay!"  Not knowing where to begin or what to taste, I looked to Tivi for guidance and she suggested I try a very traditional Balinese breakfast, burbur ayam.
Burbur ayam is very similar to a chicken congee, but the combination of coconut, ginger, and lime are melded together in a mouthwatering and savory way.  While it might feel like summertime year round in Bali, this is going to be one of my new favorite fall comfort foods.
The recipe is included below!  Be sure to also make the Wild Ginger Sauce to go with it.  It's pretty simple to make, but does take a little prep work. Tag this as something to make with left over chicken from  dinner the night before.  You won't be disappointed.
Print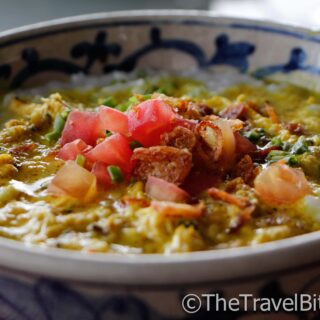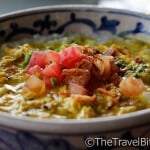 Recipe: Chicken Rice Porridge "Burbur Ayam"
---
Author:

Prep Time:

30 mins

Cook Time:

1 hour

Total Time:

1 hour 30 mins

Yield:

1

-

2

1

x
Description
A Balinese comfort food commonly served for breakfast, Burbur Ayam is rice porridge garnished with shredded chicken, roasted coconut, wild ginger, and scallions.
---
Scale
Ingredients
3/4 Cup

Rice Porridge

1 ounce

pre-cooked Roasted Chicken, shredded

1 1/2 teaspoon

Wild Ginger Coconut Sauce "Suna Cekuh" (See link above for recipe)

1 1/2 teaspoon

Grated Roasted Coconut

1/2 tbsp

tomato, diced

1 teaspoon

Fried shallots

1 1/2 teaspoon

spring onion, sliced
Salt and pepper to taste
---
Instructions
For the rice porridge, rinse 1 cup of rice, add it to a large sauce pan and pour in 5 cups of water. Bring to a boil, then turn the heat to low and cook until a soft soupy consistency (about 45 minutes). There will be some left over for a second serving.
To flavor the shredded chicken, combine the Wild Ginger Coconut Sauce and Coconut Milk in a sauce pan and bring to a boil. Add shredded chicken and simmer for about 10 minutes.
Transfer 3/4 cup of porridge to an individual bowl, top with shredded chicken mixture, tomato, fried shallot, and spring onion.
---