Black sapote is a tropical fruit that resembles a large, green, unripe persimmon. The inside, however, is a smooth chocolate brown which is where it gets it's nickname of chocolate sapote or chocolate pudding fruit. When it's ripe, it looks like it's rotten except there is no smell. And if your daring enough to taste a fruit that looks black and mooshy like it's gone bad, then you'll find the flavor is mild and sweet.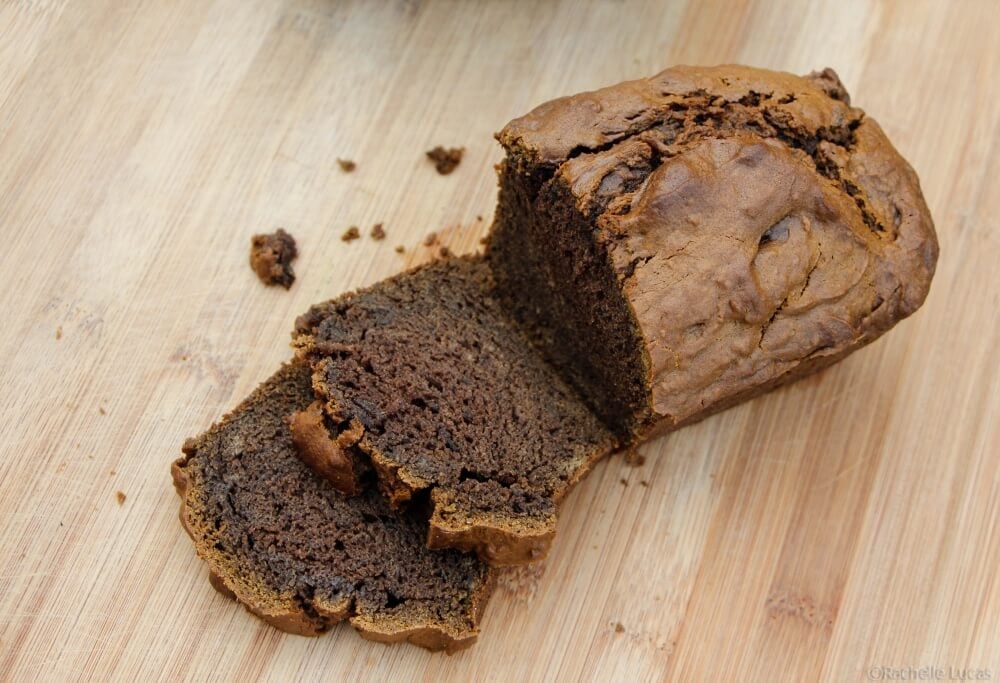 My mother-in-law has some growing in her back yard, so she gave me one to experiment with. Pudding is traditionally what's made out of black sapote, but I decided to try a banana bread recipe with it. Adapted from Simply Recipe's banana bread recipe, I used a bit more vanilla since the black sapote lacks flavor and cut the butter down just a bit too since the black sapote is pretty moist.
Overall, it turned out fabulously. Here's the recipe …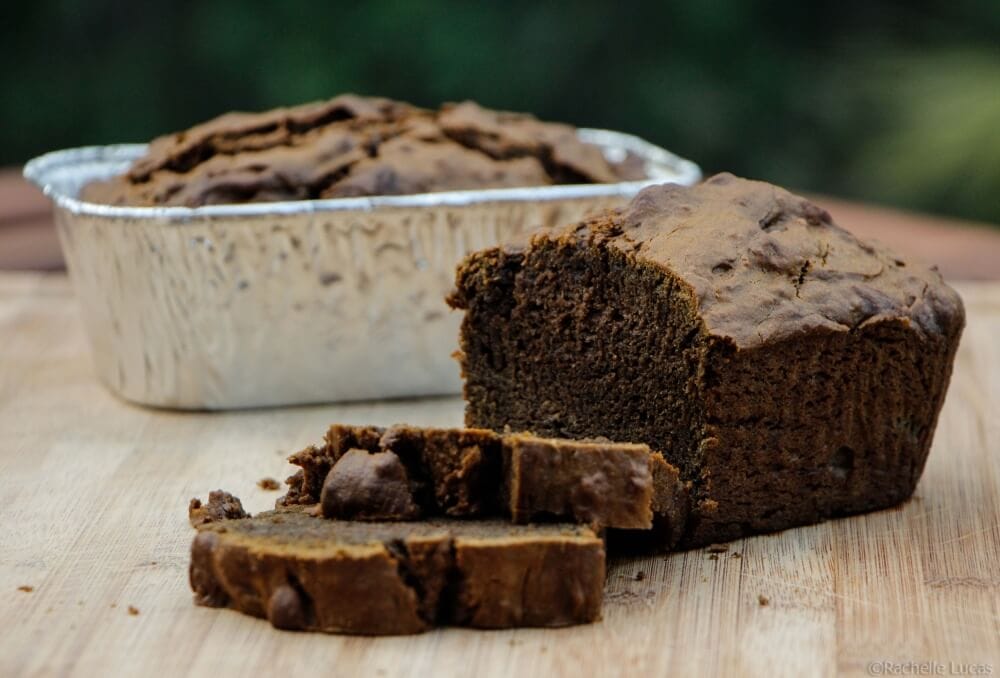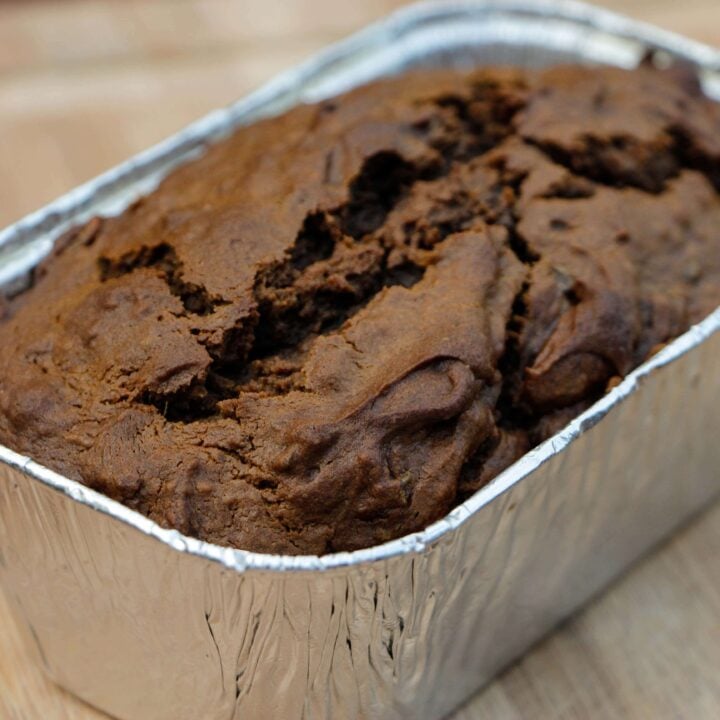 Recipe: Black Sapote Bread
Total Time:
1 hour
10 minutes
Ingredients
1 ripe black sapote
1/2 stick of butter, melted (equal to 1/2 cup)
1 egg, beaten
2 teaspoons vanilla extract
1 teaspoon baking soda
pinch of salt
1 1/2 cups of all purpose flour
3/4 cup sugar
Instructions
Cut the black sapote in half. Using a spoon, scoop out the soft fruit into a medium sized bowl and remove the seeds.
Add the melted butter to the black sapote and mash together with a fork.
Next, stir in the sugar, vanilla, and egg.
In a separate bowl, mix together the flour, baking soda, and salt. Then pour it into the bowl with the black sapote and mix together with a fork until it's well blended.
Pour into a greased bread pan and bake at 350 degrees for one hour. (You can use one regular sized bread pan or two mini bread pans.)
Let it cool, then enjoy!
Nutrition Information:
Yield:

8
Serving Size:

1
Amount Per Serving:
Calories:

307
Total Fat:

7g
Saturated Fat:

4g
Trans Fat:

0g
Unsaturated Fat:

2g
Cholesterol:

38mg
Sodium:

234mg
Carbohydrates:

59g
Fiber:

4g
Sugar:

33g
Protein:

4g
Nutrition information provided is only an estimate.
Want to see what black sapote looks like?
Here's a few shots I snapped with my phone while I was cooking …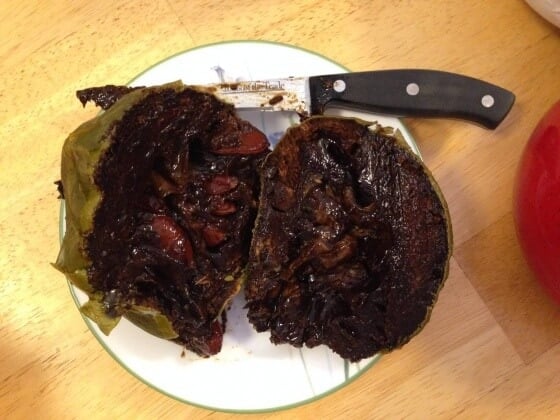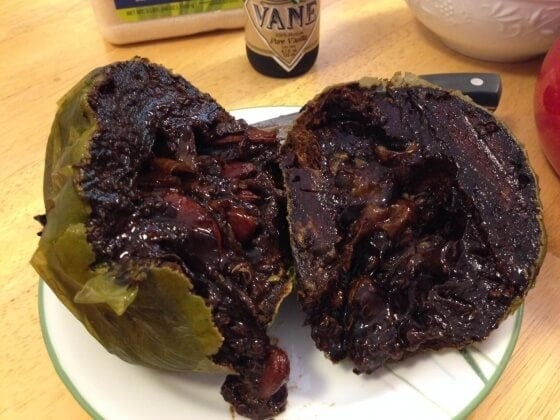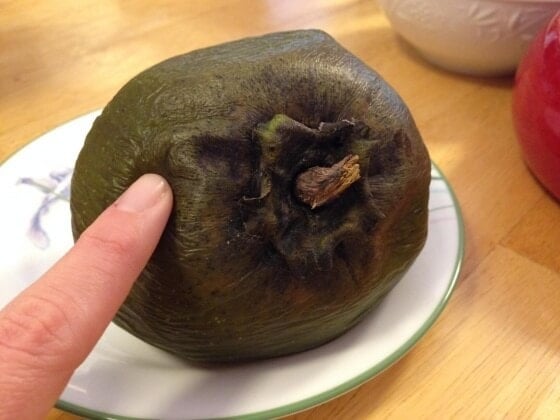 MORE RECIPES YOU'LL LOVE!