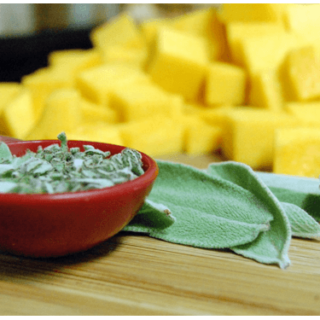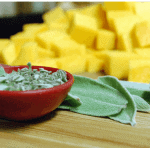 I'm gearing up for my 2nd marathon – the Marine Corps Marathon in Washington, D.C. It's now less than a month away and as my excitement increases … so does my appetite!  The calories expended during our longer training runs (14 miles to 20 miles) has me hunting for more creative and tasty ways to make pasta for dinner.  One of my running pals posted on Facebook that she'd died and gone to heaven with a bowl of butternut squash and sage pasta. I asked her what restaurant was serving such a divine fall recipe to which she replied that it was homemade. Pssshaw!  Butternut squash pasta?   REALLY!?  At home?  I didn't believe her, so I dared her to share the recipe.  She did.  And my mouth watered.  I made it to take with me Labor Day Camping, and now I'm sharing it with you.
It was an old clipping from the January 2009 issue of  Cook's Illustrated. I love that magazine. I used to have a subscription to it until I had to practically join a 12-step program to overcome my pack rat habit of keeping every magazine I ever read and cluttering my kitchen counter to the point that there was no space to cook. Looks like they now have an online subscription complete with how-to videos. I might have to try that.
Anyway, here are the fall flavored stars of this recipe … fresh sage and butternut squash.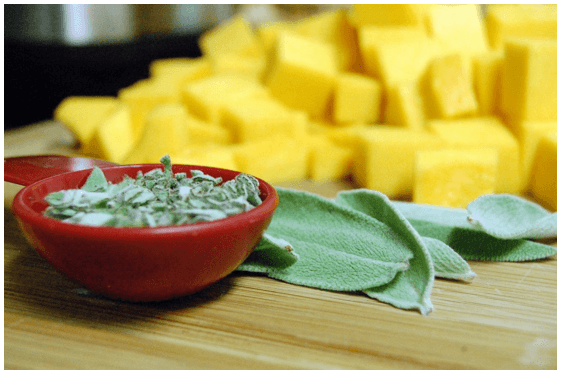 The scent of the sage might remind you of your hippy college roommate's nag champa incense.  For that reason, definitely use fresh sage.  Do not be tempted to use dried sage for this recipe. Trust me, follow the instructions and it will taste divine … kind of smokey and peppery. Combined with the secret ingredient (to be revealed below) it will give you the same warm and fuzzy feeling that you get from a cup of chicken noodle soup or a fleece blanket on a cold night.  During the Middle Ages, sage was the key ingredient used in making Four Thieves Vinegar which was thought to ward off the plague.  So during the winter months, bring on the sage baby!
If you've never tried cooking fresh butternut squash, I have to warn you, chopping it is a bitch.  It's a tough little cookie, so watch your fingers.  In fact, if you've had a tough day at the office, a frustrating day at home, or if the whole world is just on your last nerve, this is a great recipe to end the day with.  Pour yourself a glass of wine and hack away at Mr. Butternut Squash.  Remember … just be careful your fingers don't get in the way.
One little tip … most grocers will sell them already split in half.  This helps with two things.  One … You will probably only need half of a medium sized squash.  Two … Having it already sliced in two pieces gives it a flat surface to place on your cutting board that makes chopping a bit easier … only slightly.  But at least you won't be chasing a rolling squash around your kitchen with a sharp knife.
Now, let me introduce you to the secret ingredient that really makes the sage flavor pop … BACON!  Everything tastes better with bacon, right?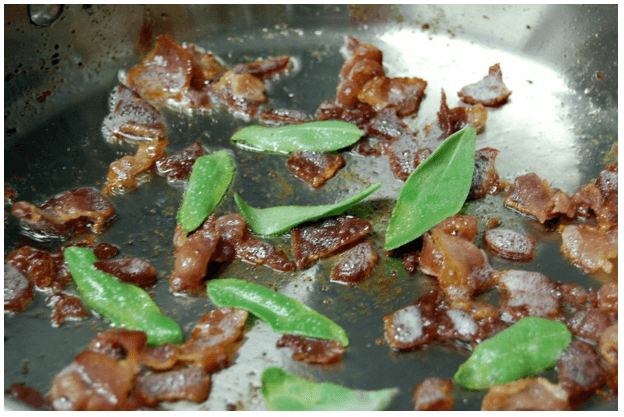 Your going to saute the fresh bacon with about 8 sage leaves until the leaves are crisp, but not brown.  Then, strain the bacon and sage and save the grease to add back to the pan to reuse for cooking the squash.  I tried this recipe once with turkey bacon to try and make a "healthier" version.  The turkey bacon just doesn't add the same amount of flavor.  Splurge on the real thing.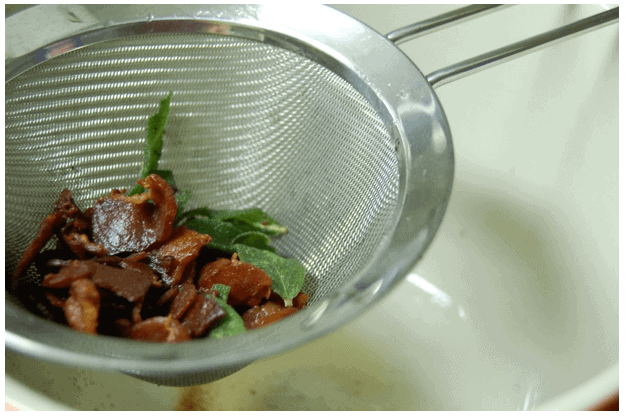 Next add your bacon grease back to the pan and cook the squash.  The recipe said to cook until they were "spotty brown."   I  blackened mine.  Oops.  It still tasted terrific though, so don't be afraid if you make the same mistake.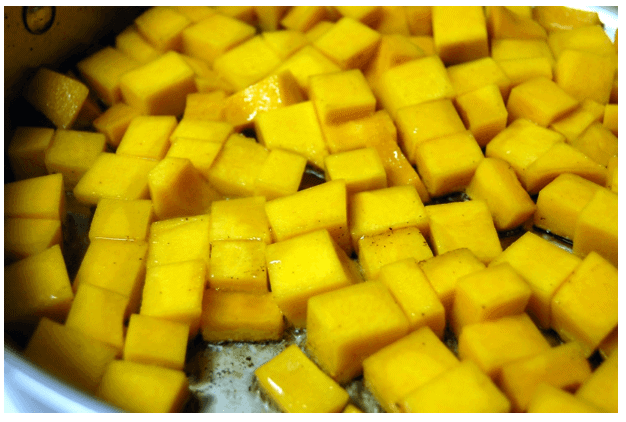 Add butter and allow to melt.  Mmm.  Butter AND butternut squash.  You're taste buds are doing a little anticipatory dance right now, aren't they?  After the squash is browned, add scallions, nutmeg, minced sage, pepper and sugar (I used brown sugar here instead of the recommended refined sugar … seemed more Fall-like to me). Stir until the scallions are softened and then add broth and bring to a simmer.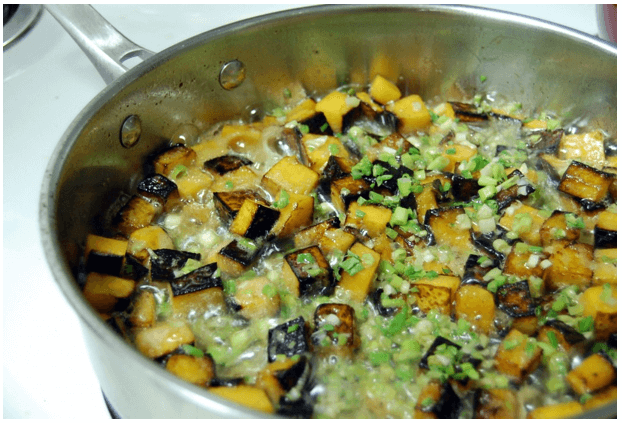 At this point you might be thinking, "great, now I've got butternut squash in  chicken broth.  I've made soup.  Blah!"  Just trust the recipe … it get's thick and saucy.  Plus the broth helps cook the squash a bit more and adds some flavor.  Add the butternut squash and broth mixture to the large pan with the past and stir together with remaining bacon-sage mixture, 2 tablespoons (I used more) of Parmesan,  and lemon juice.  Use the reserved pasta liquid to adjust consistency.
Drool.
Enjoy!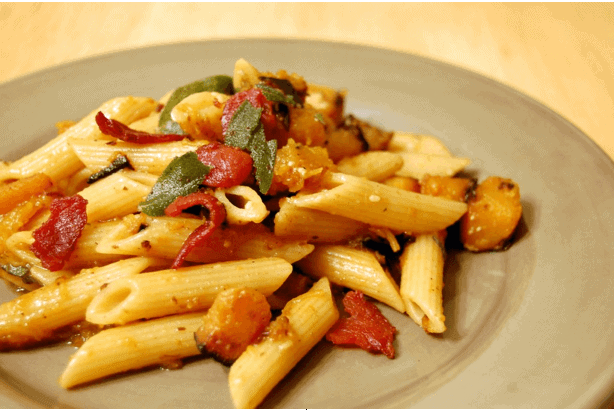 Butternut Squash & Sage Pasta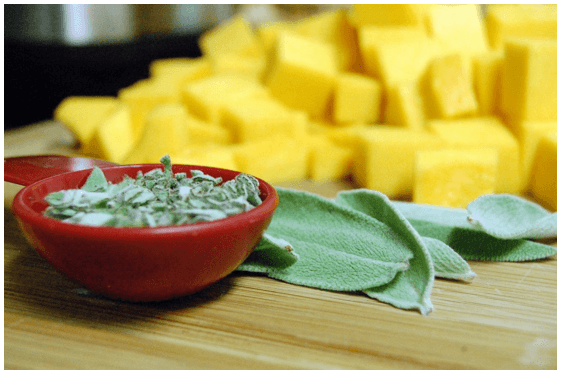 Smokey Sage & Butternut Squash Pasta
Ingredients
4 slices bacon cut into 1/4 inch pieces
8 large fresh sage leaves, plus 1 tbsp freshly minced
1 medium butternut squash, peeled, seeded and cut into 1/2 inch dice
1 tablespoon unsalted butter
6 scallions sliced thin (about 1 cup)
1/4 teaspoon freshly grated nutmeg
1 teaspoon sugar
2 cups low-sodium chicken broth
1 lb penne pasta
2 tablespoons grated Parmesan cheese
4 teaspoons lemon juice (one lemon should do)
1/3 cup sliced almonds, toasted
Instructions
Cook bacon in 12 inch skillet over medium heat until crisp (about 8 minutes). Add whole sage leaves and cook until fragrant (about 1 minute). Strain mixture through fine mesh strainer into a small bowl, reserving the bacon fat and bacon-sage mixture separately.
Return skillet to high heat, add 2 tablespoons reserved bacon fat (adding olive oil if necessary) and heat until shimmering. Add squash in even layer and cook, without stirring, until beginning to caramelize (4 to 5 minutes). Continue cooking, stirring occasionally until spotty brown (3 to 4 minutes longer). Add butter and allow to melt. Add scallions, nutmeg, sugar, 1/2 teaspoon salt, 3/4 teaspoon pepper, and minced sage. Cook, stirring occasionally.
Meanwhile, bring 4 quarts of water to a boil in a large pan over high heat. Add 1 tablespoon salt and pasta. Cook until just al dente, then drain pasta reserving 1/2 cup cooking water and transfer back to large pan.
Add squash mixture to pasta and stir in 2 tablespoons Parmesan cheese, lemon juice, and reserved bacon sage mixture. Adjust consistency with the reserved pasta liquid. Serve extra Parmesan and sliced almonds on the side to add to taste.
Want to save it for later?  Pin it!