This post is in partnership with the Cherry Marketing Institute.
You may remember back in November that I had a few tips for you to deal with daylight saving time since it feels a bit like jet lag, but now what do we do that it's reversed?  Evenings don't seem so bad until you look at the clock and think, "What? How on earth can it be midnight already?  Seems like the sun just set!"  Personally, I love the extra daylight hours and feel like I get so much more done in the late afternoon.  And since Pete is an avid cyclist, he appreciates the longer twilight as well and uses the extra time to go out for a bike ride.  But darker mornings remind us both that we're just using borrowed time.  It's brutal getting up when the sun hasn't even started coloring the horizon and I feel like I'm loosing that extra hour of sleep when my alarm goes off in the morning.
I used to make up for lost sleep with an extra cup of coffee (confession: sometimes I still do).  If you follow me on social media then you know how much I adore a comforting cup of joe.  But that extra caffeine can sometimes backfire when it's time for bed.  Once, after an afternoon bike ride with my husband, I felt so wiped out that I chugged a 24 ounce iced coffee (it was probably more around 16 ounces with the ice).  But still.  That was one sleepless night full of tossing and turning I won't soon forget.  What we eat and drink does effect our sleep.  I always advise people to refrain from coffee after lunchtime when they're traveling between time zones so that they'll be able to fall asleep and rest peacefully to adjust to the time change. Seems like I need to follow my own advice at home as well.
This month, I've been on a 14 Day Sleep Challenge to try a few new things to help me prepare for Daylight Saving Time, especially since I was traveling between east and west.  It was a bit tricky to keep a sleep routine while traveling, but I managed to stick to it.   Here's a list of the changes I added to my routine that have helped me get better sleep.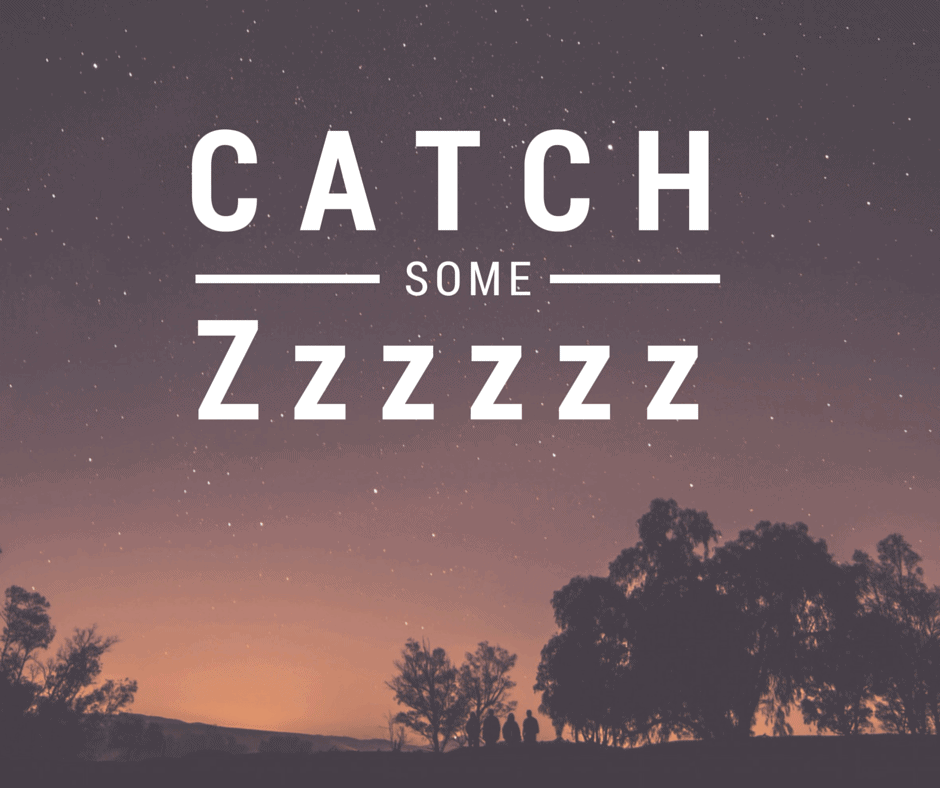 3 Ways To Get Better Sleep While Traveling Or Home
1 – Start winding down around an hour before bedtime.
If you're enjoying the late sunsets and great springtime weather, set an alarm on your phone for 9pm to remind you that it's night time even though the sun may still be out.  I added this to my routine this month and it reminds me to start winding down, turning off my electronics, shutting down email and social media, and prepping whatever I need for the next morning.  I typically go to bed around 11:00 or 11:30pm, so this alert gives me enough time to prep for the next day.  That way as the days continue to get longer, I won't be surprised by late night sunsets.
Another thing that's been a big help has been writing out a to-do list to clear what's on my mind, then prioritize the top three things and write those on a post it note to stick to my laptop.  That way I know what I need to focus on in the morning. This is especially helpful since the extra daylight tends to make me think I've got more time during the work day.  By writing things down, I can stop thinking about what I need to get done and instead enjoy my bedtime routine, which leads me to my next tip.
2 – Pick a bedtime ritual you'll stick to.
This is especially hard for me to do since I travel all the time, but there are a two things I do consistently – drink a cup of hot herbal tea and read a book. During a recent visit to a farm in Albuquerque, my bedtime routine got luxuriously upgraded, including taking a hot bath and reading a book by the fireplace – the epitome of relaxation!  Most frequent travelers also swear by taking a melatonin supplement to help them sleep when changing time zones.  Since Montmorency tart cherry juice naturally has melatonin in it, I also added tart cherry juice to my nightly routine, sipping it twice a day for the 14 Day Sleep Challenge.
Once I was back at home in Orlando, I kept up with my typical book reading routine, but sure do miss that fireplace!  Since it's a bit warmer in Florida, I make an iced tart cherry tonic with club soda and lime for a little night cap.  What I have started to notice toward the end of this two week sleep challenge is that I seem to sleep more deeply and don't toss and turn as much during the night.
What makes you feel more relaxed?  Whether that's reading a book, light yoga and stretching, sitting by a fire, or a warm bath or shower – stick to it and make it a nightly routine.  Since I had to say goodbye to that fireplace in Albuquerque, I ended up downloading a crackling fire app to my phone so I could still be soothed by the sound of it.  Ha!
3 – Have something to look forward to doing in the morning.
The hardest part about springing forward is getting out of bed when it's still dark outside. The only time I've previously been able to bolt out of bed in the pitch black of night is when I knew I had a flight to catch and a rush of adrenaline woke me up along with my alarm clock since didn't want to miss it. When I'm home, I usually plan to meet with friends several days a week to go for a run together in the morning.  Knowing that someone is expecting me helps me get out of bed early and stick to it.
I also try and prep breakfast the night before and it gives me something to look forward to as well as saves a bit of time. Prepping breakfast usually includes making berry summertime oatmeal and brewing some green tea to chill overnight in the refrigerator. The next morning, breakfast is ready and all I have to do is stir some tart cherry juice in with the chilled green tea to sip as my pre-coffee tonic.  It's nice to have something cold and refreshing to sip while the coffee is brewing and I certainly feel more hydrated.
Disclosure: We collaborated with the Cherry Marketing Institute for this post and enjoy working with categories we love! Thank you for supporting our sponsors.
Want to save these tips? Pin it! 🙂