Ever wonder what a $147,000 vacation would look like? A luxurious trip around the world?
I must admit, it was not something I ever thought I'd experience beyond flipping through glossy magazines and daydreaming of luxurious stays and grand bucket-list-worthy adventures.
But when you're a content creator, sometimes hard work and opportunity blend together with a little luck. And, man-oh-man, did I get lucky.
I had the fortunate opportunity to go on such a trip, traveling on assignment for Four Seasons Magazine for their inaugural Around The World By Private Jet Experience. It seemed quite unreal when I got the phone call, but yes, I got paid to travel around the world with the Four Seasons to take pictures and write about it.
As you can imagine, it was extraordinary. We visited 10 destinations in just 22 days, chasing the sunset while circumnavigating the globe in just a little under a month — all while traveling in comfort and style.
Each night, I'd upload photos and stories to my editor who would graciously polish it up (thank you, Caroline!) and post it so readers could follow along in real time.
Here you'll find highlights from each destination during our Four Seasons Private Jet experience. Whether you're planning to take the trip, or just daydreaming, I hope you enjoy getting a peek at this once-in-a-lifetime adventure.
Four Seasons Private Jet Experience
Here's our itinerary! There are several more routes being offered now, but this one follows along the Four Seasons Timeless Encounters journey.
Los Angeles, United States
Hawaii, United States
Bora Bora, French Polynesia
Sydney, Australia
Ayers Rock, Australia
Bali, Indonesia
Chiang Mai, Thailand
Mumbai, India
Budapest, Hungary
London, England
Day 1: Arriving In Los Angeles
For me, the Four Seasons private jet experience began with a peek inside the plane and a guided tour of L.A. For the first trip, TCS Starquest Expeditions organized the crew and plane. The Four Seasons has since designed their own branded jet, but this will still give you an idea of what it's like inside.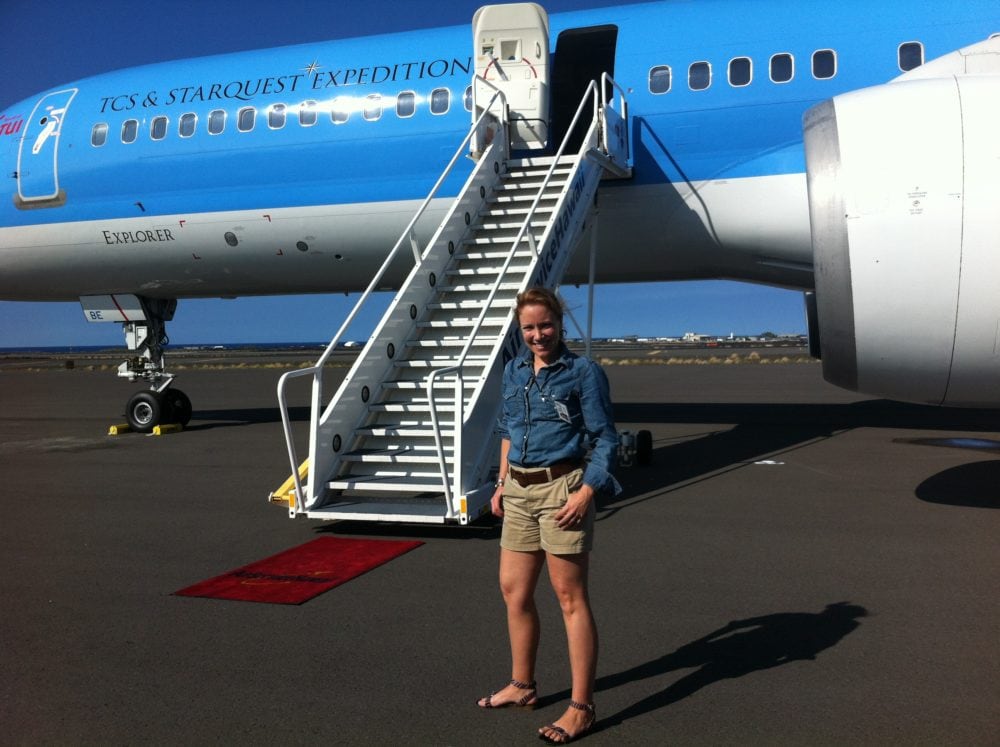 It's probably not what you imagine when you hear the term, "private jet," but more like a regular sized airplane where the entire cabin is first class. Take a peek inside during the video below:
Day 2 – Behind The Scenes At Paramount Studios
Nothing could have felt more like being in Hollywood then grabbing a green juice for breakfast, then driving to a TV studio in the morning and getting a sneak peek of the stars arriving on set for shows in production like Dr. Phil, Glee, and NCIS: Los Angeles.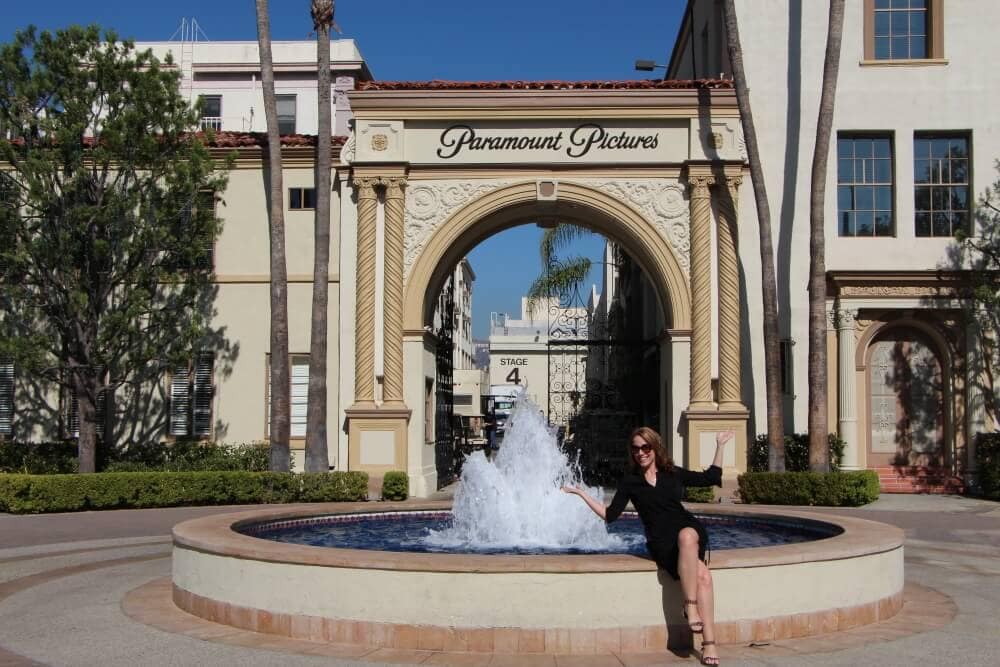 With 100 years of movie-making history, the tour of Paramount Studios included fascinating stories of big screen icons such as the working habits and business savvy of Lucille Ball and secret consultants kept on set during the making of The Godfather Trilogy to keep the real mafia happy.
One of the more interesting pieces of trivia I learned was that the term "star" for celebrities came from the tradition of adding stars to the Paramount logo when they signed new actors. After realizing that they'd eventually have hundreds of stars, they reduced the number to 22, representing the twenty two orignal actors with the studio.
Day 3 – Arriving In Kona, Hawaii
Flying over the Pacific Ocean, the jet trip suddenly felt real. Draped with leis and welcomed with a moonlit party on the beach, the Four Seasons Private Jet experience was official.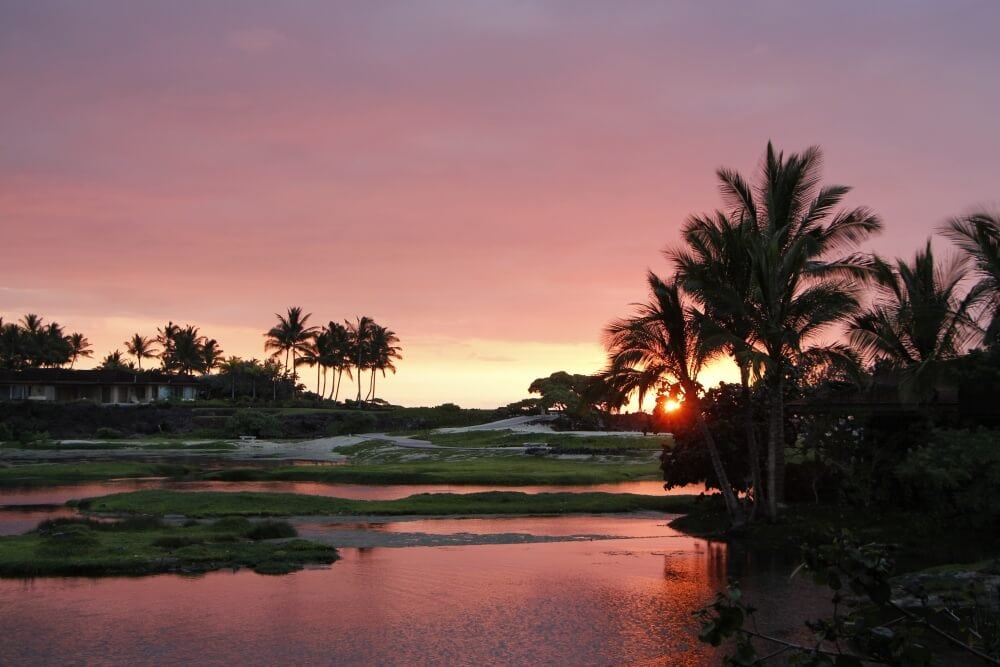 Day 4 – Learning To Make Leis – The Symbol Of "Aloha"
Our time in Hawaii was filled with relaxing on the beach, admiring the sea turtles, and learning about plant-to-plate dining on an island with amazing views. But on our final day in Kona, I did get a cultural lesson about the meaning of "Aloha" and the history of lei making.
Day 5 – Flying to Bora Bora!
From Hawaii, we flew to Papette, Tahiti, then boarded a smaller plane to fly to Bora Bora. There are a few things about Bora Bora that surprised me, but it is indeed just like every inspirational poster you've seen — a picture-perfect blue lagoon, lush volcanic mountains, and those above-water bungalows that everyone dreams about.
Day 6 – Snorkeling With Sharks In Bora Bora
When you're in Bora Bora, snorkelling in the clear blue waters should be a requirement. I signed up for an excursion that included a peaceful swim with a variety of marine species that ranged from non-threatening tropical fish to toothy-looking sharks that spanned 8 feet.
Our guide was quite the joker. He introduced himself as "Steve," followed by a jovial Woody Woodpecker-style laugh that made me think he keeps his real name a secret.
Steve (or whatever his name might be) deserves some major credit, though, for eliciting fun and for helping me get some excellent underwater shots. The water was deep, and the sharks were scary, so chickened out and I handed him my GoPro. The footage turned out … well, kinda crazy. LOL! But I did get some shots of the sharks from the boat.
A Polynesian Picnic
For lunch, "Steve," knew exactly where to take us for an afternoon feast to replenish our energy. Strumming a happy tune on a ukulele while navigating through Bora Bora's many shades of blue, he brought us to a private beach where we were greeted by local musicians, crafters and a Polynesian-style picnic of refreshing fruits, regional beers, fresh-baked coconut bread and a common local specialty, poisson cru.
The French phrase, "poisson cru," literally means raw fish, and it's the Polynesian equivalent of ceviche. It's prepared by marinating fresh fish in citrus juices, then mixing in diced cucumbers, carrots and onions, and topping it off with a generous pour of creamy coconut juice.
Day 7 – Bora Bora's Black Pearls
On our final day in Bora Bora, I couldn't leave without a precious souvenir — a black pearl. Also called Tahitian pearls, black pearls are produced by black-lipped oysters, which thrive in waters surrounding the French Polynesian islands, including Bora Bora.
Seeking to demystify the Tahitian black pearl, I spent some time with pearl expert Dominique Li-Oi Petra for an interview at The Black Pearl Lounge.
Day 8 – Crossing The International Dateline
November 24th, 2012. This is a day that I'll never forget because it simply didn't exist in my life. We crossed over the International Dateline and completely skipped it. Usually, travelers will gain a day back when traveling east over the dateline on their return trip. But since we kept flying west around the world, I'll have to find another way to makeup that lost time.
Day 9 – A Day In Sydney
With only a little over 24 hours in Sydney, there were two things on my must-do list: taking a tour of one of the world's most iconic buildings, The Sydney Opera House, and trying Vegemite.
For a quick breakfast, I headed up to Lounge 32, the club suite at the Four Seasons Sydney. And, of course, they had jars of vegemite available. Despite wrinkling my nose as the scent (it really is an acquired taste, but when in Australia …), I spread a little vegemite on toast and followed it up with strong coffee, then walked over to the Opera House for a tour.
The Sydney Opera House Tour is definitely something I recommend for anyone visiting Sydney. It was fascinating to learn about the architecture and construction while taking in the views of the harbor.
With a little bit of time left in the afternoon, I grabbed lunch at an innovative farm-to-table restaurant that takes their coffee as seriously as I do — The Grounds At Alexandria,
Fully caffeinated and ready to explore some more, I met up with Isobel Johnston from Sydney Art Tours for an Urban Walkabout in nearby Surry Hills. This artsy neighborhood of tree-lined streets and warehouses is chock full of art galleries, fashion houses, and coffee shops.
Day 10 – Ayers Rock and Arrival In Bali, Indonesia
On our way to Bali, the pilot circled around Ayers Rock, the sacred Uluru. It's an impressive site to see from the sky.
Prior to reading Eat Pray Love, my only experience with the island of Bali had been admiring intricately carved wood furniture pieces in new age stores. Then I saw the movie and watched as Julia Roberts got her zen on, wearing flowing linen pants and riding a bicycle through a lush tropical oasis of palm trees and rice fields.
I was hoping for a bit of calm zen moments in Bali after an all too brief 24 hour stop in Sydney. The whirlwind trip around the world is exciting, but the perpetual change in time zones can creep up on you.
My first thoughts on arriving in Bali is that it was serene. The custom of the prayer/bow greeting coupled with incense perfuming the air made it seem like an island-sized yoga studio.
Upon checking-in at the Four Seasons Bali at Jimbaran Bay, I immediately slipped into my swimsuit and took a refreshing afternoon dip in the plunge pool. The water was cool, but not too cold. Just blissfully refreshing after a long flight.
Feeling inspired by the lush landscape, I floated around for a bit, just taking it all in and making mental notes to send some pictures to my husband for ideas for our backyard.
Then I dunked my head in, got my hair wet, and popped up out of the water to an unusual sound. I couldn't quite place it at first, but then it hit me — a misty mechanical sound from my childhood. A mosquito truck! (I discovered later that it wasn't toxic, and was grateful to leave Bali without a single bite on my skin).
I rushed back into my room, chilled from the air conditioner and sopping wet from head to toe. The whole situation made me burst with laughter! If only there had been video of my get-out-of-the-pool-fast dance routine. My "bliss" wasn't permanently disturbed though, as I found the most perfect garden tub waiting.
Surrounded by floor-to-ceiling windows that let natural light in from a private garden, and just beside the tub were fresh orchids, candles, and incense. I pretty much stayed here until dinner time.
Dusk rolled in, covering Bali in soft rosy hues and paper lanterns and floating candles illuminated the way to our welcome dinner.
Day 11 – Balinese Cooking School
The next morning, I felt so well rested that I didn't even need coffee. Though, I enjoyed a cup anyway to savor the flavor. I accidentally almost picked up one of these trays thinking it was breakfast, but learned that this is a Hindu offering that the Balinese give at least once a day. It represents everything their thankful for, some of the colors representing wealth, plants representing the land, and sliced fruit for the abundance of food. What a beautiful way to express gratitude.
Day 12 – Ubud Village & Batik Tour
I had always heard Bali was known for their handicrafts and just one day of exploring their countryside confirms their artistic reputation. My guide, Dewa from Asian Trails, picked me up at 9:00 and handed me a map to all the small villages we'd be visiting. Our first stop was at the Popiler Batik Factory in Tohpati.
Batik is a method for drawing on fabric by hand with a wax pen and then dipping the fabric into a dye bath. After the dye dries, the wax is scrapped away revealing a beautiful pattern and the process is repeated to add more color and designs. To demonstrate, the artist offered to draw a wax design on my shorts. She said it will wash out with water, but if it doesn't, I'll just have a unique souvenir from Bali.
We continued on to Batubulon, an area known for their hand carved sculptures of Buddha, toothy dragons, and animal spirits. We stopped for a bit to watch the sculptors at work, painstakingly paying attention to such small details using only a hammer and a chisel. It takes about a month to make just one statue, which is an fascinating feat when you see them displayed all throughout the island at the entrance to homes and temples.
Next we drove up to the village of Celuk, the center for making the intricate silver designs Bali is known for. Tiny silver beads are meticulously placed in patterns by hand using a small wooden stick or pencil. After the patterns are set, the granules of silver are heated until they fuse together making a beautiful design. I watched one artist spend 20 minutes creating just one earring. It takes such patience and precision for all this handiwork that I have a renewed appreciation for local crafts.
After a morning of seeing the many handicrafts that Bali produces, we changed gears and went from material to spiritual as my guide, Dewa, took me to visit the Puseh Temple of Batuan. Upon arriving, I was instructed to wrap a sarong around my shorts to show reverence for this sacred space that dates back to the 11th century.
The ornate carvings that embellish the walls all have a meaning or purpose. The god "Bhoma" sits at the top of the entrance for spiritual protection, as does two guardians on either side called, Nandiswara Mahakala. Once inside, there's a courtyard of various pavilions with different purposes. Some are simply for storage, others for dance and ceremony. There's typically an elephant figure at the base of most pillars, symbolizing the strength and stability needed to hold up the monument above it.
I also learned that the colors have meaning. The black and white checkered cloths displayed on most of the fabrics represent the balance of good and bad, positive and negative, yin and yang. Personally, I felt nothing but a sense of peace at this sacred site. The Hindu gods must have been content the day that I visited.
Day 13 – Fly To Chiang Mai
Temples, Silks
Day 14 – Chiang Mai Cooking School and Night Market
Day 15 – Taj Mahal
We arrived in Mumbai during one of the biggest holidays in the country — Diwali. It's a Hindu festival of light, a celebration of the triumph of good over evil. Everywhere you go, the vibe during Diwali is festive and lively.
The Significance Of Marigolds
Mounds of marigolds are piled high on street carts, carpets, and baskets, available to purchase for decoration in celelbration of Diwali. Long stands of marigolds adorn homes, cars, and even bicycles. According to a tweet I received, the marigolds represent a trust in the divine and a will to overcome obstacles. The abundance of them add a lovely fragrance to the already heavily scented air of India, a smoky mixture of nag champa incense, spicy cardamom, and the metallic tang of sulfur and charcoal.
Throughout the night, fire crackers boomed through the city and light up the night sky. Small clay bowls, some simply natural and some elaborately painted, serve as lanterns cradling incense and candles to represent "light" during the festival.
While arriving to the Taj Mahal was my first taste of India, spending some time in Mumbai, especially during Diwali, is when I became charmed by India's culture. The streets are packed with all methods of transportation, from cars and scooters, to bicycles, rickshaws, horse and carriage. There are even a few stray cows and goats that add to the harmonious chaos that is traffic in India. I had heard that it is an assault to your senses, and it can definitely feel overwhelming, But it also has an exciting, almost edgy, vibe that can only be felt when visiting there in person.
Day 16 – Mumbai, The City Within
With only a few days in Mumbai during our around the world trip, I wanted to make sure to experience as much as possible during our short time visiting India. I signed up for a yoga class, took a half day trip to explore Elephanta Island, learned how to wrap a sari, and then visited the local markets and the home of a local fashion designer. Below is a copy of the short story that was published for the Four Seasons about our visit to James Ferreira's home.
Exporing Old Bombay
After learning to wrap a saree and now dressed like a local, I ventured out deep into the city to visit a historic section of old Bombay, Khotachiwadi. Amid the harmonious chaos of traffic, music, and street vendors, this quiet community was a restful retreat. The quaint Portugese-style wood homes have remained in tact through the evolution of modern Mumbai rising up around this little neighborhood.
Mumbai Fashion
We gathered at the home of designer James Ferreira, known for his colorful and sensual fashions that embody the culture of his native India. Here we sipped chai with his mother and family while admiring even more luxurious sarees with ornate embroidery and embellishments. Amid his collection of antiques and fabrics, I was captivated by the kaleidoscope of lanterns illuminating his second floor studio. Color is definitely the fashion here in India.
Day 17 – Mumbai, The Peace Within
Self-improvement through yoga. [link to What Yoga Is Like In India]
Day 18 – Budapest's Cafes
Day 19 – Tour of Budapest – St. Stephen's Castle Hill, and Fisherman's Bastion. Paprika.
Day 20 – Arrival In London!
Day 21 – Pint At One Of London's Oldest Pubs
Day 22 –