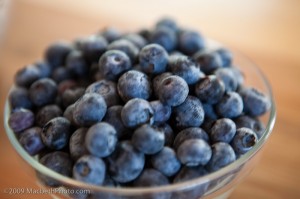 Every time walk through the grocery store I can't pass by the produce section without being lured in by these blueberries.  They're in season right now, so how could I pass up 2 pints of this colorful goodness?  They make a great low fat snack for munching while working on your computer or watching a movie.  But this recipe for blueberry citrus scones is definitely NOT of the low-fat-guilt-free diet variety.  But they're worth every calorie!
Besides, when you look at the ingredients — some milk, some orange juice, some eggs — you can convince yourself that this is a healthy breakfast.  Right?  Well, at least believe me when I say that they're super delicious.
This blueberry citrus scones recipe was sent to me by Deanna at The Old Hen Bed & Breakfast in Seattle.    I have the entire ingredients list and instructions at the bottom of the post.  Enjoy!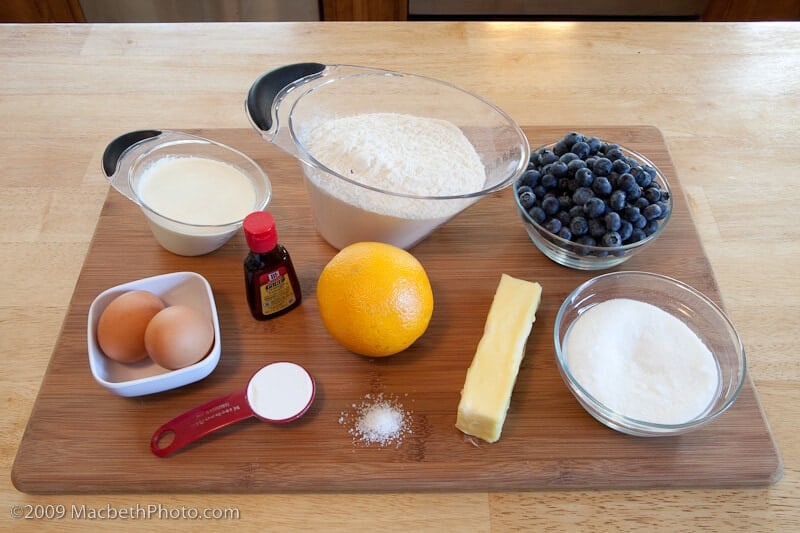 See!  I told you!  Look at all the healthy stuff going into these scones!  Just ignore the 2/3 cup of sugar and all that flour.  It's invisible.  You don't see those extra calories … you just get to enjoy the flavor.
Add in your dry, "invisible" ingredients …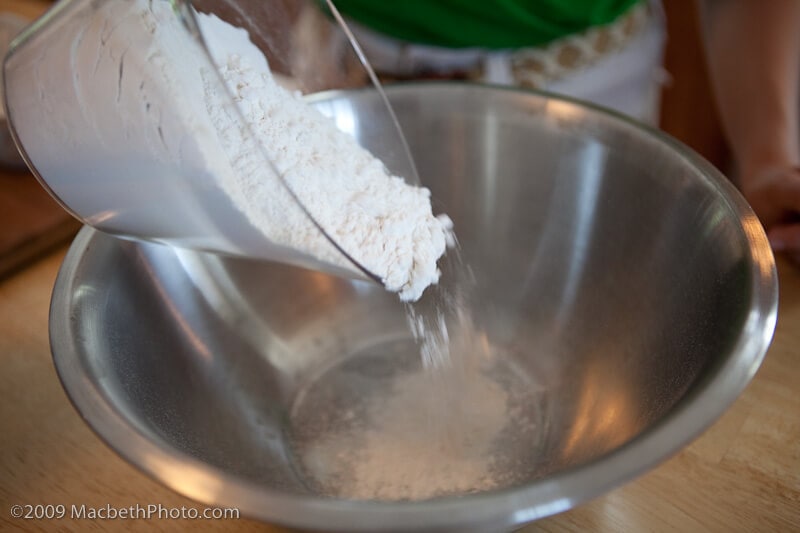 Pay no attention to my clumpy sugar.  I store it in the fridge as to not attempt bugs to enter my kitchen.  So it's clumpy.  And cold.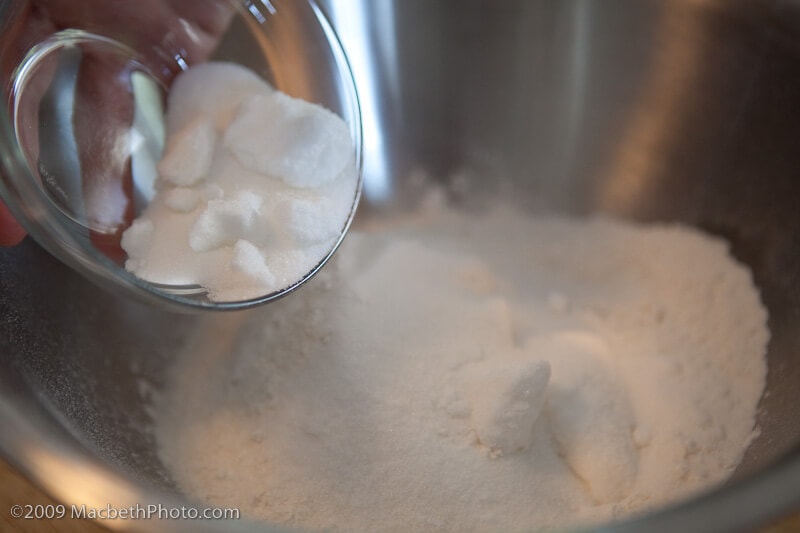 Baking Powder.  Doesn't it look fake?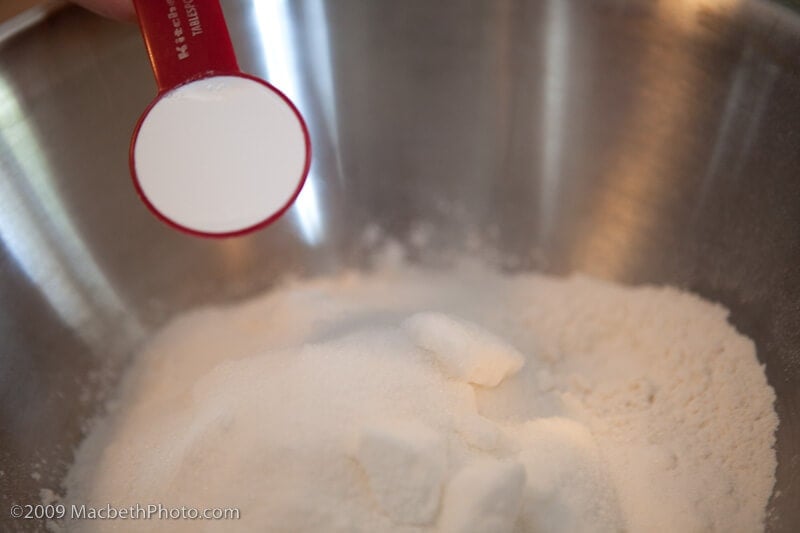 Mix them all up until you've got a nice powdery batter.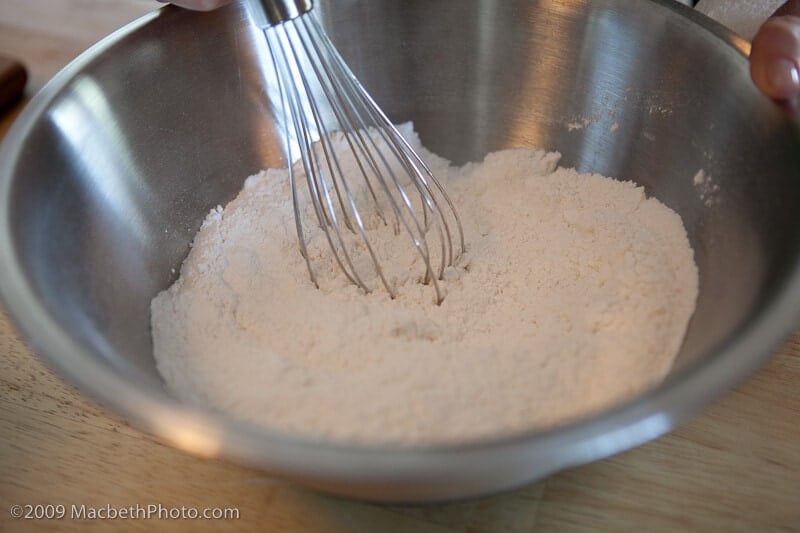 Next, zest your orange.  Watch your knuckles.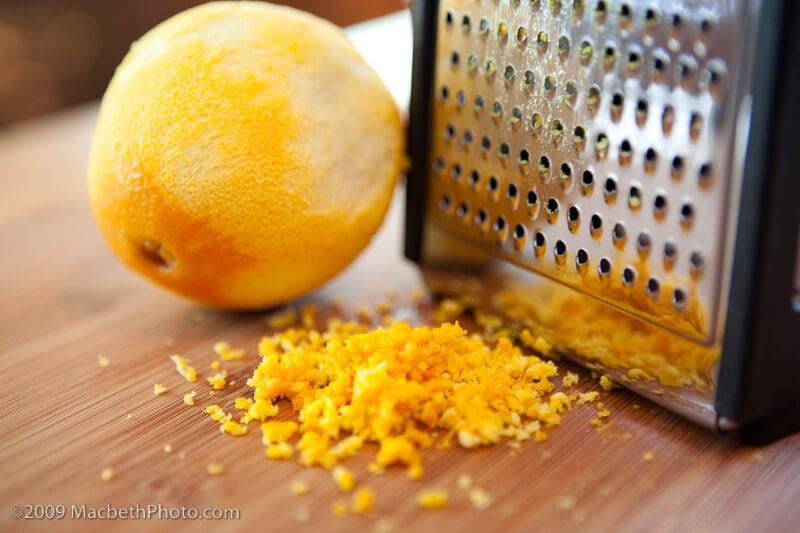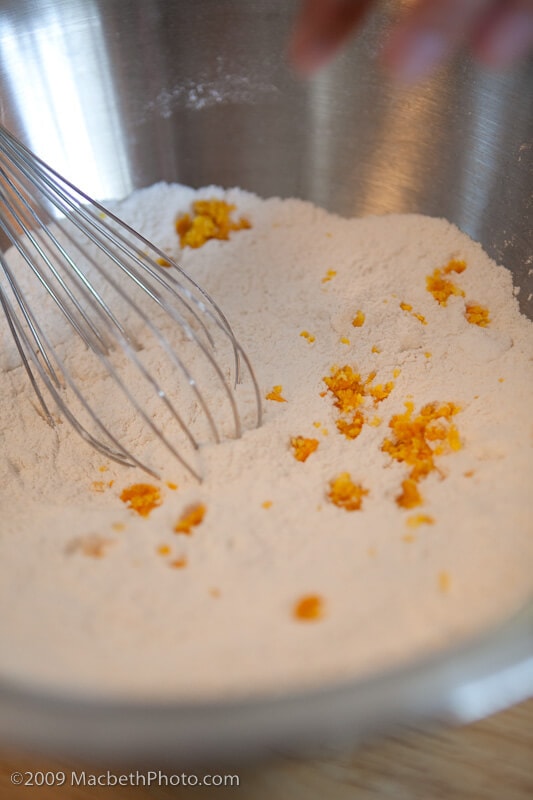 Using the same orange, cut in half and juice.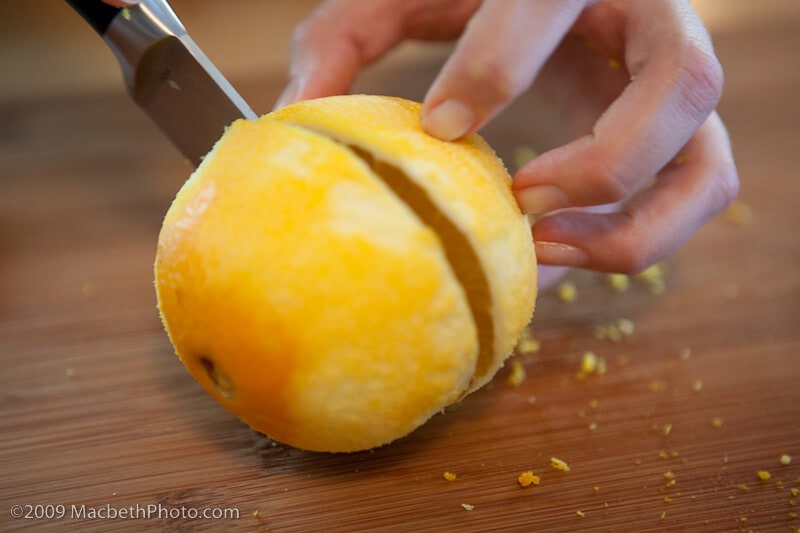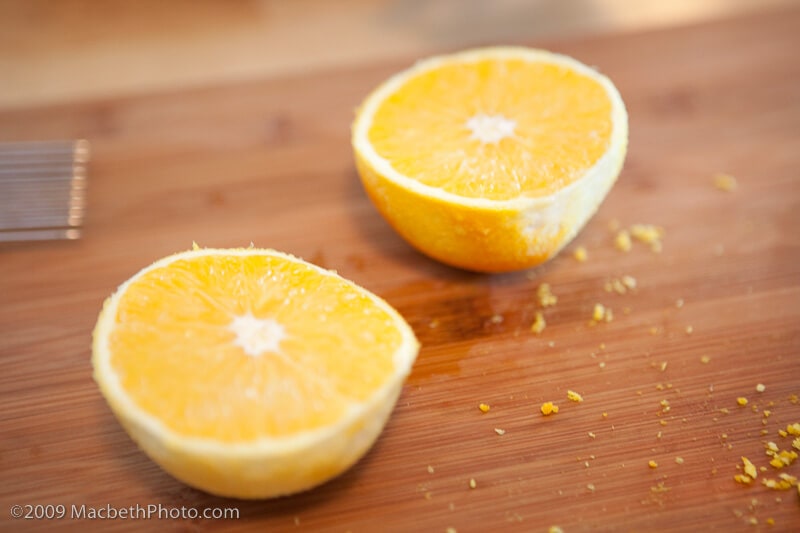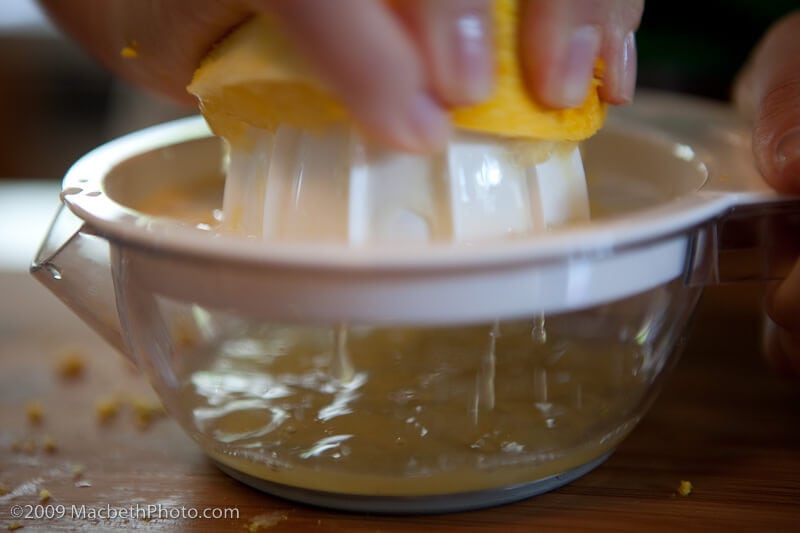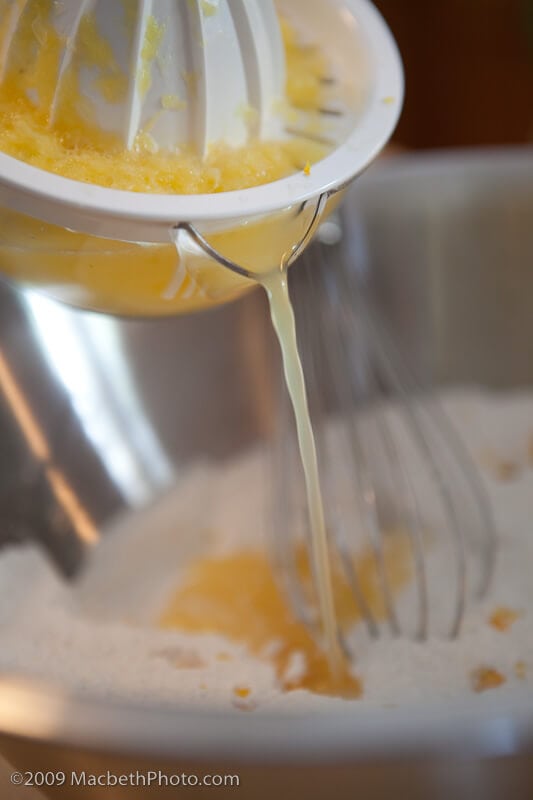 After adding the fresh orange juice (isn't this starting to smell wonderful!), break open the eggs and add them to your dry ingredients.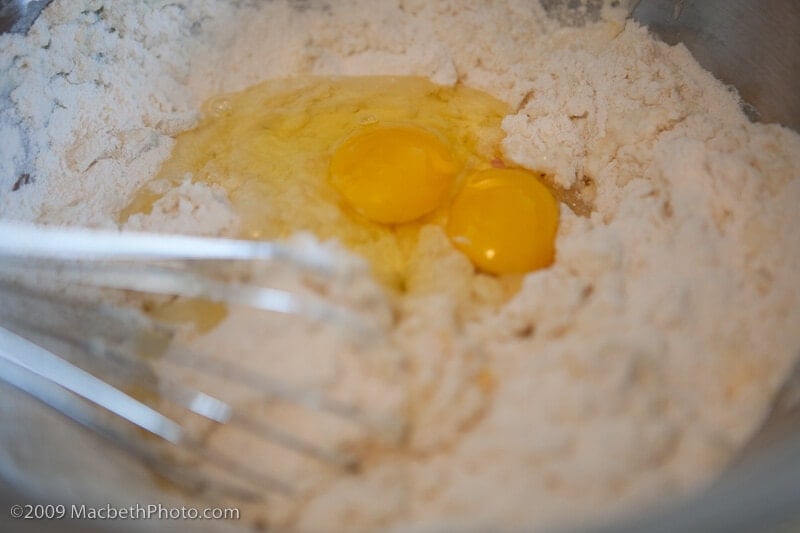 Mix.  I'm doing this by hand … working on those forearms of mine.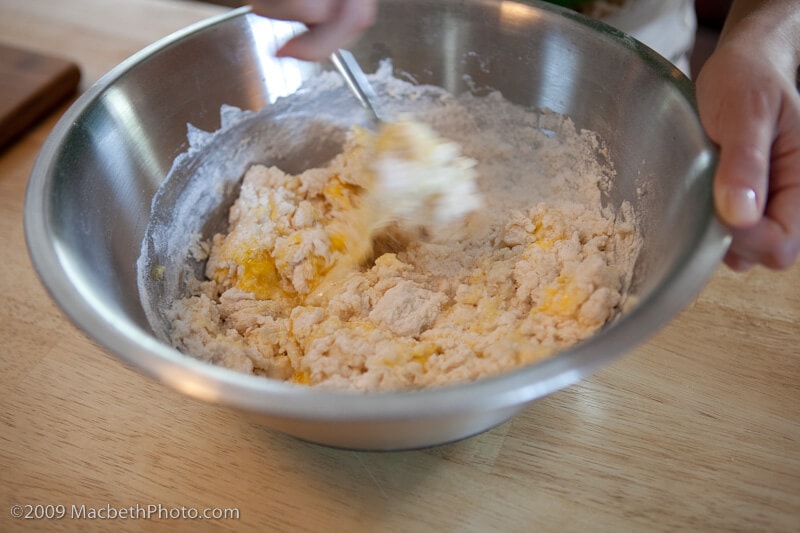 The word "chopping" and the word "butter" just don't seem to go together.  I supposed my chilled butter warmed up a bit too much while we were prepping … cause my description would be more of a "mash."  Using any chopping/mashing style you choose … your butter needs to end up in little bits.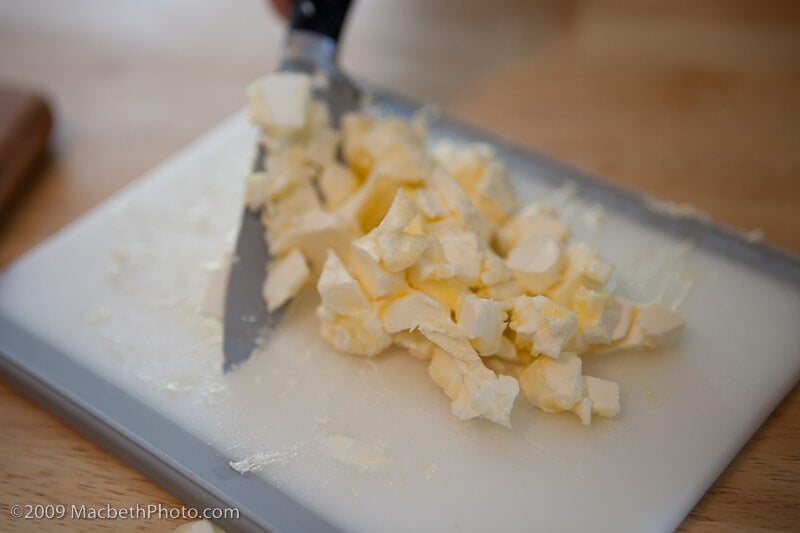 Gently fold it into your nicely forming dough.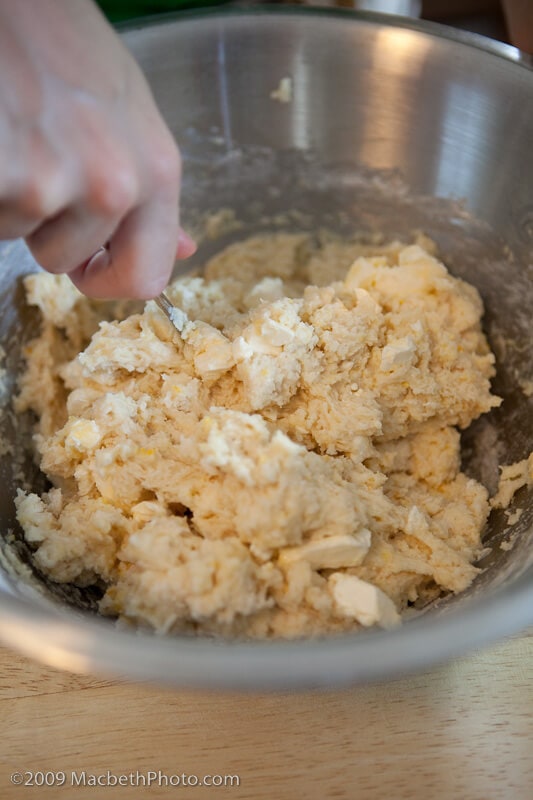 Deanna recommended getting fresh blueberries and freezing them over night.  I couldn't agree more!  Freezing them helps them not explode/burst when you add them to the dough.
Now, can you guess how frozen blueberries behave?  The sweat.  Naughty little things.  Coating them in some flour will keep them from getting stuck in your dough and make them nice and pretty little berries.  Kinda like powdering your nose.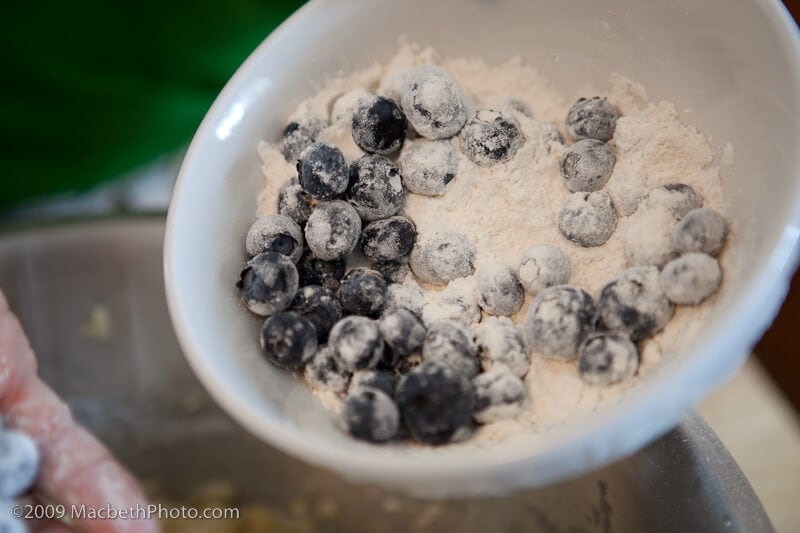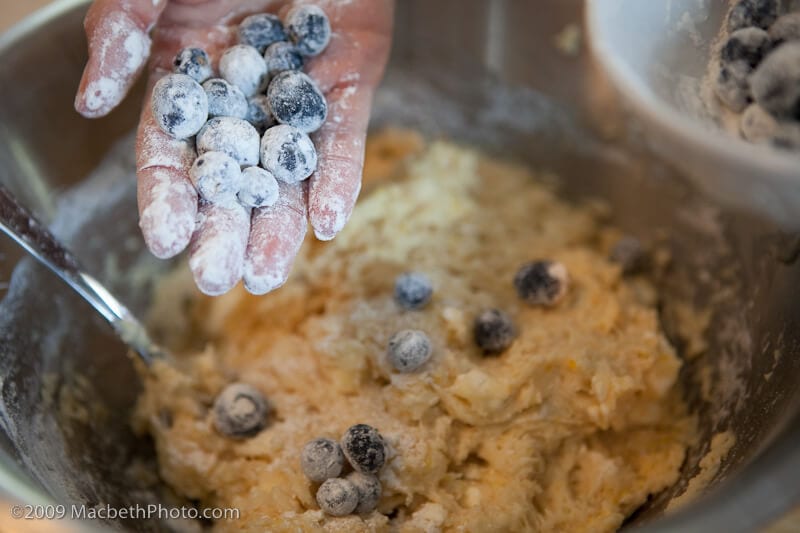 But I forgot to flour/powder my hands!  Ugh!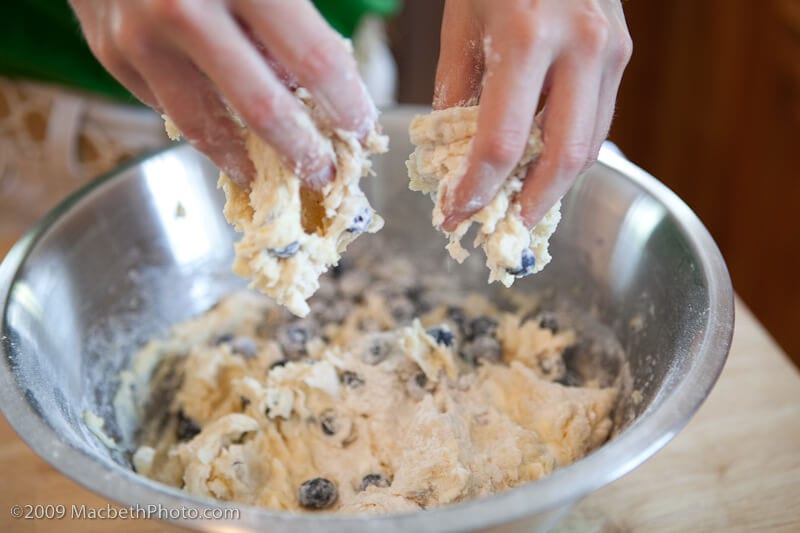 Ah well.  Nothing wasted.  A little taste, a little hand washing and I'll get right back on track.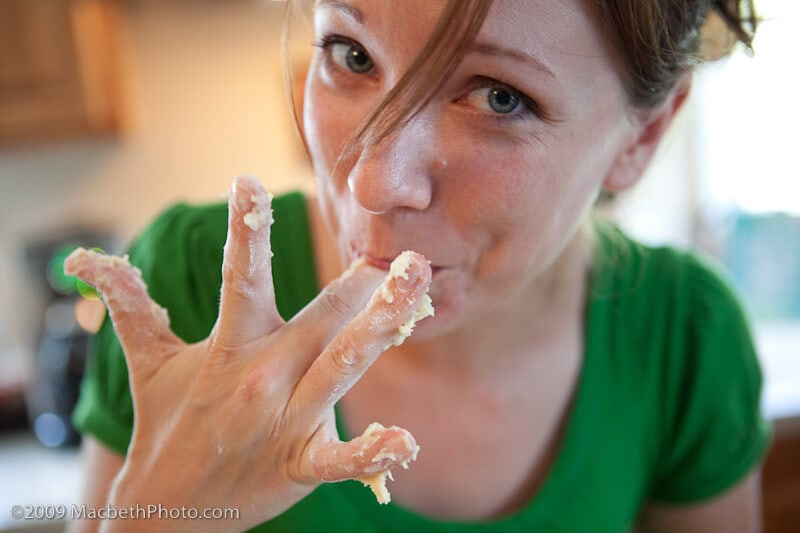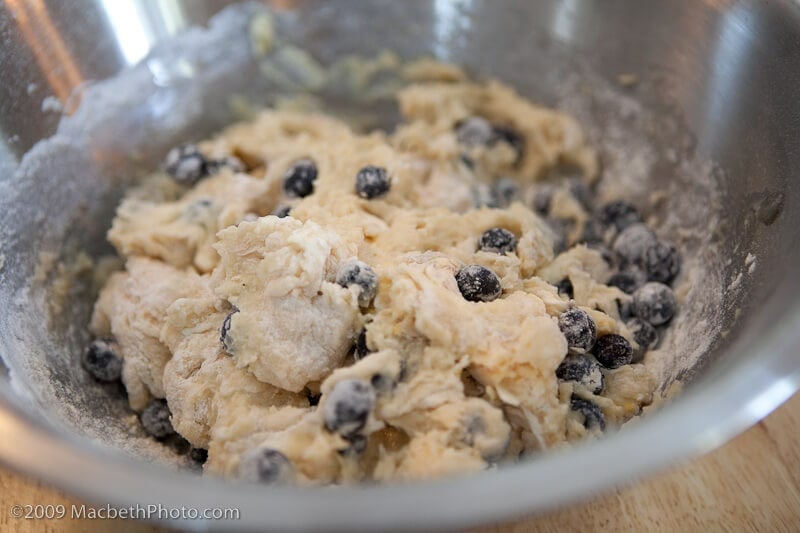 Form your dough into a ball and then press into a "disk" shape.  Don't ya just love photo examples?  I'm a "visual" person, so when Deanna wrote "disk" shape I had to wrinkly my nose and scratch my noggin … but I got it!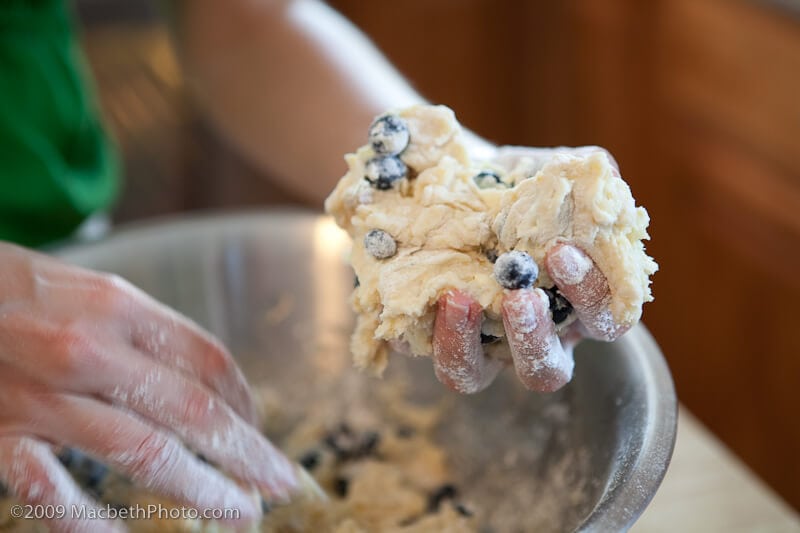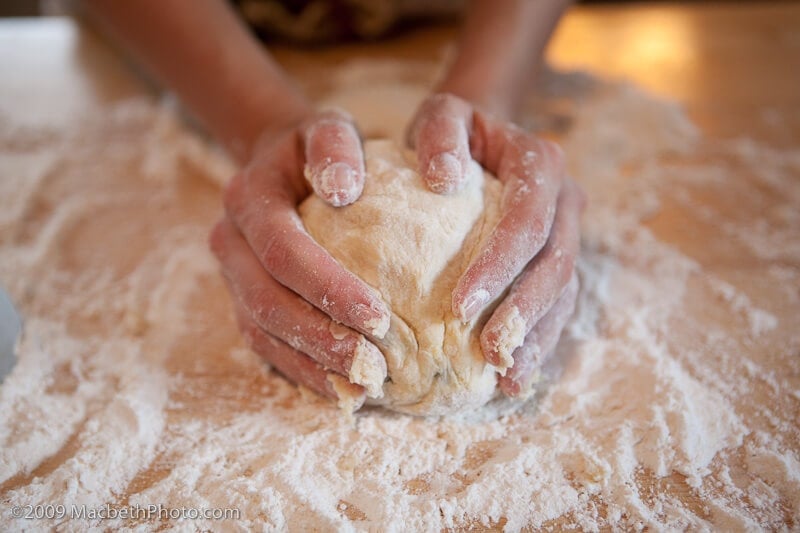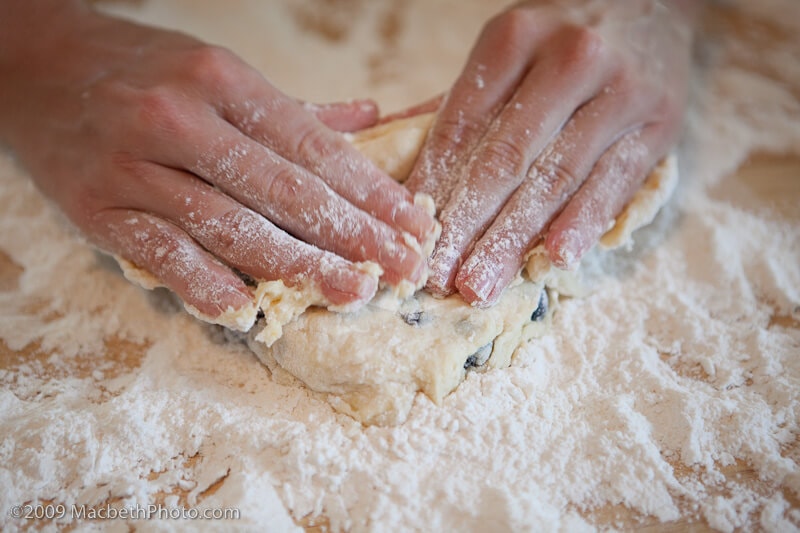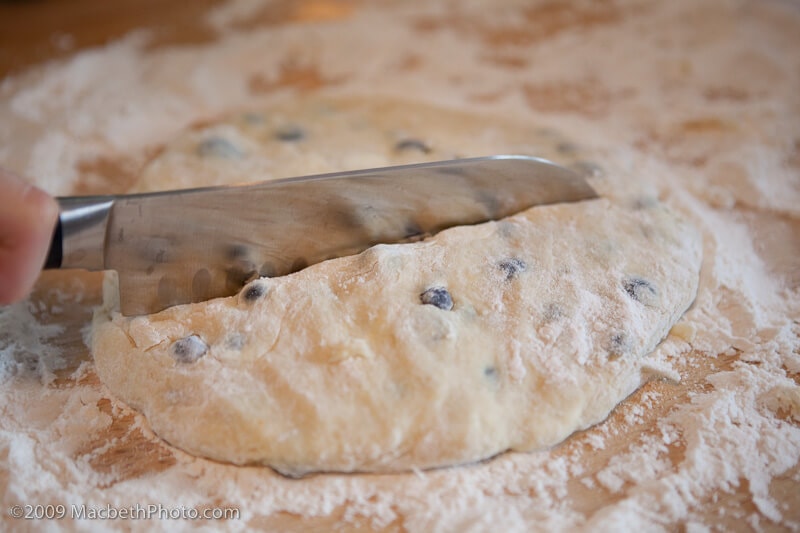 Place your scones on a cookie sheet lined with parchment paper.
I'm using a baking stone.  Don't forget to dip your fingers in flour as you're picking these up!  Unless, of course, you like to eat the raw dough.  I'm not judging!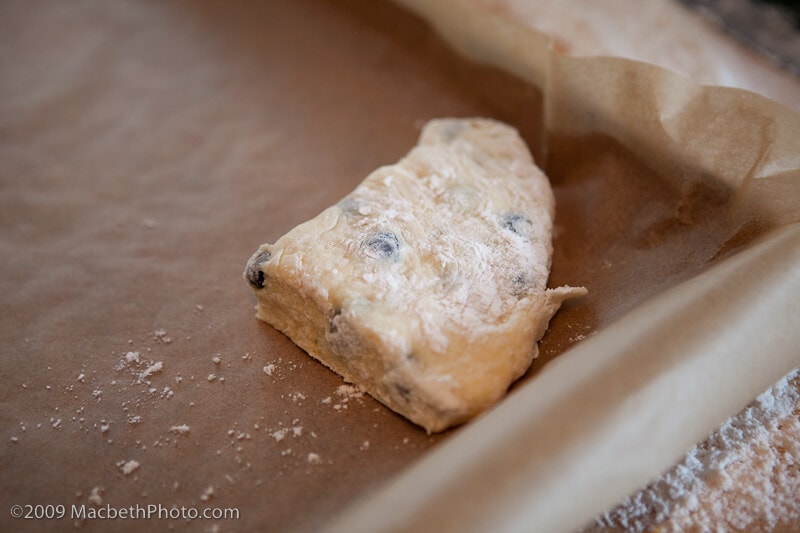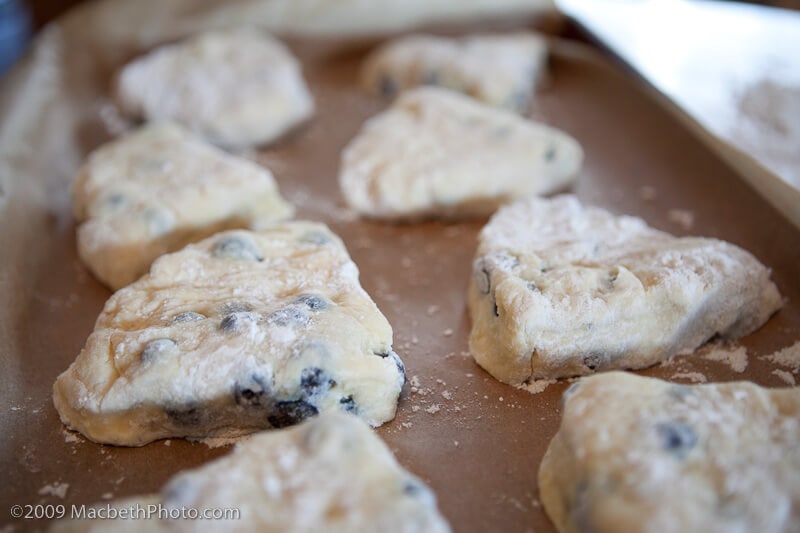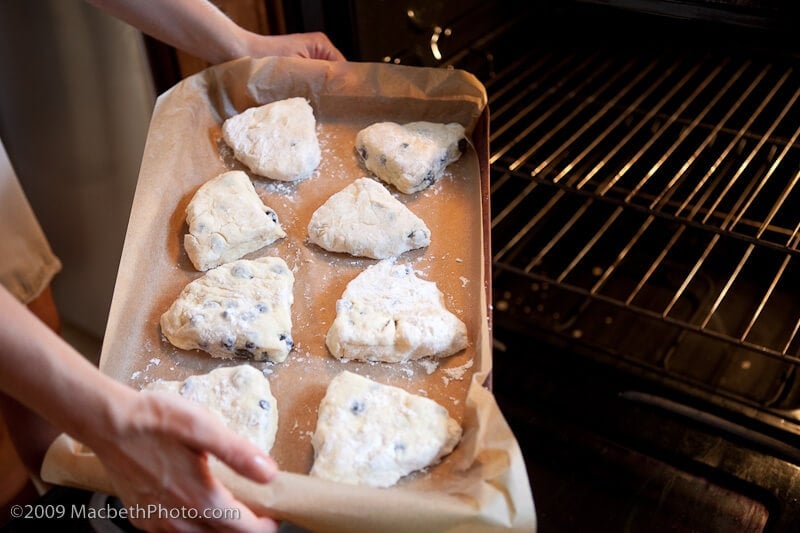 Bake them at 400 degrees for 45 minutes.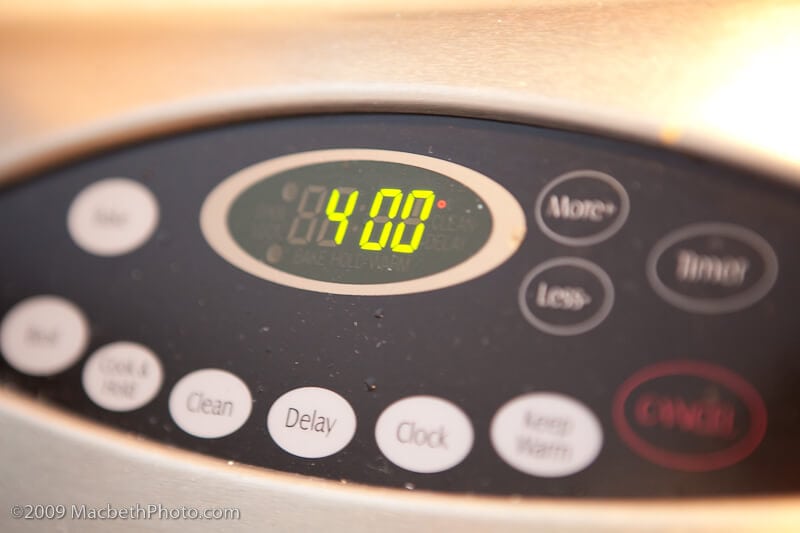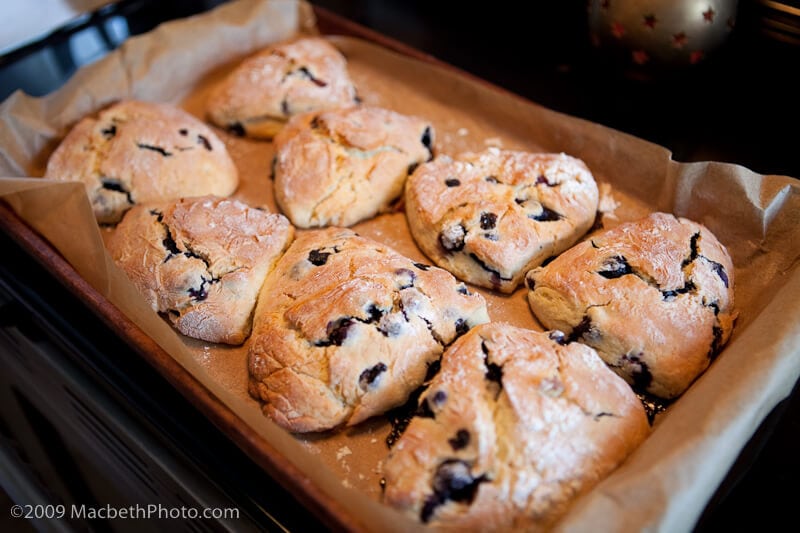 And now … the moment you've been waiting for … the most divine thing I've ever licked off a plate … orange icing!
Click here for the Orange Glaze Icing recipe.
For the food porn … keep scrolling.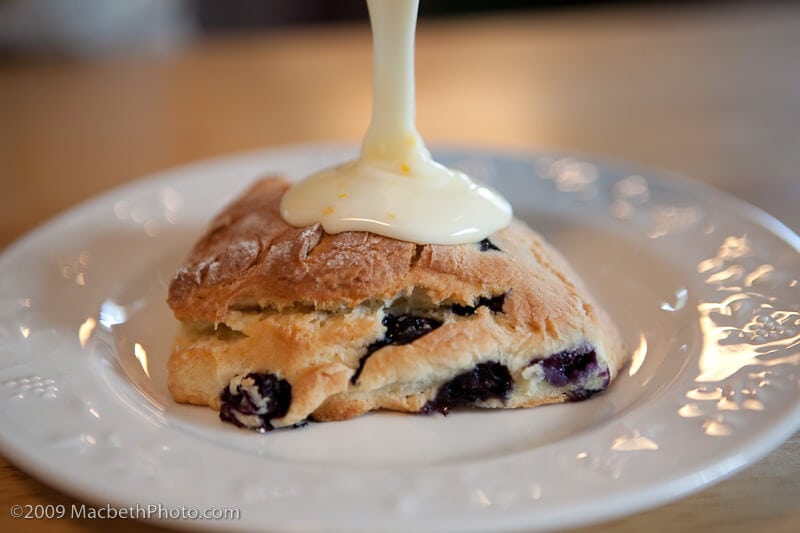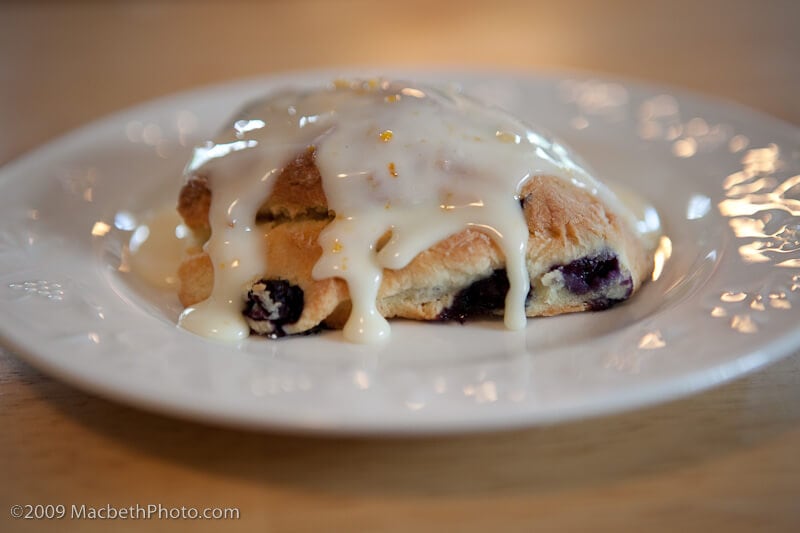 That first one didn't last long enough for the mint and blueberry garnish.  It was scooped off the place and devoured before the icing even had time to pool on the plate.  And then we licked it clean.  Here's another one.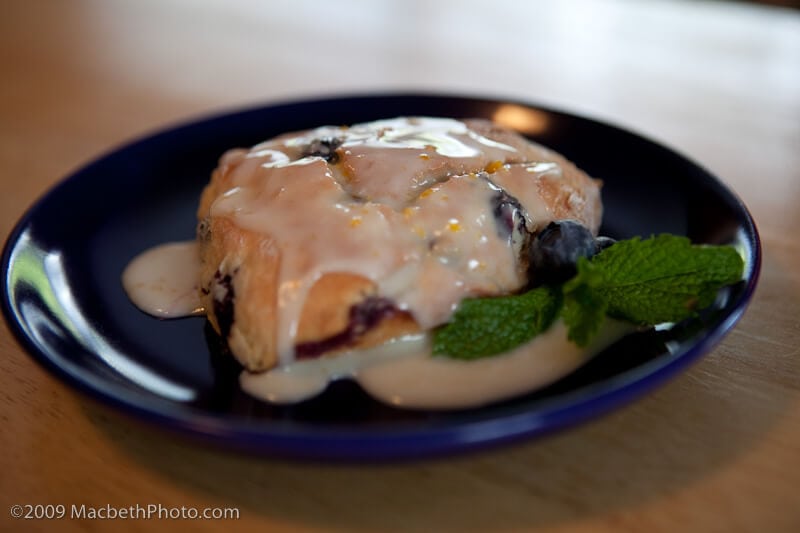 Oh yeah!  This is going on my list of favorites.
Thank you Deanna!
See the full recipe below.
–Rachelle
###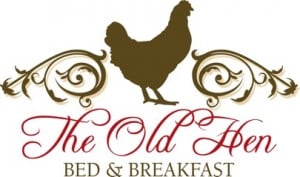 Blueberry Citrus Scones Recipe
Print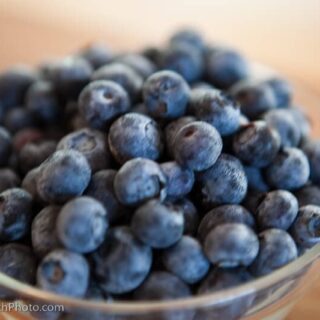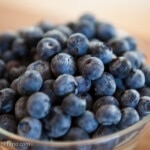 Blueberry Citrus Scones
---
Author:

Prep Time:

15 mins

Cook Time:

45 mins

Total Time:

1 hour

Yield:

6

-

8

1

x
Scale
Ingredients
2 3/4 cup

s of flour

1 tsp

salt

1

tbs baking powder

2/3 cup

sugar

1/2 cup

of chilled butter

3/4 cup

of heavy whipping cream

2

large eggs
zest of

one

orange
juice of

one

orange

1 pint

of fresh blueberries (freeze them overnight before using
---
Instructions
Pre-heat oven to 400 degrees F.
Combine dry ingredients.
Add heavy cream and eggs to dry ingredients.
Zest one orange, then cut in half and juice.
Cut butter into very small pieces and mix into dough. Don't over mix. Butter should be about the size of peas when you are done mixing it into dough.
Coat fresh frozen blueberries with a light dusting of flour then add by folding gently into dough.
Place about a cup of flour onto counter and place half of dough on it. Coat dough lightly with flour and form a round disk with the dough. It should be about 10 inches around.
Cut circle of dough into 4 sections. Remove excess flour from scones and place on cookie sheet lined with parchment paper.
Repeat with second half of dough.
Bake at 400 degrees for about 45 minutes.
Add orange icing and serve!
---
Category:

Breakfast

Cuisine:

American