Traditional Irish scones are easy to make! And they're a fun breakfast (or afternoon) treat with some strong tea or coffee too. Scroll through the photos below for some helpful tips and tricks, or hit the "jump to" button to get straight to this easy Irish scones recipe.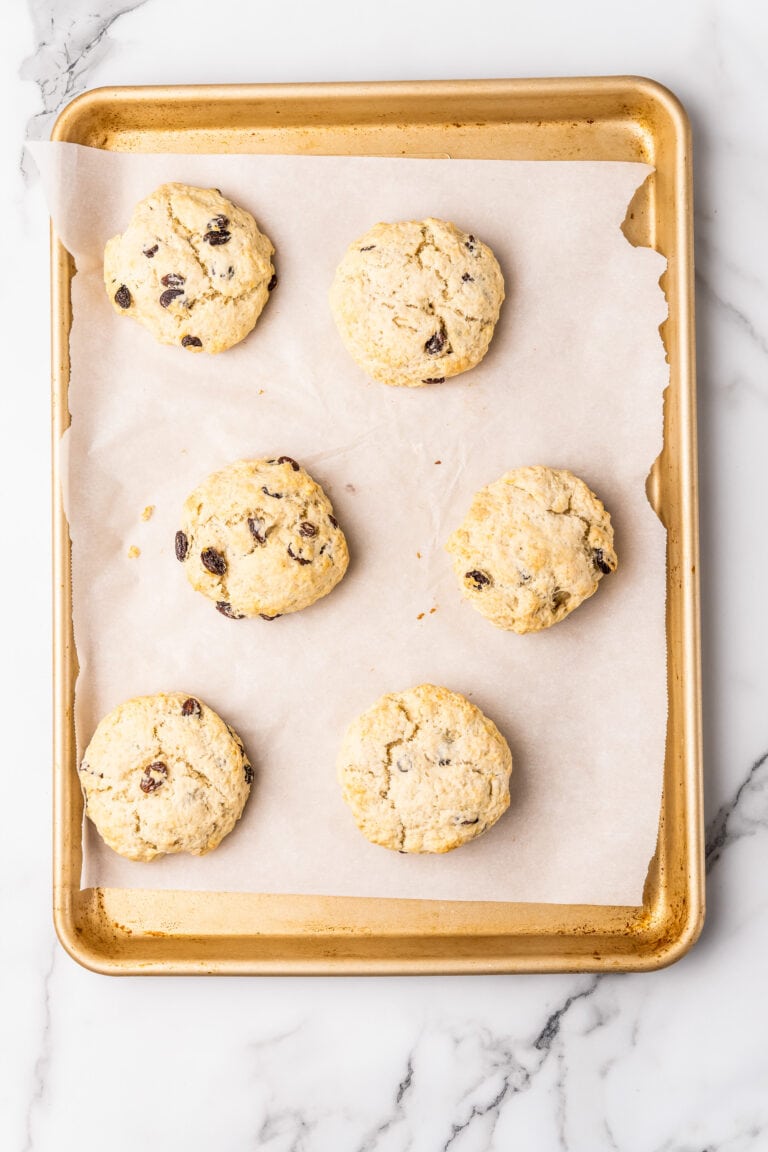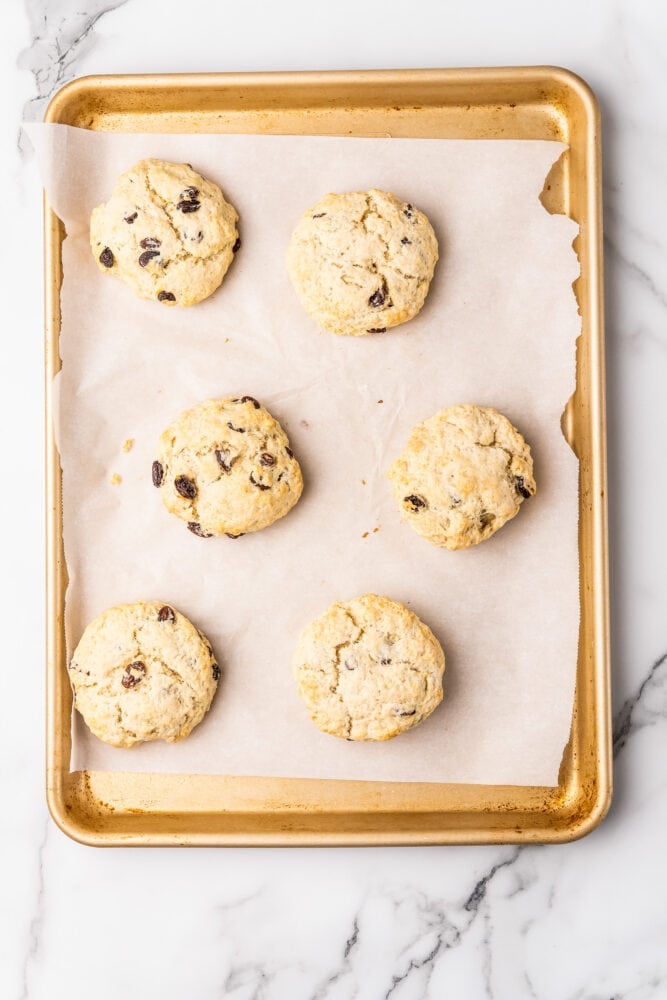 What's The Difference Between English and Irish Scones?
Scones are synonymous with the United Kingdom. But are all scones the same? Historically, scones originated from from the Scottish 'bannock', which is a type of flat skillet bread similar to Irish soda bread. But bannock doesn't look or taste similar to the scones we enjoy today.
Typically, English scones taste a bit sweeter than Irish scones, and are served with afternoon tea. Irish scones are less sweet and more like an American biscuit. But they're also served with tea in the afternoon, or as a light dessert.
I researched to see exactly *what* makes these Irish scones "Irish." And to be honest I couldn't find anything definite other than the added ingredient of raisins and serving with strawberry jam and whipped cream.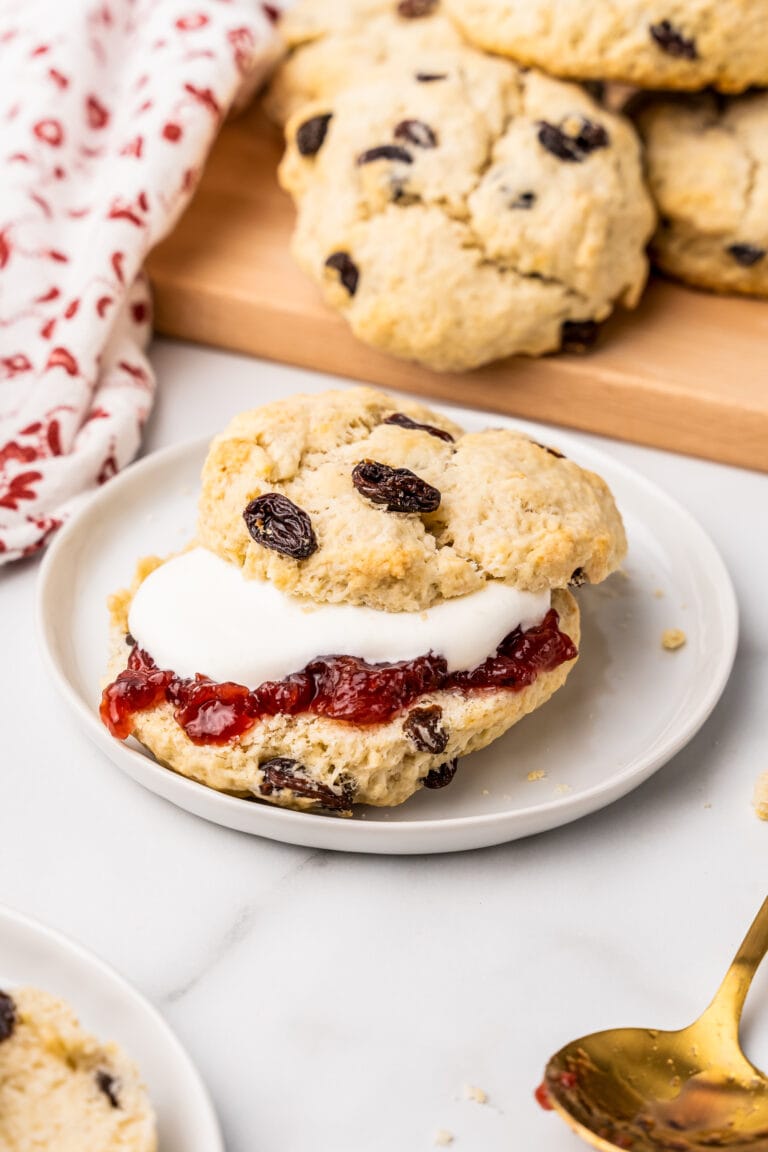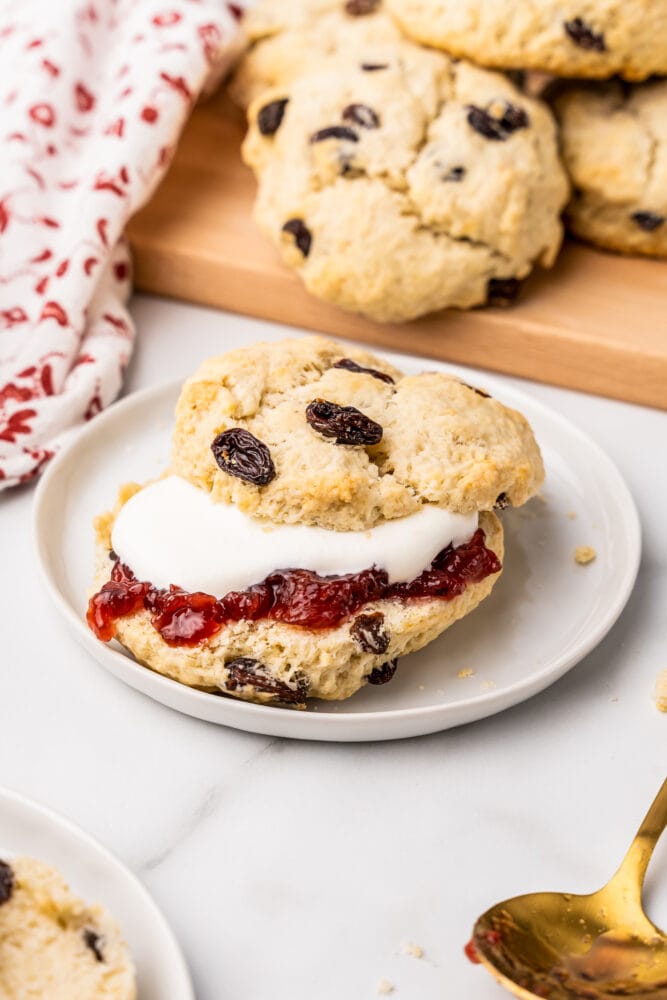 How Do You Say Scone In Ireland?
In the United States, we pronounce scones in a way that rhymes with the word stones or bones. But in Ireland, scone is pronounced more like the word "on" or "gone." But that pronunciation can even vary regionally within Ireland. If you're visiting Ireland, though, they will certainly understand what you mean if you ask for a scone either way.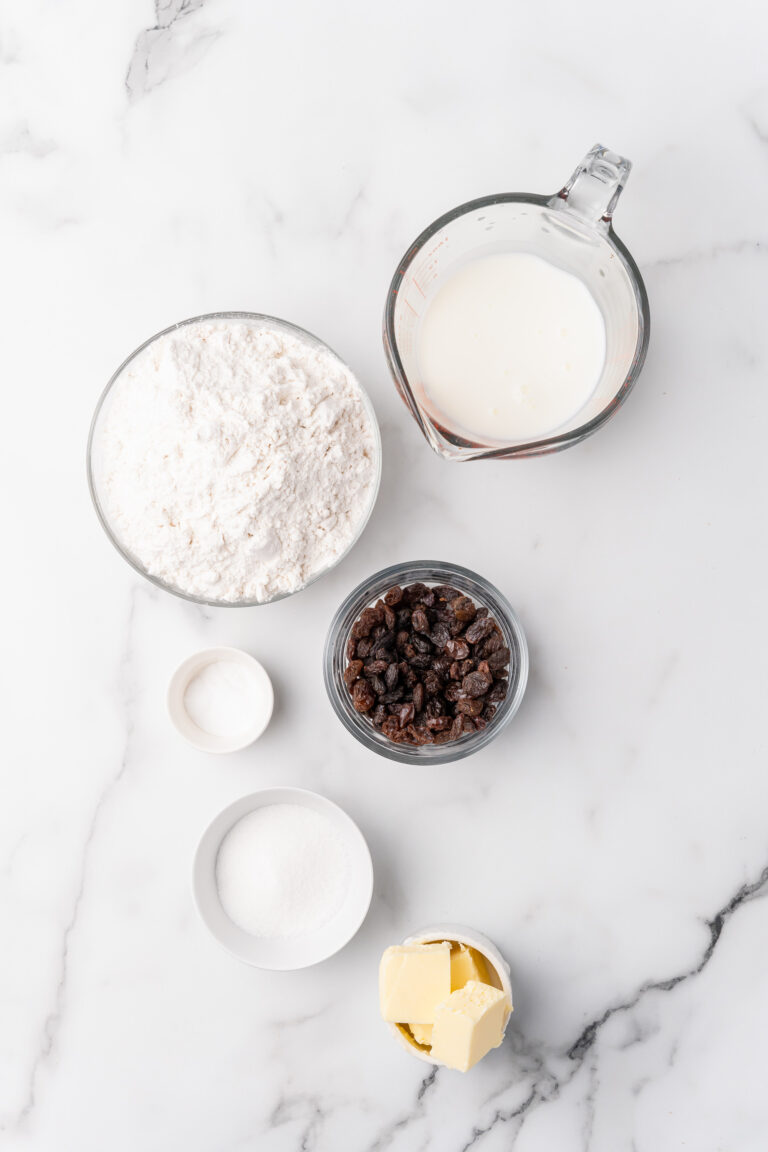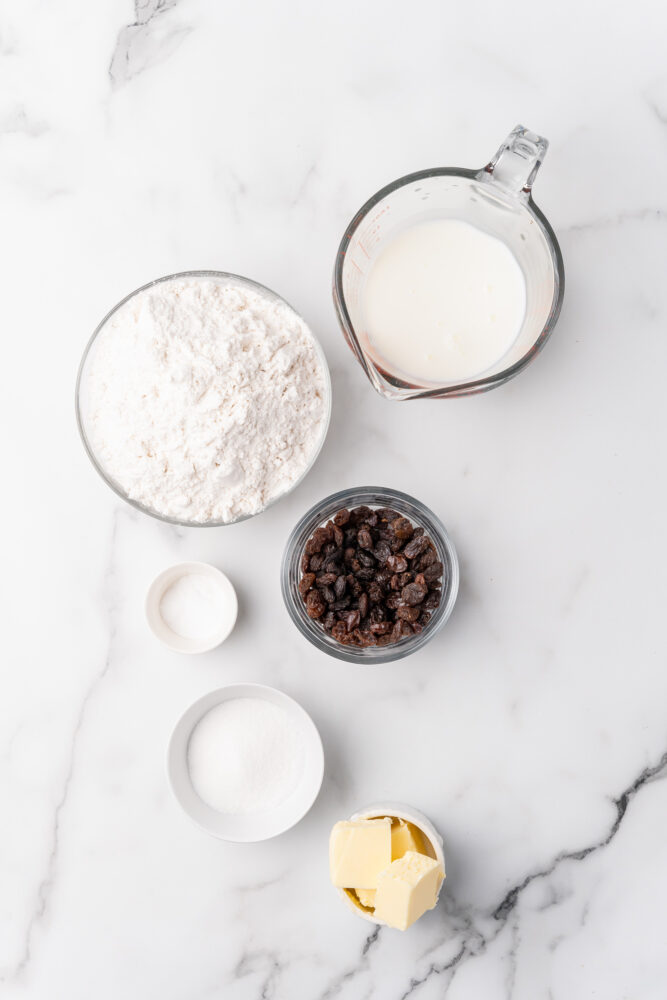 Ingredients For Irish Scones
Irish scones are made with really basic baking ingredients you're likely to already have in your pantry. I would liken them to a slightly sweet American biscuit. Here's what you'll need:
all purpose flour: all purpose flour is pretty versatile and will make great scones that are not too dense.
butter: I like to use salted butter in this Irish scone recipe to add a bit of flavor. And, of course, Kerrygold is an Irish butter brand perfect for making scones.
baking soda: Baking soda helps the scones rise. Be sure to use fresh baking soda that hasn't gone stale.
sugar: Just a little sugar goes a long way. Irish scones are not as sweet as an English or American style scone.
raisins: Raisins are a traditional ingredient. Though, if you don't like them, do you don't have to add them. Personally I like the sweetness and texture they add to the scone.
buttermilk: Buttermilk is the fermented dairy left over from the process of turning cream into butter. And it gives an amazing flavor and rise to baked goods.
The Secret To A Good Irish Scone Recipe
The secret to baking a great scone is in using fresh ingredients. But mainly, buttermilk, as I mentioned above. Buttermilk and butter together add a richness of flavor to any baked good. And the buttermilk works with the baking soda to help the scones rise and gives the Irish scones a great flakey texture once baked.
How To Make Irish Scones
To make Irish scones, first start by adding your dry ingredients (the flour, sugar, and baking soda) to a large bowl and blend together with a whisk.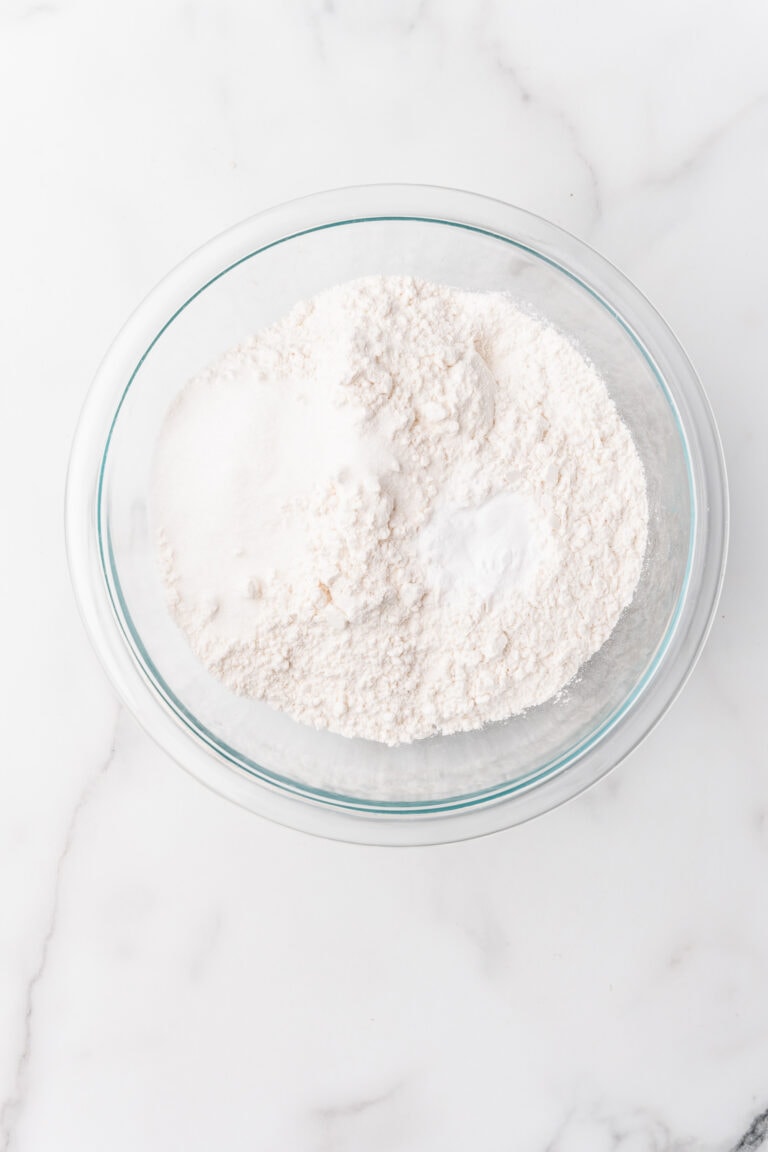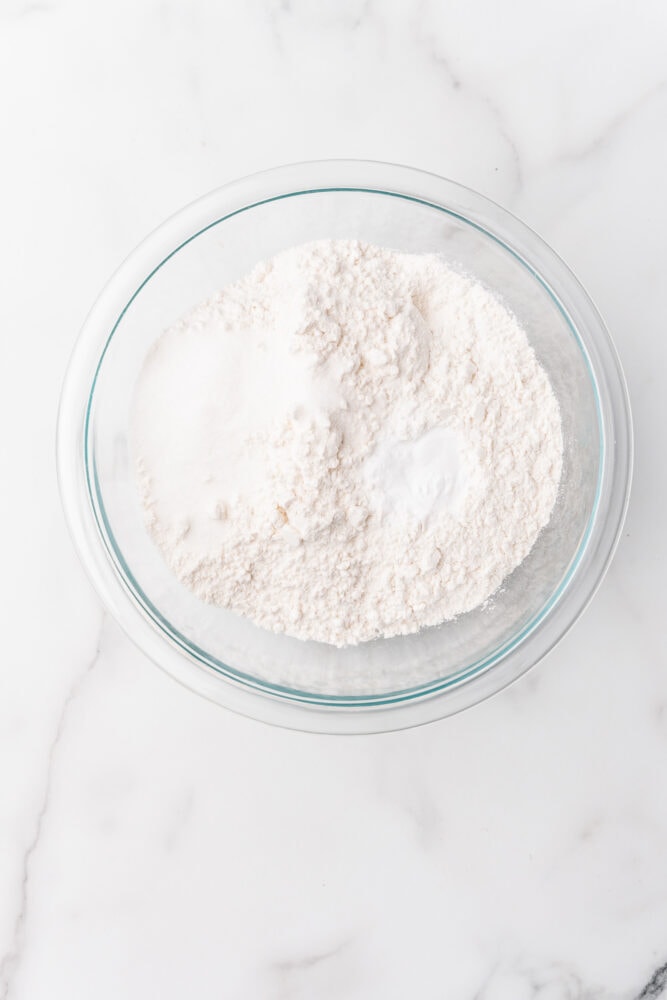 Next, add the butter in with the flour mixture and press it into the flour to blend with all the ingredients. You want it to be a crumbly texture. And you can achieve this best with a pastry blender. A pastry blender is a semi-circle shaped tool for blending butter into flour. But if you don't have one, don't sweat it. You can usually find a pastry blender tool at your local supermarket and even on Amazon. But if you don't bake often and don't want to purchase one, a large fork will work too.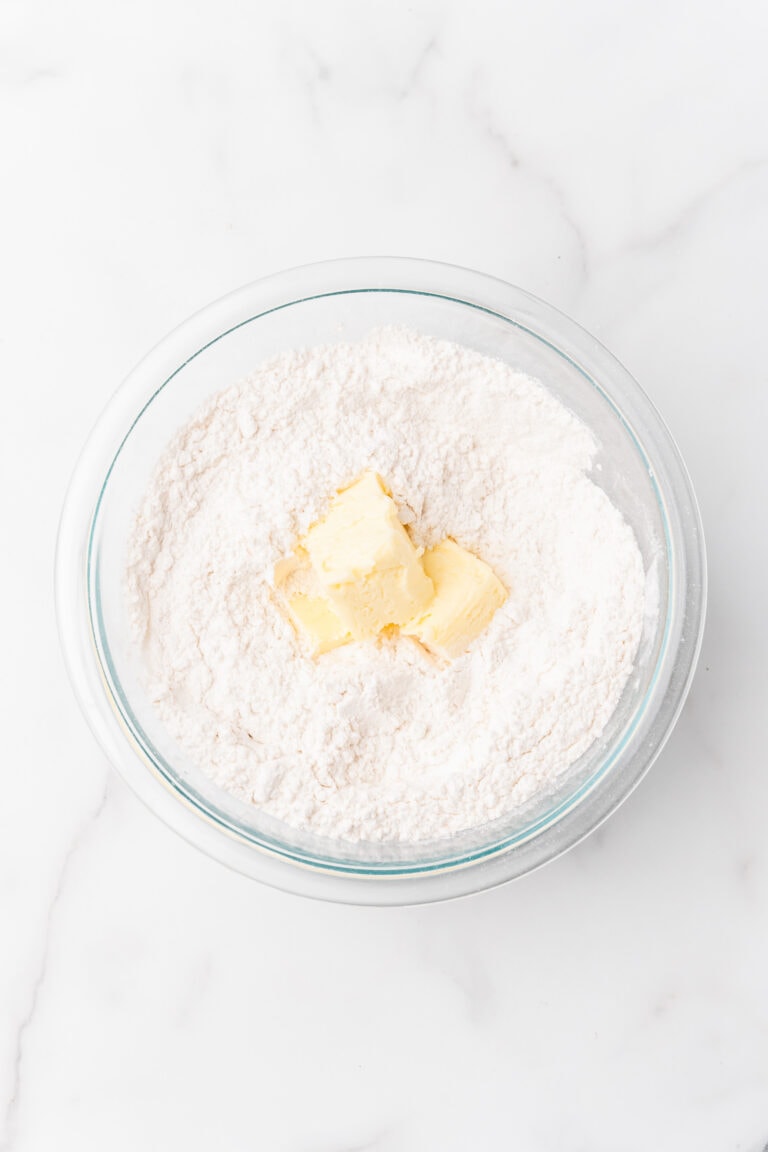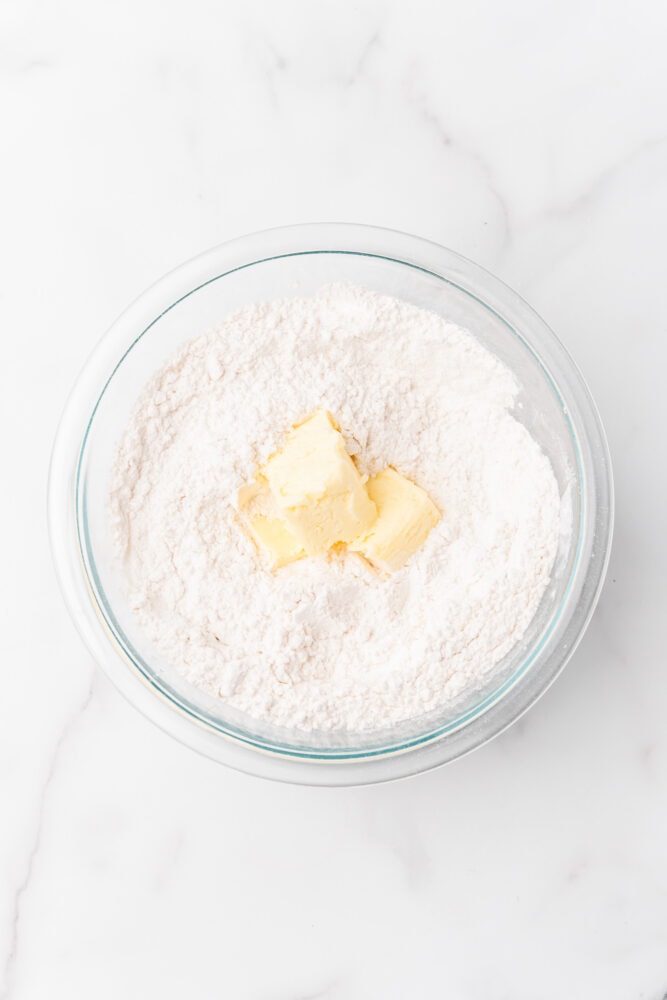 The curved wires of the pastry blender help blend the butter and flour with a rocking motion in the shape of the bottom of the bowl. Plus it's a good stress relief exercise.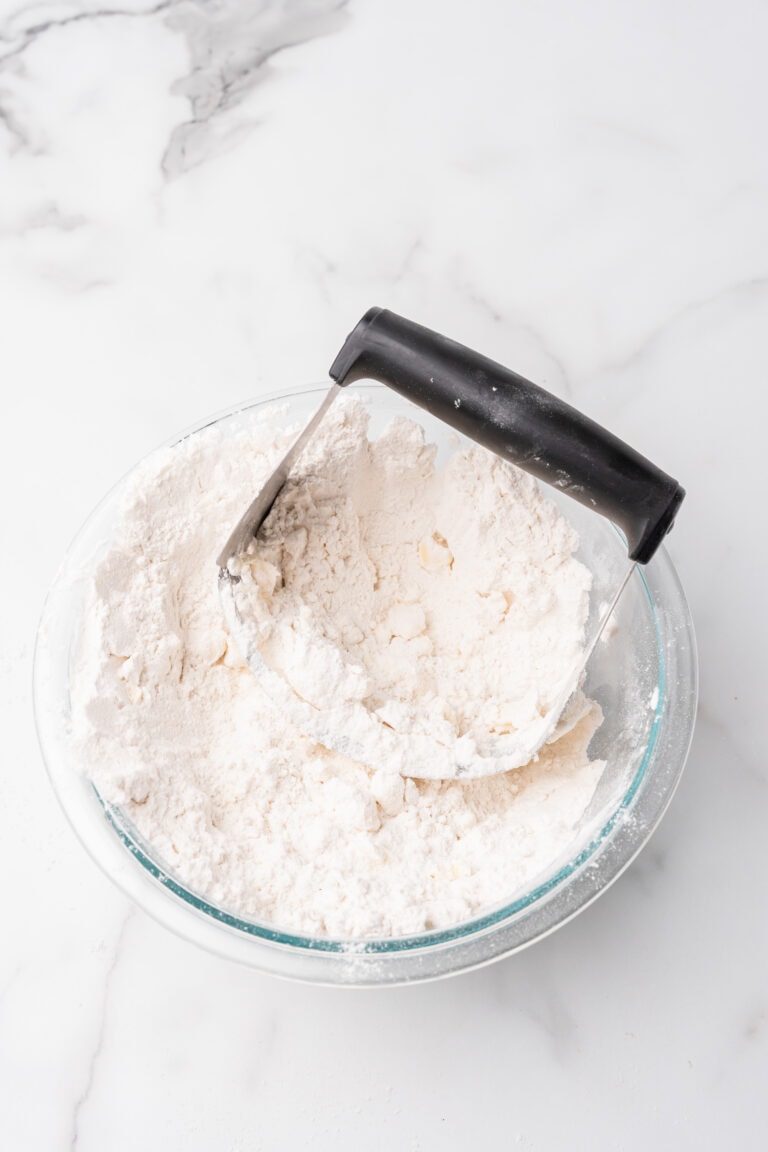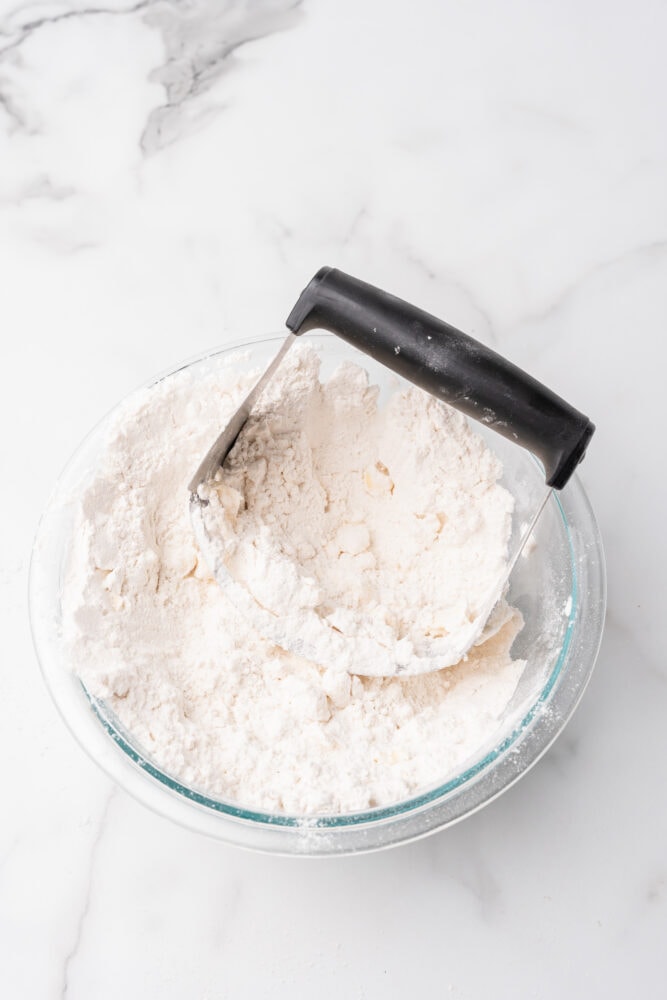 Next, add the raisins and buttermilk. As you form the dough, add more buttermilk as needed a tablespoon at a time.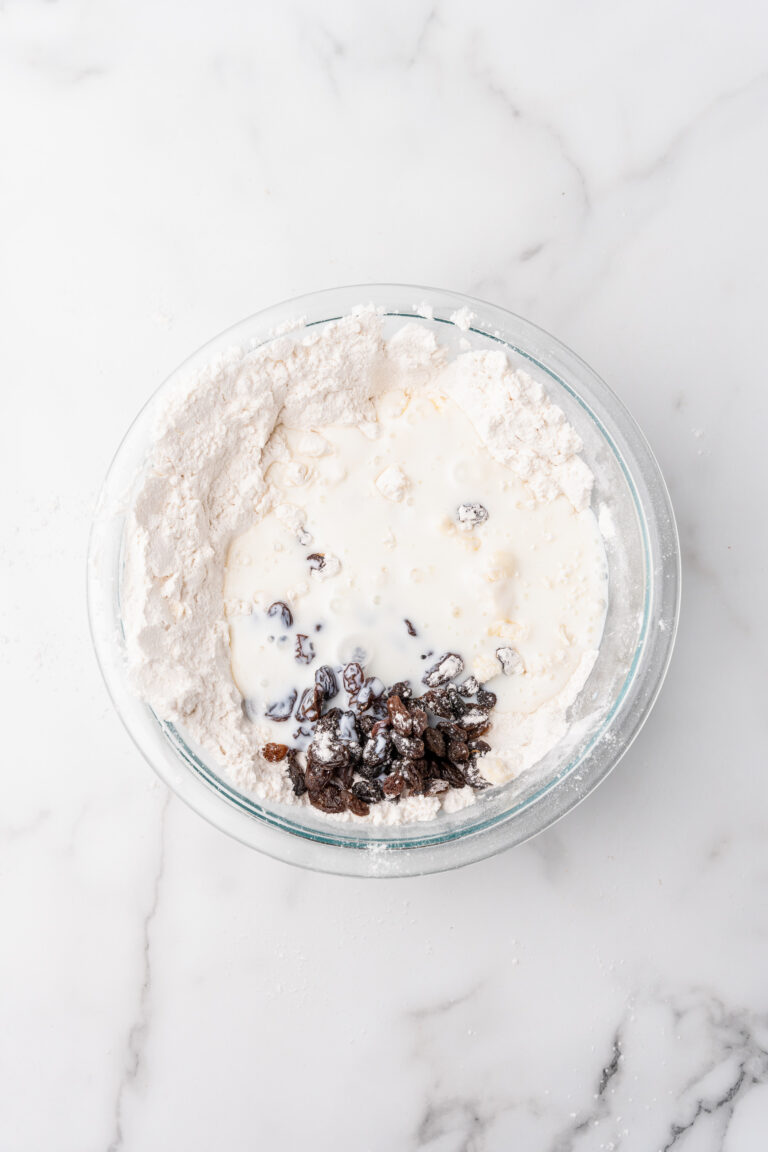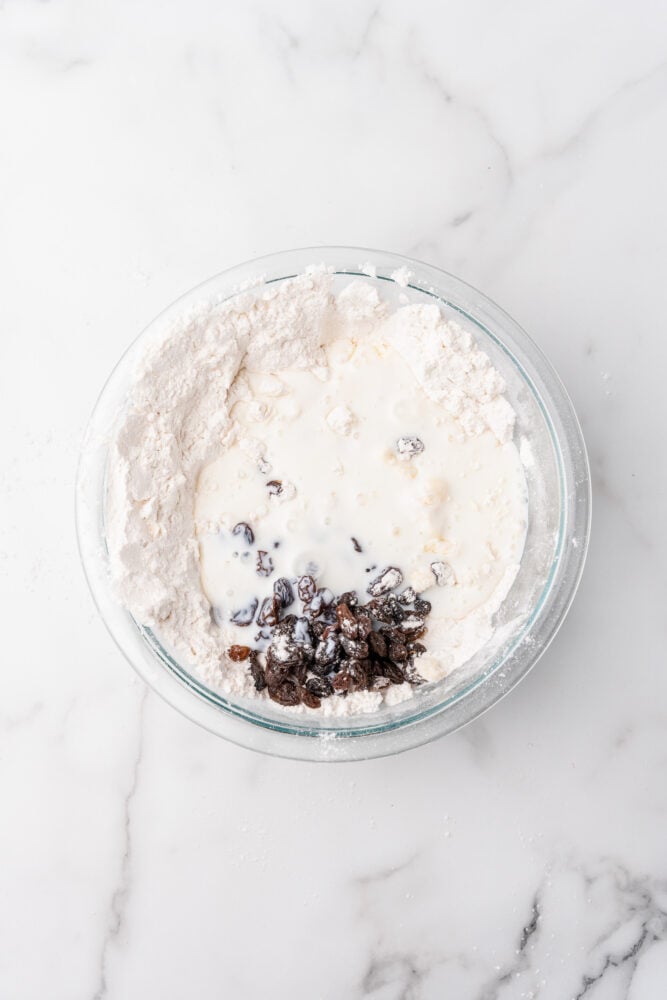 You can omit the raisins if you don't like them. But they're traditionally a part of Irish scones. Personally, I like the texture and sweetness they add to the scone.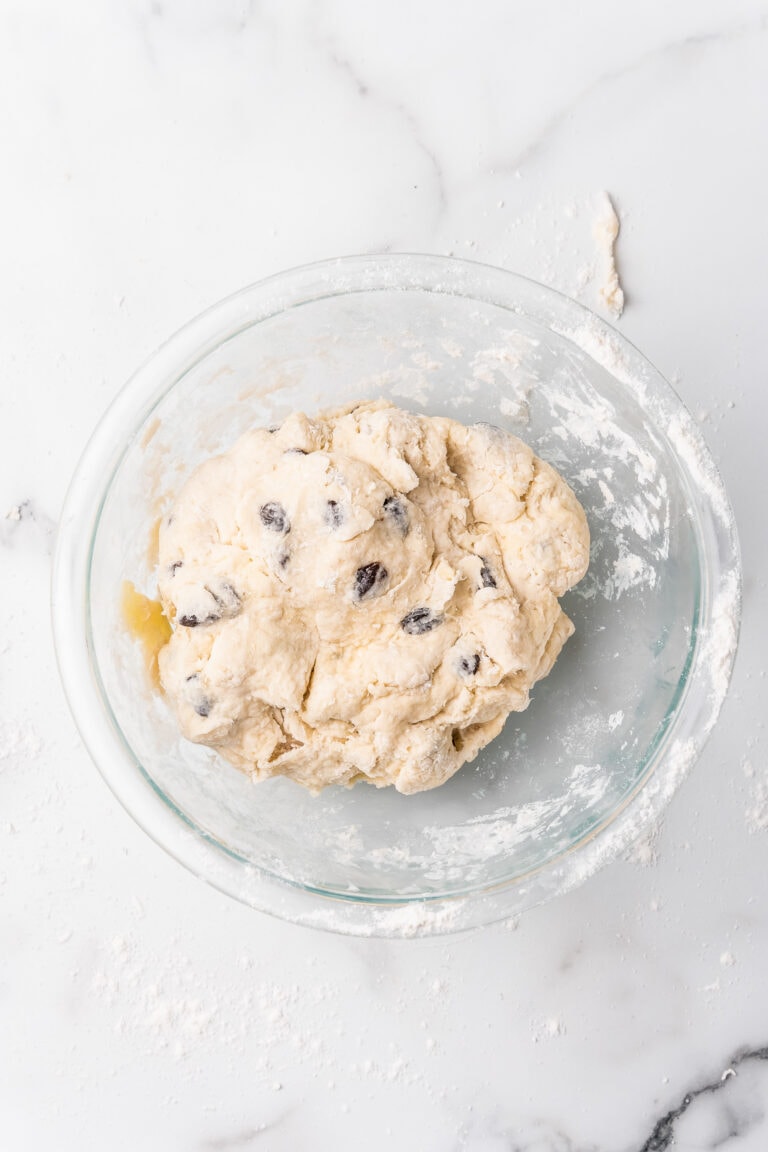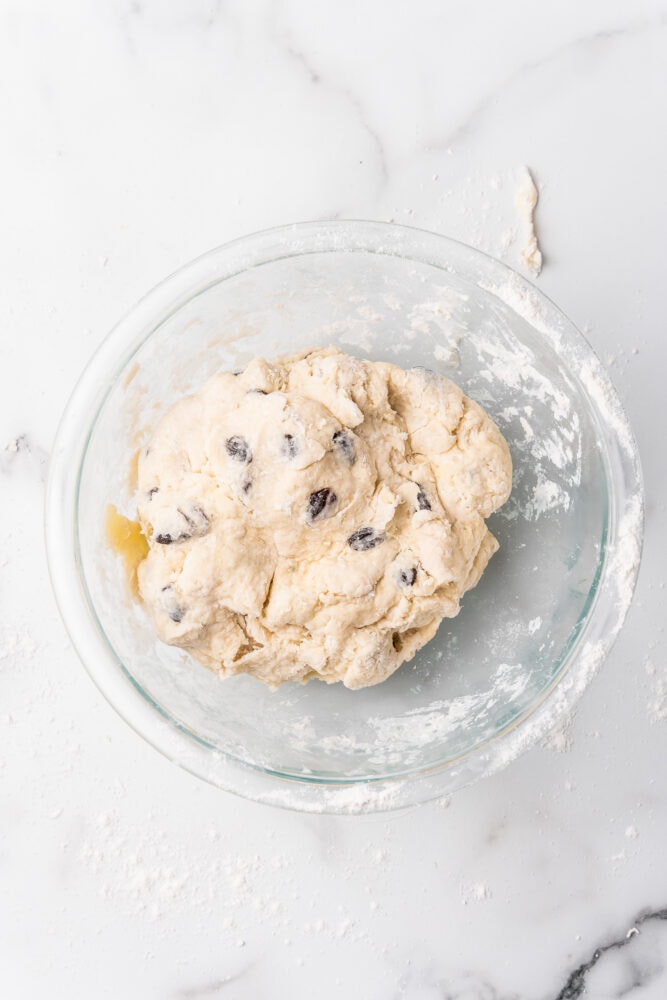 Using your hands, press the dough out into the shape of a disk. TIP: Add a bit of flour to your hands to prevent the dough from sticking to them.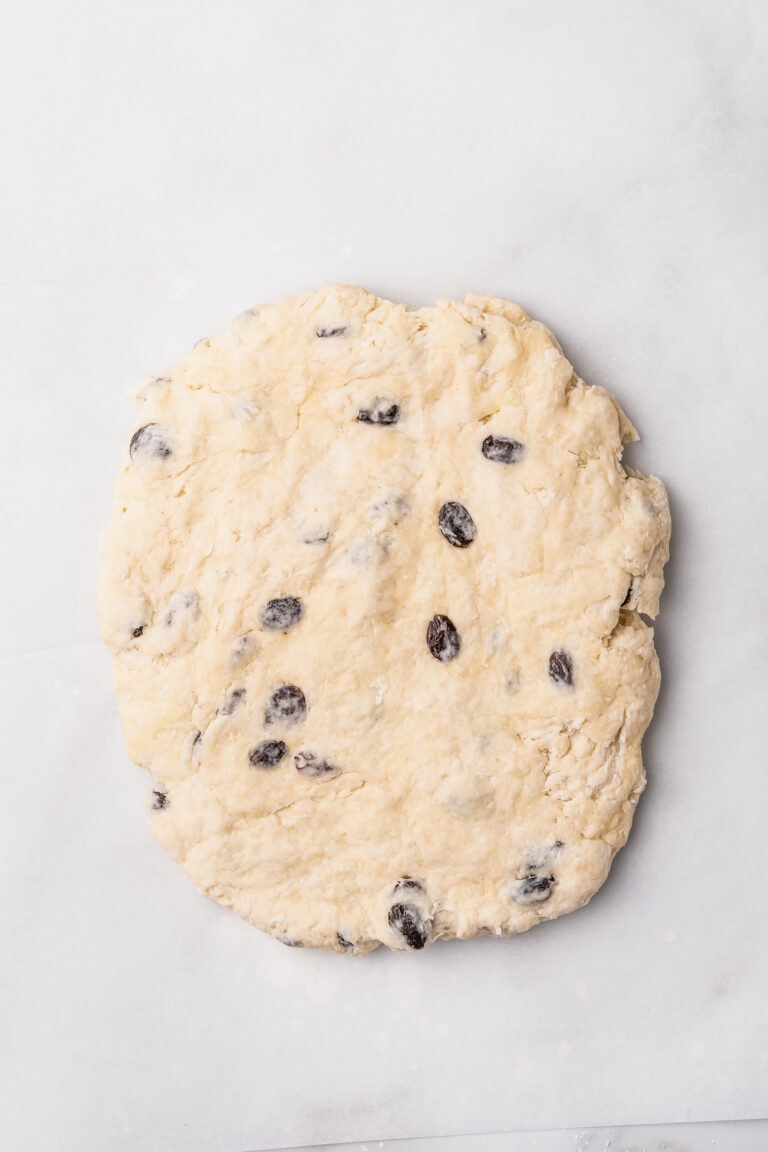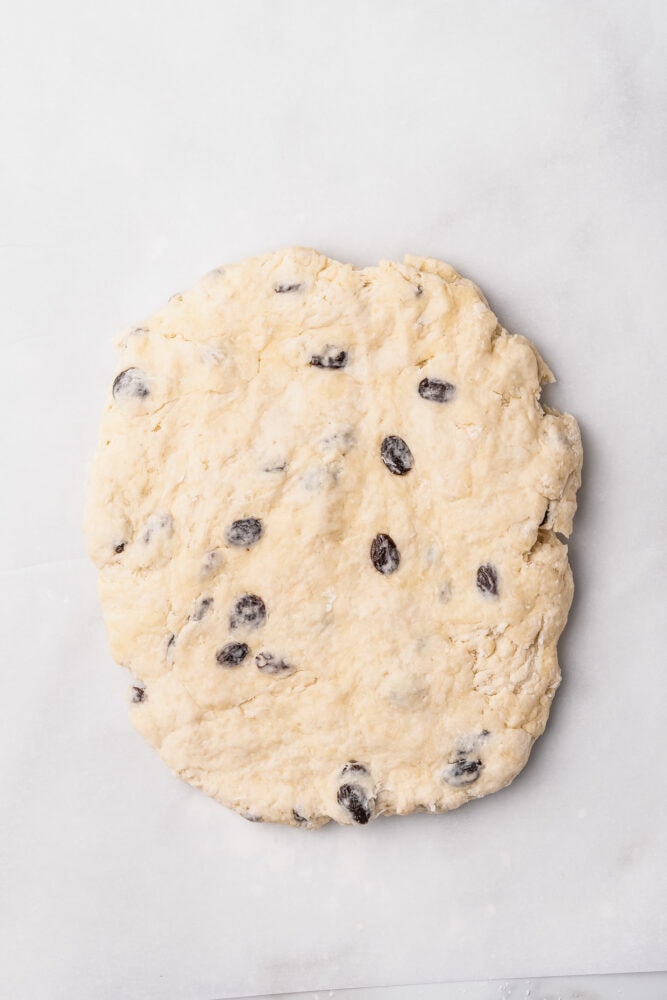 Once you've pressed the Irish scone dough out into the shape of a disk, use a biscuit cutter or cookie cutter to cut out round scones to bake.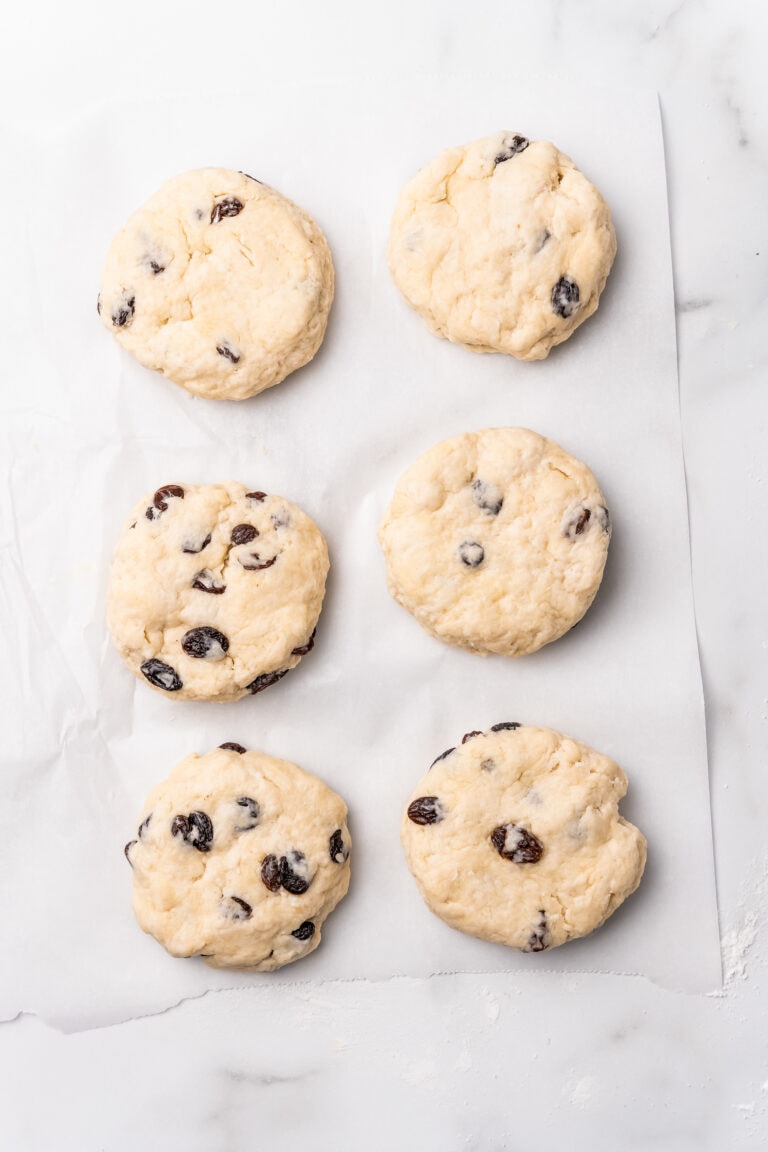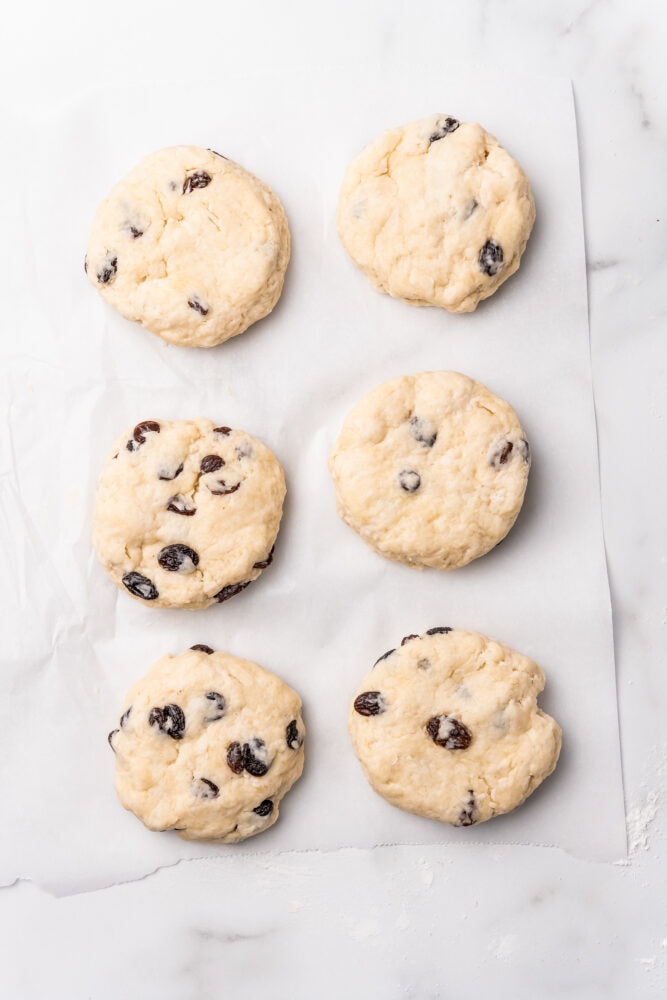 You could cut it like a pizza and make scone "wedges" which are a popular way to cut them as I did with the blueberry scones. And if you don't have a biscuit cutter or cookie cutter, a Guinness pint glass will also work!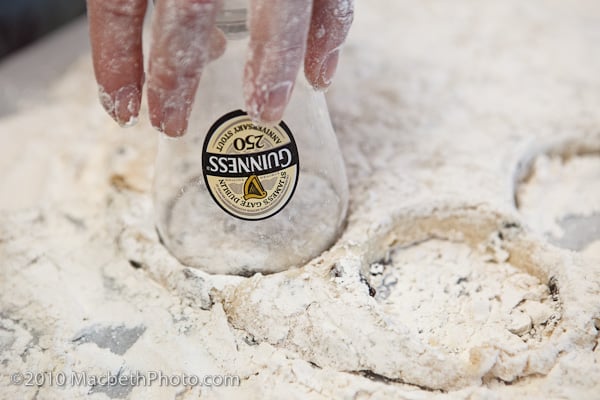 Bake your scones at 375 for about 10 to 15 minutes depending on your oven.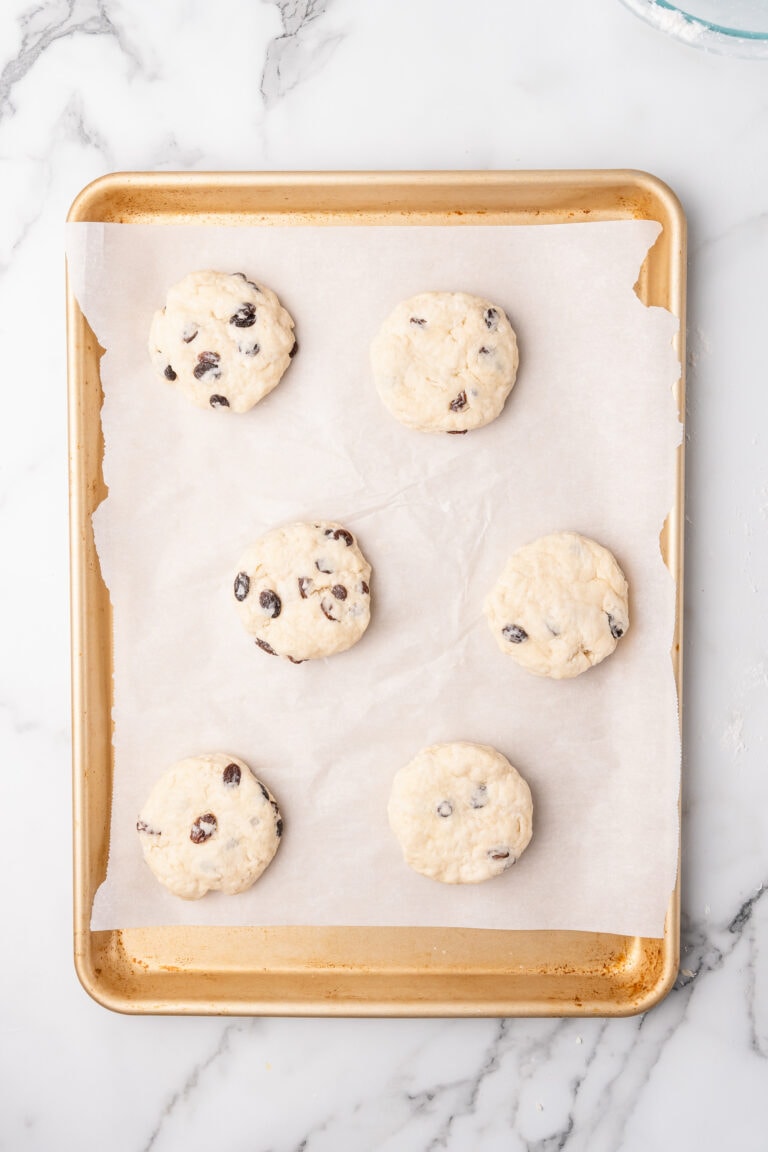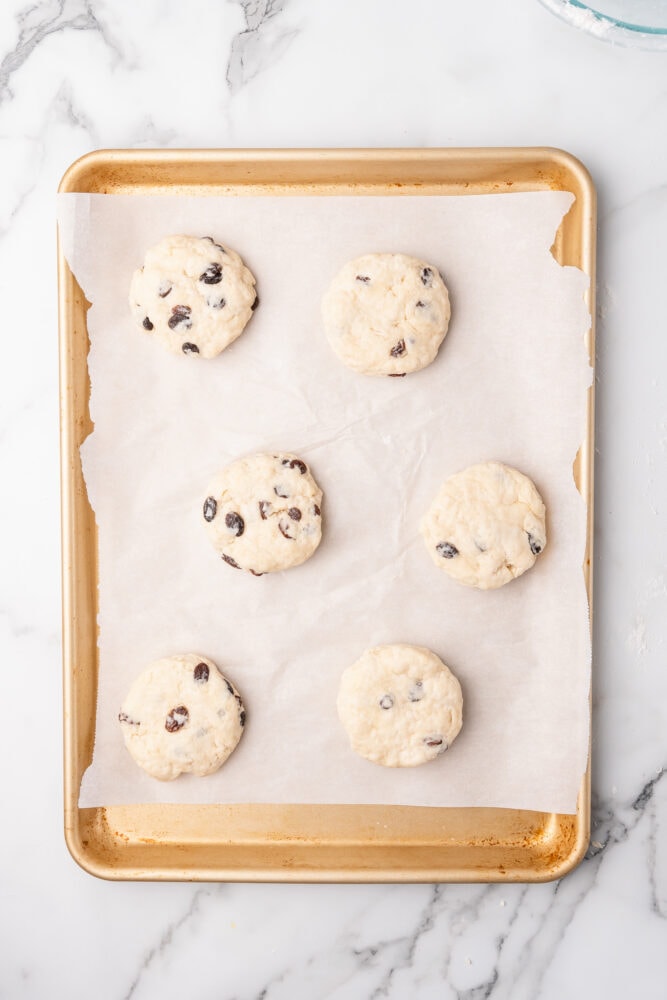 We were baking enough for an army so I could bring them with me to the Daytime TV studio to share, so I found it easier to use parchment paper for easy clean up.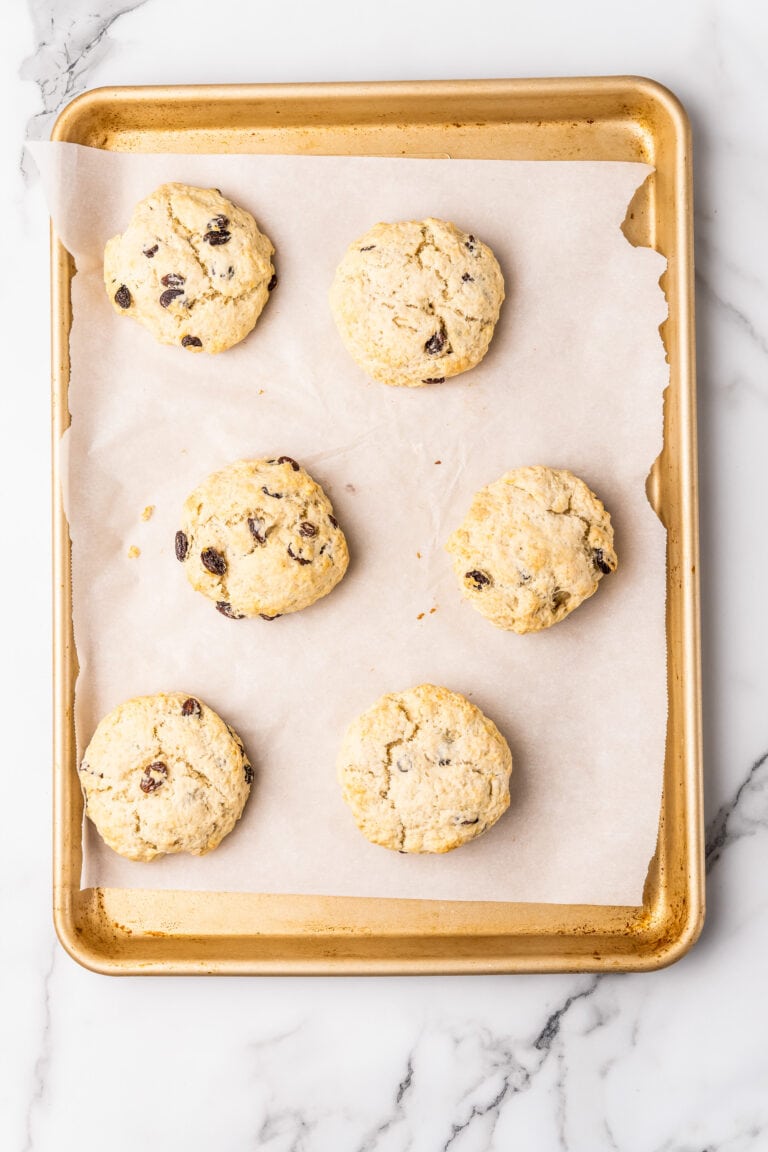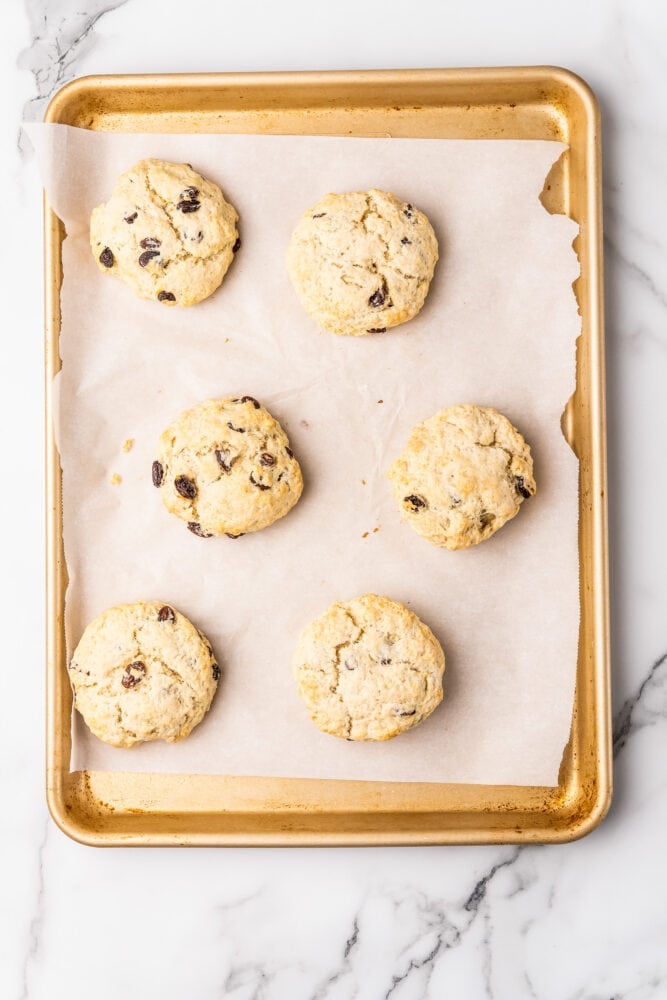 If you haven't met already, I'm going to introduce you to your new best friend in the kitchen. A carton of whipping cream.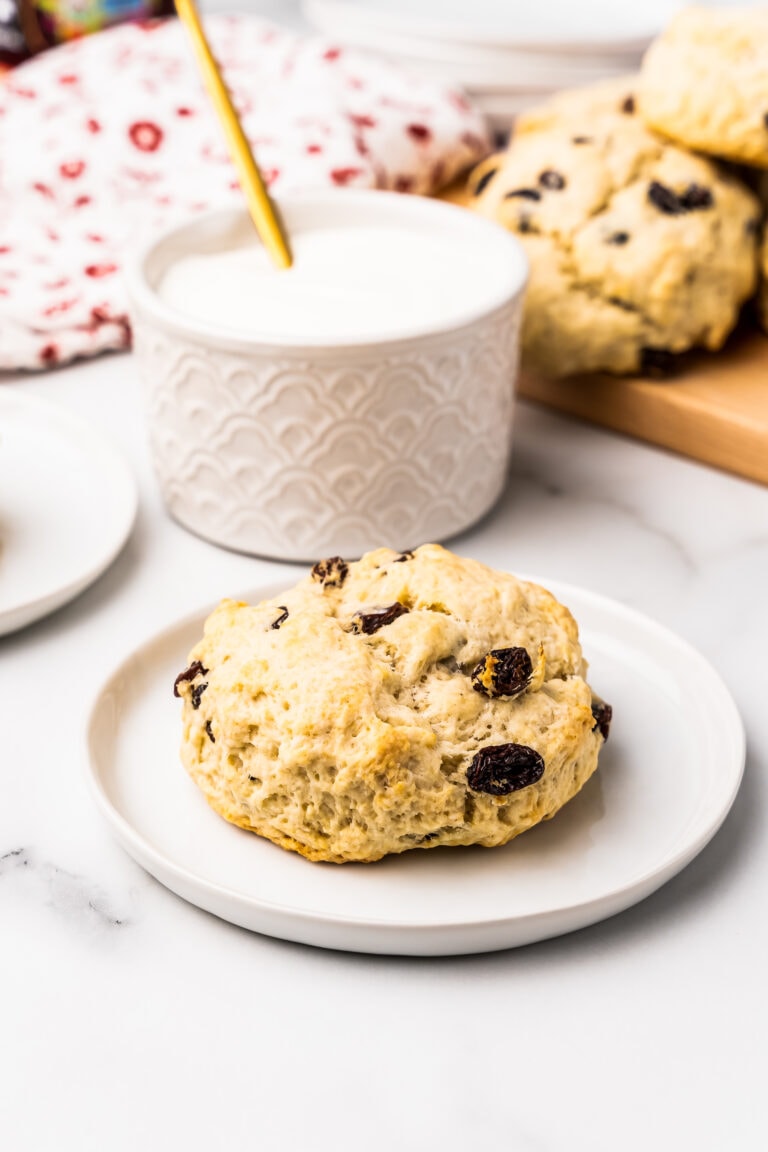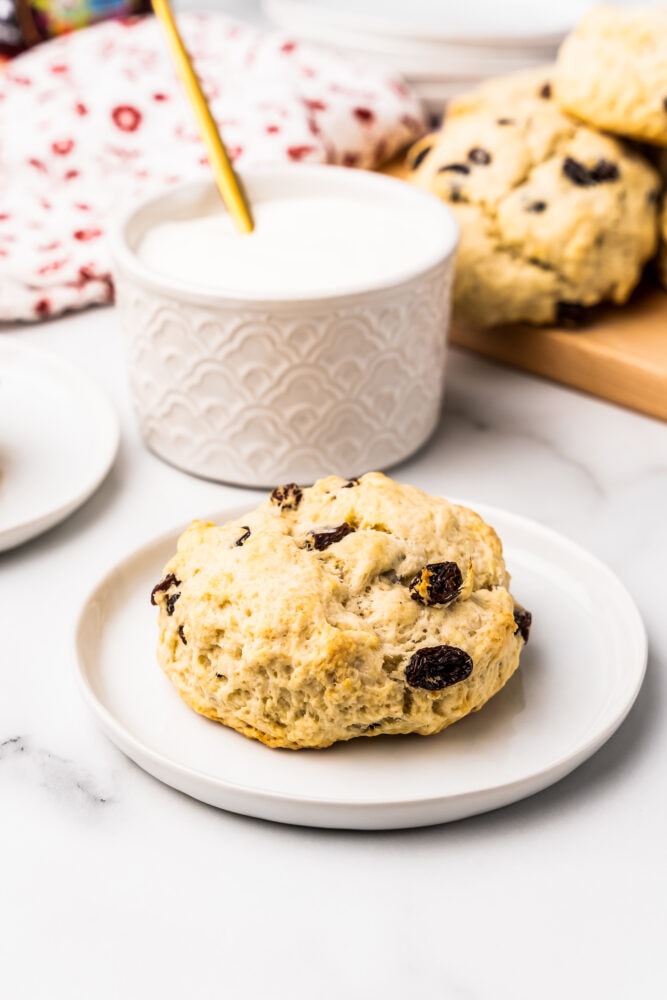 Serve the Irish scones with fresh made whipped cream and strawberry jam. Enjoy with coffee or tea for breakfast or an afternoon treat!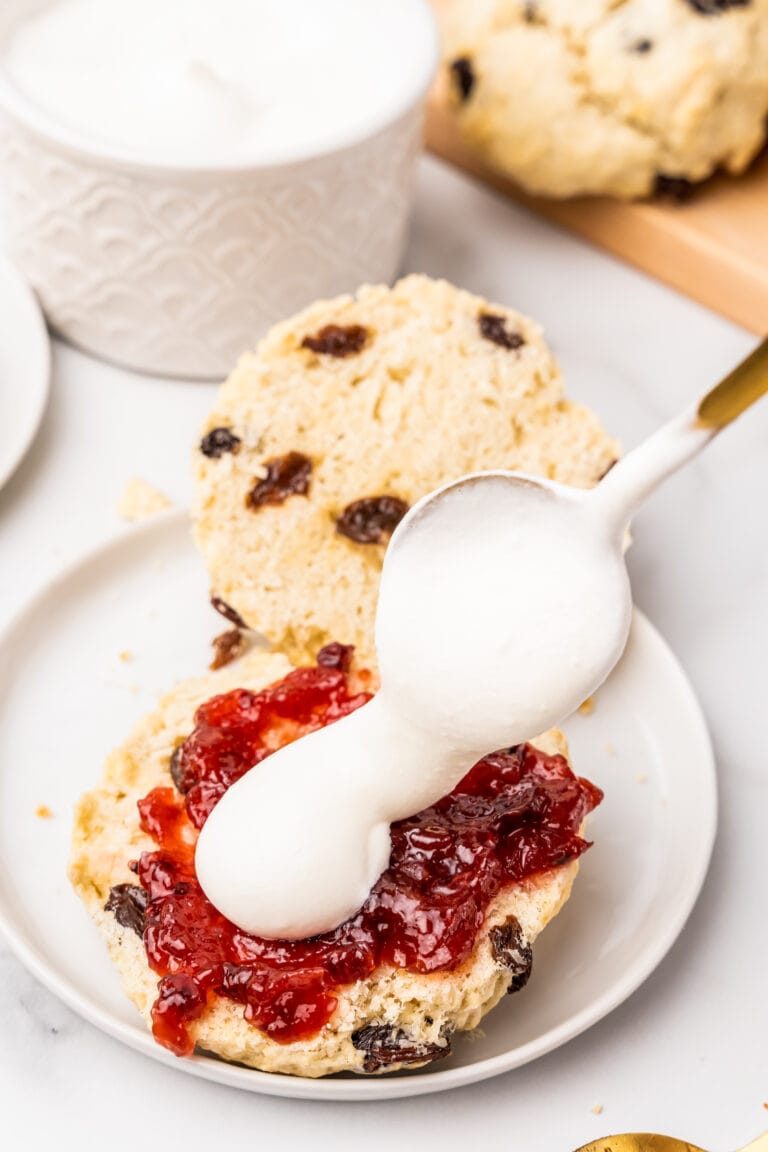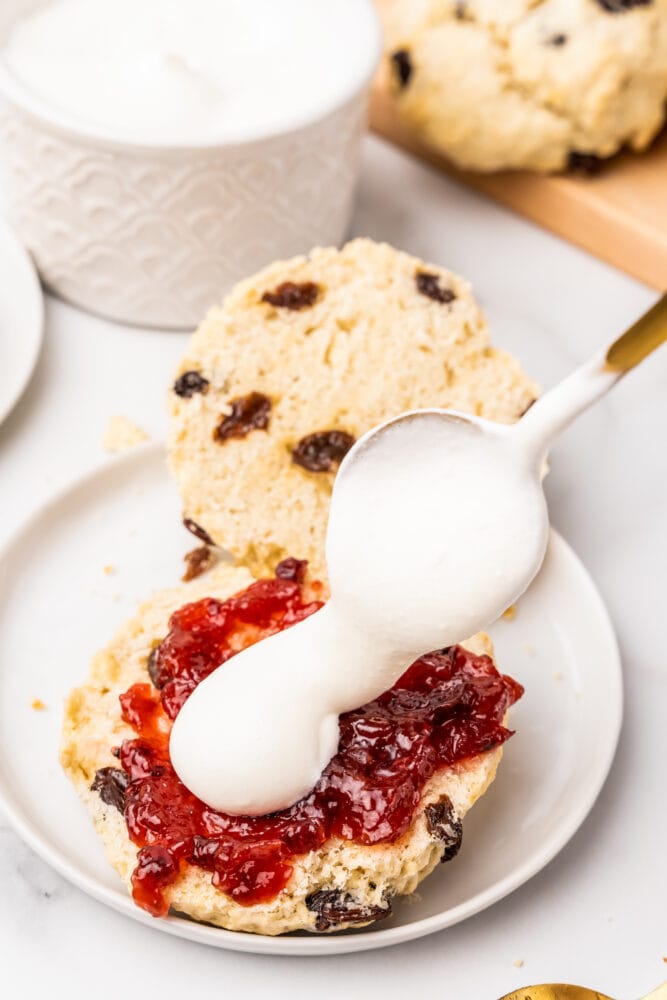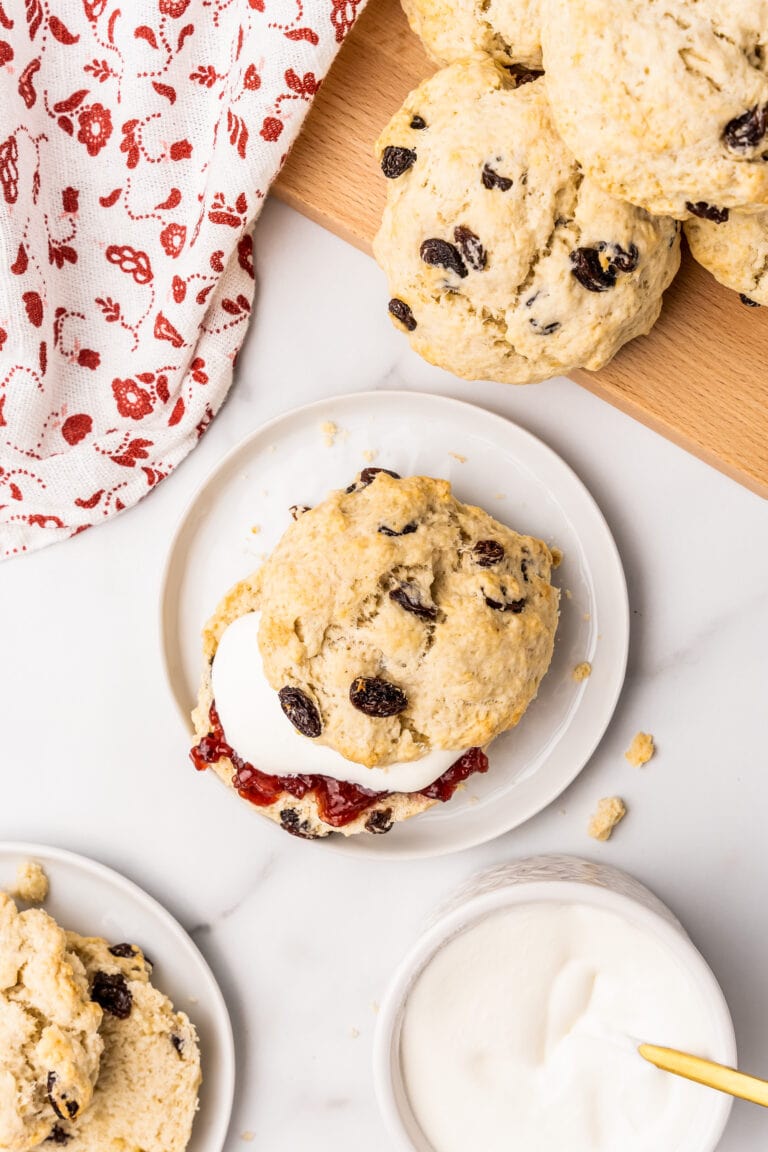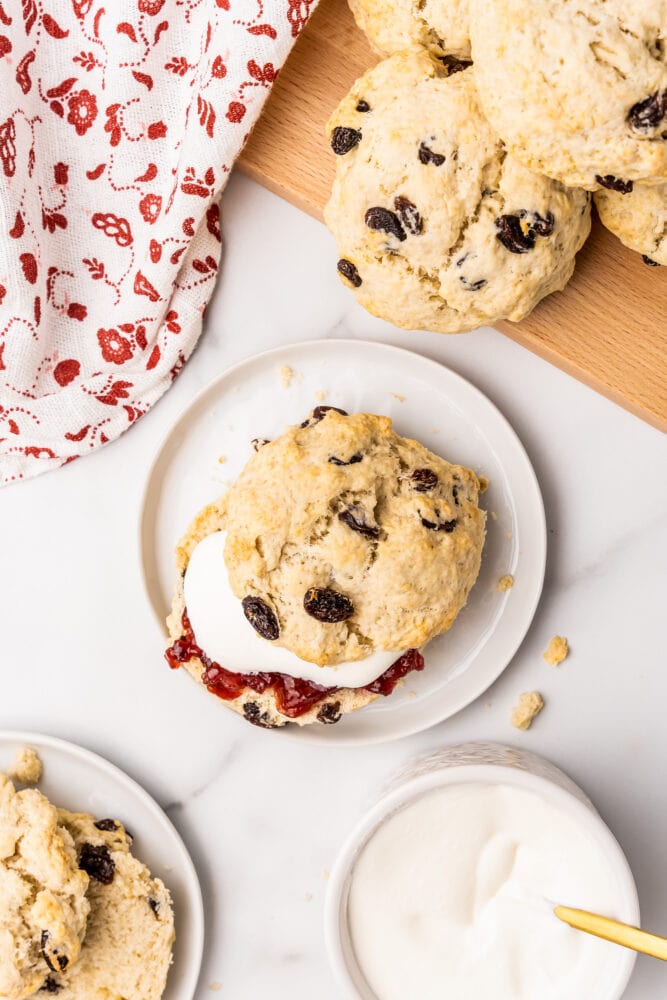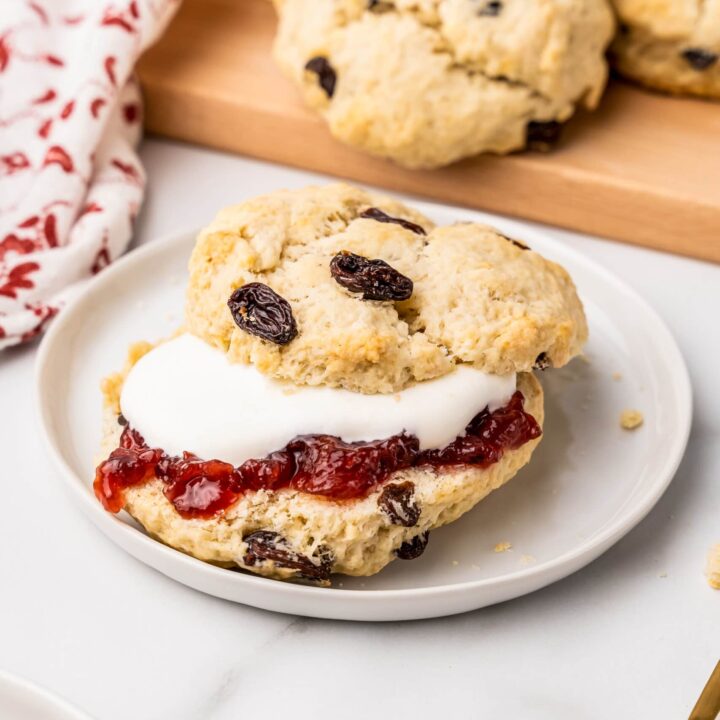 Irish Scones
Ingredients
12 oz all purpose flour
3 tbs butter
2 tsp baking soda
3 tbs sugar
1/2 cup raisins
Buttermilk to bind
Instructions
Preheat oven to 375 degrees.
Combine flour, sugar, and baking soda using a whisk.
Using a fork or pastry cutter, press cold butter into flour and work with fingers until it resembles breadcrumbs.
Add raisins and enough buttermilk to bind the mixture into a workable dough. (I added a tablespoon at a time.)
Form a ball and knead the dough a couple of times using the heel of your hand.
Roll dough out to ½ inch thickness. Cut with a round cookie cutter (or a glass) and place on baking sheet.
Bake Irish scones in oven at 375 for 10 -12 minutes.
Cool for a short time until they are warm. Serve with strawberry preserves and whipped cream.
Nutrition Information:
Yield:

12
Serving Size:

1
Amount Per Serving:
Calories:

181
Total Fat:

3g
Saturated Fat:

2g
Trans Fat:

0g
Unsaturated Fat:

1g
Cholesterol:

8mg
Sodium:

169mg
Carbohydrates:

34g
Fiber:

1g
Sugar:

11g
Protein:

4g
MORE SCONE RECIPES YOU'LL LOVE!
Originally published March 1, 2010. Updated in 2022.