If you're the type that pulls out your green sweater and flips through your iPod to find some Celtic music to get into the spirit of things (eh uhm … I'm not describing myself at all), then this recipe's for you. Irish Scones!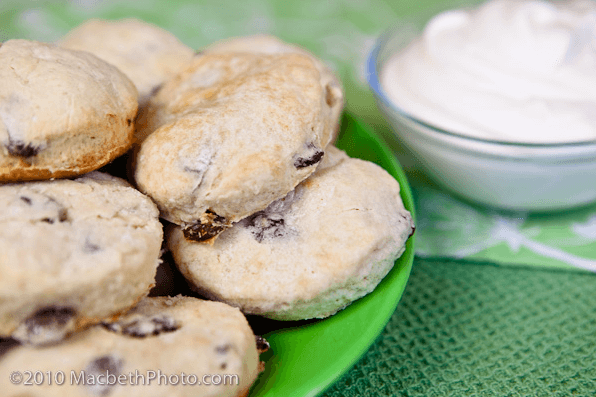 If you want to be fancy schmancy, you could even pronounce them the way the Irish do, as "SKONS" instead of "SKOANS." But it's more likely that your family would just look at you kind of funny and think you haven't had enough coffee quite yet.
I researched to see exactly *what* makes them Irish and to be honest I couldn't find anything definite other than the added ingredient of raisins and serving with strawberry jam and whipped cream. It's debatable where scones historically came from, but most agree it was Scotland. Just don't tell the Irish!
Scones are made with really basic baking ingredients. I would liken them to a sweet biscuit. Here's what you'll need …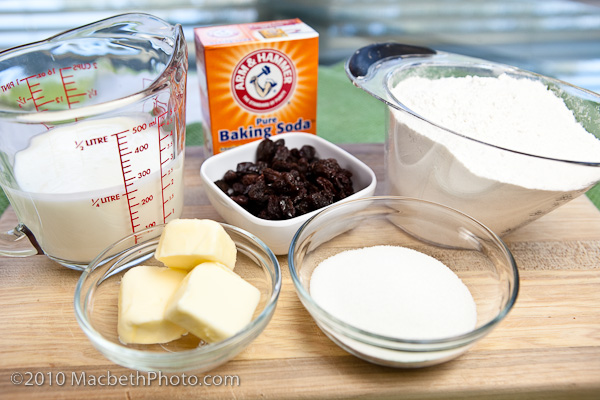 Add your dry ingredients to a large bowl and blend together with a whisk …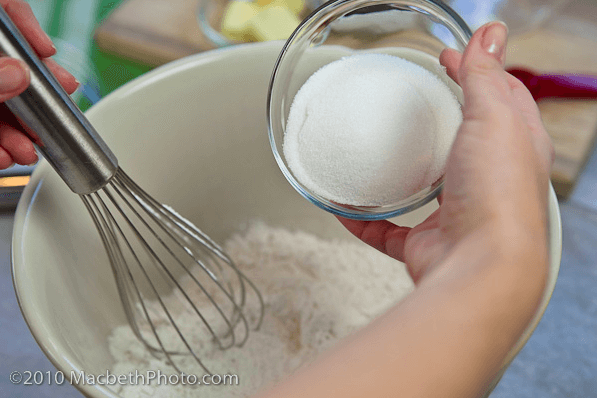 The recipe calls for "bread soda" in addition to baking soda. I coudn't find any at my local supermarket, so I omitted the bread soda from this batch of scones and they turned out just fine!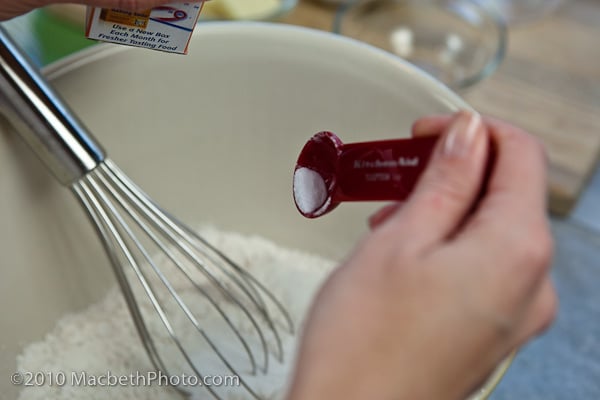 Add the butter in whole and "chop" it in. You can do this best with a pastry blender. If you don't have one, don't sweat it. You can usually find one at your local supermarket. And who doesn't love a reason to buy a fun new kitchen gadget?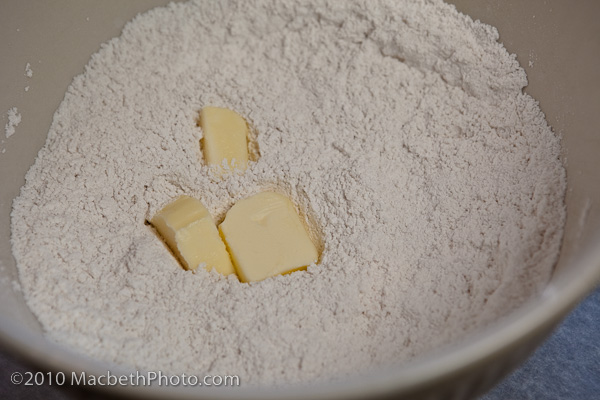 The curved wires of the pastry blender help blend in the butter … plus it's a good stress relief exercise. :o)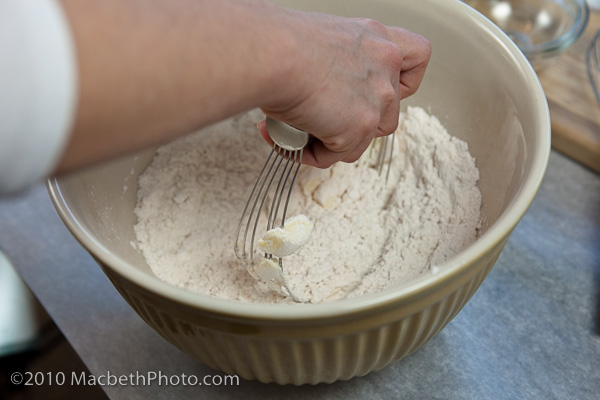 At this point, it was still a little powdery and not sticky enough to form a dough, so I added about 3 more tablespoons of butter then the recipe called for.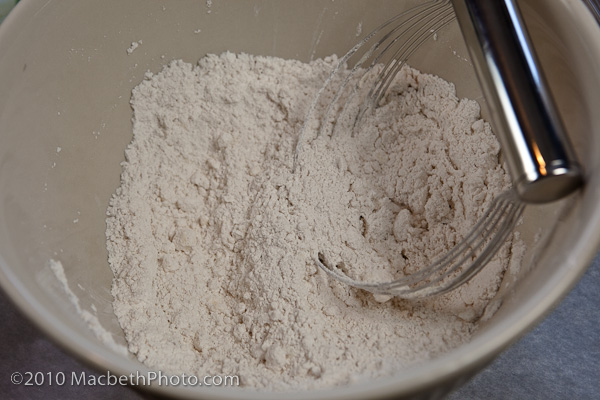 That did the trick! Now I've got nice clumpy breadcrumbs.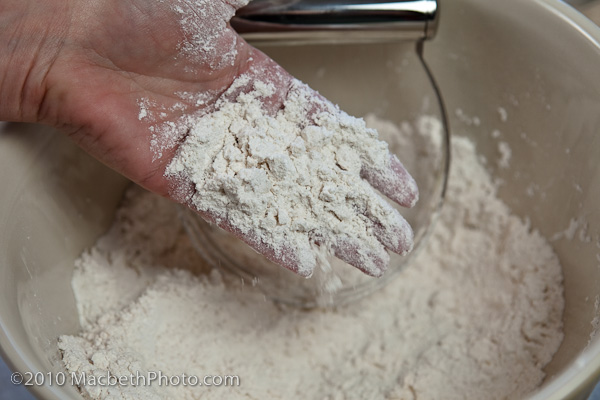 Add a handful of raisins. Looks like I added about 3 handfuls of raisins. What can I say, I like my chewy bits. I'm the type of girl that whips her spoon around to dig all the "cookie" bits out of cookies and cream ice cream and leaves a puddle of melted dairy in the bottom of the bowl. I know I'm not the only one … you know who you are!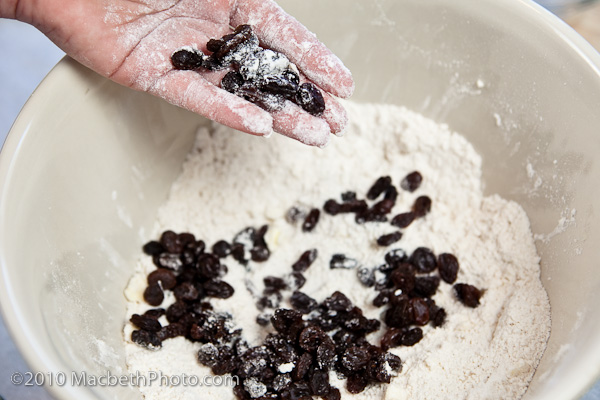 Pour in enough buttermilk to bind, about a 1/2 cup. The recipe's measurement was "enough milk" … so I had a whole cup on hand. Buttermilk is one of those baking wonders. If you've never baked with it before and now find yourself with a half a carton left in the fridge after making this recipe, you can also bake this fabulous orange muffin recipe to use your left over buttermilk.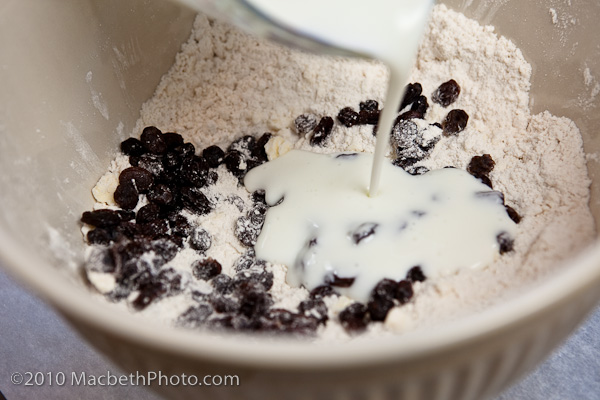 Mix together with a wooden spoon. You can also use your hands …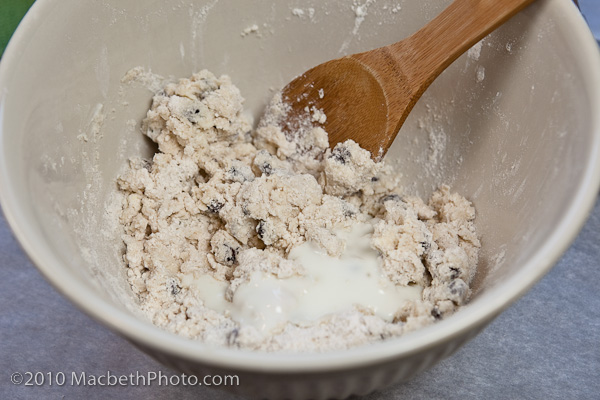 … just remember to flour them up! OOPS! Guess I got a little zealous with my baking and dove right in without thinking.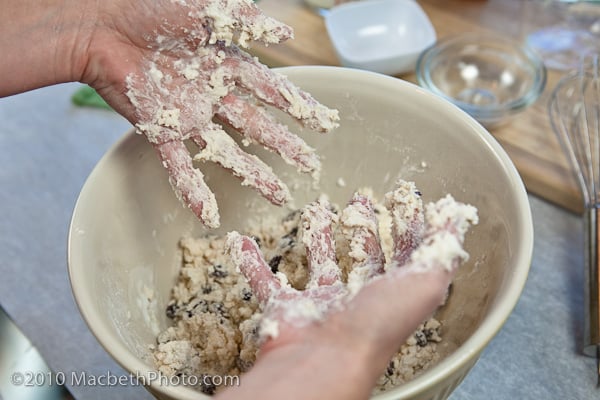 Okay, now that my hands are nice and powdering with some all purpose flour …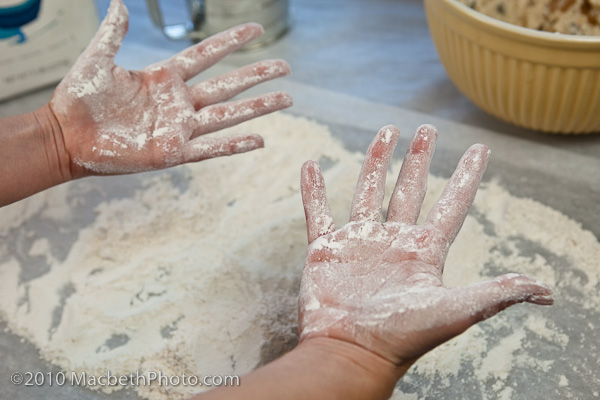 mold the dough into a disk …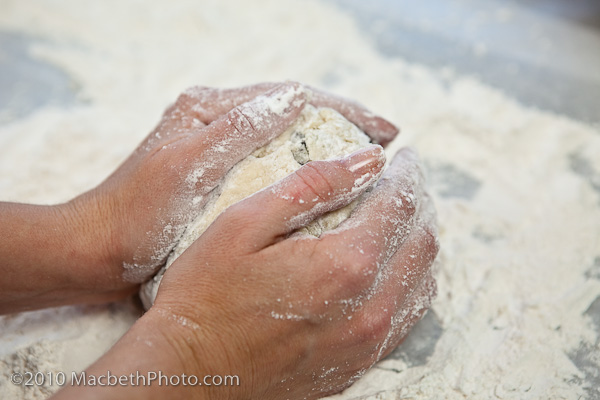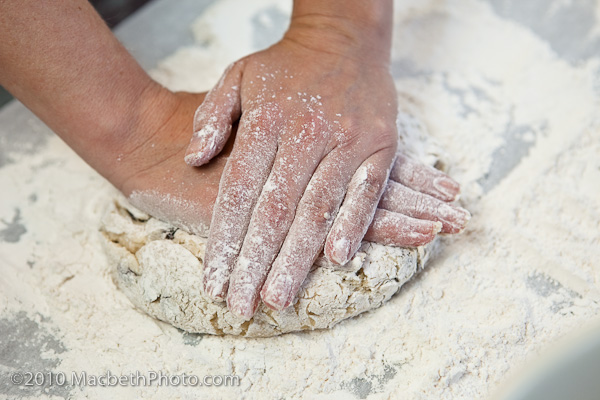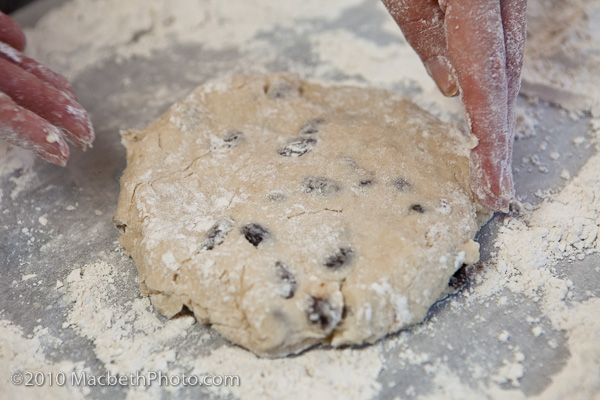 You could cut it like a pizza and make scone "wedges" which are a popular way to cut them as I did with the blueberry scones. However, we wanted to make it a little more fun. I asked the photographer for a glass … he could only offer a pint …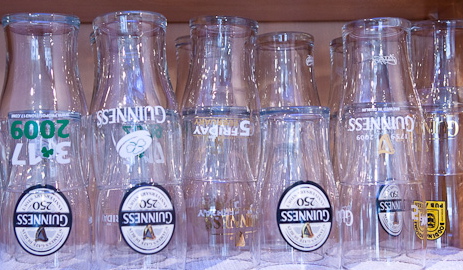 Well, at least it's keeping in the spirit of St. Patrick's day!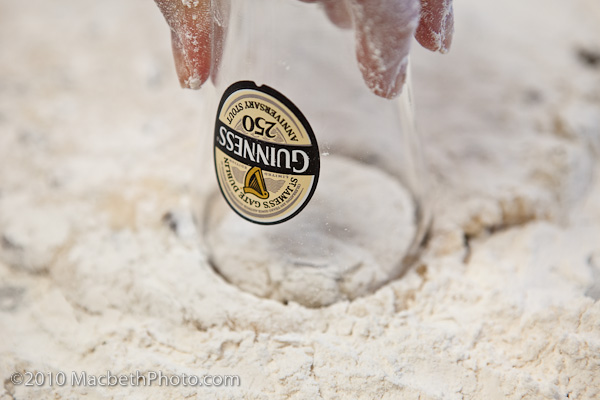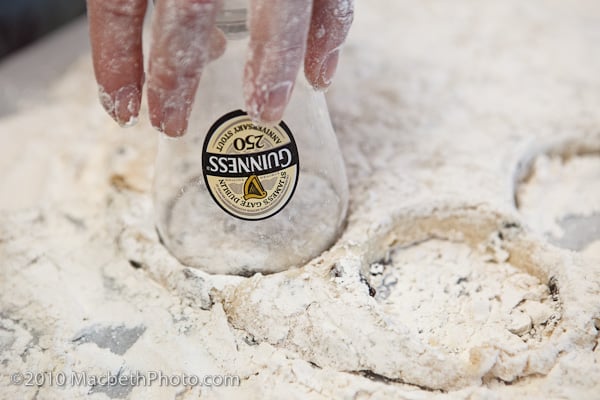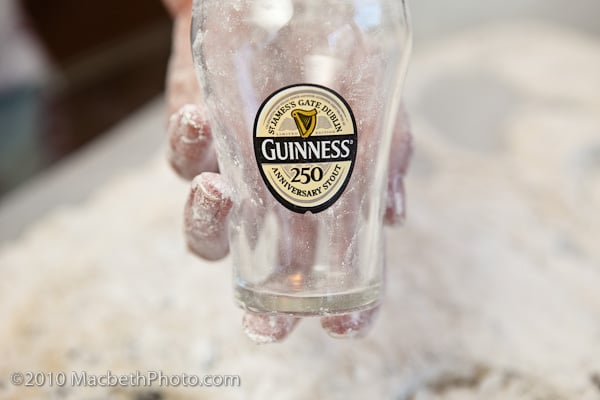 Bake your scones at 375 for about 10 to 15 minutes depending on your oven. They should rise up just a tad.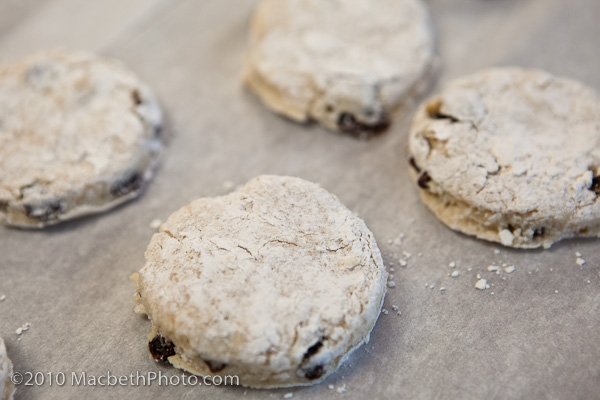 We were baking enough for an army so I could bring them with me to the Daytime studio to share, so I found it easier to use parchment paper for easy clean up and disposable baking sheets instead of my baking stone.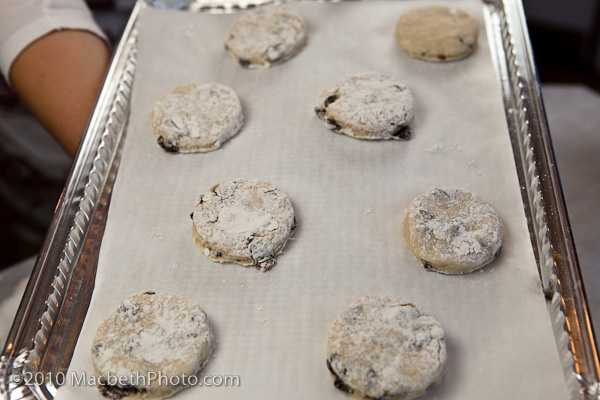 If you haven't met already, I'm going to introduce you to your new best friend in the kitchen. A carton of whipping cream.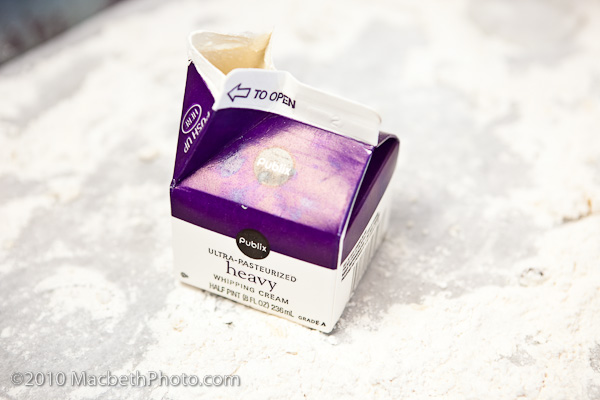 Do you usually by the canned stuff? If so, then you're going to squeal with delight at how easy it is to make whipped cream. Just works out your forearm muscles a little. And trust me, this little carton can do more than just make your coffee blonde.
With nothing but a whisk and a sprinkle of sugar you can whip it into the softest, creamiest whipped cream you've ever had in your existence. No more squirt stuff.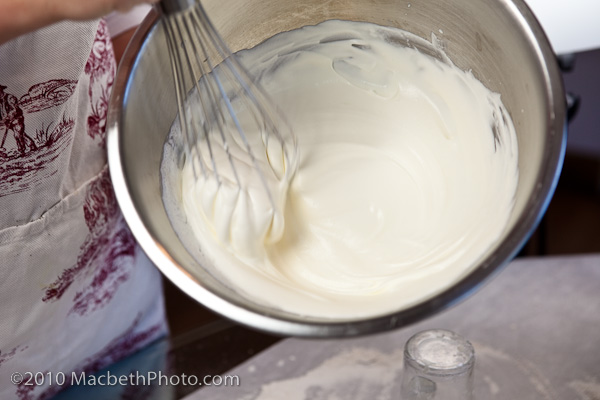 Now, I really love my Irish scones with a cup of tea. But since my friends Jim & Beth only had English tea cups, we thought that would be sacrilige.
They've lived across the pond and swore to me that Guinness for breakfast is not just acceptable, but normal. So, here's a toast to a real Irish breakfast for St. Patrick's Day. Cheers!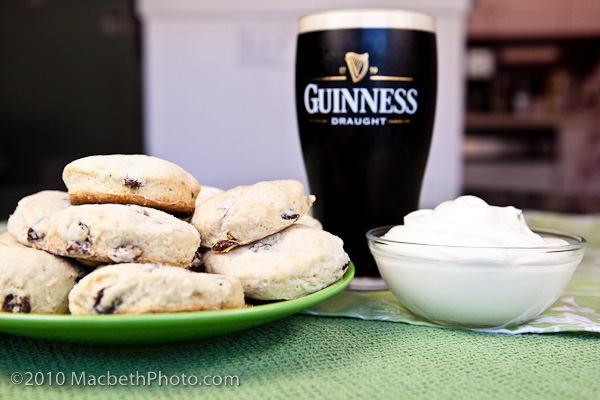 Irish Scones Recipe from the Iron Horse Inn, Granbury, TX USA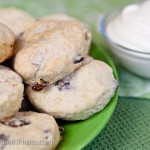 Irish Scones
Ingredients
12 oz all purpose flour
3 tbs butter
1 tsp baking soda
1 tsp bread soda
3 tbs sugar
1/2 cup raisins
Buttermilk to bind
Instructions
Preheat oven to 375 degrees.
Combine flour and baking soda using a whisk.
Using a fork or pastry cutter, press cold butter into flour and work with fingers until it resembles breadcrumbs.
Add raisins and enough buttermilk to bind the mixture into a workable dough. (I added a tablespoon at a time.)
Form a ball and knead the dough a couple of times using the heel of your hand.
Roll dough out to ½ inch thickness. Cut with a round cookie cutter (or a glass) and place on baking sheet.
Bake Irish scones in oven at 375 for 10 -12 minutes.
Cool for a short time until they are warm. Serve with strawberry preserve and whipped cream.
Nutrition Information:
Yield:

12
Serving Size:

1
Amount Per Serving:
Calories:

181
Total Fat:

3g
Saturated Fat:

2g
Trans Fat:

0g
Unsaturated Fat:

1g
Cholesterol:

8mg
Sodium:

169mg
Carbohydrates:

34g
Fiber:

1g
Sugar:

11g
Protein:

4g
MORE SCONE RECIPES YOU'LL LOVE!
Originally published March 1, 2010. Updated in 2018.