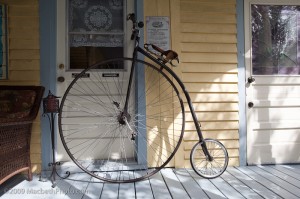 A few weeks ago, Brian met a couple in Mount Dora (our hometown) that were taking a vacation from the vacation business.  They are the innkeepers at the Penny Farthing Bed & Breakfast in St. Augustine.  So naturally, when we were driving through St. Augustine last week we had to stop in for a cup of coffee and say hello.
I have to confess … I was a little confused about who "Penny" was and I kept adding an extra syllable to the end of their name as in "Farthing-ton."  I've since been enlightened.  Take a look here at the video.
Marie (not Penny), gave me a fantastic recipe for a Berry French Toast.  I love breakfast made in a ramekin since you end up with nice little individual servings of goodness … and … if you have extra you can just put a lid on it or cover in saran wrap, stick it in the refrigerator and save it for later.
Here's what you'll need!  Simple ingredients … yum-mee flavor.  I used some fresh raspberries and also some froze mixed berries since berries are not in season at the moment … I had to elbow a few people at the grocery store to even get my hands on a pint of raspberries!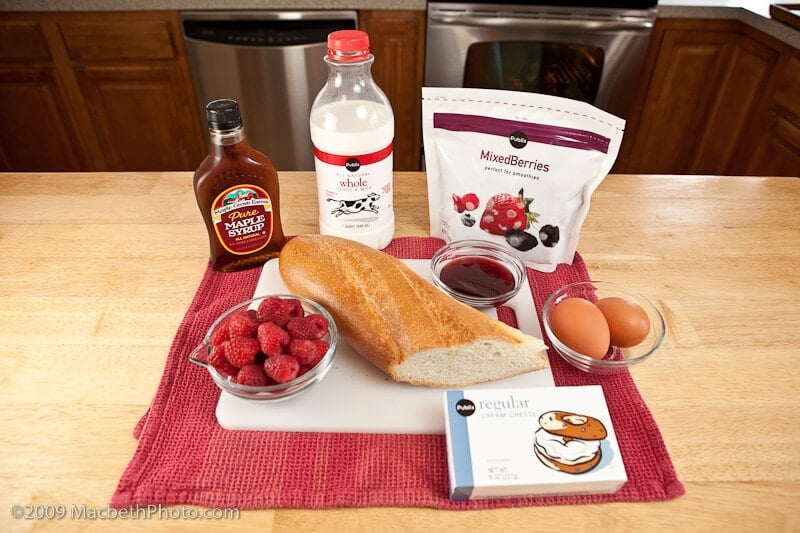 I could actually just take the bread, cheese and raspberries and go have a picnic!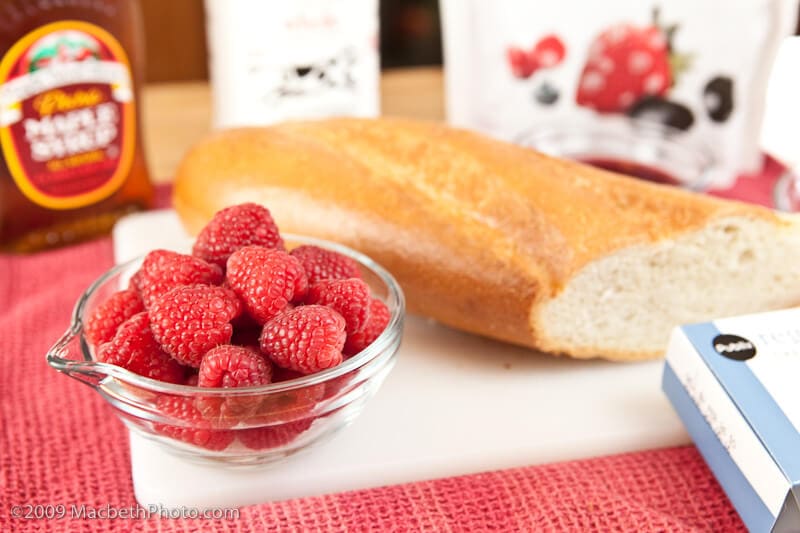 When we visited Paris, everyone had a baguette in hand, under arm, or in a basket.  It was like, if you didn't have one you were missing out!  That memory pops up every time I slice into "French" bread.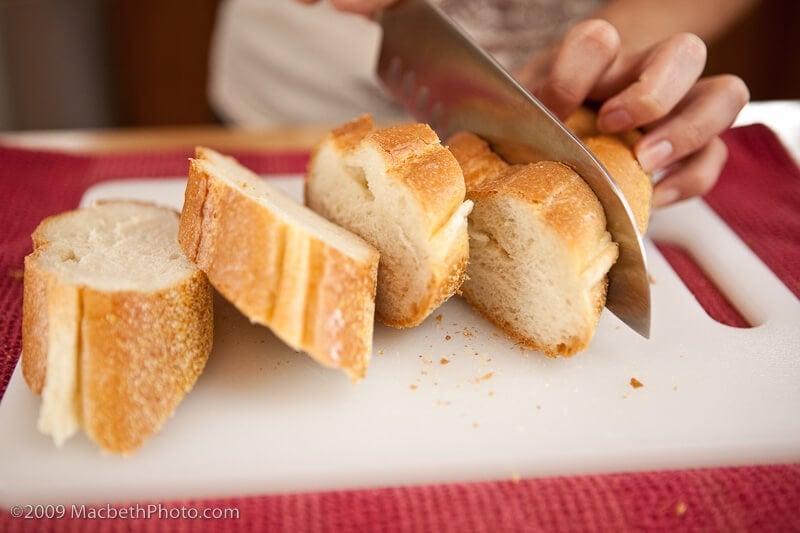 My large cutting board was in the sink, dirty, and my no-slip cutting board was in the dishwasher … also dirty!  So, I used my simple el cheapo cutting board and placed a dish towel underneath to prevent sliding.  It also came in handy for cleaning up the crumbs afterward!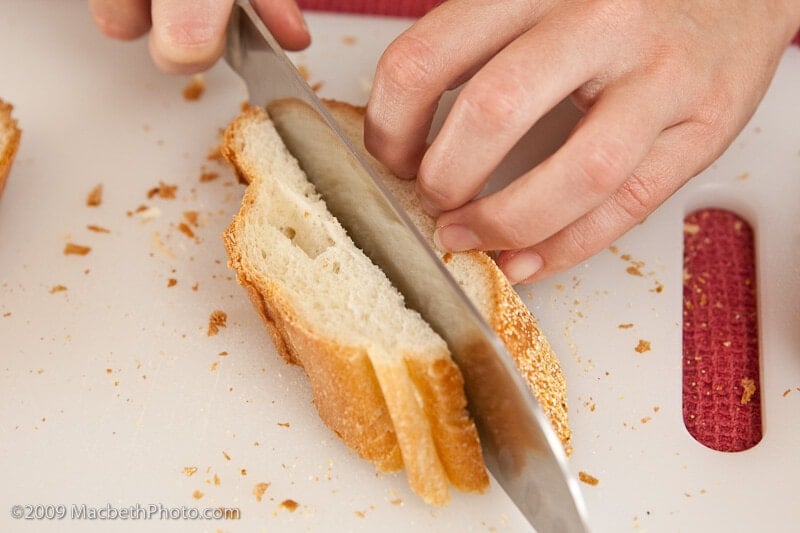 You'll need four slices, and you want them to be in small bite sized bits.  The quickest way to do that is to cut it in half … then flip one side over so you have the crusts facing the same way.  That makes it easier to slice through.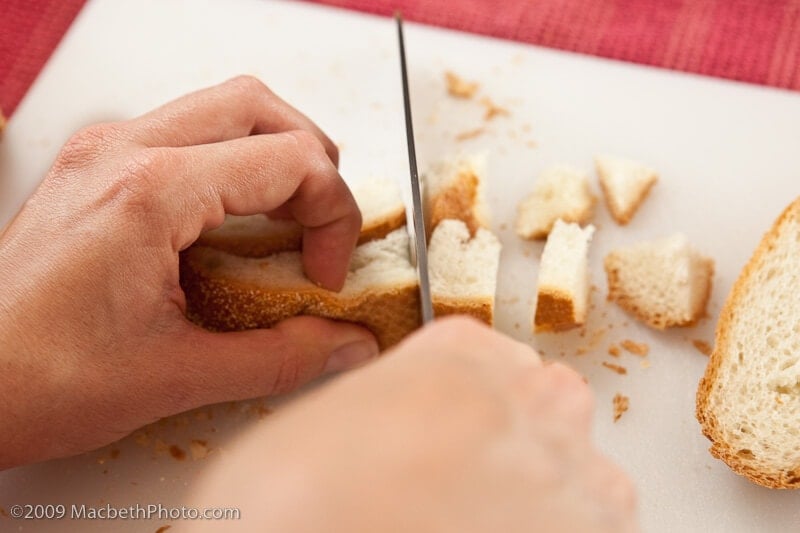 Also slice up some cream cheese.  Careful … it's sticky!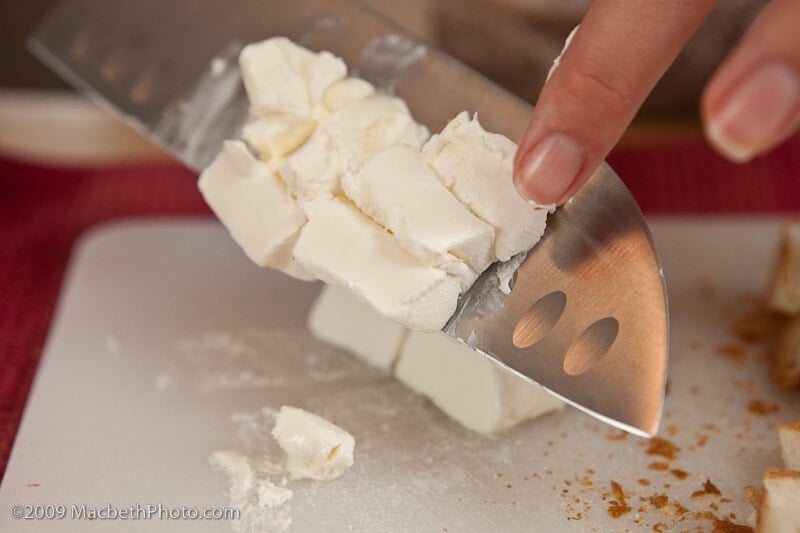 After you have the bread and cheese chopped and ready to go, layer them into the ramekins. Bread first, then berries, then cheese, then more bread.  Cause, ya know, you can never have enough bread!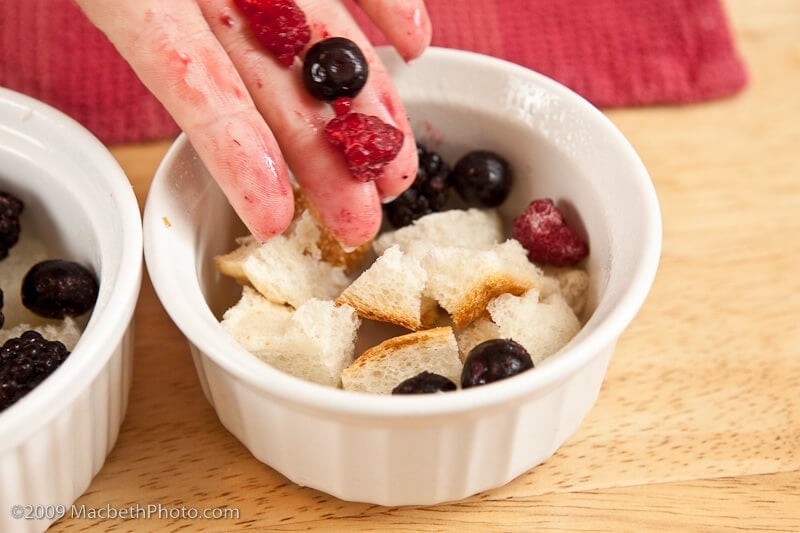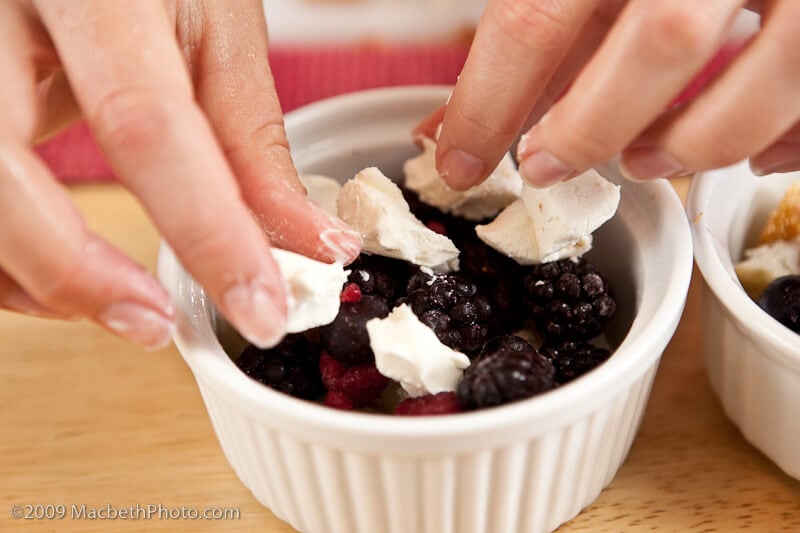 Mix together 3/4 cup of milk, 3 tsp of maple syrup and 2 eggs.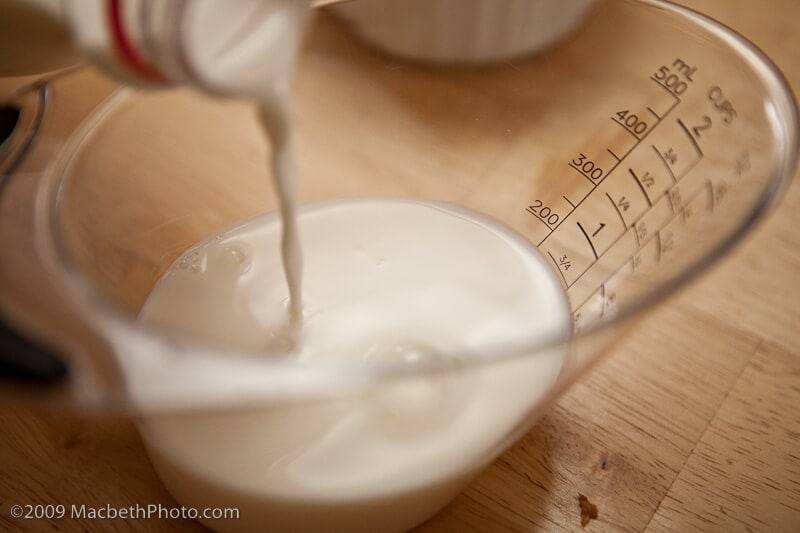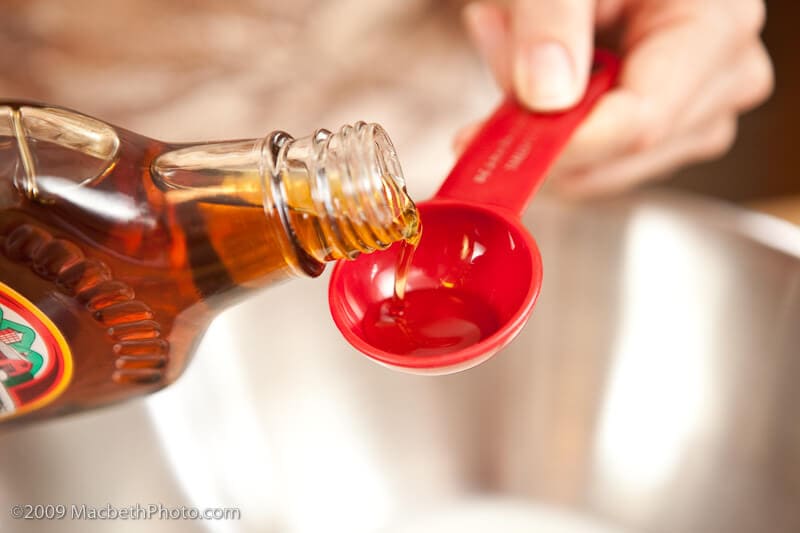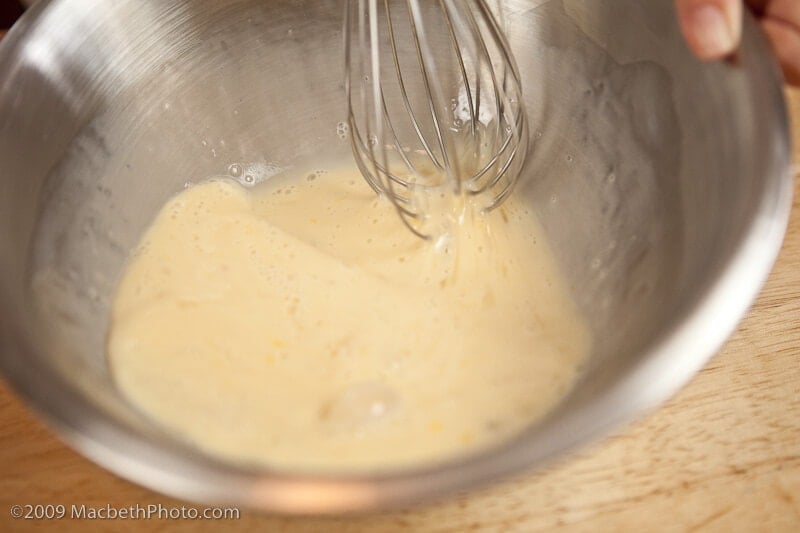 Pour the egg mixture on top of the layered bread, cream cheese and berries.  Cover and let it sit overnight in the refrigerator.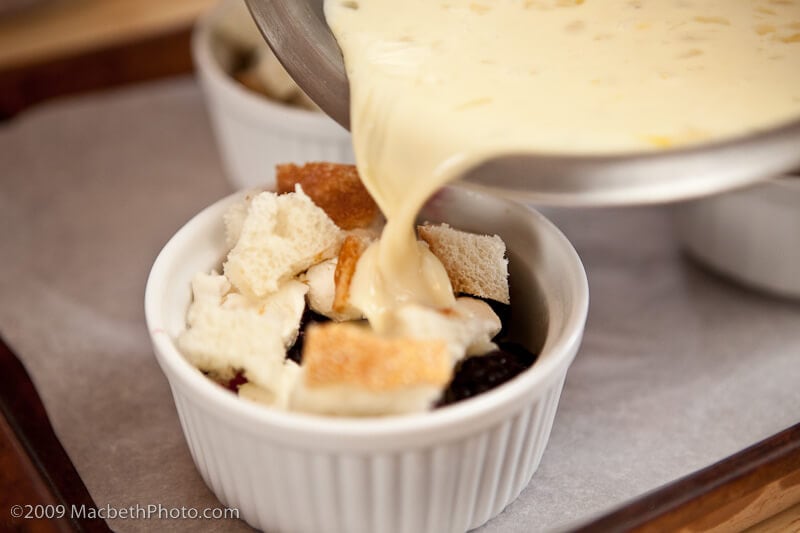 The next morning, bake at 350 for 25 to 30 minutes.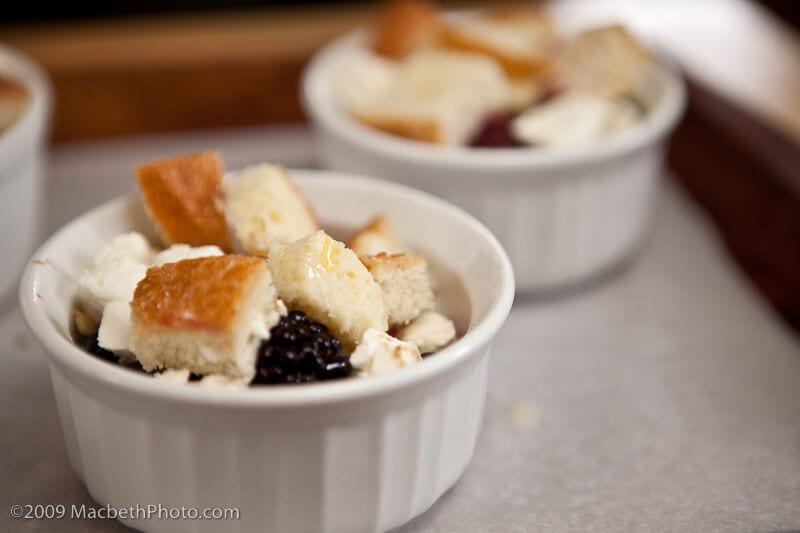 I think I followed directions pretty well all except for one …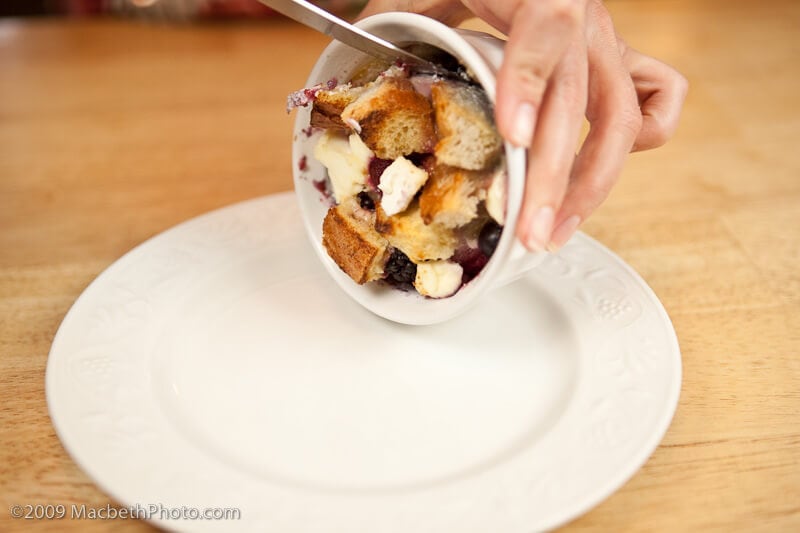 … greasing the ramekins!!!  AAAAAARRRRGGGH!
Since I made a crappy move by forgetting to grease my ramekin, it made me think of a friend of mine's son who had a great phrase for making a turd.  And that was …
Taaaah Daaaaah!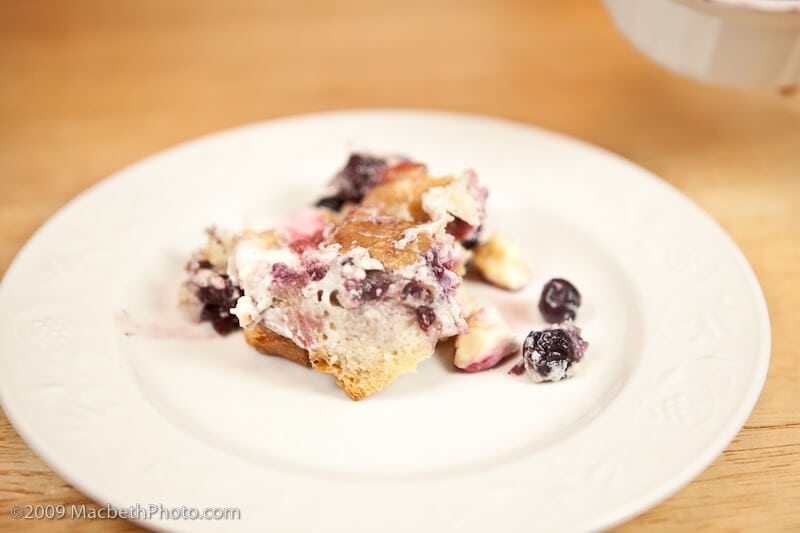 Well, it might not look pretty, but it tasted GREAT!
Good thing I had a few more to spare.  We'll just keep them in the bowl, shall we?
A little dash of some berry sauce …
(I had this sauce on hand. Marie at Penny Farthing has a couple ingredients listed below to make some sauce from scratch)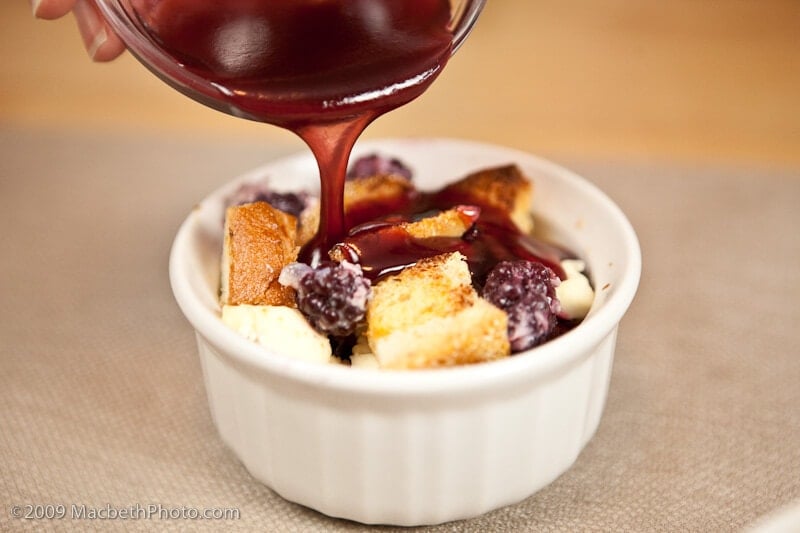 … and now we've got some good looking AND great tasting Berry French Toast.
Here's the whole recipe.  Enjoy!
Berry French Toast
Ingredients
4 slices of French bread cut in 1/2 inch cubes
3/4 cup raspberries or blueberries
2 ounces of cream cheese cut into 1/2 inch cubes
2 eggs
3/4 cup milk
3 tbsp maple syrup
(Sauce)
2 tbsp raspberry preserve
1 cup maple syrup
Directions
(prepare night before)
1) Grease two ramekins and line with half the bread cubes
2) Cover with raspberries or blueberries (or both!), top with cream cheese and cover with remaining bread.
3) Beat together eggs, milk & 3 tablespoons of maple syrup.
4) Pour egg mixture over bread/cream cheese/berry filled ramekings and place in the fridge over night.
5) In the morning, bake at 350 for 25 to 35 minutes.
6) Cut round the edge of the ramekin and turn the French toast over onto a plate.  Cover with sauce and serve!
###