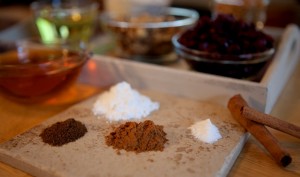 The thing I love most about Fall … well, besides the cooler weather, holidays, festivals, and everything decorated in my favorite color (orange) … is the spices.
Clove. Cinnamon.  Nutmeg.  Allspice. Ginger.
They all seem to bring with them a feeling of comfort and warmth.  For the next three months I'll be baking up a storm using every combination of these delightful spices.
As much as I like to hover over my hot cup of coffee and savor the morning, some days are a little more rushed than others.  This recipe is perfect for one of those days where you crave the soothing feeling of being wrapped up in a warm blanket lingering over a hot beverage … but in reality you have to get out the door quick.  Take a couple of these wholesome treats with you for a boost of energy you'll need to face the day.
This recipe for Sweet Potato Muffins was sent to me from  Mitch at the Beaufort Inn in South Carolina.  He's had a lot of practice making breakfast over the years, even before life as an Innkeeper.  Sundays used to be his only day off and he would make something delicious in the morning for his daughter and a houseful of her friends.  Lucky girls!
Here's what you'll need …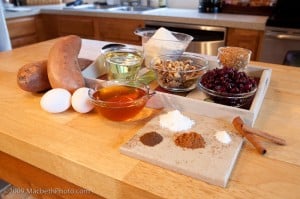 Here's what you'll need … 2 cups white flour, 1/2 cup freshly ground flax seed, 1/2 cup honey, 1/4 teaspoon baking soda, 2 teaspoons baking powder, 1/2 tablespoon ground cloves, 1 tablespoon ground cinnamon, 1/2 cup oil, 2 cups baked/peeled/cubed sweet potato, 2 eggs, 1 cup chopped walnuts, 1 cup dried cranberries.
Mix your dry ingredients together into a large bowl.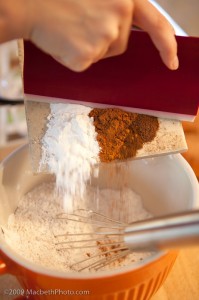 These are the little boogers you have to watch out for.  Flax seeds.  They're what makes these little muffins wholesome, hearty, filling and delish … but don't over indulge our you'll experience what I call a flax-itive.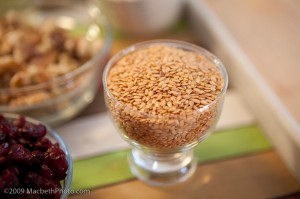 I grind mine in a coffee grinder.  It does the trick pretty good.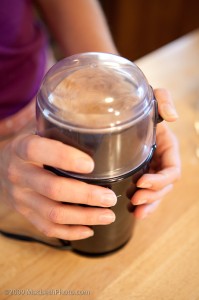 After grinding the flax seed, add them to your flour and spice mixture and mix well.
Next, beat the eggs in a separate bowl.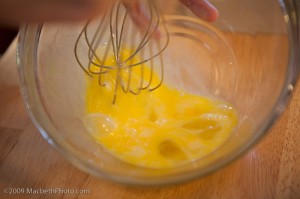 Add your eggs, oil, and honey to the flour/flax/spice bowl.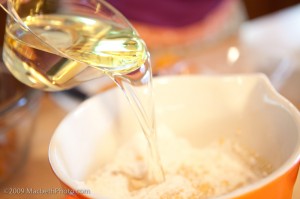 This is going to get real thick, real fast.  I don't recommend using a mixer or beater.
Instead just a fork will do and fold the batter together.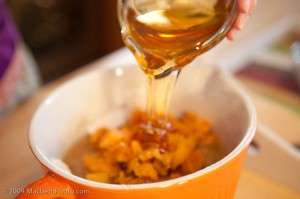 The honey combined with the flax seed makes this a thick and hearty stick-to-your-gut kind of muffin.  No fluffy pastry here.  This is a get outside and go hiking-climbing-fall-leaf-collecting-pumpkin-picking kind of breakfast.  Eat your heart out Kashi.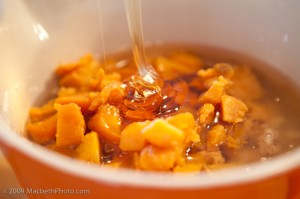 I had to resist the temptation to puree the sweet potato.  Add them cubed, not mashed.  They melt down a little and give it a moist texture.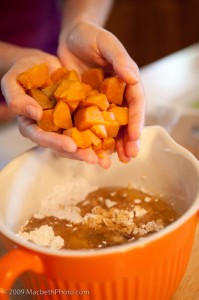 Fold in the nuts, cranberries and sweet potatoes.  Do you feel like you're making your own super food bar yet?  The recipes I post are usually not the healthy kind.  Bookmark this one for when you get into the thick of the holidays full of butter and sugar and crave a less guilt-ridden snack.  Just remember … don't over indulge.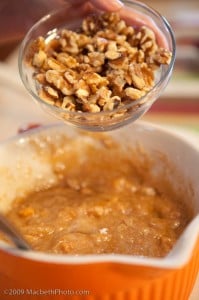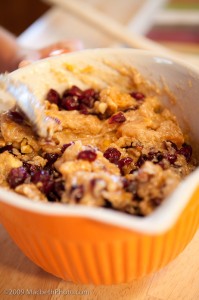 Scoop the gooey wholesome goodness into greased muffin pans.  I like to add a little flour too.
I makes em pop out really easy and creates a little crust on the edge.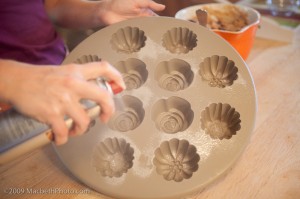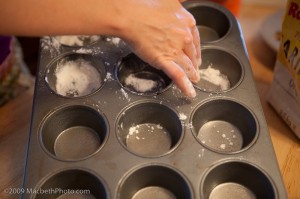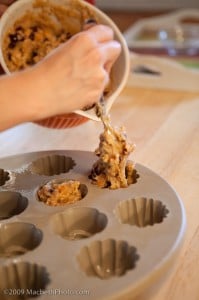 This batch of batter almost made 2 dozen small muffins.  You could also make 12 really gigantic ones … just add a little more time to your baking.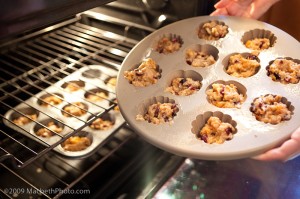 Let cool on a wire rack and enjoy!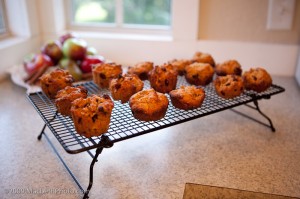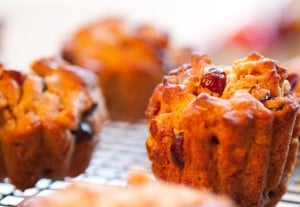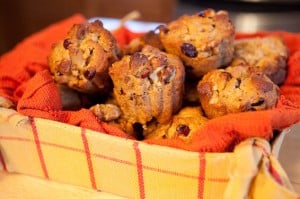 Sweet Potato Muffins
Ingredients
2 Cups white flour
1/2 Cup freshly ground flax seed
1/2 Cup honey
1/4 tsp baking soda
2 tsp baking powder
1 tbsp ground cinnamon
1/2 tbsp ground cloves
1/2 cup oil
2 cups baked, peeled, cubed sweet potatoes
2 eggs, beaten
1 cup walnuts
1 cup dried cranberries
Directions
1) Preheat oven to 375 degrees
2) Using a wire whisk, mix dry ingredients (flour, baking soda, baking powder, flax seeed and spices) in large bowl.
3) Blend in beaten eggs and honey and mix well.
4) With a spoon mix in sweet potato cubes, walnuts and cranberries.
5) Separate into greased muffin pan and bake for 20 to 30 minutes.
###