This Italian Strata Breakfast Casserole recipe was one of my first posts on the blog in 2009 when I was still an innkeeper at Tremain Street Cottages. It's still one of our favorites, so we gave the recipe a little refresh for 2019. Enjoy this wonderful breakfast casserole recipe a peek into my past life as an innkeeper below!
A Breakfast Made For Entertaining
We recently had my friend Jaden and her family up visiting our home town of Mount Dora and made a big breakfast casserole Italian strata.
Ordinarily I'd happily invite friends over to stay at our home, but we've got a little 1920's two bedroom cottage. Hardly big enough for two families … although, I could pitch a tent in the basement and we could make it fun like a good old fashioned grade school sleep over.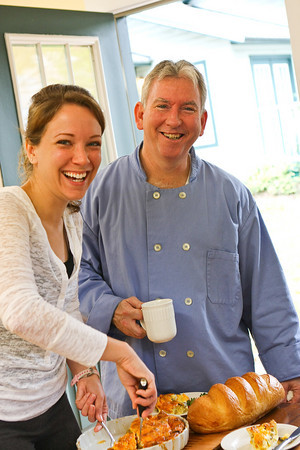 Instead, our friends Jim & Ana at the Mount Dora Historic Inn graciously hosted them at their Conch House Cottages so they could have their own home away from home. It's literally just a few steps away from our front door. The only condition, we all had to do breakfast together. Wonder what happens when you get a group of people together in the morning that love food?
Breakfast lasts aaaaall daaaaaaay! That's my kind of morning.
We had much to celebrate after she and her son, Nathan, and I survived crossing 4 lanes of traffic led by a kamikaze pedicab driver across NYC's 5th Ave. You can see some Flip cam action of that ride here (OMG … side note from 2019 … this is a "Flip cam" video. LOL! Before iPhones were recording, this is how we did video for social media, with a flip cam that would attach to our computer via USB. My how tech has changed in 10 years.)
Notice that we're laughing hysterically. Lesson learned, when in the face of death … smile. The photos in this post are from Jaden's (SteamyKitchen's) talented eye. One cup of strong coffee and she's whippin around the kitchen with her lens totally workin the food.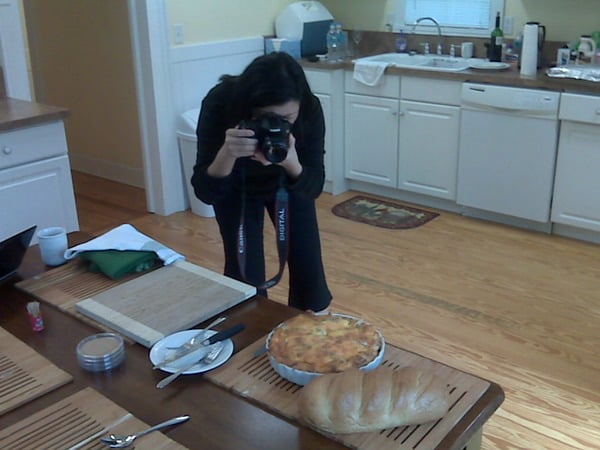 In the recipe below, I kept Chef Jim's instructions just as he gave them to me. You'll notice a few of his notes will make you scratch your head and say, "really?" Yeah, he's a joker. He had me once asking our local grocery manager what the difference was between "hens" eggs and "chicken" eggs. There's none. LOL!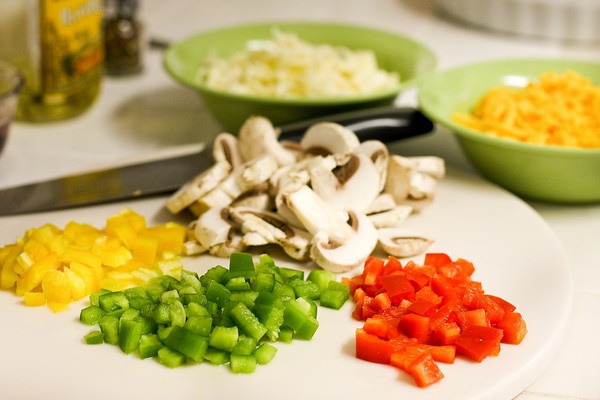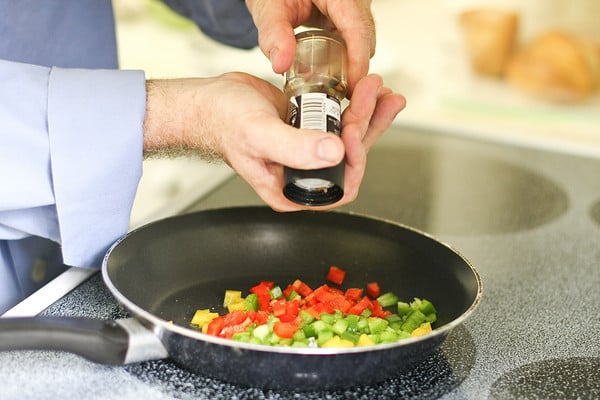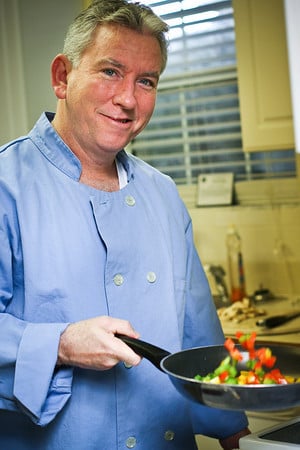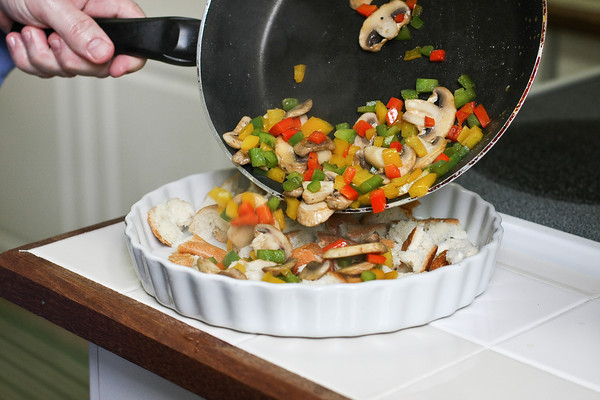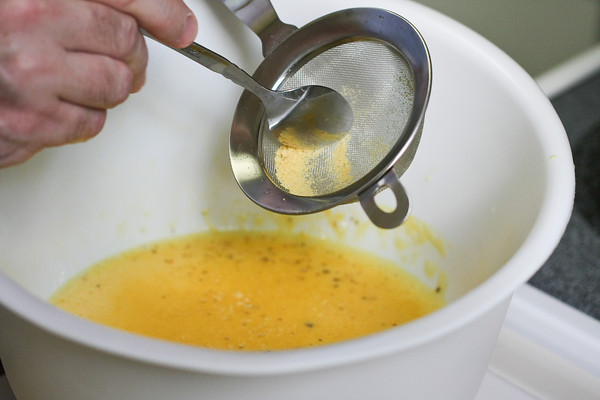 Notice the purple mug in the right hand corner. Yeah, the one that is the size of a coffee pot. Jim said his doctor told him he could only drink one cup of coffee, so he just upgraded his mug. For all the coffee lovers out there … that's not lying, right? It is one cup of coffee, only it's 20 ounces.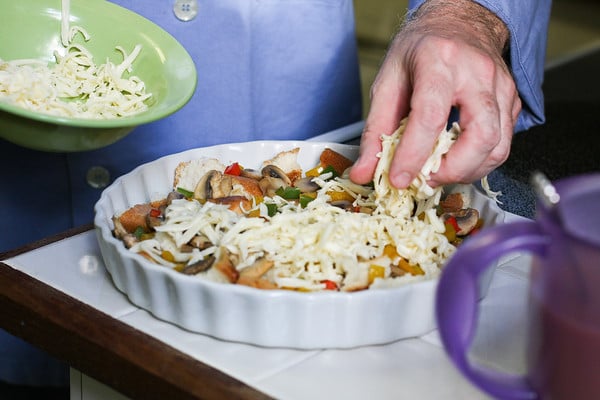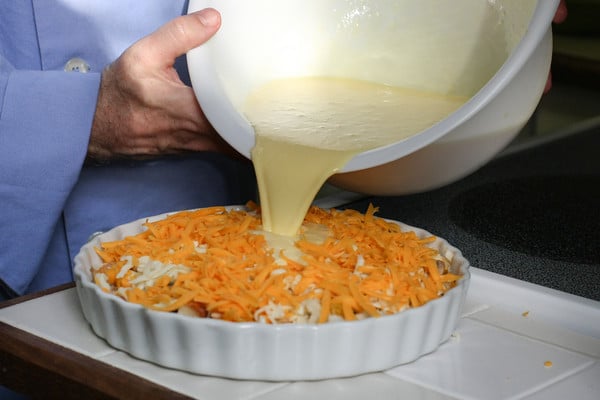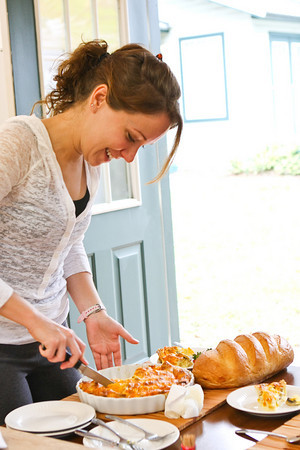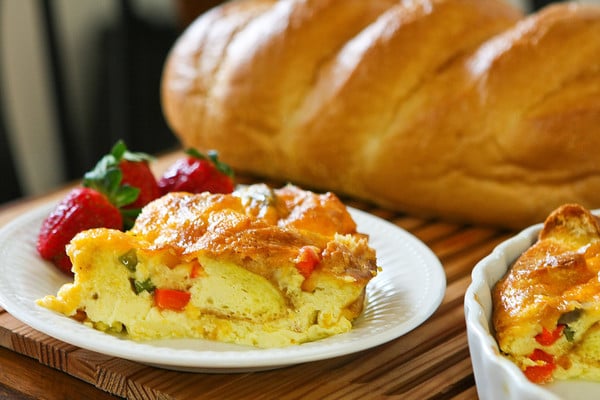 And one final note, this was our 3rd course that day. Good thing I started running as a hobby! Enjoy!
Italian Breakfast Strata
from the Mount Dora Historic Inn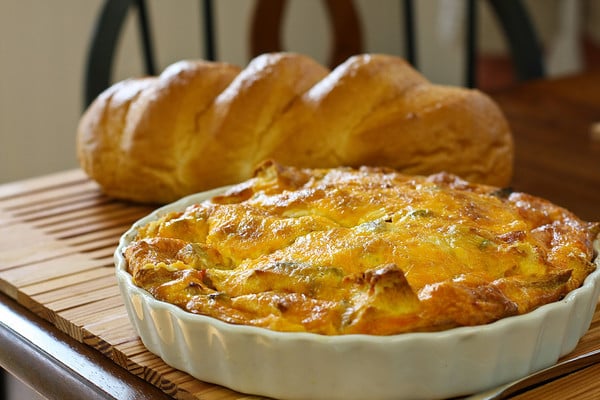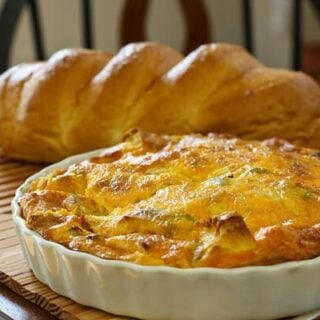 Italian Strata Breakfast Casserole
Total Time:
1 hour
15 minutes
Ingredients
12 large eggs
1 tsp dry mustard
4 dashes of your favorite hot sauce
Black pepper to your liking
8 ounces sour cream
½ cup whole Milk
4 oz hand-grated Cheddar
4 oz hand-grated Muenster
Day old Italian sandwich bread—hand-pulled into ½ inch pieces—about a 1 ½
¼ each green, red and yellow peppers—cored and diced
¼ medium onion—peeled and diced
½ lb of boiled ham—hand-pulled into small pieces
4 oz hand-grated Cheddar
4 oz hand-grated Muenster
Instructions
Whip together eggs, sour cream, and milk—then add spices and blend well—electric blender works best—set aside
Grease a standard pie-dish
Layer enough day old bread to cover the bottom of the dish
Sauté your onions and peppers in little olive oil—cool—then evenly layer over the bread
Then spread ham over the veggies and sprinkle both cheese over the top
Pour ½ of the egg mixture over the layers and let sit for 5 minutes—this allows the bread some time to soak up the egg mixture
Add the rest of mixture reserving 1/3 inch of space from the top of the pie dish
Place in pre-heated oven ... Then pour remaining mixture just to the top-edge of the pie dish—this prevents spilling of egg mixture—on your floor, in the oven and on your shoes.
Bake for 60 to 65 minutes at 350 degrees or check with an instant read thermometer to 180 degrees internal temperature –Allow to temper and set for 6 minutes before slicing.
Note: The Strata will get puffy on the sides first and then the middle will puff during the final minutes of cooking. If the middle does not puff—it is not done!
Want to save this recipe? Pin it! 🙂