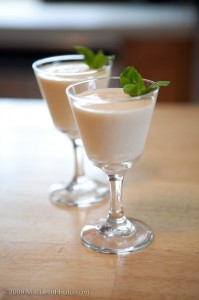 Considering it is still hotter than a fresh biscuit here in Florida, and I needed an instant way to cool off.
As much as I'd like to have a hot cup of coffee or cocoa outside on my deck, that usually only happens inside with the air cranked up.  These simple little drinks are much better for Florida fall weather.  Or summer.  Or spring.  What the heck, Florida really only has one season, right?
I actually dreamed up this recipe one morning when we had some friends over and I took a look in my fridge to see what kind of cool late-morning smoothie I could whip up to calm the sweat on our brow from an outdoor photo shoot.
Here's what you'll need … very simple … a bag of frozen peaches … whole milk or cream (cream makes it more rich) … vanilla … and mint.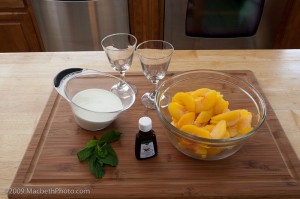 You could choose to use fresh peaches … if so … add about 2 cups of ice.
Real simple.  Throw it all into a blender …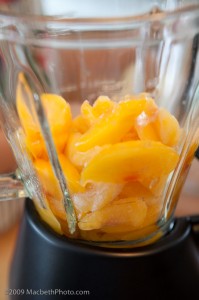 About a cup of milk …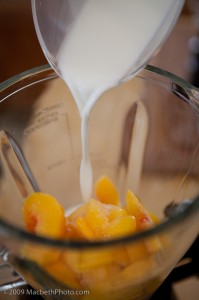 A cap full of vanilla …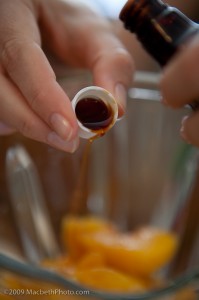 And then blend.
If you want it to be more sweet, you could add a 1/2 Cup of sugar.
If you want it to be more relaxing, you could add some champagne.
(I actually did in our second batch!)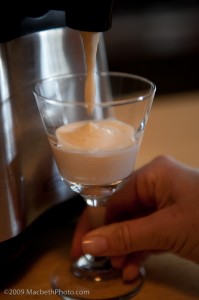 But just as-is you'll find it  is light and refreshing.
Relax. Refresh. Recharge.  Repeat.
These are kind of rich with the milk or cream, so I would suggest serving in a smaller glass than a standard 18 ounce smoothie.
Peaches & Cream Morning Smoothie
Ingredients
1 bag of frozen peaches
1 Cup whole milk
1 tsp vanilla extract
mint to garnish
Optional:
1/2 Cup sugar
1 Cup champagne
Directions
Add ingredients to blender and mix well.  Serve chilled.  Makes approx. 6 servings.
###