If you ever told me I'd have mega-fun going away for a weekend visit to Kentucky or Ohio, I would have wrinkled my nose in disbelief and said, 'when pigs fly!'  Little did I know! The Flying Pig Half Marathon won me over.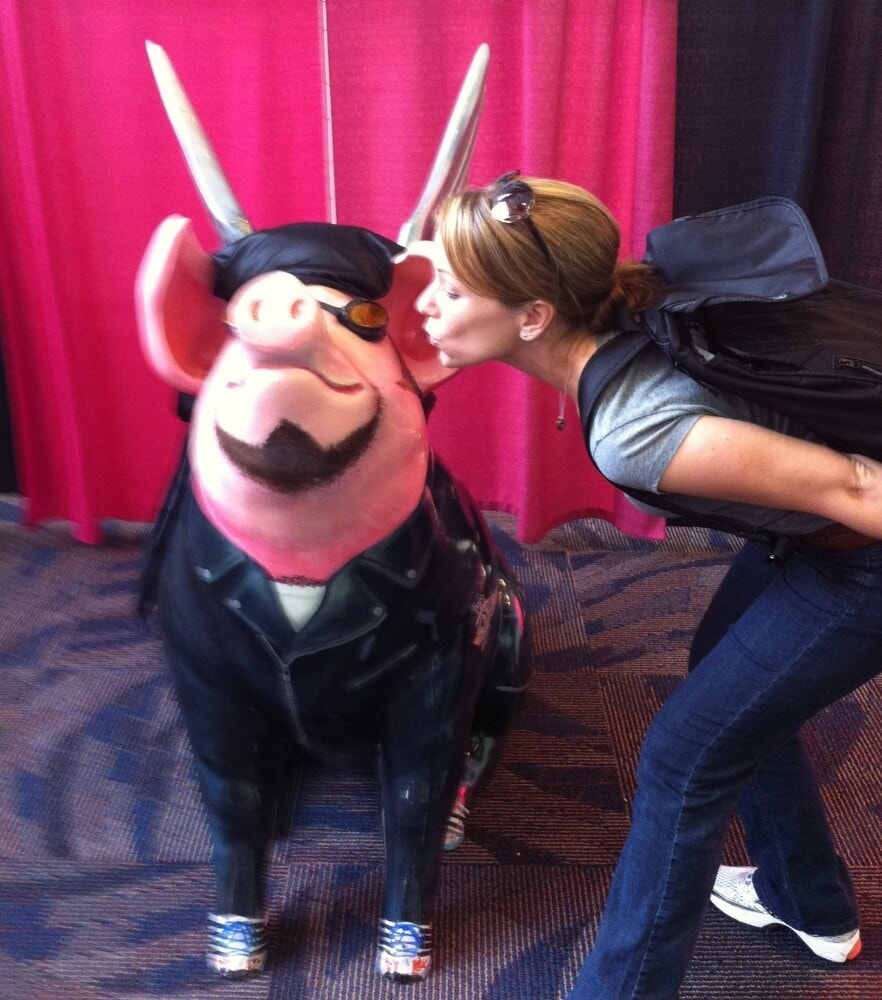 Last weekend I flew up to Cincinnati with a group of girlfriends for The Flying Pig Marathon.  I only ran the half marathon (13.1 miles), and thank goodness too because we did a lot of walkin' around exploring the town!  If you've never been, Cincinnati is on the north boarder of the Ohio River with the state of Kentucky just across the water.  The bridges are all walkable, the neighborhoods are adorable, and you'll find some fantastic food adventures including the best waffles in the United States!  (Ever had a Liège waffle with caramelized sugar pearls?  Yeah … you'll want to read on … )
Check out my stories and tips below!
WHERE TO STAY
Since there were seven of us, we opted for a vacation rental instead of a hotel so that we could all be together.  This is how the Cincinnati area first stole my heart … with it's architecture.   My friend Emily found a beautiful three story townhome close to the river and seeminly walking distance to most things.  You never can tell just by looking at a map and a couple of photos online, but once we arrived I was immediately impressed.  In fact, I think my jaw dropped open and I said, "I could sooooo live here!"  Those were words I did not expect to say in Kentucky!
The historic brick architecture and quaint tree-lined streets were quite charming and just a block away we found a little coffee house and a pub with outdoor seating.  Once inside, the O-M-G's continued as we gave ourselves a tour of the hardwood floors, gourmet kitchen, and spiral stairs leading to the second and third floor bedrooms with completely remodeled bathrooms.  There was even a rooftop deck.  (Yeah, my jaw dropped open a second time for that one.)
The owner, Lisa, made us feel like we were visiting family.  She met us at the front door with a warm smile, stocked the refrigerator with a grocery list we provided, plus added a few surprises including locally made ice cream.  She seemed to anticipate all of our needs, stocking the counter top baskets with additional snacks, Keurig coffee pods, and even leaving some first aid items on the kitchen island in case we needed them after the marathon.  (PS … she had NO IDEA she had a travel blogger staying at her place … this must be how she treats all of her guests.)
For seven of us, it worked out to be around $140 pp for the entire weekend which is quite a bargain considering the amenities and the comfort of having so much extra space and a kitchen.  If you'd like to have a look, take a look at the property listing.  (It's perfect for the Flying Pig!
WHERE TO EAT
The one thing Cincinnati is known for is it's chili.  But since I was getting ready to run 13.1 miles and there were 7 of us sharing 3 bathrooms … I actually didn't dare order it.  But I did bring home a recipe that I'll cook up and post in the fall!
As runners, we were looking for a delicious way to 'carb up.'  And boy did we find one … true Belgium style Liege waffles at The Taste Of Belgium.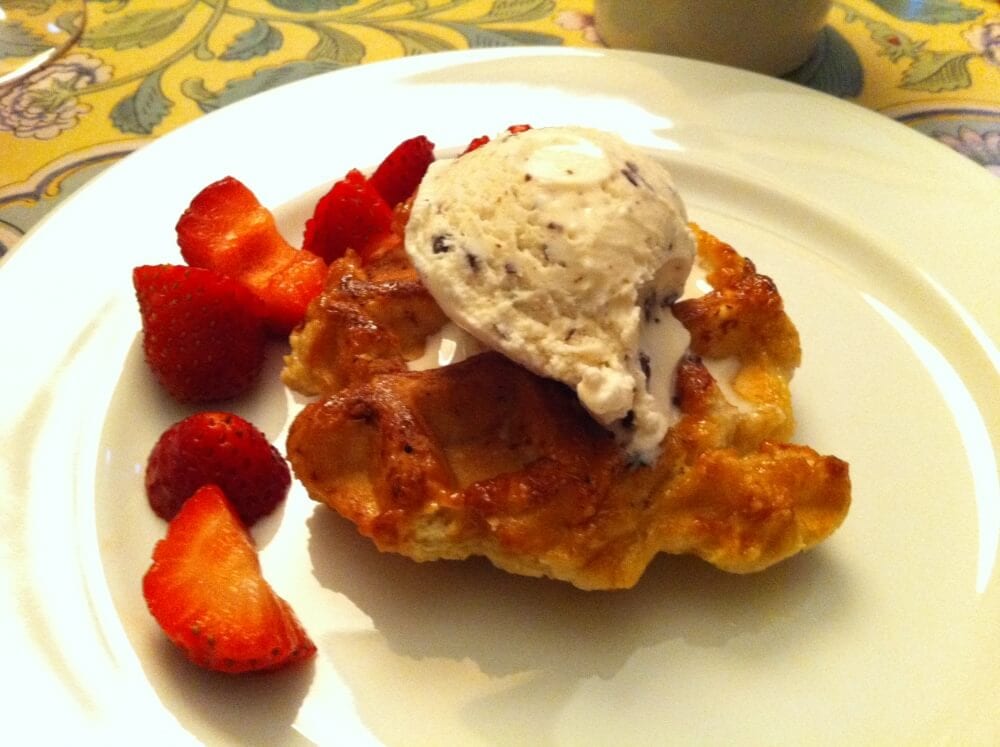 These waffles are a bit heavier and more dense with a hint of vanilla and caramelized sugar pearls. While you can top them with fruit, cream or Nutella, they are even scrumptious on their own.  We discovered them at Findlay Market and brought back a couple of stacks to make our pre-race dessert on Saturday night.  They were so good, I walked a mile up to their new bistro on Vine Street directly after the half marathon for a post-race reward.  For all you runners out there, they have a Belgian breakfast of champions which includes a waffle and a small Taste of Belgium pilsner.   That's a winning combination!
WHERE TO PLAY
Aside from running The Flying Pig, there are tons of things to see and do in Cincinnati.  Such as …
For baseball fans, you can tour the Great American Ballpark.
There's also the National Underground Railroad Freedom Center that was recently included in Kyle McCarthy's "Ten Best Family Destinations for Learning Vacations."
If you're a GLEE fan, the National Choir Games are coming this July.
For foodies,Findlay Market is a must see!  It's the oldest public market in Ohio (since 1852) and is where we found the waffles!
Overall, I had a great time and would definitely plan a return visit.  Maybe for the Kentucky Derby next year?  We'll see!
-Rachelle
**This post was originally published in 2012, then updated with new information for 2018.